ISSUE 4 SUMMER 2023
FIRST BITE Vol. 1 Issue 4, Summer 2023 Produced by: ATALANTA Corporation 1 Atalanta Plaza Elizabeth, NJ 07206 Katie Baldwin, Editor-in-Chief James Sheeran, Art Director Marissa DeMaio, Publisher Tom Gellert, President Published biannually Printed in U.S.A. Visit us: www.atalantacorp.com
page 6
NEW ITEMS
Atalanta's newest offerings take their bow
page 16
NEW PARTNERS
Proud new additions to our portfolio of brands
page 20
SUSTAINABILITY
How going green can benefit everyone
page 7
page 21
page 24
ATALANTA GOES DIGITAL
Our online presence is ever-expanding
page 27
page 17
ANOTEFROMTOMGELLERT PRESIDENTOF CORPORATION
arecelebratingtherecent,excitingacquisitionofSonomaCheese, theinventorofpepperjackinSonomaCounty,California.New andpartnershipswithCiprianiFood,theiconicbrandfromVenice,Italy, breatheMinervaDiary,aWisconsin-basedpremiumbutterdairy,also newexcitementintoourexpandingportfolio.
Today,Atalanta'ssuccessinthefoodimportindustrybegan78yearsago. evolving,welooktostaytruetoourrootswhileconstantlygrowing, andlookingtowardsthefuture. qualityOurexpansionparallelsthegrowthofthemarket'sdemandforhigh andspecialtyimportedfoods,yetweprideourselvesonstayingWeonestepaheadofourcustomers'needs.
Thisyearinparticular,we'reproudofthedigitalstrideswe'vemade.We We'verelaunchedtheupdatedAtalantawebsite—visitusatatalantacorp.com! investedinnewconsumerfacingwebsitesandsocialmedia effortswithTableOne,RoyalMahoutandILVillaggiotoaddtothe incrediblepresencewehavebuiltwithDeMedici.comandBehindCelebrityGoat.com.
TomGellert
Sincerely,theAtalantafamily.
business.thoughweareconstantlygrowing,weremainafamily-owned Ourrelationshipsandourcommunitymatterdeeplytous. Ourheartfeltgoalistomakeeachdaybetterthanthedaybefore.Thisis ofsomethingwecanonlyaccomplishtogether.Thankyouforbeingapart
thescenes,themarketingteamhasbeenworkinghardtolaunch anewe-commercesiteforfoodserviceoperators–AtalantaPremium We'reFare—whichwillallowforsmallordersofspecialtyitemslaterthisyear. environmentalworkingtoensureourgrowthissustainable,whilevaluing sustainability'simportanceintheequationofourfuture.vitalityWe'reinvestedincontinuousimprovement,andinsupportingthe ofourcommunitiesandourplanet.TheGlobalGellertGroup ourGreenInitiativeisensuringwecentersustainabilityineveryaspectofEvenbusiness.
5
TomGellert,President,AtalantaCorporation
This season, Atalanta is proud to introduce an exciting new lineup of items. Some of our new products include Beemster Swiss— an Alpine style cheese crafted in Holland, spicy-sweet Fig Chili Mini Jam from Dalmatia, and Yuzu and Citrus Sheep's Milk cheese from Celebrity. (Those are just the start!)
According to Supermarket Perimeter, 88% of consumers said they try at least one new food trend per year, and 45% said they are willing to pay a premium for new items.* We're always partnering with our suppliers to dream up new takes on classic flavors and showcase the latest must-try items.
*Supermarket Perimeter. "Taste and price drive consumer choice in trying new items" Sam Danley. 10.28.2020 https://www.supermarketperimeter.com/articles/5816-taste-and-price-drive-consumer-choice-in-trying-new-items#:~:text=Consumers%20showed%20a%20willingness%20to,a%20premium%20for%20new%20items. 6
Table One Feta is a mild, slightly tangy cow's milk cheese. Crumbled for easy application this buttery cheese is perfect in salads, stews, and pasta dishes.
Blended using cow's milk cheese from France, Germany, and Switzerland, Table One Shredded Swiss is aged over 60 days for a sweet, nutty flavor and silky-smooth texture. Shredded for your convenience it makes for easy melting in French onion soup and grilled cheese.
TABLE ONE
#A739580 Shredded Swiss Cheese 4/5 lb 0 71270 58782 9
7
TABLE ONE #A739579 Crumbled Feta 12/5 oz 0 71270 58781 2
Our premium cracker-size sliced salamis are perfect for an easy lunch or snack and so convenient for use on a delectable charcuterie plate/board. All Varieties are Naturally Cold Wood Smoked and Dry Aged with No Artificial Colors or Flavors added.
Red Wine: Real red wine helps give this salami its distinct deep red color. A slightly smoky taste, mildly seasoned with hints of garlic and red wine.
Roasted Garlic & Asiago: Cheese lovers rejoice! A mildly seasoned, slightly smoky salami that combines the sweet, nutty flavors of roasted garlic with the smooth, buttery taste of real asiago cheese.
Peppered Salami: A mild salami with subtle flavors of ginger and cloves and a slight kick from the black pepper coating.
BLACK KASSEL #A069601 Peppered Sliced Salami 15/4 OZ
BLACK KASSEL #A069603 Roasted Garlic Asiago Sliced Salami 15/4 OZ
BLACK KASSEL #A069602 Red Wine Sliced Salami 15/4 OZ
Produced since 1115 in the area surrounding the little village of Gruyère in Western Switzerland, this much-loved cheese is still made in local dairies using the original recipe and time-honored techniques according to AOP requirements. With its distinctive, buttery, caramel flavor, Gruyère AOP is prepared from the finest fresh milk, free from any additives. After two- or three-months' maturation, the Gruyère AOP wheels arrive at the Mifroma caverns from local village dairies. The cheese is then ripened over several months in sandstone caves and are regularly turned and brushed with salt water. Mifroma Gruyère Slices melt perfectly atop burgers, paninis, French onion soup, and more!
MIFROMA
#A039504 Gruyère Slices 8/5.29 oz 8 52230 00358 6
Natural beechwood smoked Gouda produced in North Germany with 100% cow's milk. More robust than traditional Gouda with a smoother, creamier interior. Feather shredded for easy melting in casseroles, cheese sauces, and hot sandwiches.
AMMERLÄNDER
#A029497 Shredded Smoked Gouda Cheese 6/1 kg 8 88117 50323 8
9
Smokey chili and earthy figs blended with fresh sheep milk cheese. An inviting mix of spice and zest will make this a popular addition to a wide variety of recipes.
CELEBRITY
#A066407 Fig Chili Sheep Log
12/4 oz 0 71270 58749 2
Bright tart yuzu and sweet orange blended with lush sheep milk.
CELEBRITY
#A069600 Yuzu Citrus Sheep Log 12/4 oz 0 71270 58748 5
10
Beemster Swiss is an alpine style cheese made in Holland by the Beemster master cheesemakers. This swiss cheese made with delicious milk from Beemster cows giving it a buttery, smooth texture with noticeable eyes (holes) that develop with age. Boasting a mildly tangy and nutty flavor with fruity notes, Beemster Swiss is an iconic cheese for fondue and mac-and-cheese.
BEEMSTER #A016408 Beemster Swiss 12/8 oz 8 59354 00458 1
11
Grana Padano is iconic cheese in an innovative new form. It's perfect for busy families and kids to add a burst of flavor anytime, anywhere with its built-in, recyclable grater. Safe, easy, and fun—get grassfed, 14-month-aged cheese on pasta, pizza, and soup with a simple twist.
IL Villaggio Asiago develops a dry, straw-colored paste with a yeasty aroma of dried fruits and a savory flavor following 6 months of aging. IL Villaggio Asiago DOP is crafted on the picturesque plateau in the foothills of the Dolomite Mountains of Italy by cooperative dairies. Asiago's creamy, tangy taste and crumbly interior make it ideal for grating over and into pasta dishes, risotto, polenta and gratins.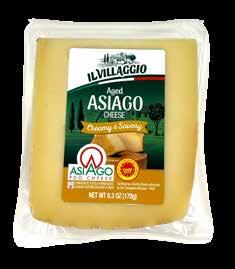 12
IL VILLAGGIO #A054698 IL Villaggio Asiago 10/6.3 oz 0 71270 40003 6
IL VILLAGGIO #A054698 Twist & Grate Grana Padano 10/5 oz 8 14049 02031 4
IL Villaggio Twist & Grate
This spicy rendition of Salumificio San Carlo's coppa artfully captures the flavor of hot chili in a delicate whole-muscle meat. This well-marbled coppa is exclusively made in Piacenza from the tender cut of pork extending from neck to shoulder and cured for a minimum of 3 months. The chili heat beautifully comple
Edmond Fallot uses the finest ingredients; Burgundy mustard seeds, IGP Burgundy white wine, Dijon black currants, Périgord walnuts, French tarragon and family recipes to artfully blend this authentic Dijon mustard. The result is an incomparable robust flavor not available in commercially produced "Dijon-style" mustards. This gift box includes 8 jars: Walnut Dijon Mustard, Honey Balsamic Dijon Mustard, Black Currant Dijon Mustard, Dijon Mustard, Tarragon Dijon Mustard, Green Peppercorn Mustard, Old Fashion Seed Style Mustard, and IGP Burgundy Dijon Mustard.
EDMOND FALLOT
#AFAL900 Fallot Mustard Sampler Gift Set 8/3.4 oz
13
Notes of cherry, grape and dried fruit.
Extra Dark Chocolate 80%.
AMEDEI #AAME113 Toscano Black Dark Chocolate 80% Bar 12/1.76 oz
Notes of white flowers and drinking chocolate. Extra Dark Chocolate 90%.
AMEDEI #AAME112 Toscano Black Dark Chocolate 100% Bar 12/1.76 oz
Single origin Cru come from unique production areas: they have a strong personality and a bold taste, which may vary from harvest to harvest. They represent the most immediate and wild expression of cocoa: the single plantations reveal the genetic diversity of the existing varieties, influenced by the terroir and traditions of the country of origin.
Notes of red fruits and licorice.
Extra Dark Chocolate 72%.
AMEDEI #AAME506 Cru Madagascar 72% Bar 12/1.76 oz
Notes of primative cocoa, banana and dried fruit.
Extra Dark Chocolate 77%.
AMEDEI #AAME504 Cru Ecuador 77% Bar 12/1.76 oz
Notes of compote and dried fruit.
Extra Dark Chocolate 85%.
AMEDEI #AAME505 Cru Grenada 85% Bar 12/1.76 oz
Notes of spirit soaked cherry and cream.
Extra Dark Chocolate 92%.
AMEDEI #AAME507 Cru Venezuela 92% Bar 12/1.76 oz
14
The Fig Chili Mini is perfect for all those looking for the perfect balance of sweetness and spice! Bursting with flavor, an inspiring aroma-this may quickly become your go-to for the perfect pairing. The smaller pack size is perfect for mini charcuterie boards, grab & go, or when you are on a budget! Use as a glaze for meats or veggies before roasting or grilling, spread onto a warm proscuitto sandwich with sharp cheese, or enjoy with Brie or aged cheddars.
DALMATIA #A489532 Fig Chili Spread Mini 30/1.05 oz 8 54858 00156 2
Strawberry's sweet scent and flavor remind us how beautiful life is! Its unique and fruity flavors inspire us to be more adventurous... to explore nature's purest moments. Allow your senses to write their own lovely story, while your palate explores the essence of strawberries! We suggest you spoon this product onto a fluffy cheesecake, smear on hot buttermilk waffles with whipped, lightly salted butter, serve on a shortbread biscuit with fresh whipped cream, or pair with goat, Brie, or Marscapone cheeses.
DALMATIA #A489531 Strawberry Spread Mini 30/1.05 oz 8 54858 00138 8
This year, Atalanta celebrated exciting, meaningful new acquisitions and partnerships. The acquisition of the cheese assets from Sonoma Creamery – including Sonoma Cheese and Sonoma Jack, and a new partnership with Minerva Dairy, a renowned firth-generation butter and cheese producer, and new partnership with famous Italian brand, Cipriani Food as its exclusive importer for the United States, marks a season of expansion and growth.
16
Sonoma Cheese
A beloved California Classic
A new acquisition in Atalanta's brand portfolio, Sonoma Cheese plays an integral part in the history of American cheese making. Sonoma Cheese is beloved for having created the original Pepper Jack cheese. The brand dates to 1931, when Italian immigrants Celso Viviani and Tom Vella started crafting and selling cheese. Since 1945, with a cheese production facility and a retail store on the Sonoma Plaza, just down the block from the historic
Jack and Cheddar are layered with the bold flavorful Garlic Jack in Sonoma's Wine Country Party Tray. The bold collection is perfectly suited to family gatherings and friendly get-togethers.
SONOMA #A0852211 Wine Country Party Tray 9/12oz
There's nothing ordinary about the iconic Traditional Jack. Savor the sweet creamy flavor of smooth classic Sonoma Jack.
SONOMA #A0852111 Traditional Jack 12/5.3 oz
Sonoma Hot Pepper Jack is the original article, dating back to the 1980's. The layered flavors of Jalapeños and crushed red peppers blend perfectly with the sweet creamy flavor of Sonoma Jack. Try it in a grilled cheese.
SONOMA
A0852113 Hot Pepper Jack 12/5.3 oz
17
Cipriani Food
On the table since 1931
In 1931, Giuseppe Cipriani opened the doors of Harry's Bar in Venice, Italy and has since welcomed guests from around the world. For over 90 years, Harry's Bar has been a historic establishment, and was declared a national heritage site by the Ministry of Culture in 2001. In 1983, the family established Cipriani Food, providing recipes and a curated selection of the finest products inspired by their heritage. All products are crafted in Italy according to the highest standards overseen by the legendary four-generation hospitality family.
Cipriani's core products include the beloved Virgin Bellini, an alcohol-free version of the iconic original cocktail invented by Giuseppe Cipriani at Harry's Bar in 1948. Dedicated to Freedom and Peace, it was named after the famous Renaissance painter Giovanni Bellini. Mixed with sparkling wine, it becomes the quintessential cocktail for every moment of the day.
Cipriani durum wheat pasta, rice, pasta sauce, extra virgin olive oil, and red wine vinegar are also available, along with panettone, fugassa (a classic Venetian cake), gelato, tonic water, and a new line of alcohol-free sparkling wines.
The full line is available at ciprianifood.com and will be online at demedici.com. Flip to page 26 to see more about Cipriani's 2023 Sofi Award-Winning Egg Pasta.
See the full line of delicious Cipriani foods.
18
Minerva Dairy Sea Salt Butter is ideal for dishes that benefit from a hint of clean, briny salt, such as roasted vegetables, slow cooker chicken, and bacon cheddar scones.
MINERVA
#A639981 Sea Salt Butter 12/8 oz
#A639983 Sea Salt Butter 10/1 lb
#A639985 Sea Salt Butter 6/2 lb
Minerva Dairy
America's oldest family-owned creamery
Minerva Dairy has been crafting premium butter since 1894. Today, they partner with over 80 local family dairy farms to produce their 85% fat, batch churned butter, which is even richer and creamier than European butters. Known for their farm-fresh milk, old fashion churns, high-quality ingredients, and generations of craftsmanship, Minerva Dairy's innovative flavor-infused butter is available in several delicious varieties, including
For baking or sweet recipes
Minerva Dairy's Unsalted Butter povides chefs with complete control over the amount of salt used.
MINERVA #A639979 Unsalted Butter 12/8 oz
#A639982 Unsalted Butter 10/1 lb #A639984 Unsalted Butter 6/2 lb
A fan favorite, the Garlic Herb butter adds a boost of aromatic, earthy flavor to savory recipes like garlic bread, grilled shrimp, steak.
MINERVA #A639978 Garlic & Herb Butter 12/8 oz
19
Sustainability has been a hot topic for decades. It's a big buzzword that means different things to different people. Here at Atalanta, sustainability has been growing in importance for us and for our customers, who often inquire whether sustainability claims actually drive sales–especially when the price tag is higher.
With the recent wave of inflation, this question is more important than ever. Will premium products that focus on sustainability still sell if inflation continues? In a turbulent economy, will consumers be willing to pay more for green items? According to a recent report from The International Dairy Deli Bakery Association (IDDBA), the answer is affirmative. IDDBA reported that "even during 2022's record inflation, food products with sustainability claims performed better than average."
Sustainability can help shelter products from inflation and price increases by fostering brand loyalty and building trust with consumers.
20
Decoding Sustainability Claims
When effectively communicated on packaging, sustainability can help sell. Jeffrey Crumpton, Senior Manager of Retail Reporting Solutions at SPINS and IDDBA organizes sustainability claims into four categories:
Agricultural Sustainability: 70% of consumers agree the food they eat should be grown on farms that use sustainable practices.*
Low Impact Packaging: 72% of consumers are concerned about packaging waste.**
Animal Welfare: Consumers are paying attention to claims like like cruelty free (69%), grass fed (43.7%), and free-range (37%).**
Social Responsibility: 64% of shoppers will pay more for products that support communities and vulnerable groups.**
CASE STUDY: VIRU
Viru is Peru's largest producer of preserved and frozen fine fruits and vegetables, and a completely vertically integrated global agribusiness. Atalanta partners with Viru to import some core items, including Del Destino Artichokes, Roasted Red Peppers, and Quinoa.
Viru recently achieved the extraordinary goal of reusing 100% of their waste as part of their ongoing development of a circular economy. As of 2022, other notable environmental achievements included a 12% reduction in energy consumption, a 24% reduction of water, a 10% fuel consumption reduction, and 1187 tons of recycled materials.
ON SITE
By implementing drip irrigation systems at their farms, Viru's water management efforts have resulted in 95% reduction in water. Their own wastewater treatment facility allows industrial water to be biologically treated before being reused in irrigation of their fields. All their organic waste is either provided to cattle as feed or composted.
Viru also uses integrated pest management, utilizing beneficial insects for natural pest suppression to reduce the use of damaging pesticides on their crops. They work tirelessly to protect biodiversity, as it is incredibly important to preserving the culture of Peru, with special rehabilitation programs onsite for endangered species like the Peruvian Plantcutter bird.
Consumers are also becoming more aware of greenwashing practices, and therefore want more information. They seek detailed, transparent resources like sustainability reports on practices and future goals easily accessible on brand websites.
Atalanta has been working with our parent company Gellert Global Group's recently formed initiative team, GGG Green, on identifying improvements we can make across our business as well as supporting suppliers. Many of our suppliers already drive sustainability efforts as a part of their core business model. It's not for profits, but for a true sense of improving the planet.Two examples of such companies are Viru and Beemster.
They are in the process of adding additional solar panels to supplement the 162 panels in their agricultural fields and 120 panels surrounding their production facilities.
IN THEIR COMMUNITY
In addition to state-of-the-art processing and logistics that provide optimized production and transportation, Viru invests in their community. They build schools, offer scholarships, and support and uplift their community through programs like daycare, summer education, interest-free home loans, and free healthcare campaigns.
CONTINUOUS IMPROVEMENT
Viru is always looking for ways to improve their packaging and their circular economy—reusing as many materials as possible. They are embarking on the exciting process of monitoring and reducing their environmental footprint.
Watch the VIRU Company Overview to learn more about their commitment to sustainability.
My Little Viru Daycare Center
21
Respect for the environment, respect for people.
CASE STUDY: BEEMSTER
For Beemster, sustainability is much more than a catchphrase. Sustainability means creating and nurturing a system that enriches the environment rather than damaging it. Beemster has made a firm commitment to ensuring the health and happiness of their cows, their farmers, and the planet. As a farmer-owned cooperative situated on the Beemster Polder, a protected UNESCO World Heritage site, sustainability is in their DNA. The award-winning Dutch cheese brand has worked tirelessly to achieve climate neutrality, a certification they achieved in 2020. To neutralize the remaining CO2 emissions, Beemster partners with Climate Neutral Group in a CO2 compensation program. Not stopping there, Beemster will be Climate Positive by 2030. This means that the Beemster Cooperative will reduce more carbon emissions than it generates.
and wildflowers. When the weather turns cold, the cows head inside where they have ample space, fresh air, and light. Special waterbeds and massaging brushes ensure they are comfortable. In winter, they eat hay grown on the cooperative's own farms. Research has shown that properly managed free-grazing, grass-fed dairy farming is not only an ethical way to raise animals, but also has a lower impact on the environment. Sustainable dairy operations mean fewer chemical fertilizers and pesticides, less water pollution, and healthier, richer soil. Plus, a growing number of Beemster farmers generate their own green electricity through solar panels and wind turbines. Farmers also ensure programs are in place to nurture and grow biodiversity on the farms, such as protecting ground-nesting birds and providing welcoming accommodations for barn swallows.
AT THE DAIRY
Beemster cheese is truly "slow food," made according to more than a hundred years of tradition. Master cheesemakers use artisanal techniques and age their cheeses naturally on wooden planks. But just because Beemster makes their cheeses with traditional methods, doesn't mean they're not innovative. Their new dairy was built in 2014 using sustainable building materials and employs sustainable systems, including recycled water, energy efficiency and reduced electricity output.
As a result of these efforts and more, Beemster landed the #1 spot as the most sustainable cheese brand on the Sustainable Brand Index, Europe's largest independent study on sustainability. The SBI evaluates over 1,400 companies across 35 industries, by 58,000 consumers in 8 countries.
When it comes to sustainable cheesemaking at Beemster, it's not only about the environment. It's also about sustaining a way of life— sustaining heritage. Beemster is a farmer-owned cooperative founded in 1901 to protect the land and establish the quality and standards that continue to define the organization. Beemster supports quality of life for the family farmers through ownership in the cooperative, professional development and training, land management and conservation initiatives, and excellent living wages.
AT THE FARM
Great cheese begins with happy animals. Beemster's Caring Dairy auditing program ensures that animals are monitored for safe and healthy conditions. Beemster's cows and goats are raised humanely in small herds. In the spring and summer months, they graze freely on the Beemster polder's lush pesticide-free pastures of grass, herbs,
CONTINUOUS IMPROVEMENTS
To continue to innovate in their sustainability programs, Beemster has an entire team dedicated to sustainability. One unique program, the Beemster Bijenlint – or Bee Corridor, started in 2019. The Corridor is a beautiful stretch of wildflowers and native plants stretching for miles from the dairy through the Beemster Polder that boosts the number of pollinating insects in the region and fosters biodiversity, and continues to grow every year.
22
Beemster's innovative "Farm of the Future".
Modern green initiatives and old-world tradition work hand-in-hand at Beemster.
DO SUSTAINABLE PRODUCTS GENERATE SALES?
24.7% more food and beverage brands make environmental and social responsibility claims than three years ago.**
$1 of every $5 spent on fast moving consumer goods now comes from environmentally conscious consumers who are willing to pay a premium.**
At Atalanta, we are proud to work with Beemster and Viru among many of our sustainable long-standing supplier relationships. As GGG Green continues to expand across all Gellert Global Group companies, we seek to continue to improve our offering of sustainable products. We look forward to continuing to meet consumer demands and exceed our customer expectations to achieve our vision to be a part of every food experience.
Talk to your Atalanta Representative about how you can both take part in, and benefit from this green initiative.