ENGAGED IN ARCHITECTURE
Urban and Landscape
Interviews collected by Art Concept, + 45 28 68 48 24 All portrait photos by Ida Wang, + 45 30 54 24 30 ISSUU 2023
ENGAGED IN ARCHITECTURE
Ellen Braae - Line Willacy - Sally Rudgaard Jessen
Julie Kaalby Bjerre - Signe Hertzum - Mia Nørlund
"We need many more trees, but progress grows too slowly. Trees are important for so many reasons: We need trees for the quality of air to breathe, for shadow and shelter, for breaking the wind and making the sounds of seasons. We need trees to host birds and insects, to feed animals in gardens, fields and forests and to store carbon to protect the climate. We need trees in the world of life, to create space and place them for living and leisure. My most recent research topic is how we learn to live with trees and increase the spread and preservation of most appreciated trees - thriving trees. The relationship between trees and humans comes in many forms described spatially, culturally, and climatically. In my current research I examine two of the most intimate relationships between trees and humans, regarding housing and food. Based on cases from Finland, Denmark, and Germany I hope to reveal some of these aspects. The aim is to understand how to plan and design for enriching and regenerative modes of co-existence between trees and humans." - Ellen
The philosophy of trees
Photo: Ida Wang
Re-centering architecture
University of Copenhagen
Landscape Architecture and Urban Design
Frederiksberg / Cph
Since 1962
Annual admission
70 bachelor students
70 master students
Publications
Professor Ellen Braae has written extensively in journals and magazines, and she is the author of several books:
Urban Planning in the Nordic World
2022 - Unipress
Routledge Research Companion to Landscape Architecture (Co-edited with Steiner)
2018 - Routledge
Beauty Redeemed
Recycling Post-industrial Landscapes
2015 - Birkhäuser
Mind and matter - Theory and practice
As a full professor at the University of Copenhagen, Ellen Braae, teaches and researches on the relationships between ideas and their materialization. Moreover, she also examines how our ideas about ideas are spelled out in theory and practice. This is particularly interesting at a time when our most fundamental relation, that between humans and non-humans is changing at high speed.
Transformation of our social and physical environment
If architecture is materialized thoughts, then every spatial configuration, every artefact and landscape intervention express a lot of values and beliefs. They relate to what is there already and to the architectural contribution and any transformation thus interlinks ideas on yesterday, today, and tomorrow. Most of these values and 'readings' are 'silent partners' as many designers are not necessarily aware of all the connotations they bring into our joint physical lifeworld.
Re-centering architecture on all living beings
When dealing with architecture, landscape and urbanism, nature is an integrated part of what we work with and what we work within. It is the goal and the medium at the same time. Therefore, it is of utmost importance to learn new generations to navigate within this delicate context while also acknowledging that we are all on a heavy learning curve. As Ellen points out, architecture has been centered on human beings and has for that particular reason now decentered itself. If architecture should again become center stage, we need to refocus it on all living beings.
www.studier.ku.dk/bachelor/landskabsarkitektur/
6
Photos: Ida Wang
Ellen Braae
When Ellen Braae left high school, she found no digital guide on educational programmes. Looking up professions in a phonebook, landscape architect catched her attention and she called up the studios one by one hoping to become an assistant to get a feel for the profession. She got one positive respond from an elderly architect who however was in the process of closing his office to retire. Yet she went to see him at his villa where he kept all his project drawings in large formats of rolled up paper.
"His name was Sven Hansen, the former professor for landscape architecture at the Aarhus School of Architecture. He spent the whole day showing me his significant work, his astonishing garden and on informing me on the importance of landscape and how to become a landscape architect. He was known for his ability to unite building and landscapes, for terrain modulation and for his sense of good craftmanship in the detailing. When leaving his office that afternoon, I had already made the decision to enrol the Aarhus School of Architecture - and it turned out to be so much fun. What I didn't know at the time was that the profession had become rather marginalised, and the landscape specialisation closed down shortly after my graduation." - Ellen
After years in practice, Ellen went to Paris on leave for six months. Here she literally walked the city visiting all the parks, gardens and open space structures including new parks created in abandoned industrial areas.
"I found books on the strategies showing that landscaping had gained importance becoming the means for urban renewal. Yet in parallel, I wondered why no traces from the former industrial uses were left with the purpose to enrich the new parks with additional layers of meaning, structures and ecologies." - Ellen
When returning to Denmark the topic of her Ph.D.- work became: Transformation of ruinous industrial landscapes focusing on new design theory, heritage, and urbanism. Years later Ellen was appointed to relaunch the landscape architecture programme at the Aarhus School of Architecture.
"At my new office I found some huge metal boxes containing Sven Hansen's many slides, and later I also found his drawings at a remote storage in a Copenhagen suburb. So, I have this ongoing con-amore project of writing a book about his work and legacy." - Ellen
Ellen is since 2009 professor at the University of Copenhagenone of few institutions in Denmark educating the new generation of landscape architects and urban designers. She is heading the research group for landscape and urbanism and giving lectures on the importance of landscapes and open spaces.
Interview by Art Concept
PROFESSOR
HEAD OF R ESEARCH
2022 -
Member of expert committee on national architecture policy
2022Copenhagen Architecture Festival
Member of the board
2018 - 21
Danish Arts Foundation - Architecture
President of the board
2011 - 15
Independent Research Fund Denmark
Culture and Communication
Member
2009 -
Professor at the University of Copenhagen
Landscape Architecture and Urbanism
2003
PhD degree
Transformation, Urbanism and Heritage
1996 -
The Danish Association of Architects
Expert judge of 50+ national and international architecture competitions
1991
Architect MAA
AAA, Aarhus School of Architecture
7
"It is not often that you get the chance to work with such a large project for the common good, that will have an impact on many people for many years to come – it is a great privilege, but also very complex and challenging. Although I am born and raised in Aarhus, there were actually many places and destinations in Kongelunden that I did not know. My hope with the development plan and the implementation of the project is that many more will discover the area's incredible qualities." - Line
Kongelunden in Aarhus
Illustration: Holscher Nordberg
Kongelunden in Aarhus
Development plan
Area: 200 acres
2022 -
Client Aarhus City Council
Team
Holscher Nordberg
Kragh & Berglund
Hele Landet
SPVI
OVJ Arkitekter
Rikke Øxner
Christina Mathiesen
Kristian Raun Thomsen
Sustainability
Facilities for sports and recreation
Preservation of existing cultural structures
Strategy for increasing biodiversity
Handling of rainwater
Maintenance of forest
Status
Completion of parallel assignment
www.kongelunden.aarhus.dk
Kongelunden in Aarhus
Democratic, sustainable development
Kongelunden is a green, urban area near the centre of Aarhus and is one of the largest recreational areas in Denmark. Many citizens frequent the attractions, parks, and forests all year round and, in the sports campus, a new football stadium is underway.
Development plan Kongelunden
The vision of the development plan is long term care of the nature and forest, increased accessibility for all citizens to Kongelunden and development of new attractions. New sports facilities and new urban spaces and landscapes with room for playing, staying, and meeting are planned. New routes and pavilions are designed to connect Kongelunden to the surrounding city and landscape and strengthen internal cohesion and wayfinding between activities and meeting places.
Access for everybody
The vision for the infrastructure reuses existing paths and roads and tests changes to flow and traffic in temporary, small steps, before permanent changes are introduced. In the long term the infrastructure in Kongelunden gradually changes and makes room for nature and people on foot and by bike.
Natural life
The maintenance of the forest and parks prepares to receive more rainwater and create new living spaces for more plants, animals, and insects, alongside footpaths so that visitors can experience the local ecosystems without disturbing the natural life.
10
Illustration: Holscher Nordberg www.holschernordberg.dk
Line Willacy
Line Willacy became an architect a little bit by accident because she loved drawing and because her father, also an architect, pushed her in that direction.
"I found out that architecture was more than drawing and I like how architecture connects all disciplines of construction and is an ever changing image of our culture." - Line
Almost twenty years a competition architect making conceptual outlines for all kinds of building projects, Line has the prerequisites to contribute to sustainable urban planning. Among other projects, she was involved in the transformation of 500 acres into a new suburban housing area when a military airbase was de commissioned in Værløse outside Copenhagen. In that context the preservation of nature for recreation had an important focus.
Since a hundred years
The City of Aarhus wants Kongelunden to remain an active and democratic area, offering various possibilities for leisure, sports, and recreation. New destinations will be created to support the quality of life within many different communities.
Line Willacy has been a co-writer of the competition brief for the parallel assignment with three interdisciplinary teams. The winning team lead by Holscher Nordberg Architects was elected in the summer of 2022 by an assessment committee with two appointed architectural judges. Earlier on there had been an open concept competition with 43 teams handing in ideas to inspire the content of the competition brief.
"The development plan is a strategic tool with a holistic approach towards how the city's visions can be realized through urban development, which in this case is much more than pure spatial planning." - Line
Broad involvement
Before handing in the plan for approval by the City Council and authorities, quite a few ideas and proposals from the competing teams have been qualified and reality checked to ensure the viability. Neighbours, sport clubs, commercials, VisitAarhus, counsels, kindergartens, scouts, churches and more, have all been involved in the collection and qualification of visions and ideas for Kongelunden.
"We now have a strong foundation for the future work within the framework of the development plan for Kongelunden and the planning and realization process that now follows for the project. I am particularly looking forward to making Kongelunden more accessible for many more visitors by enhancing the infrastruc ture in terms of improved public transport, interconnected trail systems, intelligent wayfinding, more places to buy food and beverages and public toilets. With nature in the leading part we want to create a high-class destination in the middle of the city."
Interview by Art Concept
2G7A6474
CHIEFCONSULTANT
2020Kongelunden
Aarhus Urban Planning
2019
DGNB-consultant
Sustainable Urban Planning
RBB, Rådet for Bæredygtigt Byggeri
2018Realdania
Membership representation
2017 -
Akademisk Arkitektforening Expert Judge
2017 - 20
AART
Urban Planning
2000 - 14
Cubo Arkitekter
Competition architect
1997
Architect MAA
AAA, Aarhus School of Architecture
2G7A6480
11
Waterworks - plant in a landscape
Illustration: PLH Arkitekter
www.plh.dk
Sally Rudgaard Jessen
PROJECT, DESIGN AND STUDIO MANAGER
When motivation for school lessons was not at a peak the young Sally Rudgaard Jessen fell into doodling on squared paper. This allowed her to use her fantasy arranging stables for hundreds of horses and creating entire stud farms. She found her rightful place when she entered the school of architecture and then she wanted to learn all about the profession.
"I find it most interesting to immerse myself in the examination of any theoretical topics, relevant to the development and the realisation of very technical construction projects and I want to be on safe ground with weight and evidence behind my statements and advices. Involving the users and giving information correctly during the process of development are essential for a succesful result." - Sally
Before Sally took over the responsibility for PLH's contribution to the construction of waterworks for HOFOR - Greater Copenhagen Utility - the water supplier for Copenhagen and surrounding municipalities - she was involved in constructions for health care. Hospitals and waterworks have a few things in common. Space programmes are tight and the logistic requirements are significant as well as the demands for a high standard of cleanliness.
"Several of the existing waterworks were old and in need of renovation. We are dealing with six waterworks in total. Three of these are nearly finished and three more are in the design phase. We made a design manual to give the buildings a degree of recognisability concerning the architectural expression. Everybody in the team and among collaborators are quite enthusiastic about the importance given to the architecture of these buildings and along with the technical insight, I have gained a true passion for the construction of waterworks over the five years I have been head of the projects." - Sally
Years ago drinking water was stored in open reservoirs and this caused algal growth when exposed to sunlight. As the water's path is now laid in pipes and closed tanks, it is possible to let the dayligth into the buildings. The waterworks are unmanned most of the time, but when the operators come by for inspections they can enjoy the daylight indoor giving the best working conditions.
"The waterworks are prepared for the future. An increased focus on water pollution from agriculture and firefighting will lead to new needs to measure and purify water for toxins. The design manual prescribes a modular structure to make it easy to extend the plants with space for more functions like new purification methods." - Sally
In addition to her role as head of projects for the supply sector Sally is also studio manager and the main responsible for all other projects within PLH. Everyone can consult her for the best advice.
14 Interview by Art Concept
2021 Certified Design Manager DB / Danish Association of Construction Economists
2019PLH Arkitekter
2018 Construction Economist DB / Danish Association of Construction Economists 2016 - 18 Friis & Moltke Architects 2013 - 16 SHL Architects 2011 - 13 Mangor & Nagel Arkitektfirma 2006 - 10 Hou + Partners Architects 2009 Process management and user involvement The Danish Association of Architects 2006 Architect Royal Danish Academy of Fine Art School of Architecture
Waterworks - plant in a landscape
Gevninge - Waterworks
Supplies and resources
Lejre Municipality
Region Zealand
Area: 6,500 m2
2018 - 2024
Client
HOFOR
Greater Copenhagen Utility
Architects and subcontractors
PLH
Consultants
Cowi Niras
Krüger
Emcon
Øllgaard
Sweco
Contractors
NCC
Wicotec Kirkebjerg
DI-Teknik
www.hofor.dk
Soft water - solid architecture
The new plant in Gevninge near Roskilde is designed for water softening and established with the associated process rooms needed. The building is subdivided in three sections for flexibility enabling modular extensions in the future while also adapting to the sloping field. The shape of the roofs are slightly curved as a reference to the surface tension of water in a tank. Matt profiled glass in the main facade to the south makes the water production visible with the process tanks and pipes to be seen from the outside. This semi-transparency gives the impression that the water is kept cool and clean like frosen into cubes. Both cleanliness and security are given a high priority to make a safe and healthy water supply.
The water
industry is integrated in the nature
Placed in a recreational nature area strolling passers-by are invited to come close where a footpath is cleared for a walk all around the plant as part of the landscaping. The processes of the production in the waterworks can be observed and this experience spreads the understanding of the technology in use.
Consumer-owned world-class water supplies
The new waterworks are connected to the excisting water supply centre by parallel pipelines carrying raw water and clean water respectively over a distance of three kilometers. The water coming directly from the underground is pure. Softening the water reduces the need for soap and washing powder. This will ease the cleaning process at the sewage works, which saves energy also meaning a reduction of CO2 emissions.
15
www.plh.dk
Illustration: PLH Arkitekter
"The well-being of future generations depends on the choices we make today. We must invest in long-term visions when we plan and build, to make an imprint that creates increased value and makes a difference to society. We aim at planning resilient cities that harmoniously co-exist with nature, reduce environmental impacts, and improve the well-being of their inhabitants. Therefore, we involve local communities and essential stakeholders in the planning and design processes to include ownership and engagement, which is key to a sustainable future". - Julie
Urban strategy and landscape
Illustration: Lytt Architecture
www.lytt.dk
Julie Kaalby Bjerre
As the lead architect of the winning architectural proposal for the project New Rosborg Julie played a critical role in translating the political vision for the area into a cohesive and visually compelling design. Despite the complex and interdisciplinary challenges posed by the project - including ground pollution, water management, biodiversity, and green mobility - Julie's team was able to develop a clear and easily understandable concept for a new neighbourhood integrated with nature where urban 'islands' are constructed using excess soil from a neighbouring infrastructure project.
Julie's approach to managing complex projects involves practicing inclusive leadership and facilitating effective communication among all stakeholders. In order to do so, she recognizes the importance of listening generously and making space for diverse perspectives, setting aside her own biases in the process. She translates the ambitions, requirements, and inspirations of all parties into clear and strong architectural concepts and strategies, guiding projects from vision to physical realization.
"In the field of strategic urban planning, interdisciplinary skills are essential for success. Especially when the project is transformation of an old junkyard into a new sustainable neighbourhood. I have drawn on a wide range of specialized competences and several colleagues to meet all the requirements and expectations from a very ambitious project owner - Vejle Municipality. Having many specialcompetences in-house has been both key and privilege for me as a projectleader. It enables us to condense visions into clear concepts while I stay focused on driving the project over an extended period." - Julie
Julie has been involved in the New Rosborg project, from the competition, making plans for development and strategy for the entire area and advising on the realization plan for the first stage, the Nordholmen Islet. Julie now continues to provide consultation to Vejle Municipality as a landscape architect during the site development. From the initial sketches to the first implementations, Julie remains committed to realizing the ambitious architectural goals, maintaining high-quality standards through-out the entire process. Dedication to sustainability and a better future is what drives her work, and she takes pride in being a part of the New Rosborg project.
"Ny Rosborg challenges the conventional approach to urban planning which in Denmark tends to give priority to the built environment over green spaces. The goal in Ny Rosborg however is to shift this balance and make the landscape and greenery the central, organizing feature of the neighborhood. This not only strengthens Vejle's relationship with the river valley but also creates new connections with valuable natural areas. It showcases the future way of planning, where nature decides the urban structure and not the reverse." - Julie
Interview by LYTT
18
2020LYTT Partner and co-owner 2019 Professional Creativity The Danish Association of Architects 2018 +2 - Practical continuing education The Danish Association of Architects 2017 - 20 LYTT Associated partner 2014LYTT Architect 2014 Rambøll Architect 2014 Master of Arts in Architecture Urban Design and Landscape Aarhus School of Architecture PARTNER 2021 LAK Management of Architectural Quality The Danish Association of Architects URBAN & LANDSCAPE
Climate-resilient urban area
Ny Rosborg / New Rosborg
Vejle Kommune
Area: 80 ha
Future population
4,000 - 5,000 inhabitants
2018 -
Client
Vejle Municipality
Team
Lytt Architecture
Aart Architects
Niras engineers
Arcadis consultant
Contract
Total Counselling
Sustainability
100 Resilient Cities
UN SDG 3, 11 and 15
Local communities, health and well-being
www.nyrosborg.dk
www.vejle.dk/resiliens
Rosborg - a new neighbourhood in Vejle
The development programme for Rosborg as a new urban and residental area includes a mobility strategy, the planning of constructions, the creation of urban spaces and the landscaping for climate change adoptation.
Close to nature
The new neighbourhood is planned to be built on islands in the bluegreen river valley. The landscape is arranged to connect the existing parts of town with the extension of the city where many leisure experiences are planned to take place in nature, facilitating the meetings and the interaction between neighbours. Rosborg will be an attractive place for all citizens in Vejle to pass through to reach nature's everyday adventures taking place in the quiet natural spaces.
City of experiments
Resilience is the driver to work in experimental ways by sending invitations for involvement to create communities where future generations learn to take good care of nature as well as the common heritage of the built environment.
100 Resilient Cities
Vejle was selected to join the 100 Resilient Cities global network in 2013. Cities from across the world will develop a resilience road map and share best practice to tackle the physical, social and economic challenges facing the 21st century.
www.100resilientcities.org
19
Illustration: Lytt Architecture
www.lytt.dk
"With an interdisciplinary approach, we solve the complex challenges of any city - societal, climatic and infrastructural - always with a holistic mindset to ensure that projects connect the city and the landscape - aesthetically, functionally, socially and historically. Together, we develop strong strategies and concepts for urban planning, landscape and construction in Denmark and abroad. All our projects focus on bringing flows of movement together and creating a framework for communities with room for diversity - community being our architectural signature. We are driven by the desire to create positive societal changes. We transform complex problems into simple and sustainable solutions that create joy, identity, added value and cohesion - now and in the future." - Signe
Urban strategy and landscape
Photo: Ida Wang
www.werkarkitekter.dk
Signe Hertzum
Signe Hertzum is a landscape architect and partner at Werk and she was the project leader for the new urban space at Carl Nielsens Allé. Nature and art have always been a great source of inspiration for Signe.
"I applied for landscape architecture without knowing much about the profession. I had an interest in nature and architecture and found the combination fascinating. When I began my studies, it instantly grew on me. I found that I had a passion for subjects such as geology, landscape history, the science of trees and botany - all combined with urban design and the shaping of landscapes." - Signe
Signe still loves landscape architecture and the fact, that it can improve people's everyday lives. The project at Carl Nielsens Allé is a great example of exactly that. In the past, this space suffered from repeated flooding from increasing rainfall events. The new green urban space not only solves this problem - it also serves as a recreation area for the residents living nearby.
"Green spaces always have a positive effect on people. At Carl Nielsens Allé we invite urban dwellers to explore a piece of nature in the centre of town. We placed steppingstones for people to get up close to this new oasis and learn to be more aware of nature. We defined the oasis with a multifunctional architectural edge, that also leads water into retention basins." - Signe
The green transition at a larger scale
Urban planning, urban life, landscape structures and biodiversity are important elements for Signe when working with master planning. Examples of this are the recently inaugurated urban area Grønttorvet in Valby and the new city area, Kildedal, in Ballerup.
Kildedal - a biodiverse new city area
Kildedal is being developed around a large central, green park that is inspired by the surrounding nature. There is a focus on biodiversity and rainwater management as well as natural experiences and recreation opportunities for residents. The path system in the park connects the different areas of the city across different types of infrastructure.
In addition to the masterplan for the development of Kildedal, Werk is preparing a design guide for streetscapes and sketch proposals for the central park in this new urban area.
"By setting new standards for biodiversity in the context of urban life and placing focus on communities and sustainability too, Kildedal offers the future residents a much greener and more sustainable way of living. Our urban projects are created with the aim of making cities more beautiful and more green. It is very meaningful to support this positive change in our world." - Signe
22 Interview by Art Concept
2009 - 16 Polyform Arkitekter Project manager Landscape architect 2008 - 09 LiW Planning Landscape architect 2007 - 08 Birk Nielsen Landscape and Planning 2005 - 07 SLA Landscape architect 2004 Landscape architect Royal Veterinary and Agricultural University of Copenhagen 2000 - 01 Landscape architecture University of Greenwich
PARTNER
2022
DGNB Consultant - Urban Areas
RFBB, Sustainable Construction Council
2016 Construction economist, MBD Danish Construction Economists
2016Werk Partner
Climate-resilient urban area
Carls Nielsen Allé
Copenhagen
Area: 6,000 m2
2017 - 2023
Client
Municipality of Copenhagen
Landscape Architects
Werk Arkitekter
1st price in competition
Engineers
Niras
Contract
Lead Consultant
Landscape Architect
Contractor
Ebbe Dalsgaard
Sustainability
Climate protection
Biodiversity
www.werkarkitekter.dk
Carl Nielsens Allé - an urban oasis
In 2012 the Municipality of Copenhagen developed a strategy to protect the city against flooding from extreme rainfall events. Climate adaptation is now an integral part of urban planning in Copenhagen and more than 50 projects to manage water have already been completed.
From asphalt jungle to green oasis
Carl Nielsens Allé used to be a busy parking lot. Today, it is a lush living space that unites nature, urban living, and climate adaptation in Østerbro, one of Copenhagen's inner boroughs, enjoyed by residents every day. When there is a large rainfall event, the green oasis is transformed into a beautiful pool of water that protects the surrounding area from flooding.
A multifunctional edge
With a simple architectural approach, the traffic, environmental and urban challenges have been turned into a sensuous urban space. The oasis is intensively green and lush, comprised of high and low lying areas. It is contained by a multifunctional edge that acts as a separation from traffic, as furniture and as a waterway in wet weather. When cloudbursts hit the area, the edge leads roof water from Svanemøllehallen to retention basins.
A playful and biodiverse park for recreation
On dry days this space offers recreation and playful learning about biodiversity in the centre of the city. The environmental challenges have been solved by turning the former paved parking areas into an appealing recreative destination for residents and visitors.
23
www.werkarkitekter.dk
Photos: Ida Wang
"The exploration of new strategies and initiatives for town centers represents a significant breakthrough in transforming the towns into vibrant meeting places. By shifting the focus from being solely commercial hubs to creating cohesive city centers that caters to everyday life, commerce, and culture. The transition from architecture to strategic urban planning has allowed me to delve into the intricate dynamics that shape our cities. By analyzing the existing context, engaging in a collaborative and humble approach, and exploring the potential of each unique place, we can contribute to the improvement of living conditions for people across diverse communities. The complexity and fascination inherent in this field constantly motivate me to continue learning and seeking innovative solutions for the future of our urban landscapes." - Mia
Public involvement in land use
Photo: Ida Wang www.grandville.dk
PROJEKT MANAGER
Mia Nørlund
The desire to find creative solutions to complex problems has always fueled Mias aspiration to become an architect. Growing up with a father who was an architect, I was early on inspired by the architect's working method and their ability to unlock numerous untapped potentials simultaneously. Transitioning from the conventional path of working with buildings, I have found myself immersed in the realm of strategic urban planning, where I now focus on understanding the impact of human behavior and societal trends on our living spaces: the cities. Personally, I believe it to be the most intricate and captivating domain to apply my architectural expertise.
Analyzing the Existing Context
"In our work, we embark on a journey of analyzing the existing context and delving into the utilization of cities. With our extensive experience as advisors to various municipalities, we recognize the significance of urban regeneration and development visions in shaping the lives of many. Every place possesses its unique potential, and our role is akin to that of travel guides, assisting in the discovery and affirmation of local ideas that enhance living conditions for a wide range of people. This process serves as a continuous source of learning for us." - Mia
A Digging Team Approach
The working method resembles that of a dedicated team of researchers, digging deep to gather data and narratives very well aware that these collected insights will ultimately shape the future development of a particular city. By understanding the intricate interplay between data, stories, and urban planning, Grandville anticipate the lasting impact of decisions.
The Humility of Strategic Planning
"From my perspective, strategic planning demands a certain level of humility. As a planner, I do not consider myself the sole creator of the future city but rather a facilitator who collaborates closely with municipalities, stakeholders, and the community at large. By fostering this collaborative environment, we can pinpoint the untapped potential and co-create vibrant urban spaces." - Mia
From Commercial Town to Meeting Place
One recent project has been focused on Brande, where the vision is to transform the town from a commercial hub into a dynamic meeting place while preserving its great sense of community. In the preliminary stages, the strategic initiatives was thoroughly investigated to enable Brande, already a well-functioning settlement town, to lead the way in a development where traditional commerce might play a lesser role in generating urban life and fostering a sense of community. Based on the process, the town has been successful in attracting substantial external funding for the project. The next step is to initiate a competition process and invite qualified proposals on how the city can realize the shared vision for the breakthrough.
26 Interview by Art Concept
2016Grandville Architect 2013 - 16 Randers Municipality Project Manager 2013 Uraban Planning Expert Aarhus School of Architecture 2010 - 12 Drafting competition Architect Arkitema / Kjaer & Richter 2010 Architect Aarhus School of Architecture 2006 Foster and Partners, London Architect
2022 Masterclass Behavior Morten Münster 2019 Masterclass Bahavior insights INudgeYou
New life in Brande city center
Breakthrough in Brande
Vision worded in 2023
Pre-project and development programme for the city center
Client
Ikast-Brande Municipality
Collaborators
Ikast-Brande Municipality
Brande City
Bestseller
Realdania Advisor
Grandville
Strategic urban planning
Stakeholder involvement
Visioning process
Competition programme
Project leader
Mia Nørlund
Sustainability
Social, Econimical and Environmental sustainability
www.grandville.dk
The Breakthrough in Brande
In Brande, the interaction between people largely takes place in decentralized settings within their everyday lives. In collaboration with the city's stakeholders, Ikast-Brande Municipality, and Realdania, Grandville has explored new initiatives and strategies for the town center of Brande. In the preliminary project phase, we have examined the urban strategic measures that allow Brande - an already well-functioning residential town - to be at the forefront of a development where the role of commerce as a generator of urban life and community is gradually diminishing.
A clear goal
The town center should continue to play a central role in the everyday life of Brande as a gathering place where people can observe and be observed, engage in conversations or greet fellow citizens, even without necessarily knowing each other personally. Brande's town center should continue to serve as the framework for being a resident of the same city, regardless of background, life stage, or interests. The preliminary investigation was conducted in close collaboration with local property owners and involved conversations with over 30 stakeholders, grounded in their realities and everyday experiences. Grandville's role in the process has been to act as a guide in a terrain that is familiar to us, yet unique in its own right.
The City Center Pool
Provincial towns are invited by Realdania to place a focus on urban strategies to improve planning from the past.
www.realdania.dk/nyheder/2023/03/gennembruddet-brande170323
27
www.grandville.dk
Photo: Grandville
Engaged in Architecture
Series
Urban and Landscape
Working and Learning
Housing and Health
ISSUU 2023
Working and Learning
Interviews collected by Art Concept, + 45 28 68 48 24 All portrait photos by Ida Wang, + 45 30 54 24 30 ISSUU 2023
ENGAGED IN ARCHITECTURE
Josefine Ebbe - Gitte Frederiksen Kjølby
Lisa Sørensen - Mette Tony - Kirstine Leth Juul
Dorte Sibast - Anette Grønbæk - Anita Lindholm Krak
Liv Bach Henriksen - Malene Drasbek - Thea Mikkelsen
Susanne Hansen - Malene Hjortsø Kyndesen
Workplaces for the future
www.atp-ejendomme.dk
Photo: ATP Ejendomme
Office building - Christiansbro
Christiansbro
Strandgade 3, Copenhagen, DK
Size: 20.000 m² office space / 4.000 m² basement
2022 - 2023
Client ATP Ejendomme, Pension Fund Building and Property Agency
Collaborators
Cubic Group
NCC Construction
Erik Arkitekter
Rambøll
Sweco
Sustainability
Demolition enabling the recycling of materials
Energy optimisation
Flexible solutions creating a long lasting framework for future workplaces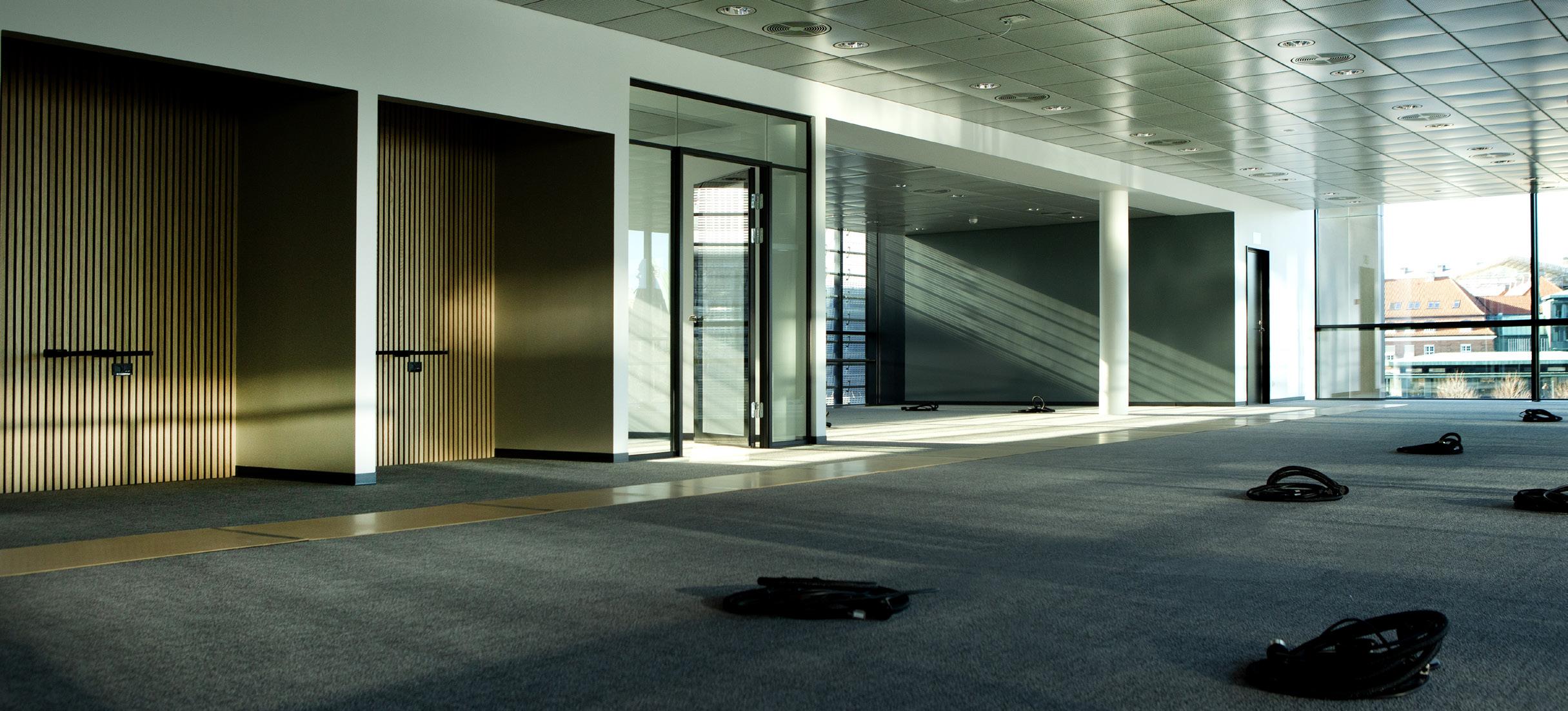 Status
Renovation completed in spring 2023
Building in operation from July this year
Innovative workplaces for the future
The award-winning buildings on the Copenhagen waterfront were designed and built by Henning Larsen Architects from 1996 to 2000. Despite the timeless atmosphere of design and materials, the former bank domicile needed an update due to the rapidly changing market for IT, new energy standards, and increasingly higher demands for flexible working places.
Materials as resources
The visions for sustainability expressed by ATP played a significant role for the possibilities of recycling building materials. Components have been taken down very carefully in order to give them new life elsewhere. All surfaces are now renovated, and the technical installations replaced. Elements were reused directly on the site like the wooden floors, the solid steel panels, and the door handles. Other elements such as the old kitchenettes and wardrobes, the original industrial kitchen and some electrical installations from the server room have found their way to direct reuse elsewhere.
Transparent process
The project was carried out in ten months. The tight schedule required all parties to performe to a high standard. An extra focus was placed on well-functioning relations throughout the process. A project office was established on the site and interdisciplinary, social events were arranged in order to substantiate a productive co-operation and a healthy work environment. Client advisor Josefine Ebbe was substitute project manager in the construction management team.
6
Photos: Ida Wang
www.cubicgroup.dk
Josefine Ebbe
Josefine Ebbe, as a project manager and CEO of your own company since 2008, you have been involved in a lot of projects. Based om your experience, how would you characterize Christiansbro in terms of collaboration and work methods?
"The Christiansbro project actually reminds me of why I founded Cubic Group in the first place. I was frustrated with the silo mentality in the industry and wanted to create a place of work where short decision paths and interdisciplinary workflows enabled holistic planning and innovative solutions. At Christiansbro, the transparent process and the close co-operation with ATP on a daily basis lead to decisions and results, that all professionals involved in the project can trouly be proud of."
How did this materialise?
"Let me give you an example: In the fall of 2022, a senior ATP project manager came up with the idea to send three power generators, that were no longer needed at Christiansbro, to Ukraine. In a matter of days, a work group was established, and everyone pitched in donating their time and expertise or money and materials to help safely uninstall, move, and reinstall the generators in Ukraine, where they now provide vital power for thousands of people. The circular way of thinking as well as the determinacy that enabled this project-within-the-project, which also offered everyone involved the opportunity to act on a basic desire to help the people of Ukraine, was very characteristic for the Christiansbro project organization: Initiative, efficient, and resourceful. These characteristics facilitate a dynamic, interdisciplinary co-operation-process."
Which role did Cubic Group have in the project?
"The renovation was carried out as a management contract, and Cubic Group was hired by ATP Ejendomme to help in the construction phase. Christiansbro is a great example of an attractive project for us, because all of Cubic Groups specialist skills within client consultancy, construction management and QHSE came into play. We are at our best, when we work as an interdisciplinary team, and it is very fulfilling, when we due to our well-tested workflows can contribute to create added value for our client."
In addition to your job as CEO, you have several Board memberships. Why is that?
"My motivation for joining external boards is based on a wish to contribute with my knowledge of daily management, business development, sales and marketing and thus be an active sparring partner to other companies. Also, it helps me to stay in tune with the current market developments. I highly recommend it and I will gladly help other women to get started."
Interview by Cubic Group
CO-FOUNDER
2022Koncenton Head of the board 2021Koncenton Member of the board 2010Cubic Group Member of the board 2008 Cubic Group
Co-founder / co-owner
2004 QHSE Manager
Quality, Health, Security and Environment
Entreprenørskolen in Ebeltoft
2000
Architectural Technology and Construction Management Bachelor
Copenhagen School of Design and Technology
7
CEO
"We design for the future by preserving buildings from the past. Through in-depth building analysis, we identify the inherent values and potential of existing structures - a discipline we've honed through our extensive understanding of cultural heritage. As part of the sustainable development in construction, we consider the creation and preservation of architectural quality as the most essential agenda. By incorporating quality and adaptability into our designs, we secure the longevity of these structures for upcoming generations. Sixty percent of our projects involve repurposing existing buildings, transforming hospitals into homes, offices into hotels, schools into offices - new use of our time" - ERIK Arkitekter
New Town Hall in Horsens
www.erik.dk
Photo: Ida Wang
Gitte Frederiksen Kjølby
PARTNER AND PROJECT MANAGER
At the age of 14 - on holiday in France - Gitte Frederiksen Kjølby realized the extraordinary impact that architecture can make on buildings and culture. She was standing inside The Chapel of Ronchamp by Le Corbusier, finding herself overwhelmed by impressions playing with her senses. The light swept under the roof in a way that made it look like it was floating, putting her in a state of wonder and fascination. She believed that working with design and architecture would be like magic and she has always been interested in painting and drawing.
"Getting accepted into the Aarhus School of Architecture had no admission requirements other than high school level education. This fact - not having to show any artistic talent - made me doubt if I was truly qualified to be a student at the school, but I loved the atmosphere. I enjoyed learning about different generations of architecture and meeting other students who shared my interests." - Gitte
Gitte enjoyed diving into every project and design. Her motivation to study was purely driven by her own interests and a freedom to create her own plan for the projects of her choice. After school her very first job was at a smaller design studio where she found herself being the only woman around.
"Starting out I did a lot of interior design. I observed and analysed peoples behaviour like an anthropologist to enhance the activities of the users for whom I make the design. So early on I learned that architecture can be so much more than just drawing facades. And it's
still a lot of magic and fun"
- Gitte
In 2021 the technical education programmes - VIA University College - moved into a new building. This made it possible to consolidate the public administration in Horsens - from defragmented and spread around the town - at one location only.
Transforming a school into a town hall with offices and spaces for public administration had a surprisingly low budget. This led to quite a lot of material reuse, which forced Gitte to adopt a far more sustainable approach to the project. Very few new solid walls were constructed, but still the flexibility to accommodate future demands and purposes has been given a high priority.
"We analysed the existing buildings using the same approach as when we deal with preserving heritage, but we also had to solve problems where daylight was poor and make an updated fire strategy due to the new usage. We placed a focus on interior design and worked with colour variations to make local recognition in a huge house. We gave the users a catalogue with options to make their individual choices for each department. We have not built a new town hall, yet the City of Horsens has been enriched with a new town hall. The sustainability challenge we face as architects, is to learn to care for these buildings from 1967, the 80s and 90s as well as the last extension from 2012." - Gitte
10 Interview by Art Concept
2022 Mini MBA Sustainability Management 2019 BR18 and ABR18 Legislation and Contracts 2018 Space Syntax UCL London 2018ERIK Arkitekter 2008 - 18 Formsprog Owner 2013 - 14 PLATO Development seminar and growth network 2013 AI - Behaviour Analysis Tool 2001 - 06 Sahl Arkitekter 2001 Architect AAA, Aarhus School of Architecture
New Town Hall in Horsens
Town Hall
Chr. M Østergaards Vej 4
Horsens
1967
VIA University College
Technical School
2019 - 22
Transformation into offices and public administration
Size: 28,000 m2
Employees: 1,000
Client
Horsens Municipality
Architect
ERIK Arkitekter
Engeneer
Sweco
Contractor
Nordstern
Sustainability
Preserving existing buildings
Low budget
Flexible work place design
Creating healthy indoor climate
Transformation from school to town hall
The existing building from 1967 and the extension from 2012 were made for education purposes. That is why it was important to consider and explore the potential of the existing buildings when creating the new town hall in Horsens. This workplace is intended to accommodate over 1,000 employees who were previously scattered across multiple small offices and spaces. The vision is to establish a modern workplace that supports contemporary working methods and fulfils the requirements of the employees, such as knowledge sharing and increased inter-action.
A Modern Working Environment
The new town hall facilitates collaborative work and knowledge exchange among colleagues, fostering a sense of community. Printers and coffee machines are strategically placed as places where to meet like the conference rooms gathered in connection with one central hall. Additionally smaller spaces are created like open compartments where colleagues can sit down and have conversations when they encounter each other and pick up conversations in the hallway. A large canteen enhance the feeling of community within the workspace.
Employee feedback
A design-group of employees have been involved in the decisionmaking when designing their workspace. Coulors were selected in a democratic process also determinating how excisting artwork and furniture could fit into new spaces. In addition to the main administrative functions, the town hall houses a job centre, a service centre for citizens and a youth centre.
11
Photos: Ida Wang
Learning
"The future holds immense changes, not just for the construction industry but for society as a whole. To meet growing sustainability demands, we need to build far fewer new buildings – and to make do with fewer square meters in the ones that are indeed built. This means that every square meter should offer even higher architectural and functional qualities. The houses we build today should be able to be used again and again, by current as well as future users, and ultimately serve as "donor buildings" for new constructions. So how do we as architects design structures that will be able to meet purposes and demands that won't materialize until maybe 50 or 100 years from now? Well, we can't, unless we are willing to think innovatively, try out untested technologies, experiment with our sense of aesthetics and, quite importantly, agree to discard 'business as usual'." - Anette
DMJX Campus in Copenhagen
www.plh.dk
Illustration: PLH Arkitekter
DMJX Campus in Copenhagen
DMJX Campus in Copenhagen August Schade Neighbourhood
Ørestad Area: 7,000 m2
2020 - 2024
Full time students: 800 Course participants: 2,000 Staff: 70
Client
Danmarks Medieog Journalisthøjskole
Architects
PLH
Dall & Lindhardtsen
Engineers
Ingeniør'ne
General contractor
5E Byg
DGNB Auditor
Ekolab
DGNB Gold
DGNB Heart
www.dmjx.dk
Danish School of Media and Journalism
DMJX educates the talents of the future in advertising, journalism, photography, communication and media management and also offers further education for those already working in these areas. The architectural concept behind the building was created with inspiration from the modern media flow in which the students have to operate.
Openness, connectivity and adaptability
Important keywords for the future journalists are openness, connectivity and adaptability. These principles are in focus in the 7storey education centre, where large glass sections in the facade create transparency and invite the world inside. This is an environment for students to work and collaborate, to be creative and innovative, exchange ideas and immerse themselves. Flexible interior design ensures that the building can continuously adapt to the changing needs of the future, the open atrium connecting all floors vertically and visually.
A house with a heart
The architecture is based on the needs and wishes of the users. The atrium is like the heart of the building. A central square with a café, a canteen, an 'inspiratorium' and the opportunity of making various events such as lectures, film screenings, public meetings and concerts. A green staircase with planters and niches draws the nature of Amager Common into the building. The greening grows and spreads out at all floors before reaching the rooftop terrace giving access to the large conference hall with room for 200 guests and a view of the city and the common from above.
16
Illustration: PLH Arkitekter
www.plh.dk
Anette Grønbæk
Anette Grønbæk's passion for architecture was first kindled when, as a child, she was taught the art of perspective drawing by her uncle. He was working as an architect in the US, and Anette was enthralled by his visits to the family home, when listening to the tales of the fascinating projects, he constructed over there. F then on, she pursued her dream to become an architect too even though her high school student counselor doubted it could ever make her a living. Initially drawn by aesthetics and artistry, it was the functional element that truly captivated Anette.
"Ever since I was a student at Aarhus School of Architecture, I've been intrigued by how we can use architecture to translate human wants, desires and behaviors into physical structures to suppor specific needs. My main goal with every project throughout my career has been to improve quality of life for the end usersit still is to this day." - Anette
A house that fights loneliness
This human-centered approach has been a key component of Anette's work on DMJX, a coming 7,000 m the new School of Media and Journalism. The school prepared a set of personas that the new building needs to accommodate.
"Through close dialog with everyone involved, we got indispensable insight into these archetypal personas and what they re present. We realized that this house has to offer an atmosphere of community. Many young people struggle with feelings of loneliness and isolation. Consequently, we sought to make a building that induces unity and inclusion - a sense of belonging. At the heart, we have this vast atrium, where you can meet, do group work and socialize. But we've also made room for vulnerable students, creating spaces where you can avoid the crowd, con centrate, focus, yet still feel part of the collective." -
A conscious loss of control
Anette
Along with social needs, ensuring a sustainable profile for the project was a major concern for Anette, as she together with the client, engineers, and contractors embarked on what she descri bes as a 'joint mission' to reduce the building's CO2 emissions, energy consumption and use of chemicals. But increasing sus tainability means decreasing control, she explains:
"We decided to build the outer walls of the ground floor with recycled bricks in shades of red. Making such a choice, you relinquish complete control over the colour composition, depending on the bricks available in the market at the time of construction. This loss of control was readily accepted by DMJX, the Munici pality of Copenhagen, and the plot owner. Now I think everyone agrees that the finished result is nothing short of stunning. It takes courage to opt for circular solutions with projects of this mag
In return, the house has gained a historic materiality from a tradition of building with bricks, remaining beautiful and alluring, for centuries to come." - Anette
CLIENT ADVISOR
PROJECT LEADER
SUSTAINABILITY MANAGER
2022DGNB Consultant
LCA and LCC calculations
RFBB
Sustainable Building Council
2020
Construction Economist
Danish Association of Construction Economists
2019PLH Arkitekter
2016 - 19
KHR Architecture
2015 - 16
Arkitema
2014 - 15
Rambøll Studio Dreiseitl
Singapore
2010 - 12
2+1 Idébureau
2003 - 10
Schmidt Hammer Lassen Archtects
2003
Architect MAA
AAA, Aarhus School of Architecture
Aarhus School of Architecture
Photo: Rasmus Hjortshøj www.adept.dk
Aarhus School of Architecture
New Aarch
Aarhus School of Architecture
Size: 12.500 m2
2014 - 21
Client
Bygningsstyrelsen / Danish Building and Property Agency
Client advisor
Etos Ingeniører
Team
Adept
Vargo Nielsen Palle
Rolvung & Brøndsted
Triconsult
Steensen Warming
Praksis
Contractor
A.Enggaard
Sustainability
Low cost
Collaborative Management
Userinvolment
Furniture recycling
www.bygst.dk
New partnering - Collaborative Management
The winning team was found in 2016 after 235 responses to an open international competition of ideas followed by an invitation for the 3 winning teams to compete about the concept, design an realization of the new school against 3 other teams given access by prequalification.
Tools for risk management
The team leader and head of project Lisa Sørensen saw the necessity of developing new tools for her management in order to assure the delivery of quality in time for a quite limited framework outmount. The leadership of the school, teachers and students had many strong wishes for the study environment of the future. Self-conscious start-ups working creatively in the neighbourhood should also be taken into consideration. Lisa therefore had an early focus on dialog an exchange of information.
Tender, contract and culture
Looking carefully for the right contractor to decrease any risk related to stakeholders and organisation, Lisa studied the culture of the contractors and implemented personality tests of the key persons avaible before signing any contract. She separated the construction costs from the earnings, replaced partly by common bonus goals. This meant that earnings increased for the contractor when the project organisation all together delivered succesfully on predefined objectives. Classic professional project management was combined with psycological methods for motivation and negociation. Lisa made the team work together sharing a very positiv energi towards the nice final result.
20
Photo: Rasmus Hjortshøj www.adept.dk
Lisa Sørensen
A young schoolgirl Lisa already appeared as a capable mediator between female friends. She naturally solves misunderstandings and disagreements showing curiosity and an inquiring mind. She is straightforward, not afraid of conflicts and very focused on developing her own professional skills. She is aware that a successful collaboration requires both healthy relations and activities well-planned.
"I really learn a lot talking with the industry in an early stage where competition is still far off in the future. I engage in a market dialog to get input on how to organise and tender the projects with the purpose of responding to the market interests and manage the complexity and the risks of the projects. Later when a team is engaged, I devote three weeks full time to establish the work culture for the co-operation and delegate duties in a way where we all use eachothers knowledge in the best ways." - Lisa
Value creation through involvement
Lisa was assigned to the task of leading the construction of a new school of architecture after only two years of related experience. Her first project for the Danish Building and Property Agency was the establishment of new laboratories for the University of Aalborg at the campus in Esbjerg. She moved from involving engineers in the creation of new frames for innovative studies to working with visionary architects and their wishes for making sense of space.
"Experience counts of course, but I never think, that now I know all it takes to lead a team confronting the demands of high performance. I always start identifying and analyzing what is different in a new context related to both the place, the project and the people involved. I am like a serial start-up entrepreneur constantly doing research about new markets and related risks." -
Expansion of the Danish Parliament
Lisa
Lisa is now head of project for the transformation of the old national archives into a visitors' centre for the Danish Parliamenta democratic meeting place for citizens and politicians to improve and revitalize the conditions under which the parliamentary work takes place. Lisa has introduced a procedure where the market dialog is extended to include the tender planning for engaging both client advisors, architects, engineers and contractors, demanding an absolutely transparent business case.
Awards
Lisa facilitates any collaboration based on the detection of the interests of each and every stakeholder, which she deals with openly during the joint meetings. Her results are twice awarded. In 2020 Lisa received a price for young talents at the Danish Building Awards for developing New Partnering as a co-operation model. The Danish Building and Property Agency was selected winner of the Honorary Kalaidoscope in 2021 by The Danish Association of Architects for the management of New Aarch.
Interview by Art Concept
TEAM LEADER HEAD OF PROJECTS
2021 Management training
DTU / Technical University of Denmark
2021
Talent training for board work
IDA / Danish Union for Engineers
2018
Management training
Danish Construction Economists
2017
Prince2 - Foundation
Implement
2016
Psychology of negotiation
A-2
2013 -
Danish Building and Property Agency Team Leader
2011
Civil Engineer in Architecture
Cand.Polyt.Arch
University of Aalborg
21
The Media Library
Photo: Ida Wang
www.praksis.dk
The Media Library
Aarhus School of Architecture
Size: 520 m2 / 1,600 shelf meter
5,5 km of columns and balusters
2021
Award
Træprisen for the use of wood
Client
Aarhus School of Architecture
Finansial support
Den A.P. Møllerske Støttefond
www.apmollerfonde.dk
Team
2018, 1st prize in competition
Praksis Arkitekter
Henry Jensen, engineers
G. K. Kaysen, carpenter
Material LVL
Laminated Veneer Lumber
Sustainability
Furniture recycling
www.praksis.dk
The Media Library
www.praksis.dk
A wooden furniture in four levels
The Media Library at the new Aarhus School of Architecture is a remodeling of a left over wooden shelving system. The shelves earlier served in the basement of the now closed Aarhus department of The National Archives. The beautiful and simple structure was stored a long time before comming to use again in the heart of the new school building.
Inheritance as an attraction
The ancient shelves appear as a gift of surprise and authenticy from Hack Kampmann, the famous danish architect behind the old archives, built in 1902. The original shape of the structure has inspired for the new geometri while also giving the library a historical weight and particular meaning in a constallation where old use meets new needs.The shelves made of raw pine wood are transformed into a charming modern context.
Visitors are welcome
The library is a public place for learning and inspiration, containing both quiet individual study places and space set aside for group meetings. Works representing all approches to architecture can be found on the many shelf meter, where relevant scientific subjects are arranged alongside introductions to artistic and innovative design methods. A large collection on architecture, design, landscape and urban planning can be explored. At the ground floor is kept a permanent stock of samples to touch and inspect the varity of building materials and students can display their work in the exhibition area.
24
Photos: Ida Wang
Mette Tony
Mette Tony first went to Paris as a student to work at a hotel thinking that she might later establish hotels herself back in Denmark. She made drawings of buildings and scenes from streets and squares and she went to the theatre to watch ballet performances. Then she discovered an interest in architecture and sent home her application to enter the Royal Danish Academy of Fine Arts.
"I am still very inspired from living in Paris. Each floor of the buildings is different from the others. I became aware of the care for the details - often quite simple ones - creating an appealing varity in the use of the same materials. Details can have an effect of down-scaling larger volumes like do plinths, cornices and other decorative elements." - Mette
Mette grew up in an environment with cranes in a shipyard and engineers in the family working with the spirit that anything is possible. Fiberglass is easy to mould and space in a ship is easy to read, always with a very clear concept.
"I seek to leave a thorough simplicity as my mark. I am very humble when transforming and renovating. Part of my method is to walk around and stare a lot not to miss anything. I take one step backwards and let the place tell me stories. Then I borrow the quality found in the existing expressions and materials and I rework and treat it to add value to the projects and the surrounding neighbourhood at the same time." - Mette
The Media Library
Praksis has created an installation that transforms the character of the wood into an overwhelming element. The Media Library is not only a piece of furniture placed in a room, but also a part of the formal universe at Aarhus School of Architecture. The spectacular construction has become an instant attraction in the city, so much so, that the librarians have put up signs warning visitors not to speak to loudly.
"We fell in love with this huge pile of left over shelves and let them remain in their own right mostly keeping their dimensions. It became an exciting challenge to make a mega construction: Taller - bigger - larger. Then we worked with the surface to find a treatment to lift the appearence of it and ensure the wooden structure another long life as a new library." - Mette
Awards
2021 Træprisen for the use of wood
2020 Hack Kampmann Prisen - for The Media Library
2019 Nationalbankens Jubilæumslegat
2017 Nykredits Arkitekturpris
2017 Dreyers Fonds Hæderspris
2017 Betonelementprisen and Utzon-statuetten
2015 Renover Specialpris
2008 Eckersberg Medaillen
FOUNDING PARTNER
2007Expert Judge
The Danish Association of Architects
2006Praksis
Founding Partner
1998 - 05
PLH Arkitekter
2005
Construction Economist
DB / The Danish Association of Construction Economists
1998
Architect
The Royal Danish Academy of Fine Arts
Copenhagen
25 Interview by Art Concept
Aarhus School of Architecture
www.adept.dk
Photo: Rasmus Hjortshøj
Aarhus School of Architecture
New Aarch
AAA
Aarhus School of Architecture
Exners Plads 7 in Aarhus
Size: 12,500 m2
2021
New location
1965
Established
2013
Decision to build the first new school of architecture in Denmark.
Users
600 students
140 employees
Rector
2010Torben Nielsen
Pro Rector
2017Kristine Leth Juul
www.aarch.dk
Engaging through architecture
Aarhus School of Architecture offers room for various experimental studies. Learning activities alternates between drawing representations and building physical objects. Collaborative relations are established locally and internationaly from the very first years at school and all projects are defined to create a social effect or have another relevans to society. Teaching has a focus on design as a creative and holistic proces stimulating the ability to work both visually and tridimensionally.
Vision New Aarch
The proces of creating af new school was used to develop and strengthen the profile of the 60 year old institution. The location in the city was chosen with the intention to integrate the study environment in the development of a new urban neighbourhood close to other cultural institutions where start-ups have already established an innovative approach to business and work.
The scandinavian tradition
The development of architecture is based on an artistic way of working, supported by a broad knowledge about the history of architecture and theories using both classic tools and digital software for both drawing, planning and fabrication.
Research - framework and stategies
Three labs reflect the main focus areas of research. One is transformation, including cultural heritage, landscape and urban planning. Two is habitation combining construction technologies and materials. Three is sustainability and innovation in a holistic perspective.
28
Photo: Rasmus Hjortshøj www.adept.dk
Kristine Leth Juul
Creativity runs in the family. Kristine grew up with a grandmother, who provided materials for drawing for all her grandchildren and showed them how to mix colours for paintings. This way
Kristine learned the pleasure of gathering knowledge and studying techniques for the purpose of making handicrafts. She took up internships at an advertising agency and with a carpenter before a multidisciplinary workshop with training for craftspeople united her passion for design, construction and building and guided her into the Aarhus School of Architecture.
Managing director
The complexity of managing the projects and the importance of creating confident interdisciplinary relations motivates Kristine as she likes to integrate an analytical way of thinking in the creative processes while working for a both functional and aesthetic outcome. As a manager of a design studio she facilitated all project phases many times over several years, showing an increasing interest in the cultural transformation following the design of new buildings, cities and landscapes.
A unique opportunity
Kristine became Pro Rector when the competition was settled with a winning team. She acted as project manager representing the school as a tenant as well as client for the building of the library.
"I worked to realize the visions for the New Aarch by making choices of holistic solutions for the creation of space within the timeframe, the budget and our ambitions. We established a smooth process for decision-making with a clear mandate, bringing in knowledge from the involvement of the staff and the students."
- Kristine
PRO RECTOR
2023
Master of Management Development
CBS, Copenhagen Business School
2021 -
Realdania
Architecture and Planning, philantropy
Member of the board
Sustainable architecture with artistic values
The relocation logistics were planned for a quick restart, leaving some shared spaces undefined to observe the use before dedicating the rooms for a certain kind of work and let the students and their teachers continue developing the use of space through their eveyday interaction. A new educational framework is under development where sustainability will be integrated through out all five years of study and rooted in both a cultural understanding and insights into nature, still with an artistic approach.
"Moving and transforming the school is a delicate task. In the management we are very aware of maintaining important parts of the existing culture while also preparing for new traditions inspired by the new frames. We move around each other in more open spaces now, supporting informal meetings, mutual inspiration, experiments and the sharing of knowledge in new ways. To truly benefit from the new frames, we have placed a focus on diversity and an open, inclusive culture to support a good environment for work and learning." -
Kristine
2017 -
The State Art Fund
Member of the representative board
2017 -
The Danish Association of Architects
Member of the board, Expert judge
2017 -
Aarhus School of Architecture
Pro Rector
2004 - 16
Møller & Grønborg / LYTT
4 years Managing Director, 8 years a Partner
2001
Architect MAA
AAA, Aarhus School of Architecture
29
Interview by Art Concept
The Danish Association of Architects
Photo: Niels Nygaard
www.arkitektforeningen.dk
The Danish Association of Architects
Illustration: Karberghus
Arkitektforeningen, Est. 1879 Åbenrå 34
Copenhagen
Since 2016
An ancient rectory
The residency was built by the French Reformed Church in 1730 - 32
Size: 1,290 m2
CEO Lars Autrup 2018Members > 6.000 Staff > 25
Agendas
Architectural quality
Sustainability
Diversity and equality
Architecture policy
Housing policy
Competitions and tenders
Working condittions for architects
www.arkitektforeningen.dk
wwwwww.arkitektforeningen.dk
A strong community for Architects
Together with the members from all over the country, we tackle the difficult debates and get architects involved in the political agendas – focusing on the development of sustainable cities and landscapes of high architectural quality.
Climate change, the biodiversity crisis, equality and diversity in human lifestyle, are all major themes leading to change. Architects can leave a significant mark on the planning and development of projects to improve conditions for nature and society. This we do best when working closely together.
The Danish Association of Architects counts more than 6,000 architects in Denmark. We promote the value of architectural quality at all stages of the physical development of the society. The association work to ensure the best conditions for architecture and simultaniously we strengthen the professionalism and the working conditions for the individual architect. We are paving the way for upcoming architectural firms, focusing on diversity, the construction legislation and quality in competitions and tenders.
We contribute to the development of tools to work appropriately with sustainability. The association helps municipalities develop their architecture policy, placing af focus on the Planning Act, to make it support a holistic thinking to a greater extent where the overall CO2 footprint as a consequence is measureably reduced.
32 arkitekter olehagen Ole Hagen arkitekter A/S Kong Georgs Vej 37 DK-2000 Frederiksberg Tlf.: 33 88 81 00 Mål : Projekt id Tegn.nr. : : Dato Rev. Åbenrå 32-34, 1124 København K 1.070 1:100 9710-21 Facade Syd Eksisterende forhold 19.03.2014 0 10 m 1 2 5 1:100 3 4 Foreløbigt tryk d. Under udarbejdelse19.03.2014
Dorte Kirstine Sibast
The smell of wood
Dorte Sibast and her two younger brothers grew up following the furniture design process of their grandfather and their mother, both cabinet makers. In a corner of their grandfather's factory, they found piles of nice smelling timber residues and they carved their own toys to play with. These sensory childhood experiences have followed Dorte ever since.
"However, I wasn't sure what I wanted to study - architecture or political science. But when I wasn't admitted to the school of architecture in the first try, my awareness was sharpened and it became clear to me, that architecture, it was. I then joined the local school of arts in Aarhus to qualify for the next entrance test. The learning environment at the Aarhus school of architecture was inspiring. The teachers had highly pedagogical and theoretical skills - and they were closely connected to the profession in practice. I graduated from department X with a theoretical approach to architecture. Back in 2000, I was probably one of the last students to hand in my final project, all my drawings handmade."
The unpretentious
After her studies, Dorte was fortunate to work at C.F. Møller, where she learned a lot from their unpretentious, human approach to architecture. The many years as employed at the architecture office helped shape her as an architect, for which she is very grateful today. During her time there, she was given the opportunity to arrange professional gatherings, inviting PhD students to share knowledge relevant to the work of architects. She also engaged in the local department of The Danish Association of Architects, first in east Jutland and when she moved to Copenhagen, as elected head of the local association there. Volunteering passionately for bridgebuilding between practice, research and networking, became her new full-time job when the association of architects advertised for expansion.
The conversation of architecture
"An important part of my job is to promote the value of architectural quality. Currently, we work on a follow-up on the 'Guidelines for Design Competitions' a guide to help clients make room for architectural quality and reduce costs in design competitions. We also continue to contribute to the development of the DGNBcertification 'Diamond', which supports the dialogue on architectural quality towards a sustainable future. I participate in our work in Architects' Council of Europe (ACE) too with the aim of sharing knowledge and influence the development". - Dorte
Business coach
Dorte holds a master in business coaching, focusing on the use a philosophic coaching method when addressing the perceptible in architecture. She uses her new competences as a manager when developing new initiatives in collaboration with associated operators, and when giving strategic advice professionally.
HEAD OF DEVELOPMENT
Master of Business Coaching
Notion of Architectural Value
Copenhagen Coaching Center
2018 - 22 + 2022 - 26
Appointed external examiner
Ministry of Education and Research
2018Head of Developement
The Danish Association of Architects
2018
LAK, Creative Management
The Danish Association of Architects
2015 - 18
Competition Counsellor > 20 projects
Danish Association of Architects
2011Coaching and mentoring
Danish Association of Architects
2001 - 03 + 2005 - 15
C.F. Møllers Architects
Project Manager
2000 Architect Aarhus School of Architecture
33 Interview
by Arkitektforeningen
2020
-Dorte
A school close to nature
www.ltarkitekter.dk
Photo: Torben Eskerod
Kalvebod Fælled Skole
Ørestad Syd - Cph South Size: 11,560 m2
2016 - 18
2014 1st prize in competition
Client Copenhagen Construction / Byggeri København
Architect Lundgaard & Tranberg
Engineers
Jørgen Nielsen, construction
Dansk Energy Management & Esbensen, technology
Gade & Mortensen, acoustics
Landscape
Bogl
Contractor
MT Højgaard, main contract
Award
2019 Bygningspræmiering Københavns Kommune
A school close to nature
An architectural indoor landscape
These frames for play and learning encourages physical activity as an important part of any day at school. A sports hall is located in the centre of the building on the first floor visible from the upper floors where classes and work shops for each level are placed in order of age, the oldest children placed at the top. The interior is richly varied with high, smooth transitions between rooms and clearings, which gives the impression to be moving in an architectural landscape.
The school as a meeting place
The school is situated between preserved nature and a newly built city, without the need for a rejecting fence. The community at school is fully integrated into the local environment as a meeting place even after school days, where local residents use the facilities for sports, socialising and evening classes. Both playing fields and all other outdoor spaces have become new meeting places in the urban context of residential neighbourhoods.
Minimal energy consumption
Strategies for passive energy systems are integrated in the design solutions including energy-efficient technical installations. The large atrium is naturally ventilated and the indoor climate is regulated in each individual room. The façade is highly insulated and overhangs have been installed over the large windows on the ground floor. Night-time cooling is used during summer and the heating during winter is based on district heating. Energy consumption is measured to 38 kWh/m2/year.
36
Photo: Torben Eskerod www.ltarkitekter.dk
Anita Lindholm Krak
Space and materials were not in short supply in the countryside where Anita Lindholm Krak was raised. Couriosity and initiative made her a very active child showing early entrepreneurial skills. She created space for her friends to play and socialise and wellcomed everyone with great hospitality.
"I often built cabins from materials on hand. I went to the stables after euro pallets, ladders and ribs, plastic sheeting and straw. Intuitively, I secured the static structures, created the building envelope to be rainproof and the insulation by spreading bales of straw on the ground. I've been interested in minimal constructions, sustainability and ecology since my childhood. Later I practised the artistic aspect through education where I realised the necessity of adding an artistic angle on concept and project development." - Anita
At the academy Anita learnt to work both responsibly, technically and sensually. Building cottages was replaced by building models always considering the quality of dayligt, the materials and the building technologies simultaneously.
"I realised the importance of creating a direction for the projects and dealing with the complexity by seeking interdisciplinary insights and collaboration. I studied methods for co-creation, and how to read a location always to inviting future users as guides to dreams and visions." - Anita
The tender for the new school on Kalvebod Fælled was unconventional. The advisors were asked to present their teams and allocation of roles and responsibilities to the client to demonstrate the ability of managing all processes needed to realise the vision for the project.
"It was a group exam that we passed at Lundgaard & Tranberg. The team showed a high level of commitment and stayed the same from working with the programme to the completion of constructions. As lead architects at L&T we worked closely together with dedicated engineers bringing valuable experiences and making the exchange of knowledge easy. My role was to lead the team through all the phases from ideas to the hand-over of the school." - Anita
Anita is very careful not to run ahead in the design process the input from the client being very important during sketching. The cross-disciplinary collaboration was also very close from an early stage. This allowed Anita to lead the project towards the best possible answers to the task within the framework.
"Involvement of the client and users is important for the clarification of needs. Inviting engineers and contractors asking freqently for their input during the project planning, when caring for details and during the construction is just as important. I strive to create symbiosis in all tracks, artisticly, tecnically and within the sustainability agenda." - Anita
SUSTAINABILITY MANAGER PROJECT LEADER
2022Over Byen Arkitekter
2011 - 22
Lundgaard & Tranberg Arkitekter
2020Women In Real Estate Denmark Membership
2020
Management of Architectural Quality
LAK, The Danish Association of Architects
2014
Construction Economist DB / The Danish Association of Construction Economists
2003
Architect
The Royal Danish Academy of Fine Arts
Copenhagen
Interview by Art Concept 37
"We have a strong set of values, and our projects are based on inclusive and sustainable architecture. Our focus is to ensure that the overall organisation and the physical design support communities of all scales, giving the users a sense of home and ownership. Above all, our architectural concepts must be robust, to ensure optimal usability and longevity. Social sustainability is a central theme, whether the projects include daycare, schools, community centres, youth education or learning environments in higher education. The architecture must actively contribute to the wellbeing of the students and act as a facilitator for the local community" - The Education Team, Kjaer & Richter
Learning environments
The laerning house in Nærheden Public school (5-16 years old)
1.200 students
Daycare/kindergarten (0-5 years old)
140 children
15,500 m²
2018 - 21
Client
Høje-Taastrup Municipality
Turnkey entrepreneur
BAM
1st prize in competition
Architects
Kjaer & Richter
Christensen & Co.
Engineers
Oluf Jørgensen
Landscape 1:1 Landskab
www.læringshuset.dk
Photo: Adam Mørk
www.kjaerrichter.dk
Illustration: Kjaer & Richter
Public school in Stigsborg
Universe
Public school (5-16 years old)
1,000 pupils
Daycare/kindergarten (0-5 years old)
160 children
16,000 m²
2021 - 25
Client
Aalborg Municipality
Turnkey entrepreneur
A. Enggaard
1st prize in competition
Architects
Kjaer & Richter
Engineers
Cowi, Ekolab
Landscape
Arkplan
Sustainability
DGNB Gold + Heart
Recycled materials
Social sustainability
www.kjaerrichter.dk
Children and youth universe in Stigsborg
The new public school in Stigsborg will be a five-storey building, blending in with the block structure, park and promenade planned for the area. The architectural concept is designed with a clear and logical structure, with hierarchies of movement, both inside and out, connecting all functions supporting the desired proximities. The building is as well as being a school a community centre with a public kitchen, music scenes, sports facilities, and a daycare/kindergarten.
Adaption to the surroundings
Stigsborg is located by Limfjorden and is one of Denmark's largest coastal urban development projects. The building is adapted to its surroundings as it reaches five storeys towards the urban centre of Stigsborg and steps down towards the fjord's marine environment and Stigspark to the South. The landscape has been designed to combine play and learning, for the pupils of the school and the local community.
A visible progression
The primary school is located at levels 1 and 2 on an elevated deck, offering views towards the fjord and park. At the heart of the school is the atrium, where all the public functions reside. The learning facilities for each age group extend out towards the atrium, allowing visual and close physical contact with the school's infrastructural circulation. As the pupils get older, they progress towards the upper floors, ending with the oldest secondary school children residing at the top floor on level 4.
40
The Education Team
Liv, Malene and Thea all graduated from the Aarhus School of Architecture in three different decades, each representing a specific era in architecture. Still, they share the same projectbased approach characteristic of this school with individual desks for all students, interaction between studios and students, coupled with an experimental and workshop-based study environment. They understand that the motivation for learning needs to be reinforced through practical learning and a sense of belonging. This learning environment inspired them to develop similar learning environments within their professional sphere.
For several years, Liv, Malene and Thea have been working on a common platform for developing physical learning environments. In-house, they are referred to as 'The education Team' and are a group of dedicated employees sharing the same interests within the field. When they collect, test and share knowledge it ensures the best possible foundation for the development of new projects. Their collaboration includes concept development and design, user involvement, interior design and pragmatic execution. This ensures a continual exchange of knowledge in the overlap between design and the construction phases.
Pedagogy as a design driver
Their ambition is to develop robust and sustainable environments for lifelong learning and challenge the status quo when designing physical learning environments for pupils of all ages. This makes the early stages of the design crucial when translating the desired pedagogical principles, like 'project-based learning' into solid architectural concepts. The intention is to translate the users' ideas and wishes into concrete physical form, while preserving the pedagogical principles of the architectural concept. It needs to reflect in the building's organization, scale, and flow, as well as being represented in the smallest of architectural details. An example of this is the use of robust materials and fixed furniture that support the spaces as a creative frame for a workshopbased learning environment.
"Læringshuset (The learning house) in Nærheden is based on 21st-century learning skills and is a great example of a project with a strong vision, that re-thinks conventional learning environments. Unlike a traditional school, the building is designed as a creative laboratory. It focuses on strengthening the student's ability to collaborate, communicate, be creative and develop critical thinking skills. Læringshuset has an investigative approach to education, where multiple subjects collaborate on innovative projects that the pupils can recognise from their daily life. The building has a variety of spaces for projects, exhibitions, and workshops providing the optimal environment for practical learning." - Liv, Head of education and learning environments
PROJECTMANAGERS
41
HEAD OF EDUCATION
BACH HENRIKSEN
DESIGN DRASBEK MALENE
THEA ASBOE LIV
MIKKELSEN
2009Expert judge
The Danish Association of Architects
2011Kjaer & Richter
2005 - 11
Gorm Nielsen
1996 - 05
Friis & Moltke
1996
Architect MAA
AAA - Aarhus
The Education Team
User involvement
To ensure a constructive collaboration throughout the project 'The Education Team' is engaged in the projects from start to finish. They develop the competition projects, carry out the user involvement and stay a strong force in the execution phase. Maintaining curiosity and a constructive dialogue between the project team and the users is important when developing a common project. Through collaboration, they use each other's competencies, making sure that all relevant problems are solved. This way they create a solid foundation where all actors take ownerhip of the design and the learning environments.
MALENE
2022
LAK, Management of Architectoral Quality
The Danish Association of Architects
2015Kjaer & Richter
2006 - 15
Skala Architects
2006
Architect MAA
AAA - Aarhus
"User involvement is one of our most important tools in developing learning environments when vision, experience and practice are combined in future projects. We must be attentive and humble facing the users' experience and knowledge, but at the same time aware of using our professional competencies to qualify the design. 'Børne- og ungeuniverset' (Children and youth Universe) in Stigsborg, is a complex building with many different users. To ensure that everyone has an equal voice, we have worked with a broad group of users." - Malene, Head of education and project manager at Children and Youth Universe
Social sustainability makes communities attractive
Social sustainability is a theme in all their projects, making safe and inclusive learning environments that support communities. On a bigger scale, they focus on designing open and flexible buildings that embrace larger communities while being grounded in its context. On a smaller scale, they provide a variety of environments, creating intimate areas for play and learning.
"Our focus is to create a building that provides a sense of belonging for both users and the local community. At Tietgen City in Odense, the physical learning environments support both practical and project-based learning. It is our experience that this is key when attracting new students to the schools. Local business is invited to use the facilities for meetings, events, and conferences. Tietgen City has a hope that the building will be an integrated part of the city, with a strong connection between the students and the local business community." - Thea, project manager at Tietgen City
An educational environment in constant change
"To keep challenging and testing our concepts, we are involved in a research project Transforming learning spaces in collaboration with the Aarhus School of Architecture and Roskilde University. Together with our PhD student, Gertie Kolding, we are investigating what architecture and the physical learning environment mean for the pupils learning abilities and the teachers pedagogical visions." - The Education Team, Kjaer & Richter
42 THEA 2021 +2 Professionalization of young architects The Danish Association of Architects 2018Kjaer & Richter 2018 Architect MAA AAA - Aarhus
LIV
Tietgen City in Odense
Tietgen City
Buisness school
700 - 800 students
8,400 m²
2022 - 24
Client
Tietgen Business
Turnkey entrepreneur
C.C. Contractor
1st prize in contract competition
Architects
Kjaer & Richter
Engineers
Sweco
Landscape
DETBLAA
Sustainability
DGNB Gold
Social sustainability
www.tietgenskolen.dk
Tietgen City - A new business school
Situated on the edge of Odense Harbour, this new business school offers a vibrant and inviting area alongside other preexisting educational institutions.
'Tietgen City' is formed like a four-leaf clover and is situated within a park that connects the campus to the city centre. The four leaves of the clover converge into an inner atrium, providing a visible connection throughout the school functions with educational areas and open community zones on all floors. On the ground floor, the school has set up its own business and office environment and is used as a place to train and educate students.
Facilities for studying
Flexible learning environments are located around the atrium on all floors. This provides a varied selection of areas for project-based learning, coupled with zones designed to exhibit the student's work. It incorporates niches for group and individual work, as well as lounges where students can meet informally in between and after classes. The concept attempts to target all manner of student types, encouraging a sense of ownership and belonging.
Visibility
It was important for the school to be a visible and active participant in the local community, inviting businesses to use the facilities too. This encourages professional overlap between education and the practical world of business.
43
Illustration: Kjaer & Richter
www.kjaerrichter.dk
DIRECTOR
Susanne Hansen
Throughout her career, Susanne has created architecture with a strong focus on the early consulting phases, where concept and form are born. Her career as design architect has included employment at 3xN and Dorte Mandrup Arkitekter, and 12 years of partner- and co-ownership of RUBOW Arkitekter. In 2023, the studio merged with Nordic Office of Architecture, where she continues to work as Creative Director.
Susanne has many years of experience in creating everyday architecture, which combine the aspects of social and environmental sustainability. Her portfolio includes elderly and healthcare buildings, childcare institutions and educational buildings, in addition to housing and urban development.
"Our projects stem from the ambition to create long lasting and cohesive solutions based on each specific context. This can sometimes be a challenge in public projects, where time and finances are, as a starting point, under pressure. Our work require specialized and integrated collaborations in order to develop sustainable designs with a strong, long-term architectural quality." - Susanne
Susanne has shared her approach to sustainable architecture with contributions to various journals, lectures and debates, both nationally and abroad. She is particularly preoccupied with developing institutions for children and young people, which contribute to the well-being, health, and learning quality of the primary users - the children. She persistently uses architecture and landscape as an instrument to increase the potential of both new and existing buildings, as an important learning path for each individual child.
"I love the complexity of designing educational environments which invite and create value for a broad range of users. A school must embrace both the small child and the older teenager, it must be able to continuously adapt to new ways of learning, and ideally be accessible as a local community house after school hours. Indoor climate design, fixtures, materials, and active learning surfaces must be part of an aesthetic whole that can withstand hard use and minimal maintenance, whilst at the same time being attractive and inspiring. Some clients are ambitious, others are more cautious. But children, they are always curious, and use architecture far more intuitively. Think back. The memory, good or bad, of your nursery and school stays with you for the rest of your life." - Susanne
Susanne has primarily worked with Educational and Child-care Architecture in Denmark, but through the broader range of Nordic Office of Architecture, new markets in Europe are emerging.
44
2010Partner Nordic Office of Architecture, 2019 Design Thinking Executive 2013 LKVV Leading Creative Entreprises The Danish Association of Architects 2009 The Architect as Process Manager I + II 1997 Architect Aarhus School of Architecture 1995 Master of Architecture State University of New York Interview by Nordic
DESIGN
New school in Fredensborg
Public School and Sports Hall
Vilhelmsro, Fredensborg
Size: 8,500 m2
Site: 14,000 m2
2013
Client
Fredensborg Municipality
Turnkey contractor
GVL Entreprise
Architects
Nordic Office of Architecture
Engineers
Oluf Jorgensen Rådg. Ing.
Sustainability
3-track school
Sustainable design
Multi-purpose use
Active learning spaces
Rainwater design
Earth heating
www.nordicarch.com
Natural learning spaces
www.nordicarch.com
The new Vilhelmsro School is situated in a suburban setting, where the forest meets the open land. The universal elements of the forest have become the structural inspiration for the school.
A cluster of small souvereign buildings with flexible floor plans make together a complexity of 'trees' with various connections and views to the landscape, places of light and shadow. In this plan of mass and envelope, building and open land, the school gets a large composition of indoor and outdoor spaces to inhabit with different educational programmes. Easy acces to go outside is near every child, making work and leisure well connected.
Each building is inspired by the tree in the forest. And, as in the forest, being at the base of the tree and in the tree top are two very different experiences. In the school buildings, the main floor is defined as a series of columns in direct connection with the outdoor floor of nature. The second floor is more intimate, as being in a tree top, with well defined wooden openings in the facade suitable for the children to sit in, overviewing the forest and the sky.
The school consists of eigth individual buildings connected with small bridges on the second floor. This allows for free flows around each building on the ground, bringing richness and variation to the outdoor spaces. The site is kept recreational and rich of original flora and fauna, allowing for direct use of nature in education as well as everyday life for the local community.
45
Photo: Adam Mørk
"Architecture invariably relates to nature. In our projects buildings and landscape are always closely connected, perhaps in the way building volumes condense or expand or the sensation of natural materials against the skin. We aim to touch people's senses, creating a direct connection to the physical experiences of spaces, in a way sidestepping the intellect. When people are allowed to feel and thereby realize a sense of self in relation to their physical surroundings, these experiences may inform how they perceive the world. Architecture is an art form having the ability to create substantial change through a sensuous approach." -
Malene
Archaeological State Museum
www.ltarkitekter.dk
Illustration: Lundgaard & Tranberg Architects
Mecklenburg-Vorpommern
Archaeological State Museum
Archäologisches Landesmuseum
Christinenhafen
Rostock Size: 6,500 m2
Client SBL MV, Stasliches Bauund Liegenschaftsamt
Mecklenburg-Vorpommern
2020
1st price
International competition
2023
Concept design
Team
Lundgaard & Tranberg Architects
Wuttke & Ringhof Architects
Marianne Levinsen Landscape
Buro Happold Engineering
Sustainability
Compact volume taking up as little space as possible
Recycled bricks
A landmark for 12,000 years of history
A key requirement of the competition program was the new museum's ability to fit naturally into the skyline of the old Hanseatic city of Rostock as well as the upcoming masterplan for Rostock's Christinenhafen - a green landscape project connecting the city to the waterfront in order to transform the port into a welcoming public space for Rostock's citizens. Apart from offering optimal conditions for the museum to display their exhibits, the museum accommodates the public with a café, conference rooms and a publicly accessible roof terrace overlooking the city. From the ground floor, there will be direct access to the outdoor waterfront seating areas.
Blending into the skyline
The building conveys timelessness and protection with a distinctive architectural profile blending naturally into the skyline while still creating recognizability in the port. Recycled façade brick will pay homage to the existing medieval buildings and storehouses in the harbor adding a new historic layer to the city of Rostock.
Meeting the needs of a museum
The building is designed to meet the specific needs of an archaeological museum, shielding the fragile exhibits while offering the curators the best possible conditions to create a wide array of exhibition types. The museum will show both a permanent and special exhibitions from the fine archaeological collections belonging to the Baltic Sea region, spanning 12,000 years of history. The impact of the museum is believed to reach beyond the local context and attract tourists from afar.
10
Illustration: Lundgaard & Tranberg Architects
www.ltarkitekter.dk
Malene Hjortsø Kyndesen
Moving into architecture
As a child and a teenager Malene Hjortsøe Kyndesen occupied herself with very different activities like knitting, choral singing, basketball and redecorating her room in different ways. Common to her interests was a very exploratory way of being in the world. Through her interests, she explored the relationships between sound, space, furniture, yarns and the way people interact. When it came to further education her wish was to find a profession with a craft dimension able to support her exploratory and sensory approach to being. Architecture has since then been like a home for her.
"It can be tricky to explain what architects actually do when you factor in the artistic dimension. At Lundgaard & Tranberg Architects we create site-specific buildings in very diverse and often challenging settings. We are completely exposed when we encounter a new site. Every place has a voice of its own, sometimes conflicting with the requirements of the program. Our job is to listen, understand and interweave these different and often diverse demands into meaningful places where people thrive. We always ask ourselves how a new building can interact with the site in a meaningful way not taking up more space or using more resources than necessary. The goal is always to protect the existing qualities of a site while adding new ones, where it makes sense. We map our thoughts intuitively trying to freeze the volatility of a feeling to share our imaginations. We use models to create a democratic dialogue; through models everyone can change the perspective, move or add an element to simplify and clarify the concept in the early stages of the design development. This openess and mutual inspiration allows creativity to accelerate." -
Malene
PARTNER
CREATIVE LEADER
Museum culture
Since 1985 Lundgaard & Tranberg Architects has worked with museums as a typology. The result is a number of high-profile projects. Three new museums will open during the coming years: The Museum of Natural History of Denmark in Copenhagen, The Danevirke Museum in South Schleswig and the Museum of Archaeology in Rostock.
"We constantly work to evolve within the museum typology by marrying complex technical requirements with a foreward-looking sustainability profile. We often meet demands for closed volumes, because the displayed objects need protection from daylight. We lose an important part of our vocabulary when daylight is not available to sculpt the spaces. In Rostock we redirected our focus to other artistic effects such as creating an expressive volume allowing the recycled bricks to express the archeological theme of displaying items from the past. The receding roof shape simultaneously adapts to the human scale and the urban silhouette with no intention of dominating the skyline. The result is a building that exudes a wonderful kind of mystery. A place with the promise of a storyunfolding outside as well as inside" - Malene
by Art Concept
2022Lundgaard & Tranberg Architects Partner
2020
LKVV - Management in Creative Knowledge Enterprises
The Danish Association of Architects
2017The Danish Association of Architects Expert judge
2014 -
The Royal Danish Academy of Fine Arts External examiner for final exams
2002 - 14
The Royal Danish Academy of Fine Arts Project counsellor Internal examiner for final exams
2002Lundgaard & Tranberg Architects Architect
2002 Architect
The Royal Danish Academy of Fine Arts Copenhagen
11
Interview
Engaged in Architecture
Series
Urban and Landscape
Working and Learning
Housing and Health
ISSUU 2023
Housing and Health
Interviews collected by Art Concept, + 45 28 68 48 24 All portrait photos by Ida Wang, + 45 30 54 24 30 ISSUU 2023
ENGAGED IN ARCHITECTURE
HOUSING: Emilie Fenhann - Mette Bang Pedersen
Mette Andersen - Britt Nemmøe - Lone Brøndum
HEALTH: Camilla Ulrikkeholm Klinkby - Nanna Flintholm
Social housing residence
Photo: Niels Nygaard
www.mangornagel.dk
Falkoner Allé 128
Frederiksberg
2017 - 2020
Client
AAB 118
Social housing
Team
Mangor & Nagel
-part of AART
Engineer
OJ Rådgivende Ingeniører
Contractor
Thormann
Sustainability
Solar energy
Felxible usage
Building award
Municipality of Frederiksberg
Frederiksberg Kommunes
Bygningspræmiering 2021
www.mangornagel.dk
Social housing residence
www.mangornagel.dk
Social housing in the city centre
In 2017 the municipality of Frederiksberg organised a competition to build a small housing residence for refugees to stay. The small plot available is an attractive location in central Copenhagen. The challenge was to build at a low cost while showing respect for very diverse surroundings, including a church from 1904 on one side and existing six floor housing along a buzy road to the other side with low density settlement in a landscape to the back.
Melt in to stand out
The housing has been praised for an ability to blend in with the surroundings with significantly different facades on each side. Red bricks with classic proportions are facing the street forming a natural end to the row of existing apartment buildings. Pattern brickwork draws a plinth of the same height as the basement of the neighbouring house. A slight retraction marks the difference between the front and the rear house. To meet different scales the roof has been created with a steep slope giving it a modern profile.
Energy production on site
The steep inclination of the roof towards the back side is made of concrete slabs covered with solar cells to produce energy for local consumption.
Flexible usage
The 14 apartments differ from two to five rooms designed for families or 2 - 3 people sharing an apartment. Each apartment can be used for various living arrangements as the design makes room for flexibility.
6
Photo: Niels Nygaard
Emilie Fenhann
Emilie Fenhann always knew she wanted a to work within the creative field. Architecture attracted her as it is a profession where collaboration, empathy and sensitivity play a vital role in the creative process. Finding these aspects particularly appealing, it's no surprise, that Emilie found her right shelf sketching and working with projects in the early faces of the design.
"I like to engage with the needs and dreams and visions of other people and bring forward new ideas on how to realize them. For inspiration and to stay open minded I continue to travel the world visiting foreign architects who are always willing to act as my local guides showing me historic places, transformations, and new constructions." -
Emilie
Management of quality
Emilie is a team leader with an open mind, and she insists on a culture where all ideas are welcome. Like everything else in architecture, design sketching is a discipline that needs to be learned and refined and therefore ideally carried out by architects who are specialized in exactly that. In collaboration with her team, Emilie develops many of the competitions and sketching assignments that come into the office. She is the overall responsible for the initial design and development of strong concepts.
"I find co-creation the best way of giving the creative process a more dynamic flow. In connection to this, I carry the spirit of an experimental workshop to the office in order to stimulate an environment where the generation of ideas and creativity comes naturally, and are developed together. When we expose our early drawings and model making for our colleges to see, we're rewarded with spontaneous feedback and new proposals to discuss when looking for the best solutions." -
Emilie
ARCHITECT CREATIVE LEADER
Modelling the future
In her work Emilie has a constant focus on creating good spaces and architectural quality in both detail and overall concepts. In addition, new projects should be secured for future changes. Incorporating flexibility into the layout and designing buildings that over time can change in size and function therefore constitutes an increasing part of the early design phases.
2023
LAK - Management of architectural quality
The Danish Association of Architects
2020
Mangor & Nagel Arkitektfirma
2018 - 19
Holscher Nordberg Architects
2018
Construction technlogy for architects
The Danish Association of Architets
2012 - 18
Mangor & Nagel Arkitektfirma
2012
Emilie
"Before visualizing, I find it crucial to explore a case and issue in depth. I always work with a great focus on not only creating good homes and institutions, but also enable communities and social activities - something I believe to become of even more importance in the future. In addition to expertise within a certain field, I find knowledge sharing and collaborations across disciplines to be key elements in order to achieve a successful result." -
Emilie has left her distinct mark on the award-winning public housing-project on Falkoner Allé 128.
Interview by Mangor & Nagel
Architect
Royal Danish Academi of Fine Arts
School of Architecture
7
"Being an architect means working in a complex and multidisciplinary profession with everchanging demands. Balancing everything from form, function and aesthetics to construction, sustainability, biodiversity, user participation, regulations and more is the job of the architect and moving forward the challenges, changes and demands that architecture must answer to, is only going to grow. But at the end of the day architecture is always about the people who are going to live and spend their lives in the buildings and cities we create, and that's the driving force for me" - Mette
Transformation - youth housing
Photo: Holscher Nordberg
www.holschernordberg.dk
PROJECT DIRECTOR
Mette Bang Pedersen
Even from a young age Mette Bang Pedersen knew that she wanted to be an architect. As a child helping in her father's architecture office, she folded paper drawings and prepared drawing sets for the clients and contractors. At home she played with her father's manual drawing machine, copied his floor plans and imagined the life of the people who would live in the houses. After high school she worked at the office as an assistant helping
"When I started at Aarhus School of Architecture, I had a very low-tech and hands-on approach to the profession which of course came from the years in my father's office. It was therefore a big challenge for me when I had to solve more theoretical assignments. The very first was the classic task of "metamorphosis" which means change, transformation or reshaping. Back then it was a very abstract assignment for me working only with the concept of metamorphosis and not a specific function, site or building. But today as we more often work with transformational projects at Holscher Nordberg I think back to that introduction with a smile on my face and put the learning to good use." - Mette
Imagining the lives of the people who will live, work and inhabit her buildings is still at the core of Mette's work, where her focus is to design the best possible environment for the future users. This means focusing on all aspects of the project from the design, layout and materiality of the actual building to the surroundings and the interplay the project has with the city or landscape.
"When transforming the factory at Hermodsgade we found an existing building with a lot of possibilities and an overall structure and aesthetic that could withstand the transformation (or metamorphosis) from a 1930's factory for Elextrolux to a 2020's new community and home for almost 200 young Copenhageners. It was important to preserve the existing building with its significant heritage for the local area while still being able to change the use and give the place new meaning and new life, partly by creating a small green urban space inviting the residents in neighbourhood to rest here. The experience of space and materiality is enhanced making sure the new extensions and add-ons have their own materiality. We did not add new bricks to the historic and patinated ones that for almost a hundred years have settled
Mette advises clients in all stages, leading her teams through both planning, development and execution. This project was a huge interdisciplinary task demanding a high level of corporation
"We had to deal with the floorplans in an existing building, quite complex constructions adding 3 stories on top, strict fire regulations for wooden facades, community building for the new residents as well as urban planning like landscaping, a dream job." - Mette
Interview by Art Concept
2022Holscher Nordberg Project Director 2017 - 22 Holscher Nordberg Project Leader 2014 - 17 Holscher Nordberg Architect 2014 Christensen & Co Architect 2009 Architect + Urban Planning Aarhus School of Architecture 2007 - 08 Friis & Moltke Architects Junior architect
Transformation - youth housing
Youth housing
Hermodsgade 26 - 28
Copenhagen N
1936
Elextrolux factory
Conservation value: High
2021
Transformation into
189 studioapartments
Size: 5,800 m2
2 - 3 new stories added on top
Client
Cph Invest
Team
Holscher Nordberg
Lytt Architecture, landscape
WSP Engineers
Building award
The Municipality of Copenhagen
-Transformation and restoration
Københavns Kommunes
Bygningspræmiering 2023
A funkis factory for habitation
The original factory built in 1936 was designed by the architects Leth & Walsøe. The new transformation has doubled the floor-area as the curved industrial building has dictated the shape of its own upward extension. The transformation reinforces the concave street form in Hermodsgade where the curved facade of the funkis building has been extended with two levels in height. It has been a complex task to build on top of the 90-year-old factory and make a new floating bridge across the two lower wings. The new addition sits lightly as a box with wooden cladding on top of the heavier building made of brick. The transformed building has aready become a new landmark in the neighbourhood and in the city.
A green place to rest
The new courtyard is open towards the street inviting all residents to use the terraced urban gardens created to makes room for spontaneous meetings between the residents when unlocking or parking bikes, when sorting waste for recycling or when relaxing sitting on one of the benches.
Windows made to measure
The apartments are designed with a focus on optimal conditions for daylight. For the renovation of the old factory a special new window-design using a vertical spear in the window bar was created to make sure the industrial character was kept and emphasized. The window openings in the new extension on top are placed in line with the windows of the original building but uses characteristic bay windows with modern big windowpanes shaped to let in as much light as possible.
11
Photo: Holscher Nordberg
www.holschernordberg.dk
Farmers Village
www.wissenberg.dk
Photo: Ida Wang
Bondebyen
Gammel Lundtoftevej
Kongens Lyngby
2017 - 23
Client
Lyngby almennyttige Boligselskab
Social Housing Company 172
Renovation: 1,890 m2
Administration: DAB
Team
Wissenberg
General Councel
Main contractor
Rasmus Friis
Sustainability
Optimising energy consumption
Creating healthy indoor climate
Status 2022
First stage North completed
2023
Last stage South completed
www.wissenberg.dk
Farmers Village
www.wissenberg.dk
A charming village close to Copenhagen
In 2020 the occupants of the 27 apartments located in 9 quite different preservation-worthy buildings from around 1890, accepted an extensive plan for the renovation of their homes.
Restoration
046A7169
Moisture from the ground damaged the facades over the years and combined with insufficient isolation, the indoor climate suffered as a consequence. A thorough renovation was needed to preserve the constructions and bring the housing up to modern standards.
New energy resources
Sustainability requires that the operation of the houses does not place an unnecessary strain on resources. Renovation of doors and windows has significantly reduced heat loss from the homes. Existing gas boilers replaced by district heating units connected to local, collective heat sources support this goal as well. The change of heating supply was initiated through a sustainability screening procedure, which is a mandatory part of renovation projects executed under The National Building Fund.
Rehousing
As kitchens were rebuilt and bathrooms totally renovated the tenants had to move out for a period. The residents were offered to rent accommodation at a place nearby from where they could continue their daily life. They returned to a truly romantic village environment with buildings optimised, ready for the years to come.
10
Photos: Ida Wang
Mette Andersen
Matematics, science and creative classes were her favorites at school, so when University of Aarhus sent out an invitation to an event about a programme called Arcitectural Engineering Mette Andersen immediately accepted. The programme centered around creating tangible products of high value and quality. Exactly what Mette wanted to pursue.
"The classes touched all engineering disciplines. I started with statics and the calculation of structures, but I also studied water supply, heating and ventilation. Very useful competencies in my current job, as Wissenberg serves as consultants on many renovation projects where creating a healthy indoor climate often is the primary goal." - Mette
Mette is mostly involved in the planning and design related to large-scale masterplans for the renovation of residential buildings, "Farmers Village" or "Bondebyen" beeing of a smaller scale with just 27 apartments.
"Even though Bondebyen is a relatively small project, it has it all. Being a part of the social housing sector in Denmark it is owned and controlled by the tennants. We support the democratic process by involving the residents and informing thoroughly about their possible choices and how they can maintain their buildings for the future. We listen carefully to all wishes and during the reconstruction we try to encompass their wishes, for example if they want to keep the floors that the residents themselves replaced recently." - Mette
Working as a project and design manager Mette leads and coordinates the services of multidisciplinary teams and she is also involved in the on-boarding process of new employees joining Wissenberg. For example she has participated in the development of the internal academy where it takes three training sessions in project management - the Wissenberg way - to get the title and the responsibility related to this role.
"It is very important to us to maintain our culture of openness and 'connectedness'. Almost as a family representing common values. We depend on each other on a daily basis and job satisfaction is essential to us. A small example of that is our annual costume party where our families are invited to the office every year. Seeing the dressed up children doing the danish tradition of 'beating the cat out af the barrel' is great fun for all" - Mette
Coming up for Mette is a project for The Municipality of Copenhagen in collaboration with Erik Arkitekter. The centre for adults with needs for special education expands with plans to move into new facilities after a major transformation and renovation to be completed by the end of 2025.
Interview by Art Concept
PARTNER ENGINEER
11
2017Wissenberg Project Manager Associated Partner since 2022 2015 - 17 Hundsbæk & Henriksen Engineeer - Installations 2011 - 15 Masanti Nuuk, Greenland Engineer - Installations 2011 Engineer Building Design AU Engineering University of Aarhus 2009 Midtconsult Trainee
Riverside housing
Photo: Helene Høyer
www.nordicarch.com
PARTNER
HEAD OF AFFORDABLE HOUSING
Britt Nemmøe
Britt is Head of Affordable Housing at Nordic Office of Architecture. For 20 years, she has worked with the development and renovation of public housing, working under changing political visions for the public sector. Most recently the "Parallel society package", a new nationwide policy for disadvantaged areas, has left a politically significant and long-lasting imprint in the largest of public housing areas, re-structurering the program and reducing the allowed percentage of public housing in each area.
Public housing is a cornerstone of the Danish welfare society, housing 1 in 5 Danes. It is this, and the political backdrop to this work, which motivates Britt to shape good, healthy, and sustainable housing for all types of people. Housing that becomes a home, within a framework of community and democracy.
Democracy is the foundation of the public sector, and it is for this reason that Britt has worked for many years with the involvement of residents in large and small gatherings, where ideas, challenges, wishes, and values are debated and collected as a basis for the architects' work.
"We work to shape each project so that it gives the residents the best possible quality of life for the money. We do this by working actively with inherent challenges and seeking to turn them into potentials. The approach is the same, regardless of whether we innovate and develop, build new or renovate existing buildings. It is about creating the best conditions for a good everyday life for the residents." - Britt
2023Nordic Office of Architecture Partner
2013 - 22
Rubow Arkitekter
2019 -
fsb HJEM, Strategic Partnership for Affordable housing. Head of Architecture.
2017 - 18
Business Developement and Econimics
Copenhagen Business School
2017 LKVV Management in Creative Interprises
The Danish Association of Architects
2004 - 13
JJW Arkitekter
2003 Architect
Royal Danish Academi of Fine Arts
In 2019, Britt participated to win a strategic partnership with the housing company fsb, in collaboration with COWI, NCC and Smith Innovation. The partnership was the first of its kind, and Britt has continued to be part of the management team. In this position, she has helped to shape the partnership's vision up until now, where the fruits of this new type of collaboration, in the form of repetition and learning are truly being reaped.
Social sustainability is one of the success criteria that Britt works to achieve in all of Nordic's public projects. The architect can shape the physical framework so that it supports informal meetings in everyday life, places to be together, space to observe without exhibiting, clear zones for private and public spaces and much more. Everything that increases the feeling of security and provides fertile ground for good neighborliness.
"The greatest joy is revisiting our previous projects. We appreciate being able to talk to the residents about their experiences before and after a renovation, or to be shown around a new building and experience how life between the houses is bubbling and good neighborliness is sprouting. That's when all the hard work makes a lot of sense." - Britt
Interview by Nordic 18
Riverside housing
Social Housing at Skæring Creek
Skæring, Egå near Aarhus
94 row houses and community house
Living area: 9.213 m2
Landscape: 32.667 m2
2017 - 2020
Client
AAB, Social Housing Company
Contract
Total counselling
Nordic Office of Architecture
architecture and landscape
Collaborators
TækkerGroup, Ekolab
Sustainability
Nature integrated
Certifications:
DGNB Gold and Diamond
www.nordicarch.com
Follow the stream to find your way home
The DGNB Gold and Diamond certified community in Aarhus represents social housing in a natural setting with access to the local, scenic Skæring Creek. The community consists of 94 row houses in a juxtapositioned layout with direct reference to the creek, creating coherent and experience-rich neighbourhoods. The basic concept for the overall design is the solid and repetitive structure, contrasted by nature and nuances between the homes. Each neighbourhood enjoys the combination of urban liveliness on the street side and the soft and natural wilderness on the garden side.
Sustainable living inspired by nature
The layout of the community in respect of the creek allows residents to live in harmony with nature. The structure adapts to nature as an organic composition of semi-detached houses with a scale and rhythm that blends with the landscape and responds to the client's vision of durable and resilient architecture. Key words for the new neighbourhood are sustainability, nature and community. The design strategy includes optimisation of functionality, long lasting materials, climate design as well as a healthy indoor climate.
The community house
On the edge of the stream, right where the water makes the most noise, lies an open and inviting meeting place for the local residents. Designed with an open programme, this facility can be used as a lecture hall, yoga space or place for events.
19
Photo: Thomas Lindblad
www.nordicarch.com
"We design for the future by preserving buildings from the past. Through in-depth building analysis, we identify the inherent values and potential of existing structures - a discipline we've honed through our extensive understanding of cultural heritage. As part of the sustainable development in construction, we consider the creation and preservation of architectural quality as the most essential agenda. By incorporating quality and adaptability into our designs, we secure the longevity of these structures for upcoming generations. Sixty percent of our projects involve repurposing existing buildings, transforming hospitals into homes, offices into hotels, schools into offices - new use of our time" - ERIK Arkitekter
Haderslev Friplejehjem
www.erik.dk
Photo: Ida Wang
Lone Brøndum Jørgensen
PARTNER AND
PROJECT MANAGER
It wasn't always in the cards that Lone Brøndum Jørgensen should work as an architect. In her twenties she lived in Germany, where she worked in the fashion industry and never thought she would return to live and work in Denmark. But a small desire to learn more started to grow and she decided to study Architecture and Design at Aalborg University. She returned to Munich during her internship at Henning Larsen Architects, but since then she has been back in Denmark for good.
"I think I have a very different approach to architecture - in a useful way. My personality type is blue meaning that I am very structured and thorough with an eye for identifying both risks and smaller details. This enables me to see the whole process through, from the planning to handing over the finished project. I truly enjoy the complexity and the cooperation with different parties, and I love finding the best solutions to the challenges that always present themselves in every construction". - Lone
The project for her final exam was senior housing. The main concept was creating homes for elderly people living in a community, where they shared more facilities such as a common kitchen, living rooms and gardens. Since then, Lone has mainly worked with nursing homes throughout her career.
"I find it very meaningful to create the spaces for people in their 'third age'. They need a space in a social context as a supplement or replacement for their close relations. And we are constantly learning from our projects in this field. Our in-house sociologist evaluates our projects so - when we build new nursing homes - we already know what works and how to create better spaces. Again, it's my more analytical and researchbased approach that's in play." - Lone
Legislation on free care homes
Association of Construction Clients
2018ERIK Arkitekter
2014 - 18
KPF Arkitekter, Viborg (ERIK Arkitekter since 2018) 2014 Cand. Polyt. Arch. Aalborg Institute for Architecture and Design 2013 - 14
Lone has been the client advisor for several projects made for Danske Diakonhjem. The organisation works to ensure the dignity and respect for the individual person in need of help. They build and operate nursing homes, hospices, and residential facilities for people with disabilities. The nursing home in Haderslev opened one year ago after a big transformation. Another project is finished this spring while a third one will be ready in the beginning of next year - in 2024.
"It's a privilege to work with the same client through many years and a lot of projects. This enables us to take good care of all stakeholders. I do the planning and communication needed to coordinate all activities, from locating the building site to handing over the keys. Often the projects are transformations, but some are still newly built. I start with screenings of what to preserve as well as surveys of the building mass and materials. The task is preserving a well-functioning and solid building with a constant focus on the balance between an appropriate design for the employees and the care requirements for the residents." - Lone
22 Interview by Art Concept
2022
Danish
Bygherreforeningen
Intern
2006
Specialising
2023 N
Danish
Bygherreforeningen
Henning Larsen Architects, Munich
Office Assistent
in administration
etwork for Nursing Homes
Association of Construction Clients
Haderslev Friplejehjem
Haderslev Friplejehjem
Skallebækvej 9A
Haderslev
1987
Haderslev Sygehus
Psychiatric department
2017 - 22
Transformation into a nursing home
60 individual apartments with common facilities and service areas
Size: 6,500 m2
Client
Danske Diakonhjem
Team
ERIK Arkitekter
Cowi
Bo Michelsen
Link Arkitektur
Viggo Madsen
Sustainability
Preserving existing buildings
www.diakonhjem.dk
Transformation from hospital to homes
The existing building of a former psychiatric department has been transformed into facilities for new nursing homes. The physical frames have been renovated and decorated to accommodate both small and large communities. A hall for social events, a cinema, activity rooms, kitchens, offices, and a spa bath for wellness are available for the residents to use, adjacent to the individual apartments built in two completely new blocks.
Room with a view
The nursing homes are situated admist the scenic nature surrounding Haderslev Pond. One of the rooms is named "The Viewing Room" as it offers an expansive landscape view. From here, visitors can witness the captivating interplay of changing lights throughout the days and seasons.
Guest room and playground
For visitors travelling from afar, here is an option to stay overnight and spend more time with their relatives, join meals, and participate in various activities during the day.
Local volunteers
Danske Diakonhjem, responsible for the building and operating all nursing homes, follows the tradition opening their doors to local volunteers. This practice helps integrate leisure activities within the local community. The volunteers generously contribute their time, initiative, and desire for friendly conversations, enhancing the daily lives of elderly residents at the nursing home.
23
Photos: Ida Wang
www.erik.dk
Health Care
"Architects are co-creators of quality of life. Architecture must both give accessible public space and be a unifying element, that invites openness, community and interaction between people. Our projects are based on a democratic approach and our common nordic cultural heritage, where humans, good craftmanship and simplicity is main focus. Our cultural heritage is not fixed and static, but open to new interpretations. Architecture must both build on modern values and point forward and at the same time tye the past and the present together, by adding new layers to our building culture and history" - Camilla
Faculty of Health Science
Photo: Ida Wang
www.dall-lindhardtsen.dk
Faculty of Health Sciences linking the excisting University of Southern Denmark to The new OUH - hospital of the future
University of Southern Denmark
CO-OWNER
STUDIO MANAGER
Camilla U. Klinkby
Camilla Ulrikkeholm Klinkby has always been creative in many ways - doing drawings, paintings and creating things, but her interest in architecture actually didn't show until she graduated from high school. After admission to the studies at The Royal Academy, School of Architecture in Copenhagen, Camilla's interest in architecture quickly aroused and the insight into the posibilities of impact by architecture as a contribution to the way we live our lifes has been a focus ever since.
"We must always make an effort with the architecture we create, because the built environment forms the framework for the life we live - 'a place to be' - a home, a workplace, a public building, a place to seek shelter. We must make an effort, because people use and live in the architecture, we create. It's our most noble task as architects to contribute to human health and welfare in the built environment. The architecture is contemporatary and is not only experienced by looking at masterpieces, but through our living existence in nature and in the city. Life, materiality, functionality and changeability is important." - Camilla
Camilla became partner at Dall & Lindhardtsen in 2017 as part of a planned generational change. The role as a leader was new to her in the context of the architectural profession. She did bring her experience from education and work, and many years of sailing at an elite level to create targeted project solutions and the best teamwork possible.
"Architecture is for people. Architecture has a function. We have high professional ambitions to add unique ideas and solutions to every project. We receive and understand the client's needs and translate this knowledge into spaces, materials and design with an architectural solution that takes the projects beyond the expected. When a building - large or small - is completed on the site, the effort that has been put into the project must be reflected in the buildings sustainable and futureproof architecture - in the choices of materials and in the design concept and details, that identifies a place or a building." - Camilla
Camilla is responsible partner on several projects at Dall & Lindhardtsen studio. The primary work area is educational projects in a broad spektrum - from small transformations to large new buildings, including the Faculty of Health Science at The University of Southern Denmark in Odense.
"Projects consist of many factors and possibilities. Decisions are developed in our studio in architectural discussions to define architecture, design concepts and materials. Everyone is invited and expected to contribute in the discussions. 'Let the best argument win' is what we see as our main key to qualify dessions because that's what teamwork is all about." - Camilla
Interview by Dall & Lindhardtsen
30
2020 Construction Economist
2017Co-owner Dall & Lindhardtsen 2011Dall & Lindhardtsen Project Leader 2011 White Arkitekter 2010 - 11: Adept Architects 2010 Project Management DTU Technical University of Denmark 2009 Architect MAA Royal Danish Academy of Fine Arts Architecture 2004 - 07 3XN Architecture intern
The Danish Association of Construction Economists
Faculty of Health Science
SDU - Odense
The University of Southern Denmark Health Science
Size: 50,000 m2
2011 - 23
Client
Danish Building and Property Agenvcy
Collaboration
Total consultancy as a consortium partner in Medic OUH
The consortium
Dall & Lindhardtsen
KHR Arkitekter
White Arkitekter
EKJ Rådgivende Ingeniører
Oluf Jørgensen
WSP Sverige
Contracts
Major contracts
www.sdu.dk
Health science faculty at Odense Campus
This new health project includes services for a comprehensive expansion of the campus at SDU in Odense to the south, placed as a link between the existing multi-faculty university and the university hospital New OUH. The proximity ensures a framework for both research, education and knowledge sharing in an interdisciplinary study environment working with innovative solutions in the health care sector.
Laboratories
The biomedical laboratory and the laboratories for research and teaching are connected to faciliities for pet CT scanning, animal surgery and different stables for small and large animals.
Nature and landscaping
From the initial concept, the creation of the buildings has had a special focus on interaction with the surroundings. Sustainability and energy optimisation are taken care of in ways making new connections between the nature and the buildings. New buildings add new layers to the existing campus and open up the entire university with public-facing functions, including open auditoriums and learning environments.
Climate adaptation and measures to support biodiversity are incorporated into the project based on a recreational plan made by The Urban and Cultural Management of Odense Municipality in order to preserve and strengthen the occurrence of natural biotopes both those called green ones on land and the blue ones in water.
31
Photos: Ida Wang
www.dall-lidhardtsen.dk
Modern healing architecture
www.aart.dk
Photo: Ida Wang
Modern healing architecture
The Bodil Eskesen Centre
Neurorehabilitation
Research and Knowledge
Treatment and Care
Glostrup Hospital
Size: 25.000 m2
2020 - 23
Client
Region Hovedstaden
Team
AART
Nordic Office of Architecture
Marianne Levinsen Landscape
Engineers
Harde Larsen
Niras
Buro Happold
Contractors
Hoffmann
Arkil
Juul & Nielsen
Jakon
Wicotec Kirkebjerg
Hede Danmark
New neurohabilitation environment
The new buildings for neuro rehabilitation added to the existing general hospital in Glostrup are creating a functional whole for the benefit of both patients and their families. The highly specialized facilities incorporate new knowledge about healing architecture while beautifully interplaying with the surrounding green park used for outdoor recreation.
Hospitalization in a community
The new house brings together professional treatment and care for patients recovering from severe brain and cordal spin damage. The vertikal building located in the centre contains common functions including the reception on the ground floor from where access is given to all other levels and functions such as training facilities with advanced rehabilitation technology, a training pool, and a multifunctional training hall as well as outpatient clinics and research facilities.
View from the windows
Large windows provide view of the surroundings from all floors. To support recovery, a close connection to the landscape is a common theme for the design of the new buildings. Activities in the central building like the gym and the training pool can be seen from the gardens and the terraces. 125 bedrooms with a private bathroom are at the disposal for patients while family members are offered to stay overnight in the Family House - an additional project complementing the neuro rehabilitation centre. Relatives are supported professionally in their efforts to adapt to new living conditions and future needs for the rehabilitation of their loved ones.
www.aart.dk
34
Photos: Ida Wang
Nanna Flintholm
Nanna Flintholm has always been interested in combining her creative skills with interdisciplinary knowledge and constraints.
"Architecture attracted me because unlike many other creative professions, it is about much more than creativity. It contains a high degree of complexity and interdisciplinarity, with many different requirements to be taken into consideration. Creativity and aesthetics must meet functionality, technicality, and economy. You haven't succeeded if you've simply made a beautiful house that does not serve its function, if the technical solutions are poorly executed, or the finances don't hold up." -
Nanna
PARTNER
HEALTHCARE SPECIALIST
Architectural approach
As of today, Nanna has been an architect at AART for 12 years – the last four of them as partner in the company. AART creates architecture that translates the clients' visions into buildings with a measurable and tangible impact. While always paying attention to the context and the specific circumstances, when developing concept and design, AART believes that architecture must perform as a catalyst to the development of organizations and society.
"At AART we have three virtues to help define how we approach architecture and treat each other and the world around us: Honesty, empathy, and persistence. We must work responsibly on a clear and fair foundation. To meet the needs of the clients and users of our projects we have to work passionately. Finally, we always work persistently to stay focused and stand together on the path to realizing our architectural ambitions." -
Nanna
Understanding healthcare
When working with healthcare architecture you need to have an empathetic approach and a deep understanding of functionalities. Nanna has worked within this field for 12 years and she has been involved in most of AART's healthcare projects. Her role has varied as she has moved through the different roles of project manager, case architect, health specialist and responsible partner. Through dialogue with users and specialists she has acquired the interdisciplinary knowledge that in addition to architectural core competences is crucial when designing buildings for healthcare.
"Putting the patient's needs at the center we focus on architectural key elements such as daylight, views of nature, acoustics, wayfinding and transitions between public and private zones. Furthermore, good working conditions for the staff, such as proximity between related functions and smart logistic solutions, are essential to support an effective workflow." -
Nanna
Being responsible for designing and optimizing the buildings Nanna is mainly involved in the early phases of the healthcare projects. Later she follows the projects from the sidelines with her focus on retaining the visions and design intentions set in the early phases.
35
Interview by AART
2021 Certified advisor within sustainable construction Molio 2019AART, Partner and Healthcare Specialist 2011 - 19 AART, Competition and Project Leader 2016 Project Management Promentum 2014 Master degree Leadership and Innovation in Complex Systems University of Aarhus and Copenhagen Business School 2011 Architect Aarhus School of Architecture
Engaged in Architecture
Series
Urban and Landscape
Working, and Learning
Housing and Health
ISSUU 2023