UPRIGHT ULT FREEZERS WITH NATURAL REFRIGERANT
2 ⊲ UPRIGHT ULT INTEGRALINE GG ⊲ PAGE CONTENTS / CERTIFICATES 2 ABOUT ARCTIKO 3 INTEGRALINE GG INTRODUCTION 4-5 INTEGRALINE GG FEATURES 6-9 TRUE DUALTM COOLING SYSTEM 10-11 PERFORMANCE DATA 12-13 V700 CONTROLLER 14-15 ACCESSORIES 16-17 DIMENSION DRAWINGS 18 TECHNICAL DATA 19 PRODUCT OVERVIEW 20 TABLE OF CERTIFICATESCONTENTS ARCTIKO is certified according to ISO 9001:2015 and ISO 13485:2016 ensuring that our products will comply with applicable quality standards at all times. We offer products that always meet the regulatory requirements of the EU directives concerning CE marking as well as a selected group of products classified as medical devices.
DEVELOPEDDESIGNED INENGINEERED& DENMARK RESEARCHERS WORLDWIDE PROTECTS MILLIONS OF SAMPLES INSIDE ARCTIKO FREEZERS
3
ARCTIKO never settles for second best. We are distinguished by setting new trends in high-quality customized cooling and freezing solutions — primarily in healthcare and life sciences. With reliability and durability in focus, the safety of our customers' valuable samples is our main priority. Our development engineers and highly-regarded research constantly improve our products. Together, we strive towards the highest performance and efficiency rate through testing, based on environmentally proved methods and required certifications. At ARCTIKO, we constantly strive for flexibility, uniformity, high-quality performance technology and continuous innovations. Additionally, it's noteworthy to mention that our high-tech products are all designed, developed and engineered in Denmark.
⊲ We have strongly committed ourselves to the responsible use of natural resources and clean technologies by using eco-friendly alternatives. Our natural refrigerants include extremely low GWP (Global Warming Potential) values and ODP (Zero Ozone Depletion Potential).
ULT DEVELOPED TO TARGET THE MOST CRITICAL USERS
APPLICATION
REFRIGERANTNATURAL
Our tried and tested environmentally friendly CFC-free and HCFC-free refrigerants guarantee potent and powerful system securing your valuable samples, but without compromising our Earth's safety in the process. These refrigerants don't produce harmful fumes and they are considered to be the ultimate solution to the environmental contamination produced by synthetic refrigerants. Even though they are environmentally friendly, they consume significantly less energy without compromising the cooling system, environment, and making it cost effective as well. Our environmentallysafe refrigerants share strong thermodynamic properties creating high performance along the way.
Ultra low-temperature freezers have a wide application range for both biological and biotech storage. Whether you are in the medical field, life sciences, plastics, food, or electronic components industry, these freezers are absolutely perfect for your application's needs. The application in the Integraline GG includes biological samples such as DNA/RNA, plant samples, insect artifacts, autopsy materials, blood, plasma, bones and tissues, chemicals and antibiotics, tissue, bone marrow, cord blood, specimens, stem cells, and sperm.
4
When storing sensitive samples, the stable temperature inside is essential. Some customers need to monitor the temperature through external devices in line with higher requirements. In our Integraline GG, we have included a premade access port for an easier installation of an external probe or monitoring device. Moreover, the new Integraline GG can be connected to several optional accessories, to get exactly the unit that fulfills the needs in the laboratory, so that you can focus on your valuable researc
STORAGE OF SENSITIVE SAMPLES
⊲ Your valuable samples demands a safe and stable environment leaving no room for temperature fluctuations. Some samples are quite fragile and expensive, so you clearly can't allow unreliable equipment where frequent door openings can completely damage your samples.
The Integraline GG range is characterized by the short pull down time indicating an exceptionally dominant and productive refrigeration system with robust insulation and the potent mixture of polyurethane and vacuum insulated panels. Even with continuous door openings, it rapidly restores temperature uniformity creating a highly reliable environment that's not being affected by ambient temperature. Therefore, it is essentially defined by amazing temperature recovery properties. The slower hold over time shows the mighty and well-insulated freezer's capability of keeping the temperature constant and the capacity of immediately restoring temperature uniformity following door openings. The range includes four upright cabinet models with an inner capacity from 385L to 819L.
The first-class V700 controller is equipped with all necessary alarms and features (see page 14-15). On top of everything, we developed ECO mode to reduce energy consumption while maintaining optimum uniformity for the stored materials.
Ergonomic door handle enables one-handed door operations. Your security will be doubled thanks to both the integrated lock inside the handle and the RFID smart lock Card Key.
FLEXIBLE SHELF LAYOUT
The Integraline GG has multiple shelf configurations. Our middle shelf is equipped with direct cooling. Additionally, organizing the interior to fit your samples is now a piece of cake because of the use of existing racks or ARCTIKO's highly durable stainless steel racks, 10x10 cryoboxes, and vials.
Heated door frame, insulated door and specially designed double door gaskets ensuring close tightening and prevents ice from building up.
DETACHABLE INNER DOORS We designed the model with easily accessible compartments including four removable inner doors that are individually insulated with magnetic catch. This smart function also guarantees easy defrosting and effortless maintenance of the unit.
⊲
PREMADE ACCESS PORT ⊲ At ARCTIKO, we pay particular attention to the stability of the inside temperature for storing your sensitive samples. Some customers need to monitor the temperature through external devices in line with higher requirements. For that reason, we came up with 6 premade portholes for an easier installation of an external probe or monitoring device.
STRONG AND DURABLE CASTORS
DOUBLE DOOR GASKETS WITH OPTIMAL INSULATION
5
⊲ Our designers at ARCTIKO have designed castors resulting in superior durability and strength. Our castors meet the highest requirements making them matchless on the market.
⊲
V700 CONTROLLER
⊲
⊲
ONEGRIP™ HANDLE ⊲
The construction of the handle and door combination ensures a secure-tightening mechanism for optimal temperature level preservation. The ARCTIKO OneGripTM door handle also includes an integrated lock for restricted access.
⊲ Store your freezer storage boxes within organized freezer racks. We offer a large variety of stainless steel racks to optimize your freezer space. These racks are made of high-quality, strong and longlasting stainless steel. The racks will help you organize the samples inside your freezer easily. Two types of racks can fit in this compact range of freezers. The racks with drawers, sliding the boxes easily in and out of the freezer, or with compartments in order to introduce the box from the side.
⊲ The ARCTIKO OneGripTM handle is designed and developed for easy and ergonomic use. With soft edges and a 25-degree angle, daily operational routines can be performed, with a smooth and easy one-handed door opening and closing experience.
DON'T WASTE TIME SHIFTING THROUGH UNSORTED SAMPLES
6
ONEGRIP TM HANDLE
VACUUM INSULATED PANELS
7
specially developed vacuum insulated panels are made of a
⊲
ARCTIKO's high-efficient AND EASY TO CLEAN
quality that secures the lowest possible energy consumption and are used to optimize the freezer to increase energy efficiency and cooling Vacuumperformance.insulated panels combined with ARCTIKO's state-of-the-art TRUE DUAL™ technology provide a safe and high-quality ULT freezer with double security. This model is ideal for the demanding standards that need a precise and uniform temperature environment. DURABLE
⊲ The interior of the Integraline GG freezers is made of highly durable and robust stainless steel AISI 304 to ensure the best possible quality and to provide high sample safety. The rounded corners of the interior of the freezers allow easy cleaning and disinfection. The well-designed inner compartment maximizes the storage capacity and allows storing samples safely and within a reduced footprint. 1 3 2 4 1. Barrier film 2. Vacuum insulated panel 3. Interior 4. Rigid foamed polyurethane
⊲ Low energy consumption made possible with ECO mode and ultra-efficient Vacuum Insulated ⊲PanelsReduced noise level down to 49 dB — low noise level provides a better work environment ⊲ Natural refrigerant deliver more effective cooling due to their high latent heat of evaporation. This results in enhanced performance that reduces power consumption. ⊲ Independent TRUE DUAL™ technology guarantees double security. Ideal for critical preservation application ⊲ Direct cooling for optimized temperature stability and uniformity, even with multiple door ⊲openingsLowheat dissipation because of the efficient cooling of compressors with our Airflow Control system — ensuring a pleasant work environment and savings in running costs P820GGULUFP500GGULUF ⊲ ⊲
-40 / -86 ºCDURABLE AND RELIABLE ULTRA LOW TEMPERATURE FREEZERS ⊲ Self-diagnostic function to secure that your alarm system is always working correctly ⊲ The top, bottom and middle shelf is equipped with direct cooling. The other shelves are flexible which makes it possible to organize the interior to fit the users' needs. ⊲ Built-in CO2 backup controller system for extra security for your valuable samples ⊲ Individually insulated inner doors to minimize cold loss during door openings. Easy removable inner doors make the defrost and maintenance procedure effortless. ⊲ Filterless construction prevents complications due to dust in the filter. Reaches -80°C in less than 5 hours! P610GGULUF P390GGULUF ⊲ ⊲
RELIABLE EXCEPTIONAL PERFORMANCE
10
⊲ Storing samples at ultra-low temperatures has always been a highly sensitive process because the stored items are most likely of high value. Do not risk the safety of your samples, due to the potential breakdown of your freezer. Our TRUE DUAL™ technology is an extra layer of security because we understand that storing samples is important and that each sample is Topriceless.keepyour samples safe and to protect the hard work put into the samples, we designed the TRUE DUAL™ technology. This technology consists of two independent cooling cycles based on the single compressor system. In the unlikely event of an unexpected error or breakdown of one of the cycles, the other system will serve as backup. This guarantees that your samples will be protected and kept at least at -70°C at all times. In short, our TRUE DUAL™ technology is the safest choice when keeping your samples safe.
AND
TEMPERATURE
-90-60-50-20-100-30-40-70-80 hours °C 0 1 2 3 4 5 6 7 8 9 10 11 12 13 14 15 Failure of one cooling system ARCTIKO TRUE DUALTM coolingCascadesystem ⊲ CASCADE ARCTIKO TRUE DUALTM Cooling System With a Cascade system (marked black ) the temperature will rise gradually and the samples will be destroyed. ARCTIKO's TRUE DUALTM cooling system (marked green ) will serve as a backup and the inside temperature will stay in the low temperatures VS Normal operation Unexpected trouble on system A or B -86 ˚C -70 ˚C Maintains-86˚C -70˚CMaintainsorlower
CASCADE SYSTEMS In a cascade system, the two compressors depend on each other to reach -80. In case of a failure on one compressor, the temperature will rise and potentially destroy the samples. Samples should then be moved into a backup freezer to be safe. ⊲ No extra security ⊲ Need for a backup freezer when the system breaks down ⊲ Extra frustrations and stress ⊲ No direct cooling ⊲ Can be expensive in the long run TRUE DUALTM TECHNOLOGY Our unique TRUE DUAL™ technology ensures the very best results and significantly differs from the conventional cascade refrigeration system in fundamental design and It'soperation.crucial to invest in the proper quality laboratory equipment that meets the established regulatory standards. ⊲ Double security for samples ⊲ No stress and problems involved ⊲ No costly downtime situations ⊲ Faster recovery after door openings ⊲ No need for a backup freezer ⊲ Longer lifespan ⊲ Fast pull-down time ⊲ Easy maintenance because of a simple cooling system and filterless construction ⊲ Direct cooling for greater temperature accuracy ⊲ Low temperature difference from top to bottom VS
CASCADECONVENTIONALSYSTEM
11 FOCUS ON WHAT REALLY MATTERS - YOUR SAMPLES. USE YOUR TIME WISELY. ARCTIKO TRUE DUALTM TECHNOLOGY
12 ⊲ Securely store valuable and irreplaceable samples with the utmost confidence that they won't be affected because of temperature uniformity. ARCTIKO freezers are well-known all over the world for having one of the best uniformities compared with other ones on the market. PERFORMANCE DATA (˚TemperatureC) -90-60-50-20-1020˚10˚0˚˚-30˚-40˚˚˚-70˚-80 Minutes 1 31 61 91 121 151 181 211 241 271 301 331 361 391 421 451 ULUF 390GG ULUF 500GG ULUF 610GG ULUF 820GG ⊳ PULL-DOWN GRAPH The pull-down time measures the time taken to cool down the freezer from lifetime.extendingfastersystemefficientARCTIKO'stemperaturesambientto-80°C.powerfulandcompressorcreatesapull-downtimethesample ▼ UNIFORMITY The uniformity represents the temperature fluctuation inside the freezer. Fewer fluctuations within a freezer indicate a stable and even temperature. It's important to note that samples should be stored at uniform temperatures to maintain viability. ULUF 390GG ULUF 500GG ULUF 610GG ULUF 820GG -80˚-79-76-75˚-77˚-78˚-81˚-82˚-83˚-84˚-85˚ 0 28 58 88 118 148 178 208 238 268 298 328 358 388 418 448 Minutes (˚C)emperatureT -80˚-79-76-75˚-77˚-78˚-81˚-82˚-83˚-84˚-85˚ 0 28 58 88 118 148 178 208 238 268 298 328 358 388 418 448 Minutes (˚C)emperatureT -80˚-79-76-75˚-77˚-78˚-81˚-82˚-83˚-84˚-85˚ 0 28 58 88 118 148 178 208 238 268 298 328 358 388 418 448 Minutes (˚C)emperatureT -80˚-79-76-75˚-77˚-78˚-81˚-82˚-83˚-84˚-85˚ 0 28 58 88 118 148 178 208 238 268 298 328 358 388 418 448 Minutes (˚C)emperatureT Actual performance of products may vary upon various factors. All rights to this temperature mapping belong to Arctiko A/S. The drawing may not be copied nor presented to any other person without prior written consent of Arctiko A/S.
ULUF 500GG ULUF 610GG ULUF 820GG
DOOR OPENING
448
▼
GRAPH
ULUF
-80˚-79-76-75˚-77˚-78˚-81˚-82˚-83˚-84˚-85˚ 0 28 58 88 118 148 178 208 238 268 298 328 358 388 418 448 Minutes
-80˚-79-76-75˚-77˚-78˚-81˚-82˚-83˚-84˚-85˚ 0 28 58 88 118 148 178 208 238
ULUF
0 28 58 88 118 148 178 208 238 268 298 328 358 388 418 448 Minutes (˚C)emperatureT -80˚-79-76-75˚-77˚-78˚-81˚-82˚-83˚-84˚-85˚ 0 28 58 88 118 148 178 208 238 268 298 328 358 388 418 448 Minutes (˚C)emperatureT (˚TemperatureC) -90-60-50-20-1020˚100˚˚-30˚-40˚˚-70˚-80˚ Minutes 1 74 148 222 296 370 444 518 592 666 740 814 888 962 1036 1110 1184 1258 1332 1406 Watt0001111 Actual performance of products may vary upon various factors. All rights to this temperature mapping belong to Arctiko A/S. The drawing may not be copied nor presented to any other person without prior written consent of Arctiko A/S.
HOLD OVER
As displayed in the graph, Arctiko's freezer possesses perfect ability to rapidly reach the desired  inner temperature after door opening keeping samples out of danger. If samples are not stored in the proper temperature conditions, they can become practically useless. An even slightest difference in temperature can ruin the samples completely. In other words, a fast pull down after door openings is crucial.
13 ▼
The hold over time measures the time taken for the temperature to rise in case of a power failure. In the event of a power cut, the longer the hold over time, the longer the samples will be safe. ARCTIKO's phenomenal hold over time will extend the sample lifetime. 390GG ULUF 500GG 610GG ULUF 820GG (˚C)emperatureT 268 298 328 358 388 418 Minutes (˚C)emperatureT 390GG -80˚-79-76-75˚-77˚-78˚-81˚-82˚-83˚-84˚-85˚
ULUF
14 Large 7" color resistive touch screen display makes it easy to access all necessary functions and is easy to navigate. It can even be operated with a glove. • Display is easy to clean - no accidental button presses - easy to navigate • USB port for easy upload of software & download of logged data • Extensive integrated logging capabilities with access to detailed log directly on the display • Multiple languages available in the controller ⊲ With the new ARCTIKO controller, you will get the most user-friendly controller on the market. The new controller comes as a 7" touch screen display. The controller is upgraded with the newest technologies on the market and has all the features needed for safe storage of your valuable samples. Energy consumption has a huge impact on the cost of ownership therefore, ARCTIKO's newly developed -86 °C models that can operate in ECO mode and NORMAL mode. ⊲ ECO mode is developed to reduce energy consumption while maintaining optimum uniformity for the stored materials. V700 CONTROLLER WITH A USER-FRIENDLY INTERFACE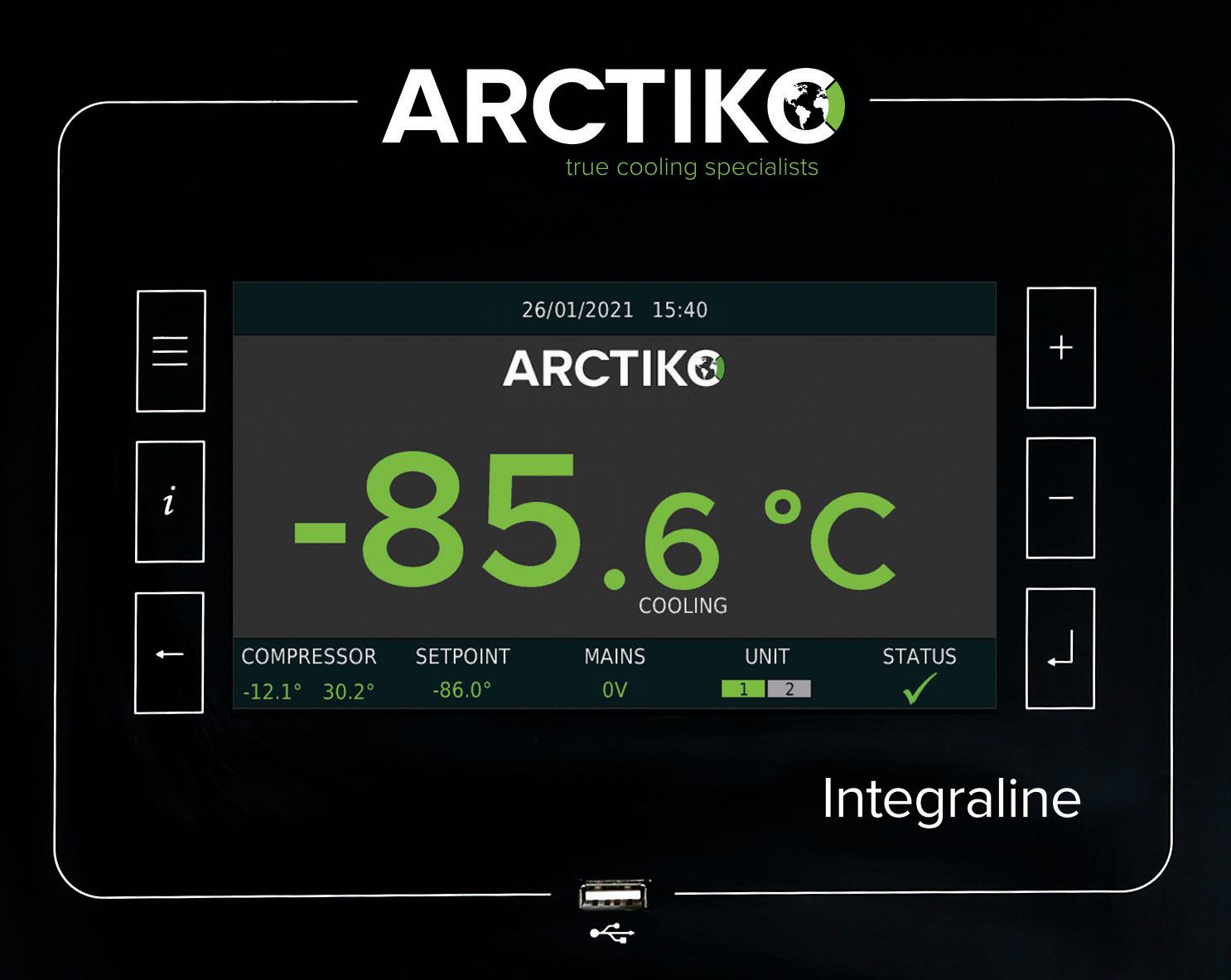 15 ALARM FEATURES • Visual and acoustic alarm • Compressor alarm (TRUE DUALTM ) • Adjustable high/low temperature alarm • Power failure alarm • Probe failure alarm • Open door alarm • Contact for remote alarm • Shows all alarms PREPARED FOR: • Connection of one additional probe • Electronic lock with access via RFID card • Built-in CO2 backup function • Modbus over RS485 • Connection of GSM alarm module MAIN FEATURES ⊲ Self-diagnostic test ⊲ ECO mode - reducing operating costs ⊲ Monitoring of power and multiple alarm conditions ⊲ Integrated memory for 20 years of logged data ⊲ Battery backup for alarms, logging. and temperature monitoring in case of power failure ⊲ Auto cycle in case of probe failure ⊲ Advanced service mode ⊲ 3 levels of password protection ⊲ Digital temperature graph
• Numerical
With ARCTIKO's cryoboxes, you are guaranteed with a high focus on quality and many years of experience in making strong, easy-to-use storage boxes with customers in mind.
rotation • Certified RNase-free, DNase-free, Pyrogen-free, and DNA-free • Sterilized after ISO 11137-2:2013 ITEM NO. DAI 3150 (0,5ml) DAI 3151 (1,0ml) DAI 3152 (2,0ml) DAI 3153 (4,0ml) DAI 3154 (5,0ml)
ARCTIKO BOXES
• Star-foot
•
The voltage stabilizer will ensure that your equipment will receive normal, stabilized power. If the voltage rises or drops, the voltage stabilizer will stabilize the output ensuring the voltage remains constant at 230 V (+/- 6 %) or 115 V (+/-6 %), within the operating range of the unit. power is essential for refrigeration equipment in unsteady power areas to ensure long service operation without damage and to ensure that the contents of the refrigeration unit are kept at the optimal temperature. STAINLESS STEEL SHELVES accommodate customers' needs for a higher degree of customization, the models include 3 shelves as a standard where two of them are adjustable. We recommend maximum 5 shelves in total. They are designed with a perforated surface ensuring continuous airflow and durable stainless steel with a loading capacity of up to 50 kg.
ARCTIKO boxes come in two different versions: 9x9 and 10x10 boxes, providing a storage capacity of 81 and 100 samples respectively. With the 10x10 box, the focus is to optimize the sample storage and provide more advantages than the conventional 9x9 Benefitsboxes.of
• Smart
•
ARCTIKO Cryovials are uniquely designed for safe short-term and long-term storage. Combined with our popular and innovative 10x10 cryoboxes, the capacity will be optimized by more than 23%. Slim design with external thread for 10x10 boxes External thread limits sample contamination due to tight closing Highly resistant and withstanding temperatures of -196 °C 121 °C grip for easy and safe removal and fitting of the lid star-foot with anti-rotating bottom, compatible with various working stations and uniquely designed lid allowing easy tightening and removal of the lid with only half a
•
ARCTIKO's 10x10 Cryo Boxes: 23% increase in storage capacity compared to conventional boxes A click lock in the lid ensures secure handling and that samples will be stored optimally at all times codes for quicker identification measurements 130 x 130mm fit most rack systems one-handed opening of vials without removing them NO. DAI 3160 (32mm) 3161 (40mm) 3162 (50mm) 3163 (80mm) 3164 (90m)
• Standard
• Self-standing
VOLTAGE STABILIZERS
/
DAI
•
ITEM NO. DAI 0942 ITEM NO. 5060044-01 (P390) 5060045-01 (P500) 5060046-01 (P610) 5060047-01 (P820) PERFORATED
To
DAI
16
ARCTIKO SLIM CRYOVIALS
•
• Enables
DAI
Stabilized
DAI
ACCESSORIES ITEM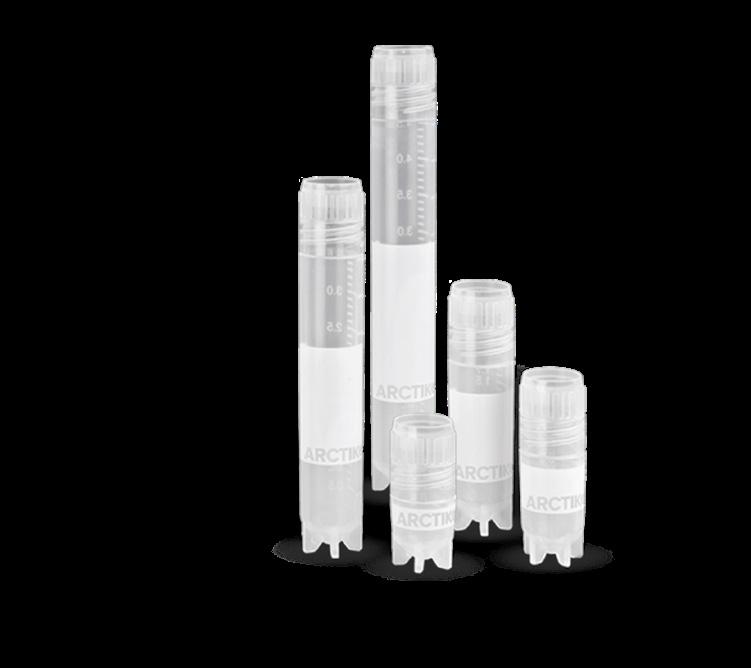 Voltage converters can be used worldwide to transform 220 V into 110 V and vice versa. The voltage converters are made of highly durable materials and feature power source indicators and a toroidal transformer. Models are available from 2400 W to 8000 W. Please contact ARCTIKO for more information and help in choosing the correct converter for your product.
ITEM
DAI
VOLTAGE CONVERTERS
The data logger is a simple and safe electronic device that will record the internal temperature of the equipment over time with an external or internal Thesensor.data logger can automatically collect data on a 24-hour basis in an automatically generated multilevel PDF report. It can easily be adjusted to the desired alarm limits and is available in various models with a range from -200 ºC to +200 ºC. It's fully compliant with ISO standard 19005-1 Document Management industry guidelines for the long-term preservation of electronic documents (PDF/A) and FDA 21 CFR Part 11. NO. 0934 NO. 0980 0981 L) DAI 0982
(size M) DAI
ITEM NO. DAI (Libero0955Te1-P) DATA LOGGER
A chart recorder is a safe solution for documenting temperature conditions over a certain period of time. A replaceable pen continuously documents the temperature on a chart that circulates on either a 7-day or 24-hour basis. The chart recorder can be built in as an option in many ARCTIKO products.
Our water-resistant cryo-gloves protect your hands and prevent frostbite while you are handling frozen products in ultra-cold environments down to -160 °C. The gloves have multiple layers of insulation from fingertip to mid-forearm; they can also be used in very high temperatures up to +123 °C and are available in different models and sizes.
CO2 BACKUP A number of ARCTIKO products can be supplemented by a CO2 backup system for optimized safety. The backup system is supplied with a heavy duty internal battery, injection indicator and digital display with alarm functions. It injects CO2 in the event that the temperature inside a freezer rises above a preset temperature value. ITEM NO. 0921 ITEM NO. DAI 0966 (for ULUF P390GG) 0967 (for ULUF P500GG) 0968 (for ULUF P610GG) 0969 (for ULUF P820GG)
(size XL)
DAI
DAI
DAI
ITEM
DAI
DAI
RFID CardLock Arctiko's RFID CardLock reader enables quick access to the freezer through personalized cards. Easily records the overview of the freezer's door openings and the time of the openings as well. Thereby, it adds another level of security monitoring with only authorized users.
CRYO GLOVES
TEMPERATURE CHART RECORDER
(size
ITEM NO. DAI 0916 (RV-4000) 0917 (RV-8000)
DAI
17
18 ULUF P500GG DAI 1840 ULUF P390GG DAI DIMENSION1835 DRAWING ULUF P820GG DAI 1850 2045 8217 60 A BB 12851235 9916 2911 A9215 A-A 120 996 026 859,5067 0231092093422342600570 Noise reduction box can be removed. 10B-B02 Shelf loading: 50kg 980 570 P610 AABB9916 2291 1098535 8215 B-B600570 0231922340290342 1002 Noise reduction box can be removed. 916075 3791 A-A 120 746 067 260 859,5 735 569 Shelf loading: 50kg 6155 9177A-A606067 859,5620 120 60AABB8958459916 2291 2815 B-B 2310342290290342 1002 Noise reduction box can be removed 605700 Shelf loading: 50kg 597 570 60 0115 2615 A-A 120 466 067 8595062 Noise reduction box can be removed B- 60B5700 234290290342 0231 1002 AABB9916 2291 757055 A 1528 Shelf loading: 50kg 459 570 ULUF P610GG DAI 1845
mm boxes 9x9
120 160 200 280 cabinet&Refrigeration Number of compressors 2 2 2 2 Refrigerant GG20 GG20 GG20 GG20 Interior cabinet material stainless steel stainless steel stainless steel stainless steel Exterior cabinet material painted steel painted steel painted steel painted steel Colour (exterior cabinet) white white white white Foam type polyurethane polyurethane polyurethane polyurethane VIP vacuum insulated panels yes yes yes yes Shipping Shipping weight (KG) 343 366 387 427 Shipping dimensions WxDxH (cm) 87x127x225 101x127x225 115x127x225 141x127x225 Shipping volume (m³) 2,49 2,89 3,29 4,03
264 352 440
168 224 280 392 Total capacity
50 mm
no
50 50 50 50
9x9
75
Max.
19 *Depth of 1002 or 1999 mm includes distance fittings on back for correct air circulation TECHNICAL DATA MODEL ULUF P390GG ULUF P500GG ULUF P610GG ULUF P820GG specificationsMain Item code DAI 1835 DAI 1840 DAI 1845 DAI 1850 Temperature range (˚C) -40 / -86 -40 / -86 -40 / -86 -40 / -86 Max. ambient temperature (˚C) 32 32 32 32 Capacity (L) 385 500 614 819 Exterior dimensions WxDxH (mm) 755x859,5/1002*x1999 895x859,5/1002*x1999 1035x859,5/1002*x1999 1285x859,5/1002*x1999 Interior dimensions WxDxH (mm) 466x620x1320 606x620x1320 746x620x1320 996x620x1320 Weight (KG) 217 233 247 275 Insulation (mm) 120 120 120 120 Cooling technology dual system / static dual system / static dual system / static dual system / static Controller model / probe type V700 / PT100 V700 / PT100 V700 / PT100 V700 / PT100 Power Power supply (V) 230 230 230 230 Frequency (Hz) 50/60 50/60 50/60 50/60 Power consumption (kWh/24h) 10,6 12,4 13,5 17,3 AMP (A) 8,6 8,7 8,9 10,3 Power (Watt) 1250 1320 1540 1550 Horse power (HP) 2 x 3/4 2 x 3/4 2 x 3/4 2 x 3/4 functionsAlarm Alarm display as text - not codes yes yes yes yes Visual / acoustic alarm yes / yes yes / yes yes / yes yes / yes Power failure alarm yes yes yes yes Adjustable high / low temperature alarm yes / yes yes / yes yes / yes yes / yes Open door alarm yes yes yes yes Probe failure alarm yes yes yes yes Low battery alarm yes yes yes yes Compressor failure alarm yes yes yes yes Battery backup for alarms (approx. hrs.) 72 72 72 72 &loggingData connectionexternal Voltage free contact for remote alarm (e.g. GSM alarm module) yes yes yes yes Electronic data logger yes yes yes yes RS 485 port optional optional optional optional USB port for software update & data download yes yes yes yes Temperature chart recorder optional (external mounting) optional (external mounting) optional optional featuresDisplay Display type 7'' touch screen 7'' touch screen 7'' touch screen 7'' touch screen Number of optional reference probes 0 (1 reference probe included as standard) 0 (1 reference probe included as standard) 0 (1 reference probe included as standard) 0 (1 reference probe included as standard)
Total capacity
Password protection for turning unit on / off yes yes yes yes Temperature graph on display yes yes yes yes
featuresOther Automatic defrost no no no no Antifreeze function no no no no Vacuum release port yes yes yes yes Access port for external probe etc. (int. diameter mm) 12 12 12 12 Light yes yes yes yes Lock with key yes yes yes yes Castors (total pcs) / castors with brake (pcs) 4 / 2 4 / 2 4 / 2 5 / 2 Fixed feet (pcs) / levelling feet (pcs) no no no no Sub lids / inner doors (pcs) 4 4 4 4 Reversible door(s) no no no no Fixed shelves (pcs) / adjustable shelves (pcs) 1 / 2 1 / 2 1 / 2 1 / 2 Max. no. of shelves (pcs) / recommended max. no. of shelves (pcs) 5 / 5 5 / 5 5 / 5 5 / 5 load (kg) Baskets (pcs) no no no of boxes didviders (pcs) 616 of mm boxes 9x9 didviders (pcs) of 96 didviders (pcs)
per shelf
Total capacity
ARCTIKO A/S | Oddesundvej 39 | 6715 Esbjerg N | Denmark +45 70 20 03 28 | www.arctiko.com | info@arctiko.com We reserve the right to change specifications without notice. Subject to confirmation, availability and errors. Check our website for further technical information.09/2022_EN PRODUCT OVERVIEW BBR 100 / 300 / 500 / 700 / 1400 BBR 100-D / 300-D / 500-D / 700-D / 1400-D LTF 85 / 225 / 325 / 425 / 53 °C LAF -40700° LF+4°100 / 300 / 700 / 1400 LFF 270 / 660 PRELRE+2/+8°-60°-30°120/440120/440LFE 110 / 360 LFE 700 / -25°1400-86° ULUF P390GG / P500GG / P610GG / -150°P820GG CRYO 170 / 230 LR 100 / 300 / 700 / 1400 PR 100 / 300 / 700 / 1400 LRE 700 / 1400 +1 /+10° ULTF-86°80 / 220 / 320 / 420 ULUF 15 / 65 / 125 / 450-2M / 750-2M ULUF P10 / P50 / P90 Follow us on: