ANDRONIS MAGAZINE
GUIDED BY THE AUTHENTIC ESSENCES OF PHILOXENIA
Reimagining Mediterranean Summers
Tomes have been wri TT en about the importance of creativity and innovation and about having the boldness and determination to turn dreams into reality—remarkable traits that are themselves born of something much more elusive: imagination.
Everything begins with conjuring up new possibilities, new worlds, new ways of living. And when the gift of imagination is paired with those invaluable qualities of creativity and tenacity to follow through, that's when the truly exceptional emerges.
That's how our story began. With a man named Miltiadis Andronis arriving on Santorini for the very first time and a spark of Aegean magic that set his heart and imagination alight.
Gazing upon the island, Andronis saw more than magnificent landscapes and spellbinding sunsets. He saw a new way of connecting with Santorini's wild beauty and sharing its unique spirit with the world. A new way to bring the essence of philoxenia, that uniquely Greek kind of heartfelt hospitableness. A new kind of gorgeously effortless, cosmopolitan escape. A little spark of imagination that in 2007 came to life as the 5-star Andronis Luxury Suites.
Driven by his passion for beauty and showcasing each
unique location's magic, Miltiadis Andronis has since reimagined himself from top hairstylist and fashion aficionado to successful hotelier, imagining and bringing to life a collection of seven fabulous boutique hotels in Santorini and Athens.
From the first 13 guestrooms to over 200 today, the Andronis brand continues to grow with bold projects that include a unique-in-Santorini €13 million staff housing initiative as well as two new hotels in the pipeline, which will bring the Andronis experience to brand new destinations in Greece and abroad.
Endlessly inspired by the #ANDRONISLIFESTYLE, the foreseeing Summer of 2023 is pleasantly welcoming the first Beefbar to ever open in Santorini in the iconic Andronis Arcadia. Crafting new hospitality experiences in 2023 and beyond, Andronis focuses its drive and ambition into updating its offering group-wide, adding two stellar new hotels in Milos and Tuscany to its exquisite portfolio.
What remains the same is that each unique property is an ode to its location and to the spirit of philoxenia, redefining and reimagining luxury hospitality, and inviting you to truly experience and delight in each moment.
Welcome to a summer of boundless pleasure and possibility. You just have to imagine! •
visionary
Miltiadis Andronis — Andronis Owner
UNFOLD THE EXCITING LIFESTYLE OF ANDRONIS EXPERIENCE andronis.com Andronis Arcadia, Oia Santorini, Tel. +30 2286186763

Enjoy a one in a lifetime experience all around the beautiful Island of Santorini and the ancient active volcano that created one of the most spectacular places on earth reservations@santoriniyachtingclub com T +30 22860 72071 www.santoriniyachtingclub.com
2| Reimagining Mediterranean Summers. The visionary Andronis Owner, Miltiadis Andronis.
20|Taste of authenticity. George Filippidis, Andronis Managing Director, sends us his welcome message.
22| Summer Rituals.
Editor's Note by Elsa Soimiri.
FOCUS
26| The Andronis Experience in Numbers. 28| Gastronomy Festival 2023.
36| Strength is in unity. Emmanuel Renaut meets George Dospras in their all time classic rendez-vous at Lauda Restaurant of the Andronis Boutique Hotel.
38| Sunset Live – Pacman Music Events. 42| Suite Dreams are made of these. 44| It's a Beauti-Pool world.
46| Capturing Dreams. A tribute to the photographer Tryfon N. Georgopoulos, the man behind most of the incredible images in Andronis Magazine.
ESCAPE
52| Discovering Santorini's Magic. 80| South Side Story.
84| New Destinations. New Adventures. New Experiences. #AndronisExperience Coming soon to Milos and Tuscany!
EXPLORE
contents 16 • ANDRONIS • Magazine
96|
100|
104| Andronis
108| Andronis
112| A77 Suites
Andronis. EXPLORE-TASTE 118| Lycabettus Restaurant. 120| Lauda Restaurant. 122| Throubi Restaurant. 124| Beefbar Santorini. 126| Pacman Bar Restaurant. 128| Catch Bar Restaurant. 132| I Feel Athens.
-WELLNESS 136| Evexia Spa. 138| Mare Sanus Spa. 140| Kallos Spa.
144|
146|
148| Sail your
Santorini Island. 150| Andronis
Vouchers. 152| Andronis
Program.
– STAY 88| Andronis Luxury Suites. 92| Andronis Boutique Hotel.
Andronis Arcadia.
Alta Mare by Andronis.
Concept Wellness Resort.
Athens.
by
EXPLORE
EXPLORE-EXPERIENCES
Precious Thrills.
Shop the Summer.
way on
Gift
Loyalty
154| LAST PAGE
XPLORE N 31° 14' 23'' E 121° 29' 58'' W E A R E U L Y S S E
Diver Skeleton X Starting at USD 21'000.
OWNER Andronis
PUBLISHED BY ELSE AGENCY www.elseagency.gr
PUBLISHER-EDITOR IN CHIEF
Elsa Soimiri esoimiri@elseagency.gr
CREATIVE DIRECTOR
Lia Galanou
HOTEL ART PHOTOGRAPHY
Tryfon N. Georgopoulos
CONTENT DIRECTOR
Despoina Sampson
ASSISTANT
PHOTOGRAPHER
Erica Peterson
PHOTOGRAPHY
Panagiotis Fragkoulidis, Stavros Habakis
SENIOR COPY EDITOR
Vivian Vourtsa
ADVERTISING DEPARTMENT
ELSE AGENCY Sophisticated Media Lab
Eleftheron Poliorkimenon Str. 10, Maroussi, 15125, Athens, Greece
T +30 210 6100211/210 6100212 Fax (+30) 210 6100213 info@elseagency.gr
ADVERTISING DIRECTOR Elfi Alexandroglou ealexandroglou@elseagency.gr
ADVERTISING EXECUTIVE Thomais Adami thomais.ad@elseagency.gr
PRINTING The Printing House
Responsible against the law Elsa Soimiri
The Andronis Magazine is an annual magazine distributed for free. Andronis does not necessarily share the opinions expressed in the magazine. It is illegal to reproduce any part of this publication without the written permission of the publishers.
ISSN 2732-6314 (PRINT), 2732-6322 (DIGITAL)
Taste of authenticity
Since day one, Andronis has been wholly committed to delivering exceptional, heartfelt hospitality that resonates and stays with our guests long after they've returned home. We envision and create extraordinary hospitality experiences focused on accentuating Santorini's unique appeal, underpinned by our signature incomparable service. We aim to be Greece's top luxury hospitality company, to not only bring the world to Greek hospitality but also bring Greek hospitality to the world. And we aim to excel at every aspect of doing this.
Andronis properties in Santorini deliver world-class luxury accommodation complemented by a fantastic array of experiences, facilities and amenities—not least by exceptional dining and wine offerings. Our restaurants, elegant and inviting, offer a range of different culinary experiences and styles, and we also offer one of the country's best wine lists, with fine and rare vintages from across Greece and around the world. Each of our restaurants stands out in its respective field, while our Lauda and Lycabettus restaurants on Santorini are consistently named amongst Greece's best. Moreover, our annual Andronis Gastronomy Festival invites internationally acclaimed chefs and rising culinary stars to prepare menus for our guests at our top restaurants.
Of course, true excellence isn't just about showcasing amazing destinations, providing remarkable experiences and being a market leader; it is also about maintaining that same level of effort and determination behind the scenes and out
of the spotlight. At Andronis, we pride ourselves on being friendly, progressive and open-minded, on the dedication with which we pursue our goals, and on the respect that guides our interactions with each other, our guests and the communities in which we work. For us, investing in our people and striving to enhance employee satisfaction is about real effort and tangible results, such as our recent housing initiative for seasonal staff in Santorini, which includes a total of 200 staff residences as well as facilities for children, sports and recreation.
Ultimately, achieving excellence comes down to hard work, adaptability and being passionate and driven about what you do—and when what you do is celebrate one-of-a-kind destinations, that all comes naturally. Working and living in Santorini is a delight. There's never a shortage of beauty to be awed by, exciting things to do and incredible experiences to enjoy.
If Santorini were a book, it would be a thing of wonder. An exquisite limited edition bound in the finest iridescent silk, blue and shimmering in hues of saffron, lilac and fuchsia around the gold-blocked title—The Splendour of the Lost Atlantis—and the story, more enthralling still, would move us all to get lost in its pages forever.
On behalf of Andronis Group, I wish you an enjoyable stay and an exceptional experience that you'll wish could go on forever.
George Filippidis, Andronis Managing Director
message 20 • ANDRONIS • Magazine
The Riva Experience
Enjoy the unique rime of the Caldera with Riva exceptional, luxury motor yacht that will completely satisfy your needs and fulfill all your secret desires. State of Art technology and tradition, elegance and timeless beauty merge with the waters of the Aegean sea!
ANDRONIS • Magazine • 21
Caldera Yachting, Fira, Santorini 84 700 Greece T. +30 22860 23000/ 23990 · www.calderayachting.gr reservations@calderayachting.gr
and absolute quality! WINNER 2022
Design
Summer Rituals
a place of ethereal beauty. A ring-shaped archipelago. An active volcano. The crown jewel of the Mediterranean. Santorini is the stuff of dreams.
Home to magnificent vistas and charming little villages perched atop sheer cliffs, this island is a place of singular beauty—the kind of beauty that permeates everything and seems to somehow saturate every fibre of your being. Here, even the simple act of getting up each morning, throwing open the terrace doors and taking those first steps into the island's glorious sunshine becomes a sort of joyful ritual.
Nothing quite compares to starting your day breathing in the fresh sea air and feeling the warmth of the morning sunshine on your skin as you gaze upon the caldera. And then, after a day of revelling in the island's beauty and discovering its offerings, to pause again and surrender to the magic of Santorini's sunsets.
No matter how many times I return here, these simple moments rekindle in me the awe I felt when I first set eyes on the island. So whether this is your first time in Santorini or you return year after year, I invite you to open your heart and truly fall in love with her anew. Slow down and connect to the island's spirit. Its defiant tranquillity. Its down-toearth elegance and effortless sophistication, so aptly captured in each of the exquisite Andronis hotels in Oia and Imerovigli. Make your own joyful summer rituals. Bask in the island's wondrous light, delight in each moment and enjoy life's simple pleasures.
Elsa Soimiri — Editor in Chief
editor's note 22 • ANDRONIS • Magazine
focus
Welcome to a world of luxury, comfort and intimacy. Andronis is your own private paradise to experience the hypnotic beauty of Santorini.
focus 26 • ANDRONIS • Magazine The Andronis Experience in Numbers 214 Suites & Villas 13,398 m 2 Suites & Villas 6 Restaurants 5 Bars 51 Private Outdoor Hot Tub Suites 162 Private Infinity Pools 6 Outdoor Infinity Pools 3 Awarded Spas
Gastronomy Festival 2023
The established and well known Andronis Gastronomy Festival returns for summer 2023 with an incredible line-up of acclaimed Michelin Star Chefs from all around the world.
Prepare to be utterly captivated by Chef Emmanuel Renaut along with Philip Chronopoulos' truly world class incredible culinary creations.
13TH AND 14TH OF JUNE
Emmanuel Renaut & Philip Chronopoulos at Lauda Restaurant, Andronis Boutique Hotel
Join us at Lauda for two nights and discover the culinary talents of both Chef Emmanuel Renaut and Chef Philip Chronopoulos. Boasting impressive training and experience, Renaut, the French chef and founder of the legendary 3 Michelin star Flocons de Sel located in the Alps in southeastern France is known for his bold and creative cuisine and love of using wild plants.
focus 28 • ANDRONIS • Magazine
13TH AND 14TH OF JULY
Alex Dilling at Lycabettus Restaurant, Andronis Luxury Suites
Since working as Executive Chef at the two Michelin starred restaurant, The Greenhouse in the U.K., London born Alex Dilling went on to spend a decade working with some of the most esteemed talents in the world of gastronomy. Most recently, he opened his first eponymous location, namely Alex Dilling at the Hotel Café Royal in London offering a distinctly intimate dining experience combined with gastronomic flair.
Gastronomic inventiveness combined with sheer talent are hallmarks of Chef Dilling's renowned creative culinary flair.
20TH AND 21ST OF JULY
Marcelo Ballardin at Throubi Restaurant, Andronis Concept Wellness Resort
After gaining invaluable experience working in some of the most acclaimed restaurants in Europe, Brazilian born chef Marcelo Ballardin opened his own restaurant OAK in Ghent, Belgium in 2014 which received 1 Michelin star four years later in 2018. Known for his love of seasonal, fresh ingredients, Marcelo's South exciting American cooking style also highlights the imaginative use of Asian spices mixed with Mediterranean herbs.
focus 30 • ANDRONIS • Magazine
Savour the inventive imaginary cuisine of this bright rising star in the global gastronomy scene.
26TH AND 27TH OF JULY
Luca Piscazzi at Lauda Restaurant, Andronis Boutique Hotel
Born in Rome, Chef Luca Piscazzi has truly travelled across the globe from Europe to Hong Kong and Beijing in the quest of honing his culinary skills culminating in 2 Michelin stars during his tenure at Chef Anne Sophie Pic's La Dame de Pic in London. Since moving to Greece he has embarked on his first solo venture at Pelagos at the Four Seasons in Greece's capital city.
An out-of-this-world wine pairing experience to remember
Organised nightly by our sommelier for one couple only, surrender yourself to the capable hands of our awardwinning Head Chef Christos Karagiannis who will create an outstanding Greek inspired menu utilizing only the island's best ingredients along with other premium ingredients that are flown in daily from around the world. The gastronomic experience that follows is one that combines both authenticity and cutting edge innovations, culminating in what can only be described a true assault on the senses.
Combined with some of the finest wines from Santorini's rich and varied terroir, all you have to do is relish the moment and breathe in the ambience of one of the most beautiful outdoor dining spaces in the world where the calm Aegean sea, awe inspiring views and the rich blanket of stars above make for one of the most memorable experiences in the world.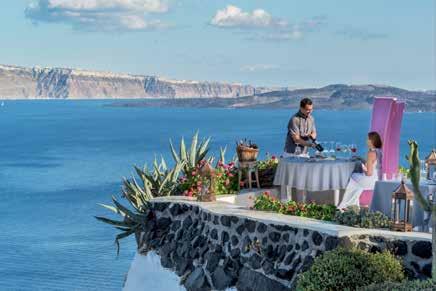 ANDRONIS • Magazine • 31
Celebrate Chef Luca Piscazzi's culinary excellence combined with outstanding views at Lauda, Andronis Boutique Hotel.
3RD AND 4TH OF AUGUST Lewis Barker at Lycabettus Restaurant, Andronis Luxury Suites
Beginning his career at the tender age of 15, British born Chef Lewis Barker went on to spend a decade gaining experience and honing his culinary skills under renowned chefs in some of the world's most acclaimed restaurants. Currently located in Singapore, Chef Barker is head chef at the restaurant Sommer which opened in January 2021 to receive its first Michelin star a mere six months later.
32 • ANDRONIS • Magazine
Having received his first Michelin star so young, Chef Barker is at the top of his game.
Welcome
A BRAND NEW SHOPPING EXPERIENCE
Ammoudi, Oia • T: +30 2286071794 • www.yajewels.com • @yajewels
to YA jewellery shop, where a brand new shopping experience in Santorini begins here and now and it is all sparkle, beauty and uniqueness; just like the island of Santorini!
to be astonished,
to fall in love,
to
your
the
to
Prepare
prepare
prepare
transform
wardrobe with
finest pieces and prepare
shine!
30TH AND 31ST OF AUGUST
Christophe Hay at Throubi Restaurant, Andronis Concept Wellness Resort
Chef Christophe Hay, chef – owner at Fleur de Loire in the Loire region, France, honors the region's native products and the people who produce them offering a cuisine that is culturally rich and intentionally simple in an atmosphere that is decisively modern. Having garnered 2 Michelin stars since 2019, Hay is also a principal member of the chef's ecology association named "L'R durable" aimed at promoting responsible cooking.
focus 34 • ANDRONIS • Magazine
Experience a spectacular gastronomic journey into the diverse culinary universe of acclaimed Chef Christophe Hay.
It Is for the fIfth consecutive year that Lauda Restaurant welcomes the gastronomical genius of Emmanuel Renaut and the talent of George Dospras in a summer culinary feast of supreme tastes.
They said about you that you create your own brand of cuisine: generous, lively, colourful, appealing and modern. How are these elements incorporated into Lauda Restaurant?
E.R: Initially taking the product in its purest form, then transforming it in a manner that reveals its very best qualities. This is my watchword for the creative menu of Lauda Restaurant. How would you describe the "Andronis"
chapter in your professional life?
G.D: This chapter is a very creative period as well as a period of personal and professional development. It comes as the continuation of the experience I had gained from my previous years in various kitchens. Behind a successful restaurant, you can detect creative minds and talents. What does it take to perfectly execute this business recipe for 5 years?
E.R: It is important that there is respect and appreciation between two partners. These characteristics are present on both sides throughout all these years of our cooperation and are elements that bind the relationship between us. In addition,
focus 36 • ANDRONIS • Magazine
Emmanuel Renaut and George Dospras are the creative forces behind the Lauda Restaurant's myth of exceptional gastronomy.
the element of creation characterizes both of us, as we always want to jointly achieve the best result with more and more creative dishes.
In what ways does the volcanic energy of the island inspire you?
G.D: A volcano indicates the destruction of the place it runs through, but then life is born again. This thought gives us the strength and energy to continue inspired by the realization that every end becomes a new beginning.
During these years, have you ever sensed the need to change an "ingredient" in order to refresh the co-operation between the two of you?
E.R & G.D: As we move forward with
a common ideology and a common purpose, our cooperation becomes better and better as the years pass and each one of us learns from the other. The dish we would stand out as the restaurant's most characteristic is…… Fava from Yannis:
Greek mushrooms, Smoked Egg Yolk
Underneath Zephyr of Fava from Yannis Nomikos Estate
A piece of Santorini that we would take with us is ……. the memories that we have created all these years in the island. Culinary creativity means……. use of quality raw materials, combination of cooking techniques and marriage of materials that result in pure flavors. •
ANDRONIS • Magazine • 37
Inspiration is derived from the natural treasures and the local produce.
Join Duo Violins in what promises to be a unique sunset performance at Pacman that combines special adaptations of both classic and modern hits with the expressive sounds of two violins.
38 • ANDRONIS • Magazine Pacman Music Events SUNSET LIVE Join us this summer at Pacman Sunset Restaurant & Bar for sunset sessions that promise to be truly unforgettable. PACMAN MUSIC EVENTS Summer-Fall 2023 3/6 16/6 26/6 18/7 22/7 8/8 12/8 21/8 13/9 THANASSIS VASSILOPOULOS ft. BASTET DIVAS FIRE DANCERS GHENWA NEMNOM NANDRA MUSIC DUO VIOLINS
VASSILOPOULOS ft. MARINA SATTI DUO VIOLINS
VASSILOPOULOS ft. MARINA SATTI SANDY SAX JIMMY SAX
THANASSIS
THANASSIS
focus
Known for his energetic, melodic mixes and great attention to detail, electro DJ Sandy Sax (left) is definitely part of a new generation of up and coming talented performers. An unparalleled performer, with more than 475,000 followers and 150 million views on Youtube, Jimmy Sax (right) has proved time and time again that he is absolutely at the top of his game.
Creating the biggest pool area in Santorini, Andronis aims to cater to the needs of every guest of Andronis Arcadia throughout the sunny days but also to give a new impetus to the party scene of Oia and Santorini with impressive Live Sunset Shows at Pacman Sunset
Watch the sun as it sets over the Aegean Sea and delight in the riot of colours that spread across the sky before you as you sip on a perfectly concocted cocktail. Renowned for its utterly relaxed vibe, Pacman provides the perfect setting with views that stretch as far as the eye can see. Away from the crowds who flock to this part of the island to view Santorini's legendary sunset, keep-up with this
Saturday 3 June 2023, 8 pm Sunset show with Thanassis Vassilopoulos ft. Bastet
Blending deep house music with traditional instruments to create this summer's most atmospheric sunset events, Vassilopoulos will be teaming up with international artist Bastet Divas for an evening that is ensured to make your imagination wander.
Friday 16 June 2023, 8 pm A Spiritual Music Journey by Ghenwa Nemnom
Witness musical artist Ghenwa's unmatched appetite for a deeper understanding of music, which has led her to all four corners of the globe, to discover different types of music and art.
Serene, soothing and exquisite in design, surrender to therapies designed to rejuvenate the body, relieve the nervous system and induce total balance.
Monday 26 June 2023, 8 pm Ethnic
Elements & Inspirational Melodies by Nandra Music
Sounds and emotions take shape through wandering ethnic musical passages as Nandra mesmerizes combining the powerful vibration of electronic music with percussion and primitive elements.
Tuesday 18 July 2023, Tuesday 8 August 2023, 8 pm Melodic Sunset Ritual Show by DuoViolins
Join DuoViolins and prepare to be swept away by a mesmerizing visual and musical experience as you take in the magical ambiance of the sunset.
Saturday 22 July 2023, Saturday 12 August 2023, 8 pm Sunset show with Thanassis Vassilopoulos ft. Marina Satti
The acclaimed Greek clarinetist will be teaming up with Marina Satti for a ground-breaking performance
highlighting the energy of the sea, the sun and the beauty of Greece.
Monday 21 August 2023, 8 pm An Energetically Melodic Sunset Show by Sandy Sax
With over 700 international performances and many famous electro DJ's remixes, discover why Sandy is known worldwide for his own particular style.
Wednesday 13 September 2023, 8 pm Deep House, Funk and Electro Notes by Jimmy Sax
Inseparable with his saxophone since he was very young, prepare to be dazzled by the deep house, funk and electro in his lively energetic repertoire.
Continue reading to discover more about Thanassis Vassilopoulos and Marina Satti in their interviews that follow.
ANDRONIS • Magazine • 39
THANASSIS VASSILOPOULOS
Thanassis Vassilopoulos, the Greek woodwind virtuoso (and one of the foremost clarinet players in the Balkans) will be making an atmospheric sunset live appearance this year at Pacman Sunset Restaurant & Bar. Ahead of his appearance, we caught up with him recently to talk exclusively about what has inspired him on his world travels. You have been producing music as far back as 1987, either through composing songs or collaborating with both Greek and international musicians. How would you describe your relationship with the clarinet? Did you grow up in a musical family or were you influenced by an outside source?
My relationship with the clarinet started at the tender age of four. I was blessed to be born into a musical family; as everyone in my family was and continues to be a musician, there was an "abundance" of
musical instruments while I was growing up. Ethnic music has the ability to make our minds travel to a world with its own notes and experiences. How would you describe ethnic music?
I believe that all types of music have the ability to make your mind wander and travel, music can calm you, make you dream, have fun, love! Ethnic music, for me, is a continuation of the traditional music I started playing as a child which I now combine with contemporary, electronic music.
Is there a difference in the way you played, let's say at a younger age, in front of an audience at a traditional Greek festival with that of a concert, such as at Montreux, Switzerland, at the historic Miles Davis Hall, where you appeared as Joe Bonamassa's guest?
I play with the same level of love, passion
focus 40 • ANDRONIS • Magazine
and respect in each and every appearance. I find that the audience also has the same passion regardless of whether the event is Montreux or simply a traditional Greek festival.
Do you follow a ritual before you start playing?
I try to if I have the time but I don't always have the "luxury" of being able to focus on what I have been called upon to do, namely, make the minds of those who have come to see us travel far and away. Does your clarinet have its own story to tell?
Definitely! After all, it is over 130 years old! It has given me far more than I could have ever imagined… which is why I always try to remind myself how truly unique an instrument it is! After everything it has given me, it will have to retire at some point, it has definitely deserved it!
SUNSET AT PACMAN – A TRULY GLORIOUS VENUE
MARINA SATTI
The Greek singer, composer, music producer and actress from Crete and Sudan will be performing at the Andronis Group as a special guest artist alongside Thanassis Vassilopoulos on July 22 and August 12th 2023. Having won a scholarship to the Berkeley School of Music to study orchestration and production in 2007, her music is now characterized by the combination of traditional sounds with urban elements, rhythms and studio music production. In 2017, her song "Madissa", inspired by the roads of Epirus, went viral with 45 million views on YouTube.
You're originally from Sudan and Greece. You studied at the Berkeley School of Music, collaborate with major artists in Greece and overseas, you run two choirs: Fonés and the Chóres Women's Choir. Do you feel stronger as a woman in music? Music was and is my greatest love - my hobby, and now it seems to be my "job". With that being said, music isn't a "job". I am living the dream, a dream that I know won't last forever. And I'm ok with that.
What do you most want to be doing at this time in your life? To be traveling and performing or be in the recording studio?
Right now I have all these wonderful people around me, I have my songs that people are listening to, I travel with my band in Greece and around the world - we hang out, we play music, we see something new every week when we're on the road, we meet new people, learn new things.
You have traveled all over the world - from Greece, Sudan and the U.S. ... How have your travels inspired your music? The music that I produce has definitely evolved through travel. I have learned to deal with the difficulties simply as the "steps" that need to be taken on the journey. All I want is to be healthy so that I can continue to do what I do. I think everything else that is important will come on its own in due course.
Have you visited the island of Santorini before? Does the particular setting of this island inspire you?
A lot. I have visited Santorini before and I'm grateful every time for every moment that I am able to spend here … •
ANDRONIS • Magazine • 41
HIGHLIGHTING THE ENERGY OF THE SEA, THE SUN AND THE BEAUTY OF GREECE.
Hailing from both Greece and Sudan, Marina Satti's sheer talent is undeniable whether she's traveling around the world performing or recording and producing in a sound studio closer to home.
Suite Dreams are made of these
Andronis Group welcomes this summer with the grand debutant of its majestic Natura & Oasis Suites.
Nature takes central stage regarding the concept and the creation of the newly launched Natura & Oasis Suites. The curtain opens to reveal the impressive Natura Suites initiating guests into a sensuous world made of luminous, amply spaces with natural layers of pattern, texture, and color. Indulge into summer bliss from the privacy of your very own pool, enjoy mesmerizing views of the Aegean Sea and journey away. Each suite features an open space with a king-sized bed and a living area that leads to the private veranda offering striking sea views. You will only part with this, just to take in the absolute essence of the indoor hot tub and allow yourself to enjoy the finest bathroom experience.
Following the same philosophy, Oasis Suites unfold the grandeur of a set of four suites embracing the atmosphere of a true summer palace. Boasting 100sq meters and featuring a stunning pool of 28sq meters and a courtyard of 60sq meters to create memories of an outstanding outdoor living. Ideal for the finest romantic getaway, right in the heart of the majestic Andronis Arcadia, Oasis Suites promise to create the utmost backdrop for an unforgettable stay. Double the size of the Natura Suites, they stand as the design gem of the hotel elevating high expectations and delivering the utmost summer experience. A living oasis of unpretentious luxury that comes handin-hand with nature. •
focus 42 • ANDRONIS • Magazine
The Oasis Suites reflect the naturalinspired concept through its indoor and outdoor space. The earthy tones are dominant across the Natura Suites (opposite page).
It's a Beauti-Pool world
Time to dive into Andronis Hotels' deep of aquatic treasures to "pool" over and unwind!
focus
Let yourseLf dream of the iconic views from your infinity pool and be prepared to savor exquisite outdoor living next to amazing main pools. When it comes to the aquatic element, numbers speak for themselves at Andronis Hotels. Boasting 6 outdoor infinity pools that stand as gems in its crown and featuring 162 private infinity pools, it unfolds a unique world of splashy tales. Experience summertime on Santorini Island in all its magnitude and discover the romantic soul hidden inside you enjoying one of the 51 private outdoor hot tub suites. Wake up in rooms that initiate you to the very Cycladic essence. From the window, the view welcomes you into the realm of endless blue and the freedom of being the explorer of bliss. So, do you dare to take the plunge?
ANDRONIS • Magazine • 45
the majestic Pacman Sunset Restaurant and below the private pools at Andronis Luxury Suites following by Andronis Boutique Hotel.
TRYFON Ν. GEORGOPOULOS
Capturing Dreams
A tribute to the photographer behind most of the incredible images in Andronis Magazine. Tryfon N. Georgopoulos was a genuine lover of beauty in all its forms who will be fondly remembered.
TEXT BY ELSA SOIMOIRI
focus
The mist of the unexpected Every shot creates its own myth of nature's co-existence with human presence.
The firsT Greek phoToGrapher to produce the cover for the illustrious National Geographic edition for 'Food Journeys of a Lifetime: 500 Extraordinary Places to Eat Around the Globe', Tryfon N. Georgopoulos had worked with a plethora of Greek and international lifestyle tourism magazines.With years of marketing management experience, he had a clear insight into what communication and advertising "works" and was considered a specialist in Hotel and Architectural photography as well as in Portrait & Food photography - encompassing a portfolio of 32 Michelin starred chefs in Greece and Europe.
A few days ago, Tryfon, a dear friend of the Andronis family, passed away. We were fortunate to speak to him for the previous issue of the Andronis magazine and to share now his final words with our readers. Indulging in his last interview, we take solace in the knowledge that in his life, he certainly did what he loved and loved what he did – and gained respect for it.
What do you ultimately believe the role of the Greek photographer is in tourism and the hospitality industry?
It's huge. Photos dominate any holiday brochure, any type
of printed advertising material, billboards, guide, brochures for tourist attractions… Images of destinations, landscapes, hotels, people relaxing and having fun. Before choosing a destination, the public wants to see people having a good time, beaches or attractions that they will dream of visiting. Many types of photography can present tourist destinations from many different angles. Apart from architectural photography that depicts hotels and various other accommodations, food photography, lifestyle, even fashion photography also play an important role.
How do your photos highlight Greece's unique beauty?
As a travel photographer, I travel over 9 months a year and have the good fortune to return to some of my favorite destinations over and over again. The challenge, then, is to look at these same places with a different eye and share that feeling in my photo. Turning to Santorini, are there any other destinations in the world with such a unique landscape?
Certainly there are destinations that compete with the beauty of the landscape of Santorini, but, photographically speaking, Santorini dominates due to its special color. The alternation of tones is incredible as is its wonderful light.
As a professional who has photographed this island so many times, where would you suggest visitors go to see the magic of this island for themselves?
Well, there's Oia for sure as well as the unique and traditional village of Emporeio which just transports you to another era. •
focus
48 • ANDRONIS • Magazine SECOND EDITION JOURNEYS FOOD LIFETIME OF A Extraordinary Places to Eat Around the Globe 500
The cover of the fully revised and updated second edition of National Geographic 'Food Journeys of a Lifetime: 500 Extraordinary Places to Eat Around the Globe' by travel photographer Tryfon N. Georgopoulos.
ANDRONIS • Magazine • 49
escape
Drawing visitors from all four corners of the globe, it is no wonder that Santorini and Athens have been voted two of the most interesting places in the world time and time again.
escape
Perched at the very edge of Imerovigli, the Chapel of St John the Beheaded marks the start of the path to Skaros Rock and the Church of Panagia Theoskepasti.
DISCOVERING SANTORINI'S MAGIC
From active volcano hikes and grammable beachhopping to precious antiquities and elegant viticulture experiences, Santorini is a fascinating destination that offers a wealth of attractions and experiences. The question is: Where to start?
Ask Any sAntorini locAl what question they get asked the most and you'll get the same answer every single time: What are the best places to visit/things to do in Santorini? People come here from all over the world wanting to see, do and experience all the best things our island has to offer, and more than that, they want the experience to be authentic.
It's great that people are so enthusiastic about exploring and experiencing our island, but when asked to pick "bests" on an island like Santorini, where do you even begin? More than gorgeous picture-perfect sunsets and out-of-this-world vistas, Santorini is our heritage and our legacy, a multifaceted, complex place that celebrates its past while forever evolving. And that's exactly where this island's magnetic allure comes from.
EMBRACE THE LANDSCAPE
From the very first moment you step foot on Santorini, it's impossible to forget that you're standing on a volcano. There's the red and black volcanic sand, the lava stones, the sheer cliffs that plunge into the Aegean Sea around the iconic caldera (which, if you're wondering, is a geology term for the large depression formed when a volcano erupts and collapses). The fact that Santorini is an active volcano has shaped our history and culture in a thousand different ways, but first and foremost, it has given us an island unlike any other. An environment so extraordinary that when you're in it, it's practically impossible to find anything mundane. Hands down the single most important thing to see and experience.
Blessed with such a unique landscape, crystal clear waters and fantastic weather, makes Santorini is ideal for all kinds of outdoor activities, which in turn are a great way to experience even more of the island! Stay on land for leisurely strolls or active hikes to take in the sights or to go horseback riding along the beaches and clifftops and mix it up with a change of perspective, kayaking along the coast to secluded coves, trying exhilarating watersports, or diving in the caldera.
JOURNEY TO THE HEART OF THE VOLCANO
When it comes to culture, art, dining and nightlife, all the action is on Thira (the crescent-shaped main island), but when it comes to volcanism, all the action is on Nea Kameni, the tiny island in the heart of the caldera. The youngest volcanic islets in the Mediterranean, Nea Kameni and neighbouring Palia Kameni are essentially the summits of Santorini's active – but dormant – volcano.
Whether privately or as part of a group tour (boat tours to Nea Kameni run daily from Fira, Oia, Athinios and Vlychada), a visit to the Kameni islands is one of the best and most authentic experiences to be had in Santorini: humbling, awe-inspiring and fun. Explore Nea Kameni, hike up to the five craters, enjoy a dip at one of the tiny, otherworldly beaches, go scuba diving to explore underwater lava formations, and then wrap up the
experience with a relaxing soak at the islands' natural volcanic hot springs. The best tip? Make sure to choose appropriate footwear for the hike (you don't want sandals for this one!) and pack a hat, sunblock, snacks and plenty of water. The islands, which are also included in the Natura 2000 European network of protected areas, are barren and wild and you'll find no shade or amenities in their magnificent landscape.
DISCOVER ANCIENT SANTORINI
Growing up in a place of considerable historical significance doesn't really mean that much when you're a kid and the most important things in your life are trips to the beach, playing outside and being allowed an extra scoop of ice cream on a hot summer afternoon. But then you grow up, and there comes a moment when you feel like you're seeing your surrounding for the very first time. The significance of all these things you took for granted suddenly hits you and you kind of need to stop and catch your breath. And that's the secret to the most common sightseeing recommendation on the island: Visiting Ancient Akrotiri and Ancient Thera isn't about checking the big names off a list; it is about tapping into that sense of awe, of seeing something magnificent for the very first time.
Ancient Akrotiri (which according to many is the inspiration behind the mythical lost city of Atlantis) is home to a prehistoric Minoan city that was buried under ash during a violent volcanic eruption around 1600 BCE. Excavations in the second half of the 20th century revealed a remarkably well preserved ancient town, with whole streets, houses, stunning frescoes, furniture and other precious antiquities that offer a rare glimpse back through time to how our ancient ancestors once lived. Meanwhile, on the other side of the island, the hilltop ruins of Ancient Thera bear witness to the island's legacy through the centuries: Founded in the 9th century BCE, the settlement was in turn under Greek, Ptolemaic, Roman and Byzantine control before another volcanic eruption led to its abandonment in the 8th ‣
escape
54 • ANDRONIS • Magazine
SANTORINI'S IMPOSSIBLELOOKING LANDSCAPES GROUND YOU IN THE HERE AND NOW, ENSURING YOU'RE TRULY PRESENT IN EVERY GLORIOUS MOMENT
With rugged crimson cliffs plunging into the crystalline blue waters of the Aegean Sea, Santorini's Red Beach is
often celebrated as one of the world's most spectacular beaches.
escape
The island's Venetian heritage is most evident in the medieval casteli, or fortified settlements, of Akrotiri, Emporio and Pyrgos (pictured), which charm visitors with their labyrinthine passages and quaint architecture.
THERE'S A QUIET JOYFULNESS TO LETTING YOURSELF GET LOST IN THE MEANDERING ALLEYWAYS OF THE ISLAND'S TRADITIONAL VILLAGES
century CE. To your journey into Santorini's ancient history (and view some gorgeous antiquities!) don't forget to visit the Museum of Prehistoric Thera and the Archaeological Museum of Santorini in Fira.
GO BEACH HOPPING ALONG THE SOUTH COAST
There's no shortage of stunning beaches and remarkably clear waters on Santorini, but nothing quite beats the spectacular diversity that's packed into just a couple of kilometres of shoreline on Akrotiri's south coast: the Red Beach (Kókkini Paralía) with its red-hued sand and crimson cliffs, the secluded White Beach (Lefkí Ámmos) that's backed by a wall of bright white limestone, and the Black Beach (Mésa Pigádia) with its black volcanic sand and lava pebbles. With great swimming spots, iconic scenery and fantastic peeks into the island's unique volcanic background, this stretch of the south coast is a fast favourite and a go-to recommendation, and while you can get there by road, getting there by sea is guaranteed to up the wow factor. A visit to Akrotiri Lighthouse, perched on the westernmost point of the peninsula is a great way to wrap up your day with panoramic sunset views that easily rival those from Oia.
escape 58 • ANDRONIS • Magazine
SANTORINI'S INCREDIBLE VITICULTURE IS AN INEXTRICABLE PART OF THE ISLAND'S SPIRIT
‣
Time seems to stand still on Santorini's farms, where artisanal producers use traditional knowhow and techniques to grow deeply flavourful produce and make world-renowned wines.
A journey through the senses Unique, joyful, seasonal, gourmet, award-winning... Seaside Santorini is simply a must-try culinary wonder. LIVE OYSTER BAR • SUSHI • COYOTE TACOS CORNER Perivolos/ Agios Georgios beach - Santorini, Tel: +30 22860 82801 info@seasidesantorini.com reservations@seasidesantorini.com
Rising to 127 metres above sea level in the heart of the caldera, the volcanic island of Nea Kameni was first formed during an eruption in the 16th century and has grown with subsequent eruptions, most recently in the mid-20th century.
TO BEHOLD SUCH IMPOSSIBLE BEAUTY
escape
IS TO TRULY EXPERIENCE THE SUBLIME
There's a surprising variety of different ways to experience Santorini's culture and heritage, including visiting the Tomato Industrial Museum in Vlychada (top), exploring traditional music and mythology at Symposion (above), and witnessing the master potter Andreas Makaris create exact, full-scale reproductions of ancient Theraic vessels at his workshop in Megalohori (opposite).
THERE'S MORE TO SANTORINI THAN MEETS THE EYE –AND THEN MORE STILL
EXPLORE A WEALTH OF TRADITIONS AND HERITAGE
With a history that spans over four millennia and more than half a dozen empires and civilizations, Santorini is a treasure trove of historic built heritage and unique traditions that live on in the sites and customs of its many villages. Fira, the island's capital, is a great starting point with plenty of attractions and museums, but if you really want to experience Santorini, you have to get out and explore its charming traditional settlements and historic landmarks.
You can stop by the tranquil, traditional village of Finikia near Oia, head to Imerovigli to hike to Skaros Rock and the hidden Church of Panagia Theoskepasti, stroll through the intriguing village of Episkopi Gonias and see the historic Byzantine Church of Panagia Episkopi in Mesa Gonia, visit Kasteli castle in Pyrgos, see the Chapel of Panagia Katefiani and the blue-domed Church of the Holy Cross in Perissa, wander through the enchanting Medieval town and walk up to the windmills in Emporio, and visit the Venetian castle of Akrotiri.
REVEL IN ARTS AND CULTURE
Maybe it's the unique landscape or maybe the brilliant Cycladic light, but artists and creative spirits seem to have always been naturally drawn to this island. Throughout the centuries, Santorini has been home to exceptional craftsmen and artisans, painters, iconographers, sculptors and potters. There are plenty of galleries and studios in Fira and Oia, but even smaller villages are home to some exceptional artists and traditional workshops for those truly interested in discovering the island's
escape 62 • ANDRONIS • Magazine
‣
escape
Standing proud on the dramatic promontory of Santorini's westernmost tip, the 19th-century Akrotiri Lighthouse offers outstanding panoramic views across the caldera, islets and open sea beyond.
IT'S NOT JUST THE SUNSETS THAT ARE PHENOMENAL – ALL THROUGH EACH DAY, LIGHT AND WATER DANCE TOGETHER, CREATING SHIFTING PATTERNS OF ETHEREAL BEAUTY
TO REALLY EXPERIENCE SANTORINI YOU HAVE TO BE OPEN TO EXPLORING BEYOND YOUR EXPECTATIONS
art. Notable stops on your journey should be Symposion Cultural Centre in Megalohori , which offers a fascinating programme of activities and events focused on music, art and mythology; the workshop of acclaimed ceramic artist Andreas Makaris, also in Megalohori ; winery-cum-art-gallery Art Space in Exo Gonia; and Bellonio Cultural Centre in Fira.
SAVOUR LOCAL FLAVOURS
With its windswept rocky landscapes and hot summer sun, Santorini might not seem like an obvious destination for growing, well, anything. Yet thanks to the resourcefulness of its people (and centuries of traditional knowhow passed down through generations), the island has become internationally renowned for its wine and unique produce. The mineralrich volcanic terroir produces some extraordinary wines – particularly crisp Assyrtiko and sweet Vinsanto – while traditional farms and artisanal producers grow and manufacture a tidy selection of exceptionally flavourful produce, including the island's phenomenal cherry tomatoes and famous fava (the local name for yellow split peas). Discover the island's authentic flavours with a local winery tour
(or two) to sample local vintages and find out about Santorini's unique viticulture, go on a farm visit to discover the island's distinctive produce, and make a stop at the Tomato Industrial Museum in Vlychada to enjoy a combination of island history and tomato-based delicacies.
SEE MORE THAN SUNSETS IN (AND AROUND) OIA
It doesn't take local insight to know that Oia can get a bit hectic during peak season, but there's good reason this iconic clifftop town is as popular as it is. The picturesque sugarcube houses and blue-domed churches, the winding paths and impossibly perched terraces, and of course its world-famous sunsets give Oia an almost fairytale-like quality, and there's an air of magic to this pace, that sometimes makes you think that everyone who visits leaves a just a hint of their awe-struck wonder behind. Make sure to see the windmills and landmark churches, stop by the delightfully quirky Atlantis Books, climb up to the ruins of the Venetian castle, and take the steep path down the red cliffs to Ammoudi for fantastic seafood by the surf (but do consider booking a taxi for the way back up to Oia to watch the sunset). •
escape 66 • ANDRONIS • Magazine
The volcanic island of Nea Kameni makes for a fantastic day trip, complete with crater tours, hot spring soaks and even scuba diving.
THE YALOS AMBIENCE
Welcome to a holistic beachside experience where rest and relaxation are intertwined with overwhelming natural beauty and sublime Mediterranean cuisine.
Created and inspired by the haunting beauty of its surroundings, the story behind Yalos is nothing short of awe inspiring.
SPECIAL FEATURE
With its stunning loc Ation at the foot of a mountain shaped by northerly winds, it is immediately evident that Yalos is closely connected to its natural surroundings and the palpable energy of this volcanic island. As the black sand of the beach of Exo Gialos beckons, a beautiful story unfolds. A story intertwined with local history about this place once called "Varkadia", how it was handed down from generation to generation, to the present owner Andonis Anapliotis, who together with architect Nikos Hapitas, have conceived, designed and ultimately created
an amazing, experience-driven destination. With the concept of upcycling at its very core, Yalos' beauty lies in its plethora of details: weather beaten and with their own patina, old doors have been used throughout, an old boat has become a sofa while a rusty van has been turned into a boutique showcasing handmade items, clothing and jewellery.
A soothing muted colour palette of textiles and textures provides the perfect canvas for curated experiences as well as backdrop for organizing extraordinary events and ceremonies.
68 • ANDRONIS • Magazine SPECIAL FEATURE
Savour authentic cuisine inspired by local culinary traditions in a boho-luxe setting designed to lift the body, mind and soul.
Offering a unique opportunity to unwind and relax, specialized wellness and yoga sessions ensure for balance and equilibrium, beachside cabanas and sun loungers inspire blissful hours spent by the sea while cultural events throughout the summer season mean that no two days are ever the same. Finally, the perfect spot for a leisurely lunch or dinner right by the sea, the restaurant at Yalos' summer-inspired décor and easy-going vibe create the perfect setting for Chef Thomas Matsas' exciting cuisine where only the very best ingredients take centre stage. •
With its laid-back ambience and multitude of memorable experiences, Yalos' artfully weathered aesthetic embraces the concept of slow Mediterranean living.
YALOS RESTAURANT
PHONE: +30 22860 25816
ANDRONIS • Magazine • 69 Magazine
LOCATION: EXO GIALOS THIRAS, FIRA, SANTORINI, PO 84700
Sealed Earth is a gallery devoted in promoting Greek and international Contemporary Art, focusing mainly on the Clay medium. Situated in the picturesque setting of Imerovigli
Santorini, Greece, the gallery aims to promote artists who explore the connections between art, nature, and sustainability.
"Mineral Diaries" [ Solo Show ] George Vavatsis
Opening exhibition: 17 June 2023 at 19:00 hrs
Exhibitions Dates: 17 June – 6 July 2023
Sealed Earth Gallery is featuring the works of esteemed Greek ceramic artist, George Vavatsis. This solo show, showcasing Vavatsis' unique artistic vision, will be a captivating display of his exploration of soil, minerals, and the medium of ceramics. With a deep connection to the earth, Vavatsis carefully collects soil and minerals from various locations across Greece, meticulously recording their individual stories and characteristics. These minerals become a diary, chronicling the artist's journey and providing the foundation for his breathtaking creations.
"Above and Below the Sea Level" [ Group show ]
Athanasopoulos Nikos, Vega Anali, Vogdanis Yiannis
Opening exhibition: 8 July at 19:00 hrs.
Exhibition Dates: 8 July –26 July 2023
A Fusion of 3D Printed Ceramic Objects and Photographic Art
Inspired by Santorini's Sea Life and Geologic Topology
"Above and Below the Sea Level,» featuring the extraordinary works of artists Nikos Athanasopoulos, Anali Vega, and Yiannis Vogdanis. This exhibition explores the intriguing combination of two distinct art forms: the ancient art of ceramics and the cuttingedge technology of 3D printing ceramic art. Complementing the 3D-printed ceramic objects, the exhibition will also showcase the mesmerizing photographic works of Anali Vega. Her images offer an otherworldly perspective, evoking a sense of both familiarity and wonder towards the alien landscapes. "Above and Below the Sea Level» promises to transport visitors into a realm where art, nature, and technology intertwine. This unique exhibition invites art enthusiasts and enthusiasts of all backgrounds to immerse themselves in the juxtaposition of tradition.
"Specimens of the soil" [ Group show ]
Ioannou Maggy, Irzzy Studio, Kapezanou Stella, Mamoutzis Giannis, Manta Natalia, Pavlidou Nasia, Profitis Panos, Tserionis Giorgos, Yagdjoglou Leonie, Zois Giannis
Opening exhibition 28 July 2023 at 19:00 hrs.
Exhibition Dates: 28 July – 7 September 2023
«Specimens of the Soil,» featuring a collective presentation of acclaimed and emerging Greek artists. This group show will showcase the diverse interpretations and artistic expressions that emerge when working with Earth as a medium. Through the artistry of these amazing Greek Artists, visitors will encounter a range of unique ceramic artworks that showcase individual explorations and personal connections with clay. Their creative journeys result in one-of-a-kind ceramic Objects that embody the diverse formations and manifestations that can arise from working with the endless possibilities and aesthetic possibilities that clay offers. The exhibition promises to captivate viewers with its engaging display of ceramic art, showcasing the intricate craftsmanship, innovative techniques, and imaginative concepts employed by the artists.
"Hybrid Hybridity" [ Solo Show ] Andrew
Hazewinkel
Opening Exhibition 9 September at 18:00 hrs.
Exhibition dates: 9 September – 28 October 2023
Sealed Earth Gallery presents a solo show of the artist Andrew Hazewinkel. We present a collection of small-scale ceramic sculptures characterized as chimeric creatures, part human, part spirit, part vegetal, and part atmospheric. Humming with a quiet sense of vitality, Hazewinkel's figures seem to have been captured whilst moving toward or away from a permanent state of being. Melding the iconic and aniconic while delicately balancing a refined aesthetic with a visual language of rupture, here the artist plays with enigma and power of paradox, resulting in a suite of sculptures that appear ancient and contemporary, carnal and mindful, human and supernatural.
Andrew Hazewinkel is an Australian artist living and working in Athens. His artistic practice spans sculptural and photographic practices. His works have been presented at Villa Empain, The Boghossian Foundation Brussels, Art Athina, the 31st Ljubljana Biennial of Graphic Art, the National Gallery of Victoria, The Australian Centre for Contemporary Art, The Art Gallery of New South Wales and the Centre for Contemporary Photography Melbourne. In this exhibition, his first solo exhibition in Greece, he presents a collection of small sculptures and recent photographic works.
Malteza Imerovigli, Vatou str, 84700 Santorini Tel +30 6975811500 Gallery Hours : 10:30 – 14:00 & 18:30 – 22:00 EXHIBITION PROGRAM
CHOOSE THE TOUR
AN AWARD-WINNING TEAM OF SANTORINI INSIDERS INITIATE YOU TO WITH TAILOR-MADE, DIVERSE AND FASCINATING
OF YOUR LIFE
THE VERY BEST OF WHAT THE ISLAND HAS TO OFFER, EXPERIENCES YOU WON'T FIND ANYWHERE ELSE.
Treat yourself to a taste of the true essence of the most popular island destination in the world with Blue Shades of Greece. These talented travel experts organize and personalize for you a series of private, semi-private and fully tailor-made Santorini tours that have been so well received they have earned multiple Travel Awards – and won the hearts of hundreds of visitors through the years. Their mission? To make each visitor's experience special, immersing them in the island's spirit, history and unique aura in a way that works in tandem with each person's unique preferences and interests. From the most magical landmarks of this sun-kissed volcanic oasis to private wine rituals paired with exceptional gastronomy, your time with Blue Shades of Greece will be unforgettable. This tour operator's strongest point, and what really makes them stand out, is the unique way they can adapt and adjust every aspect of your tour to what is important to you. These choose your own path experiences are stress-free, whisking you away to those nooks and crannies of the island that will speak to you – including its best-kept secrets that only locals know. From traditional wineries to picture-perfect, soul-affirming seascapes, this is the tour of a lifetime, and the people of Blue Shades of Greece will make it happen for you, with their professionalism, knowledge and contagious passion for Santorini.
t: +30 22860 25641 e: info@blueshadesofgreece.com www.blueshadesofgreece.com
PASSION FOR BREWING!
For Ftelos Brewery the dedication to quality was one of the main factors that led them to create world-class beers with flavors ranging from classic to contemporary.
SPECIAL FEATURE
FTELOS Br E w E ry began as a vision of a team of three passionate well-known businessmen in Santorini to create something truly unique: an inviting place, where every guest can taste exceptional beers, while at the same time enjoying a memorable brewing experience.
With that vision in mind, they created a multi-purpose facility, under the name FTELOS Brewery, in Santorini. The name was inspired by the local name of the area, which means "ridge" in the island dialect. Located in Karterados, Santorini, a 4.800 sq. meters modern space (on a lot exceeding 7.200 sq. meters in total) seeks to provide the ultimate brewing, gastronomical and cultural experience! At FTELOS Brewery you enjoy a magnetic dining experience called MALT restaurant, inspired by the Mediterranean cuisine as well as the local culinary traditions. MALT restaurant is a chic and inviting place for everyone to gather and celebrate good tidings and events. Nestled within Ftelos Brewery premises, the MALT restaurant takes dining to the next level, presenting a tantalizing and contemporary cuisine that has earned a prestigious position in Santorini's premier culinary destinations. From tasty tapas to creative dishes, all made with the finest local produce, sourced from small local farms, as the team in Ftelos Brewery believe in the importance of seasonality, as well as in building longlasting, trusting relationships with producers.
Unleash your palate and savor the elevated Mediterranean gastronomy whilst sipping unique fresh
ANDRONIS • Magazine • 77
Guests can dive into the world of brewing in the guided tours organised by FTELOS Brewery. drinks. Their team of food and beverage professionals is eager to cater you to your every need. If you are a beer lover, then you will surely enjoy the fun and educational tour in their exceptional facilities, whilst taking pleasure of a dynamic art exhibition, a fragrant bioclimatic garden and, of course, a gift shop for your souvenirs.
Their signature beer is the Blue Monkey. A hip and adventurous beer with strong personality, inspired by the frescoes discovered in the famous Akrotiri archaeological site, on the south point of Santorini. Αt the heart of the FTELOS Brewery they offer two ways to taste their beers: enjoying them in the comfort of MALT restaurant or tapas bars or taking part in one of their guided brewery tours.
Great beer starts with great water and as we all know, Santorini has no sources of natural drinking water, therefore they have adopted a top-quality water filtration system of reverse osmosis in order to control and purify it. FTELOS people also control the carbonization and the ion levels, the total alkalinity, as well as the odors, thus raising the pH of both mash and beer. Part of their continuously evolving production unit is a central
brewery, a microbrewery where they test-out new flavors, an R&D department, a budding barrel aging program, maturation and fermentation tanks and, of course, a cellar. At FTELOS Brewery they have also created one of the largest bioclimatic gardens, as an integral part of their facilities' exterior design. As part of their company's stance on sustainability, all solid residues left over from grain processing (extraction of most sugars, proteins and nutrients) are turned into high-value carbon materials.
It's no coincidence that this brewery brand received the award for "Most Innovative Brewery" at the 2021 Nutrition Awards. Driven by their passion for brewing and committed to providing high-quality services, the newborn brewery quickly became the culinary game-changer in Santorini and beyond. Their mission is simple: to create world-class beers and provide a unique experience to every guest. •
78 • ANDRONIS • Magazine SPECIAL FEATURE
The blue monkeys painted on the walls of Akrotiri were the source of their inspiration for their new beer: the Blue Monkey beer.
A flavorsome celebration at Metaxi Mas restaurant
BLESSED BY CYCLADIC LIGHT, inspired by a rich epicurean heritage of the islands of Crete and Santorini and crafted by talented hands, the dining options at Metaxi Μas can make you easily lose track of time. This delicious eatery might be at the end of a road less travelled, but it wears its heart on its sleeve. Embodying the quintessential experience of dining in authentic Greek style, Metaxi Μas embraces slow food taverna-style. On the bright white tablecloths, fresh local ingredients come together in flavorful combinations with a focus on simplicity, excellent Santorini wine, Cretan raki and good company. Popular yet authentic, the Exo Gonia restaurant is vibrant, colorful and inviting. Eating al fresco under the blue Aegean sky on a flower-filled veranda feels like a happy family gathering.
Drink slowly, close your eyes, and dream.
Metaxi Mas, Exo Gonia, Santorini, 84 700, tel: (+30) 22860 31323, email: info@santorini-metaximas.gr
SOUTH SIDE STORY
Summer time is the perfect season to experience Athens in all its grandeur. From the city center all the way to the Athenian Riviera, the contemporary tale of its evolution will take you by surprise.
escape
THE GRAND HISTORICAL COMEBACK
Starting from the city center, head to the Museum of Cycladic Art for a momentous visit. The exhibition "Homecoming. Cycladic treasures on their return journey" is presented there (till 31/10/23) in collaboration with the Hellenic Ministry of Culture and Sports and is the first step of the historic agreement between the Ministry of Culture and Sports, the Museum of Cycladic Art and The Metropolitan Museum of Art, New York (The Met), which was ratified by the Greek Parliament on September 9, 2022. The agreement foresees the gradual return to Greece of 161 Early Cycladic antiquities of unique archaeological value of the American collector Leonard Stern. 15 of these antiquities are presented for the first time internationally, in Athens, at the Museum of Cycladic Art. Following this, the entire collection will be exhibited at The Met, before the final return of the entirety of these antiquities to Greece, their country of origin. (https://cycladic.gr/en/page/girismos-kikladiki-thisauri-stotaxidi-tis-epistrofis)
biggest cultural event in Europe begins in the historical city of Elefsina for a year full of unexpected events. The 2023 Eleusis European Capital of Culture presents a rich and innovative artistic, research and educational programme entitled MYSTERIES OF TRANSITION, which develops on three central thematic axes: People | Society, Environment, Labor. The beginning has been marked with a spectacular Opening Ceremony, Mystery_0 Mysteries of Transition, which took place on Saturday, 4 February 2023, on the coastal front of the city, under the conception of the General Artistic Director of the organisation, Michail Marmarinos and directed by the distinguished British director, Chris Baldwin. (https://2023eleusis.eu/en/)
THE ATHENIAN "BLUE LAGOON"
Arriving at Agios Nikolaos beach, you will find yourself in front of the "Balos of Attica". The secret diamond at the area of Anavissos is a huge sandy beach that in some places is "embraced" by rocks creating a magical landscape. On the beach of Agios Nikolaos you will enjoy crystal clear emerald waters, ‣
ANDRONIS • Magazine • 81
ΠAΡΙΣ ΤΑΒΙΤIAΝ © ΜΟΥΣΕIΟ ΚΥΚΛΑΔΙΚHΣ ΤEΧΝΗΣ
A tribute to the ancient culture includes the Aegean 600 regatta (opposite page) and the significant current exhibition at the Museum of Cycladic Art.
while the landscape is anything but reminiscent of Attica. At a first glance, it makes you think that you are on an island and more specifically in Crete, since its resemblance to the famous beach of Balos is amazing. At the second, it unfolds in front of you the comfortable beach with the characteristic rock island and the small church creating a magical scenery. Let yourself wander. Are you still in Attica?
A CINEMATOGRAPHIC OASIS
In a city with rich history in the open-air cinemas, visiting one of them is part of the Athenian summer ritual. In the 1960s and the 70s, there were 542 of them scattered around the city offering this popular experience. Nowadays, new places embrace this tradition with the latest to be at the atrium of the War Museum last summer. Entering the Cine War Museum nothing prepares you for the picturesque scenery being revealed in front of you. It will make you feel like sitting comfortable on the sun lounge of your garden watching a classic movie with friends. The new cinema has 220 seats and is fully accessible for the disabled. It has a parking lot, for which special rates are provided upon presentation of the cinema ticket. Take your seat and…action! (https://cinepolemikomouseio.gr/)
TIME TO SAIL AROUND THE AEGEAN
Follow the path to a unique and exclusive regatta giving you the chance to experience an exceptional sailing event. You will have to go to Lavrion, but it will certainly worth the ride. This is the most internationally-
passings through 13 iconic Greek islands, excellent weather and sea conditions, and outstanding Greek hospitality. Activities in this 3rd edition of the race start on Sunday July 2nd, followed by numerous pre-race activities held daily, such as the Safety Seminar (shown below) held on Thursday July 6th. Don't start the spectacular start of the race which will be held at the ancient Temple of Poseidon at Cape Sounio on Sunday July 9th. The event concludes with a gala Awards ceremony on Saturday July 15th. (https://aegean600.com/)
THE SUNSET YOU WILL NEVER FORGET
It comes with no saying that Sounio stands in the Hall of Fame of Greek sunsets. Besides being a significant archaeological site, it is also an exceptional point to enjoy the sunset. At the end of the Sounio Peninsula at the southernmost point of Attica, lies the Temple of Poseidon within a fort that protects the coast of Attica. Made entirely of white marble, it was erected in the middle of the 5th century BC and built to honour Poseidon, God of the sea. Climbing on the historical site, you will immediately embrace the unique energy and feel like a part of something extraordinary. Wait until the time the orange hues of the golden hour are about to reveal. The rays travel through the ancient site changing the color formations around it to eventually dive into the Poseidon's aquatic throne. A magnificent memory! •
escape 82 • ANDRONIS • Magazine
SHUTTERSTOCK
Summer in Athens means a joyful beach hopping starting from Agios Nikolaos (top) and a cinema afternoon at the new Cine War Museum (bottom).
The institution of the European Capital of Culture returns in 2023 to its native country. The city of Elefsina— and Greece as a whole—is at the centre of the world map.
New Destinations. New Adventures. New Experiences. escape
Explore new landscapes. Indulge your senses. Enjoy simple pleasures. And fall in love with every deliciously carefree moment. #AndronisExperience
ITALY
Andronis'
Monte
Gimignano, Tuscany.
ISLAND, GREECE Andronis arrives in Milos, a beloved Cyclades destination with incredible views to the deep blue waters of the Aegean Sea.
TUSCANY,
Be prepared to indulge in
first investment in Italy at the historic Villa del
mansion in the world-famous town and UNESCO World Heritage Site of San
MILOS
explore STAY
SANTORINI
OIA
Andronis Luxury Suites
Andronis Boutique Hotel
Andronis Arcadia
Alta Mare by Andronis
IMEROVIGLI
Andronis Concept Wellness Resort
ATHENS
PSIRI
Andronis Athens
PLAKA
A77 Suites by Andronis
ENDLESS FEELINGS
Winner of Instagram hotel of 2022 according to the Forbes Travel Guide, Andronis Luxury Suites offer a heavenly retreat with amazing panoramic views of the Aegean Sea.
explore
ANDRONIS LUXURY SUITES
Located in
picturesque village
Suites harmoniously blend in with the surrounding wonder world of cubist houses cascading down the side of the incredible caldera's edge. Distinctly modern and contemporary in outlook, our accommodations combine superb design details with superior craftmanship. Both mystical and enchanting, Andronis Luxury Suites' 33 suites and villas provide the perfect backdrop to vacations geared towards optimum relaxation. Within walking distance to the main hotel and accessed by a secluded entrance to ensure total privacy, each suite and villa combines opulent accommodation with exceptional levels of service and amenities. From bespoke spa treatments at the Mare Sanus Spa performed by our expert therapists, sampling wine and champagne pairing menus at Lycabettus restaurant, or setting sail for Santorini's magnificent caldera, we have curated every experience to be one to remember forever. •
Light and elegantly furnished, all of the accommodations open out onto private balconies or verandas with infinity pools and hot tubs.
90 • ANDRONIS • Magazine
the iconic
of Oia, Andronis Luxury
THE PERFECT BACKDROP FOR A BLISSFULLY RELAXING VACATION OVERLOOKING THE SPARKLING AEGEAN SEA.
Lycabettus Restaurant
Acknowledged as a unique and "unforgettable dining experience", indulge in the most discreet and impossibly romantic dinner of your life.
ANDRONIS • Magazine • 91
HIGHLIGHT
explore
ANDRONIS BOUTIQUE HOTEL
FEEL THE ROMANCE
Revel in the world class comfort and amenities of this 5-star luxury boutique hotel and enjoy impeccable personal service, the fantastic spa, infinity pool and incredible fine dining at Lauda.
ExprEssing thE captivating beauty of Oia, Andronis Boutique Hotel welcomes guests with the pledge to make their stay truly unforgettable. It all begins with an impressive flight of stone steps that leads guests into a veritable 5-star luxury experience showcasing impeccable levels of personal service. A fantastic spa located nearby, an infinity pool and of course the on-site Lauda fine dining restaurant. Reflecting the classical style of the Aegean with elements of contemporary minimalistic design, the twenty-seven multi-level suites feature private terraces with hot tubs, and pools for unforgettable moments of relaxation and intimacy. Inspiring rest, recreation and togetherness, the suites provide the perfect hideaway for both romance and contemplation accompanied by truly world class dining beginning in the morning and continuing throughout the day into the night. Helmed by three-Michelin-starred chef Emmanuel Renaut, dining at Lauda, like every other experience offered, is absolutely unforgettable. •
Immerse yourselves into a world of enjoyment at these elegantly astonishing luxury suites in Oia.
94 • ANDRONIS • Magazine explore
ROMANCE FILLS
THE ATMOSPHERE AND UNIQUE MOMENTS ARE ENGRAVED IN THE COUPLE HEARTS.
Lauda Restaurant
Warm and unpretentious, it is led by 3 Michelin-starred chef Emmanuel Renaut.
ANDRONIS • Magazine • 95
HIGHLIGHT
ANDRONIS
ARCADIA
EXPRESS YOUR NATURE
Luxury travellers relish the element of surprise Andronis Arcadia offers, and make accommodation choices that immerse them in a destination of total perfection.
explore
Everything here is immaculate whilst however remaining open-hearted and welcoming.
suites, and the 600 square metre Eden Villa, as well as in the newly launched Natura and Oasis Suites. Boasting the Grande Pool at the patio space of Pacman Sunset Restaurant along with the most comprehensive spa on the entire island, the Evexia Spa, Arcadia's ambitious conception is geared towards the most demanding clientele welcoming the first Beefbar to ever open in Santorini. Relax as you take in and savour a unique shopping experience at the new fashion store offering a series of charming items and luxurious accessories. Furthermore, enjoy truly world class live music performances by the largest pool on the island, with this year's musical events at the Andronis Arcadia that are sure to be unforgettable. •
98 • ANDRONIS • Magazine
MUSIC, A MANMADE BEACH COMPLETE WITH IMPORTED SAND.
Pacman Sunset Restaurant
A combination of earth architecture and fine dining cuisine in a vibrant & boho chic area, designed to allow you to Chase Your Senses.
Beefbar Santorini
Overlooking the crystal waters of Aegean, Andronis Arcadia welcomes you on board the most fascinating epicurean journey of this summer!
ANDRONIS • Magazine • 99
HIGHLIGHT
explore
ALTA MARE BY ANDRONIS
EVERLASTING MOMENTS
Take
Treat
to explore, relax and truly enjoy
luxury vacation in the sun at a stunning setting – you deserve it.
time out
a
yourself to panoramic views, feel the Aegean breeze on your skin and bask in the Greek sun.
DeemeD as one of the most romantic destinations in the world, Santorini is so much more than its awe-inspiring sunsets and majestic natural beauty. It's therefore no surprise that falling in love with Santorini is to put it simply, unavoidable. Add discreet luxury, bespoke services and utterly chic accommodations to the mix and you have the perfect retreat to relax, unwind, contemplate and share quality time with your loved ones. An all-suites property at Oia, Alta Mare's twentyseven accommodations artfully merge tradition and modernity mixing muted soothing design with private terraces, hot tubs, or pools along with heart-stopping views over the dramatic volcanic cliffside. Other activities, experiences and amenities such as private outdoor yoga classes, catamaran tours of the breathtaking caldera and rejuvenating therapies at the Mare Sanus Spa all further ensure that are about to embark on a vacation where every moment will be truly cherished forever. •
Tradition and modernity blend seamlessly in these fresh and elegant interiors.
102 • ANDRONIS • Magazine explore
CYCLADIC INSPIRATION WITH MINIMAL DESIGN.
The majestic views
Endless vistas to the crystal-clear waters of the pristine Aegean Sea.
ANDRONIS • Magazine • 103
explore
ANDRONIS CONCEPT WELLNESS RESORT
FEEL ALIVE
Heavenly, design-focused and well-appointed, Andronis Concept Wellness Resort is anything but ordinary, meeting and surpassing all expectations of wellbeing lovers.
Located in beautifu L Imerovigli overlooking the incredible caldera, Andronis Concept Wellness Resort's 28 pool suites and villas, which are aligned westwards over the cliff edge, feature minimalist, albeit warm and welcome interiors fusing traditional Santorini style with bright, contemporary touches. Complemented by exclusive, private infinity pools and terraces for total relaxation, they are havens of serenity that ensure you have an extraordinary and rejuvenating vacation.
For larger groups and families, our fourbedroom villa offers a private butler for your convenience, and upon special request, invilla meals created by one of our talented chefs. The on-site Throubi restaurant follows the resort's holistic philosophy of health and wellness, in a fresh, modern space that prioritises substance above everything else. And, at the very heart of Andronis Concept is Kallos Spa, named after the Ancient Greek word for the essence of beauty, but promising even more… Enjoy this Santorini standout resort which combines so many services and amenities for an unforgettable holiday under the sun.
Attentive, personalised high-end levels of service throughout Andronis Concept Wellness Resort are sure to make your stay very special indeed.
explore 106 • ANDRONIS • Magazine
ANDRONIS CONCEPT GREETS YOU EVERY MORNING, PROVIDING A GENTLE BREEZE AND ENDLESS VISTAS.
HIGHLIGHT
Throubi Restaurant
Conceived and designed with harmony for the mind, body and spirit in mind, it offers nutritionally balanced Mediterranean dishes rooted in the traditional cuisine of Santorini.
Gorgeously stylish, Andronis Concept Wellness Resort greets you every morning, providing a gentle breeze and endless vistas.
ANDRONIS • Magazine • 107
explore
ANDRONIS ATHENS
A PICTURE-PERFECT DESTINATION
This hotel at the historic heart of Athens doesn't need to go overboard to deliver perfection – it does so with the quiet confidence of an urban getaway.
Andronis Athens is indeed the perfect destination for the modern city traveller, be it for leisure or for work! It is not only its fancy location in the middle of Athens' buzz and beauty but also its small size of only six elegant contemporary suites which embrace you with their sophisticated cosiness. Due to the warm personal welcome which every guest receives from our smiling, hospitable staff, you will feel like you're staying with friends who also try to fulfill every one of your wishes before you can even express it. The décor features colourful, unconventional details which gives the suites a joyful and happy atmosphere. Your breakfast can be served either in the comfort of your suite or on its terrace. They have a wide range of coffee and tea specialties which you can combine with homemade breads, fluffy pastries or extravagant muffin and cupcake treats. By now, you've certainly realised what this boutique hotel is all about. Indeed, perfection down to the smallest detail, and character in spades to boot are what has landed Andronis Athens so many fans. •
110 • ANDRONIS • Magazine explore
Classic chic elegance is delivered in spades by the interior design team, while the attentive staff are always up to the task. This hotel is your ticket to the wonders of the city of Athens.
BOLD AND BRIGHT, THIS BOUTIQUE HOTEL IS THE PERFECT CHOICE FOR GUESTS WHO APPRECIATE STYLE AND SEEK SUBSTANCE.
Views of the Acropolis
Make sure you take in this bird's eye view of the historic Greek capital and marvel at all the monuments you can see from this spot.
ANDRONIS • Magazine • 111
HIGHLIGHT
explore
AN EXCLUSIVE RETREAT
Wowing Plaka's visitors with its striking combination of traditional architecture and urban design, A77 Suites are oozing with character, and they're destined to win a place in your heart for life.
Α77 SUITES
A77
SUITES BY ANDRONIS
A 19th century, neoclAssicAl, listed building has been restored to its former glory and transformed into a state-of-the-art collection of A77 Suites that boast minimalist design and exquisite materials. Marble, wood, brass touches and gypsum ceilings with cornice detailing as well as an array of modern art works here and there, create an environment of overwhelming elegance and understated luxury,placing A77 Suites among the best luxury hotels in Athens. Twelve exceptional suites await to become your urban sanctuary in the beating heart of the historical Athens center. An enthralling place to explore, Athens is a captivating mix between the ancient relics of an age that set the foundations of modern civilisation, and an edgy, urban side that will take you by surprise. The city's contrast of culture is absolutely riveting, and more vivid than ever in our picturesque neighbourhood imbued with everything that is quintessentially Athenian. Don't forget to visit the A77 Boutique, the latest addition to Andrianou street's array of stores, bringing with it an air of designer exclusivity. Gracing the facade of the historical building, A77 Boutique welcomes both guests and shoppers who will be allured by the stunning collection of new generation, Greek fashion designer garments and more. •
explore
114 • ANDRONIS • Magazine
Delivering exceptional style, these exclusive suites offer complete privacy and opportunities to make memories aplenty. And, when it's time to step out of your room, experiences and entertainment await around every corner.
TAKING LUXURY A STEP BEYOND, ESCAPE INTO THE ATHENIAN DREAM, WHERE OPULENCE MEETS BESPOKE SERVICE AND WARM URBAN HOSPITALITY.
Acropolis Views Travel Back in Time to the most emblematic symbol of Ancient Western Civilization.
ANDRONIS • Magazine • 115
HIGHLIGHT
explore TASTE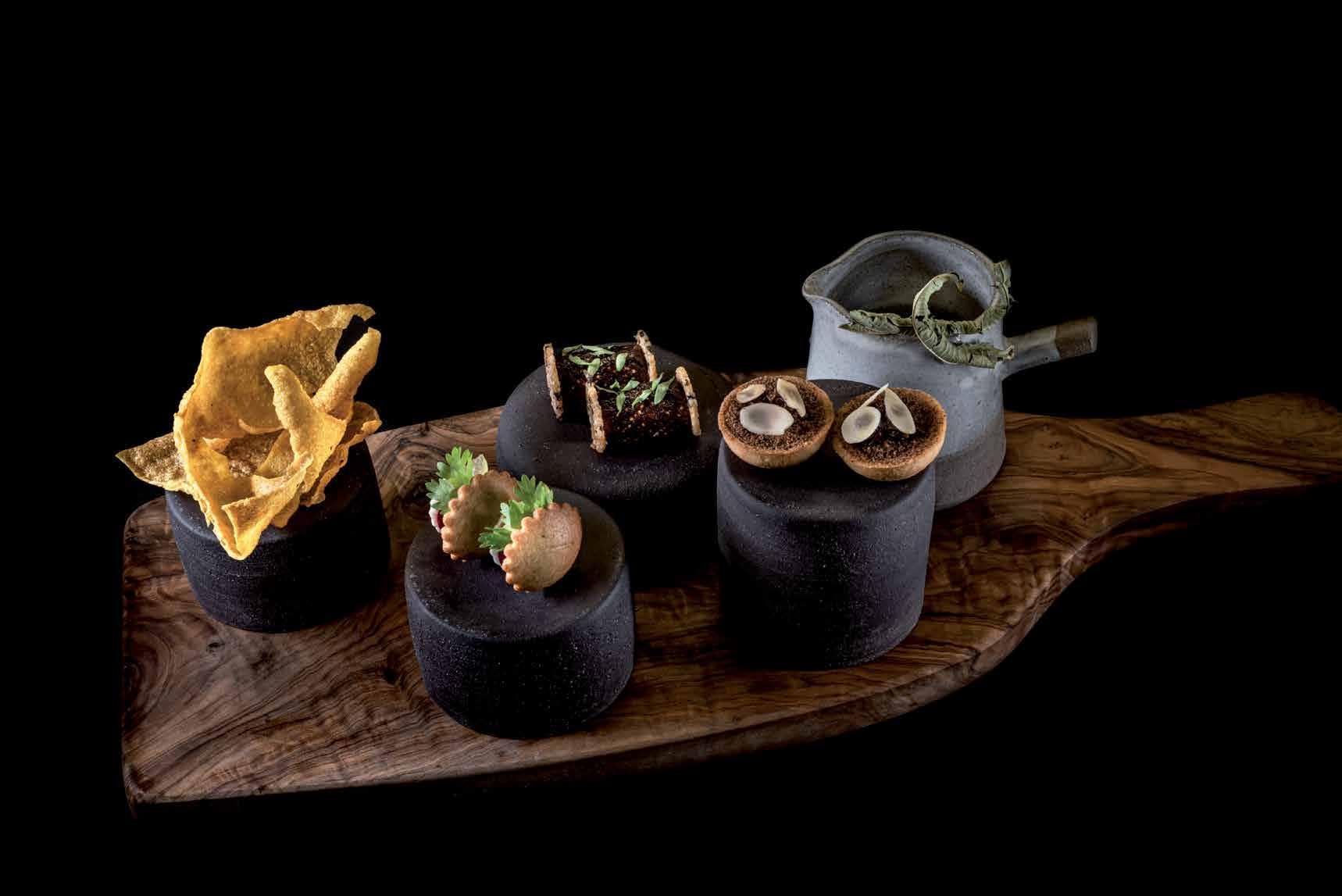 SANTORINI OIA
Lycabettus Restaurant
Lauda Restaurant
Pacman Bar-Restaurant
Beefbar Santorini
Catch Bar-Restaurant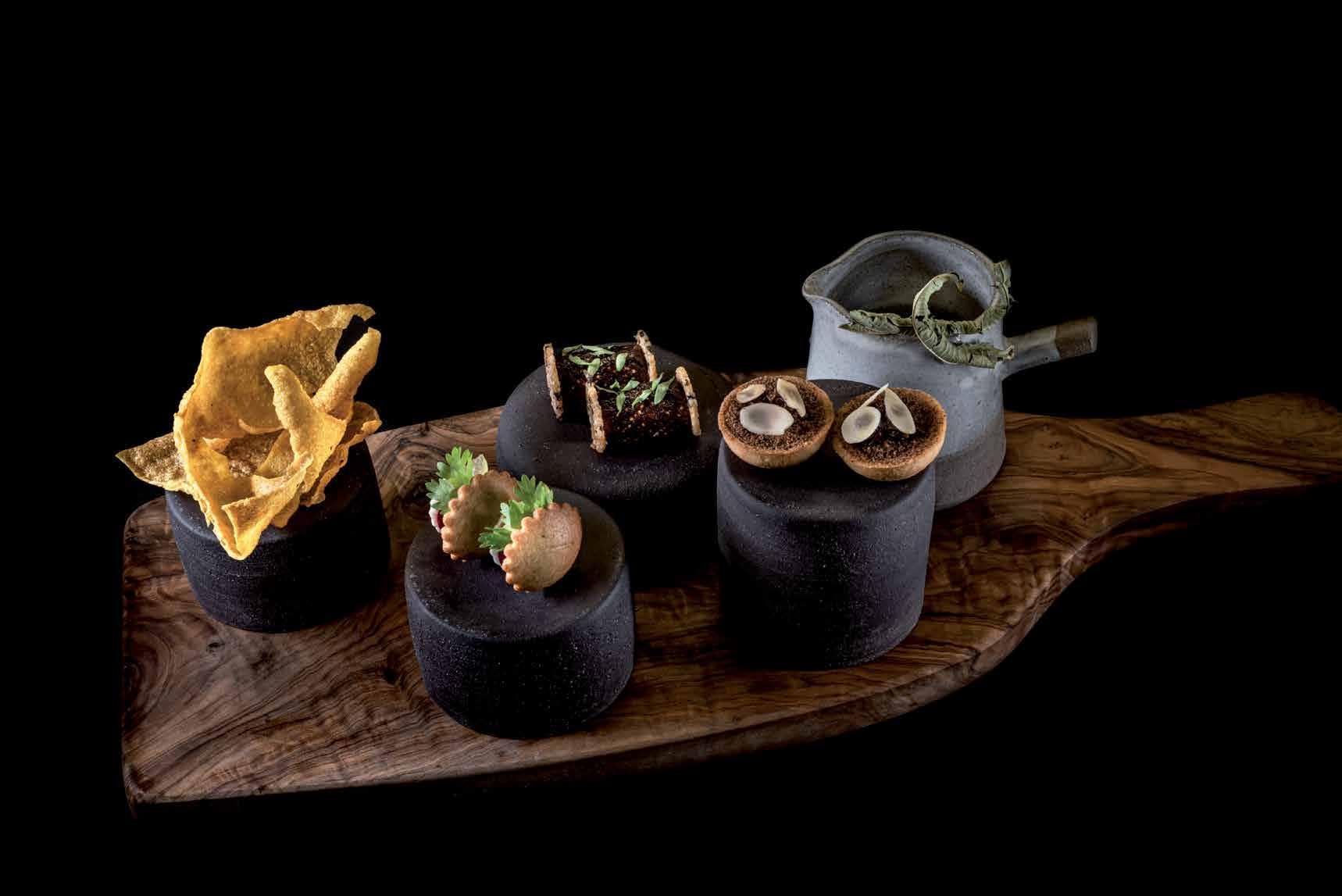 IMEROVIGLI Throubi Restaurant
ATHENS
PSIRI
i Feel Athens
LYCABETTUS RESTAURANT ANDRONIS LUXURY SUITES
Masterview alarm
Imagine yourself sitting on a fairytale throne right next to the end of your «summer» world savoring the sea view.
Almost defying any description, dining at Lycabettus is destined to be a stunning experience. Set against the rocky and jagged backdrop of the surrounding cliffs, and looking out over the seascape below comprising its islets and the famed caldera, Lycabettus defies the age-old adage that views are rarely combined with true gastronomy. Whether enjoying lunch framed by brilliant whites or fine dining under the stars, one other thing is certain: Prepare to be absolutely amazed by the equally incredible cuisine. •
explore
Take your seat at the perfectly dramatic scenery for jawdropping delights.
HEAD CHEF CHRISTOS KARAGIANNIS
Known for his impressive creative flair, love of seasonal produce and distinctive cooking approach, Lycabettus' Head Chef Christos Karagiannis opens up about what inspires and drives his culinary approach.
My menu ... is influenced by various cuisines from around the world. If I had to categorize it, I guess I would call it global high gastronomy. My driving force is ... my team's stubbornness and sheer will in striving for the very best as well as receiving positive feedback.
A customer I can't forget is ... in my opinion every customer is different. However, one experience that has stayed with me is the first time my parents tried a menu that I had created, which was important to me as it was their influence that made me become a chef.
For me Fine Dining means ... choosing the best possible ingredients, using excellent techniques and providing unforgettable hospitality. The best advice I have ever been given is ... to pursue new experiences, accumulate knowledge and to put my own signature on the dishes that I create.
If I could change something in Santorini it would be… of steps there are!
In ten years ... I would like to be healthy, those that I love dearly to also be healthy and to have evolved even more.
I say 'no' to … sloppiness and misusing ingredients.
I say 'yes' to … experimenting.
My mantra is ... I will borrow a phrase from the great chef David Chang, which fully expresses what I believe: "We are hoping to success ... we are ok with failure. We just don't want to land in between". •
Clockwise from top: Taste dishes with a distinct focus on the very best produce from the region that Head Chef Christos Karagiannis turns into masterpieces.
LAUDA RESTAURANT ANDRONIS BOUTIQUE HOTEL
Epicurean Experience
Be prepared to be dazzled, whether you're dining a la carte or opting for any one of the incredible tasting menus for dinner under a blanket of stars.
Emmanuel Renaut artfully showcases culinary wonders that are completely out of this world.
Long before Santorini became the destination it is recognised as today, Oia was merely a small village with 306 inhabitants, located on the northern edge of the caldera. Originally built in 1971, Lauda was the village's first and only restaurant providing a meeting point for the locals as well as the village's only telephone. Its formidable history and tradition have been kept intact – after all this was a place where locals would gather, break bread and celebrate - and this amazing locale has held on to that positive energy to this day. Its uniqueness is evident from the very start. With its minimal Aegean style, buzzing atmosphere and astounding
views, diners are in for a real treat. Whilst featuring highly sophisticated culinary techniques, Lauda's cuisine also goes back in time, to a time of purity and simplicity, showcasing dishes composed of fully organic ingredients based on Executive Chef, the French culinary powerhouse with three Michelin Stars under his belt, Emmanuel Renaut's first experience of the island. Mesmerised by Santorini's beauty, the essence of Lauda's menus reflects his continued enthusiasm for local produce – be it from the bounty of the sea or from the mountains, perfectly accompanied by an extensive wine list.
explore
120 • ANDRONIS • Magazine
HEAD CHEF GEORGE DOSPRAS
HIGHLIGHT
The menu I have curated ... aims to highlight the main ingredients in any dish through various cooking techniques. My driving force is ... the people that I work with, good quality ingredients and happy guests.
A customer I will never forget is ... a gentleman who came to try our menu. After he had finished his meal, he spontaneously came into the kitchen to thank us.
For me, fine dining means … delicious, well presented food, good quality ingredients, proper and creative management, and sophisticated service. The best advice they have ever given to me is ... to be myself.
If I could change something in Santorini it would be … improving its gastronomic product and promoting various types of tourism, including gastronomy-based tourism, such as agrotourism. In ten years ... I would like to have even more experiences, images and tasty memories of quality food.
I say 'no' to … the unnecessary use of ingredients and foods. I say 'yes' to … sourcing from local producers. My mantra is ... do the best you can - in the end you will be rewarded. •
Down-To-Earth
Natural ingredients take centre-stage.
A design setting for an incredible dinner, Head Chef George Dospras pays homage to local produce in contemporary techniques.
ANDRONIS • Magazine • 121
Mixing Santorini's traditional culinary heritage with innovative new techniques, Lauda's Head Chef George Dospras tells us about what truly makes him happy and where he sees himself and Santorni in the future.
THROUBI RESTAURANT ANDRONIS CONCEPT WELLNESS RESORT
As natural as it gets
We invite you to unveil the secrets of unforgettable dining escapes, showcasing a poetic backdrop that stimulates the senses through a holistic experience.
explore
122 • ANDRONIS • Magazine
HEAD CHEF CHARALAMPOS
I would describe the menu that I have curated as … wellness fine dining influenced by Greek cuisine. My driving force ... is the chefs I worked with, who urged and helped me to evolve ...
A customer I will never forget is … All customers for me are special, but I definitely won't forget the day my mentor came in to try my menu. For me fine dining means … choosing the optimum ingredients, using them creatively, respecting ingredients and providing high levels of service. The best advice I have ever received is … You never stop learning. If I could change something in Santorini it would be … to upgrade its gastronomic product and further promote various types of tourism, some of which also concern gastronomy. In ten years ... I would like to be healthy and have acquired more culinary experiences.
I say 'no' … to food mismanagement. I say 'yes'… to … culinary destinations. My mantra is ... We learn from our mistakes. •
HIGHLIGHT
Art
Layers
Every dish slowly reveals all its gastronomic glory.
ANDRONIS • Magazine • 123
and local ingredients, Head Chef Charalampos Koukoudakis smiling at yet another delicious season.
A long time veteran of the island's Charalampos Koukoudakis lets us in on what drives his passion and dedication in creating Throubi's legendary fine dining menus.
Exquisite Flavors
The first Beefbar has just landed on the island of Santorini to bring its own explosion of tastes.
destination. Through its glamorous architectural lines & bold menu, food is becoming an experience of itself while incorporating a modern luxury feel through elegance, excellence and simplicity. In addition to the outstanding menu of the renowned group of restaurants, famous for its premium cuts, it is now enhanced with dishes that create a tribute to the treasures of the sea. The gastronomic journey is based on three substantial pillars: Street food inspired by the most popular recipes from around the world, great meat cuts sourced in Australia, Japan and the United States and iconic dishes infusing the Mediterranean essence. Overlooking the crystal waters of Aegean, Beefbar Santorini welcomes you on board the most fascinating epicurean journey of this summer!
124 • ANDRONIS •
Magazine
HEAD CHEF GEORGE KYRTSALIDIS
George Kyrtsalidis - who will be at the helm of the new Beefbar opening this summer at Andronis Arcadia - sheds light on what an exquisite dining experience should be.
I would describe my menu as … family style fine dining which the franchise is known for.
My driving force is ... my daughter. A customer I will not forget is ... my mother. For me, fine dining means … a special gastronomic experience accompanied by the same special atmosphere and service. The best advice I have ever been given is … If you don't work more than what you're paid for, you will never be paid more for your work. If I could change something in Santorini it would be … to become better organized and cleaner. In ten years … I would like to be healthy and have achieved a work life balance.
I say 'no' to … arrogance and rudeness. I say «yes» to ... any new culinary adventure. My mantra is ... he who has a why can bear any how. •
great sensation of stylish aesthetics and tangible satisfaction of tastes with
Sea vibes
Beefbar reputation meets the island's produce.
ANDRONIS • Magazine • 125
George Kyrtsalidis as the Head Chef.
HIGHLIGHT
PACMAN BAR-RESTAURANT ANDRONIS ARCADIA
Joyful gastronomy
Where the boho vibes of the renovated Pacman meet a truly creative menu.
Dining alfresco at Pacman at Andronis Arcadia takes on a new meaning: Leaving nothing to chance, the wide range of food, beverage and drink choices are sure to satisfy all the senses with classic Greek and international staples as well as an enticing sushi menu. Masterfully prepared, seasonal and locally sourced ingredients and innovative techniques straight out of a food aficionado's dreams make for a gastronomic journey accompanied by stunning views over the Aegean Sea. With our attentive service staff leaving nothing to chance, our expert sommeliers are also on hand so that you can discover exquisite pairings from boutique winemakers from across the globe as well as local (PDO) Vinsanto and Santorini grape varieties. Alternatively, indulge in one of our exquisite signature cocktails mixed to absolute perfection.
explore
126 • ANDRONIS • Magazine
HEAD CHEF STEFANOS KOLLIMADIS
I would describe my menu as … a mix of Mediterranean cuisine using Asian ingredients.
My driving force is ... when a customer smiles. A customer I will not forget is ... all of the demanding customers who smile after the meal in the end!
For me, fine dining means … cooking everything always with respect to the ingredients. It's a mantra that I work by. The best advice I have ever been given is … not to forget where I started from.
If I could change something in Santorini it would be … the island's road network.
In ten years ... I would want to see Greece having a more established gastronomic culture.
I say 'no' ... to fish and meats not sourced from the island.
I say 'yes' ... to locally sourced products.
My mantra is ... that there is no talent when it comes to cooking, only the will to learn. •
Let's play Taste & Feel Head Chef Stefanos Kollimadis invites guests to the most intriguing game. The rules are simple: Admire the view, taste the unexpected, follow the art de la table. Everybody wins here!
Like a trophy
Enjoy the unique Pacman's menu with imaginative cocktails.
Known for his culinary creativity and delectable food presentation, Pacman's Head Chef Stefanos Kollimadis reveals what continues to inspire him and the rules and mantras that he lives by everyday.
HIGHLIGHT ANDRONIS • Magazine • 127
A culinary escape
Feel
CatCh, as we say catch of the day! This phrase encapsulates the whole philosophy behind the successful bar-restaurant which respects the fresh ingredients and the local produce of the volcanic island. Unique as they are, they channel their origin and the importance of the Mediterranean diet in the gastronomic creations of the Head Chef Lefteris Karelis. Comfort food classics and unusual seasoned choices highlight indigenous tastes in a design environment that makes you dream – and experience – a culinary escape. Enjoy an unexpected menu where even familiar tastes are elevated to imaginative combinations. Imagine the possibilities, expect something awesome every time. Sipping one of the exclusive signature cocktails, you will agree with us that it is definitely a…catch!
explore
CATCH BAR RESTAURANT
like entering the Wonderland of creative tastes and embrace the clear passion of the Head Chef Lefteris Karelis for a reviving traditional Greek cuisine.
128 • ANDRONIS • Magazine
HEAD CHEF LEFTERIS KARELIS
Cretan Chef Lefteris Karelis' lengthy culinary career includes studying and working in France, the UK and throughout Greece before becoming Head Chef at our very own Catch Restaurant & Bar.
My menu… is Greek - Mediterranean and largely based on fish and seafood. My driving force is… my son. A customer I can't forget is… my parents. For me Fine Dining means… a unique gastronomic experience combining exquisite flavours and impeccable service. The best advice I have ever been given is… trust yourself. You can do
Sea you soon
The whole Aegean Sea on your plate
ANDRONIS • Magazine • 129
Cooking with a fresh perspective, Head Chef Lefteris Karelis pays tribute to the treasures of the sea and every catch of the day offering alluring dishes.
HIGHLIGHT
Right at the edge of Oia's old port, where the fishermen's caiques arrive early every morning with the day's catch is where you will indulge in the most famous lobster spaghetti of the Cyclades while gazing at the ever-reaching sea and the breath-taking sunset. For the past 40 years, Sunset Tavern by Paraskevas in Ammoudi, one of the most idyllic spots of Santorini, has been serving fresh fish and seafood in dishes inspired by the island's rich culinary heritage. In Sunset-Paraskevas restaurant you will enjoy traditional receipes with a creative touch by Margarita that make your meal here an experience and add to your gastronomic trip in Santorini a delicious stop!
Right at the edge of Oia's old port, where the fishermen's caiques arrive early every morning with the day's catch is where you will indulge in the most famous lobster spaghetti of the Cyclades while gazing at the ever-reaching sea and the breath-taking sunset. For the past 40 years, Sunset Tavern by Paraskevas in Ammoudi, one of the most idyllic spots of Santorini, has been serving fresh fish and seafood in dishes inspired by the island's rich culinary heritage. In Sunset-Paraskevas restaurant you will enjoy traditional receipes with a creative touch by Margarita that make your meal here an experience and add to your gastronomic trip in Santorini a delicious stop! Ammoudi, Oia, Santorini, Greece
info@sunset-ammoudi.gr/ Reservations +30 2286071614
Ammoudi, Oia, Santorini, Greece
www.sunset-ammoudi.gr
info@sunset-ammoudi.gr/ Reservations +30 2286071614
www.sunset-ammoudi.gr
are spoilt for choice, taking their pick of Cretan dakos salads, freshly made egg dishes, pancakes, seasonal
Urban Coolness
Explore the unique Athenian vibe with light brunch dishes from early morning till after-hours.
Loved by traveLLers and locals alike, this Athens café and eatery serves fantastic food, cocktails and beverages all day. The attentive staff know the right balance between warmth and professionalism, and the space is simply stunning. You'll get the feel of this open-hearted eatery as soon as you step through its doors, with the smell of just-baked bread and newly squeezed oranges welcoming you to a foodie oasis. Take your pick from the freshly prepared sandwiches and cool desserts on display or take a comfy seat and dive right into the menu. Served all the way to midnight to satisfy your hunger, dinner at iFeel can be anything from light bites to fantastic pasta and beyond. Dive right in! •
explore
Oia,
Tel: +30-22860-71200
E-mail: info@vazeos.gr
www.vazeos.gr www.santoriniluxuryrentals.com
Car & Moto rental
Vazeos
Santorini, Greece
explore WELLNESS SANTORINI OIA Evexia Spa Mare Sanus Spa IMEROVIGLI Kallos Spa
Blissful escape
Indulge into the Evexia Spa's holistic treatments designed to align your energies, leaving you more centered and grounded.
explore 136 • ANDRONIS • Magazine
EVEXIA SPA - ANDRONIS ARCADIA
Blessed with a spiritenhancing energy, Evexia Spa (the Spa at Andronis Arcadia) delivers on calming the soul and reviving the body and mind, offering guests tailored treatments and traditional massage techniques, luxurious products and soothing rituals under the sunny Mediterranean sky.
Drawing on the greek word for "wellness", the Evexia Spa is more than just one of the incredible facilities offered at Andronis Arcadia, rightfully renowned as one of the most superior Spas in the Mediterranean. Discover state-of-theart knowledge, pioneering expertise, Eastern and Western wellness traditions and extensively researched ingredients that have been curated to develop regimes for inner balance, transformation and rejuvenation.
Santorini's unparalleled aura, as an ancient wellness destination believed to be linked to the lost city of Atlantis, in combination with exceptional products and techniques
from across the world have one purpose: to help you on your journey to bring your best self forward and recapture tranquillity.
Discover the potency of the ila range, created from extensive research and sourcing conducted by nurse, yogic healer and aromatherapist Denise Leicester, which nourish, balance and calm the skin in equal measure. Faithful to the three pillars of Be Destressed, Be Rested, Be Balanced, the signature Water Path is a not-to-miss water therapy treatment featuring two Kneipp pools and different shaped stones that ignite reflexology points. •
ANDRONIS • Magazine • 137
140
Serene, soothing and exquisite in design, our guest centric treatment studios allow guests to fully unwind, slow down, luxuriate, relax and be themselves.
KALLOS SPA - ANDRONIS CONCEPT WELLNESS RESORT
Euphoria's call
Listen to your body's awakening and let yourself be pampered at the renovated Kallos Spa by Andronis Concept Wellness Resort.
Whether you're seeking to spend a few hours there or the entire day, Kallos Spa's therapeutic programmes, two pools and the hammam area, deliver the ultimate relaxation experience. Having curated a selection of the most advanced beauty, grooming and healthenhancing treatments, performed in overwhelmingly beautiful surroundings, all of the available treatments are uniquely tailored to guests' needs. Dedicated to achieving harmony in mind, body and spirit, happiness and mental wellness are promoted through indulgent, reviving treatments, yoga sessions as well as delicious detoxifying meals specially prepared in our restaurant.
We prioritize three important pillars: Be Destressed, Be Rested, and Be Balanced. Our goal is to provide guests with a serene haven where they can achieve complete relaxation and rejuvenation. Focusing on releasing the tension that has accumulated in the body, tailor made treatments allow to unwind and let go of all worries. At the same time, they offer a range of restorative treatments that encourage deep relaxation and balance.
One such treatment which is wonderfully soothing, cleansing and invigorating, is our signature Manipura Full Body Massage. This warming treatment helps balance and energize the Manipura – the solar plexus chakra – the centre of fire and sun energy that ignites our health and vitality. This technique uses marma therapy, lymphatic drainage, and warm herbal poultices on the abdomen to relieve digestive blockages, increase blood and lymph flow, and stimulate inner vibrancy. An outstanding treatment, made to pamper you to no end. •
ANDRONIS • Magazine • 141
Nestled high in the cliffs of the Caldera, Kallos Spa is focused on the union of your wellness in mind, body and spirit.
explore EXPERIENCES
Precious Thrills
Young at heart
Why shouldn't younger guests also get to enjoy beauty and wellness treatments? Imagine a spa holiday with children that will surely become a unique experience!
Yoga mood
Introducing children to yoga at an early age can help them learn healthy lifestyle habits and set the foundation for a fit future. Get your family practice started and your little ones will have the time of their lives letting loose in a safe setting.
Sharing iS caring
Purpose of the family cooking lesson is to deliver to its participants the history of the local dishes and the grandma's recipes as well as sharing the joy in eating all together.A warm, hospitable experience for the entire family to savor and an introduction to the greek way of life.
Curated by our expert team and providing an authentic taste of everything that this unique island has to offer, these exciting activities bring together young guests, with opportunities for adventure to boot. Andronis Concept Wellness Resort is an ideal destination for families with kids, and it has been created not just to welcome couples but to fully cater to family needs. Delivering fun in the sun, the resort embraces guests like family. From luxurious moments of pampering and relaxation to family cooking lessons, tennis and kids amenities, these experiences seek to make every guest feel like royalty.
Andronis Arcadia comes to complete a truly memorable family experience. Featuring an innovative Kids Spa, Yoga for Young sessions and an exemplary Kids Club, it offers a playful learning space for children to get engaged.
Besides the core Kids Club activity schedule, they will also have the option to book exciting robotics sessions, held in the dedicated robotics lab by using LEGO® Education robotics platforms.
maSter plaY
If the ideal holiday for you means to enjoy tennis in all its glory, here at Andronis Concept Wellness Resort you will find your own personal tennis paradise. Our new outdoor tennis court promises...Game, Set, Match and a lot of fun for all.
Small but preciouS
Children of all ages are welcome at Andronis Αrcadia and Andronis Concept Wellness Resort. Here, we also offer the following kid's amenities:
·Shampoos – Shower gel – Body lotion for babies
·Baby care products
·Bathrobes for children
·Arm floats, goggles
·Coloured pencils – sketch block
·Baby cot
·Board games
·Bed's night guard
Everyone from babies all the way to parents are catered for. •
explore 144 • ANDRONIS • Magazine
A whole family wonderland will amaze you encouraging you to feel the beat.
it all together Clockwise from top: Do not miss the funny experiences of the face-painting, the treatments of the Kids Spa, or those of the Yoga for Young..
Experiencing
Shop the Summer
With a stunning new look, the Andronis Major stores deliver exceptional shopping experiences, stocked full of highly curated selections to help you discover the greatest version of you.
The hearT of SanTorini lifestyle beats at Andronis Major. Going through the doors of each of the three inviting stores, you can't help but feel the dedication, passion and commitment to excellence that created these spaces. At the end of the day, as our people will show you, it's all about great customer experience and high quality.
And what a range it is, with designs from some of the leading trendsetters in the world of resortwear, beachwear, eyewear, and more. These include iconic international and Greek designers such as Stella McCartney, Mary Katrantzou, Alice+Olivia, Camilla, Cartier, Channel, Gucci, Paolita, Zeus+Dione, Tom Ford, Balmain, Anjuna, etc.
The Andronis experience is all about creating moments that resonate and memories that stay with you – and your shopping journey is no different. Fashion is taken to new levels as you discover the most stylish ways to enjoy your iconic Greek summer on Santorini. Expect breezy fabrics, on-trend prints, exquisite textures, spectacular sunglasses, attention-grabbing footwear and fantastic accessories that you will cherish for life.
Discover your new favorite shopping destinations: Andronis Major Central Boutique Store, Andronis Major Sun n Sea, and Andronis Major Arcadia Hotel. This Santorini summer, don't forget to visit all three Andronis Major stores. •
explore
146 • ANDRONIS • Magazine
Sail your way on Santorini Island
This fanTasTic vessel makes a captivating first impression just by its outstanding use of space. The fabulously luminous interiors and modular external areas hold particular appeal. Its latest-generation technology fashions a matchless cruising experience amid some truly iconic design.
This is a yacht that makes room for beauty This design philosophy emerges clearly in the layout: the standard version vaunts 3 generous cabins on the lower deck.
AQUATIC DOLCE VITA
THE FERRETTI TREASURES
• Half-day (4 hours) cruise around Santorini island
• Captain and 1 crew member
• Water, refreshments, juices and bottomless locally produced wine (Andronis vineyard)
• Authentic Greek delicacies
• Mediterranean fresh fruit salad
• Indigenous lunch on board
• Drinks & beverages as per our guests' preferences
A mesmerizing cruise that starts while we sail across the Caldera cliffs and admire the beauty of places like Imerovigli, Skaros, Fira, Akrotiri and the Indian Rock. Next stop and while sailing towards the Southern part of the island, we will visit some of the most renowned Santorinian beaches and shores. The White and the Red Beach to name just a few. There, a long break for swimming or water activities such as snorkeling is taking place. The cruise is followed by either a lunch break at Armeni or a visit to Thirasia island. Located in very close proximity to Santorini, Thirasia was once part of the island. The 1500 B.C. volcanic eruption caused the island's total secession, breaking it into so many pieces that small islands such as Thirasia emerged. A completely virgin island up to nowadays, still untouched by tourism and the modern lifestyle.
Tailor Made Experience
• The above is only a suggested route. The exact itinerary may be modified as per our guests' preferences and our captain's advice in terms of unpredictable factors such as weather conditions.
• The island's embarkation and disembarkation point is considered to be Ammoudi. Depending on the weather conditions, the yacht should anchor at a safe port or bay during sunset time.
explore 148 • ANDRONIS • Magazine
"Walk" the blue line of the most picturesque corners of the volcanic island on board the stunning Ferretti vessel.
Ride on the wavy side Join the heavenly tour around the Santorini island and treasure every Ferretti moment.
Andronis Gift Vouchers
Explore the #AndronisExperience
The utmost holiday experience! In full, in every way, every moment of your stay in any of our 5 Santorini Andronis hotels.
PALATE PRESENTS
ImagIne yourself taken by surprise sitting in front of the breathtaking views of Lycabettus Restaurant. A moment of pleasure granted by someone who really loves and takes care of you. Being a gastronomy lover, you may be also offered a sunset dinner at the exquisite dining terrace of Throubi Restaurant or a menu created by the 3-Michelin-Starred Chef Emmanuel Renaut at the Lauda Restaurant. You only need to secure your reservation two weeks prior. Bon appétit!
GIFT FOR ALL SENSES
Is there a better way to show your affection rather than make a wellness present? The answer to your question lies among the Be Destressed and the Be Rested 3-hour packages, the 2-hour Family Ties or Couples Connect experiences and the Be Balanced 2.5-hour program. «Unwrap» these gifts, make your appointment and let the aromas and the experienced beauticians rejuvenate your body and soul!
Prior contact for Spa appointment is required.
https://giftvouchers.andronis.com/
explore 150 • ANDRONIS • Magazine
From dinnerware sets to plates, bowls, serveware and much more, add a professional touch to your table with Sarris Restaurant Supply Store. 9, Petrou ralli, tavros, GreeCe t.:+30 210 483 1713 info@sarris.com.gr sarris.com.gr
Andronis Loyalty Program
UNVEIL A WORLD OF BENEFITS
You don't need a magic spell to enter the Andronis World of Benefits. With just your membership, you are entitled to best rates, future booking guaranteed concessions, premium amenities, exclusive shopping privileges, private & transfer services, culinary & wellness experiences.
BRONZE
First come, the Bronze Status served! Enjoy the Indigenous Welcome Amenities (Andronis Wines & Delicacies), 10% Discount in Andronis Boutique Stores, Complimentary Turndown Service and 4% discount on future bookings. Welcome on board!
SILVER
Loyalty comes with rewarding benefits! A step further in our program offers more to pamper you better: Premium Welcome Amenities (Prosecco & Fruits), 10% Discount in Andronis Boutique Stores, 10% Discount on all Spa Treatments, 5% Discount on Signature Throubi & Catch Restaurants and 6% discount on future bookings.
GOLD
So far so good! You have reached this level and have access to more discounts and complimentary services, such as Premium Welcome Amenities (Charles Heidsieck Champagne, Fresh Fruits & Delicacies), 10% Discount in Andronis Boutique Stores, 15% Discount on all Spa Treatments, 5% Discount on Signature Throubi & Catch Restaurants, Complimentary One Way Private Transfer, Complimentary Authentic Afternoon Delight, Complimentary Use of Minibar and 8% discount on future bookings.
PLATINUM
You are already walking the Hall of Benefits enjoying Premium Welcome Amenities (Rare Champagne, Fresh Fruits & Delicacies), 20% Discount in Andronis Boutique Stores, 20% Discount on all Spa Treatments, 5% Discount on signature Throubi & Catch Restaurants, Complimentary Two-Ways Private Transfer, Complimentary Authentic Afternoon Delight, One Complimentary Lunch in Property's Signature Restaurant (luxury items excluded), Complimentary Use of Minibar and 10% discount on future bookings. Well done!
explore 152 • ANDRONIS • Magazine
MARA DESYPRIS CONTACT US 10, Eleftheron Poliorkimenon str, Marousi 15125, Athens - Greece T + 30 210 6100211-212 F + 30 210 6100213 info@elseagency.gr www.elseagency.gr ATHENS - LONDON Media & Content Creators Digital Marketing Communication & PR Brand Development Commercial Media Development Passionate about Bespoke Media
last page
The fame of this island precedes it, but there are still secrets to discover. Let ANDRONIS show you the way.
Imerovigli
Volcano
Thira
Kamari
Perissa
Port
Oia
Andronis Arcadia
Andronis Luxury Suites Andronis Boutique Hotel
Andronis Concept Wellness Resort
Andronis Alta Mare
Giannis Antetokounmpo
can take
home. There is no issue! READ ONLINE
You
me