GET READY TO PLAY!
Digital Entertainment
For licensing opportunities, please contact: Jennifer Coleman • konamicrossmediany.comcj.52363@konamicrossmedia.com
©Konami
Featured Content Departments 16 People of Play - the Story! Mary Couzin 24 Plans Are Underway for Toyfest 2023 Carrie Scanlan 28 All in the Family Mary Couzin 32 Brave New World (of Toys) Nick Truss 44 New Product Preview 4 Observations and Opinions 6 What's Trending 8 Industry News 12 Industry Forum Toy Association - Jennifer Lynch 14 Industry Forum Design Edge - Matthew Nuccio 18 Industry Forum ASTRA - Sue War eld Industry Forum aNb Media / TTPM - Jack Placidi You're Hired! Contents · September 2022 Vol. 17 · No. 3 On the Cover Dare to Care Bear from Basic Fun See page 44 for details On this Page 1. Cocomelon Chase by Jazwares 2. Jack Paws Halloween Drop by GUND & Spin Master 3. Black Panther: Wakanda Forever Fresh Fierce Collection Shuri, Okoye, and Nakia by World of EPI 1 2 3 3 tfe September 2022

Some of you may be reading this while in Dallas, attending the last (at least for the foreseeable future) toy show put on by the Toy Association in Dallas. As I'm sure you know by now, Toy Fair in February has moved to a Fall time period. e next mass market toy show will be held in NYC in Fall 2023. is shi ing of shows has created quite the controversy, and opportunity, within the toy industry. For many in the toy industry, a trade show in the winter is embedded in their psyche.
BY BOB GLASER
Donna
149, W. 36th St., 10th Floor, New York, NY, 10018 · Phone: (646) 763-8710 · Fax: (646) 763-8727
aNbMedia.com
Brendan@TTPM.comDonna@TTPM.comMooreSalesAssociateCarlyRabinowitzCarlyr@TTPM.comControllerEileenPalermoEileen@TTPM.comEditorinChiefJimSilverJim@TTPM.comEditorialManagerNickTrussNick@TTPM.comWebDeveloperBrendanSanabriaContributors
Mary Couzin, Jennifer Lynch, Jack Placidi, Matthew Nuccio, Carrie Scanlan, Sue War eld
4 tfe September 2022
BOB GLASER, PUBLISHER
September 2022 · Volume 17, No. 3 Bob@TTPM.comBobPublisherGlaser
Toys & Family Entertainment (TFE) is published three times per year by aNb Media. Copyright 2022 aNb Media. All rights reserved. No part of this publication may be reproduced or transmitted in any form, or by any means, electronic or mechanical, including photography, recording, or any information storage and retrieval system, without written permission from the publisher. Printed in the U.S.A., TFE, TFE Licensing, and Specialty Emporium are registered trademarks of aNb Media. Opinions and comments expressed in this publication by edtiors, contributing writers, or solicited or unsolicited documents are not necessarily those of management
Hereevent.at
Vice President, Advertising & Sales
tfe
Interested in a subscription? Contact Bob Glaser at Bob@TTPM.com.aNbMedia,Inc.
ASTRA, the American Specialty Toy Retailing Association, is trying something new next February by planning a cruise for both manufacturers and retailers. Not a dedicated cruise for only industry people, but working in the opportunity for manufacturers to show products to retailers while also enjoying the high seas. Per ASTRA, a sun- lled, fun- lled networking
ToyFest, the West coast based toy show that traditionally took place in mid-March has shi ed to a late February, early March time frame for 2023. Many people I've spoken with are very excited about the new dates. Many exhibitors at ToyFest don't show in Dallas, so the show will be the rst chance to gather once again since the ASTRA show in Long Beach, CA last June.
TTPM we continue to look at ways to help manufacturers sell more products. We continue to post new toy, baby and pet product reviews daily to TTPM.com and each respective YouTube channel. Many of you already take advantage of these FREE reviews. If your company hasn't sent in new products, do so now. Our newest venture, TTPM ITM, In uencer Talent Management, continues to grow rapidly. We currently represent over 75 in uencers who are posting family friendly, non-confrontational, and wholesome content. If you haven't done so already, reach out to me and I'll send along our updated kit for your review. Our in uencers are helping manufacturers sell more products every day. We are very excited to be bringing back our People's Play Awards a er a few year hiatus, due to the coronavirus pandemic. While the FREE submissions had to be received by September 20th for consideration, we will be announcing the winners right a er anksgiving. Just in time for the Christmas shopping frenzy. Lastly, with the Toy Association moving Toy Fair to the Fall, we will be moving up our annual Spring Showcase to March 14 in 2023. As always, our events are opportunities for manufacturers to promote their new products to attending media. Some of the in uencers we represent will be at our Spring event. is will be the only opportunity to meet in person with these in uencers. Reserve your space now before we sell out! Observations & OpinionsForgingNew Traditions
Licensed By: Hasbro and its logo, MR. POTATO HEAD and MRS. POTATO HEAD are trademarks of Hasbro and are used with permission. ©2022 Hasbro.All Rights Reserved. Licensed by Hasbro TRANSFORMERS and all related characters are trademarks of Hasbro and are used with permission. © 2022 Hasbro. All Rights Reserved. Licensed by Hasbro. ©SEGA. All rights reserved. SEGA is registered in the U.S. Patent and Trademark O ce. SEGA and SONIC THE HEDGEHOG are either registered trademarks or trademarks of SEGA CORPORATION. ®Bob Ross name and images are registered trademarks of Bob Ross Inc. © Bob Ross Inc. Used with permission ––Bob Ross Inc. © 2022 KISS Catalog, Ltd. Under License to Epic Rights. © Universal City Studios LLC. All Rights Reserved. ™ & © The Topps Company, Inc. All Rights Reserved. GPK is a registered trademarks of The Topps Company, Inc. and is O cially Licensed by The Topps Company, Inc. © Universal Television LLC. All Rights Reserved ™ ® ™
These trending lists are based on aNb Media's consumer website, TTPM.com, and related YouTube channels. TTPM's Top Trending Lists are generated by the number of views for that item across toy, baby, and pet categories. Here are the lists of top trenders as of September 1st, 2022.
6 tfe September 2022
Star Wars Animatronic Galactic Snackin' Grogu
Wagon OneFitWonderfroldClearTex All-in-One Car BabyChiccoSeatCar Mirror AstroShynerkKitty SpaceSaver Jumperoo Infant
RocketHasbro Friends Purse Styling Head JoJo Siwa
Forever Fun Treat Track Cat Toy Doc & Phoebe's Cat Co.
Ultimate Mansion Playset
Spin Master
Face EmoryPlayMonsterPaintoostheElephant Plush KidKraftUltimateHugimalsSpaceship
Top 5 Trending Pet
W2 Stroller Activity
CarryOn Airflow DLX Carrier
What's Trending?
Vim 16 Dog Calming Toy Calmr Dog Cat Puzzle Feeder Doc & Phoebe's Cat Co.
Launcher HelloRceicoKitty and
Minnie Mouse
SpinPets Karma'sMasterWorld
PAWMattelPatrol and
Top 5 Trending Baby
Center Fisher-Price
Granby Dog Life Jacket Outward Hound
Just DisneyPlayJunior
LILLEbaby
Puff & Play Refillable Treat Dispensing Dog Toy Yeti Dog Chew
Dino XCavate
Just KineticPlaySand
Luxe
Top 10 Trending Toys
Disney Junior Mickey Head to Toes Mickey Mouse Plush
Nominated For Plush Toy of the Year License of the Year
8 tfe September 2022
Pebble Gear Supports the Children of Ukraine with Licensed Disney Tablet Bag and New Partnership with Home and Homes for Children
Wizards Presents Reveals Exciting 2022 Lineup for Dungeons & Dragons and Magic: The Gathering
" e Pokémon Company International is grateful for the opportunity to give back to the communities in which it operates and where Pokémon has been so warmly received since it was rst introduced," said Kenji Okubo, president of e Pokémon Company International. "Pokémon is a brand that immediately sparks joy and has captured the imaginations of kids around the world for 25 years. With its universal themes of adventure, friendship, and perseverance, it has also been welcomed into the lives of an incredibly diverse fanbase in countries around the world. We are dedicated to leveraging that unique ability and the support we've received from our broad community of Trainers to be a positive force in the lives of children and create a more equitable, inclusive world in which all can ourish."
Electric 2022 for Elenco and Snap Circuits with Anniversary Celebrations and TOTY Nominations
2022 has been an exciting year for Elenco, with a big end-of-year planned. is year, Elenco has been celebrating 50 years in business as the pioneers and leaders of STEM learning, while Snap Circuits celebrates 20 years of teaching and encouraging kids through play. To further con rm and recognize the milestone year, Snap Circuits was nominated in 4 TOTY 2022 categoriesthe most for any boutique toy company! For 50 years, Elenco has provided educational/STEM products that follow its Learn By Doing philosophy. Elenco's award-winning Snap Circuits products teach kids to have fun learning electricity, engineering, and more.
Wizards of the Coast, a gaming division of Hasbro, has announced a lineup of innovative releases for 2022 and beyond during their direct-to-fan virtual event, Wizards Presents. ese initiatives enhance Hasbro's $2.1 billion games portfolio for players of all ages, which include iconic fantasy brands Magic: e Gathering and Dungeons & Dragons. Fans got a rst glimpse at details for the latest entry in Universes Beyond, Warhammer 40,000. In addition to four commander decks, four Sol Rings are themed a er each faction representing e Imperium of Man, Tyranids, Necrons, and Chaos. e cards in the collector's edition of each commander deck have a new Surge Foil treatment. Find out more at https://magic.wizards.com.
Pebble Gear, a ground-breaking international children's technology company, announced the release of a special edition Disney-licensed Mickey & Friends Forever & Always tablet carry bag. e bag is being launched to support the charity, Hope and Homes for Children, and their urgent appeal to support children in Ukraine, Moldova, and Romania. Pebble Gear was launched at the height of the COVID-19 pandemic with the mission of helping kids safely take their rst steps into technology, creating an innovative line of tablets and accessories speci cally designed to allow children to access digital content safely and securely.
The Pokémon Company International Announces $25 Million Philanthropic Initiative Across Several Organizations
e Pokémon Company International, the company responsible for the brand outside of Asia, announced it is committing a minimum of $25 million USD over the next ve years to organizations dedicated to improving the lives of children and supporting social equity.
10 tfe September 2022
Disney & Miko Announce Exclusive Collaboration
Moose Toys, a leading innovator in the toy industry, revealed that its newest mystifyingly magical toy, Magic Mixies Magical Crystal Ball will be available for pre-sale at major retailers Sept. 1 and in-store on Oct. 1. Following in the spellbinding footsteps of last year's global holiday sales phenom, Magic Mixies Magic Cauldron, the toymaker also predicts this much anticipated expansion of the Magic Mixies lineup will disappear from shelves this holiday season. Prior to launch, Crystal Ball already received early toy industry buzz with a 2022 Creative Toy of the Year nomination from e Toy Foundation.
Paramount Consumer Products announced that world-renowned photographer, entrepreneur, and social activist Misan Harriman will serve as creative advisor for its growing Web3 business. As an advisor, Harriman will bring his expertise as an artist and a pioneer in the creation and collection of NFTs to consult on Paramount's established partnerships in the Web3 space with plans to curate his own collections for the company in the future. Earlier this year, Harriman founded Culture3, a platform to elevate diverse and eclectic voices to exhibit the creative vitality of Web3 artistry, the innovative and genuine use cases being developed by Web3 builders, and the meaningful communities augmented by and built on Web3. Harriman also recently curated the rst Permanent Art Collection (PAC) for the Tezos Foundation, featuring Digital Art Galleries that celebrate artists that create in the Tezos ecosystem.
e magical worlds of Disney and Pixar have arrived on the Miko 3 robot. e collaboration is a historic rst for the consumer robotics space and the latest indication that AI will play a growing role in the future of kids entertainment. Miko, a consumer robotics company specializing in kids education and entertainment, unveiled its Disney collaboration today to customers in more than 140 countries. Animated storybooks featuring characters from Walt Disney Animation Studios' Moana, Frozen, e Lion King, Disney and Pixar's Toy Story, Big Hero 6, Coco, and more worlds of Disney and Pixar are available now on the bestselling Miko 3 robot.
TTPM Releases the 2022 Best of Baby List Parents Have Been Waiting For
Paramount Taps World-Renowned Photographer and Activist Misan Harriman as Creative Director for Growing Web3 Business
Moose Toys Predicts This Year's Holiday Hit with Introduction of New Magic Mixies Magical Crystal Ball
TTPM, the leader in video product reviews for toys, baby, and pet gear announced their Best of Baby 2022 List. e list features the best Baby Gear across 10 categories, designed to educate parents. "A er countless hours of rigorous testing and inspection, these are the baby products parents can rely on to raise their baby with care. Parents depend on our expert team to help them make informed shopping decisions." said Jim Silver, CEO, TTPM. " e baby stage is precious and full of excitement, and with so many items popping up on the market it can be hard to pinpoint the best. at's what the Best of Baby List is designed to do -these items have our TTPM stamp of approval."
MAGNETIC MAGIC The Global LEADER In Magnetic Construction Toys! 46999 Five Mile Rd. Plymouth, MI. 48170 | 734-667-1673 | info@magformers.com

Staying2022
From content creation and hands-on dget play, to play patterns fueled by social media, to more sustainably designed and inclusive toys, each of these trends highlights a shi in how consumers now choose to spend their time and their money. Another trend e Toy Association has continued to call attention to is the buying power of the "kidult" consumer. First identi ed in e Toy Association's Not Just for Kids trend at the start of 2021, this trend was rea rmed by a recent Association survey of the more than 2,000 U.S. parents, revealing 58 percent reported buying toys and games for themselves and not just their kids.
INDUSTRY FORUMTOYASSOCIATION 12 tfe September
on top of the leading toy & play trends is a year-round e ort for e Toy Association. It helps raise the pro le of its member companies in the media, and provides consumers with a better understanding of the various developmental bene ts of play at any age. But beyond the promotional advantages to this trend work, these insights serve as a lifeline to members looking for new areas of growth and opportunity amid an everevolving retail landscape.
" e trends we are seeing unfold in 2022 provide a glimpse into how play is evolving and also what we've known all along: you are never too old to play," said Adrienne Appell, executive vice president of marketing communications at e Toy Association. "Most notably, some play habits that emerged and grew during the pandemic are now here to stay."
"Having these forward-looking discussions throughout the year helps to ensure what we are seeing aligns with how families are playing, where they are spending their time, and what is ultimately driving them to the toy aisles," added Appell. "We welcome the chance to speak to companies this fall and, as we prepare our trend report for 2023, we look forward to providing our members with yet another tool to best position their products and businesses for success!"
To read about the current trends and for more information about e Toy Association's trend activities, visit www. ToyAssociation.org/trends
By Jennifer Lynch
As the industry now looks ahead to 2023, meetings with toymakers to put their playthings on the trends team's radar are already underway. rough these fall meetings in Dallas, Los Angeles, and virtually, the team will use the information gathered (under embargo) to map out next year's top trends in toys, play, and kids' entertainment. e trends will be unveiled during the team's rst in-person Trends Brie ng since 2020, which will take place during its exciting new March 2023 Play Date media event.
The Toy Association Highlights Trends to Watch for This Holiday Season
night one of the e Toy Association's Preview & Holiday Market in Dallas, TX (September 20 to 22), create additional opportunities to keep the trend conversation going in the media, and expand on the trends team's promotional work. To date, 119 unique products from 81 member companies have been featured in TV segments in top U.S. markets, and in international toy trade publications.
Upcoming Q4 events like e Toy Foundation's Toy of the Year (TOTY) Awards on September 20th,
One thing I've learned many times over is that not all patents have immediate value. In fact, based on my experience, I would even argue that most patents have no value. That being said, I realize that a seemingly useless patent of today could change the world of tomorrow. Products like the 3D printer (patented in 1986) and the digital camera (patented in 1975) were both decades ahead of their time. While many of my clients dream that their concept is the next great thing, more often than not, I am presented with patented concepts that look and sound awesome "on paper", but end up not translating well into physical form. There are many reasons why this will happen, with the most common problem being the inventor's overeagerness, going straight to patent without making sure to solve any potential design issues in physical form. Can that be fixed? Very often that is a resounding "YES!", but it can also be quite costly. So...how exactly does that happen? Well, in life I've noticed that surgeons like to cut, dentists like drill, mechanics like to tinker, and patent attorneys like to patent. If you go to your patent attorney as the first step, you may be very well skipping some vital and essential steps, unknowingly. Here are 3 things to consider doing before filing for your patent:
· Design for Costing
Matt Nuccio is president of Design Edge, a New York-based toy and game development company. For more information, he can be reached at matt@designedge.net.
by Matthew Nuccio
3 Things to do PatentingBefore
· Prototype Again
So now you have your Frankenstein'd proof-of-concept model, and you've filed for your provisional patent. Sure, it's a real eyesore, but so what? It does what it needs to do. Is it ready to patent? Technically yes, but if you're working with shallow pockets, you can lower the possibility of adding extra zeros to your attorney's bill by making sure that your prototype not only does what it needs to do, but also can be replicated and produced for the best possible price. If you don't streamline your idea now, it may cost a fortune to amend your patent down the road. Often, when developing a product for mass production, we need to change processes, materials, sizes, and mechanisms just to be able to have it produced. In addition, the good news is that generally, we can discover ways to greatly improve the product during this phase, and those improvements will be vital to your patent. The more claims you site on your patent application, the better your chances of getting a patent. If you wait until after your patent is issued, you may find yourself spending big bucks amending your patent, or worse, becoming trapped by the now-limiting ways your patent has been written.
Now that you have your concept streamlined, it is time to build a proper prototype that both resembles and functions like the real deal. If all of your improvements on paper translate well into physical form by the time your provisional patent application matures, you are golden! Not only will you have a solid patent, but you will have a product that looks great and functions great, without any costly issues. It will be ideal for any potential licensee to license, or fantastic for a potential entrepreneurial venture.
THE DESIGNER'S PERSPECTIVE
INDUSTRY FORUMDESIGN EDGE
In my 7th grade science class, I learned that a hypothesis is technically "an assumption for the sake of argument". In the scientific method, a hypothesis is created before any applicable experiments have been done. So what's the inventor's experiment? Prototypes. One must definitively prove that their concept is valid and workable through a process of making one prototype after another. Working out any "bugs" and testing and tackling any physical or technical issues that arise in the process is key. So, lock yourself in the basement with stacks of toilet paper rolls, duct tape, rubber bands, glue and whatever it takes to prove that your hypothesis can properly manifest in the physical world. It doesn't need to look great. At least, not yet. In this early stage, it just needs to work! Once you have it working, you can call up your attorney or visit the USPTO site and file your provisional patent application. That will buy you 12 months to iron out any other issues before you file for patent.
14 tfe September 2022
· Proof of Concept Prototype
Matt Nuccio offers his hard-learned tips on patenting, and how to avoid common pitfalls in every step of the process.
FEATURED CONTENT
Our name, People of Play, says it best. We are an organization of all the people who make all the play: toys, games, puzzles, plush, and all the other kinds of fun stu . People of Play has a long legacy of bringing the people of the play industry together in lots of ways, and at wonderful events that connect us all, forging new relationships that make even more play. Formerly known as Chicago Toy & Game Group, and hosting events formerly known as Chicago Toy & Game Week, and the Chicago Toy & Game Fair, our international impact had grown to be undeniable. We were connecting people of play from countries all over the world, and because our reach was so much bigger than Chicago, and ever-increasing, we needed a name that didn't sound regional, and we wanted our brand to focus on our core, which is not product, not company, but people
Covid shuttered everything the very next week. e silver lining? Without the usual travel schedule, we could nally bring a north star project to fruition at a time when it could help people more than we dreamed. For many years, people have reached out to me as a great connector - to ask if I knew someone who could do this or that - if I knew someone for a particular role - if I knew how to do something or where I could nd information on some topic. I was becoming a master matchmaker for our industry!
e beta test with the inventor community was a smash success, so we reached out to other segments of our industry. POP is now the largest and most robust directory in the Play Industry. You can nd people and companies, searching by skills, expertise, clientele, names, products…limitless facets. Simply search PR, marketing, logistics, insurance, legal, yadda, yadda, yadda…it's as easy as pie! Of course, the POP directory is only as good as the information put in by its members, so we remind everybody to update their skills, expertise, and other details o en. Here are just two people for whom new business was fostered on POP:
by Mary Couzin, Founder of People of Play People of Play - the Story!
For years we tested various platforms that might work to share this information with the industry. Nothing was adept and nimble enough for what we wanted to deliver, so we started to build a custom website from the ground up. Super scary for sure…but I trusted our team, and it was full speed ahead! I was, and still am, completely determined to build an e cient and vigorous conduit for all the good information everybody wanted, and needed to share.
We built and launched the POP Database in beta mode with the Inventor Community, the incredible group that brought me into our industry. e rst tests were at our Inventor Pitch events. We made a POP membership and pro le mandatory to participate. Product acquisition execs could look at an inventor's pro le, see what products they were involved with, their skills and expertise, where they were located, and more. A POP pro le showcases a person in three dimensions, and brings them to life on screen– like a delicious mix of LinkedIn and IMDB.
"I highly recommend that if anyone in this industry wants to be found, they join POP and ll out the skills and expertise section of their POP Pro les. I've had companies and a major media network reach out to me for a show based on my skills and expertise a er nding me on POP." - David Yakos, Founder of Streamline Design and Co-Owner of Salient "ITechnologies.recommend populating your skills and expertise as well as writing about subjects you love. People will discover you on POP - I was just asked to keynote for a big event!" -Gert Garman.
Most people would challenge others to bring an industrychanging platform to life, but I jumped into the fray myself Our incredible team challenged and pushed me, and I've never worked more diligently or thought harder in my life. ey had my back, and the phrase, "it takes a village" took on extra meaning, but the process yielded something the whole village needed: the POP Database.
e process of nding a new name that re ects our identity was a challenge that took many months. Our Executive Committee and Advisory Board almost dismissed the name People of Play at rst because we thought, certainly, that its trademark would be unavailable. But we are the People of Play, and the Trademark was available! It was kismet.
16 tfe September 2022
Our CHITAG website had always been a resource for people starting in the toy and game industry, so we combined all the articles from our various websites, videos from past events, the all-important Bloom Report into POP. We have created new Book & Media Review sections, a Memorial section, and much more in our new Wiki. Soon there will be over 1,000 articles, interviews, commentaries, videos, and reviews, searchable by category. During the rst year of the pandemic, we hosted incredible virtual events showcasing 35 panels with over 200 speakers from across 17 countries! e following year, we created 'POP Duos' with top creatives in our industry paired with top creatives from other industries. For example, Elan Lee, Co-Founder of Exploding Kittens, had a dynamic conversation with Je Probst, Host and Exec Producer of TV's Survivor. is series of 10 POP Duos was so successful, we are continuing with a new one every month. All this fantastic content lives in our Wiki for all People of Play to peruse.
During lockdown, we very much missed our live events, and we all missed being with one another even more. People have a visceral need to get together, even if it must be remotely. We worked with Zoom and developed our POP Pub rooms, which we used for events like monthly pub nights, a 3 Truths & a Lie Show, our Marketing and PR Pro Series, Professional Inventor meetings, and more. ey are simple one-click Zoom rooms, and everyone loves them!
Many more features will be 'popping' up on POP soon! If you haven't already, get in on the ground oor and join. We have many levels of membership ranging from free to fully loaded, with all bells and whistles! To get the most out of it, we recommend joining with the works, a la mode! e more you get into POP, the more you'll get out of POP!
A huge thank you to the toy and game industry for your support growing our POP platform and our many events around the world over the years – we could not have done it without you – the People of Play!
www.peopleofplay.comCome for the resources, stay for the memes.
happy they did – consumers are People of Play too! POP's homepage social feed is a great place for you to post about your products and what you are doing…both consumers and industry members will take notice!
was always to have two levels of membership: one for industry people, and one for consumers, each with di erent levels of information. We would grow the industry membership, then reach out to consumers. Before promotion has even begun, consumers have found and are engaging with POP! e very same thing happened with IMDB – consumers want info, and lots of it. Without e ort, 80% of POP tra c is organic, and mostly consumer driven. Soon we will move the Bloom Report itself to POP, and we expect the number will skew more to the direct tra c from the industry… but with the monthly unique visitors growing as they are, it won't be long before it corrects back toward consumers again. While we didn't expect the consumers to nd us so soon, we are
is year, it's super exciting to have our POP Week back in person in Chicago! is includes our Inventor Pitches, Innovation Conference, POP Roast, Young Inventor Challenge, Toy & Game International Excellence Awards (the TAGIEs) and our Toy & Game Fair with the addition of Girl Scout and Boy Scout indoor overnight campout events. e Inventor, Innovation, Young Inventor Challenge, and TAGIE events will be in November as always, but we're taking the location on the road, with a di erent company hosting in a di erent city each year. e consumer-facing events will now be in December at their new holiday home in Chicago's Rosemont Convention Center. Many sweet and exciting partnerships will be announced soon.
e next feature we developed was based on frequent complaints we hear about social feeds being clogged with ads and other information people didn't need,. In response, we created two feeds just for toy and game people. One feed targets consumers, and the other is the Bloom Report 24/7 news feed, amalgamating toy and game news from all over the
Mary Couzin is Founder and President of Chicago Toy & Game Group dba People of Play or POP! You can reach her at mary@chitag.com. She'd love to talk to you about POP's November and December events or the POP platform!
Ourworld.plan
17 tfe September 2022
Will this take the place of any other trade shows? Absolutely not!
· Regional gatherings are currently being planned to include more game day events, educational options, and in-person round table
· We highly encourage attending other shows, including our own Marketplace & Academy in Columbus. We will be present at January Gi Shows and ToyFest. We've worked closely with ToyFest to provide retailers an incentive to join us on ToyBoat and attend ToyFest. We see these as two unique o erings with two unique opportunities to grow your retail business. If you attend both the Toy Boat and ToyFest, ASTRA will foot the bill for one room night at one of our hotels in Columbus for Marketplace & Academy and ToyFest will pay for one room night at their host hotel at ToyFest, February 27-March 3, 2023.
· With the impact the round tables had for both ASTRA and the participants, we are working to form groups with similar demographics and economics that can meet via zoom at various times during the year. ese groups can share with one-another, and provide additional input to ASTRA as we develop new resources for ourismembers.isjustthe
by Sue Warfield, ASTRA President 2023 and Beyond
· Changes to our trade show oor for 2023, a change in how we organize our educational o erings and a change in our registration options for Marketplace & Academy in Columbus, June 11-15.
draw the attention of buyers. We are lling cabins, so check out more details at https://astra.glueup.com/event/ahoy-mates-52830/
We have all changed. 2020 did that to us. We reinvented ourselves, our family life, our businesses, and how we meet. We learned and yes, we grew. One of our biggest lessons learned: things will never be exactly as before. From ASTRA's perspective, that can be a positive.
Speci c, actionable ideas from our round table discussions, committees, board members, and lessons learned by our sta are in the works and include:
· e Toy Boat, sailing February 20-24, 2023 is a pivot from the usual "trade show" and focuses on new products, order writing of in-stock products to ll shelves, working with manufacturers to plan programs, planograms, sta training, and events for the year, game night, plus sharing ideas and brainstorming with colleagues. For e Good Toy Group, Learning Express, and the Toy Collection members on board, they will be looking for catalog items. For smaller and newer manufacturers, it gives them an opportunity to be on a more level playing eld with the larger booths that o en
18 tfe September 2022
Let's rewind just a bit. In 2017, ASTRA held 3 in-person focus groups of our members. e outcome of that was to form our Innovation Council, and they continue to meet still - every Friday morning for an hour on zoom. It is made up of retailer, manufacturer, sales rep, and a liate members. When formed, they were initially tasked with looking at the future of retail in 5 years. ey had some incredible insights, and had a plan in place to test out new and innovative ways for stores to reach consumers. en Covid hit, and all of that
ed Play Expert Program has been revised and updated. Not only will we be o ering this program during the 2 days prior to Marketplace at Academy in Columbus, we are working on o ering it at other locations, so that we can bring the program on the road to a business. A customized version just for the retailers is in the works.
to 2022. eir task was to look at the future of gatherings. What is important to our members? What can we do di erently? What we should not change? is past spring they held 7 di erent round table discussions, via zoom, to hear directly from those we serve. e results of these round table discussions were analyzed over a full-day meeting and a new word was coined: pivotablility. It's what we all need now, and will continue to need as new challenges appear. Lesson 2 from 2020: there is no status quo.
·discussionsOurCerti
INDUSTRY FORUMASTRA
Fastchanged.forward
start of what we see as the future for 2023. Our Innovation Council is now looking at what the next 3 years may bring, and how we can stay a step ahead of any challenges that we may face. Pivotability is the word. We are on it!
new ways to TM stop by to see what's new with tomy: visit diverse marketing's showroom (floor 4 – room 439) during dallas toy fair. all retailers welcome!

When it comes to products that promote a wide range of play to all ages, the company that immediately comes to mind is LEGO. In 2021 alone, LEGO revenue jumped 27%. e company continues to create a wide variety of building sets that promote building play, encourage creativity, reduce screen time, and provide a stress-relieving activity. ese modern bene ts are enjoyed just as much by young LEGO builders. e fruits of LEGO's adult-marketed R&D naturally reverberate to their ageneutral and kid-marketed products, with heightened attention
INDUSTRY FORUMTOYASSOCIATION 20 tfe September 2022
Why should kids have all the fun? Adults have scrutinized this assumption more than ever in recent years, and their heightened spending habits in the toy aisles illustrate the resulting paradigm shi . Lately, we've seen an explosion of toys exclusively made for the "kidult". According to a recent survey conducted by the Toy Association, 2,000 parents were asked if they had recently bought toys and games for themselves, exclusively. 58% of the respondents stated that they had, ranging from board games, to building sets, collectibles, and video games. What's interesting is that the toy industry as a whole has a market dedicated exclusively for these buyers (shown by products and sales) and awards like the People's Play Awards have a Kidult category to recognize the popularity of these products.
to detail, and more sophisticated engineering than ever before. From smaller sets like Everyone Is Awesome (pictured le ), to the grand scale Titanic Building Set, these examples are marked ages 18+. Not necessarily because they have mature content to them, but because they're meant for display, rather than heavy play. ey result in beautiful pieces of art that adults can put on a shelf or work desk a er they complete the build, and relish a sense of accomplishment.
By Jack Placidi
Proof is in the Product
e author's avatar character, protecting his fellow neighbors in Animal Crossing: New Horizons.
Kidult Kraze
Adults vitally require play in their lives, just as much as children. In adults, play helps release endorphins, and even improves brain functionality. During the height the COVID quarantine in 2020, US games sales increased tremendously, with total spending reaching 56.9 billion dollars. e bulk of these game sales came from adults wanting an outlet to enjoy each other's company during a time of mandated separation. us, digital games like Animal Crossing: New Horizons (pictured below) and the Jackbox Party Pack bundles found their stride during this time to keep that social need satis ed. Nowadays, many adults nd themselves creating game nights to cater to their own age group with games like Cards Against Humanity, What Do You Meme?, and many others that encourage social play and in-person fun.
ere's also the Sel e Series (pictured below) coming down the pipeline that allows you to use an image of yourself to place as the head of an action gure. According to Jim Silver, CEO of TTPM, the leading online reviewer of toys, baby products and pet gear. "50% of the action gure aisle is now geared toward the collectibles being sold to adults." Even outside of their own storefront, many Hasbro brands in the action gure category are o en bought by grown-ups for themselves. Marvel Legends gures nd most of their sales through comic book stores, where a majority of the sales are for…you guessed it…adults!
22 tfe September 2022
Jack Placidi is the creative director at aNb Media, whose expertise includes years of video content creation and promotion for various toy companies and in uencers. For more info, email at jack@ttpm. com.
Bring your own jello-encased stapler!
While play is an important aspect in the recent trend of kidult sales, many adults buy toys for the purpose of collectibility and display. Many of the big players in the industry already know the value of this factor in the adult marketplace. Mattel, for one, has been laying heavily into it with Barbie and making collector editions of the iconic doll. Many of these dolls are made to resemble famous historical gures, like Maya Angelou, Billie Jean King, and Florence Nightingale, to name a few. One particular doll that comes to mind is the Barbie Signature David Bowie Doll (pictured above). While David Bowie might have some fans in the Gen Z crowd, a majority of these buyers are adult collectors buying it for their own display and keeping it in the original packaging. Sales for this doll exploded soon a er it was launched, selling out of preorders in short order.
It's always morphin' time with the upcoming Sel e Series from Hasbro.
Hasbro has capitalized on this market as well with their storefront that's dedicated to the sales of collectible gures and toys. With the existence of their online shop, Hasbro Pulse, they've made a market exclusively designed for adults to purchase all sorts of collector based memorabilia, from Star Wars gures with old school packaging and high quality lightsabers, to highly detailed and monumental Transformers.
e need for play is not something that's exclusive to children. Adults also need the outlet in their daily lives to de-stress or cultivate a hobby that they might neglect, due to the hustle and bustle of a busy life. Toys are the tools to help with that. Whether it's the desire to do something more hands-on, or the excitement one gets from adding another collectible to their shelf, there will always be a market for the adult who makes time for fun.
Speaking of Mattel, they have a ton of brands that have become super popular with grown-ups. Not just Barbie, but Masters of the Universe, WWE, and Hot Wheels all have an adult collector marketplace to them. What better way to sell these brands to adults than with your own digital storefront? Mattel Creations is what happens when you open up a toy shop with the collector aspect as priority number one. Even the Fisher-Price Little People line got some adult collector treatment through exclusive packaging and collaborations with e Golden Girls, Ted Lasso, and e O ce, all of which are exclusively aiming to appeal to the fans of the shows.
Storefronts for the Serious Collectors


24 tfe September 2022
Plans Are Underway for ToyFest 2023!
With the rebranding of ToyFest as a national show, the organization took the opportunity to launch a new website this summer, ToyFestUS.com, as well as a new contact email, info@toyfestus.com, and new social handles, @ToyFestUS. e slogan under the logo also changed to 'Where Specialty is the Best' to promote Specialty as a main source of business conducted at ToyFest. Some of the other changes you will see around the 2023 show include a new hotel location at Resorts World by Hilton on the Las Vegas Strip, the Gala will also be moved to Resorts World's, Zouk Nightclub for a private event, a Landing Pad for Reps who may not want a full booth space or attend without product.
·Wednesday, March 1, 9:00 am – 6:00 pm – Expo & Showrooms
INDUSTRY FORUM TOYFEST
Dates and times for ToyFest 2023 are:
·Tuesday, February 28, 9:00 am – 6:00 pm – Expo & Showrooms
to the gala evening, other favorite events scheduled during the show are the legendary game night (it always ends up with a waitlist for both game manufacturers) and the more recently added Morning Masterpieces which o ers buyers hands on arts and cra s opportunities over breakfast one morning of the show. is year there was a line out the door.
Word is spreading about what a great show ToyFest is becoming. With the permanent calendar change of Toy Fair and the renewed interest in personal connection, ToyFest is expected to continue to have increased national attendance. It is not a coincidence that the show meeting the needs of the buyers in timing, budget, ease, and relationships is put on by the same group that worked diligently with stores
Earlier this year, e Western Toy and Hobby Representatives Association (WTHRA) announced the return of ToyFest to e Expo at World Market Center Las Vegas, February 27 – March 3, 2023. e Board of Directors and Slate of O cers have spent the summer making plans and exciting changes for the 2023eshow.2022
· ursday, March 2, 9:00 am – 6:00 pm – Expo & Showrooms
·Friday, March 3, 9:00 am – 12:00 pm – Expo & Showrooms
·Monday, February 27, 9:00 am – 6:00 pm –Showrooms Only
ToyFest show was one of the best attended ToyFest shows in the past two decades. Buyers came from all over the United States and beyond. And the response was phenomenal. ToyFest has always exuded old-school Toy Industry tradition with a gala night that is free to buyers and celebrates independent toy store owners, iconic manufacturers, and top-notch sales reps by inducting them into the fall of fame. is event is always packed with old friends reconnecting with industry pals they haven't seen since the last gathering.Inaddition
By Carrie Scanlan
over the last couple of years to get through the pandemic. In 2023, ToyFest will be not only the rst, but THE Toy Show to attend.
· ToyFest will kick o its rst event on Tuesday, Feb 28 with Morning Masterpieces just before the show opens at 9:00 a.m.
· e Ra e will continue and be held on Tuesday, Wednesday, and ursday of the show week. Attendees will see a fun play-yard around the Ra e area.
· And nally ToyFest will as usual encourage Vendors to give their best ToyFest Show Special to make placing orders a little easier for the Retailers.
Attendee Registration is currently open for Buyers, Buyer Guests, Media, and R&D. All others will be considered exhibitors. Exhibitor Registration will open in September. Early bird discounts will be o ered through November 30. Exhibitors who have not registered in the past 3 years may ll out a New Exhibitor Form to be approved to exhibit.
More details about the show will be made available as plans are nalized such as the 2023 Hall of Fame Inductees, Retailer of the Year, Seminar Speaker(s), Game Night and Morning Masterpieces vendors, and Show Sponsors.
· e evening of Feb 28, ToyFest will host its annual Gala at Resorts World newest nightclub, Zouk located in e District. is will be a private event just for ToyFest participants.
At this time, the Directors and O cers invite retailers to register for ToyFest 2023.
Carrie Scanlan is ToyFest Show Director and WTHRA Executive Secretary. For more information, Carrie can be reached at info@toyfestus.com.
· A seminar, TBA, will take place Wednesday morning, March 1.
26 tfe September 2022
· e legendary Game Night will take place Wednesday, March 1 in the Worldview Room of Building B at World Market Center at 6:00pm. is event is always a win. Come hungry, thirsty, and be prepared for speed
gaming!·Bestof
ToyFest taking place, ursday, March 2, will be held a little di erently this year. Details will be announced as they are nalized. But I can say, we hope to have a special guest of two judging the products this year.
· e event will open with Showrooms only on Monday, February 27, 2023. Stay tuned to our website for a list of showrooms and exhibitors participating.
|@plushgoalswww.cuddle-barn.com Located in the Diverse Marketing Showroom
NEW DesignsNEW
cbsales@cuddle-barn.com


BY
How did you and your family rst enter the toy industry?
TOY FAMILY SERIES 28 tfe September 2022
Our feature story highlighting the Zawitz family came to fruition in an unusual way. I had met Nick and knew a bit about the Tangle story of course, but it was Isabelle Hodges, their new team member who also consults on our POP website, who suggested we feature the Zawitz family. Richard shared his thoughts on Tangle's life-a rming three generation story, and I know you will enjoy reading them as much as I did.
by Mary Couzin
ree generations of Tangle: Nick Zawitz (le ), Richard X Zawitz (center), Charlie Zawitz (right)
Q&A with the Zawitz Family
Nick Zawitz (le ), and Jan Marie Zawitz (right)
Richard X Zawitz
We rst entered the gi /speciality/toy industry in 1982 through my invention called Tangle®. Tangle was my attempt at bringing art and sculpture to the masses. I wanted to create something that adults, kids, families could feel challengeless playing with while being able to enjoy art at the same time. I also wanted to instill creativity into people that never thought they were cre ative. My rst product was called Tangle: the In nite Sculpture which rst debuted at gi shows. Eventually I started to market the product and sold it to high-end stores like Bloomingda les, MoMA, Sharper Image, Macy's, Harrods and Hamleys in England, and other notable gi and specialty stores. In 1989, we partnered with Slinky® and the amazing Betty James, who then distributed Tangle for 3.5 years. Slinky® went on to sell the rst blister card version of the Tangle® to the Kmart toy section in 1989 and Tangle became a toy! Tangle is in every essence, the First Art and Fidget Toy ever created!
For example, my daughter tried her hand at the busi ness for a couple of years but followed her heart to become a full-time dancer. My son Nick however, is a natural. He was practically born in a warehouse crawling around on cartons. He is absolutely driven to succeed and wants nothing more than to grow it to its fullest potential. My grandson is the same way. At 23 years old, he shows the same promise and tireless work ethic as my son and me. So my advice is to of course o er the possi bility, but each child has their own will and spirit. Allow them to be a part of it if they would like to, or to try it if they're curious. In my opinion, having three generations in our family business has been a very special and life-a rming experience for me.
How has business changed over the years?
30 tfe September 2022
Our business has changed with the times in a lot of ways. But on the other hand, we still have my original creation which has evolved in its own way to include new sizes, new colors, new textures, and new methodologies for which to use them. We've even added a light-up brand of LED sports balls and games in the Outdoor category. We also o er a therapeutic version of the Tangle called what else? e Tangle erapy that's currently o ered in pharmacies and drug stores worldwide. We continue to evolve with the times by recreating and repurposing our core
My advice is that if you get along with your family and they have the proclivity for the hard work it takes to run a family business, go for it! Future generations of your family perpetuating your dream is a sight to behold. However, not everyone is interested and that's ok too!
What advice do you have for others thinking of joining the family business?
Who has been involved and who is involved now?
Do you think the next generation will get involved?
ere are currently three generations within the Tangle® busi ness. When I founded the company it was originally just my wife and myself, shipping the goods out of our garage and building some of the products on the second oor mezzanine of my furniture business. Over the years, my son Nick came into the business and has played an integral role in our success for over 20 years ago now. He has come a long way, helping to grow the business and is now the general manager overseeing all operations both big and small. Within the last ten years, his wife, Jan Marie, has been working with us as well to manage sales and marketing and has been a huge asset. In the last year, my grandson and Nick's son Charlie, (named a er my father, Charles Zawitz) joined us to manage all things Ecommerce. A recent college graduate, he is the third generation to be involved with Tangle® and shares our passion to build the business and take it to the next level.
Yes, both my son and grandson are involved and it's a beauti ful thing! To have three generations involved and passionate about something you invented is incredible. When Tangle® rst launched in 1982 at the San Francisco Gi Show, most of the "experts" in the eld said it would never last more than 18 months. Now here we are in our 41st year of business, entering our 42nd in October. e lesson here is simple: Don't listen to the experts; just listen to your heart and create things that are meaningful and timeless. is has always been our main objec tive: To create objects that are useful for people, for their brains, for their creativity and also for their use as therapeutic outlets. We even have a Tangle that has FDA medical device registration as a therapeutic object. Isn't that a wonderful thing!
products while always looking for new markets, new partners, and new opportunities. Innovation is in our DNA. Our core product has not changed in the 41 years we've done business and it continues to grow and thrive even to this day.
Brave New World (of Toys)
FEATURED CONTENT
With most facets of everyday life now stabilized, toy people would love to discuss just about anything other than Covid and its aftershocks. The trade routes and supply lines that haven't opened back up, have been re-evaluated, re-routed, or replaced. Consumers are eager to get back into stores, continuing the massive sales boom that toy manufacturers and distributors have enjoyed as a side-effect of the pandemic. However, a big question lingers in the air; how long will this spike in sales last? We reached out to several toy executives from across the manufacturing and distribution sectors to get a pulse on the industry concerning the immediate future, and 2023 at large.
David Niggli, the Chief Merchandising Officer of world-famous toy store FAO Schwarz, corroborates reports of hightened customer foot traffic with his first-hand experience. He also offered his thoughts as to what led to this shift in the first place. "During the past two years, we have seen a significant shift in consumer behaviors. As families have spent more time at home together, parents have adopted a stronger viewpoint about the importance of play; and with that, families' expectations around the types of toys with which they want to engage has increased. Parents are not only looking for entertaining toys, but they really want unique designs, high quality, and strong play value as well. We have seen higher average transactions in our retail stores and the strongest sellers are the toys with extended play."
Jay Forman, CEO of Basic Fun, adds, "It's clear the post-Covid surge in sales is over. You can see that in the economic data, as well as reported results from a wide range of retailers. There is too much inventory in the pipeline now, and demand is softening as consumers are on the road this summer spending in the service economy, given the pent up demand to get out of the house and travel. That's clearly having an effect on retail in the spring and summer. However, kids will always want new hot products and tried and true toys they don't have yet. As we say in this business: 'Christmas always comes, and there are always new toys under the tree and menorah!'"
Arkeveld, United States General Manager at Moose Toys also maintains a hopeful outlook. "Moose Toys found a way through the pandemic, building price points and offerings that touch that sweet spot
Some companies are optimistic, and think that this sales wave has a ways yet to go before breaking. Kim Boyd, Head of Global Brands and Consumer Innovation at Hasbro, said, "If the last few years taught us anything, it is to expect the unexpected. While there's a slew of determining external factors that impact sales, we do anticipate another strong year across our unmatched portfolio of brands. We see strong retailer enthusiasm for our back half of the year innovation, and we are well positioned this year with inventory on hand to meet that demand, especially during the holiday season."Steve
by Nick Truss
of giving people what they want, layered with Moose innovation and interactivity. We still are planning our sell-through to be up significantly and that's due in part to several very well-received new product launches. All of this has Moose well positioned to break through and build topline growth."
32 tfe September 2022
Aaron Muderick, Founder and Executive Chairman, of Crazy Aaron's, offered a more measured assessment of the pandemic sales boom. "Although the toy industry overall saw significant growth during the pandemic, sales in specific toy categories were not wholly positive. While certain types of toys saw 100% growth over the pandemic period through today, others saw declines as much at 50%. As the lives of children continue to find a new normal, it is inevitable that sales in the categories that experienced the strongest growth will level. Categories most negatively impacted should see a strong sales recovery beyond those of pre-pandemic levels."
By far, the majority of respondents expect lower sales figures going into 2023. When asked if the sales surge would continue, Zuru's Global Marketing Director Henry Gordon remarked, "No, what we will see is conservative spending. This isn't just in toys; across all categories, sales are down. This is for several reasons, but consumers are seeing that prices are going through the roof with inflation. This rise is substantial, we are seeing prices have increased to a third higher than they were in 2019."
@WOMENINTOYS WOMENINTOYS.COM WomeninToys,Licensing&Entertainment/TheWiTFoundation isa501(c)(3)nonprofitorganization. Letussupportyourcareerjourney. Letusconnectyoutoyournextopportunity. Letuswelcomeyouintoourglobalcommunity. Joinnowwithcode: WELCOME2022 for20%offyourmembership. Ourmembersopendoorsforoneanother,share theirknowledgeandexperience,andareimpacting changethroughoutourindustry.
FEATURED CONTENT
Con dence in one's experience and library of franchises is key, says Hasbro's Ms. Boyd. "With roughly 100 years in the industry, we are fully accustomed to whatever comes our way. Our teams are focused on planning ahead to continue to drive growth and meet the demands from our fans. We have con dence in our initiatives for the remainder of this year and well into 2023 with exciting new products and innovation to keep our fans interested."
Alan Dorfman, President of Super Impulse, puts a ne point on several factors that may cause a dip in sales. "Excess inventories, high gasoline prices, as well as double digit in ation, the end of government supplement monies, the overall economic slowdown, and general uncertainty are a ecting retail sales in a signi cant slowdown that is expected to continue through 2022."
Bill Sinacore, PlayMonster's Vice President of National Accounts, o ers, "We don't believe the post-COVID sales surge will continue. It was an extraordinary event for two years, but things are becoming more normalized now, so sales should even out. Plus, there are economic factors a ecting consumer buying decisions, and that will have an impact on sales as well. We expect the industry to only grow in single digits, or even be at this year."
Super Impulse's Alan Dorfman adds, "We are keeping an eye on inventories, we've been accepting purchase order reductions and delayed ship dates from customers, and we'll tighten our belts where necessary. As an impulsed priced product line, we are not as impacted as other companies with higher price point products, but we certainly are not immune."
Toys is relying on it's creativity to weather any potential storms. Mr. Arkeveld remarks, "We're not expecting a massive slowdown, but we also can't ignore the current climate. at said, Moose is continuing to do what we do extraordinarily well: innovating. Kids will always want the best toys, and Moose always delivers that with innovation. Moose is dedicated to making the best products with the most sought-a er features, from interactivity, to engaging multi-layer play patterns, to collectibles, to licensed properties. at push for delivering the next must-have buzzedabout product is a constant driver for us."
34 tfe September 2022
Preparing for the Worst
Whether a dip is still far o , or right around the corner, no good thing lasts forever. Even the most optimistic companies are wisely putting contingencies in place, should a sales downturn be sudden and severe. For some, the solution is nothing new; listen to what the consumer wants, and develop engaging new product that meets that want. Mr. Sinacore remarks, "Product innovation and marketing are still very important. We plan to give consumers what they are demanding, what is trending, and get our voice out there through creative marketing to get consumers to see, and buy, PlayMonster products."
Not content to simply chalk lower sales up to any one factor, the folks at Playmates are staying on their toes, and rolling with any punch that comes their way. Mr. Aaronian explains, "Some issues can be identi ed and addressed immediately. For instance, inventory (too much, or too little), having the right mix of styles and SKUs on-shelf, etc. A major content drop (movie, series, etc.) can de nitely spike sales, especially if the content remains high-pro le for an extended period. Temporary price reductions can be very e ective in spiking sales in the short term, especially if the brand or SKU is price sensitive. Of course, sometimes there is just a natural decline in the brand, due to its phase in the life cycle. In those cases, it's tougher to reverse the trend, unless a major development or event moves the needle and gives the brand extended life."
for children's development through play. But which toys are chosen by parents? Which toys are desired by children? Keeping a exible product development process and an ear towards upcoming trends is the best medicine."Moose
e reactive downturn in growth may be opposite to the pandemic surge, but it need not be equal, necessarily. Playmates Toy's Senior Vice President of Marketing Karl Aaronian sees the situation for what it is, but maintains a hopeful optimism. " e bloom is already o the rose for many toy categories and brands. From an inventory standpoint, the pendulum has swung from a shortage of inventory making it to retail shelves, to retailers having too much in their warehouses and distribution centers, leading to markdowns and ushing of excess inventory. Hopefully, by mid-2023, we'll return to a semblance of 'normal' market conditions and a reliable, predictable supply chain."
Crazy Aaron's is inclined to agree, as Mr. Muderick adds, "A depression in sales, for any reason, forces refactoring of the business problem. Is it channel related? Is it product? Is it marketing? We know toys are the tools
An abundance of caution and a careful outlook is understandable, but whatever 2023 may have in store, the industry is ready to face it head on, and with redoubled gusto. Mr. Foreman of Basic Fun is bringing an eager energy into the new year that one can't help but admire. "We are optimistic about 2023. For us, it's all about our product line and how dynamic and appealing it is. Good economy or weak economy, we will be ready and red up for '23!"
Sinnacore of PlayMonster o ers his thoughts, further mirroring the bright and con dent energy of his industry contemporaries.
Keeping consumer cost low is crucial, as indicated by Basic Fun's Mr. Foreman. "In our business, the strategy is always new, fresh and on-trend, keeping price points a ordable or value high for higher price points. Also, we continue to look for new retail partners and to add listings with our existing accounts. We've seen many slowdowns over the years. As opposed to Covid and the supply chain crisis, an economic downturn is nothing new, and we have a well-worn play book for this."
Having greater control over stages of production is a boon in times of lower sales, Mr. Gordon indicates. On Zuru's market preparedness, he says, "We are set up to survive, and even sometimes thrive against our competitors in this type of environment. We are operating with vertically integrated manufacturing, so our back-end production enables us to deliver better value with lower price points than traditional companies, who are forced to raise their RRPs to cover their production cost increases. is is great news for our consumers, as they get a great product for a lower price tag."
Hoping for the Best
36 tfe September 2022
FEATURED CONTENT
Speaking of retail partners, Mr. Niggli o ers insight on FAO Schwarz' tried and true strategy for driving tra c to the store: new experiences. "Our strategies today are consistent with how we've managed the business for the past 160 Years; demonstration and experiences are part of our DNA, and will always be integral to driving sales. Now more than ever, consumers are expecting more, and are looking to engage when they visit our store. From our magicians, to our Mad Scientists in our Discovery shop, to o ering customized and interactive shopping experiences from favorite brands like Funko and Barbie, delivering on this promise has allowed us to be successful even in tough times. Our customers value quality and play value above everything else, and we are seeing average retail pricing rising as the customer is willing to pay a little more for toys that deliver on those attributes. Additionally, we, like other retailers, are bene ting from the rise of 'kidult' purchases. We have always been a destination for collectors and we are seeing a very positive trend in purchases by adults for adults. You're never too old or too young to engage with FAO Schwarz."
Karen Branson, Senior Vice President, Head of North America at IMC Toys says, "IMC Toys remains optimistic as we look forward to 2023! With change always comes opportunity. Companies that can shi quickly and provide solutions that appeal to consumers will win, whether that is providing stronger price-value, developing exciting and innovative new products, or delivering brands and messaging that align with what is important to parents. We pride ourselves on bringing innovation into popular categories like nurturing dolls, collectibles, and fashion dolls, as well as supporting our brands with best-in-class content to entertain kids wherever they watch, like on Net ix, or on our Kitoons channel. We've also been bringing IMC's brands to new consumers as our global expansion continues, such as our newly announced introduction into the Australian market in 2023. Finally, we've been hard at work on our 2023 portfolio and look forward to sharing with the world a number of highly innovative new brand introductions in adjacent categories in the coming months!"
Ms. Boyd and Hasbro have a big year ahead of them with a milestone anniversary for the company. "Next year marks the 100th anniversary of Hasbro and 2023 is expected to be another huge year for us as we look to expand our already impressive footprint further in several categories in consumer products, gaming, and family entertainment. Our teams are driving focus and scale in gaming, multi-generational brands and direct to consumer. We will continue to expand on our portfolio of iconic brands as well as further capitalize on exciting new developments in the year to come."Mr.
When asked about Toy Fair 2023 and its new home in the Fall season, the concensus was generally positive, but some manufacturers are still assessing what this big change means for their opperation. Mr. Aaronian had some valuable input, with Playmates being based on the west coast. "Since we are based in Los Angeles, we have a slightly di erent perspective vs. others. ere is already an established routine of domestic retailers, international distributors, and inventors visiting Playmates Toys in our El Segundo showroom every August though October for a preview of the following Fall's product line, and any other product or content updates. We're in the midst of guring out a show and venue mix that works for us, our customers, and our licensing
A Fair Assessment
FEATURED CONTENT
ever further beyond the lockdown, shoppers will be even more comfortable going to brick and mortar stores. Mr. Niggli comments, "I am optimistic for 2023. From a retail perspective, every day we are seeing tra c increasing and numbers rise to pre-covid levels. We have all been locked down for such a long time and people are happy to get out and experience life again. FAO Schwarz has always celebrated the theatre of toys and play, and our shoppers are thrilled to visit us again- or for the rst time! Consumers are spending hours in the store looking for fun and unique toys, which we always try to deliver! We are also very optimistic about our FAO product line. Parents are in search of great toys and activities that deliver imaginative play and counteract screen time. We are experiencing great success in categories like plush, role play, creativity, and 'dual play' items that spark imagination and promote engagement with others and for the whole family. ese categories have always been staples at FAO, so we feel positive that 2023 will be another great year for us."
Given the tumult of the past couple of years, one would be forgiven for not speculating too precicely. Super Impulse's Mr. Dorfman remarks, "If I had a crystal ball, it would probably be cracked by now. In 2020, we had our best NY Toy Fair ever, and had high expectations for the year. ree weeks later we were quarantined, and 70% of our retailers were temporarily closed. In 2021, retail sales were surging, and the supply chain issues hit. e cost of containers, if you could get them, as well as overall transportation, went thru the roof. When we did get our goods to our warehouse, there was a severe labor shortage in getting the goods out the door. In 2022, we started o strong and now there are the issues mentioned earlier, clouding the balance of the year. So for 2023, I'll say I'm cautiously optimistic, but...who knows what will hit us next? Alien invasion? If so, I hope they like toys."
Zuru's Mr. Gordon says,"We are still working through what this means for our business as a whole, but we support a change if it aligns better for the industry at large and our buyers."
"2023 is going to be a hard-hitting and exciting year! We have one of the most powerful and innovative product lines in the history of our company, with game-changing launches that will have an impact on o erings for Playmates2023."
Moose Toys' Mr. Arkeveld had this to say on Moose's energy going into next year, "Moose's outlook for 2023 is quite positive. We plan to build on our 2021 and 2022 successes, which will be driven by continued growth of the Magic Mixies brand bolstered by new introductions, play patterns and extensions. We also have several new innovative launches in the works that represent some our biggest, boldest launches to date and, as always, bring the signature Moose 'superhappy' to playtime. Beyond new products, our evergreen brands like Goo Jit Zu, Real Littles and Little Live Pets continue to perform well for us. Licensing is another strong area for us, and we are continuing to build our portfolio with licensing partnerships with some of the hottest entertainment properties. Our fantastic partners include DreamWorks Animation's Trolls, Bluey, Octonauts and Strawberry
Shortcake."Aswemove
Withoutpartners."knowing
exactly what all the implications will be, it pays to have con dence in your company's ability to think on its feet.
38 tfe September 2022
has strong IP plans on the docket for next year, which is a cause for optimism. Mr. Aaronian explains, "A lot is going on in regards to major, merchandisable motion pictures driving some of our established/ proven brands: Teenage Mutant Ninja Turtles, relaunching w/ a major Seth Rogan-produced movie, Miraculous, with its long-awaited motion picture, extensive episodic content on Net ix, Disney Channel, and Disney +, a new Star Trek movie on the horizon, and of course, lots of new fantastic Star Trek episodic content like Strange New Worlds."
Mr. Arkeveld comments, "With the new timing, there will be new opportunities as well as some traditional decision milestones that will have to be adjusted. For our part, Moose Toys is an adaptive and nimble company. We're con dent that we can adjust to the new timing without missing a beat."
EXHIBITAPPLYTOTODAY Whatever your place in the business of PLAY... Toy Fair is for YOU! CapitalMedia of the World MerchandisingHolidayIn-Year PrivateMeetingsPreview'24UnlimitedSalesPotential
A–G contact: Simon Yung (syung@toyassociation.org)
General will in 2023.
open
H–P contact: Stacy Liebensohn (sliebensohn@toyassociation.org)
registration
industry
trade show
The iconic in the is
evolving.
most
Contact your Account Executive to exhibit and for any questions.
Company names beginning with
Q–Z contact: Michael Lynch (mlynch@toyassociation.org)
Mr. Dorfman and Super Impulse also welcome the new Toy Fair timing. "I like the new dates. For many years, we prepared for the Dallas Toy Show almost as much as we prepared for New York Toy Fair. So this will be similar effort, but without the stress of coming off a holiday season and Chinese New Year restricting our new product development. The timing will be more consistent with retail buying cycles, and will give smaller retailers the opportunity to see products for on-shelf for holiday. It will eliminate the need for two major annual shows, plus the L.A. "unofficial" show, saving
The new timing presents an opportunitiy to show off even more of what a company has in their product pipeline. Mr. Sinacore remarks, "The timing of Toy Fair is perfect. The retail cycle has changed, and the new timing encourages us to develop and present products sooner. Now, we can feature two lines: the current year's products that are available now, and the new for next year, which is exciting."
The move seems to be less of a consumate benefit, from the perspective of retailers. But ultimately, with how immediately and frequently announcements, virtual conferences, and general communication happen in today's digital age, Toy Fair serves a different purpose to the industry now than it once did. FAO Schwarz' Mr. Niggli offeres his thoughts:"Toy Fair is a great opportunity for the industry to come together and to see new companies, new toys, and overall trends. Fortunately, technology has evolved to where we are now in more frequent communication with both our vendors and our customers, so we are all a little less reliant upon Toy Fair from a perspective of seeing what's new. As a small specialty retailer, having Toy Fair in February was helpful in that it allowed us to complete the holiday season with a strong sense of which items and brands performed. For many years now, the Toycos have been showing retailers their lines in Fall so having Toy Fair align with that makes a lot of sense."
Based on most of the responses to our questions, Toy Fair's move to Autumn makes sense to a lot of company executives, and will likely benefit their business. Crazy Aaron's Mr. Muderick explains, "The timeline restructure of Toy Fair makes tremendous sense! This shift long term will make our product pitching timelines less difficult and less desultory. There was a significant discussion at the board of the Toy Association about this and there was consensus on the change for many reasons. It is important to remember that Toy Fair is not the only tradeshow where toys are presented to buyers. The movement of Toy Fair to the Fall will happen in a dynamic market of gift shows, specialty toy shows, and international shows. Each show will change to take advantage of opportunities in their time slots and geographies. As all of this shakes out, the industry will benefit."
Mr. Foreman of Basic Fun adds, "Not that I'm biased, but this move is a great idea and great for our industry. To me, it's clear that the retailers that buy over 80% of toys sold in the US and likely the world need to plan and order earlier not later. February has not been a good time for a toy fair for over 50 years. It's just always the way it was. The supply chain has shown clearly that we all need to work further out and expand the timeline from development to production and preview to ordering product. Fall shipping now begins in March and April instead of June and July. That means Toy Fair in February is meaningless to the makers and sellers of the majority of toys sold. Those that can work on shorter timelines can do more specialty oriented shows in the first or second quarter."
New Toys for a New Industry
back to the big IP plans of Playmates, Mr. Aaronian offers, "We love our pop culture collabs – and so do the fans. For example, the TMNT - Stranger Things and TMNT - Street Fighter crossovers have great kitschy collector appeal that attracts fans of all three franchises; Classic Star Trek warps back onto action figures shelves and we are celebrating two major anniversaries: Star Trek: The Next Generation 35th, and the original Wrath of Khan 40th. And let's not forget Miraculous: Tales of Ladyboug and Cat Noir, which is gearing up for its blockbuster movie with some beautiful shimmery fashion dolls. Plus, we're tapping into the evolutionary nature of the brand/show, with a vehicle that transforms from role play accessory to a fashion doll-scaled scooter."
FEATURED CONTENT
Through it all, no one has forgotten that which unites us all: a love of toys. The drive to create the next big thing that will knock kids, adults, and kidults off their feet has kept us motivated through the most trying periods of the pandemic, and that drive isn't going anywhere. We asked each respondent to give us an elevtor pitch on what new and exciting things we can expect from their companies in this upcoming year of opportunity and newfound possibility. As expected, there was no shortage of enthusastic responses!Harkening
40 tfe September 2022
significant expense. I expect it will help consolidate the industry, which is splintered in the Fall between L.A. and Dallas. And finally, Fall in New York is a beautiful time of year to be there. I've experienced two record breaking snowstorms in NYC in February during Toy Fair, which I will not miss."
Lastly, Mr. Niggli hints that there's never been a better time to visit FAO Schwarz. In addition to expansions to their FAO-abulous Fashion role-play line, and ride-on trains, he further remarks, "In celebration of our 160th anniversary this year, we have a collection of toys and collectibles celebrating this milestone with items from Funko, Hot Wheels, UNO, Barbie, Madame Alexander, Schleich, Bunnies By The Bay, Iron Studios, Ruby Red, and of course a collection of FAO teddy bears. We invite everyone to our '160 Years of Toys' celebration on October 8th at FAO Schwarz 30 Rockefeller Center, where we will be celebrating inside the store and on the plaza."
Picking just a few things to highlight can be tough, as Mr. Foreman indicated when we asked about Basic Fun's new offerings. "We have so many great new products it's hard to decide which ones to talk about! We have a new micro figure range for Care Bears, a new novelty plush concept called Misfittens, a range of candy-branded soft collectibles we call S.O.S, great line extensions for Lite-Brite, and we are bringing back the classic Coca-Cola plush range featuring their CGI polar bear character. We are ecstatic about our 2023 offering, and we can't wait for Toy Fair in NY in 2023!"Karen
Playing it close to the chest, Zuru's Mr. Gordon says, "We can't give too much away, but for fans of X-SHOT, expect to see a fun twist on the never-before-seen innovation we released in 2022. Consumers will be looking for value, they want to get more for their money as they must make it stretch further than previously. But understandably, they don't want to compromise on quality. Our focus is on being able to keep our accessible price point while showing huge innovation for maximum play value. Children are some of the toughest critics around, and we are set up to deliver them something really special next year."
Hasbro's."
Moose has plenty to showcase, as Mr. Arkeveld comments, "This fall, we will introduce Magic Mixies Magical Crystal Ball as a follow up to last year's record-breaking holiday sales hit Magic Mixies Magic Cauldron. Additionally, several of our evergreen brands are being infused with exciting extensions like Heroes of Goo Jit Zu Goo Shifters. Moose Toys' beloved, well-established and ever-innovative Little Live Pets line continues to expand with its latest interactive offering Mama Surprise, a realistic-looking guinea pig."
FEATURED CONTENT
Mr. Muderick of Crazy Aaron's adds, "2023 is exciting for Crazy Aaron's as well as the toy industry! Our industry attracts innovators and rewards invention. Though we don't know exactly what the future will hold, we know it will be engaging and exciting for our customers (the children) as well as for us (our businesses). Crazy Aaron's Thinking Putty has always provided a fabulous tactile play experience with unique, unexpected properties. Now the "poppabilities" are endless for both tactile and auditory exploration with Popp'n Thinking Putty. This putty crackles, pops, and snaps adding a new sensation to playing with Thinking Putty."
42 tfe September 2022
what's in store with our Transformers, Clue, Peppa Pig and Dungeons & Dragons franchises in the coming year. Keep a close eye on product amplifying Peppa's 20th anniversary, a Clue game refresh and blockbuster entertainment offerings for Transformers and Dungeon & Dragons in 2023."
Mr. Dorfman says, in regard to Super Impulse, "We have a few new products that we think are great coming out this year. Our line called Minis-in-Minis Sugar Buzz will take the miniature collectibles to a new tiny scale, and features the best candy brands. Our Micro Figs/Mini Comic Books are a combination pack of a 1.25 inch Action Figure and a 1.5 inch full comic book. These feature Transformers, TMNT, and Masters of the Universe and Barbie, Hello Kitty, and Care Bears. And our Poptaters line - co-branded Potato Head, with full interchangeable parts - is hilarious! The first wave includes Bob Ross, GPK's Adam Bomb, Optimus Prime, KISS, and more."
Concerning PlayMonster, Mr. Sinacore remarks, "We're excited to share it all, but one of the highlights is the transformation of My Fairy Garden; the new product is beautiful! We have some great new, unique, and innovative games. We're relaunching the iconic Weebles line of toddler toys, and we're bringing more innovation to the incredibly successful relaunch of the Koosh brand."
Branson, likewise, is very passionate about all the plans that IMC Toys has for the new year. "While there is a ton of excitement and innovation across our portfolio, the brand the team is most excited about is our launch into Fashion Dolls with BFF by Cry Babies! Kids who have grown up with and love Cry Babies can now enjoy their favorite characters re-envisioned as teenagers! Dressed in trendy, aspirational outfits, the dolls still retain that sweet and wholesome style that is central to Cry Babies' brand DNA. The toy line is being supported with heavy marketing activations that started earlier this year, and will drive all the way up to holiday.
Kim Boyd comments, "We always have something new and exciting across our countless brands, but we're really looking forward to
Basic Fun
NEW PRODUCT PREVIEWS
Virtual Reality Oceans! Gift Box - Take a deep dive into the wonders of the sea in stunning virtual reality with VR OCEANS! The ultimate visual encyclopedia about our awe-inspiring underwater world, with over forty incredible, 360-degree VR experiences. Discover underwater mysteries, explore submarines and even swim with sharks! Includes a 96-page illustrated DK book along with hands free VR googles and a scratch art kit. Ages 8+, Available January 2023.
44 tfe September 2022
VirtualAbacusReality
Animals! Gift Box - Uncover the marvels of the animal kingdom in unprecedented virtual reality with VR ANIMALS! Featuring over forty, 360-degree VR experiences in incredible detail and stunning realism. Get up close and personal with insects and reptiles, amphibians, birds, mammals and more. Includes a 96-page illustrated DK book of animals from around the world, jam-packed with fun facts about your favorite fauna. Also includes hands free VR googles and your own customizable scratch art kit. Ages 8+, Available November 2022.
Penn & Teller Project Lab - Discover magic like never before in the new Penn & Teller VR Magic Lab. This ultimate, immersive magic experience features 50 interactive tricks, with step-by-step instructions in an easy to follow format! Watch as Penn & Teller demonstrate each trick in virtual reality, then break down each step in detail. Empower kids to engage and strengthen social skills, build confidence and develop public speaking skills. This 28-piece magic trick set Includes a 48-page book, including VR goggles to create an immersive learning experience. Ages 8 -12, Available January 2023.
The Care Bears are a lovable huggable group of besties who are always looking for new ways to share their care and now they're excited to introduce you to an all-new friend who helps champion that message – Dare to Care Bear! All about kindness, compassion, and acceptance to all around her – Dare to Care Bear says "it's cool to be kind!" Featured in a beautiful 14" inch multicolored plush look with two shooting stars on her belly, Dare to Care Bear is ready for any sharing and caring adventure you take her on! Ages 4+, SRP $14.99; Available Spring 2023
Get ready for firefighter duty and race to the rescue with the new Tonka Steel Classics Fire Rescue Truck! Made with cold-rolled steel and measuring close to 14" long, this big, powerful truck is built to last. Use the removable ladder to save the day - there's no task you can't handle! Aspiring firefighters will love the realistic details and bright red coloring as they imagine racing down the street to the aid of those in need. Ages 3+, SRP $24.99, Available Spring 2023.
Hot Wheels Go Kart - Just push the pedals from side to side for a smooth ride! Heavy duty grips for hands and feet! Kid Powered! No motor! No batteries! Rides on any hard surface indoors or outdoors. Hours of fun! Ages 4+, Available now.
Roller Racer Go Kart - Swing the pedals from Side-to-Side for Amazing Ride, Powered by Zig-Zag Motion, Rides on Any Hard Surface (indoors and outdoors). Kid-Powered, No Motor, No Batteries. One Size Fits All, Includes Extension for longer legs. Heavy Duty Grips for Hands and Feet. Ages 3+, Available now.
45 tfe September 2022
Gear up for your next battle with the all-new K'NEX Cyber-X C10 Crossover Legacy with Motor! A build and blasting experience unlike any other, you'll have ultimate control of the battlefield as you design, construct, and customize your blaster! Enjoy non-stop excitement as you build your dart blaster with the K'NEX Cyber-X C10 Crossover Legacy! This amazing set includes 460 rods and connectors and 7 cool builds to choose from—or get creative and design your own blaster! This set also features signature front armor to block blasts from opponents and a motor for rapid-fire power! Assemble a variety of targets to practice and perfect your aim! Foam darts fire up to 60 feet and special rod-locks ensure that your blaster stays together, even in the heat of battle! Rev up the motor on your C10 Crossover Legacy for extra-fun blasting! This set includes 10 foam darts, which are compatible with other blaster brands. This set includes step-by-step instructions for seven awesome builds. Or go rogue and design your very own blaster model! Ages 8+, Available now.
Basic Fun Cont.
Big Time Toys
Misfittens is a comical group of cats with a passion for…sitting! No space is too small for these funny felines—or so they think. But now that these curious Misfits have squeezed and squished themselves into meme-ishly tiny spots, they need your help to get them meowt! Inspired by the #ifitsisits meme, the Misfittens Cats are looking for new friends like you to join in their Misfitting adventures. And when they inevitably get stuck, be a pal and help them meowt! Misfittens are made with soft, squishable material that is easy to squeeze and stuff into the tiniest of spaces! Then rescue your Misfits today from their misfitting containers and watch them puff back up to double size! There are 12 Misfittens to collect, including a Walmart exclusive Cat! Each Misfit has their own special fur colors and personalities that make them unique. Every plush comes squeezed into 1 of 8 fun containers and includes a collector's guide with more information on your silly new pet. Collect them all! Ages 4+, Available now.
The Gigabots Energy Cores action figure line is expanding in 2023! Kids can continue to build, transform and battle with the new Gigabots action figures – and re-build and battle over and over again! There are 9 Gigabots to Collect and Battle. Three new intergalactic Gigabot action figures join the Gigabots line! Gigabots transform directly from their energy core capsules into a 13" fully-articulated action figure. Each hyper-stylized 4.6" plastic capsule not only contains all 33 interlocking parts needed to fully assemble your Gigabot, but also becomes part of the build! It's the ultimate unboxing experience! New figures include Commandbot, Sparbot and Sho-bot! Each Gigabot figure can be disassembled and stored again in their original capsule. All 13" Gigabots components can be interchanged with the other figures in the line. Ages 5+, Available Spring 2023.
46 tfe September 2022

ZipLinx Mega Set - Includes over 15 feet of ZipLinx, plus mega launchers and hammers to help create the ultimate chain reaction! ZipLinx Mega Set comes with 200 pieces! Ages 6+, Available Spring 2023.
Gigabots bugs – 6 to Collect Six new Gigabot Bugs transform directly from their energy cores into a 6" tall fully-articulated intergalactic pets! Each hyper-stylized 4" plastic capsule has all 16 interlocking parts needed to fully assemble your Bug, but just like Gigabots, also becomes part of the build. Collect them all including Waspbot, Clawbot, Rhinobot, Buzzbot, Fangbot, and Smashbot. Each Gigabot Bug can be disassembled and stored again in their original capsule plus can be interchanged with other Bugs in the line! Ages 5+, Available Spring 2023.
Blip Toys
NEW PRODUCT PREVIEWS
ZipLinx - Load 'em! Link 'em! Launch 'em! Continue to create high-flying, chain-reaction fun with new ZipLinx sets from Blip Toys! ZipLinx sets deliver a different eye-popping payoff to the classic domino run-- launching pieces up to three-feet high into the air! The magic of the ZipLinx system is the ease of set up ands no accidental starts of your run. Your design won't "pop" until you lay in the special Linx Launcher Key! Each uniquely designed 3.3" x-shaped, interlocking ZipLinx piece lets you create an unlimited number of designs.
ZipLinx Glow-In-The-Dark Blast - Includes over 10 feet of glow in the dark ZipLinx, plus mega launchers and hammers to help create the ultimate chain reaction! ZipLinx Glow-In-The-Dark Blast comes with 40 glow in the dark ZipLinx, 3 mega launchers, 6 hi-fly glow in the dark balls, 3 hammers and bases, 1 hammer extension and 1 launcher key Ages 6+, Available Spring 2023.
Twilight Buddies Dragon - Twilight Buddies are ultra-cuddly friends that help ease children's fear of the dark by projecting a starry night sky onto bedroom ceilings and walls. Hidden within the soothing starry projection are the moon and 3 constellations! A fun, plush pal by day and soothing light by night, Twilight Buddies will be one of your child's best buddies for play-time, bedtime, anytime, anywhere! Light the way to a good night's sleep with cute and comforting Twilight Buddies that have the same calming effect as our award-winning Twilight Turtle. Choose your child's favorite character and before you know it, they'll be begging for bedtime! Simply place this little plush on the floor in the center of a room and turn out the lights to get the full, ethereal effect of sleeping under the stars. In addition, the three soothing color choices create unique ambiances associated with positive moods. Amber projects warmth; blue is peaceful; and green inspires feelings of harmony and renewal. The Twilight Buddies shell also casts a warm glow that makes the darkness less daunting. Available Fall 2022.
Little Big Friends: Musical Friends - These adorable Musical Friends are perfect for little ones and will quickly become their favorite playtime toy and bedtime companion. Each animal plays a different melody that will help soothe and prepare them for sleep. They are an ideal gift and complement the baby's room beautifully. The unique material is soft, hypoallergenic, and easily cleaned providing parents peace of mind. Available Now.
CloudDiffusionbLove
Light Buddies - This multisensory product with soothing sounds, calming lights, and a soft touch to reassure the child. In addition to the melodies and white noise, the LoveLight Buddies have a recording function so parents can leave a sweet message or sing their child's favorite lullaby. They also light up with a warm glow that gently pulses to soothe little ones. Conveniently, the Shake & Play motion sensor reactivates the functions with a gentle movement of the plush. The light, sound, and the recorded message will turn back on where it left off. The LoveLight Buddies can be attached to the crib with a removable fastener and may be placed in the bed as the child grows. The rechargeable device is removable from the plush, making it convenient to wash the plush as well as allowing the device to be used separately. Available for all ages. Available Fall 2022.
Cloud b's Tranquil Whale is a new spin on our original award winning Tranquil Turtle! Tranquil Whale will transform a child's room into a peaceful oasis. The light projector creates a serene underwater effect - complete with softly undulating waves - while the sound machine offers two calming choices: a gentle melody or whispering waves. Tranquil Whale is the perfect solution for kids who are afraid of the dark. Available for all ages. Available Fall 2022.
BTL
Magna-Tiles Ride Along Trolley - Ride along on Trolley to visit your some of your favorite places, the castle, the museum go round, the beach hut, the tree and of course, meow, meow, and the clock. All Daniel's friends are ready to go along for a ride. This set contains 13 three -inch square tiles, 1 three x six inch rectangle and 1 chassis. Ages 3-5, Available now.
Create Magna-TilesOn
48 tfe September 2022
Land of Dough 1 Ounce Mini Cups - Curiosity in a cup! Land of Dough Mini Cups feature a variety of themes in two matching color tones including Red Apple, Orange Fox, Yellow Sun, Green Frog, Blue Whale, Purple Flower, Pink Hearts, and Black Penguin. The adorable 1oz cups are conveniently sized for all occasions! Ages 3+, Available October 2022.
Crazy Aaron's Land of Dough Snow Buddy Dough Roll - Snow Buddy is cuter than this classic wintertime dough roll! Build a snowman or craft something magical this season. Ages 3+, Available October 2022.
Hide Inside! Santa's Hidden Helpers - Holly & Berry need help finding their outfits on the checklist! How fast can you find all six? Ages 3+, Available October 2022.
Land of Dough Jolly Pal Dough Roll - If you believe it, you can create it! This Jolly Pal Dough Roll is here to help you deliver some ho ho holiday hits. Ages 3+, Available October 2022.
NEW PRODUCT PREVIEWS
Goodnight, Daniel - Your child will engage with their favorite characters through hands-on play! Introduce bedtime routines with Daniel Tiger; bath time, brushing their teeth, story time, a lullaby and off to bed! Turn the number tiles into a nightlight by adding your own LED light inside. Explore, play and learn with all of our innovative Daniel Tiger's Neighborhood sets. This set contains 2 large pentagons, ten three-inch square tiles, and 5 equilateral triangles. Ages 3+, Available now.
Creativity for Kids
Create On Magna-TilesCont.SoMany
Plant & Grow Woodland Forest -This whimsical mushroom shaped terrarium comes ready to decorate, plant and grow. Just add water. Create your own fantasy forest habitat complete with a friendly gnome, potting mix, stickers, colorful sand for layering, a snail and mini-mushrooms. Foster the love of nature with our easy-to-grow chia seeds. Kids will love watching their garden come to life in as little as 3-5 days. Water dropper included. Finished Garden measures 5½" high x 5" wide. Ages 6+, Avalable September 2022..
Pom Pom Pictures Magical - Parents and care-givers will appreciate these no-glue, no-mess "pom pom push" crafts. The perfect sensory activity designed with little fingers in mind. Each kit includes enough materials to create 2 tactile boards. Simply add the self-adhesive wiggly eyes, then push the pom poms into the pre-punched, sturdy felt. To make a new design, just push out the pom poms and start again. This simple craft builds creative confidence and encourages independent, quiet-time play. Zip storage bag makes these great for travel too! Helps develop fine motor skills, color-matching and eye-hand coordination. Proudly display them in your room with the hanging strings provided. Ages 3+, Avalable September 2022.
Sticky Wall Art Rainbow - No glue needed! Designed with little fingers in mind, simply fill in the 13" x 13" sticky picture with the colorful sensory craft materials included. This calming craft builds creative confidence and encourages independent, quiet-time play. This sensory activity helps develop fine motor skills, color-matching and hand-eye coordination skills. The low-tack hanging strips provide a safe and accessible craft surface that can be played and displayed on walls, doors and other flat surfaces. Ages 3+, Avalable September 2022..
Feelings - Introduce social and emotional learning with Daniel Tiger and friends while helping children identify their feelings. This interactive set encourages social and emotional development. Show them how you can feel more than one feeling at the same time! This set contains 1 six-inch square, 2 six-inch rectangles, 3 three-inch rectangles and 12 three-inch squares. Ages 3+, Available now.
Cocomelon Bedtime Songs - The experience is here, CoComelon and Magna-Tiles Structures have teamed up to engage your child with their favorite characters through hands on play and learning. Our CoComelon Bedtime Songs Set will help introduce your child to healthy bedtime routines through interactive play. JJ and his friends help make bedtime and bath time fun, all while being able to identify body parts, numbers, and more. Sing the "Bath Song" and build the tiles to make this bedtime routine easier on everyone. Then jump right into singing "Twinkle, Twinkle, Little Star" to begin the nighttime transition into bed, show them the stars through the "telescope," Kaleidoscope and bring light to your kiddos room by building the night light. Add your own LED light inside and watch the stars glow. This settling routine brings calm and the needed distraction to help your little ones have an easy transition to bedtime. Parents everywhere know routine is key in getting the most adorable of kiddos to bed every night, JJ and friends are here to help. All our Magna-Tiles Structures are compatible with each other, so let the inspiration and creative thinking flow, the routines and experiences will last a lifetime. Also look out for Cocomelon Farmyard Songs (animals, colors, counting, and more) and Cocomelon Schooltime Songs (shapes, building, and more). Ages 3+, Available now.
49 tfe September 2022
Gardening Bear 20 Piece Puzzle - Celebrate the bold and beautiful colors to be found in the outdoors, with this fun 20-piece kids puzzle depicting a vibrant Gardening Bear. Look how carefully they tend to their patch, where flowers, vegetables, and wildlife are in abundance! Can you almost smell the lavender? Ages 3+.
eeBoo
Cuddle Barn
ye, hear ye! Cuddle Barn has introduced a set of new Storytellers! Meet Sir Barrington the Storyteller and Sir Frederick the Storyteller. These adorable medieval plush friends have eyes that light up as they read the tales of "The Emperor's New Clothes," "The Frog Prince," "The Story of King Midas," "The Princess and the Pea," and "Rumpelstiltskin." Ages 2+, Available January 2023.
Take to the sky, cross oceans wide, or pedal alongside 3-wheeled friends in this charming Pets in Motion 20-piece puzzle. This bright and cheerful scene is sure to bring a smile to young faces as they piece it together, with plenty of tales to be imagined on completion. Where is each animal going? Beautifully illustrated by Monika Forsberg and finished to the highest quality with glossy touch, this puzzle will not only provide challenge and intrigue-it feels lovely to play with too. Ages 3+.
Wait, what was that sound? Oh, it's a bear! With Guess Hoo Bernie and Guess Hoo Owen, you'll know all the critter sounds in the forest! Listen carefully as they play a forest animal sound, and make a guess on what animal it is! Each sound reveal is followed by a fun fact about that critter! This game is fun and educational for kids! Ages 18 months +, Available January 2023.Hear
eeBoo products are more than just beautiful gifts, they offer an opportunity to connect across generations. Their products are made with recycled materials and printed vegetable-based inks. eeBoo's screen-free activities are designed to encourage curiosity, love of learning, and developing important key social skills.
The Out to Play a 64-piece jigsaw puzzle captures a summer afternoon where the neighborhood kids are outside exploring, playing games, and cultivating life-long friendships. A nice reminder of how simple things such as tire swings, treehouses, and riding bikes continue to make fond childhood memories. A colorful and feel-good illustration from Monika Mikai. This 15 x 15-inch square puzzle will be a great activity for the whole family to enjoy. Ages 3+.
50 tfe September 2022
NEW PRODUCT PREVIEWS
Racing Hedgehogs - Run little hedgehogs! Play your hedgehogs cards to race to to the finish line. Plan your strategy to go past the other runners, or you might end up at the back of the pack! Ages 6+, Available September 2022.
Faber YoungCastellArtistLearn
to Watercolor - Explore the wonderful world of watercolor with this all-inclusive set, perfect for artists at all levels. Featuring 12 vibrant, watercolor cakes, 2 assorted paint brushes, easy squeeze water brush, resist art crayon, 12 sheets of paper and more. Illustrated instructions offer techniques such as washes and resist art. New updates include larger paper for painting and upgraded packaging to an eco-friendly, corrugated storage box. Just add water and get ready to explore, paint and create. Ages 5+.
Fox Mind
51 tfe September 2022
Get the fun started at game night with Slam Words, the party game that fits in the palm of your hand! Shake the cup, slam it shut and reveal 3 letters. Players find a word that uses the three letters and pass the cup until someone is out! Last player standing wins! Made of sturdy plastic and flexible silicone, the smooth design of Slam Words is meant to last, just like the fun times you will spend playing with friends! With no time limit, no player count and no pieces to lose, Slam Words is a blast that is unsurpassed! Ages 8+, Available now.
Young Artist Texture Painting Set - Experience the joy of creative artistic expression. This set has everything you need to experiment with color, texture, paint and patterns. Perfect for kids, this texture paint experience features: 5 colors of tempera paint, 3 new texture tools, 3 texture pads, 2 rollers, paint tray, 20 sheets of paper and a reusable carrying case. Illustrated instructions teach color mixing and texture painting techniques. Updates include new brushes, brighter paints, rollers and texture sheets. The plastic bag packaging has been upgraded to an eco-friendly corrugated box. Great for storage and for environment! Ages 5+.
Match Madness Duo offers a perfect blend of engaging puzzles and speed driven dexterity challenges. The game develops pattern recognition skills as players shape elegant patterns that have a stunning table presence. Match Madness Duo requires flexibility in thinking and problem-solving abilities. It also helps develop frustration tolerance and requires good sportsmanship in playing against others. This pure game concept relies on a design that has been methodically developed to be intuitive, simple and fun. Appealing to younger kids and competitive fun for older players, Match Madness Duo delivers in every way the essential elements of an award-winning game. Ages 8+, Available now.
Doctor Livingston Jr. Kids Human Brain Floor Puzzle - Piece together this 100-piece cross-cut of our noggin from corpus callosum to the spinal cord. Pick up the cerebellum that coordinates our body's movements. Find our brain stem that tells the heart to beat. Snap together the cortex that enables us to make sense of our surroundings and remember our experiences. See how the brain and its blood vessels relate to our facial bones, eyes, and upper jaw. When finished, kids can lean back and appreciate their hidden anatomy, larger than life, at 500% magnification. Also includes an Anatomy Reference Guide, to teach anatomy while you build. Also look out for Doctor Livingston Jr. Kids Human Heart Floor Puzzle - Piece together this 100-piece cross-cut of our tickers–arteries, aortas, and all. Grab the atria and ventricles that team up to pump nutrients throughout our bodies. Spot the arteries that transport blood to the lungs and the veins that whisk away waste products. Click the valves together that keep our blood circulation in the proper direction. Arrange the special myocardium muscle that squeezes the heart into its beat. When finished, kids can lean back and appreciate their hidden anatomy, larger than life, at 600% magnification. Both puzzles are illustrated by a Certified Medical Professional from Johns Hopkins University. Available now.
Genius Games
52 tfe September 2022
Ion: A Compound Building Game (2nd Edition) - Ion is a simple card drafting game where players select from a number of available ion cards and noble gas cards, aiming to form neutrally charged compounds or sets of stable noble gases. Players take turns passing their hands, choosing one card to place in front of them, and passing the rest to the next player. After three rounds the player with the most points wins! Ion has received a brand new version after its original release in 2015. This new version contains an entire revamp of the artwork, a new theme, and updated rules to allow for quicker play, and more accessibility options for new and old players alike. Available now.
NEW PRODUCT PREVIEWS
Ecosystem: Coral Reef - Dive deep to build your own ecological network in Ecosystem: Coral Reef, a card drafting game of marine competition. Players choose, pass, and arrange cards representing a diversity of organisms found in the Great Barrier Reef, including coral, clownfish, sea turtles, and sharks. Earn points by aligning animals with the habitats and food sources where they most flourish. Diversify your food web to maximize bonuses. Each time you play, you build a one-of-a-kind ecosystem as you strive to balance the delicate connections between all living things. Available October - November 2022
53 tfe September 2022
Garden Tool Set - Little ones can help their gardens grow with the beautiful metal and wooden garden set. As spring sprouts new plants, flowers, fruits and vegetables, kids can learn all about cultivating their own home gardens with the six-piece set including watering can, spade, hand rake, planter and wooden markers. Ages 4+, Available Spring 2023.
Love Wordle? Gather friends and family together to enjoy the favorite word-guessing game in real life with Wordle: The Party Game! Inspired by the digital version of the Wordle game, this analog game for 2-4 players delivers the classic Wordle gameplay as an exciting party game. Each round, a player designated as the Wordle Host writes down a Secret Word. Just like the original Wordle game, players try to guess it in the fewest tries (six max). But in this game, players are competing against others. The fewer tries a player needs, the fewer points they score. The player with the fewest points at the end of the game wins! Ages 14+, Available October 2022.
Turn your play space into the Ultimate Play-Doh Ice Cream Truck party! The Ultimate Play-Doh Ice Cream Truck is a life size kitchen set that gives kids a big space to express their big imaginations. Create so many pretend treats with the 27 tools and soft-serve station, customize the creations with the sprinkle maker, tools, and candy molds, and check out customers at the register. Fun realistic music and cash register sounds will make kids feel like they're really running their own ice cream truck while 12 cans of Play-Doh modeling compound give them all the colors they need to get started. Kids can play together whether they are creating pretend Play-Doh ice cream or act as the customer and make play money with molds from the cash register! The toy food truck was also designed with parents in mind with lots of storage and easy ways to clean up when the fun is done for the day! The truck's "hood" is a locking bin that helps grownups decide when it's time to bring out the Play-Doh cans, allowing kids to play with the Ultimate Ice Cream Truck Playset even if the Play-Doh is away. Ages 3+, Available now.
LettersCont.and
Hape
Numbers Tracing Set - Little ones can get a head start on back to school basics with the Letters and Numbers Tracing set. The 66-piece set has everything needed for little ones to master their ABC's and 123's by using the easel-compatible pad to practice writing and drawing letters and numbers with the included large stencils. Kids can have fun practicing and perfecting their fine-motor writing skills with the colorful markers. Ages 3+, Available Spring 2023.
Hasbro
Blast with the power of airblitz action or motorized mayhem! The NERF Elite 2.0 Motoblitz Blaster features 2 ways to fire darts, giving you flexibility and tactical advantage in NERF games. Unleash 6 darts at once with airblitz blasting powered by air pressurized pump-action. Pump the handle back and forth and press the airblitz button to release a 6-dart swarm. Take on opponents with motorized blasting to fast-fire 10 darts in a row in rapid succession. Load the 10-dart clip into the blaster and you're ready to go when you rev up the motor and pull the trigger. This 2-in-1 blaster includes 22 Official NERF Elite darts to fill both blaster modes. Use the integrated scope to help with aiming. The tactical rail gives you the ability to customize the blaster with NERF accessories. Eyewear recommended (not included). Accessories sold separately, subject to availability. Requires 4x 1.5v AA alkaline batteries (not included). Ages 8+, Available now.
NEW PRODUCT PREVIEWS
Hog Wild Toys is back with their next knockout, introducing Stiky Punx! New Stiky Punx combine the fun of a classic carnival game, with unique quick-load sling-shot action! Load the uniquely designed for safety plastic sling shot and launch soft foam balls as you try to knock-down the Stiky Punx. The Stiky Punx are sticky! So, the foam balls will stick to them when launched. Each of three new carnival themed Stiky Punx is over a foot tall AND they rock back and forth, adding to the target challenge. Hit your Stiky Punx enough times to topple it over and win! Available in three different styles –Tiger, Lizard, Gorilla. Ages 4+, Available Q4 2022.
54 tfe September 2022
Hog Wild
Feel great. Feel fantastic. Feel Goo! Introducing a new line of sensory playthings from Hog Wild Toys. Feel Goo! playthings come in dozens of hand-held shapes and sizes – from animals to food to common silhouettes like spheres, ovals, and eggs. Each is made up of multiple chambers of sensory fillings like colored slime, beads, and gel. Full of satisfying textures, bright colors, and different sounds like crackling, sloshing, and squishing. Squeeze it, touch it, prod it, stretch it. Ages 4+, Available September
chopsticks to the next level with the new Handy Chops Chopsticks! These quirky chopsticks are the newest extension of Hog Wild Toys' popular Handy Grabs brand! Handy Chops combine classic chopsticks with popular animal and human-like lil helpin' hands! Who says eating food can't be fun?! Spice up your meals whether you are eating ramen, sushi, or a shareable snack like popcorn. First time using chopsticks? Not a problem! The Handy Chops come with a detachable hinge to keep the chopsticks together while you master the technique! Handy Chops are made with food-grade quality and are dishwasher safe. Available in a variety of styles including Human, Frog, Eagle and Octopus. Ages 4+, Available October 2022.
Jada UniversalToys
Take2022.your

Monsters 6" Action Figures - Inspired by the classic Universal Monster films are these authentically licensed 6" action figures. These collectibles feature highly detailed sculpt and premium painted designs. The figures are fully articulated and come with multiple accessories and premium packaging. Available in Frankenstein, Dracula, Bride of Frankenstein, Creature from the Black Lagoon, and the Invisible Man- shop all the Universal Monster figures today! Ages 14+, Available Fall 2022.
Pokémon Flame & Flight Deluxe Charizard - The Pokémon Flame & Flight Deluxe Charizard is a fully interactive feature figure with over 30 unique lights, sounds, and movement reactions to the way it flies! Charizard flaps its wings and launches fire missiles from its mouth. Includes a 2" Pikachu figure & launcher for training. Ages 8+, Available October 2022.
Anime Hollywood Rides: Robotech - Authentically licensed from the Anime franchise, Robotech comes these premium quality Roy Focker and Rick Hunter Anime Hollywood Rides with figures. The 1:24 Die-Cast 2020 Toyota GR Supras will get you where you need to go, and fast! Check out the other Robotech Hollywood rides including vehicles designed for Max Sterling and Miriya Sterling. Ages 8+, Available Fall 2022.
Street Fighter and Mega Man Action Figures - Jada and Capcom are excited to introduce highly detailed 6' figures from the video game franchises Street Fighter and Mega Man. Street Fighter figures are available in Ryu, Chun Li and Fei Long. Each figure is highly detailed and modular. The Mega Man collection includes Megaman, Iceman and Fireman. Each figure is highly detailed and posable. Get ready to take on any challenger or master the elements. Collect them all today! Ages 8+, Street Fighter Available Fall 2022. Mega Man Available Spring 2023.
55 tfe September 2022
SquishmallowsJazwares x Pokémon - Officially planned to launch this Fall on PokemonCenter.com, the Squishmallows x Pokémon collab builds on each brand's unique DNA and multi-generational appeal. All-time favorite Electric-type Pokémon Pikachu and the Ghost- and Poison-type Pokémon Gengar will now be huggable Squishmallows. All Ages, Available Fall 2022.
CoComelon Chase includes 3 play modes - Chase, Hide 'N Seek, and Sit 'N Play. Each mode keeps little ones entertained in engaging ways and features songs, phrases, and sounds using the antennas to activate, including clips of 2 CoComelon songs: 'Heads Shoulders Knees and Toes' & 'Animal Dance Song.' Ages 1+, Available Fall 2022.
Jada Toys Cont.
Peek. Open the door of Casa Madrigal to discover 9 special edition figures with signature Doorables sparkly glitter eyes and unique glittery finish for extra enchanting play and display. This charming set includes Dolores, Louisa, Isabela, Mirabel, Camilio, Antonio, Julieta, Pepa, and the mysterious Bruno (who we don't talk about), all sized at approximately 1.5 inches tall. This fantastic Collection Peek gives fans the ultimate unboxing experience with a fresh packaging design featuring peel-and-reveal secrets. Ideal for collecting and trading, fans of Disney toys can join the fun of this new classic tale with Disney Doorables kids' toy figures and playsets. Open the doors to a world of imaginative play with Disney Doorables collectible mini figures. These charming surprise toys inspire creative play and delight kids and collectors from all over the world. Ages 5+, Launching September 2022 - January 2023.
56 tfe September 2022
Just Play
Dance like a dinosaur with the Sesame Street Dino Stomp Elmo plush toy. This dino-mite Elmo plushie celebrates children's interests in dinosaurs and engaging in role play! Dressed in a cuddly green dinosaur costume, 13-inch Elmo sings, moves his arms, and stomps along to the "If You're Happy and You Know It" song. It's so much fun that kids won't be able to sit still when Elmo prompts them to join in. The music and fun start with a squeeze of Elmo's hand. Little ones will love singing, dancing, and giggling along with their Sesame Street pal. Squeeze Elmo's hand again to hear him tell a roaring good joke! Dino Stomp Elmo is made of super-soft fabrics and contains 100% recycled polyester fill. This Sesame Street toy makes a great holiday, birthday, or "just because" gift for kids ages 2 years and up. Requires 3 x AA batteries (included). Sesame Street and associated characters, trademarks, and design elements are owned and licensed by Sesame Workshop. Since 1969, Sesame Street has been inspiring children with memorable friendships, music, and valuable lessons. Favorite characters like Elmo, Cookie Monster, Big Bird, Ernie, and Bert help kids everywhere grow smarter, stronger, and kinder. Ages 2+, Available Spring 2023.
NEW PRODUCT PREVIEWS
Behind Casita's door, a surprise is in store with the Disney Doorables Encanto Collection
With Series 3 of the Disney Doorables Puffables Plush, discover the fun of unboxing a mystery 10-inch squishable plushie hidden inside a tiny 5-inch house. Kids will love guessing which character from the stories of Disney's Mickey and Friends, Alice in Wonderland, or Disney Pixar's Toy Story is hidden inside. These adorable characters feature signature stylized detailing and large, sparkly glitter eyes. Pick one – or collect them all for imaginative storytelling, play, and display (each sold separately). Open the doors to a world of imaginative play with Disney Doorables collectible plush characters. These charming surprise toys inspire creative play and delight kids and collectors from all over the world. Ages 3+, Available November 2022.
Learn and play with JJ! Get ready for food-themed fun with the CoComelon Veggie Fun Learning Basket Inspired by the CoComelon animated series, this 10-piece interactive toy comes with a shopping basket, checkout counter with handheld scanner, and 8 pieces of play food. Activate learning phrases by plugging a play food item into the slot on the checkout counter. Slide the ladybug to select from 3 modes: numbers, colors, or facts. The basket will identify the item and teach counting, colors, or fun facts about the food. "There are six green peas!" Press the button on the scanner for more phrases and realistic sound effects. Push the fruit and veggies through the chute, and the Veggie Fun Learning Basket counts aloud. Press the music key to hear the CoComelon song, "Yes, Yes, Vegetables!" Requires 2 X AA batteries (included). Ages 18 months+, Available Spring 2023.
Andrea'sLEGO Theater School - Know a kid aged 8+ who lives for their acting classes? Make their day with Andrea's Theater School (41714). Let them imagine being a star of the stage with this beautiful theater building, where kids who enjoy all things, drama will love exploring this detailed model's many features. Toys to feed imaginations The Victorian facade opens to create the theater, complete with orchestra and balcony seats. Opening the textile theater curtains reveals 2 backdrops – a medieval castle and a nighttime cityscape. Spin the theater round and there's rigging for the lights and a dressing room where characters get made up, just like at a real theater! There are also toy props so kids can create dramatic scenes of their own. This acting school set comes with instructions for the digital age. The interactive guide lets kids zoom, rotate and view their model in 3D as they build. Ages 8+, Available now.
TMNT Wave 3: TMNT BST AXN Casey Jones Skull Face 5" Figure - Casey Jones, aka Arnold Bernid "Casey" Jones is a fearless, aggressive, and "not-to-be-messed-with" NYC vigilante who's quick to the fight. 1:15th scale, 31 points of articulation; including a bicep swivel, double knee joint, double elbow joint, butterfly joints at the shoulder, ball joint at the ankle, upper thigh swivel, ball posts at the hips, waist swivel, an ab crunch, swivel and flex at the wrist, and a ball and post neck joint. Includes; multiple accessories –a golf bag, a baseball bat, a Goalie's hockey stick, a hockey stick, 2 head portraits, and multiple interchangeable hand gestures. Ages 8+, Available now.
Double Loop Stunt Arena - This LEGO City Double Loop Stunt Arena (60339) playset is packed with features and comes with 2 flywheel-powered stunt bikes and a monster truck with a ramp for performing real stunts. Arena props include a toy wall of flames, snapping snake loop and a loop of fire, plus lots of cool accessories. Just add the 7 minifigures, including 2 stunt bikers, for exciting shows and competitions. Build-and-play fun for kids aged 7 and up This LEGO City Stuntz playset comes with easy-to-follow building instructions for each model, so kids can enjoy the thrill of building their own LEGO toys or join friends and family members for a fun building experience. Combine this set with others from the LEGO City Stuntz range for even bigger stunt-show extravaganzas. Ages 7+, Available now.
57 tfe September 2022
The Loyal Subjects
Also Look out for: TMNT BST AXN Rocksteady 5" - Rocksteady was originally a human gangster that was employed by Shredder. His DNA was mutated with a rhinoceros and he became half-man, half-rhinoceros. TMNT BST AXN 80's BeBop Variant 5" Figure Bebop - His brute force is his strongest asset. His intellect…not so much. This 1978 tv series inspired alternate colorway Bebop has bright yellow-orange sneakers, gold septum ring, blue sunglasses and a slightly darker gloss paint finish. Rocksteady Includes multiple accessories –includes 2 head portraits (one head portrait depicting Rocksteady's human form), machete, rifle and multiple interchangeable hand gestures. Bebop Includes 2 head portraits (one head portrait depicting BeBop's human form), knife, drill, manhole cover and multiple interchangeable hand gestures. Both packaged in a unique collector 's box with a dioramic insert. Crisp paint, and clean sculpt details. Maximum poseability. Ages 8+, Available now.
Spiderman Superama - Peter Parker became Spider-Man by accident – he was bitten by a radioactive spider during a science field trip! He gained superhuman strength, super-agility, the ability to stick to walls, his amazing, danger detecting "spider-sense" …and the realization that with great power must come great responsibility. Superama, the ultimate "Collect and Display" item! A hybrid Super Hero/Diorama combination! Infusing comic styled environments with a full action ready figure form! Redesigned for 2022 with a chibi aesthetic and smaller dioramas to give these figures a commanding presence. Full display specs are over 4" tall,with great sculpt details, and crisp deco. Backboard images are swappable/interchangeable for each diorama. Ages 8+, Available now.
Magformers
Disney 5 in 1 Activity Tower - Look no further, 5 great jewelry activities in 1 full storage solution! The perfect holiday gift for any young fashionista. The Disney 5 in 1 Activity Tower rotates for easy access, has 5 removable storage trays, and a bracelet holder to display creations while not being worn. Get in on the fun - each storage tray houses a unique activity; Heishi Craze, Just Bead It, It's Elastic!, Friends Forever and Link Em' Up. Create endless Disney-inspired jewelry pieces with the included 1600 components. Contains :1 Disney activity tower, 5 Disney Princess metal charms, 58 various colorful plastic links, 4 plastic lobster, 405 mini rubber bands, 675 heishi beads, 1 friendship wheel, 1 pattern holder, 5 colors of embroidery thread 40 m (43.75 yds) total, 440 various colorful beads, 2 pieces of jelly cord 6 m (6.6 yds) total, 1 sticker sheet, 1 book, and 1 instruction sheet. Ages 8+, Available Fall 2022.
Magformers, the world's leading magnetic building toy continues its mission to encourage brain development for all ages with their new STEM Builder Sets! These new sets offer something for everyone and come in three sizes: 15 piece (6 unique shapes), 19 piece (7 unique shapes), and 24 piece (9 unique shapes). Get young minds building as they explore Magformers' amazing 2D to 3D building challenges all while getting a healthy dose of learning fun along the way! Ages 3+.
Make it Real
2 in 1 Disney Princess Royal Jewels & Gems - Get ready for the royal ball with the 2 in 1 Disney Princess Royal Jewels & Gems set. You can make 6 separate bracelets using the 51 unique Disney Princess-themed beads and charms. You can create a bracelet to match your favorite Disney Princess. Or you can express your own style by making the bracelets any way you choose. The kit features charms honoring your favorite princesses. Moana, Ariel, Aurora, and Tiana are all included in this kit! Includes two 40 page books to refresh your knowledge of these great Disney Princess Tales. Get inspired by your favorites and either follow the instructions or go off script and create your own fun designs! Contains: 6 cord bracelets, 6 charms, 36 decorative beads, 9 bead charms, 6 colored beads, 2 books, 2 instruction sheets. Ages 8+, Available Fall 2022.
Set your magnets in motion and your fingers spinning with our new Magformers Fidget Spinner! Feel The Force! What do you get when you combine the building power of Magformers with the fun of a fidget spinner? Our new Spin Plus Set! Connect the squares to make all kinds of fun shapes, then set it in motion with the new Magformers Fidget Spinner piece! Or, if you're just looking to give your fingers something to do, put the spinner in your hands and fidget away!
Juicy Couture Charmed by Velvet & Pearls - Every fashionista needs a Juicy Couture Charmed by Velvet & Pearls kit! This kit has everything you need to craft your very own Juicy Couture jewelry. Create jewelry pieces using a mixture of velvet and elastic cord. Add Juicy Couture charms or pick from an assortment of pearls to make a unique look. They'll be so pretty, everyone will think they came from a high-end boutique! Kit Includes: Contains: 88 assorted beads, 13 Juicy Couture charms, 4 bead charms, 2 large jump rings, 2 long curb chains, 1 short curb chain, 1 clear elastic cord, 3 colors of velvet lace and 1 instruction sheet. Ages 8+, Available Fall 2022.
58 tfe September 2022
NEW PRODUCT PREVIEWS
The Batmobile Buildable Wood Craft & Paint Kit is made of real wood and includes everything you need to create your very own Batmobile! The kit contains 1 unassembled Batmobile™ (11 pieces), 1 sticker sheet, 1 stencil sheet, 1 glue tube, 4 non-toxic acrylic paint tubs, 1 non-toxic metallic finish, 1 artist-quality paintbrush & 1 instruction sheet with assembly guide. Ages 5+, Available September 2022.
Make it Real Cont.
Wild & Whimsical Puzzle Assortment: The Three S's & The Library - These 1000pc Puzzles will light up the table and make puzzling a hysterical hobby. Getting these dogs through their morning rituals was never so funny. Ages 12+, Available January 2023.
NASAMasterPiecesCheckers
Warner Brothers 12 Days of Puzzles Advent Calendar - Celebrate movie nights with puzzles from your favorite Christmas Classics. Each day open a new door to reveal a 100-piece puzzle with art from these classic Warner Bros. movies: Elf, A Christmas Story, National Lampoon's Christmas Vacation, The Polar Express, The Year Without a Santa Claus, Frosty the Snowman, and Gremlins. Each advent calendar contains 12 puzzles - each with finished size of 8"W x 10"L. Ages 6+.
59 tfe September 2022
is the classic game of checkers where the king piece sports a Space Shuttle! NASA Checkers includes 24 blue and white checkers pieces, 8 Space Shuttle king pieces, a 13" x 21.375" space-themed game board, 1 sticker sheet with bonus stickers, and instructions. For 2 players. Ages 6+, Available September 2022.
Solar System Puzzle Assortment - The Earth, Sun and the Moon 1000pc Puzzles are super high resolution images from NASA and the ESA of our home in this universe. The image of the Sun reveals its upper atmosphere, the corona, which has a temperature of around a million degrees Celsius. The image of the Earth was famously taken in 1997 to celebrate the 25th anniversary of the original image that made the name famous. The Earth's Moon is a spectacular vision in the night sky when it fully aligns with the sun. Ages 12+, Available January 2023.
2532 Deluxe Light Up Cosmetic Vanity - A tabletop vanity that young fashionistas will go crazy for! This periwinkle, trifold, light up, mirrored vanity is at the height of trend. It comes with real cosmetics. 2 eyeshadow palettes, 2 applicators, 1 blush palette, blush brush with sparkly periwinkle handle, sparkly pink nail polish, purple glitter nail file, 1 solid lip gloss, 1 gel gloss in butterfly adorned cases. All cosmetics are stored neatly in the drawer and when glam time is over, the mirror folds up and lays flat against the drawer for easy storage. Ages 8+, Available Fall 2022
60 tfe September 2022
Crazy Fast 4-in-1 Dunk'n, Stunt'n, Game'n Set by Little Tikes - Let 'em race with the Crazy Fast 4-in1 Dunk'n, Stunt'n Game'n Set! The sturdy packaging unfolds into a unique 4-in-1 playset for Basketball, Rings of Fire, Cornhole, and Arcade Launch. The realistic looking pull back cars can race up to 50 feet at crazy fast speeds! Crazy Fast performance vehicles are super charged, and this game-themed playset is all about fun, epic speed and distance. Just pull 'em back and let 'm fly. Kids can have their own races with these hands-on, active play, toy cars that are approximately 3 ½" length. Crazy Fast cars look like the real vehicles kids see every day, which makes for great imaginative play. And they travel up to 50 ft. Collect them all with the Crazy Fast Garbage Truck (Green and White), Fire SUV, EV Car Silver, Mini Light Blue Truck, and a new Crazy Fast Electro Riders 2-Pack, Crazy Fast Dine Dashers 2-Pack and the Crazy Fast 4-in-1 Dunk'n, Stunt'n, Game'n Set Playset (each sold separately) so you can put your Crazy Fast collection to the ultimate speed test! Recommended for Ages 3+, Available now.
NEW PRODUCT PREVIEWS MGA L.O.L.EntertainmentSurprise!Loves Mini Sweets Surprise-O-Matic - Introducing L.O.L. Surprise! Loves Mini Sweets Surprise-O-Matic Dolls in our brand new Surprise-O-Matic vending machine packaging! L.O.L. Surprise! has partnered with iconic candy brands to bring you L.O.L. Surprise! Loves Mini Sweets! Your favorite sweets are now your favorite dolls; Collect your cravings! Find characters from Jolly Rancher, Hershey's Chocolate, Reese's, Chupa Chups, Milk Duds, Sweethearts, Twizzlers, Bazooka Joe, PEZ, and PEEPS. These B.B.s are as sweet as can be and love to have fun. With the Surprise-O-Matic, unboxing these 9 cute surprises just got even more interactive and fun! Just the press of a button delivers each sweet surprise the same way you get your favorite candies from a vending machine. Press one of the buttons and find an outfit, shoes, bottle, accessories, or sticker. Feed or bathe your L.O.L. Surprise! Loves Mini Sweets Surprise-O-Matic doll for a water surprise! Will your doll cry, spit, or tinkle? Ages 4+, Available now.
Mermaze Mermaidz Winter Waves Color Change Fashion Doll - Did you know mermaids are just like us? They love exploring new places and meeting new friends! These winter themed mermaids have extra special tails filled with water and glitter! These mermaids have beautiful long hair, new fin sculpts and eye makeup that color change with icy cold water, plus winter fashions and accessories! Pose them on their included doll stands. Introducing the newest Mermaze Mermaidz Nera, Crystabella and Gwen from the glittering city of Wintera! They are mermaid BFFs with their own distinct personalities and mermazing color change fins! Harmonique and Kishiko join them for many adventures! Ages 4+, Available now.
Rainbow High Mini Accessories Studio: Shoes and Handbags - Rainbow High Mini Accessories Studio is the only premium collectible experience that matches the luxe feel of buying high-end designer shoes and handbags, but for a super affordable price. All Rainbow High Mini Accessories Studio Shoes and Handbags fit Rainbow High dolls. The most affordable Rainbow High products available, making Rainbow High accessible to all fans. Let your fashion shine with the new Rainbow High Mini Accessories Studio collection, Handbag & Shoes. 25+ to collect of each of the Handbags and Shoes, from Stylish, Rare to Ultra-Rare. Premier unboxing experience. Unbox color trunk box to discover. Includes Dustbag, (shoe or handbag) Box, Printed Receipt in matching holder, and a Certificate of G.L.A.M. authenticity certificate. Mix and match with your favorite Rainbow High Fashion Doll, fits Rainbow High dolls. Let your True Colors Shine! Ages 6+, Available now.
Crystal Science - Mesmerize young scientists with the mystery of molecules as they perform experiments and grow a crystal tree, diamond-shaped crystals and more. This comprehensive crystal-growing countdown kit includes ingredients and instructions for performing 12 captivating crystal science experiments to wow experimenters and spectators alike! Ages 6+, Available October 2022.
Caucasian Girl with Down Syndrome with Glasses - To fully support representation and acceptance of others, Miniland is proud to expand their Miniland Dolls with Down syndrome collection with their newest doll: Caucasian Girl with Down syndrome with Glasses. This beautiful doll showcases the sweet facial characteristics of babies with Down syndrome in a realistic and respectful way. At 15 inches, she has a soft vinyl body and movable limbs, and comes with soft undergarments for young children to dress and undress. Her pink glasses perfectly compliment her soft, rooted hair. Also look out for African Boy with Down Syndrome, Asian Girl with Down Syndrome, and Hispanic Boy with Hearing Implant - These Baby Dolls are anatomically correct and come with underwear. These doll helps to raise kids' awareness of diversity and inclusion, promoting values of equality, integration and acceptance. Ages 3+.
Miniland Dolls
At Miniland, Social & Emotional Learning (SEL) is at the forefront of everything we do. We aim to promote Diversity, Equity and Inclusion by making every child feel included, represented and respected.
12MindWareDaysof
Puzzlescopes Winter Village - Brighten holiday sales with this unique twist on traditional puzzles! Family members of all ages and experience levels can use the included suction cup to fit the unique circular pieces in place and reveal the beautiful holiday scene tucked inside a snow globe frame. Ages 6+, Available now.
Twizzle - Twist, click, solve! Players begin with one pattern and must twist the wheels and shift the tiles until the end pattern is reached. With 360 card combinations in all, players can progress from beginner to expert as their skills improve. Kids and adults alike will enjoy this single-player game of logic and strategy! Ages 8+, Available now.
61 tfe September 2022
62 tfe September 2022
Moose Toys
Clipology is an all new interactive trivia experience centered around thousands of the most memorable moments from the world's best TV and movie content gleaned from Hollywood's top studios. A screentime meets gametime trivia based game with all the best clips rolled into fun, Clipology is a physical board game + video content + more than 12 types of unique video challenges and puzzlers for highly engaging, dynamic game play. It also is the only board game that streams real content clips so players can show off their mastery in a social gaming experience alongside the iconic characters and stories they love. Clipology was developed in partnership with the creators of the pop culture hit "Scene It," and is built on a cloud based distribution platform that gives access to play the game on multiple screens, including TVs, tablets and phones. The cloud platform also allows for content that is continually refreshed with the latest pop culture moments for a unique game play experience every time. Ages 20-30; Secondary: Families with kids 13+, Available now.
Little Live Pets Mama Surprise - Mama Surprise, the latest youth electronics offering from Little Live Pets, looks like a real guinea pig and "delivers" a surprise to delight. The interactive pet comes alive with more than 20 sounds and reactions when she is cared for. Brush her soft fur or feed her with the included accessories and she responds with the sweetest sounds. When the heart of the mama guinea pig begins to glow it's time to place her back in her deluxe hutch, settled in among the nesting material. Children go to bed giddy with anticipation and awake the next morning to a surprise: a newborn guinea pig baby! The surprises continue as Mama Surprise delivers a new guinea pig baby every day for three consecutive days. Each baby is delivered with its own special care package and themed accessories like rock n' roll, preppy, and princess for endless styling play. Repeat the surprise deliveries again and again. Ages 4+, Available August 2022.
Dance & Play Bluey - It's time to dance and sing with Bluey! For the first time, Bluey comes to life in an interactive way, moving her arms and legs with realistic motions that invite kids to play along with her. So much more than a plush, this special Bluey replicates the energy and personality of the active blue heeler star of the wildly popular animated series and inspires imaginative play. Bluey has three different activities: talking, singing, and dancing, making her the perfect companion for active days with friends or just for one. This Bluey says 55+ phrases, including her charming, "For real life" and "I know a game we can play." She can even stand on one leg and dance up a storm in the Dancemode! She also sings four songs, and plays three different games, including Statues, when a key word makes everyone freeze in their place. Ages 3-5 years, Available now.
NEW PRODUCT PREVIEWS
Heroes of Goo Jit Zu: Stretch and Strike Thrash Mobile - Get revved and ready to roll as the Stretch and Strike Thrash Mobile, the first ever Goo Jit Zu vehicle, arrives in town. With a simple squish or stretch the Thrash Mobile transforms from a cool speedy cruiser to an epic attack monster truck. It even has an exclusive Thrash figure with race suit that sits perfectly in the driver's seat, with room for two hero size (5 inch) characters in the back. The shark-inspired Stretch and Strike Thrash Mobile with its oversized, treaded wheels can go from speed mode to attack mode by stretching or squishing the shark fin. When in attack mode a chomping jaw is revealed that holds a blaster cannon. Push down on the engine block to fire one of three projectiles, then stretch the fin back down to revert to speed mode and drive away to battle another day. Ages 4+, Available August 2022.
E.T. Toyllectible Treasure - 2022 marks the 40th anniversary of our favorite classic movie, E.T. The Extra-Terrestrial (1982). To celebrate, The Noble Collection expands their E.T. collection with these magnificent E.T. Toyllectible Treasure. Bring this beloved film scene to life with this detailed and intricately crafted authentic diorama from the beloved film. The diorama is approximately 7" tall and sits on a removable base for optimal display. Ages 7+, Available Spring 2023.
E.T. Charms - 2022 marks the 40th anniversary of our favorite classic movie, E.T. The Extra-Terrestrial (1982). To celebrate, The Noble Collection expands their E.T. collection with these magnificent E.T. Charms. These four finely crafted charms, featuring gold or silver plated high-quality details are must-have items for E.T. fans and collectors alike! Ages 14+, Available Holiday 2022.
63 tfe September 2022






The Noble Collection
E.T. Plush - 2022 marks the 40th anniversary of our favorite classic movie, E.T. The Extra-Terrestrial (1982). To celebrate, The Noble Collection expands their E.T. collection with these three E.T. plush. These adorable, super soft plush are crafted with exquisite detail and each stand at approx. 11". Possibilities are endless as this character comes to life with the Interactive and Collector plush options. All three items are highly detailed and feature high quality materials. From your classic plush to interactive and collector items each is an absolute must have for nostalgia aficionados of all ages! All ages, Available Holiday 2022.
E.T. Bookmark Set - Bring E.T. home today with this perfect set of four bookmarks. Officially licensed by Universal and Amblin Entertainment, each bookmark showcases highly-detailed designs and measures approximately 3 inches tall. Mark the pages of your favorite books with this set today. Check out all the bookmarks from your favorite franchises at thenoblecollection.com today! Ages 14+, Available Holiday 2022.
E.T. Puzzles - We'll be right there for you as you travel over the moon and celebrate the 40th anniversary of E.T. The Extra–Terrestrial (1982) by bringing the iconic scenes to life with this premium quality, oversized 1000 piece puzzles. Measuring 21x26 inches, fully assembled the magic of E.T. is at your fingertips. Ages 14+, Available Holiday 2022.
64 tfe September 2022
NEW PRODUCT PREVIEWS
Reading Adventure - Osmo Reading Adventure is an interactive, personalized, subscription-based, reading program where kids build skills and confidence. Developed with educators, the program uses physical and digital play along with automatic speech recognition technology to cover critical reading skills for K through 1st grade (ages 5-7). Kids will be joined by main characters Oliver and Nebula as they go on a magical reading journey. Oliver is enthusiastic, optimistic and still learning how to read himself. Nebula knows everything there is to know about language and reading, but she'll need your child's voice to turn that language into magic. Osmo Reading Adventure includes an app (for iOS), physical books, and an interactive crystal wand. The program also includes skill building games and activities, and adapts to meet the skill level of the player for a more dynamic, fun experience. Ages 5-7, Available September 2022.
Pebble Gear
Ready, set, go! Play and learn with Lightning McQueen, Mater, and more of your favorite Cars characters! We've packed your Cars Pebble Gear tablet with games, apps, and eBooks that have all been handpicked with kids in mind. Each tablet comes with 12 months free access to Gamestore Junior - our specially-curated app store of over 500 games and more. Your tablet is filled to the brim with exclusive Disney Cars games, eBooks, and themes for non-stop fun. A special Disney Cars protective bumper case is included, keeping your tablet safe from accidental drops, slips, and spills. Our Parental Controls are super-easy to set up, giving you maximum peace of mind over how your tablet is being used. Designate hours and duration of play, access to specific apps, however, you'd prefer. Also keep your eyes open for the Toy Story tablet, and the previously featured Frozen tablet! Ages 5+, Available Now.
OsmoOSMO
SpyPlaymatesNinjas: Decoys & Diversions Mission Kit - Every good spy needs a set of Decoys and Diversions to throw off their opponents, and this Mission Kit has it all! The Remote Control Decoy device comes with its main housing unit that has 12+ sounds and phrases built in. Take off the Decoy Disc and roll it into a room or hide it somewhere and activate from the housing unit to confuse your opponent in another room! The Decoys & Diversions Mission Kit also comes with additional gadgets and activities to practice your spy kills for your next big Decoy Mission! The Mission Kit Includes Remote Control Decoy Device Housing Unit, Remote Control Decoy Disc, Ninja Sticky Stars, two Activity Books, Certificate of Achievement, and Spy Ninjas ID Card. Ages 4+, Available Q4 2022.
Miraculous Ladybug Switch n Go Scooter w/Ladybug Doll - Now you can have the same transforming powers as Ladybug. Transform the secret Ladybug pod into her signature red and black Lucky Charm scooter from the show! For fast hero action the Secret Ladybug pod miraculously transforms into the Ladybug scooter with the press of a button! Comes with Scooter, Ladybug doll with Lucky Charm outfit and helmet accessory. Ages 4+, Available Q4 2022.
Miraculous Talk & Sparkle Ladybug - The only talking and light-up Ladybug doll with a deluxe shimmery outfit! The 10.5" Ladybug doll is fully articulated, comes dressed in a deluxe foil print shimmer outfit. Press a button to light up her sparkling Miraculous earrings; Activate phrases and SFX from the TV show! Ages 4+, Available Q4 2022.
Star Trek: Prodigy - Five-inch, 1:14 scale figures will feature 14 points of articulation and come packaged in a brand-new blister pack. Characters Dal R'El figure with Murf, Gwyndala, Jankom Pog, Hologram Janeway and, Zero. Ages 4+, Available Q1 2023.
65 tfe September 2022
Star Trek Universe Retro Figures hail from the most popular Star Trek TV and movie franchises, including Star Trek: The Wrath of Khan, which celebrates its 40th anniversary this year, Star Trek: The Next Generation and Star Trek: Discovery. The five-inch, 1:14 scale figures feature 14 points of articulation and are packaged in 1990s nostalgic packaging. Star Trek: The Next Generation, nostalgic packaging - Lt. Commander Data, Captain Jean-Luc Picard, Commander William Riker; Star Trek: The Wrath of Khan, nostalgic packaging - Admiral James T. Kirk, Khan Noonien Singh, Science Officer Michael Burnham; Star Trek: Discovery, new Universe packaging Commander Saru, Science Officer Michael Burnham. Ages 8+, Available Q4 2022.
SS. Enterprise NCC-1701 (ship/vehicle) - an 18" replica of the historic ship from the original series with attention to detail. Featuring Battle lights include light-up bridge, impulse engines, and Nacelle warp engines, authentic verbal commands by Captain Kirk and more. Comes in nostalgic packaging with a transparent stand for easy display. Ages 8+, Available Q4 2022.
Teenage Mutant Ninja Turtles Original Classic Giant Figures - Playmates Toys is taking TMNT fans back to the beginning with Original Classic Giant Figures! Authentically sculpted and decorated to match the original release of these figures in 1989, these Giant Turtles stand 12" tall with articulation in the arms, legs, and head; and come with their signature accessories. They're packed out in classic 1980's graphics for ultimate retro design. Leonardo, Donatello, Michaelangelo, and Raphael will all be available.
NEW PRODUCT PREVIEWS
Glo Friends Wigglebug - Fall in love with the soft, huggable Wigglebug! Glo Friends toys feature elements of Social Emotional Learning (SEL) as tools to help parents teach their children about their emotions and how to regulate them. That's why each bug and playset has fidget features and other elements designed for soothing play and reinforcing healthy emotional outlets for kids! Wigglebug's friendly personality, four different interactive play modes, and playful glow provide hours of fun for children while also helping them understand their own emotions and energy levels. The motion-sensing technology of the plush provides interactive play where Wigglebug can actually respond to how your child plays with the plush! Ages 2+, Available October 2022.
Playmobil Fire Rescue Truck - Battle the blaze with the Fire Rescue Truck. Thanks to the functioning water pump, you can extinguish the flames quickly. Includes rescue winch and space for up to two figures. Set includes one figure, flames, log, and other accessories. Ages 4-10, Available January 2022.
Play Monster
The Magical World of Disney Trivia Game - Fans of all ages can go on an adventure through time with 2,000 trivia questions spanning nearly 100 years of Disney history, from the very first Walt Disney production to the modern Disney and Pixar titles of today. This high-quality collector's board game makes the perfect gift or unboxing experience, with a premium black-on-black box and matte finish. Golden game pawns are scaled representations of fan-favorite characters, hand-sculpted by expert craftsmen, and five detailed, iconic story points of interest serve as 3D destinations that players can travel to complete their journey through time.Ages 6+, Available Fall 2022.
Koosh Cameos pair today's hottest licensed properties with the iconic Koosh ball to create a new way to experience the Koosh brand! Combining the key elements of both IP and trendbased collectibles, Koosh Cameos are sure to delight fans. Cameos feature content-accurate sculpts of today's most popular characters combined with the iconic 3-inch Koosh Ball. Ages 8+, Available October 2022.
PlaymobilPlaymobil
Adventure Zoo - Enjoy a day of family fun at the Adventure Zoo. The colorful zoo arch welcomes you as you enter. Don't forget to pick up a map and check feeding times. Walk across the observation path and watch as the penguins glide down the ice slide and the giraffes eat from the highest branches. Set includes two adult figures, two children figures, a giraffe with baby, two adult penguins, four baby penguins, two mice, a lizard, a bird, and other accessories. Ages 4-10, Available January 2022.
66 tfe September 2022
The Razor Dash is a Freewheeling & Electric Assist balance bike perfect for younger children to learn and enjoy their early experiences using ride-on toys. It is designed to help children develop skills of balance and motion by starting in a Freewheeling (non-powered) Mode and evolving, with appropriate supervision and familiarity, the skills to move into Low-Speed Electric Assist Mode so that a child can master the riding skills that can be built upon in years to come. Available Fall 2022.
67 tfe September 2022
Razor
The Razor RipRider 360 Mini provides a ride like no other trike. Built for limitless spins and effortless drifting, the dual inclined caster wheels deliver hours of 360-degree spins. The welded steel frame is lightweight yet super durable for long-lasting performance. Designed for a fun and unique riding experience, your child will love the continuous spinning action. Available Fall 2022.
Watch your world grow! Announcing an all-new and exciting My Fairy Garden line from PlayMonster, featuring stunning grow-and-play sets that invite children to enter the magical fairy realm! The fairy realm is home to different kinds of fairies — Water, Earth, Light, Air, Dream, and Shadow — who come to the human world to visit and play with children who care about nature as much as they do! The line launches with five fun sets including Blossom Balloon, Hedgehog Haven, Well of Wishes, Nettles' Nook, and Hop's Hideaway. All sets feature new highly detailed and articulated fairies, a Plantimal friend, removable growing areas, seeds for edible plants, hidden surprises, and added play features. Plus, there's a special fairy field guide that provides children with an introduction to the fairy world and encourages participation in nature activities and projects! Each My Fairy Garden pack purchased also contributes a donation to My Fairy Garden's partnership with One Tree Planted, which aims to help reforest the world. Ages 4+, Available Spring 2023.
Play Monster Cont.

The Razor Rollie DLX is a three-wheel scooter perfect for younger children learning to balance and steer. Easy to turn and hard to tip over, this 2-in-1 convertible scooter can be ridden with a seat or used as a traditional kick scooter by removing the seat. The multi-color LED lights in front wheels and the deck will illuminate when the Rollie DLX is in motion and turns off after 30 seconds of inactivity to preserve battery life. Available Fall 2022.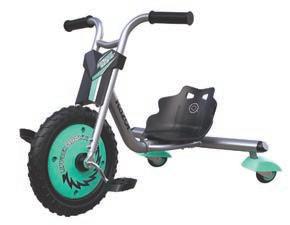 Jack and the Beanstalk: A Readyland Fairy Tale - Go on a magical adventure with Jack, as you work together to outwit the Evil Giant, explore the castle, escape an interactive maze, cast your own magic spell, and more! Ages 5-8, Available now.
Readyland
· The ability to talk to the book's characters - Expressive character voices engage in dialogues with the reader and play games such as I Spy and Name that Tune. The characters listen and respond to the reader's voice, giving kids control of their experience.
NEW PRODUCT PREVIEWS
· Screen-free, interactive fun - The books are highly interactive, with no screen required! The stories are brought to life, bursting with surprises, sound effects and songs to delight young readers and take their attention away from screens and into the books.
A Playdate with Rosie and Ricky - Spend the day with the delightful Rosie and Ricky, playing interactive games like "I Spy," listening to music, choosing a smoothie recipe and more! Ages 3-7, Available now.
Get ready for the ultimate screen-free summer boredom buster - books you can talk to! Introducing Readyland, the first printed books that work with Alexa to create an immersive reading experience that makes reading even more magical. Readyland is a library of printed books that come to life with innovative voice technology, creating a whole new category - Alexa Interactive Books - where screenfree reading meets audio entertainment. Using an Alexa-enabled device at home or the Alexa smartphone app, kids explore books in a new way with engaging dialogues and interactive games revealed each time they turn a page. Along with engaging story narration and lively character voices, the books keep kids coming back by offering a new reading experience every time a child opens the book and says, "I'm Ready!" For example, kids will discover a different song each day when they come back to read A Playdate with Rosie and Ricky. Readyland books feature:
Three Little Pigs: A Readyland Fairy Tale - A magical retelling of the classic fairy tale with music, interactive games like "Guess the Animal" and the challenge to outsmart the Big Bad Wolf! Ages 3-7, Available now.
68 tfe September 2022

· Encourage literacy and comprehension - Readyland books make reading more fun, encouraging children to read, listen and respond. The engagement with storylines helps develop important language and comprehension skills.
· New surprises every time - With hundreds of recorded phrases in each book, the reader 's responses and choices create new ways to explore each storyline and activity. For example, in Jack and the Beanstalk, the reader's choices to create the magic spell on one page will change the story outcome on later pages. These surprises keep kids coming back again and again.
NeeDoh Gummy Bear is as scrumptious-looking as it is squishy. In comes the gooey goodness of a gummy bear, with a super-sized squeeze! Just pull, squeeze, or smush this tactile treat and the sweet squish will soothe your soul. Wacky style eyes and a cute bowtie make these giant gummies come to life. At 3.5" inches tall, this jumbo gummy bear provides endless, wonder-filled play. Enter a world of pure sweet satisfaction with NeeDoh Gummy Bear. They look almost good enough to eat, but so much better to squish! Ages 3+, Available Fall 2022.
NeeDoh's Mac n' Squeeze transforms cozy comfort food into soul-soothing, stretchy goodness. Pop the top and serve the squeeze! These hollow, super-sized noodles give that NeeDoh squish satisfaction; in an instant! Give these neon noodles a pull, squeeze, smush to get you feeling groovy. The pop-on lid makes your original Mac n' Squeeze container reusable, the perfect place to store this mellow macaroni. The parent-approved way to have fun with your food! Ages 3+, Available Fall 2022.
The Sharper Image
The Thunderbolt JetX2 drone is packed with exciting features! Perform stunts and tricks easily including 360° barrel rolls. Gryo stabilization and auto-orientation flight control help keep the plane steady. Landing wheels and the assisted landing feature ensure a soft landing. Lightweight foam body and enclosed-blade design help protect from impacts. Built-in LED lights allow you to see the drone while flying at night. Features a 200ft flight range. Comes equipped with a rechargeable lithium battery. Simply connect it with the included USB-C charging cable to recharge. Ages 14+, Available now.
NeeDoh Groovy Shroom is the squishable mushroom that will elevate your senses! These far out, bendable buds offer that classic, NeeDoh squish. Just pull, squeeze, or smush to get you feeling mellow. With fun-colored mushroom caps that you can pop and swap, the tactile fun is never-ending. Make mushroom magic fun with NeeDoh Groovy Shroom! Ages 3+, Available Fall 2022.
NeeDohSchyllingBooper lets you blast your friends with endless Boops and spread the NeeDoh groove! Load a Boop into your Booper and pull back the plunger for a popping, flinging fun time. Light and compact, this mellow mini blaster launches lightweight Boops across the room, at your friends, or even to your pup! This lightweight, handheld launcher comes with 4 fuzzy Boops and endless bopping, blasting fun. Get ready for constant flying Boops and endless silly smiles. Just load, launch, and laugh! Ages 5+, Available Fall 2022.
69 tfe September 2022
Spin OrbeezMaster
Tropical Rainforest Jungle - Imagine, plant, and create your very own vibrant and living rainforest scene. Grow a variety of stunning tropical rainforest plants from around the world in our specially designed Biosphere! The terrarium is packed with innovative growing features including side ventilation vents, a drainage basin, and a large viewing window. Your collection of awesome rainforest plants are sure to thrive in this ideal environment. This botanical cornucopia of plants include bushy Umbrella trees, angular Dragon trees, and delicate China Doll trees accented with the captivating Rainbow Plants! These are some of the most beautiful plants to nurture and watch grow in the world. They will sprout and develop quickly into exotic, colorful and unusual plants that will flourish in the terrarium for years to come! The complete kit comes with everything you need to get growing- 4 different varieties of seeds, and a compressed germination disk- just add water! Complete your scene with the included color stakes, decal, and Tropical Cover Bark. Place your Rainforest Friend and Golden Treasure anywhere you want to finish making your own tropical rainforest jungle! This incredible terrarium will be available in Q4 2022. Ages 3+.
70 tfe September 2022
NEW PRODUCT PREVIEWS
Surprise that someone special with a magical and awe-inspiring I Love You Bean! When these romantic beans sprout, the words "I Love You" are engraved on the first pair of leaves that appear. These amazing beans will sprout in 5 days and produce edible Lima Beans. Complete kit comes with everything you need, just add water! This lovely product will be released in Q1 2023. Ages 3+.
Zombaes Forever - These fashionable zombie small dolls have their own looks and styles, humorous names, and feature a unique un-coffin-ing unboxing experience. Pull the tab on the blind box to reveal your character's coffin and open it to find your trendy 3.5-inch-tall Zombaes Forever surprise doll. Inside the coffin, you'll also find up to two accessories, a sticker sheet, doll stand and a collector card. After the uncoffin-ing, you can mix and match your character's hair and legs with any of the other 10 Zombaes Forever collectible toys and create new looks. Ages 5+.
Silver Circle Products
are the original soft and squishy, fun and wacky water beads that you've seen on TikTok. The Orbeez Glow in the Dark Feature Pack comes with 1,200 juicy grown Orbeez , so you can get straight to the fun without waiting for your Orbeez water beads to grow. Pour them out of the tubes, squish them, squeeze them, bounce them, crush them or let them flow through your hands. Non-toxic Orbeez are safety tested and won't fade, making them the perfect colorful addition for creative play. Orbeez encourages independent play and make the perfect arts and crafts activity gift for kids ages 5 and up.
Drops By GUND: Spooky Series 1 - Drops by GUND are a "gotta have 'em all" line of collectible soft, huggable and expressive 6-inch plush animals. These cute, whimsical characters each have unique expressions, which you can match to your every mood! From everyday animals like cheeky Paulie Pup the puppy and silly Harli Hops the bunny to fantasy creatures such as Willie Wings the dragon and Bonnie Bamboo the pandacorn, each adorable Drops plush is collectible, emotive and delightfully squishy. They all feature oversized heads, tiny drop-shaped bodies filled with beans and embroidered cutie marks for authenticity. You'll definitely want to squish them all. Ages 3+. (Images below)
Year of the Teddy Bear: Mila and Ben - Did you know the world's favorite toy is turning 120 years old? That's why we've proclaimed 2022 as the "Year of the Teddy Bear," and we're celebrating with an all-new family of four bears - created just for kids! Sister Mila wears a cream-colored coat and Brother Ben sports a beige coat, both sewn from a special "Teddy fleece" fabric for the birthday bash. And what gifts do does they want to celebrate 120 years of fun, joy, love, and laughter? To be adopted by you, along with the rest of their family! Ages 2+, Available now.
71 tfe September 2022
The Valor Kick Scooter is the smallest full-size folding scooter, featuring new innovative Under-The-Deck Technology. Fold into the smallest footprint imaginable to easily fit in your bag, locker and in the backseat of any car, without the need to compromise on performance. Reach new heights of portability with an easy folding mechanism using the unique dual-bridge rotating clamps, ensuring all pieces click into place with almost no effort. Thanks to the adjustable T-Bar, which reaches a maximum height of 36", and a large footwell with a weight limit of 220 lbs, you can enjoy the Valor scooter with all your friends and family. Vibration dampening TPR Grips provide an enjoyable ride by absorbing shocks from bumps in your way, and the anti-rattle feature on the T-Bar reduces noise, so you can enjoy your ride in comfort. High-quality ABEC7 Bearings reduce drag, allowing the wheels to spin with minimal effort, and transporting you over larger distances with fewer kicks. The Valor Kick Scooter is built for those who want the freedom to go where others can't, and the innovative folding technology, lightweight yet durable design, and high-quality materials, will get you there, without compromising on performance. Introducing Valor, the smallest folding full-size scooter for ages 8 and up.
Spin Master Cont.
SteiffSteiff
Space Maxx 3-N-1 Rocket Transport Vehicle - Measuring over 2 feet long and equipped with flashing lights and sounds, the rocket transport set comes with three space exploration vehicles ready for any intergalactic adventure. This vehicle is ready to rove cosmic planets on six soft-grip rubber tires to haul and relocate to the launch site. The realistic rocket design has three booster jets and stands up on the transport vehicle, ready to blast off with flashing lights and intergalactic sounds for enhanced imaginative play! Once the rocket has launched, astronauts can detach the capsule and push the buttons to hear from space command as they soar through the galaxy. Ages 3+, Available October 2022.
72 tfe September 2022
NEW PRODUCT PREVIEWS
Honey Bee Acres Rainbow Ridge Rainbow Pals - Welcome to Honey Bee Acres dollhouses, playsets, and figures where the pretend play is sweet, and the product detail is fresh and colorful! And just over the hill is a magical place where the valley sparkles and the land is as bright as a rainbow! Welcome to Rainbow Ridge! Meet the Rainbow Pals! Each posable flocked figure wears a brightly colored outfit that is removable for fun fashion play. Join in the fun and create more pretend adventures together and make every day a special day! The toy set includes 9 miniature flocked animal figures. Pixie (uni-panda), Aura (fairy-cat), Luna (penguin), Levi (cow), Lucie (dragon), Indigo (uni-dog), Jasmine (jackalope), Zeke (bear), Coral (mer-cat.) Each figure is dressed in removable clothing that is interchangeable with other Honey Bee Acres/Rainbow Ridge figures. Ages 3+, Available September 2022.
Barbie 2-N-1 Dream Castle - Designed with bright fantasy colors and signature Dreamtopia graphics, kids' imaginations will come alive as they go on fantastical adventures with Barbie and friends. The tent's spacious design inspires creativity, socially-interactive play and role play fun. Children can crawl into the tent through the front entrance door, once inside they can peek out of the two mesh windows. Designed with safety in mind, the tent has round corners, durable stitching and roll up door. Parents will love the pop-up design which allows for quick set up, easy storage and no tools! This set even includes a mini pop-up tent perfect for any Barbie doll. Grab your favorite barbie and start your fun in the matching Barbie 2-N-1 Pop Up Castle Tent. Includes a 15'' mini pop up tent perfectly sized for any Barbie doll! Doll not included. Ages 3+, Available September 2022.
Maxx Action Off Road Rescue Firetruck - Push the orange buttons on the truck bed to activate the motorized engine and take off at high speeds forwards and backwards. With six wheels, the off-road truck can go forwards and backwards across the roughest terrain! Once they arrive on the scene, kids can use the motorized water cannon and six plastic fire targets to pretend to fight fires and save the day through imaginative, storytelling play! Add water to the cap in the bed or roof of your truck, then push the blue button to blast water over 12 feet away! Measuring over 13 inches long, this vehicle can take on the toughest tasks. Included plastic fire targets bring rescue play to life for maximum fun! Ages 3+, October 2022.
Sunny Days Entertainment
Fidgie Friends - In a magical land where colorful rainbows stretch over glittery seas, lives a group of fashion-forward friends called Fidgie Friends. With their unique feel for fashion, these girls have the magic touch for the coolest outfits! Join in the fidget fashion fun and become forever fidget friends! 10.5 inch fashion dolls with rooted hair for fun hair play. Dolls have poseable head, arms and legs with multiple points of articulation. Combining traditional doll play with calming effect of fidget toys. Series 1 includes four dolls each with 3 fidget features incorporated into their fashions; each has a share wear hair clip. Tap into the sensory trend with unboxing and ASMR. Ages 6+, available November 2022.
Tangle NightBall Volleyball - Choose from Orange or Teal or collect both! Water-resistant and ready to float, this volleyball must-have can be played in the yard, in the park or even out in the water. Like all NightBalls, this one gets brighter the more you throw, spike or bounce it. Incredibly bright and water resistant, feel free to hit the beach well after sundown! Ages 8+, Available now.
Sugar Buzz Minis-in-Minis are an innovative new line of miniature collectibles with a sweet twist. Each miniature "Candy" container has tiny minis hidden inside! It's sure to give collectors the ultimate sugar rush! Featuring the most iconic, beloved confectionery brands around. Discover favorites likeToxic Slime, Peeps, Pez, Warheads, Chupa Chups, Mentos, and many more! These are miniature collectible replicas (not real food). Sugar Buzz will give mini collectors a kick, bring back sweet memories, and make you feel like a kid in a candy store! Ages 8+, Available Fall 2022.
Super World'sImpulseSmallest
TangleTangle
Pets Aquatic - These adorable ocean animals are sure to make a splash in any bathtub, pool, or underwater play scene. Trendy colors and textures abound with every bubbly character. Parents report that these toys encourage calmness, concentration and imaginative play. Choose from six pets or collect them all: Dolphin, Hermit Crab, Narwhal, Octopus, Sea Turtle and Sting Ray. Ages 3+, Available now.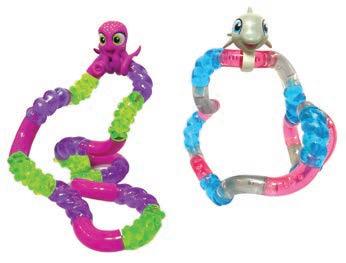 73 tfe September 2022
World's Smallest YuGiOh Micro Figures Series 1 - Get your duel on! The incredibly successful YuGi-Oh brand is celebrating its 25th Anniversary with new collections launching worldwide! Expanding on its success in the trading card and anime category, Super Impulse is proud to introduce two new sizes of beautifully sculpted figures for fans of all ages to collect. Featuring 4 ways to collect your favorite characters, World's Smallest YuGiOh Micro Figures offered in Single Blister Cards and Blind Bags, 3.75 inches Action Figures offered in Single Figure Packs and Double Battle Packs (4 Sets.) Ages 8+, Available Fall 2022.
Games - The iconic line of World's Smallest Toys keeps on growing and kids to kidults keep coming back for more! With over 5 Million sold, and over 111.5M views on Instagram and TikTok, World's Smallest includes the best and most classic games we all know and love, made as fully functional games in the smallest sizes ever created! This season's newest games are Mousetrap, Chutes and Ladders, Clue, Battleship, Blokus, and Hungry Hungry Hippos! Ages 8+, Available Fall 2022.
Spin Flip is a 360 degree handheld puzzle with 14 concentric rings that spin, flip, twist and slide. Perfect for those who love brain teasers, the double sided puzzle features stunning complementary artwork that adds to the challenge and the fun. 6 designs include landscapes, animals, pop art and more. Spin it, flip it, solve it! A shifting amalgam of art, mechanics and gadgetry, Spin Flip elevates handheld puzzles to new heights. The innovative design connects fourteen rings that share a common center. Each side features two distinct, yet complimentary images. The challenge: to spin, flip, twist and slide the rings as the puzzle images take shape. The brand new invention with 360 degrees of puzzling is perfect for those who love brain teasers, gizmos and contraptions! Available in six different designs from landscapes, to animals, pop art and more. Ages 5+, Available Fall 2022.
TCG Toys
74 tfe September 2022
Bend-Ems are back! The hugely successful and bendable 90s heritage action figure line, Bend-Ems, hit retail shelves this Fall. For the die-hard collector and new fans, Series 1 will feature top licenses and characters to collect, including Sonic the Hedgehog, Miraculous: Tales of Ladybug & Cat Noir, and SpongeBob SquarePants, with more to come! The authentic new Bend-Ems figures will include classic features such as the 6" inch scale, the signature engraved brand name on the back, and will be packaged in a blister card, a nod to the nostalgia of the 90s packaging. From its original debut in 1987 with the Alfred E Newman license, to its heyday between 1989 - 2001, the classic retro Bend-Ems toy line from toymaker JusToys featured over 400 characters with licenses from Disney, Turner, Warner, Hanna Barbera, Star Wars and WWF. BendEms are malleable figures with bendable arms and legs. The soft rubber-like exterior and wire interior provide bendability, making them ultra-poseable. The durable design allows kids, millennial fans, and collectors alike to pose and maneuver Bend-Ems over and over again. Ages 3+, Available Fall 2022.
The Cocomelon Jumbo Megamat brings the fun in a BIG way! Over 17.5 square feet of soft, non-slip, hypoallergenic EVA foam creates the ultimate space for your little one to get up and play! It's lightweight, easily wipes clean and stands up to household cleaners with no color fading and is water resistant, so it's always ready for the next adventure. CoComelon Jumbo Megamat comes with 2 character toys. Measures 47" wide x 61" tall. Ages 3+, Available Fall 2022.
Jurassic World Dominion: Flying Pterosaur - Quetzalcoatlus - Imagine a bird-like creature with a 40-foot wingspan, an eight-foot beak, and fierce talons soaring through the skies above you! Now you can build and fly a model of this incredible pterosaur, the Quetzalcoatlus — the largest flying animal of all time. Assemble the model and hang it from your ceiling with the included hardware. A battery-powered motor propels your Quetzalcoatlus through the air while a thin cable keeps it soaring along a circular flight path. Learn how the propellor makes the model fly, about the similarities between pterosaurs and modern-day birds, and all about this awe-inspiring giant of the prehistoric skies. Ages 6+, Available October 2022.
Thames & Kosmos
NEW PRODUCT PREVIEWS
Candy Vending Machine – Super Stunts & Tricks - Ever dreamed of having a vending machine in your room? With this engineering kit, you can build and experiment with your own toy vending machine. First, follow the step-by-step instructions to assemble the machine. Then test and configure it to get it working perfectly. Load your vending machine with the included soda-bottle gummy candies or any other small candies or prizes you supply, and you're in business! Insert some coins and have fun watching them get sorted, perform stunts as they slide down the tracks, dispense prizes, and finally end up in the coin bank in the base of the machine. This awesome vending machine has four main interactive segments. Explore lessons in physics, math, and mechanical engineering as you build and play with the vending machine. Learn about gears and other simple machines, gravity, forces, motion, and collisions. Try some simple math lessons related to the coins and money. Ages 8+ with help; 10+ solo, Available October 2022.
75 tfe September 2022
Thames & Kosmos Cont.
Creatto Holiday Classics: Dashing Reindeer, Shining Star, Festive Bow (12-pc PDQ) - Creatto is a simple yet versatile building system that consists of just two components that can be woven together into countless 3D creations. The flexible yet durable plastic tiles interlock quickly and easily for all skill levels; no additional materials or hardware required! The three options in the Creatto Holiday Classics display offer the same illuminating fun as previous Creatto kits at one-fourth the size. These kits include smaller building pieces but use the same innovative assembly system as the larger kits, allowing the final product to have a little more definition and detail. Choose from Dashing Reindeer, Shining Star, or Festive Bow—or try them all! Each kit comes with instructions to build two winter holiday-themed models, but pieces from all Creatto kits are interchangeable and can be combined to make countless unique creations, limited only by one's imagination! Ages 8+, Available Fall 2022.
Spy Labs Incorporated - Welcome to Spy Labs Incorporated, the one-stop shop for spies on the top! This new line of forensic science kits features 14 unique releases in 2023, from a tracking device that helps you mark treasures and secret hiding places, to essential spy walkie-talkies that keep you in contact with your fellow detectives, and even a fully-fledged investigation lab, complete with all the tools and equipment you'll need to analyze evidence and solve make-believe mysteries and crimes! Other offerings from this new line include a device to record encrypted messages, secret agent goggles for missions in the dark, a voice disguiser, an eavesdropping device, and more! While kids enjoy their investigative adventures, they'll also be learning about the science behind their detective work. Ages 6+, Available Spring 2023
76 tfe September 2022
Kids Build-A-Johnny - Awarded STEAM Accreditation by the Toy Association and Good Play. Guide Includes: 16 pieces to build a John Deere toy tractor and a battery-powered drill to take apart the chunky parts of the John Deere tractor toy and to put them together again. 2-in-1 Toy Tractor: Take Johnny apart and put him back together or use for push-along play. Versatile Fun: Compatible with other Build-a-Buddy toy tractors and farm equipment - the vehicle pieces are interchangeable. Ages 3+ Available now.
Monster Treads Transformers Optimus Prime & Bumblebee - Sculpted in "chibi-style" on top. Motion activated lights: roll the tractor forward or backward to activate the motion sensor lights. Sturdy design: oversized and durable tires are made for all kinds of terrain. Games for kids: a fun John Deere tractor for fun times. Ages 3+ Available now.
Club Mocchi-Mocchi - Designed in Japan, Mocchi-Mocchi are super soft and huggable pillow toys. Unlike other ordinary plush toys, these high-quality collectible plush pillows have a unique squishy texture and are super soft to touch. This Transformer plush series features fan-favorite characters. Whether for fun kids' room decor, treating your favorite gamer, or yourself there's a Mocchi- Mocchi- sure to please everyone. Collect them all!. Ages 3+ Available September 2022.
JohnTOMYDeere
NEW PRODUCT PREVIEWS Licensed Toomies Peppa Pig Bath Bundle - Pedal and go, go, go! It's time for a spin in the Pull & Go Pedalo: pull gently on the string, let go and watch as the paddles rotate and drive the pedalo forwards over the water. Four ways to make a splash! Grandpa Pig's Splash & Pour Boat comes apart to reveal a pourer, sprinkler and a water-powered paddle that sends the wheel spinning. Even the hull includes a spout. Squishy & Squirty: Includes 5 colorful characters to dunk, squeeze and squirt: Peppa Pig, George, Mummy Pig, Daddy Pig and Grandpa Pig. Hours of fun afloat: Ideal for paddling pools or bath time, there's shape-sorting fun, plenty of spaces for Peppa's family to sit and swap, and hours of fascinating ways to explore the magic of water. Builds confidence around water: These colorful toys specially designed for little hands promote sensory development, fine motor skills and an understanding of cause and effect. Ages X?, Available now.
Squeeze Beats First Drum Set - A drum set made for the way babies play! The bright colors and unique fabric textures invite little hands to feel and explore. Then, as baby pats, squishes, and thwacks each bouncy piece, the whole thing comes to life with music. Create fun sound effects, lay to a backing track, or just goof around with animal sounds. It's a ruckus of sensory-learning excitement! Make first-time music-making more playful and more intuitive for babies with the Lamaze Squeeze Beats First Drum Set. Ages 12+ months, Available now.
New Lamaze Collection Soothing Heart Panda - A calming plush panda after your own heart! Press the tummy to cycle through four bedtime melodies, each accompanied by a red light and a vibration synced to the rhythm of a resting heartbeat. Press it a fifth time and you'll hear the heartbeat too! With a friendly, embroidered face and unique patterns and textures for baby to explore during the day, it's impossible not to fall in love with the Lamaze Soothing Heart Panda. Ages 9+ months, Available now.
Dissect-It Discover - It is a whole new type of unboxing experience! Slice your way through the one-of-a kind Dissect-It gel to uncover exciting prizes like toy insects, REAL freshwater pearls, and synthetic bones that fit together to create full skeletons! Each kit comes with a gel specimen that has a mystery prize inside, a foldable dissection table, a 2-in-1 scalpel and tweezer tool to help with the dissection process, and an in-depth learning guide. These kits are a great way to learn about nature without harming it and the gel is biodegradable and easy to clean up! Ages 5+, Available January 2023.
Top Secret Toys
GigaPets Floppy Frog - The hit virtual pet toy from the 90's is back and reimagined in another new and ribbiting form, Floppy Frog! In this game players must help their frog grow through 5 different stages of evolution starting as a tadpole and ending in a magical, surprise form. In order to the keep your frog happy and healthy you must feed, bathe, play games, discipline, train, and take them to the doctor. Each evolution comes with its own set of games (9 in total) and if you're lucky you might even see your frog turn into a balloon or do a fancy dance! Ages 5+, Available Spring 2023.
Single Egg, Wave 2 - Get ready for the ultimate Jurassic World: Captivz Dominion Edition Eggs! Wave 2 features over 15 Pop n Lock dinos to collect and battle. Each with unique details accurate to the Jurassic World Dominion movie, including never before seen species and three Glow in the Dark dinos! Un-wrap your egg, ooze through stretchy biosyn lab slime and reveal your species - will you find a Limited Edition Metallic species. Collect them all then get ready to battle! Includes 1x Pop N Lock dinosaur, 50g Biosyn lab slime, Battle Token and Collector Guide. Ages 3+, Available September 2022.
77 tfe September 2022
Toy CaptivzMonsterDominion
Dissect-It Squid Lab - The Dissect-It brand is diving into the world of ocean creatures with the new Squid Lab! In this newest edition young scientists can explore the world of invertebrates by dissecting eco-friendly, gelatin version of a squid. Each kit comes with a full vascular structure and set of organs as well as a highly detailed instruction manual to carefully guide budding scientists along the way. Dissect-It kits combine fun and education making them excellent for at home learning. Ages 5+, Available Fall 2023.
78 tfe September 2022
The Puzzle Prime Collection are the only puzzles in the world that feature Ultimate Fit Technology (UFT) and are created for true jigsaw puzzle lovers. The special Ultimate Fit Technology (UFT) allows you to put together any number of puzzles that can be connected into one large composition! In addition, thanks to the use of the thickest paperboard, unique shapes of puzzle pieces and special cutting method, you can easily carry the entire jigsaw puzzle around. Create your own collage from the Trefl Prime jigsaw puzzles. All puzzles are available in eco-friendly packaging. The Trefl Prime Series is available in various picturesque themes including Romantic Sunset, Color Slash, Funny Dog Faces, and Vacay Time and more! Ages 12+, Available September 2022.
Trefl
NEW PRODUCT PREVIEWS
Wild Republic's new Mysteries of Atlantis line consists of Mermaids and Plush that serve as companions to one another. The Mermaids represent various races and are more detailed than any other mermaid on the market thanks to sublimation printing, foil tails and other fine details. Each mermaid has a unique personality/story related to an animal friend featured in the detail of their eye. The hair is designed for optimal playability. The plush animals are made from original watercolor art – hand painted by Wild Republic's designers that was then photographed and printed on the plush patterns. These plushies bring arts to the forefront in a time when art has been unfunded across the country – WR is reminding all of the beauty of free hand art. They are also made 100% from recycled materials. Ages Birth +, Available Q1 2023.
The Trefl Wooden Craft line features unique, irregular and fun puzzle shapes to fit with the overall puzzle theme, along with beautiful patterns on the back of each piece, has extremely precise printing, as well as intense colors. Trefl's WoodCraft Origin series is the thickest puzzle on the market and one can even roll the puzzle up after it's done, and it stays intact. Crafted using eco-friendly materials, and wrapped in eco-friendly packaging, this high-quality puzzle features beautiful themes, thick pieces and once connected, turns into an incredible visual, perfect for display. The Trefl Wood Craft Origin is available in various themes. Ages 12+, Available September 2022.
Wild ASPCARepublicRescue:
Dogs with Authentic Sound - These furry friends have the best sublimation printing in the industry for ultimate realism and detail – along with the authentic bark specific to the breed. With this line, Wild Republic will be helping animals in shelters due to their new partnership with the ASPCA. With overcrowding in shelters, Wild Republic is set out to do their part in helping by giving to the ASPCA. Ages Birth +, Available Mid-year 2023.
Message from the Planet Mystery Mailbox - This mailbox with a Message from the Planet plush will also contain a letter inside from the planet, teaching kids the importance of sustainability. The variety of plush will remain a mystery until opened, making this collectible a fun surprise. The plush are made from 100% recycled material, with unique printing featuring sustainability messages from the planet to consumers. This plush holds the industry's first ever recycled plastic eye. Ages Birth +, Available Q1 2023.
Up Motion Double Bubble Wand - Play Day and Night with the LED Motion Wand, which comes with a 5oz Bubble Stick that makes big colorful double bubbles that last long using the high-quality Bubble Bonanza solution. As you move the wand, LED lights in the centre of the Bubble Stick Wand change to 3 different colors red, blue, and green. Plus, the LED wand makes creating lots of big bubbles easier every time and is fantastic for daytime play. Many bubbles blow out attached and then separate, floating up high in the air. In the evening, the LED wand illuminates the bubbles with different colors and looks super cool! Kids love it, and so do adults. Ages 5 plus.
Twistables Puzzles 2x2x2 - Cool contemporary colors and a fast-functioning design make this Twistables 2x2x2 puzzle a joy to solve! Made exclusively by Winning Moves Games USA! Contains: 1 plastic 2x2x2 Twistables™ puzzle. Ages 6+, Available January 2023.
79 tfe September 2022
- This super-sized puzzle is for advanced solvers or those looking for the ultimate mechanical challenge! Ready, set, twist! Contains: 1 plastic 4x4x4 Twistables puzzle. Ages 8+, Available January 2023.
LEDWishboneLight
3x3x3 Puzzle - This silky, smooth, mechanical twisty puzzle has fast action for fast solves. It is nice and light too which won't tire your wrists or fingers! Contains: 1 plastic 3x3x3 Twistables puzzle. Ages 8+, Available January 2023.
Insert Card Here - Insert your card between two other cards – one that's lower in value and one that's higher. Things move fast as the high and low cards in play change quickly. Wild cards and Reverse cards keep the game hopping. The first player to play all their cards wins. Contains: 99 High-quality custom playing cards, and illustrated instructions. Ages 8+, Available January 2023.
Crazy Yoobbles Super Long-Lasting Bubbles - You will love Crazy Yoobbles Bubbles! Get hundreds of bubbles in one wand dip with this Super Long Lasting Bubble Formula. Yoobbes Fly Far, Skip on Water, and stay on grass blades and leaves! They are perfect for playing in the summer and super cool to watch; catch them riding the waves. Crazy Yoobbles Bubbles land on grass blades, leaves, and branches and wobble with the wind. However, the wind does not break Yoobbles; they keep going, flying forever.
Winning Moves
Classic Wham-O Slip 'N Slide - Made exclusively by Winning Moves Games USA, this retro edition of Slip 'N Slide is the original backyard water slide! Remember all the fun of slip slidin' away with your friends on a hot summer day? Well now your children can enjoy that same fun in the sun! Contains: 19' Water slide, 2 anchors, 2 repair patches, set up instructions and safety checklist. Ages 5 - 12, Available January 2023.
World of EPI
80 tfe September 2022
NEW PRODUCT PREVIEWS
Black Panther: Wakanda Forever Fresh Fierce Collection - The World of EPI is set to introduce an exquisitely detailed line of collectible dolls based on the iconic characters from Marvel Studios' "Black Panther: Wakanda Forever". Leading multicultural doll pioneer, Dr. Lisa Williams and World of EPI, authentically designed the Fresh Fierce collection in collaboration with Marvel to bring the strong, powerful and brilliant warrior characters from Marvel Studios' "Black Panther: Wakanda Forever" to life. Series I is slated to hit retail this October, in advance of the highly anticipated film release on November 11th, and features 11.5" articulated collectible dolls based on lead characters Shuri, Okoye, and Nakia. Created with great attention to detail, these dolls feature striking character likenesses, custom-blended skin tones, authentic and first-of-itskind innovative hairstyles, intricate fashions, and replica playable battle accessories. World of EPI is the first to mass produce natural locs hairstyles, worn by Nakia in the film. Ages 6+, Available October 2022.
The Fresh Dolls and Rock The Bells Collection is the newest partnership between World of EPI and Rock the Bells, a Hip-Hop lifestyle platform founded by the legendary LL Cool J. Celebrate Hip-Hop's 50th anniversary through a product line that reflects its culture and authenticity. Children can embrace their love of Hip-Hop through an assortment of iconic collectable Hip-Hop dolls, role-play products, children's costumes, fashion accessories and coloring books. Each doll is adorned in culturally representative and contemporary clothing, marrying the fashion influences of Hip-Hop with the one-of-a-kind artistic sculpts and custom blended skin tones World of EPI is known for. Contemporary modern artist J. Pierce creatively designs thematic coloring books that the young and young and heart can enjoy. Hip-Hop is a global phenomenon that is timeless and transcends the generations, making it essential and relevant as ever. Ages 3+, Available November 2022.
The Fresh Squad Doll Collection of 12" male multicultural fashion dolls were created by Dr. Lisa Williams so all children can see their beauty, brilliance and power reflected back to them. The line includes a diverse crew of African American, Afro-Latino, Latino/Hispanic, and Caucasian dolls featuring sculpts that are one-of-a-kind pieces of art, custom blended skin tones, authentic features of beautiful full lips, noses, gorgeous eyes, variety of natural hair textures and fashion forward stylish clothes. Characters in the collection are Anthony, Daniel, Ian, and Malik. Dolls come in 5 & 13 points of articulation to foster imagination during positive play. Ages 3+, Available Fall 2022.
Let the essence of your style be your guide with the Fresh Essence Collection. Celebrate everything you are: one-of-a-kind with infinite possibilities! Each Fresh Essence doll is outfitted in trendy fashions with Fresh-Finity Wear technology that allows each garment to wrap, twist, easily pull on. Carissa, Regine, Shanelle, Layla, Lumen and Iman are beautifully unique with dazzling features, gorgeous hair textures, and beautifully custom skin tones. Standing at 10" inches tall and with 5 points of articulation, the Fresh Essence dolls foster imagination during positive play. Ages 3+, Available November 2022.
81 tfe September 2022
TheWowWeeFashion
Body pop, which outfit will drop?! Introducing Pop Stars, the newest doll sensation from My Squishy Littles. A collab between fidgets and dress up, My Squishy Little Pop Stars are interactive fashion dolls with the cutest fidget features! Unbox to reveal 1 of 2 surprise Pop Stars characters, 2 outfits, and 8+ accessories to complete their look! Mix & match accessories to create endless looks and squeeze their cheeks to reveal their fashionable fits: styled by you! Want to swap up your look?! Each outfit is double sided. Push your Pop Stars body in, squeeze their cheeks, and get ready to strut down the red carpet! Stretch their hair, squeeze their cheeks, and snap on their accessories, the fidget fun never ends! Each My Squishy Little Pop Stars doll has a totally unique food theme, which one will you pop?! Fast Food Fiona, Sweet & Salty Sophia, Rainbow Cake Reagan, PB & Jade, Breakfast Brooke, or Donut Demi! Collect all 6 characters! Ages 5+, Available Fall 2022.
Fidgets world gets even more fabulous in Spring 2023 with new fidget play, new themes, and mix & match accessories. Grow your Fashion Fidgets collection with 35+ fidget dolls to collect across 3 new series: Rainbow, Mermaids, and Pets! Collect a fidget rainbow with beautiful Rainbow dolls, now with removable skirts that you can mix & match! Each doll is dressed from head to toe in 3 fidget features from one color of the rainbow! Collect all 12 to mix and match fashions across dolls. New Mermaid themed dolls make a splash with a fan-favorite fidget trend: pop tube mermaid tails! There are 9 new mermaid dolls to collect, and each has 3+ fidget features. Stretch, spin, and twist their removable pop tube mermaid tails! And of course, every fidget fashionista needs a pet BFF! Fashion Fidgets Pets come in an adorable new size, with 1 fidget feature and 1 removable fidget accessory per doll. Will you find all 16 pets? Share & trade your Fashion Fidgets collection with friends, each doll comes with a keychain and trading mat. Fun for ages 5+!
Mattel: Mike DeLaet, Global Head of Digital Gaming
In his role, DeLaet will be responsible for accelerating Mattel's digital gaming product o ering across all major gaming platforms, including licensing, self-publishing, and web3, as well as overseeing Mattel's joint venture partnership with NetEase called Mattel163. DeLaet's experience spans all facets of gaming including business development, marketing, mobile/console/PC, IP licensing, corporate development, and distribution. Prior to his tenure at Scopely, DeLaet founded Rogue Games, where he successfully grew revenue and scale in its rst full year.
ZAG: Helena Perheentupa
In his role, Jos Huxley will lead the continuing development of technical policies and strategies relating to toy safety, environmental sustainability, supply chain issues, factory processes, and other related matters, acting as a guide for member companies navigating these and other issues under the umbrella of technical a airs. Over the next six to nine months, Jos will work alongside Alan Kaufman, who recently transitioned to the role of senior advisor of technical a airs, and who will then fully retire a er more than 11 years with e Toy Association and more than 40 years in the toy industry.
In her role, she will oversee setting and implementing strategic HR direction in people, culture, organizational structure, diversity, and inclusion across teams globally. Graczyk brings over 25 years of experience in leading and advising organizations on talent development, culture, employee engagement, change management, technology implementation, as well as developing and delivering human capital HR strategies and solutions.
e Toy Association: Jos Huxley, Senior VP, Technical A airs
You're Hired!
De Vellis will be responsible for driving strategic group capabilities and delivering operational excellence across all digital studios, encompassing the awardwinning Toca Boca and Noid, based in Stockholm, Sweden, Originator located in San Francisco, California, and Sago Mini, located in Toronto, Canada. De Vellis has a rich background in the gaming industry having worked for Electronic Arts (EA) for more than 20 years.
PlayMonster: Amy Graczyk, Chief People O cer
Spin Master: Marc De Vellis, Senior VP, Digital Operations & Strategy
82 tfe September 2022
Sujata Luther has spent time consulting for Just Play and will assume a full-time role to support the growth and expansion of Just Play. In her new position, Luther will oversee the company's day-to-day operations. Just Play's founders and current Co-Presidents, Geo rey Greenberg and Charlie Emby, will transition to Co-CEOs, focusing on long-term strategic planning and partnerships. Prior to joining Just Play, Luther held key executive roles across the industry including EVP of Consumer Insights at Nickelodeon, Chief Operating O cer at MGA, and Sr. VP Global Consumer Insights and Strategy at Mattel.
Helena Perheentupa serves as Senior Vice President of the new ZAG Play Toy Division, charged with developing a broad range of innovative toy products that o er synchronization between storytelling and the physical and digital world that will be deeply tied to the DNA of the company's brands. Perheentupa will work closely with the content development team and screenwriters to seamlessly integrate the stories with physical play. e ZAG Play Toy Division will initially focus on new product lines for the company's globally popular agship property, Miraculous - Tales of Ladybug and Cat Noir; as well as Ghostforce, the latest series to have debuted.
Senior VP, ZAG Play Toy Division
Just Play: Sujata Luther, President
Studio Dice/SHUEISHA, TV TOKYO, KONAMI For licensing opportunities, please
Coleman •
ALWAYS TIME TO DUEL!
©2020 contact: Jennifer konamicrossmediany.comcj.52363@konamicrossmedia.com•yugioh.com