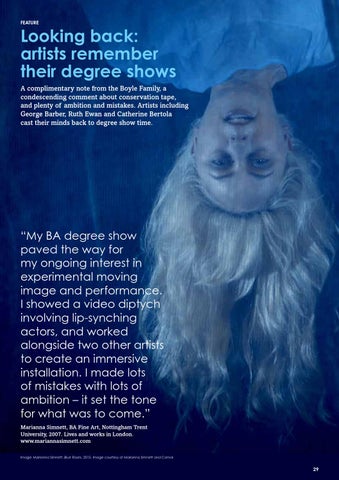 FEATURE
Looking back: artists remember their degree shows A complimentary note from the Boyle Family, a condescending comment about conservation tape, and plenty of ambition and mistakes. Artists including George Barber, Ruth Ewan and Catherine Bertola cast their minds back to degree show time.
"My BA degree show paved the way for my ongoing interest in experimental moving image and performance. I showed a video diptych involving lip-synching actors, and worked alongside two other artists to create an immersive installation. I made lots of mistakes with lots of ambition – it set the tone for what was to come." Marianna Simnett, BA Fine Art, Nottingham Trent University, 2007. Lives and works in London. www.mariannasimnett.com Image: Marianna Simnett, Blue Roses, 2015. Image courtesy of Marianna Simnett and Comar
29
a-n Degree Shows Guide 2016  
a-n Degree Shows Guide 2016  
2016 Degree shows publication highlighting the best graduate art and design shows around the UK, with commentary and insight from artists, c...