PROMec Programme Information
PROMec Programme
THE SEEDS THE BUSINESS THE REWARDS
Are you: Professional Mechanic (mobile or workshop)?
Parts Re-Seller?
Maintaining a Fleet of AGCO Machines?
Specialist Repairer / Refurbisher?
Franchised Dealer (non AGCO)
If you answered 'YES' to any of these then why not become a PROMec Customer today?
PRO
Mec
✓
FREE TO JOIN – No Subscription Charges)
(
Benefits of joining the PROMec Programme
The PROMec Programme was developed for you the Professional Mechanic.
Joining the programme offers you exclusive membership, the opportunity to purchase Genuine AGCO Parts at competitive prices & helps you build a strong relationship with your AGCO PROMec Dealer
PLUS it's FREE TO JOIN (no subscription charges)
PROMec Customer Benefits
Access to:
- eCom Webshop
- Direct Ship (if within Dealers territory)
Confidence:
- Right First Time (saving both time & money)
12 Months Parts Warranty
PROMec communications & offers (Dealer specific)
Opportunity to develop a strong relationship with your PROMec Dealer
✓ ✓ ✓ ✓ ✓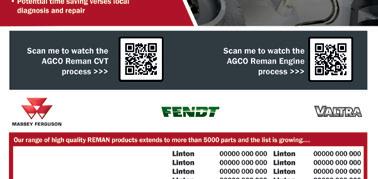 Key applications shown. Exclusions and additional machines may be applicable. Consult your PROMec Dealer before ordering. If you would like to take advantage of more great savings on a wide range of genuine AGCO Parts, please contact your local PROMec Dealer. All Images used are for illustrative purposes only. Every effort has been made to ensure that the information contained in this promotion is as accurate and current as possible at the time of going to print. However, inaccuracies, errors and omissions may occur and details may be changed at any time without notice. Therefore please confirm with your AGCO Parts dealer prior to any purchase. All parts are delivered and accepted in accordance with AGCO's normal terms and conditions which are available on request. © AGCO 2023. AGCO Parts provide worldwide genuine support to all AGCO machinery brands. Images used are for illustration purposes only. MC01839 PROMec PROMec Programme ✓ Competitively priced ✓ Guaranteed quality ✓ Right first time - first choice for Genuine AGCO Parts Interested in becoming a PROMec Customer? Contact your local AGCO Dealer for more details email: alan.brown@agcocorp.com or scan the QR Code PROMec