&Foodflavor
Design
Mady Rigg
Miss Montana USA 2023 Mady Rigg, a Flathead Valley native, is passionate about leadership and community. After serving as Miss Montana Teen USA and graduating from Glacier High School, she studied communication at Eastern Washington University. Mady now builds appreciation for the beauty and unique ecology of our state as Marketing Manager at the Glacier Institute. Mady volunteers for Leadership Flathead, connecting classmates to local issues, leaders, and businesses. She enjoys hiking, boating, and logging windshield time around Montana.
Cover Girls...
She picked up a fiddle 20 years ago and has been making beautiful music ever since. Read Rachael Seymour's story about King on page 10 in our business & health section.
22. Summertime cooking 28. Serie S 9 g rill from D c S 31. A S k the Butcher 34. l et' S tA lk A B out Vo D k A 34... 8 406 w oman.com woman 4 06 Home 18. m ontA n A Summertime gA r D ening
38. Americ A n mAD e
42. g l A cier Symphony' S Vi B e S A n D Vi S ion S Love Story 46. k el S ey & Sh A wn
Music
HannaH King
photo by Megan McKay
photo by JeReMiaH and RacHel
florals : BluMe Hill Studio. jewelry : McgougH and co.
Summer is in full swing and we hope you are soaking up the sunshine and enjoying all summer has to offer!
We also hope you find inspiration in the pages of our summer issue.
Maybe a recipe to try, a shop to visit, a place to explore and to meet some of the incredible women in our community!
Thanks for picking up an issue! With Gratitude, Cindy & Amanda
406 w oman.com 13
"It's a smile, it's a kiss, it's a sip of wine ... it's summertime!"
Editor's Letter
publisher cindy gerrity cindy@montanasky.net
business manager
Daley mcDaniel daley@montanasky.net
managing editor
kristen hamilton montanakristen@gmail.com
creative & social media director
Amanda wilson afwphotography@me.com
design
Sara Joy pinnell sara@mrsandmrpublishing.com
photographers
Daley mcDaniel photography
Amanda wilson photography
marianne wiest photography
Ace photography
Published by Skirts Publishing six times a year
704 C East 13th St. #138 Whitefish, MT 59937 info@406woman.com
Copyright©2023 Skirts Publishing
Want to know about great events, open houses, and more? Like us on Facebook at facebook.com/406 Woman
406 Woman is distributed in Bigfork, Columbia Falls, Kalispell, Missoula, Whitefish and every point in between.
Check out www.406woman.com for our full distribution list.
Have a great story idea or know someone that we should feature? Email us with your comments & suggestions.
Interested in increasing your business and partnering with 406 Woman? Check out www.406woman.com.
Being a retailer with a specialty store in a small town is tough. On any given day you may be the boss, cashier, stocker, heck even the plumber. It's hard work!
At 406 Woman magazine are blessed to work with a number of these hard working small retailers and the one thing I've noticed that they have in common is sincere kindness. They care about their customers. They work to find that item whether it's jewelry, a table, a new outfit, or a special gift.
One of those stores is Imagination Station with locations in Whitefish and Kalispell. The owner, Denise Magstadt, happens to be a friend of mine and I've shopped at her store over the past 20 years for my kids and now my grandkids. Initially perhaps because she was a friend but I continued because it's a great store with sincere, helpful, and nice staff.
Recently, she decorated her window at the Whitefish store with a spring motif showing sun, rain, and a rainbow. A customer called saying they will no longer shop there because they have a rainbow in the window.
It may be a message that EVERYONE is welcome and I like that message. It could also be A RAINBOW and how sad that the customer will be missing out on shopping here.
We hope that you don't miss out and visit Imagination Station and all of the advertisers of 406 Woman magazine…shop local!
We're all DIFFERENT but let's CELEBRATE those differences and work TOGETHER to LIFT each other UP and see the BEST in everyone.
Have a great summer, Kristen
What did I learn this issue?
That there are many different styles of Yoga that one can practice. Read Yoga Hive Montana's story on page 34 to learn about which style taught in their studios may help you reach your fitness goals.
View current and past issues of 406 woman at
www.406 w oman.com
oman.com
Logan Health has established a High Risk Pulmonary Nodule Clinic that will serve patients who have been identified as having spots on the lungs that have one or more features that could be consistent with cancer. With lung cancer being the deadliest cancer in the United States, early detection and treatment will save lives in our valley. Please read Chris Leopold's story on page 38 to learn more.
16 406 w
"We become not a melting pot but a beautiful mosaic. Different people, different beliefs, different yearnings, different hopes, different dreams."
– Jimmy Carter
woman 406
Montana Summertime Gardening
By Michael Connolly, General Manager Hooper's Garden Center - hoopersgc.com
home}
home} Hooper's Garden
Summertime in Montana is active with celebrations, camping, entertaining, and numerous other outdoor opportunities that the great 406 offers to its residents and visitors alike. As gardening enthusiasts, we are no exception to enjoying Montana summers. In fact, we thrive on it. In addition to enjoying our summer activities we are also preparing, maintaining, harvesting and enjoying the fruits of our gardening labor. Like all seasons, summer brings about some changes in our gardening protocols and knowing what these changes consist of can be a great advantage to the novice or experienced gardener alike for helping to ensure short and long term gardening success. Here are some key gardening areas and some of the important things to look out for during this wonderful time of the year.
Annuals
Pay close attention to the watering needs of your annuals, hanging baskets and planters. Warmer days combined with the growth of your plants equates to more watering than earlier in the summer. This also means your plants require more fertilizing because of the additional watering to keep them looking their very best. My rule of thumb is whatever your water and fertilizing schedule was in May/June, multiply it by two for July and August.
Fruit & Berries
Due to the abnormally warm spring, fruits and berries are ripening much earlier than is typical for our area. Be prepared with any extra watering and make sure you are protecting the fruit with netting or other means so birds and other fruit stealers do not take away your wonderful summer bounty. If you are growing fantastic flathead cherries, be sure to spray once a week with an all-natural Spinosad spray beginning around the 4th of July to ensure your cherries are worm free.
Herbs
Enjoying summer here always includes time in our outdoor living spaces. Whether you are barbecuing or just relaxing outside on the deck, it's a great idea to have some fresh herbs in pots to enjoy while you are gathering with friends and family. Fresh Mint and Rosemary are always a great idea, but Basil, Lemon Thyme, Pineapple Sage and Parsley are always great additions to consider.
Lawn Care
Keeping the grass green during the summer heat can be a challenge. Warm season grasses are heavy feeders and the extra summer watering causes leaching of nutrients creating nutritional deficiencies. Applying a time release or natural lawn fertilizer will keep the grass green without burning and the slower release of nutrients ensures slower grass growth so you don't spend the entire summer mowing your lawn. This is also a great time to apply grub control to your turf areas. One applica-
tion will protect your lawn for the rest of the summer from grubs and other lawn root eating insects.
Important Lawn Watering Tip: the best way to water your lawn is with less frequent deep waterings instead of frequent shallow waterings.
Perennials
Similar to utilizing herbs in your outdoor living areas, I also recommend keeping some aromatic perennials either planted in nearby beds or, even better, in pots for your gathering areas. Lavender and Beebalm are must have plants for this purpose with their amazing fragrance, especially during the evening hours. Planting them in decorative pots allows design creativity and the ability to move them to different locations in the yard or wherever you may be relaxing. I really like to use them in decorative containers because of their versatility and style. There is annual lavender available to use for this purpose, but I like to use the perennial versions so at the end of summer, just transplant your perennials into your garden beds so you can enjoy them for years to come in your landscape.
Trees
The greatest advice for trees and shrubs in summer is to make sure everything is adequately watered. If we experience long durations of no rainfall or dry spells, make sure even your mature trees are getting an extra deep drink of water once or twice a month. Use a hose on a slow trickle and move it in quadrants around your tree thoroughly saturating each area with a slow deep soaking. This is important for both Deciduous and Evergreen trees. On a pruning side note, mid-summer is also the proper time of year for pruning Maple and Birch trees for thinning or limbing up branches.
Vegetables
Just like your annual flowers and lawn, your vegetables will really benefit from a midsummer feed-
ing or what they call a side dressing with your favorite fertilizer of choice. This is also a great time to add calcium to your cucumbers, peppers, squash and tomatoes to prevent blossom end rot from occurring on your fruit. Ground Oyster Shell is my favorite to use for this purpose, but Gypsum or Bone Meals also work very effectively.
Stop by and see us at Hooper's for all your summer gardening needs!
Courtesy of Hooper's Garden Center 2205 MT Highway 35 E Kalispell MT 59901 406-752-2770 - www.hoopersgardencenter.com
Michael Connolly has been gardening, growing, landscaping, professionally designing and educating within horticulture for nearly 40 years, including being a member of the Hooper's Garden Center family for over 30 years. A graduate from the University of Minnesota Agricultural Campus. He is a proud father of four amazing children and is passionate about educating and helping others in realizing the true beauty of plants in the outdoor and indoor landscape environment.
406 w oman.com 21
Summertime – when the cooking should be easy and the flavors fun
By Leslie Budewitz
As the author of two series of "culinary cozies," light-hearted mysteries with a foodie focus, I love adding a dash of the unexpected to a recipe almost as much as I love curling up outside on a summer day with a good mystery! These three easy-peasy recipes will give you and your friends and family another reason to love the season.
Baked Paprika Cheese
Local goats make the best cheese, and it's especially flavorful this time of year, full of zip and tang. But any good goat cheese will be even better with smoked paprika.
"Smoked paprika might just be my favorite spice, if I were playing favorites, but I'd never say so out loud, where the other herbs and spices might hear me."
—Pepper Reece, owner of the Spice Shop in Seattle's Pike Place Market, in a Wok and a Dead Place
Ingredients
4 ounces goat cheese
1 teaspoon sweet smoked paprika
8–10 slices of a baguette, toasted, or crackers
Directions
Heat oven to 350 degrees.
Shape the goat cheese into a disc about 1 inch by 4–5 inches and place on a baking dish or in a ramekin. If you are using a rinded cheese, slice off the top. Sprinkle the disc with 3/4 teaspoon paprika.
Bake about 15 minutes, until cheese is soft and gooey.
Toast the bread in advance, or pop it into the oven during the last 7 minutes that the cheese is baking; toast 5 minutes on one side, turn, and toast 2 more minutes.
Place the cheese or baking dish on your serving plate. Top with the remaining 1/4 teaspoon paprika. Arrange toasts on plate and serve immediately.
Serves two as an appetizer.
(Originally published in Chai Another Day by Leslie Budewitz.)
Huckleberry Chocolate Mousse
Nothing screams Montana quite like the huckleberry—especially if you managed to beat the bears to the crop yourself!
Ingredients
3-1/2 to 4 ounces bittersweet chocolate, coarsely chopped
3 large eggs, separated, at room temperature
2 tablespoons huckleberry syrup
pinch of salt
1-1/2 teaspoons sugar
whipped cream or crème fraiche, for serving (optional)
berries or mint leaves, for serving (optional)
Directions
Melt the chocolate using a microwave-safe bowl, double boiler, or saucepan. Remove from heat and add the egg yolks, one at a time. Add the syrup.
Beat the egg whites and salt until they start to form peaks. Continue to beat, gradually adding the sugar, until the whites are shiny and form stiff peaks, about 5 minutes.
Spoon about a quarter of the egg whites into the chocolate and stir in gently. (This lightens the chocolate and makes folding in the rest easier.) Spoon the rest of the egg whites into the chocolate and fold with a rubber spatula, being careful not to overwork or deflate the mixture. A few streaks are fine.
Spoon into a serving bowl or six individual bowls, cups, or ramekins. Garnish and serve, or chill to serve later.
24 406 w oman.com
profile} Les L ie Budewitz
Lemon Thyme Shortbread
Herbs give these shortbread squares a light, summery touch that goes down easy in any season. Serve with lemon sorbet for an elegant pairing. Try using lightly crushed lavender buds instead of thyme for a burst of color and a surprising flavor.
Ingredients
½ cup butter, softened
1/4 cup white sugar
1 tablespoon fresh thyme or lemon thyme leaves
2 teaspoons finely grated lemon zest
1 tablespoon fresh lemon juice
1/4 teaspoon ground cardamom
1-1/4 cups all-purpose flour
Coarse white or granulated sugar, for topping
Directions
Preheat oven to 350 degrees.
Beat butter with an electric mixer on medium speed for 30 seconds. Add 1/4 cup white sugar and mix until combined. Add thyme, lemon zest,
lemon juice, and cardamom, scraping the sides of the bowl if necessary to get all ingredients combined. Gradually stir in the flour and mix.
Form the dough into a ball. To make it easier to work, divide dough into three equal portions. Roll each out on a floured surface into a 6 X 4-1/2 inch rectangle, about 1/4 inch thick. Cut into 1-1/2 inch squares with a knife or a serrated pastry wheel. Sprinkle with coarse or granulated sugar. Place squares on ungreased cookie sheets.
Bake 12-15 minutes, until edges and bottom are golden. Cool on a wire rack. Makes 36 small cookies.
(Originally published in Killing Thyme by Leslie Budewitz.)
This summer, I'm celebrating milestones in both my mystery series. Between a Wok and a Dead Place, the 7th Spice Shop mystery, launches July 18. When her life fell apart at age 40, Pepper Reece never expected to find solace in bay leaves. But her impulsive purchase of the Spice Shop in Seattle's famed Pike Place Market turned out to be one of the best decisions she ever made. Between selling spice and juggling her personal life, she also discovers another unexpected talent—for solving murder.
Pepper loves a good festival, especially one serving up tasty treats. So what could be more fun than a food walk in the city's Chinatown–International District, celebrating the Year of the Rabbit? When a friend discovers a body in a boarded-up building in the Chinatown-International District and believes she's being haunted by the ghost of Bruce Lee, Pepper investigates. As the clues pile up, it's clear that someone's fortunes are about to take a deadly change.
Join me for a launch party at the Bigfork Art & Cultural Center (BACC) at 2:00, Sunday, July 23. I'll talk about the series and incorporating history into fiction—and there will be fortune cookies!
My Food Lovers' Village mysteries are set in a fictional version of Bigfork—I call it Jewel Bay, but you won't be fooled! August marks the 10th anniversary of the first in the series, Death al Dente, winner of the 2013 Agatha Award for Best First Mystery. We'll be celebrating at the BACC during the First Friday Art Walk on August 4 from 5-8, and again on the streets of Bigfork during the Festival of the Arts, August 5-6.
Leslie Budewitz writes the Spice Shop mysteries set in Seattle's Pike Place Market and the Food Lovers' Village mysteries, set in a fictional version of Bigfork, Montana, where she lives. As Alicia Beckman, she writes moody suspense set in Montana and the Northwest, including Bitterroot Lake and Blind Faith . Find her books in print, ebook, and audio across the US and Canada, wherever you buy books.
Series 9 Grill from DCS
When Craig called and asked me to pick him out a new grill, I knew exactly what I wanted to put on his patio. The Series 9 grill from DCS. DCS invented the premium outdoor grill when I was a junior in high school…. yes that was a long time ago. And they have kept innovating since creating their first grill. With better lighting, their trademark double-sided grill grates and nearly 90K BTU's of power the new Series 9 did not disappoint on this day as you can see! It's always my first recommendation.
Oh—and you can use charcoal in it too… -Lane Smith
Last month in our May/June issue, Lane Smith wrote Blended for his In the Kitchen with Lane column. It highlights the blending of families whether they are blood or by chance. I encourage you to read the story in its entirety and try out all the recipes featured.
In the meantime and since we are amid summer grilling season in Montana, we had to share our
Lemon, Parsley, Garlic Compound Butter
Ingredients
• 1 stick (1/2 cup) unsalted butter
• zest from one lemon
• 2 Tbsp fresh lemon juice
• 1/4 cup parsley, minced
• 1 small garlic clove, minced and smashed to a paste
• 1/4 tsp salt
Directions
1. Allow butter to soften at room temperature.
2. Mince garlic and then press into a paste. You can use a garlic press for this or use the back of your knife and carefully smash down garlic with a little salt.
3. When soft add all ingredients to a bowl and mix (by hand or food processor) to incorporate.
4. Lay out a piece of parchment paper and form a log. Tightly roll and twist to seal. Place in refrigerator on a plate in case there is excess lemon.
5. Refrigerate for 2 hours or freeze for 20 minutes if slicing.
Ingredients
• 2 New York steaks (about 2-inches thick)
• 2 cloves of garlic (smashed)
• 1/2 teaspoon chopped fresh rosemary (plus 4 whole sprigs for basting)
• 1/4 teaspoon chopped thyme
• 1/2 teaspoon grated lemon zest (1/2 lemon)
• 1 lemon halved (charred on the grill)
• 2 tablespoons Genesis Kitchen Garlic olive oil
• 1 teaspoon coarse salt, or salt blend
To finish
• Compound herb butter (recipe to follow)
• 1/2 tablespoon coarse salt
Directions
1. Place the steaks on a rimmed plate or baking sheet and rub all over with the smashed garlic cloves. Sprinkle evenly with the rosemary, thyme and lemon zest. Drizzle with the garlic oil. Rub the herb mixture into the meat. Allow to sit at room temperature for 30 minutes.
2. Prepare a grill for medium-high heat. Preheat the oven to 500 degrees F. Set a wire rack over a rimmed baking sheet.
3. Rub the prepared grill with the lemons halves then put the steaks on the grill until they are charred and remove. Sprinkle the steaks evenly on both sides with the salt. Remove the steaks to wire rack, and transfer to the oven. Place whole rosemary sprigs on top of the steaks. Cook for an additional 15 minutes, flipping halfway through, or until an instant-read thermometer inserted in the middle of the steaks reads 120 degrees F.
4. Remove the steaks to a plate, place a slice of compound herb butter on top with the fresh rosemary sprigs. Squeeze the lemons halves over the top. Let rest 10 minutes before slicing. Finish with a sprinkling of coarse salt.
30 406 w oman.com
food}
Photos by
From left to right: Craig Denman, Connie Denman, Lane Smith, Jessica Bubar and Troy Denman
270 nucleus Ave. columbia falls, mt 59912 - monday through Saturday 10am to 6pm 406-897-2667 Try our crisp and zippy Suyo Cucumber in dressings, marinades and shrubs. Use it to add an exciting zing to your next caprese salad or add a splash to your next shrimp cocktail. The possibilities are endless. www.genesis-kitchen.com White Balsamic
Ask the Butcher
food} a sk t H e Butc H er 406 w oman.com 33
Let's Talk About Vodka
By Mary Wallace
Recorded history dictates that vodka was originally made from potatoes and invented somewhere in Eastern Europe or Russia. Different varieties originated in Poland and Sweden, so it seems they all want to claim to have created it.
VODKA'S STRANGE BREAD-SNIFFING RITUAL
Wherever it originated, vodka is not something to sip and savor in Russia. It is usually taken neat and both the vodka and the glasses should be retrieved from the freezer. According to Russian rituals, the vodka should be cold, the glass should be tiny, and there must be something salty, or rye bread, to follow.
The freezing temperature of the drink is a no-brainer; it sends the shot down the throat more comfortably. But why the bread?
The ritual is not merely medicinal, it also serves a social function; so by eating or sniffing bread after the shot, one is demonstrating that they are not just knocking back vodka to get drunk. If one doesn't have something to chase the vodka with, like a piece of salty bread or some herring, or, even better, caviar, then they do the sniffing. It's symbolic.
Then there's the act of toasting itself. "If you drink, you must say a toast!" Common toasts can be for the group meeting together, for the beautiful women at the table, or for the health of the Queen. There needs to be something for everybody. It helps people to feel that they're united.
According to our friends at the Bigfork Liquor Barn, vodka is one of the most popular types of alcohol. It's a most versatile substance since vodka is simply a clear, distilled alcoholic beverage mainly composed of water and ethanol. Traditionally, it
was made by distilling liquid from fermented cereal grains, and potatoes in Europe in the 1700s. Some modern brands use corn, sugar cane, fruits, honey, and maple sap as the base. Since the 1890s, standard vodkas have been 40% alcohol by volume (ABV) (80 U.S. proof). The European Union has established a minimum alcohol content of 37.5% for vodka. Vodka in the United States must have a minimum alcohol content of 40%.
The original uses weren't for drinking casually, but rather for medicinal uses and possibly as a remedy against very cold weather.
HISTORY OF VODKA IN AMERICA
During WWI, vodka was introduced to soldiers from the United States. Consumption was becom ing mainstream for the first time outside Eastern Europe and American soldiers contributed even further to its fame during WWII.
After WWII, the United States took over most of its production. American distilleries are responsible for unique styles of vodka, as they were the first to use other fermentation substances. In 1930, vodka's popularity really took off, when it was featured in the Savoy Cocktail Book, which included recipes for numerous cocktails. It's still one of the best cocktail recipe books and is a source of inspiration for mixologists worldwide.
As vodka became the main ingredient for cocktails, glassware for alcoholic drinks evolved, too.
Signature glasses became associated with specific recipes, creating detectable differences in bars and restaurants. Some establishments even came up with bar event ideas that revolve around vodka cocktails, such as the Espresso Martini Festival in New York City.
The top best-selling brands of vodka in 2022 were Tito's, Smirnoff, New Amsterdam, Svedka, Absolut, and Grey Goose.
INTRODUCING FLAVORED VODKA
In 1986, the first flavored vodka hit the market. Absolut released its Peppar flavor seven years after launching the brand. Many brands opt for infusion methods. Though they add flavor, the process results in a high-quality vodka. Infusion is the process of steeping ingredients like fruits and herbs into the vodka instead of adding additional ingredients at the end.
36 406 w oman.com
food}
SUMMER VODKA COCKTAILS LEMON DROP
1 1/2 oz Tito's Handmade Vodka
1/4 oz simple syrup
3/4 oz lemon juice
1 lemon slice
Add all ingredients to a shaker with ice. Shake and strain into a sugar-rimmed martini glass. Garnish with a lemon slice.
HUCKLEBERRY COCKTAIL
Fill a glass approximately half full with ice.
Pour in 1½-2 shots of your favorite huckleberry vodka, next pour in fresh lemonade and a splash of club soda if desired. Garnish with freshly sliced lemon circles. Serve immediately.
VODKA USES
Vodka wasn't always meant for consumption. There are many ways to use vodka aside from drinking it. If you end up with a bottle of vodka that you won't consume, wait before disposing of it.
Over the years, people have discovered that you can use vodka for numerous household purposes. Vodka is an efficient solution for cleaning around the home. For instance, it works wonders on residue and can lift stains.
If you're ever in need of vinegar but have vodka instead, they work very similarly. It's safe to use on appliances; it can even give them a shiny finish.
You can keep flowers looking beautiful with vodka. Add just a couple of drops with a teaspoon of sugar to your vase to halt the production of ethylene–the chemical that causes flowers to wilt.
Before heading outside to trim the weeds, dilute an ounce of vodka and a few drops of dish detergent with water. Add the solution to a spray bottle and spritz all over the weeds directly exposed to the sun. The greenery will dry out in no time.
COOKING WITH VODKA
Vodka adds a delicious boost to meals. It's often an ingredient in sauces and glazes. Since vodka is tasteless, many types of chefs prefer using it over wine, as it doesn't add flavor to their recipes. It's a foolproof way of strengthening the flavor profile for a robust taste.
For a flaky pie crust, replace the water called for in the recipe with vodka. You'll love the result!
Want to experiment? Stop in at the Bigfork Liquor Barn and pick up your favorite brand of vodka!
406 w oman.com 37
food} Vodka
american Made
By Callie Reagan and Alana Wright, Wright's Furniture
design}
40 406 w oman.com
Furniture made in America is as much an art form as it is a manufacturing process. The differences between a well-crafted piece of furniture and a mass-produced one speak for themselves. At Wright's Furniture in Whitefish, we see the benefits of buying American Made and proudly offer furniture and accessories crafted in the U.S.A. Buying products made in America creates jobs, reduces the world's carbon footprint, supports safe and fair working conditions, helps grow the U.S. economy, and ensures safe quality products.
USA Made products range all levels of products from main pieces to accents, from beds to leather sofas and pillows and throws that accent both. Not only are they diverse in products but they are customizable to your style and home.
D.V. KAP is one of Wright's favorite manufacturers of accent pillows and throws. Their pillows encompass all the elements of luxurious decorative accents while maintaining competitive costs. Ranging in color, texture, and style, these pillows can perfect the look of any room, elaborating a personal style and captivating the essence of a space.
King Hickory Furniture has been dedicated to building superior furniture for over 50 years. They embody the elements of luxury, quality, style and provide a distinctive collection of timeless upholstered fabric and fine leather furniture to enhance the atmosphere of any setting. At Wright's, we are proud to feature them in our in-store design center where we provide complimentary design services to help you customize your piece from a vast selection of fabrics, leathers, finishes, and decorative accents.
Green Gables is a family-owned business that specializes in handcrafted rustic furniture pieces for every room. They are known across the country for their superior rustic designs and their style stands out from the rest because it shows quality, craftsmanship, and American history. Many of their products are handcrafted from reclaimed and sustainable woods in Bradford, Illinois. They use old, dilapidated Midwest barns which are re-purposed and given new life into these furniture pieces. Their products are all fully customizable so a specific size, finish, or function can be selected.
Hancock & Moore is a favorite American manufacturer of customizable leather and upholstery products, who understands that style emanates from
USA Made products range all levels of products from main pieces to accents, from beds to leather sofas and pillows and throws that accent both.
within. That is why each original piece is custom-made to your exact requirements. Endless choices of leather, fabric, trim, and wood finishes are available. Hand-built quality and pride in craftsmanship ensure that your statement of self-expression will last for generations to come.
Quality sleep is usually linked with a quality mattress. Therapedic is designed and engineered to provide you with proper support and comfort for many years. At Therapedic they believe that with every stitch in every mattress comes a commitment to quality and belief that customers deserve a good night's sleep at a fair price. These foundations of quality are shared with Wright's Furniture when selecting your next great investment. With furnishings available for every room and over 1000 fabric and leather choices, free design services, we make it easy to buy American made at Wright's Furniture.
406 w oman.com 41 oPEN DaIlY |frEE loCal DElIVErY | frEE DESIgN SErVICES
design}
urniture is open 7 days a week, offering complimentary design services with free local delivery and install. urniture showroom in Whitefish or learn more at wrightsfurniturestore.net
www.hitchedparty.com - (406) 249-7152 Skip the wedding planning, and call us today to get your customized wedding package from our team of florist, equipment rental, designer, caterer, & photography pros!
we make it easy for you to save money, and still have the wedding of your dreams!
There are STill Some remaining prime daTeS available for 2023, and we're currenTly booking 2024!
Bess has a background in real estate and interior design. She loves nothing more than entertaining and creating beautiful spaces and has had a lot of experience doing so. She looks forward to working with her clients to create the event of their dreams that leave their guests talking about it for years to come.
Glacier Symphony's Next Vibes and Visions season awaits you!
By
This past concert season, Glacier Symphony hit record numbers and wowed audiences as it ushered in a new era of performance quality for the organization. Across the 40th Season, Glacier Symphony welcomed 14,781 attendees – 3,043 of those attendees were youth and student attendees – to its concerts at the new McClaren Hall at Wachholz College Center. The success of Glacier Symphony's previous season is a testament to their ability to rise to the highest performance level and deliver music that sticks with audiences for a long time. Audience members expressed their feelings about the performances, ranging from "One of the top musical experiences of my life!" to "I love that this type of entertainment is available to us."
Ali Schultz Levesque, Concertmaster, and Sara Schultz Levesque, Associate Concertmaster, shared the success of last season's programming
and new performance home. "This hall, much like upgrading one's professional instrument, is the sort of space that trains an orchestra to hear themselves and each other in a way they never have," said Ali. "It is the sort of hall that pushes orchestras and chorales like us to the next level."
Furthermore, Glacier Symphony is receiving reviews from professionals across the state who are impressed by the quality of the orchestra, chorale and programming this past year. Ali shared, "I heard from concertmasters across the state who attended the latest Glacier Symphony performances, and their feedback was along the lines of 'the performance level of Glacier Symphony has really skyrocketed and sounds amazing in the new hall,'" Ali said, and Sara added this feedback is a testament to Glacier Symphony's quality, as well as the improved viewing and audience experience offered.
Glacier Symphony's Chorale Director, Dr. Micah Hunter, shared similar feelings about performing in the new hall next season. "I am very excited about the upcoming season. I look forward to continuing to explore new performance possibilities at McClaren Hall," said Hunter.
With a venue like McClaren Hall, the symphony's Artistic Director, John Zoltek, has been able to
bring in internationally acclaimed artists, more large symphonic pieces and even explore new genre possibilities. The expansiveness of music programming supported by Glacier Symphony's new home as well as its rich talent is demonstrated in the schedule for the Vibes and Visions Season.
Glacier Symphony plans to reach for the stars by continuing to outdo itself as a local, year-round entertainment and cultural organization in its 41st Vibes and Visions Concert Season starting in September. The Vibes and Visions Season features Grammy and Country Music award-winning artists playing with your symphony, anniversary celebrations of monumental classical pieces, breathtaking orchestra-choreographed visual displays, family shows, meaningful heritage celebrations and even some performances that are back by popular demand (hint, hint, think ballet and classic rock!). Glacier Symphony promises to provide layered and multi-sensory entertainment experiences that are a true celebration of the synergy between music, visual art, and Montana community.
"I love this upcoming season because of the representation of a wide range of music styles and cultures," said Ali. "We have everything from fiddle Americana to honoring African American accomplishments to acknowledging the Native land on
44 406 w oman.com
Paulina Crum, Marketing and PR Manager, Glacier Symphony
music}
Photos provided by Glacier Symphony Orchestra & Chorale
Concertmaster, Ali Schultz Levesque, tuning the orchestra.
John Zoltek, Artistic Director and Conductor, leading the orchestra and chorale in performance.
which we perform to major classics and even contemporary artists like Elton John and Billy Joel." The schedule of music will appeal to many people and will provide new and different music throughout the season.
Within the symphony's wide range of performances, there are some concerts that would not be complete without a booming chorale behind the orchestra. The 41st Vibes and Visions Season will continue the tradition of performing these pieces like Handel's Messiah and a chorale-only concert, but Zoltek also added a thundering symphonic-chorale piece to our schedule this season, Carl Orff's Carmina Burana. Hunter said, "I am also looking forward to the challenge of preparing Carmina Burana, which is something I haven't yet done."
Ali and Sara have extensive experience with Carmina Burana and feel it is the perfect fit for our orchestra and chorale to perform. "Carmina Burana has long been one of my favorite pieces. Carl Orff portrays and explores an unparalleled depth of human existence in this piece. It causes you to think differently about your experience on Earth and the extremes of life," said Ali. "And, we have
such a wonderfully powerful, highly skilled choir, which will be a great pairing with the orchestra for this particular piece."
Although the music of Carmina Burana is wellknown due to its extensive use in many television commercials and even in movies such as Excalibur (1981), Glacier Symphony Orchestra and Chorale members are looking forward to adding more dimension to the very recognizable piece. "Just about everyone knows, 'O Fortuna.' Children can sing or recognize the melody. However, not everyone gets into the lyrics," said Ali. "It will be a meaningful experience to hear the lyrics clearly sung and for the audience to be familiarized with the story the music is telling." Sara added, "And it is truly a really fun, creative piece to listen to and play."
Ali and Sara have connections to another show in the 41st season, Mark O'Connor: An Appalachian Spring. Sara said, "I have played with Mark O'Connor before, and he is just one of the most amazing classically trained fiddlers. He is a smart fiddler; he composes his own music and is phenomenal in that way." The CMA and Grammy award-winner blends Americana music and his classical training to create an extremely unique sound.
Ali and Sara also shared their gratitude for the positive culture at Glacier Symphony that will be
the foundation for a great season. "Playing with the Glacier Symphony feels like being with a family, for us," said Sara. "Another reason to love Glacier Symphony is for its conductor, Maestro Zoltek. He is an intelligent and extremely human conductor and composer."
For this reason, Ali and Sara expressed particular excitement for the premiere of Zoltek's Earth Anthem during November's Vision Spirit Land concert. "I love promoting the works of contemporary, living composers like Zoltek," said Ali. "His work is complex, unique, challenging and filled with intelligent writing. We both enjoy performing his works."
Be sure to call Glacier Symphony's Box Office at 406-407-7000 for season ticket packages, which offer a variety of options to meet concertgoers' individual schedules, budget and preferences. Visit our website at www.glaciersymphony.org to read through every detail of what you can expect when coming to our shows.
406 w oman.com 45 G L acier s ymp H ony & cH ora L e
Glacier Symphony Orchestra and Chorale in McClaren Hall at Wachholz College Center.
Glacier Symphony promises to provide layered and multi-sensory entertainment experiences that are a true celebration of the synergy between music, visual art, and Montana community.
Glacier Symphony's large chorale performing in McClaren Hall.
September 16, 2022
Kalispell, Montana
Kelsey Shawn &
love} stories
48 406 w oman.com
Photos by Marianne Wiest Photography
Tell us about yourselves…
Kelsey: I was born and raised in a small farm town in North Dakota. I am currently a Registered Nurse at Logan Health in the Cardiac Cath lab. I met Shawn when I was a travel nurse. I took an assignment here in Kalispell in April of 2020 and Shawn was my landlord. I had to quarantine before I could start working at the hospital because I came from Seattle. I ended up spending every day of quarantine with Shawn. He very quickly became my best friend. He showed me around and we went on hikes and it didn't take long before I knew that I was falling in love with him.
Shawn: I was born and raised in Whitefish. After high school I worked with my brother having a company in the trucking industry in the oil fields of North Dakota for about six years. I moved back to Whitefish permanently in 2020 and started attending Flathead Valley Community College (FVCC) and am now in the nursing program there. I just finished the first semester out of four. I enjoy hunting and fishing.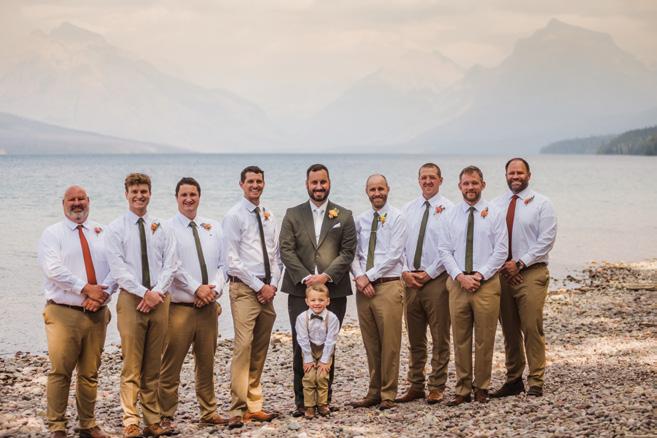 We live in Whitefish.
Kelsey - What is the trait that you most admire in Shawn?
I admire his patience and determination the most. Shawn is truly one of the most patient people I have ever met. I lack patience a lot at times and Shawn brings me back to earth before I jump the gun on things. He is also very determined. He enrolled in FVCC with the goal of becoming a nurse and now he is about to start his second semester of nursing school.
406 w oman.com 49
love} stories
It didn't take very long for me to realize how amazing she is and envisioning myself with her for the rest of my life.
Shawn – When did you realize you wanted to get married to Kelsey?
I don't think there was a specific moment I decided I wanted to marry Kelsey. Over time the feeling kept getting stronger that I knew that Kelsey was the person I wanted to spend the rest of my life with. Although, it didn't take very long for me to realize how amazing she is and envisioning myself with her for the rest of my life.
Kelsey - Why did you choose the venue you did to getting married?
I chose the venue for a couple reasons. 1) The size of the venue. 2) I loved the whole look of Snowline Acres. The inside being very rustic and the outside has a rustic meets modern look to it. 3) I wanted to get married in a place where you could see the mountains, so the orchard that they have was an added bonus.
Kelsey – What did you enjoy most during your wedding day?
My favorite part of our wedding day was reading our vows to each other. We each wrote our own vows and I was a little nervous to hear what jokes Shawn might have added. But his vows were so touching and we both ended up in tears. In that moment it was truly like nobody was there and it was just us.
Shawn – What is your favorite activity to do as a couple?
I think gardening is one of my favorite things that we do together as a couple. Also, spending time outdoors hiking, hunting, or golfing.
Venue Snowline Acres kalispell, mt
Wedding Planner kate lynn events
Rentals celebrate rentals; the party Store; empress tents and events
Flowers forage and floral caterer porteus BBQ
cake/dessert cake and macaroons from ephemera confections; Donuts from the Spot Music
Destination DJ Photographer marianne wiest photography
Videographer lamberson media
Rings mcgough & co.
dress Justin Alexander – Adore me Bridals in mesa, AZ
tuxes/Suits
Shawn's suit was custom made from nick's menswear in Scottsdale, AZ
Hair the craft Society Salon
Make up rachel ness
50 406 w oman.com love} stories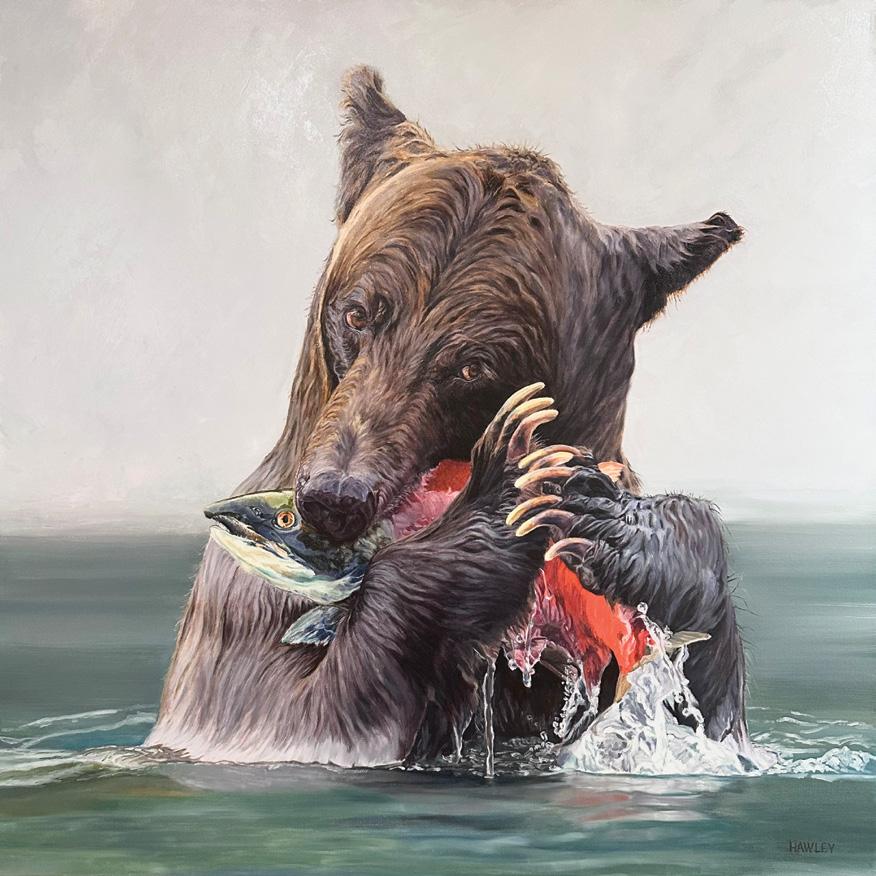 137 CENTRAL AVENUE WHITEFISH, MONTANA ~ 406.862.2751 GOINGTOTHESUNGALLERY @ GMAIL.COM ~ GOINGTOTHESUNGALLERY.COM
All Mine, Heather Hawley
30 Below, Elizabeth Mordensky
FINE ART ~ BRONZE SCULPTURE ~ JEWELRY ~ MONTANA SAPPHIRES 10 AM TO 6 PM MONDAY THROUGH FRIDAY ~ SUNDAYS 11 AM - 5 PM Enhancing Your Civilized Wilderness
Buffalo Joy, Elizabeth Mordensky
Featured 10. hA nn A h k ing Profile 16. m c g ough & c ompA ny 20. t he B A r w g ue S t rA nch 24. Angie' S g reenhou S Health 34. e xploring Different y og A Style S 37. Q&A with Beth A ny w eiler, m D Logan Health 38. e A rly lung c A ncer D i A gno S i S 40. u n D er S tA n D ing hp V 48. Dr m iller 62 406 w oman.com 37... woman 4 06 704 C East 13th St. #138 Whitefish, MT 59937 info@406woman.com Copyright©2022 Skirts Publishing Published by Skirts Publishing six times a year View current and past issues of 406 woman at www.406 w oman.com Finance 28. l oc A l l en D er 30. Q&A with mADD i pA ul S on Mann Mortgage History 44. m ule S A n D h or S e S
Hannah King
Taking the World by Song
Written by Rachael Seymour
In the Flathead Valley, one would have to look hard to find a place without music. You can hardly go to any public area, restaurant or bar, without someone in the corner crooning about their life experiences or someone else leading a crowd in a rousing, head-banging song cover. Montana can be a place of joy and expression, and one of the universal ways to experience and share with others is through song.
Hannah King knows this. A local musician one can catch at popular events like Under The Big Sky and the Whitefish Songwriter Festival as easily as they can by walking into a quiet charity event, King is a musician on the rise. Her instrument of choice is the fiddle, something that can portray excitement and inspiration as easily as it can sadness and contemplation. Her songs are country, bordering on bluegrass, and you can't help but be transfixed by her lulling voice. The warm and friendly presence that radiates from her seeps into her music. Though a local star, her name is easier and easier to notice as that star begins to rise.
Growing up in the Big Hole Valley, King had the quintessential Montana childhood. She lived on a cattle ranch--originally owned by Hank Williams Jr.--with her family. She was taught the value of hard work and gratitude. It was when she was 6, she was introduced to the fiddle. "My mom came up to me one day and said 'there's a man in Dillon who teaches fiddle lessons for 5 dollars. Would you like to learn?" King remembers on a cool spring
morning over 20 years later. She agreed, thinking it'd be fun; but not really thinking of what she was about to get herself into.
And so once a week for the next several years, she and her sister would travel an hour from home to learn the fiddle. It was an instrument that sparked a passion unlike anything King had ever experienced, but it also nourished her competitive spirit. "Growing up in a big family, I was always very, very competitive, and so were my siblings,'" She laughed. Along with those lessons her instructor, a man named Sandy James, also had a small performance group of his students called "The Dillon Junior Fiddlers." He would take his students, child and adult alike, around the county and they would perform for events and locations like charities or retirement homes.
When King wasn't practicing, she was listening. She would listen to greats such as George Strait and Allison Krauss and hear the sound the strings played. It was the Texasstyle fiddle, identified by the strong and
bluegrass-inspired notes to stir up feelings of excitement and to be heard leading the beat in most songs. She'd listen, determined to make her strings sing the same way.
It was around this time King began to branch out, past her regular student activities and started to perform competitively. She would participate in smaller, local competitions, furthering her creative spirit and competitive drive. "More than wanting to win," said King, "I just didn't want to lose." That desire, according to her, was what pushed her through her formative years as a fiddler. To grow and be better than she was before. It was what brought her to Montana State and regional competitions, then finally to her winning the National Young Adult Fiddling Competition at 18, when the age bracket was 18-35. By this point, however, King's musical priorities began to shift. She still loved the fiddle and performing, and it introduced her to the wonderful community; but now she wanted to play for different reasons. "It was only after I stepped away that I saw music as the gift it really is."
66 406 w oman.com
featured}
Photo by Megan McKay
King began to write more, using her life as inspiration, but also wrote for reflection. "It was a way to process my life at first, as a way to feel better. It was never a conscious choice, though; I never thought 'I have things going on in my life so I'll write about it'. It was a natural thing I just kept doing." Those writings became songs, and her path as an independent musician commenced. "It's a lot of work," she laughed. "I'm so glad I didn't know what I was getting into because if I did, I don't think I would've started!" But the love in her voice was evident. In 2020 and 2021, She created two EPs, Hannah King and Hannah King pt.2 , each containing six lovely country and bluegrass songs. Featured on the album were also incredible names such as Former Alison Krauss bassist Barry Bales, Luke Bryan keyboardist Scotty Wilbanks, and four-time winner of the Country Music Association's Musician of the Year, Jenee Fleenor, participated in creating the music.
Songs recorded and published, King pushed forward and continued to play in small events. It was in early 2021, however, she received an email asking if she would like to perform in Under The Big Sky Festival. "I almost didn't respond, I thought it was spam!"
Nevertheless, King accepted and found herself with an hour-long slot at the immensely popular music festival. "I got to perform all of my original songs for a festival that attracts thousands of people; it was so exciting!" King and her other players were a hit, scoring another slot
on a larger stage in 2022. Even Rolling Stones Magazine featured her in an article about local artists on stage.
A highlight to Hannah's 2022 summer was sharing some of her original music at the Whitefish Songwriter Festival where she also had the opportunity to perform with legendary hit songwriters James Dean Hicks and Chuck Cannon at the sold-out O'Shaughnessy Cultural Arts Center concert. "It's such a wild, special feeling to play songs I grew up on with the people who actually wrote them," says King. "Truly an honor."
The creative process can be an elusive pursuit, regardless of one's experience. It takes time, patience, and persistence to keep everything moving and well maintained. King prefers to look at it with a more physical metaphor. "Creativity is like a muscle. The more you use it, the better it gets and the easier it gets. But if you don't tap into it for a while, it's gonna take a little bit to get the ball rolling."
When creating songs, King prefers to focus on the words first, and always looks for inspiration. She works on daily creativity exercises and continuously observes her world. "I could be with friends and someone could
406 w oman.com 67
featured} HannaH kinG
One thing that is so important to me is to stay grounded in my relationship with God; every day I need to carve out time to sit down and be with the Lord. When I do that, I don't feel the pressure of figuring things out on my own anymore.
featured} HannaH kinG
say a word or phrase that just sticks with me like 'oh that could be a good line for a song' or I'll be out in nature and I'll be thinking of a cooler or more poetic way to say 'the pine tree is green.'"
Still an independent artist, King needs to own all of the titles of being a musician, a manager, and a promoter. Life can become very hectic, but King knows how to slow herself down. "One thing that is so important to me is to stay grounded in my relationship with God; every day I need to carve out time to sit down and be with the Lord. When I do that, I don't feel the pressure of figuring things out on my own anymore. I'm able to trust what will be for me and what not will not and that's ok." King also likes to remind herself in more intimidating times to lean on God and trust the process. She also tries to get away and experience the Montana wilderness as much as she can. "I'm so grateful to have grown up here. I think the older I get the more I realize that; I see how special it is." King is appreciative of the hardworking and healthy environment she grew up in, and how it formed her creativity and her values.
When she's not creating music or performing, King can be found outdoors, hiking with her Leonberger or on the lake, enjoying what life has to offer. She's also in her kitchen cooking. "I love to cook and share a meal with oth ers. I love to make sourdough and show up to my friend's houses asking if they'd like a loaf."
2023 is a busy year for King. In June she performed at the Red Lodge Songwriter Festival, In July she'll be a guest fid dler for Radio Ranch at Under The Big Sky, and in Sep tember she'll perform at the Whitefish Songwriter Festi val. She's also working on more songs to release later this year, including her latest single "Country Boy" that will be released later this month.
Hannah King is one of many musical not-so hidden gems of Montana. Her mission sounds simple enough, but also a timeless challenge for anyone in the same position: She wants to reach people. "I want it [my music] to touch people in honest ways. To bring healing and freedom and the sense of feeling less alone in the world." With her purpose guided by faith and armed with a fiddle, King marches forward.
68 406 w oman.com
"I'm so grateful to have grown up here. I think the older I get the more I realize that; I see how special it is."
Photo by Bursting Skies Photography
The 3rd Annual Whitefish Songwriter Festival will feature 26 songwriters performing 40 shows in eight bars, restaurants, cafes, and theaters in downtown Whitefish September 14-16. Hannah King is performing as a Rising Star alongside 19 other amazing upcoming original artists and 6 hit songwriters!
Nashville Songwriter Hall of Fame
Top Hits: Independence Day performed by Martina McBride
You Don't Even Know Who I Am performed by Patty Loveless
On a Bus to St Cloud performed by Trisha Yearwood, Jimmy LaFave
When You Love Someone performed by Bryan Adams
Top Hits: When You're in Love with a Beautiful Woman performed
Fame
I Love a Rainy Night performed by Eddie Rabbitt
Drivin' My Life Away performed by Eddie Rabbitt
Love will Turn You Around performed by Kenny Rogers
Top Hits:
I Love the Way, You Love Me performed by John Michael Montgomery
How Do you Like me Now performed by Toby Keith
Why Can't We performed by Dolly Parton
Top Hits:
Goodbye Time performed by Blake Sheldon and Conway Twitty
National Working Woman's Holiday performed by Sammy Kershaw
Jesus & Mama performed by Confederate Railroad
D EAN
H ICKS
Top Hits:
Monday Morning Church performed by Alan Jackson
Last Call performed by LeeAnn Womack
You Don't Know Jack performed by Luke Bryan
Top Hits: Calm After the Storm performed by Martina McBride
Concrete Angel performed by Andy Griggs
Holdin' a Good Hand performed by Lee Greewood
406 w oman.com 69
Here's the hit songwriters with a few of their top hits:
G RETCHEN P ETERS
E VEN STEVENS Nashville Songwriter Hall of
E RIN E NDERLIN
Ro B C Ro SBY
C H u C k C ANN o N
JAMES
For tickets and more information, visit www.whitfefishsongwriterfestival.org
featured} wH itefis H s on G writer f esti Va L
Changes
Written by Callie Reagan
Photos by ACE Photography & Design
I have been in the Whitefish area for about thirty years and there are some establishments that have been here and to me are cornerstones of the community. One such store to me is McGough & Company.
McGough & Company was originally named Tomahawk Trading and was founded by the current owner Stacey McGough Frankin's parents: Sam & Donna McGough in 1989. Stacey and her parents moved to Whitefish in 1988 from Mesa Arizona where they had a Native American jewelry manufacturing business and after moving to Montana decided to take that into the retail side. Tomahawk Trading started out in the current Wasabi location and most of the jewelry at that time was Native American and Black Hills gold. A second store was started in 1990 in the Gateway West Mall in Kalispell. This is where Stacey started her career in the family business. The name Tomahawk Trading was changed to the name we now know, McGough & Company about 15 years ago. Stacey said that "As our town changed and the demand for higher-end jewelry increased, we decided to start carrying Montana Sapphires and Diamond jewelry, which also led us to engagement and wedding jewelry. This required a name change." Stacey's parents retired in 2017 and that is when she purchased the store from them.
If you have been in downtown Whitefish lately you may have noticed another change that McGough & Company has undergone, a total store renovation. When I asked what brought on the change, Stacey said, "It was
definitely time for the store to be updated. We had painted and covered up the best we could the last few years without tearing everything apart like we just did. I desperately needed a completely new look. We love everything about it."
What is your favorite part?
Our brand new showcases that were made by a local artist (Brett Tallman) were one of the most needed changes. The new showcases/wall case with special lighting accentuate the jewelry. I also love the new Rock Wall; it gives the store a whole new feel.
What changes do you think will make the most difference in the customer's experience with the remodel?
I want customers to feel comfortable when they walk in. I wanted the store to feel warm and welcoming, not cold and intimidating. I want customers to be able to move around the store freely without getting trapped by other customers, which is why we left the "setup" and case arrangement the same.
I heard that you may have a new jewelry line, can you tell me about it?
We just got back from the Vegas Jewelry Show. Our hopes were to find some new
72 406 w oman.com
jewelry lines. What we discovered is the lines we already carry, came out with some amazing new products. Last year we started carrying Parlé. They are the industry's leader in design and precious and semi-precious gems. They also carry Montana Sapphires. All of their jewelry is made in Idaho. We also started carrying Crown Ring/ Noam Carver last year which is an engagement ring and wedding band line. They are based out of Quebec Canada. Their quality is top notch and their designs are unique and stylish.
Everyone always wants to know what we can see coming out next, what can we look forward to in trends?
I believe we are trending from White Gold jewelry to Yellow Gold jewelry. I also see we are trending from dainty jewelry to heavier larger pieces.
Does McGough & Company also do custom and unique pieces?
We do custom designs in the store. We have a computer program that can create your special item and show you a computerized rendering with prices before you order. We also have two in-house goldsmiths on site. I am a certified Gemologist and my daughter Andrea (3rd generation) who started working for the store 2 years ago is attending GIA classes to become a gemologist as well.
You are an iconic local business that is a staple in downtown Whitefish. What does that mean to you, how do you involve the community in the business/life?
We love our community. Whitefish is the place I spent the last of my teenage years, it is where I graduated high school, and where I raised my kids. Our community has given so much to me and my family. Our goal for the store is to give back. We truly believe in supporting our com-
munity in any way we can. To be completely honest, when my parents retired, I was not too excited about purchasing the store. I was already a little burned out on retail. My kids were grown and I was at a place in my life where moving out of Whitefish and starting over sounded fun. I prayed about it. I wanted God to give me a Plan B. I put my house on the market and the other jobs I was looking into at the time were not working out. My house didn't sell. So, when my Plan B did not work out, I told God that if I purchased the store, it would have to be for Him. Donating to Christ-centered organizations and local sports and arts is what we as a team get most excited about.
Stacey and her family -now three generations, along with her team are meeting the needs of our growing and changing town. She said, "Our goal is to serve our community first with our product and repair capabilities, then tourism second." They sell unique jewelry, items that no one else in the valley sells, meeting the needs of the community.
Stacey also wanted to mention the amazing people that were involved in the remodel. Brett and Mark from North Brothers Builders were the contractors in charge. They completed the proj ect in 4.5 weeks. Also, Brett Tallman of Tallman Designs created beautiful handmade cabinets. Many others were important in the renovation and she said, "I could not be more impressed by all those that created the new store."
Stop in to see the changes and the beautiful jew elry for any special occasion in your life. We can't wait to see what other changes come from this special Montana business.
McGough and Co.
131 Central Ave, Whitefish mcgoughandco.com
profile} mcGouGH & company
The Art of Disconnecting to Reconnect The Bar W Guest Ranch
By Callie Reagan - Photos by ACE Photography & Design
The Bar W is a place near and dear to my heart as I have spent many hours on the trails and watching guests come and go over the years. Even those of you like me that have in the past experienced the Bar W, will be blown away by the changes and updates. Bar W has taken a Five Star experience and raised it to the next level.
Equestrian activities are still at the heart of your experience but there are so many additional layers that have been enhanced, including hatchet throwing, line dancing, cowboy singers, cattle drives, 3D archery, rodeo games, wagon rides, branding, fishing, and evenings by the campfire. They have even partnered with a local Wild Wings Recovery Center rescue to educate on our diverse avian wildlife. Three new guest cabins have been added to Bar W, as well as new staff quarters, a new kitchen and dining facility, new employee offices, kids program area, along with a brand new horse barn, making their all-inclusive packages truly all-inclusive.
For those guests that are wanting to experience Montana off the ranch, additional arrangements can easily be made for exploring Glacier National Park, whitewater rafting on the Middle Fork of the Flathead, or get a little dusty on an ATV accessing miles of rustic trails. There is literally something for every guest at the Bar W, even for those that simply want to soak up nature and million-star views under the Big Sky nights.
Many of us here in Montana understand the need to unplug and disconnect from life's daily stresses, and constant phone notifications. We find ourselves on the trails and rivers, ski hills, and lakes that make up our beautiful state. The Bar W is an embodiment of that. They offer an
experience that encourages you to check out of the world and really experience nature's beauty in a way that strengthens relationships with friends and family while opening your life to others experiencing the same thing. There is a beautiful simplicity in this, but one that we not only crave but what we need.
Catherine Kelly was a recent guest and said this about her experience, "after a week at the Ranch I am in a total zen mode and nothing from this plane can beat what I saw with my eyes and heart this past week … I have traveled to many places, and it has been a long time since I truly unplugged… The hooves clip-clopping along under a rhythmic squeak of my saddle, filled me with an inner peace I can't describe. I felt like I was in another world, another time."
Guests from all over the world are looking for this adventure and the Western experience. They have guests from many European countries and last year they even had a family from Madagascar. An increasing number of locals and other Montanans are looking for this experience too, having dedicated time and access to activities that create strong bonds. Young and old come for experiences that are diverse but similar all in the same six-day time
76 406 w oman.com profile}
frame. Grandparents take grandkids, mothers take daughters, whole families attend, and many groups of friends. Guests and staff note changes in themselves and others in a short period of time.
Guest Craig Weinbaum said, "This place and its staff helped us create memories that our family will relish forever. My kids continue to say it was the best vacation ever! They still keep in touch with friends that they met from all corners of the country. Not one need went unmet. I cannot think of a better way to experience the epic beauty of Montana."
Locals can take advantage of not only the Six Night Packages, but they can also book trail rides from the same great staff. Two-hour Public Trail Rides are scheduled daily, guests ride through a lush, and peaceful mountain forest. I can tell you from experience that a ride along these trails can hit a reset button inside you. You do not come back as the same person; you can breathe deeper, think more clearly, and relax a little more.
Wintertime in Montana is not to be overlooked either, while the ranch experience is not as robust in the winter as the summer, sleigh rides pulled by beautiful draft horses are available through snow and pine forests.
I cannot think of anything that is either more romantic than a warm sleigh ride through the snow or more exciting to a little one than seeing these majestic giants do what they love, and they do love it.
The Bar W has continued in its pursuit of excellence and is achieving it. Give your soul and those you love the best gift you can; a little bit of time disconnecting from the world and reconnecting with them. In the words of guest Grace Samala Alster, "All you need to do is show up with a sense of adventure and be open to making new friends and experiencing new things."
Have a vacation that leaves you stalling to get on the plane, one that leaves you frantic to exchange contact information with new friends, and one that everyone will be talking about for years. Wouldn't it be exciting to see who you become after a little time with the Bar W? Disconnect and see!
thebarw.com
406 w oman.com 77
They offer an experience that encourages you to check out of the world and really experience nature's beauty in a way that strengthens relationships with friends and family while opening your life to others experiencing the same thing.
profile} tH e Bar w
Angie's Greenhouse and Plant Care
Bringing Beauty & Rusty Trucks to the Flathead Valley for Nearly 30 Years!
By Mary Wallace
Icon, noun, (ˈī-ˌkän): a person or thing widely admired especially for having great influence or significance in a particular sphere (Merriam-Webster)
That being said, it follows that Angie's Greenhouse has been a popular area icon in the gardening sphere for nearly 30 years. Angie Olson, a fifthgeneration Montanan, is happily having her first gardening season at the new Angie's Greenhouse and Plant Care at the new location - 400 Danielson Road, Kalispell, Montana.
She began growing her hardy flower and vegetable plants in 1994 and was selling them wholesale to suppliers but was encouraged to set up a pop-up greenhouse at the old Gary & Leo's Market in Columbia Falls, so she did. She eventually expanded to also sell at farmer's markets around the valley. When she had enough followers that it made sense to have a retail location, Angie's Greenhouse was opened in Columbia Falls, with her iconic delivery truck overflowing with flowers serving as the
business sign. Over the years, Angie's Greenhouse has been rated in the top five in the nation for her arrangements of plants and garden displays. She actually had to obtain four copyrights and a trademark on images of the truck, because commercial printers kept creating and selling puzzles and calendars, without her permission.
Angie wasn't planning to be a master grower when she grew up. When she was a freshman in high school, her parents strongly encouraged her to get on the FFA (Future Farmers of America) track, even though she wasn't really sure she wanted to. Nonetheless, she followed their advice and soon found herself enjoying working on the FFA garden projects and kind of totally loving it. Always one to thrive on keeping busy in pursuit of her dreams, she supplemented her school garden projects by working at Woodland Floral and Plantland. After attending Montana State University in Bozeman, she was hired by the Montana State Potato Lab.
Angie moved back to the Flathead and started her greenhouse business in 1994. Angie enjoyed being part of the Columbia Falls community and
she generously gave back when needed - Hanging Basket Fundraising Sales each spring to support the 8th Grade graduation fund, holding private fundraisers for kids battling cancer, and for the families of two students who were tragically killed by drunk drivers. Angie also enjoyed giving her time to Columbia Falls Heritage Days and the Chamber of Commerce.
In 2007, at 36 years old, Angie encountered a bump in the road when she discovered a lump. She was diagnosed with breast cancer and underwent 15 months of chemotherapy but continued serving her customers and the community the whole while. She says the patience and loyalty she felt during that time was one of the things that helped her pull through.
Never one to wallow in a pity party, during her treatments Angie saw a need and started a project called Kids Konnected, which created care packages for local kids and families who have just been diagnosed with cancer. She also helped create a support group for women who were dealing with cancer.
In 2018, circumstances forced Angie to scale back in the seasonal gardening sector so she could work year-round to support her family. On a deeply personal note, Angie shared that the challenges she was experiencing were seriously escalatingbecoming overwhelming and even hopeless. Her life began to feel like a 1000-piece puzzle that had been dumped into a pile and she feared nothing would fit together again. Depression overcame her fiercely, to the point that she had thoughts to
80 406 w oman.com
profile}
end things, but she fought through and realized she could put the pieces of her new life together in a new way. At that point, she felt increasing certainty that things would eventually be alright.
Angie felt compelled to share her story to let others know that they should reach for that same certainty when a sudden overwhelming urge threatens to overtake them. She gratefully shared that her life is so much better now, and she is so much better now and she is glad she fought through to her new life. Her new motto is "Faith over Fear."
With renewed resolve, she decided to re-establish her certifications so she could pursue a dual career as a realtor at Keller Williams Realty Northwest Montana. The past couple of years has been like a roller coaster for anyone involved in the industry, including the buyers and sellers, but Angie has achieved endorsements in large tract properties, and aviation properties, and she recently became a broker.
In 2019, with the help of her cousin, Lisa Kendal, Angie was searching for a new property for her greenhouses. They searched the current market and found a property that included a fully furnished house and a barn on 60 acres on Danielson Road, west of Kalispell. When she drove into the driveway and pulled up to the house there was a sign that said "The Gratitude Ranch," and she knew it was the place she wanted before she even saw the inside. There were some challenges associated with getting financing because her main income for the past several years had been seasonal, and her real estate business was so new, she didn't have a long enough track record. She was grateful again when the owners of the Gratitude Ranch offered owner financing so she was able to buy the property.
Part of what Angie does as a realtor is to analyze each property and review the possibilities with her buyers. She wants to make sure the property will serve their needs and be the right fit. She applied this concept to the Gratitude Ranch and soon had ideas of adding both a vacation rental and a wedding venue to the potential uses of her property. The vacation rental is already receiving visitors this summer, and the wedding venue will likely be ready for events in the next year.
With help from the folks at The Party Store, she moved her greenhouses from the Helena Flats Road location to her new property in December
2021. The greenhouses were operating in the spring of 2022. Angie sold her Columbia Falls highway property last fall and this spring she was able to start and grow her plants all in one place - at Angie's Greenhouse and Plant Care for the 2023 gardening season. She's had a busy season with her loyal customers and new neighbors patronizing the greenhouse. She employs one high school student and her partner, Rich, has been helping out as well. Her two tiny grandsons were also 'helping' on the day I was there - mainly taking some plants out of a wagon and then rearranging how they were displayed when they put them back again.
Angie doesn't use growth regulators on her plants. When pressed for growing tips for local gardeners, Angie said that most people overwater their container plants. She said that gardeners who water their plants in the morning might find that the sun gets too hot during the day, and the roots get cooked in the soil. She recommends watering in the evening, and to err just on the edge of underwatering (make sure the soil has just gone dry and then add water).
Something that a lot of people don't know about Angie is that she is really quite shy. She is not confident in her social skills and feels awkward in large groups. But she IS good at talking about what she does, and that is where she shines.
How about hobbies? Does she have any? "Gardening IS my hobby," she said laughingly. "If I have some free time, I can usually be found in the greenhouses."
When asked what her 5-year plan is Angie said she doesn't really plan ahead because she doesn't like to have any disappointment. But her 5-year plan at the moment is to be right where she is. She is content, she has elk that like to hang out in her yard, she loves the house, and she just loves being there.
But YES, she DOES have a bucket list and it includes taking her five adult kids and their families on a vacation. And maybe go camping. Angie also says her heart sings when she is in the greenhouses - that is her escape…that and planting the flowers that adorn her home.
A final thought that Angie shared was this: If something negative happens during your day, do something positive to counteract it. For instance, when having a bad day, do something good, like paying for a stranger's coffee in the car behind you. Works every time!
Angie's Greenhouse and Plant Care's hours are 10 am to 6 pm until the end of June, and then open by appointment throughout the summer, so make a plan to stop out and enjoy the relaxing and welcoming atmosphere sometime soon. For the latest information, find them on Facebook at https://www.facebook.com/angiesgreenhouse/
406 w oman.com 81 profile} a n G ie's Green H ouse
T HE I MPORTANCE OF U SING A L OCAL L ENDER
Navigating the Challenges of Home Buying
In the midst of the daunting obstacles faced by homebuyers today, the decision to purchase a home can feel both intimidating and impossible. From limited inventory and high interest rates to the barrage of conflicting media reports, it's no wonder that many individuals find themselves overwhelmed. However, with these challenges, one solution emerges as a guiding light: working with a local lender. At Mann Mortgage, our unwavering commitment to being Tried, Trusted, and Proven ensures that we can offer our customers a better way to achieve their dreams of homeownership.
By Maddi Paulson of Mann Mortgage
For the average American, buying a home is the most significant purchase they will ever make. Unlike purchasing a pair of shoes online, buying a home involves complex financial considerations and long-term commitments. That's why it is crucial to work with a professional who can help you navigate the intricacies of the home buying process.
Reflecting on the homebuying landscape of 25 years ago, one can't help but notice significant differences. Back then, it was customary to put down a minimum of 20% as a down payment. However, today's soaring home prices have made saving such a substantial amount nearly impossible for many prospective buyers. The good news is that there are now numerous programs available that allow for down payments as low as 3.5%-5%. This flexibility enables a broader range of individuals to enter the housing market and pursue their homeownership goals. There are also amazing programs that can
help first time & repeat buyers bridge the gap on the down payment costs. By working with a local lender that is aware and understands all the available programs, you may be able to get into your dream home sooner than you anticipated.
One of the most pressing challenges in today's housing market is the scarcity of available properties. With a reported shortage of 6.5 million households in the United States, finding a suitable home has become increasingly difficult even before considering factors like prices and interest rates. However, by working with a local lender, you gain access to professionals who possess intimate knowledge of the local market. They can help you identify available options and secure the best financing for your chosen property, increasing your chances of finding your dream home. We can also help connect you to local real estate agents that have the best grasp of what is selling and coming onto the market in your area!
84 406 w oman.com
finance}
The media plays a significant role in shaping public percep tion of the housing market. Unfortunately, the conflicting information presented can lead to uncertainty and discour age potential homebuyers. Reports of a looming recession, talk of a housing bubble, or speculations about fluctuating interest rates only add to the confusion. By choosing a lo cal lender, you gain a trusted ally who can provide reliable expertise and guidance. They can help you separate fact from fiction, keeping you informed and empowered to make well-informed decisions.
At Mann Mortgage, we understand that each customer's financial situation is unique. As a local lender, we pride ourselves on offer ing a vast array of loan products and programs to address specific needs. Whether you require assistance with down payments, low down payment construction loans, or jumbo financing, our goal is to tailor your loan to fit your financial requirements precisely. While the challenges of home buying may appear overwhelm ing, remember that you don't have to navigate the process alone. By choosing a local lender like Mann Mortgage, you gain the ex pertise of professionals who are deeply rooted in your commu nity and committed to helping you achieve your homeownership goals. The dream of owning a home is within reach, and with the guidance and support of a knowledgeable local lender, you can confidently embark on this exciting journey. Remember, buying a home is not an insurmountable feat when you have a reliable partner by your side.
Maddi Paulson is proud to have been born and raised in the Flathead Valley. She comes from a family of local mortgage professionals and received a degree in business administration from Concordia College in New York. Her education and experience allow her to close her clients' loans quickly and accurately, ensuring a seamless home loan experience. Whether you're first time home buyers, relocating to The Flathead Valley, looking to refinance or anything in between, Maddi can help you get a clear picture of the home loan that would work best for your needs.
406 w oman.com 85
finance} m ann m ortG a G
Buying a home involves complex financial considerations and long-term commitments. That's why it is crucial to work with a professional who can help you navigate the intricacies of the home buying process.
Q&A WItH Maddi Paulson Mann Mortgage
What's one thing on your bucket list you just HAVE to do?
Spend a couple months traveling Europe.
What's your favorite way to spend the day off? Going to do something outside with my friends or family (preferably on the water).
What are your hobbies, and how did you get into them?
My hobbies include pickleball with family and friends, coaching soccer, and running.
What was the last thing you read?
Something girly by Abby Glines
What's one thing that can instantly make your day better?
A good cup of coffee or spending time with my puppy.
What song always gets you out on the dance floor?
Anything with a good beat, I don't shy away from a dance floor.
What's your most prized possession and why?
I honestly don't think I have one. I would say memories or photos I have of family would be, these are priceless & cannot be replaced.
What's an essential part of your daily routine?
Setting up my "have to" tasks before getting into the day, this way I know what the top priorities are and nothing gets missed.
What would your perfect meal look like?
Either a really good pasta or a burger!
86 406 w oman.com profile} m ann m ortG a G e
406 w oman.com 87
Exploring Different
Yoga Styles
Yoga has gained immense popularity worldwide as a holistic practice that benefits the mind, body, and spirit. With its origins in ancient India, yoga began as an oral tradition of passing down philosophical wisdom, mantras, and meditations on the nature of reality. The oral tradition was eventually transcribed into a series of ancient texts, and only in Medieval times do we start to see written evidence of the basic postures that are a staple of modern yoga practices. Yoga has since evolved over the centuries, giving rise to the various present day styles that cater to different needs and preferences. Whether you're looking for a dynamic, fitness-based practice or a gentle, restorative one, there's a yoga style out there for everybody. In this article, we will explore some of the most popular yoga styles that are offered by Yoga Hive Montana and delve into their unique characteristics and benefits, helping you find the one that resonates with you. We offer over 40 classes per week and there is a class that is just the right style for YOU.
Story and Photos By Yoga Hive Montana
Hatha Yoga
Hatha yoga is one of the most traditional and widely practiced styles. Hatha is fundamental, as all other styles incorporate the essence of hatha yoga. If you imagine yoga as a giant tree, then hatha is the trunk from which all other yoga styles grow into intricate branches. Hatha focuses on properly aligned physical postures, conscious breathing, and mindfulness. The classes are generally slower paced but not necessarily easy, often at a cadence of holding a single posture for 3-5 natural breaths and then continuing to the next. This allows for a deeper exploration of each pose. It is an excellent style for beginners as it helps develop strength, flexibility, and balance. Hatha yoga also promotes relaxation and stress reduction through the incorporation of mindfulness and meditation techniques. You can find Hatha classes daily at Yoga Hive in Whitefish and Columbia Falls.
Vinyasa Yoga
Vinyasa yoga is a dynamic and flowing style that synchronizes movement with breath. It involves seamlessly transitioning from one pose to another, often at a faster cadence of one breath per posture. This creates a smooth and continuous practice. Vinyasa classes are often characterized by their energetic and
creative sequences, allowing practitioners to build strength, increase cardiovascular endurance, and improve flexibility. This style is more fitness-based and offers a cardiovascular workout while fostering a sense of meditation in motion. Once you're comfortable with the basic principles of hatha yoga, vinyasa can be a fun, flowing, and challenging practice to explore. Yoga Hive offers Vinyasa classes throughout the week with amazing teachers to guide you.
Restorative Yoga
In contrast to the more active styles like Hatha and Vinyasa, restorative yoga focuses on relaxation and rejuvenation. It involves passive, supported poses held for extended periods sometimes for 5 to 15 minutes at a time. These restful postures are usually done lying down on the floor, and the body is supported with the assistance of props like blankets, bolsters, eye pillows, and blocks. Restorative yoga helps relieve stress, calm the nervous system, recover from burnout, and promote deep relaxation. It is especially beneficial for individuals recovering from injuries, experiencing chronic pain, or seeking deep rest and renewal. Restorative classes at Yoga Hive are available for booking four times per week.
90 406 w oman.com
health}
Photos were taken on a recent retreat offered by YogaHive in Greece
Aerial Yoga
Aerial yoga is a relatively new and innovative style that incorporates the use of a suspended hammock or silk hung from the ceiling. By using the fabric as a prop, practitioners can explore a unique and playful practice that combines traditional yoga poses with something new to challenge you. The silk is kept close to the ground and becomes a swing which can support the body in many postures that are difficult on the ground. With the support of the silk, these postures can be performed more easily and with less strain on the body in mid-air.
Aerial yoga enhances strength, flexibility, and balance while decompressing the spine and promoting better body awareness. It can be particularly enjoyable for those looking for an exciting and unconventional yoga experience. Aerial yoga is pure fun! Just wait until you experience Savasana in the silks. It's Pure Heaven in our Whitefish location.
Kundalini
Kundalini focuses on the awakening of spiritual energy through the practice of dynamic movements, breathwork, chanting, and meditation. Many, though not all, techniques in the kundalini tradition are practiced seated on the floor. Kundalini aims to channel and raise the dormant energy located at the base of the spine to achieve a higher state of consciousness. Kundalini yoga cultivates vitality, mental clarity, and emotional balance. It is a transformative style that appeals to those seeking a deeper connection to their inner selves, spiritual growth, and are open to exploring the energetic aspects of yoga. Experience Kundalini on Wednesdays in our Whitefish studio.
Yin Yoga
Yin yoga is a slow-paced style that targets the deep connective tissues, such as ligaments, tendons, and fascia, rather than the muscles. Poses are typically held for longer durations, often up to five minutes or more, allowing for a gentle and passive stretching experience. Yin yoga promotes flexibility, joint health, and the release of tension and tightness in the body. It also encourages mindfulness and introspection, making it a great complement to more active yoga styles or as a meditative practice on its own. Yoga Hive believes that Yin Yoga is a necessary part of your wellness routine. You can find weekly Yin classes on our schedule.
SUP Yoga
Stand Up Paddleboard (SUP) yoga on Whitefish Lake hits the spot during the summer with expansive views of the most gorgeous panoramic landscape in the valley. The experience of yoga on a paddleboard is engaging, fun, and available to all levels of yoga. While some folks can do many postures on the board, others will be happy to never leave their knees and still feel successful in the yoga practice. Imagine lying on your back, fingertips in the water as you drift into that final resting posture, Savasana. Experience it for yourself twice a week through July & August!
Choosing the right yoga style for you depends on your goals, fitness level, yoga experience, and personal preferences. If you're looking for a well-rounded practice that emphasizes both physical postures and mindful breathing, Hatha yoga is a great starting point. For those seeking a more dynamic and challenging workout, Vinyasa yoga offers a continuous flow of movement synchronized with the breath. SUP yoga and Aerial yoga are fun, supportive, modern practices. And if relaxation and stress reduction are your priorities, Restorative or Yin yoga provides a gentle and nurturing experience. Head to our schedule on our website www.yogahivemontana.com or call us at 406.862.1571 to register for a class. You deserve to find the freedom to be yourself at our sacred, nurturing studios in Columbia Falls and Whitefish.
Yoga Hive Montana in Whitefish is proud to be your local lululemon retailer. We are now open 11am-5pm seven days a week!
Choosing the right yoga style for you depends on your goals, fitness level, yoga experience, and personal preferences.
Q&A WItH Bethany Weiler, MD
Pulmonologist/Critical Care Physician - Logan Health
Where are you from and what brought you to the Flathead Valley?
I grew up in a small farm town in the foothills of the Adirondack Mountains in northern New York. One of my goals has always been to be able to deliver excellent care to rural communities like the one I grew up in. Here at Logan Health, I've been lucky enough to find a home amongst compassionate and well-trained medical staff who feel similarly that patients in rural communities have a right to excellent medical care without burdensome travel.
What is your specialty of practice?
My specialty of practice: I am a pulmonary and critical care physician.
Tell us about your medical education.
I went to medical school in Chicago at Loyola University Stritch School of Medicine. I then trained as a resident in internal medicine, followed by fellowship in pulmo nary and critical care medicine at University of Mary land/ Shock Trauma in Baltimore.
What is the best part of your job?
I find the most rewarding part of my job to be in de veloping relationships with patients and their familiesthe kind that results from meeting them where they are and guiding them through some of the scariest periods of their lives with compassion and understanding.
What are your professional interests?
I find what I enjoy most is process improvement; I enjoy identifying a need at our institution and in our commu nity and working to deliver resources and care in that arena. For example, with the support of many other ded icated healthcare professionals and a focused adminis trative staff, Logan Health is opening the first ever High Risk Pulmonary Nodule Clinic here in the Flathead. This clinic is designed to expedite and streamline early lung cancer care, decreasing time to treatment and provid ing coordinated support for patients and their families.
How do you like to spend your free time?
I enjoy spending time with my family, horseback riding, rafting and kayaking, cross-country skiing, writing and reading.
profile} p ro V ider p rofi L e
Brought to you by
Photos by ACE Photography & Design
Investing in Healthier Tomorrows new cutting-edge technology and improved access aids in early lung cancer diagnosis
Lung cancer is far and away the deadliest cancer in the United States - claiming more lives than breast, prostate and colon cancers combined. More than 230,000 Americans are expected to be diagnosed with lung cancer in 2023. Experts also project approximately 127,000 deaths during the year, which would account for approximately 21% of all cancer deaths.
Unlike many other cancers, lung cancer does not cause symptoms until the later stages of the disease, when it has already spread. By that point, it's often far too late to cure the cancer. Therefore, catching lung cancer early is necessary to save lives.
The U.S. Preventive Services Task Force recommends yearly lung cancer screening with low dose CT scan for those who meet all of the following criteria:
• Age 50-80
• Have a 20 pack-year or more smoking history (A pack year is smoking an average of one pack of cigarettes per day for one year. For example,
By Chris Leopold
a person could have a 20 pack-year history by smoking one pack a day for 20 years or two packs a day for 10 years.)
• Smoke now or have quit within the past 15 years
The importance of early diagnosis was recognized by pulmonologists and surgeons at Logan Health and the decision was made to invest in a more precise diagnostic equipment option. In spring 2023, Logan Health announced the acquisition of the Ion endoluminal system, a robotic-assisted platform for minimally invasive biopsy in the lung.
The system features an ultra-thin, ultra-maneuverable catheter. With a patient under general anesthesia, the robotic bronchoscope would be inserted through a breathing tube which, utilizing a type of GPS-like technology, allows navigation far into the peripheral lung to access very small nodules, previous inaccessible by manual techniques. This new platform will allow physicians significant success in obtaining accurate samples to determine if there is a cancer or not, and ultimately a much bet-
ter chance at catching lung cancer in earlier, more treatable stages.
"The Ion bronchoscope will revolutionize our approach to lung cancer," says Bethany Weiler, MD, pulmonary/critical care physician and the medical director for Intensive Care and Respiratory Care Services at Logan Health. "It will allow better accuracy in sampling and dramatically improve our ability to diagnose lung cancers early, when a cure is not only possible, but probable. This technology, in conjunction with our multidisciplinary Lung Cancer Nodule Clinic, will - quite literally - save lives in our community and beyond."
In an effort to expedite high-risk cases, Logan Health has also established a High Risk Pulmonary Nodule Clinic on its medical center campus in Kalispell. It will serve patients who have been identified- either by lung cancer screening or by other means- as having spots on the lungs that have one or more features that could be consistent with a cancer. A lung "nodule" is a spot on the lung. While oftentimes benign and therefore harmless, each nodule does pose a risk of lung cancer.
94 406 w oman.com
Luis Alberton, MD and Bethany Weiler, MD at Logan Health
The High Risk Nodule Clinic's primary goal is to provide compassionate and expedited care to patients having been identified as having a high risk pulmonary nodule. The clinic's staff is made up of a comprehensive interdisciplinary team of providers who specialize in lung cancer- a pulmonologist, a thoracic surgeon, an interventional radiologist, nurse practitioners or physician assistants, nurses or medical assistants, and a lung cancer navigator. Together, they develop a personalized diagnosis and care plan designed specific to each patient's circumstances. "We get together in a room and discuss every case," continues Dr. Weiler. "We'll all talk through each one and determine what would be the best path to diagnosis and to treatment."
The investment in the Ion bronchoscope and the development of the High Risk Nodule Clinic is a reflection of Logan Health's commitment to advancing medicine and enhancing care to their patient population. With a service area that covers 20 counties and nearly 50,000 square miles, this technology will now be available to a patient population of nearly 700,000 people. In addition, the clinic will allow those who have been determined to need extra follow up care, an expedited path to recovery that transforms a monthslong process down to weeks.
The acquisition of this innovative technology was made possible through the generosity of a dedicated donor. Philanthropy has helped propel medical innovation at Logan Health to new heights, providing the necessary funding for the state-of-the-art equipment and resources to help create healthier futures for patients.
To find out more about lung cancer screening, speak with your primary care provider about your options. For information about the Logan Health High Risk Nodule Clinic, call (406) 751-5392.
health} Lo G an Hea Lt H 406 w oman.com 95
This technology, in conjunction with our multidisciplinary Lung Cancer Nodule Clinic, will - quite literally - save lives in our community and beyond.
As of the Wednesday that I sat down to write this article, the two most commonly Google-searched, women-related, topics were "pregnancy" and "HPV." Pregnancy, in all of its wonder, is definitely too broad of a topic for today's article. HPV, on the other hand, seems like a reasonable venture. HPV is the abbreviation for the Human Papilloma Virus. It is a sexually transmitted virus and it is prevalent in the human population. It is basically just a part of being, or having been, sexually active. Biological beings have biological problems, with all the joys and less joyful associations.
Basically, by our mid to late twenties, over eighty percent of us will be exposed to HPV. The implications of exposure vary from person to person. The younger we are, the more likely our immune system will be able to subdue the virus. Our age, genetics, epigenetics (our environmental effects on our genetics), etc., all attribute to our body's response to HPV. If our immune system is weakened (long term or
understanding HPV
Written by Austin Rusher, WHNP-BC Kalispell OB-GYN
short term), the virus is given the opportunity to replicate and ultimately cause symptoms to occur or re-occur.
Symptoms are the signs that a disease process is occurring and can range from vague and annoying to more life altering. With HPV, this ranges from no symptoms, to genital warts, pre-cancer, to cancer. Quite the range there, huh?! Warts, while annoying and often distressing to their hosts, are generally benign and non-cancerous. They can be removed through numerous treatments and, unfortunately, can re-occur despite treatment. If prolific and resistant to treatment, further evaluation is always warranted for those rare scenarios that are more malignant than the vast majority of cases.
Cervical cancer, on the other hand, carries much more clinical weight than largely annoying skin growths. Over 99% of cervical cancer cases are caused by HPV infection. Luckily, we have cervical cancer screening, which most people think of as their "pap smear." Cervical cancer screening is usually two-fold. The first part of the test is collecting cells from the cervix and smearing them on a slide for evaluation by a specially trained person known as a Patholo-
gist. The Pathologist is able to assess the cells and determine if there are no changes, nonconcerning changes, or changes that require further evaluation. If positive, cervical cancer screening DOES NOT necessarily mean you have cancer. It is just SCREENING. The next step is further evaluation that ranges from watchful waiting with sooner follow up, to a procedure called a colposcopy and possibly biopsies to differentiate between benign and malignant cellular changes.
The second part of cervical cancer screening, and arguably as important if not more important, is "High Risk HPV" testing. HPV testing evaluates the sample for high-risk strains of HPV that are associated with cancer. Notably, there are many strains of HPV but a significantly smaller number that really like the cervical cells, making them susceptible to pre-cancer or cancer. Notably, while gynecology is focused on a specific anatomical area, the virus also likes other areas of our anatomy and we are seeing an increase in oral and throat cancers and regular dental care is advised.
So, what do we do with all of this information? We talk about screening and prevention. Ac-
96 406 w oman.com health}
cording to the American Society for Colposcopy and Cervical Pathology (ASCCP) and American Cancer Society (ACS), cervical cancer screening should be initiated at age 21 years old in the general population (no medical professional should ask you to remove your pants before this unless, with your full understanding and consent, you have a symptom or chosen birth control method that requires it). As we get older, the timing, frequency, and testing changes slightly depending on our prior results and health history. There is a vaccine that can help prevent cervical cancer known as the Gardasil vaccine. This vaccine has largely made it possible to space out screening from annually to the aforementioned screening guidelines. Medical professionals start offering the HPV vaccine series to patients 9 years of age but you can have it administered at any time. Having a healthy diet, lifestyle (avoiding tobacco use specifically), and safe sex practices (use those condoms) are also helpful in preventing HPV infection.
For the general population, cervical cancer screening should be performed every three years prior to the age of 30 years old. The pelvic exam is recommended annually, starting at 21 years of age, to make sure that testing is not warranted in between screening (among other things). The main goal of cervical cancer screening, as indicated by the name, is to screen for cancer. Another objective is to protect the patient from over treatment. Rather than perform a hysterectomy on every positive screening, we follow algorithms to guide care specific to the patient, diagnosis, and their specific risk profile. Often, the guidelines recommend repeating the pap sooner than the general population screening guidelines or performing a colposcopy (a procedure for diagnosis after screening results).
Interestingly enough, for gynecology nerds anyway, recommendations change based off of population data. As we gather more information, we are able to help guide and recommend the most up to date care. As always, if you have questions, or would like to learn more, please come see us, your local gynecology nerds, at Kalispell OB/GYN.
Austin Rusher, WHNP-BC
Austin Rusher, WHNP joined Kalispell OB/GYN in December of 2020, returning to Montana to be closer to family.  She received her nursing degree from Montana State University in 2012 and her degree as a Women's Health Nurse Practitioner from Frontier School of Midwifery and Family Nursing in Hyden, Kentucky in 2020.
Austin worked for 5 years in women's health, mostly in Labor & Delivery, taking care of mothers and their families during the antepartum, labor, delivery, and the postpartum period. Striving to provide respectful and empowering care, Austin is passionate about all aspects of women's health and creating a partnership to meet healthcare needs.  Her training includes wellness exams, family planning, STD screening and treatment, IUD and Nexplanon insertion and removal, menopausal management, and, of course, obstetrics.  She strives to provide evidence-based, individualized, and inclusive care.
Austin was raised in Helena and grew up on a small ranch.  She admires and respects the rural communities of the Flathead Valley and looks forward to developing long-lasting patient relationships. She and her husband, Reicher, have two young children.  They enjoy hunting, fishing, hiking, skiing, and all of the outdoor recreational opportunities offered by the Flathead Valley and the great state of Montana.
406 w oman.com 97 health} H p V
Mules and Horses
Make Wilderness Accessible
By Eleanore Eberts for the Northwest Montana History Museum
If you have been lucky enough to hike in Glacier National Park or the Bob Marshall Wilderness, it is likely you have been on trails built and maintained by stock — horses and mules, that is.
Here in Northwest Montana, horses have been used extensively from the 1730s to the present. Indigenous people of the area acquired horses long before Europeans came into the valley. Marks in the soil from travois, originally pulled at a smaller scale by dogs, can still be seen as a remnant of old indigenous trails. As trappers and pioneers made their way to Northwest Montana they brought their gear via packhorse, as wagons were not suitable for the rugged landscape. Even after automobiles and trains became a normal mode of transport, stock was still utilized heavily to travel into the untamed, wild mountains.
The mountains brought people looking for much of the same things as they do now. The beauty of an untouched meadow surrounded by white peaks. Fresh, clear water for world-class fishing. The possibility of seeing rare mammals and birds. The peacefulness and serenity that come with leaving the hustle and bustle of civilization. This gave rise
to the outfitting world that is still one of the area's biggest industries.
With more people hoping to access some of the country's best and most remote wild spaces came the need for infrastructure and maintenance. Much of this infrastructure helped protect the natural resources, such as trails, bridges, and puncheons — a boardwalk structure that protects an area from erosion. Other projects included the famed chalets in Glacier National Park, ranger stations, and fire lookouts.
The only way to get these projects done at the time was to use stock to carry thousands of pounds of building supplies and tools. Luckily, horse and mule packers were a knowledgeable and ingenious lot. By methodically loading the animals, packers could bring just about everything needed to build bridges, cabins, and trail into the backcountry, at three miles an hour — the speed that most horses walk. Today, it is still often cheaper to hire packers to pack in supplies than it is to hire a helicopter.
The allure of these places, it is important to remember, was not just the beauty, not just the animals, but the environment. While in more recent years chainsaws, helicopters, and bulldozers have become widely utilized, introducing these loud,
fast-moving machines disrupts wildlife, native plants, and visitors who come from all over the world to be in place that is wild. The Wilderness Act, written in 1964, outlines rules and regulations put in place to keep areas preserved for recreation and wildlife by outlawing all motors. Stock use keeps this type of accessible wild space possible.
That isn't to say that stock users have done no damage. In the 1970s the outfitting use in the newly formed Bob Marshall Wilderness was reaching an unsustainable level. Lush meadows had been turned to dust, the trails formed a braid as stock spilled from their edges, and camps had become more and more permanent. This came about all at a time when those high up in the Forest Service were becoming more and more removed from having their boots on the ground.
Seeing the writing on the wall, a group of local stock users concerned with both the environmental impact and the possibility of attempts to manage the Bob Marshall Wilderness without stock came together. In 1973 the Back Country Horsemen, now a national organization called Back Country Horsemen of America, came together in the Flathead Valley with a pact to keep stock in the wilderness through education and campaigning for responsible use.
100 406 w oman.com
history}
Above photos from left to right: Bert Poloson packing 16ft boards circa 1948 in Glacier National Park. Photo courtesy of the Northwest Montana History Museum. Two Pikuni horses and people stand on the plains near Browning, MT; one (left) is pulling a travois with a child. The photo is dated 1898. This photo is from the Thain White collection at the Northwest Montana History Museum. Photo on opposite page: Back Country Horsemen working on the Alpine Trail in 1978. Photo courtesy of Back Country Horsemen of the Flathead.
This group saw that outlawing stock use wouldn't create a better, accessible wilderness. Strong stock restrictions would either cut access due to lack of maintainable infrastructure or allow more motorized equipment into the backcountry to try and maintain it.
The Back Country Horsemen launched multiple campaigns with much success. It became the first organization in the country to volunteer for the Forest Service, ensuring that both the public and the Forest Service saw the usefulness of stock in the wilderness. Next, the group's members began their "Light on the Land" campaign to educate stock users, outfitters, and packers on methods to use to reduce environmental impacts.
Though it didn't happen overnight, stock continues to be used by the government entities, local outfitters, and the general public in both the Bob Marshall Wilderness and Glacier National Park. This has meant that trails are maintained with a large crosscut carried into the wilderness on horseback, keeping trail on its original track with gravel moved by horsepower, for generations. Bridges and puncheons are maintained to protect streams and water sources. Fire lookouts are manned and maintained not with helicopters but with horses and mules and, of course, dedicated packers.
Time has thrown new challenges at the organization, now more than 50 years old. Although its members still spend much of their time advocating for stock use and "Light on the Land" practices, they now are faced with a shortage of packers.
As more and more people grow up without access to wilderness, stock knowledge, and land, there are fewer and fewer packers each year to keep of the tradition. And tradition it is. Though you'll never find two packers that do everything the same, it is very much an oral tradition, passed down through stories and muscle memory.
The group now spends a large amount of time dedicated to teaching younger generations the trade. Here in the Flathead Valley, there are many learning opportunities made available for free throughout the year. Most notable is the youth camp, in which Back Country Horsemen members take kids with little to no horse or wilderness experience into "the Bob" for four days.
Stock use in the Bob Marshall Wilderness (and even Glacier National Park) continues to be important whether or not you are a rider or a packer yourself. In the designated wilderness nearly every bridge, every cabin, and every puncheon are made with the help of horses and mules.
Take a moment when hiking this summer to think about the reason you enjoy the wild space you are in. How did it come to be? How is it maintained in a way that helps people access the area while still maintaining an environment that is good habitat for a wild ecosystem? And when meeting stock, give them some space by getting off the low side of the trail and giving them a nod for the generations that have worked to create and maintain these wild landscapes.
406 w oman.com 101
Eleanore Eberts, Co-Administrator at Northwest Montana History Museum and avid packer, and her mare June Bug, in the Bob Marshall Wilderness.
Becoming a Montana Dentist
The saying goes, "Summertime and the Livin' is Easy." Is this true? Is life easier in the Summer? I will agree that life is much more fun and exciting in the summer. The days are longer, the weather is obviously better than the other Montana seasons, but man am I exhausted at the end of the day. I wouldn't call it easy living, but it is far and away the best time in my opinion.
I'm sitting here writing this article on July 3rd and I have a confession to make. While I was born and raised in the USA and am 100% American at heart, I am also a Citizen of Canada. How you might ask? The easy answer is my mother is from Edmonton, Alberta. In addition to that I married a full fledged Canadian and now all of my kids have dual citizenship as well.
Why does this matter on July 3rd? Because Canada celebrates its independence on July 1st much the same way America does with parades, cook-outs with family and friends, and…you guessed it… fireworks. So, as I'm writing this getting ready to host my own July 4th Freedom Fest I still haven't recovered from the Canadian version. Which is a lot like the American version…but just a little different.
By Dr. John F. Miller DDS - SMILE MONTANA
As a dual citizen raised by a Canadian in America who then married a Canadian, I can bridge the gap for y'all. I can translate. Prior to covid it felt like the majority of our tourists were Canadian and for us Locals it felt like they had a holiday damn near every month. Well, they do. And while these holidays have names, if you ask a Canadian, many will just tell you it's their long weekend preceded by the month you're in.
For example, we have Memorial Day. We get the last Monday in May off to remember our fallen service men and women. In Canada they have May-Long Weekend. It's very literal. It's the long weekend in May. Now I should know what the actual holiday is called considering the influence that Canada has had on my life, but I don't. I could look it up but I'm proving a point. My wife will roll her eyes when she reads this, but she knows I'm right. They also have August-Long weekend which no Canadian has ever told me what they are celebrating. "It's just like our long weekend in August eh."
I feel at this point I need to clarify that I'm not digging at our friends to the North. A large portion of my friends and loved ones are Canadian. Maybe I'm just jealous of all of their holidays. Of the other 150+ countries in the world Canada is hands-down the most like the U.S.A. But when
you're up there it's just subtlety different. The U.S.A. and Canada are like a set of identical twins that you've known for decades, they look alike but you can tell them apart.
This is true for our professions and careers also. The art and practice of dentistry is different around the globe. Not only will you find that dental procedures, techniques, and materials vary greatly throughout the world, but even attitudes towards dental aesthetics. Different cultures value different things. There's no sugar coating it, America values beauty…or at least their definition of beauty. It's very common for a patient of mine to request a "Hollywood" smile. Which translates to perfectly straight and unnaturally white typically accomplished with crowns or veneers.
And since it is the 4th of July (wink wink) we'll contrast this standard with that of Great Britain, which has long held the reputation for not valu-
104 406 w oman.com
Googled "Hollywood Smile"
ing straight teeth nor necessarily even white teeth. I think the easiest way to put it is they tend to have natural smiles devoid of orthodontic or cosmetic intervention. This does not mean their teeth are unhealthy, they're just not "Hollywood." A quick google search of countries with the healthiest teeth informs me that the United Kingdom (aka Great Britian basically) ranks 5th worldwide versus our rank of 9th.
Due to the worldwide differences in the practice of dentistry foreign trained dentists must be accepted and complete an IDS degree at a participating accredited U.S. dental program. At my Dental School, The University of the Pacific, the IDS program was the final 2 years of school. In other words, during our final 2 years, we were joined by 20 or so foreign trained dentists, some who had been practicing for years. They were a great asset to the rest of us, it was like having 20 professors as peers.
Now let's break it down within our own country. When a dental student completes his formal school training, he or she must pass multiple board exams. These board exams are region specific. For example, I took the Western Regional Board Exam (WREB) as it is accepted by the state of Montana and was the board offered at my school. It covers the majority of the western United States in addition to a sprinkling of other states. If I wanted to practice in New York let's say, I would've needed to pass the North Eastern Regional Board (NERB). This was not offered at my school and would've honestly been a huge pain in my butt.
If we peel back the onion a little more, we find that each state has its own dental board with state specific rules and requirements that govern not only the dentists, but the hygienists, assistants, and denturists as well. These rules and requirements can vary greatly from state to state. Each state also has its own additional licensure exams such as a jurisprudence exam.
I worry that this article may not have been the most exciting but I'm feeling exceptionally patriotic as I sit here typing and thought you might be curious not only what it takes to become a dentist in the United States, but a dentist in the Flathead Valley in Montana. There's a lot of red tape, hoops, background checks, vetting so rest assured that your local dentist has been given the green light and thumbs up from Washington D.C. and Helena, MT based on their successful passing of like a million written and clinical exams with probably no felonies on their record.
Have a safe and happy summer everyone. Check off a bucket list item. Climb a new peak or hike a new trail. Get a little sunburnt at least once it's good for the soul. Jump into cold water as often as the opportunity presents itself. Ride a bike often. It's hard not to SMILE during a Northwest Montana Summer.
406 w oman.com 105 health} smi L e
Googled "Natural Smile"
If we peel back the onion a little more, we find that each state has its own dental board with state specific rules and requirements that govern not only the dentists, but the hygienists, assistants, and denturists as well.