14 minute read
GENETIC MEDICINE REVOLUTION
© Stock.Adobe.com/au/Feydzhet Shabanov
The quest to produce the vaccine for COVID-19 has raised concerns about Australia's preparedness for a pandemic, and it has sharply focused attention on the 'new' age vaccines based on mRNA.
I
say 'new' given the seminal paper1 that launched this field of nucleic acid vaccines was published in 1990! This was shortly followed by the first demonstrated mRNA-based vaccine to elicit an immune response in an animal2 in 1993.
Fast forwarding to 2015, Ulmer, Mansoura and Geall3 suggested that "vaccines on demand" are possible and laid out four attributes of self-amplifying mRNA vaccines summarised as follows:
1. Raw materials that can be stockpiled and production equipment that can be co-located within a single facility.
2. A synthetic and scalable process that is amenable to automation and rapid manufacture of a drug product, in the absence of biological systems.
3. A robust, generic means to manufacture vaccines against many pathogen targets.
4. A small manufacturing footprint with standard, disposable equipment.
In 2020 the world is now finding many novel mRNA vaccine candidates4 and the Australian Government is having a gamble on who might be the ones to back, investing millions of dollars to reserve some for Australia. Astutely, they have invested in a massive facility in Victoria.
The new facility will be built in Melbourne's Airport Business Park and is expected to be operational by 2026. It will be funded through a joint venture between the federal government, which is putting $1 billion towards the project, and Seqirus — a subsidiary of biotech company CSL — which will contribute $800 million.5
This is great for cultured vaccines — and as Health Minister Greg Hunt stated, "It will provide support for pandemic flu, seasonal flu, antivenoms and Q fever" — but let's not hold our breath as it will be 2026 before it is operational.
Australia invested heavily in reserving COVID19 vaccines from several companies overseas. Moderna, BioNTech/Pfizer, CureVac, Imperial College London and Arcturus are all working on lipid nanoparticles (LNP) with mRNA. Surely a local facility that has capacity to create medicines for genetic diseases during 'non-pandemic' times and be easily mobilised for vaccine production would be a significant advancement in Australia's preparedness.
The scale of such a facility has been egregiously overstated previously, considering the production of self-amplifying (saRNA) at a commercial scale does not require cell culture, complex purification or novel equipment. The dose concentration of a saRNA is exceptionally low and, in the case of a vaccine, Anna Blakney of Imperial College London stated that 100 mL can result in 1 million doses.6
The huge bioreactors used in cell-cultured vaccines arguably can be replaced with a beaker and a stir bar for the cell-free synthesis where RNA is produced from a DNA template using an enzymatic transcription reaction. This method is well defined, generic, high yield, fast, antigen-independent and can be used for all types of mRNA.
To get a start on this, a small lab which is a cleanroom is all that is needed. The components can be dropped in within a couple of months — and the total cost a fraction of the aforementioned investments. This would allow Australia the opportunity to create such drugs in-country, without spending the multimillions on a hope we will access the products from big pharma. Perhaps it is time NSW put some skin in the game. When it comes to vaccine production we sadly lag behind Victoria and Queensland. Here's a chance to be novel and build the future powerhouse of genetic medicine for Australia in Sydney. Hopefully, we won't have to wait 30 years again!
References 1. Wolff JA, Malone RW, Williams P, et al. Direct gene transfer into mouse muscle in vivo. Science 1990;247(4949
Pt 1):1465-8 2. Martinon F, Krishnan S, Lenzen G, et al. Induction of virus-specific cytotoxic T lymphocytes in vivo by liposome entrapped mRNA. Eur J Immunol 1993;23(7):1719-22 3. Ulmer JB, Mansoura MK & Geall AJ. Vaccines 'on demand': science fiction or a future reality. Expert Opinion Drug Discov 2015 Informa UK, Ltd. ISSN 1746-0441, e-ISSN 1746-045X 4. Davis PA. Should we put all our eggs in one basket when we develop a vaccine? https://labonline.com.au/content/ life-science-clinical-diagnostics-instruments/sponsored/ should-we-put-all-our-eggs-in-one-basket-when-wedevelop-a-vaccine--1058078482 5. https://www.abc.net.au/news/2020-11-16/new-vaccinefacility-melbourne-coronavirus-anti-venom/12886346 6. Blakney A. http://go.precisionnanosystems.com/ m000Oh2040fQ1bncZCu0MG0
Automate your lab with helpful tools for liquid handling and homogenisation
Thermo Fisher Scientific provides a range of products designed to increase efficiency in the laboratory.
Liquid handling It is expensive to move from manual liquid handling to a fully automated system — that's why Thermo Fisher Scientific offers products to automate steps within the workflow, increasing efficiency without requiring large initial capital outlay. These devices are designed to be faster than manual and even some automated systems allow more sample processing. All the while you have the ability to automate single parts of the workflow, rather than the whole workflow. This results in a lower initial capital outlay than a fully automated system, making it easier to implement. The products are applicable for many different workflows, enabling a variety of uses and flexibility if a project changes.
For example, the company's Thermo Scientific™ Multidrop™ Pico 8 Digital Dispenser is a non-contact liquid dispenser that enables assay miniaturisation and liquid dispensing down to the picolitre range. The product precisely delivers fluids with CV values of ≤8% for volumes as low as 11 pL into any well of a microplate including 96, 384 and 1536 well plate formats. The non-contact dispense technology removes the risk of contamination of the reagents. Additionally, the dispenser is capable of direct mixing of the dispensed reagents to ensure a homogenous reaction.
The dispenser comes with PicoIT 8 software, which offers a user-friendly interface. The software includes pre-set protocol templates made for qPCR layouts or you can simply create a custom protocol using the PCR function. With the pre-set protocol templates, the software guides you through three easy steps: opening a template, customising the template to your specific assay, and finally running your newly developed protocol with the Multidrop Pico 8 Digital Dispenser. In addition, the software automatically generates associated reports in the appropriate format to be
© Stock.Adobe.com/au/Aerial Mike
imported into the Applied Biosystems™ QuantStudio™ Real-Time PCR System. The direct importing of the plate layout with the sample information eliminates the additional steps of recreating the plate set-up in the QuantStudio, allowing you to start the qPCR run instantly.
A study by Thermo Fisher Scientific has demonstrated how the digital dispenser and software allow users to easily set up a miniaturised TaqMan™ qPCR assay plate with successful amplification of the input cDNA. This is significant given that a common hurdle in setting up TaqMan qPCR assays is ensuring pipetting precision at small reaction volumes; in fact, in many cases of qPCR assay development, scientists settle for a larger reaction volume such as 20 µL because of pipetting errors. Decreasing the qPCR reaction volume while maintaining precision can however improve cost-effectiveness while increasing throughput.
The Multidrop Pico 8 Digital Dispenser and PicoIT 8 software were found to be an ideal solution for preparing a miniaturised qPCR assay. The qPCR assay plate was set up in three steps when using the PicoIT 8 pre-programed protocol template and PCR function features, and it was possible to miniaturise the TaqMan qPCR assay reaction total volume to 5 µL without compromising assay results.
The digital dispenser and software can also titrate the reagents needed for a standard curve and eliminate manual pipetting for serial dilution. The titration is beneficial for accelerating the standard curve preparation process in relative quantitative PCR assays, gene expression assays, primer efficiency validations or PCR efficiency validation. Furthermore, each dilution is generated directly in an individual well with non-contact dispensing technology. This feature reduces the risk of contamination and technical errors that are typically introduced in manual pipetting and serial dilution.
Taken together, the Multidrop Pico 8 Digital Dispenser and PicoIT 8 software provide increased productivity in assay development. They facilitate an accelerated and miniaturised qPCR assay with decreased manual pipetting, reduced reagent amounts and precise results.
Homogenisation Thermo Fisher Scientific also supplies a wide range of homogenisers, such as the Precellys Evolution from Bertin Instruments — a universal tissue homogeniser specially designed for L3 laboratories. An efficient and flexible solution to disrupt samples, it offers optimal robustness and safety and possesses an automatic tube locking system, making it a real push-and-play system. Samples are ready for DNA/RNA analysis via PCR, electrophoresis, liquid chromatography and western blot in about 30 seconds.
Thanks to its different accessories, the device has the capability to process five different sizes of tubes (0.3 mL in well-plate format, plus 0.5, 2, 7 and 15 mL) and up to 24 tubes simultaneously. The optimal efficiency of Precellys Evolution can also be applied to the 96-well plate format thanks to the Precellys Lysing Kit 96WP, an accessory that enables ease of use and better tube positioning. Tubes are individually capped to avoiding any crosscontamination risk and the new matrix has better application coverage.
The Precellys Evolution's ability to achieve mechanical cell lysis was recently assessed using the ZymoBIOMICS™ Microbial Community Standard from Zymo Research. DNA of the 12 aliquots (75 µL each) of the community standard was extracted using the ZymoBIOMICS DNA Miniprep Kit, and cell lysis was performed using a Precellys Evolution set at maximum speed (10,000 rpm). DNA quantification indicated that efficient cell lysation could be achieved by homogenising cells for just 1 min using the Precellys Evolution, instead of 5 min on other systems.
The original tissue homogeniser in the Precellys range, the Precellys 24, continues to be used by thousands of scientists around the world, thanks to its simplicity and efficiency that makes it most suitable for routine and R&D projects. Like the Evolution, it is specially designed for L3 laboratories, can homogenise many different samples in 30 seconds and possesses an automatic tube locking system, making the product easy to handle. It can also process up to 24 tubes simultaneously, with the instrument's 3D motion providing the same high level of energy and homogenisation efficiency to all of the tubes.
Various tests have found that the Precellys 24, the Precellys Evolution and a dedicated Precellys lysing kit can be used to obtain highquality RNA, which is mandatory to perform RNA sequencing. In experiments conducted at France's Laboratoire de Biologie et Modélisation de la Cellule (LBMC), researchers used these instruments to achieve very efficient RNA extractions from a half or a whole mouse kidney. Other tests using the Precellys 24 have observed successful RNA extraction from Escherichia coli bacteria, Bacillus globigii spores and dog skin biopsies.
Finally, the Minilys personal homogeniser is a compact and flexible tissue homogeniser designed to meet particular sample preparation needs for laboratories working with biological samples. Offering optimal grinding, lysing and homogenising efficiency, the product is capable of handling 3x 2 mL/0.5 mL tubes or 1x 7 mL tube to process any type of samples. A manual (but not screw-in) locking system makes the Minilys an easy-pick-up laboratory instrument, making it suitable for use in the daily lab workflow. Associated with the appropriate lysing kit, the Minilys can grind difficult samples like grains or hairs.
The use of the Minilys to homogenise tumour samples has proved efficient compared to manual sample preparation. Tests at Liverpool Clinical Laboratories in the UK showed that the processing time was significantly reduced when using Minilys for homogenisation, as well as the post treatment time with Proteinase K (reduced to 1 hour vs overnight for the manual method). The yield of DNA recovery with Minilys was higher in 81% of the samples compared to the manual method. Nine out of eleven samples homogenised by the manual method didn't exceed a concentration of 15 ng/µL, while the lowest concentration found in samples homogenised by the Minilys was 49 ng/µL. The average DNA yield recovery with the Minilys was also 185.7 ng/µL compared to 26.8 ng/µL for the manual method; therefore, only one sample needed to be treated. For more information visit thermofisher.com
Wireless digital headstage for large animal models
The Cereplex W from Blackrock Microsystems is a small, lightweight, wireless, 96-channel digital headstage for neural recording in freely behaving large animal models. It has been designed to open doors to promising research such as studies of sleep, social behaviour and freely moving primates. Since the set-up and subject are free of cable constraints, innovative research avenues are possible and the set-up is clean.
The product enables novel research paradigms by delivering high-fidelity neural data via wireless transmission. It offers wide input range with onboard impedance measurement, reducing noise while maintaining signal quality. With the Honey Badger ASIC Chip, extracellular spikes and local field potentials have 7x higher resolution compared to competitor solutions, the company claims.
With an ultralong battery life up to 9 h, the Cereplex W is able to charge and record simultaneously with data streaming hardwire or wirelessly. The headstage is compatible with various set-ups and provides clean and consistent signals for freely moving animal models.
The product has a full bandwidth with 30 kS/s sampling, 96 channels and long battery life, and enables freely moving recording with multiple animals. Compatible electrodes are the Utah Array and it can be teamed up with the Blackrock Cerebus System.
SciTech Pty Ltd www.scitech.com.au
Antibody purification technology
Cytiva's Fibro PrismA antibody purification technology has been designed to support the industry's drive for increased speed and flexibility, in order to advance the development of novel therapeutics. The first product based on the company's protein A fibre chromatography technology, it is being used to accelerate research for customers and collaborators.
Fibro chromatography technology enables rapid cycling antibody purification. In research and process development, this means Fibro PrismA can support up to 20 times increased throughput compared with traditional resins, the company claims. In clinical and commercial manufacturing, the technology will enable efficient single-use operations, by using the full unit lifetime in a single batch.
Fibro PrismA enables ultrafast purification in research and process development, allowing researchers to accelerate the drug discovery process. Clinical-scale products are set to follow.
Cytiva www.cytivalifesciences.com/en/au
Automated cell counters
Cell counting allows the behaviour and viability of cells to be monitored, providing insights into bioprocessing and cell therapy dosing. Many laboratories performing transfection, cell proliferation, viability studies or quantitative PCR use manual cell counting methods like a haemocytometer, which is still considered the gold standard despite being timeconsuming, tedious and subjective. Cells are notoriously challenging to count, even by an experienced analyst. They can exhibit broad size distributions (mesenchymal stem cells), contain debris (PBMCs), be irregularly shaped (primary hepatocytes), be clustered (MCF-7 breast cancer cells) or contain budding yeast cells. Automated cell counters are designed to offer results in a fraction of the time.
Not all cell counters are created equal, as there are many different instruments. Three systems in the LUNA automated cell counter family are available for demonstration: the LUNA Brightfield (7 s to results), LUNA FL (GFP transfection) and LUNA FX-7.
The LUNA-FX7 is the latest member of the family and is claimed to provide unmatched cell counting accuracy, dual fluorescent and brightfield detection, an advanced de-clustering algorithm, precision autofocus and 21 CFR PART 11 compliance. It has built-in quality control features and precise validation slides for monitoring QC and bioprocesses.
Key benefits include: larger counting volumes, up to 5.1 µL for high accuracy (1% CV); high throughput using either 8- or 3- channel slides; the convenience of disposable and reusable slides; bioprocess package, CountWire and 21 CFR Part 11 compliance; and intuitive operation.
ATA Scientific Pty Ltd www.atascientific.com.au
Service laboratory for microbial air samplers
Cell Biosciences is now able to service ORUM Microbial Air Samplers and ORUM Compressed Gas Microbial Systems in Australia. The company's service laboratory in Melbourne offers factory-trained service technicians, allow for the calibration, repairs and maintenance of ORUM products.
The service facility provides quick turnaround times of less than three days from date of receipt of the instrument. A benchtop wind tunnel — the TRIO.WIND — is used to calibrate both Microbial AIR and Compressed Gas Systems.
Cell Biosciences Pty Ltd www.cellbiosciences.com.au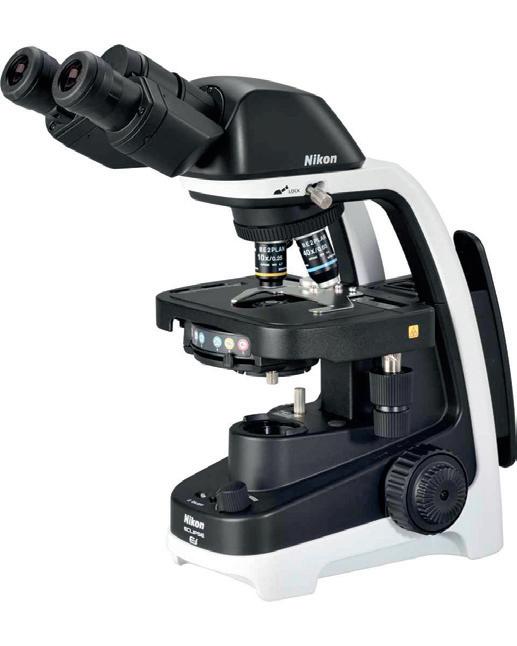 Educational microscope
Nikon Corporation is pleased to announce the ECLIPSE Ei educational microscope. The product features a streamlined design focused on intuitive operation and, combined with the Online Guide providing quick and easy access to tutorials, removes the learning barrier for firsttime users.
Images can be easily shared with fellow classmates, whether it be in person or remotely, when combined with the Digital Sight 1000 microscope camera and operational NISElements L imaging software. These images can be easily shared through videoconferencing platforms for virtual teaching.
The ECLIPSE Ei features an ergonomic design which encourages natural posture when using the microscope and minimises fatigue. Operating components are strategically colour-coded and labelled with easy-tounderstand illustrations for a seamless, intuitive operating experience.
Coherent Scientific Pty Ltd www.coherent.com.au