7 minute read
Built to Last: Newbury Carriage Strives for Quality Carriages & Satisfied Customers
Writer / Lois Tomaszewski Photographer / Timothy Hare
Acquiring a new buggy is an expensive purchase for many families. It is important that the buggy they buy will last for years, if not decades, before a new one is needed.
Nate and Sara Miller, the owners of Newbury Carriage in Topeka, understand this and do all they can to make sure the buggies they build are properly engineered and assembled. They also build each carriage to each customer's needs.
"In the end, you spend a lot on a buggy," says Nate Miller. "It should be like you want it to be."
Miller meets in person with customers at his shop, where there are usually three buggies being built in various stages. That way the customer can see how the buggies come together and see first-hand the options that are available with each order.
Most buggies are built to order but the Millers offer new and used buggies through a second business, Green Meadow Buggy Sales, which started in 2014. Trading in a used buggy for a new one is a common occurrence.
The Millers prefer to operate their carriage business focusing on the quality of the buggies they build. Although a short turnaround time for a new carriage order is nice, it is more important to build a carriage that will stand the test of long-term use.
It all starts with the running gear. Miller and his crew prep the running gear "rigorously," he says. Everything is cleaned before the running gear is sanded and then primed with epoxy and urethane paint. Finally, the
running gear is finished off with two coats of urethane paint.
Miller learned painting techniques at his first job at a finishing shop when he was 16. Not only was it a skill that has come in good use at his carriage building business, but it also is a task he says he enjoys. This experience helps him achieve that mirror-like finish on the carriage.
Attention is also paid to the axles. Newbury Carriage takes time to achieve the correct camber, which is a plumb spoke of the wheel and examine the gather, which, if not done correctly, can cause flat spots on rubber tires. This analysis is done in the shop
in the early stages of the carriage build to square up the running gear.
These precise measurements add up to a carriage that has less friction and is an easier pull.
"Taking a little more time and doing jobs correctly," is part of what it takes to live up to the company's business motto – "Committed to quality and customer service," Miller says.
After the running gear is completed, work on the carriage continues with the box. Miller uses a box made of fiberglass with
Committed to Quality & Customer Service • New Sales • Custom Builds • Restorations • Product & Parts Sales Nate & Sara Miller
(260)-768-8055 7040 W 200 S Topeka, IN 46571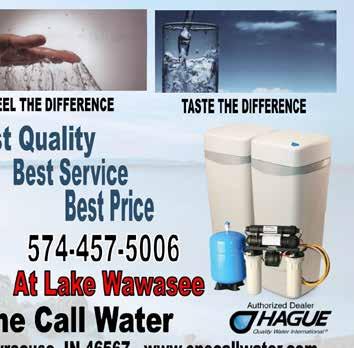 11875 N. State Road 13, Syracuse, IN 46567 www.onecallwater.com
a 3/8 inch foam core.
"This is a lightweight box that is extremely durable," he says. "Truly maintenance-free."
To frame up the interior, various species of wood are used, depending on the choice is then primed application. All areas that will possibly be exposed to moisture are then primed and sealed to prevent damage to the wood. It is just another step that provides assurance that the buggy is built to last.
Miller has also given thought to the foam he uses on the seats.
"All foam is not equal," he says, a lesson he learned while working as an upholsterer at a furniture store.
The foam that Newbury Carriage uses is high quality, high-density foam. It makes a difference in areas that get a lot of wear, such as the seat and arm rests.
The quality of the carriage is thoroughly inspected on completion. After a few months, the customer will get a call from Miller to make sure everything is working well and meeting the customer's needs. Whether it is building a new carriage for a customer, selling a
Quality Construction at an Affordable Price New Homes • Room Additions Roofing Shingles or Metal roofs Interior/Exterior Remodeling All Types of Residential Construction
#ANYLAKEANYTIME 24/7 Boat Ramp for $5 fee
used carriage or doing carriage repairs such as brake and tire replacement, Miller and his crew put customer service at the forefront.
"There is a short turn around on repairs," he says. "And we offer a loaner if we cannot do it right away."
Miller credits his team for helping turn out carriages that meet his standards for quality. "The quality depends on the workforce," he says. Nate and Sara wed in 2010. The couple has four children, two sons and two daughters. Daryl is the oldest at 9, Hannah is 7, Leah is 4 and Michael is 2.
Owning Newbury Carriage fulfilled Miller's dream of having a home-based business. He opened the shop in 2016, after working for another carriage maker for nearly two years. The shop is located at 7040 West 200 South in Topeka. It is open 6 a.m. – 4 p.m. Monday – Friday. To contact Newbury Carriage, call 260-768-8055 extension 2.
The rowded losetC
Consignment
Used Clothing | Shoes | Boots | Books | Coppa
11260 County Road 24 | Middlebury, IN 46540 | 574-747-7613 Hours: Mon - Fri 8-4 | Sat 8-2 | Closed Thurs & Sun Donations Accepted CUSTOM PROCESSING Summer Sausage Jerky • Snack Stix Ring Bologna Hams • Bacon Turkey • Hot Dogs
MARLIN & LEONA MILLER 10620 County Road 14 Middlebury, IN 46540 574-825-2665 x 1 Open: Oct - Mar
MILLER'S SMOKE HOUSE
New Constuction or Remodel Whole House Plumbing • Black Pipe Copper Lines • LP Lights • In-Floor Heat Solar Systems • Boilers: Weil Mclain & Navien Clayton Eash • 260-761-3670 9588 N 275 W • Ligonier, IN 46767
Fabrics & Notions Small Gift Items
Mon - Fri 8:00am - 4:30pm Sat 8:00am - 12:00pm
Gary & Lorene Hostetler 290-593-0448 x1 4675 W 600 S, Topeka, IN 46571
CERTIFIED PRE-OWNED
10 % OFF
SERVICE BILL
Not valid with any other offer. Expires 11/30/2020
$250 OFF
BODY SHOP DEDUCTIBLE
Not valid with any other offer. Expires 11/30/2020
427 CHEVY WAY WARSAW IN 46582 LAKESIDECHEVY.COM • (574) 269-1666
Hand Cut Steaks, Lobster, BBQ Ribs, Pork Chops, Crab Legs, Craft Made Burgers, Shrimp, Homemade Soups, Salads, Appetizers & Atmosphere.
Walk-ins are welcome but reservations are recommended. Open 6 days a week (closed Monday) 4pm to 9pm Sun- Thurs ∙ 4pm to 10pm Fri & Sat
Large Dining room & Bar room Private Party /Banquet room 2000 + sq ft outdoor Deck overlooking beautiful Bass Lake Order online or call. Plenty of vehicle parking front & back Harbour Pier Parking Available to use for those arriving by watercraft
Book your family/business Christmas party ahead of time.
www.harbourhousebasslake.com Follow us on Facebook for announcements For reservations email info@harborhousebasslake.com