13 minute read
True Fighter: Local Community Theater Advocate Battles Breast Cancer with Grace and Humility
from Avon Magazine April 2020
by Towne Post Network, Inc.
Local Community Theater Advocate Battles Breast Cancer with Grace and Humility
Writer / Christy Heitger-Ewing Photographer / Andy Janning
Cancer is ugly, insidious and tenacious, but the resolve that it can produce in survivors is remarkably beautiful. Hendricks County resident Karla Janning is the perfect example of someone who has fought cancer with graceful fortitude.
Two years ago Karla began experiencing small, fluttering chest pains on the left side of her body. A cardiologist examined her and chalked it up to acid reflux. But in July of 2019, a pain shot through her that was so severe that she clutched her chest. "That's when I felt a lump in my breast," Karla says.
She scheduled an appointment with an OBGYN, who suspected it could be a fibroid cyst. To be on the safe side, she ordered a mammogram and an ultrasound, which were followed by a needle biopsy. Then came the waiting game.
Though Karla's mother and grandmother had battled breast cancer, she hoped she wasn't facing the same monster. When the phone rang on August 13, however, her worst fears were confirmed.
to help her navigate the roller coaster of emotions that were to follow. Her husband Andy, in particular, became her rock.
"He's been to practically every doctor's appointment and chemo treatment," says Karla, explaining how chemotherapy altered her taste buds, producing a bitter, metallic aftertaste. "He's my note taker to be sure we don't forget anything, and my errand boy. I'd send him to the grocery when something sounded good, but then he'd bring it home and it didn't taste good so he'd run out and get something else. It was like dealing with a pregnant woman with cravings."
Friends offered meals, prayers, hugs and cards. Karla's best friend Angela texted daily to check in, and regularly swung by the house to give Karla the gift of normalcy. Another woman gave her a book titled, "When Your World Falls Apart". Written by Dr. David Jeremiah, a minister who also faced cancer, the book helped Karla
recognize that good things come even during hard times.
Many others stepped up too. For example, Karla's 15-year-old daughter Lauren's knitting club crocheted a blanket for Karla. A friend organized a meal schedule for the family. Another friend started a GoFundMe page to help make up the money that Andy and Karla have lost through being unable to work as much as usual since the diagnosis. "I've never felt more loved and encouraged," Karla says.
Karla and Andy's elder daughter Megan, 16, initially wasn't keen on telling anyone about her mom's diagnosis. But as she watched the love pour in for her mother from all sides, she witnessed the value in letting people in. Andy, a professional photographer and intensely private person, knew that honesty was the only way to survive the ordeal. Therefore, he asked his wife if he could document her journey through chemotherapy, doctor appointments, and all the other details of her journey, by snapping and posting pictures and updates to social media. She agreed.
"So many people only post the good things on social media," Karla says. "But if my honesty can potentially help someone else, why not share?"
After starting chemotherapy last September, Karla noticed that her hair was thinning and falling out. One morning after showering, she ran a brush through her knotted tresses and a clump came out in her hand. When Andy tried to help untangle the other knot, it fell out, too.
"I just started sobbing," Karla recalls. "I was basically holding two hairballs the size of my palm. I told Andy, 'I can't do this anymore.'" Later that day, she asked her lifelong friend and hairstylist Kebra to shave her head.
"We were all emotional - me, Kebra, Lauren - but after the first swipe of the razor, I was like, 'Okay, that's over. I can move on,'" Karla says.
Karla & Husband, Andy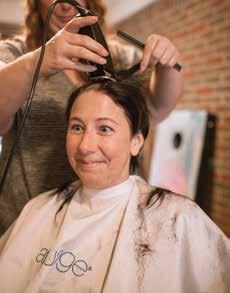 Documenting Karla's bravery through Andy's camera lens has been both therapeutic and pragmatic, because when cancer is in the family's rearview mirror, the photos will be a time capsule for the couple's daughters.
"I never want them to forget their mother's strength in the face of something so difficult," Andy says. "Karla has been the best example of strength and vulnerability that I've ever seen."
Documenting his wife's cancer journey inspired Andy to write a book that will be published later this year, highlighting cancer survivors and their caregivers.
"People are aware of breast cancer, but I don't think there's much narrative about how it impacts family relationships," Andy says. "I want husbands and caregivers to know that their voices are important too."
One aspect of the disease that caused Karla the most anxiety was having to bear the onus of determining her best course of treatment.
"When a woman gets diagnosed with breast cancer, they have to figure out next steps," Karla says. "Seventy to eighty percent of women make their own choices about whether they do a lumpectomy, a mastectomy, radiation, or chemo. That's stressful because it's potentially a life-anddeath situation."
In Karla's case, she was diagnosed with invasive ductal carcinoma and was also HER2-positive, meaning that the cancer cells are able to grow, spread and invade more readily. Karla also tested positive for an ATM gene mutation, which is associated with increased risk of breast, prostate and pancreatic cancers.
"Once you have a family member who has had cancer, if they test positive for any type of genetic mutation, anyone in their family can be tested for free for that specific mutation," says Karla, whose parents and sister both got tested. Her girls will do so when they reach their twenties.
Karla her 'cast' members from her role in the Hendricks Civic Theater.
Avon (317) 271-7760 10791 E. US Hwy 36 Chick--l-A.com/Avon
Breakfast Served Until 10:30AM
Plainneld (317) 839-4886 2687 E. Main St. Chick--l-A.com/Plain-eld
2019 Karla learned that she had a one-inch blood clot on her heart. On January 31 doctors performed a vacuum thrombectomy, but unfortunately the procedure was unsuccessful because the clot was stuck so tightly to the inside of her atrium that it couldn't be suctioned out directly. Karla's cardiologist did not think the clot was in danger of moving so he told her to continue on her anticoagulation regimen. On February 11 she returned to the hospital for a lumpectomy.
It's been an exhausting year, and one aspect of Karla's life that has taken a back seat is her volunteer work with Hendricks Civic Theatre, which she's been involved in for seven years. She joined the board of directors five years ago and became board president in 2019. Though she was supposed to direct the Rising Star musical "Matilda" this spring, she had to step back because her compromised immune system can't risk exposure to dozens of children during the height of cold and flu season. Instead of focusing on the downside, Karla has maintained a positive attitude.
"You hear about the things that cancer takes away from you, but the things it gives you are plentiful - starting with perspective," says Karla, noting that the experience has made her a better listener and a better friend.
She's been forced to slow down, enabling her to have more time with those who are near and dear to her. Plus, she has renewed some old friendships.
"I'm much more deliberate with how I interact with those I love," she says. Though it may sound odd, Karla says that having cancer has given her hope.
"When your life is going well, you don't think about hope much, but when you're hit with this news, you do," Karla says. "My hope in Jesus and knowing he is in control has gotten me through. I'm thankful that I can rely on his love."
• When people ask what they can do to help, be honest about what you do and don't need. • To avoid feeling overwhelmed, stay in the moment rather than thinking too far into the future. • Give yourself permission to be afraid. Then lean on faith, friends and family to move past the fear. • Maintain a positive attitude, but let yourself have a bad day too. • Instead of shouldering all of the worry and pain, give it to God to help you feel at peace.
• For all women: Conduct selfexams and know your body. Breast cancer isn't always a lump on the inside - sometimes it shows on the outside.
Windows - Siding - Doors & More Industries Strongest Limited Lifetime Warranty - Including Glass Breakage
Rated #1 in Price! — 2019 Ranked Highest in Customer Satisfaction by J.D. Power More Times than Any Other Window and Patio Door Retailer. 317-209-0008 | WindowWorld.com
Buy Today, Take Time To Pay *Special 0% Financing Available
Once Upon a Time Premier Princess Camps 2020 3-Day Royal Affair
July 8 th -10 th | 9 a.m.-2 p.m. (lunch included, Ages 5+)
Royal Tea - Princess Mini Camp
Sat. July 11 th | 9 a.m.-12 noon (Ages 3-5)
(317) 696-9043 | 8405 E US Hwy 36 — Avon | premieracademyofdance.com
Qualified applicants must encompass our vision of dedication, heart, & collaboration to improve the lives of the children we serve in Brownsburg & Crawfordsville! Registered Behavior Technicians ABA Therapists &
Ask anyone on our team, and they'll tell you, "It's less like a job and more like a family!"
Entrees for Seniors every Wed. (EXCLUDES RIBEYE MEALS)
With this Avon Magazine Coupon. Not Valid with Daily Specials or Other Offers. One coupon per guest check. Expires 5/31/20.
Save $3 Off Any Check of $20 or More
With this Avon Magazine Coupon. Not Valid with Daily Specials or Other Offers. One coupon per guest check. Expires 5/31/20. BEFORE SALES TAX
Save $5 Off
Any Check of $30 or More BEFORE SALES TAX
With this Avon Magazine Coupon. Not Valid with Daily Specials or Other Offers. One coupon per guest check. Expires 5/31/20.
$2 Off Lunch
Buy 1 lunch & Get $2 off 2nd lunch
BEFORE SALES TAX
With this Avon Magazine Coupon. Not Valid with Daily Specials or Other Offers. One coupon per guest check. Expires 5/31/20.
Now Open In Avon!
MEXICAN RESTAURANT & CANTINA
7840 E US Highway 36 (Behind Arby's) • 317-742-7212
Mon-Thurs 11am-10pm • Fri-Sat 11am-10:30pm • Sun 11am-10pm
$ 20 OFF Brake Repair MUFFLER & BRAKE SERVICE Ralph's
Valid at Avon location ONLY. Most passenger vehicles and light trucks. Disposal or Environmental fess not included. Not valid with other offers. Must present coupon before service. Expires 5-31-20. Avon Magazine.
$ 20 OFF Any Exhaust Service Over $ 150 Valid at Avon location ONLY. Most passenger vehicles and light trucks. Disposal or Environmental fess not included. Not valid with other offers. Must present coupon before service. Expires 5-31-20. Avon Magazine . MUFFLER & BRAKE SERVICE Ralph's
$ 20 OFF A/C Service or Re-Charge
MUFFLER & BRAKE SERVICE Ralph's
Family Owned & Operated Since 1948
Mon–Thurs: 8 am–5 pm Fri: 8 am–6 pm, Sat: 8 am–1 pm MUFFLER & BRAKE SERVICE Ralph's No Appointment Necessary
PUT OUR EXPERTISE TO WORK FOR YOU
Mufflers • Brakes • Shocks/Struts • CV Axles • Belts and Wipers • Oil Changes and Batteries • Coolant System Maintenance • Air Conditioning Service • Alternators and Starters • AND MORE
240 S. Dan Jones Rd (Behind Lowes) AVON • 317-272-6294 ralphsmufflerandbrakesshops.com
AVON 7900 US HWY 36 (317) 707-7513 opaofindy.com
10% OFF ENTIRE BILL present this coupon to receive 10% OFF your lunch or dinner Valid Mon-Fri only with coupon. Not valid with any other offers. Expires 5-31-20. Avon Magazine.
FREE APPETIZER WITH ANY PURCHASE OF $25 OR MORE Valid 7 days a week with coupon only. Not valid with any other offers. Expires 5-31-20. Avon Magazine. UP TO $7
Gyros • Fresh Made Hummus • Saganaki • Dolmades • Lamb • & Much More!
WHO: ANYONE WHO LOVES FROYO
WHAT: BIRTHDAY PARTY
WHEN: SATURDAY, APRIL 18TH 11:30AM - 9:30PM
WHERE: 7565 EAST US HWY 36 (AVON ORANGE LEAF)
WHY: ORANGE LEAF IS CELEBRATING 10 YEARS OF MAKING LIFE SWEETER!
10% OFF YOUR ENTIRE ORDER Valid at Avon, IN location only. Not valid with any other offer. Expires 5-31-20
Valid at Avon, IN location only. Not valid with any other offer. Expires 5-31-20 3 FOR $10 FROYO TO GO PINTS ($5 SAVINGS!)
Avon Parks & Trails Just a few reasons Avon was selected as the 17th best place to live in America:
GET OUT TODAY & ENJOY ONE OF OUR MANY BEAUTIFUL TRAILS 30 PARKS AND 5 GOLF COURSES located within 7 miles of the center of Town • Avon Avenue Trail • Bicentennial Trail • 100 South Trail • 100 North Trail • Town Hall Park Trail • White Lick Creek Trail • Town Hall Park to Washington Township Park Trail • Ronald Reagan Parkway Trail