4 minute read
Patanjali Research Foundation Herbarium
Herbarium of Patanjali Research Foundation, Haridwar, India
The Botanical Survey of India, under Government of India Ministry of Environment, Forest and Climate Change, is the organization responsible for herbaria in India. Almost all Indian universities and other science or research institutions are engaged in the surveying, collecting, and identification of plants, and in the maintaining of herbarium records. Following its support for taxonomic research, Patanjali Research Foundation Trust, Haridwar extended its mission to maintaining herbarium records and an herbal garden for valuable medicinal plants, especially those plants that are difficult to identify, such as the Astavarga group of herbal medicines used in Ayurveda since the Vedic period.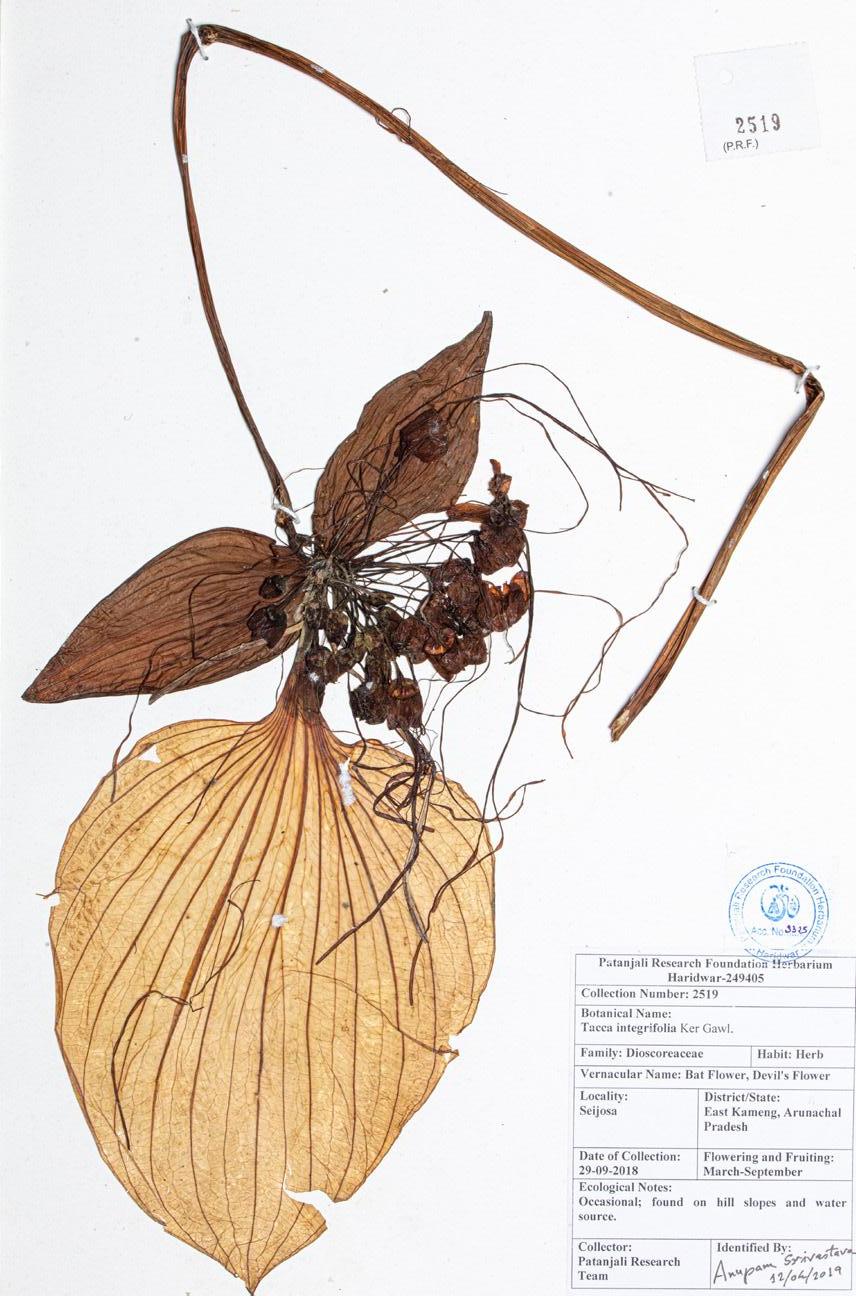 The Patanjali Research Foundation later extended its focus to the collection and preservation of herbarium specimens of medicinal plants of Uttarakhand and adjoining states in India and a part of the forested areas in Nepal. Because of the hard work of the scientists, Patanjali Research Foundation has completed the study of the flora of Morni Hills, part of the Panchkula district of Haryana, and added over 50 new plants for the state of Haryana. This project was followed by an extensive survey of Seijosa forest areas in the East Kameng district of Arunachal Pradesh, northeast India, part of one of the richest biodiversity hotspots in the world. All herbarium sheets are preserved and recorded in the Patanjali Research Foundation Herbarium, which became part of Index Herbariorum, with the acronym PRFH, in October 2018.
As per Index Herbariorum (December 1st, 2018), there are 3095 active herbaria in the world, containing 387,513,053 specimens. There are 178 countries with at least one herbarium. Associated with these herbaria are 12,278 staff members and associates. In India the number of active herbaria is presently 97 (Table 1).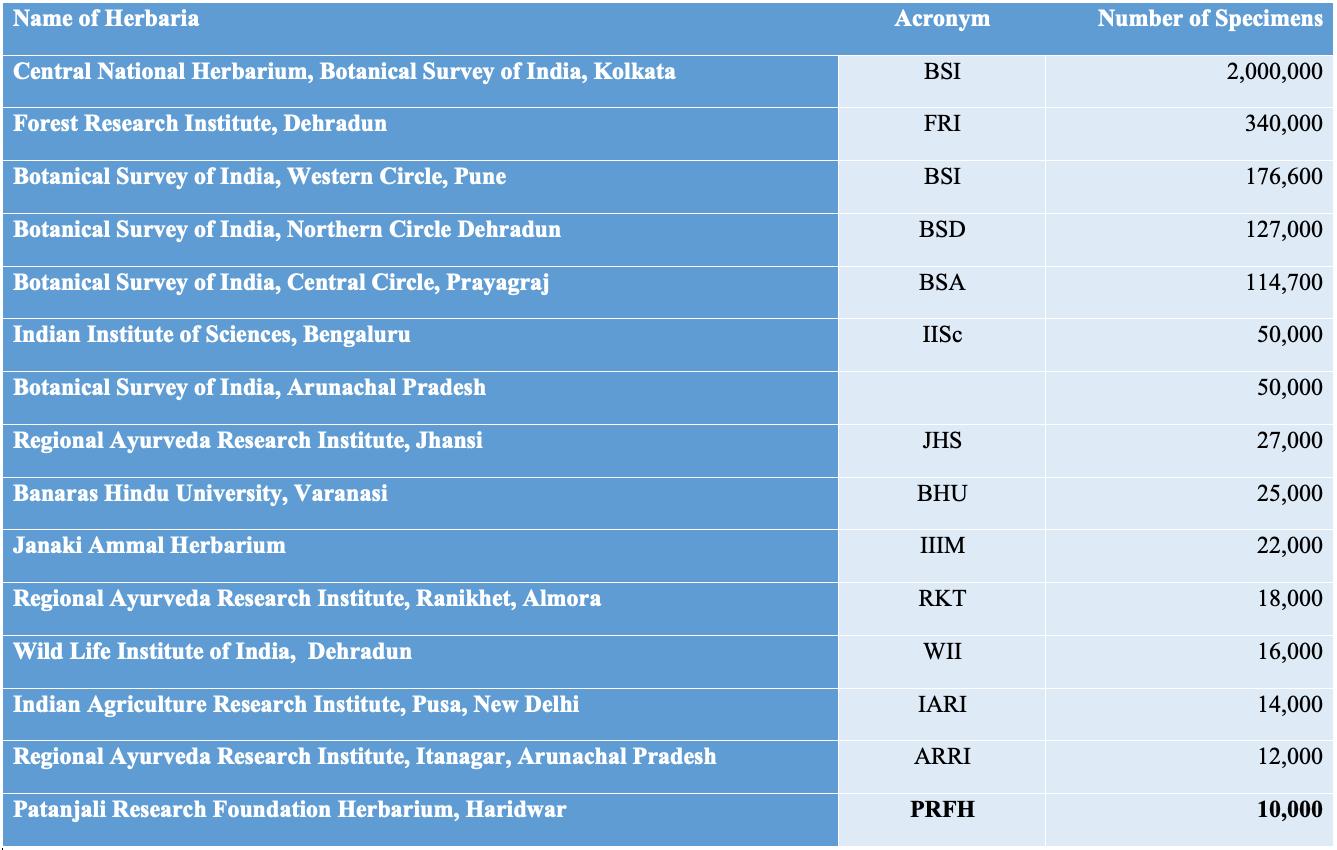 Patanjali Research Foundation Herbarium (PRFH)
PRFH was founded in 2008 with a focus on the collection, preservation, and maintenance of herbarium records of rare and endangered Astavarga plants from Uttarakhand, a Himalayan state of India, and from Nepal. These Astavarga plants are Habenaria edgeworthii Hook.f. ex Collett, Habenaria intermedia D.Don, Lilium polyphyllum D.Don, Polygonatum cirrhifolium (Wall.) Royle, Polygonatum verticillatum (L.) All., Crepidium acuminatum (D.Don) Szlach., Malaxis muscifera (Lindl.) Kuntze, and Roscoea purpurea Sm.
PRFH is governed by the Patanjali Research Foundation (Trust) in Haridwar, Uttarakhand (India) and has been visited by the Honorable Prime Minister of India Shri Narendra Modi and different eminent scientists from renowned institutions throughout the world.
It contains more than 10,000 specimens belonging to the pteridophytes, gymnosperms, and angiosperms, which are collected from all over India, but with special emphasis on the Eastern and Western Himalayas, Gangetic Plain, and Shiwalik Hills of the Great Himalaya. At present, over 25 senior taxonomists headed by Dr. Anupam Srivastava are associated with the Herbarium, as well as Ayurveda experts under the guidance of Param Pujya Swami Ramdev Ji. The herbarium records described in Flora of Morni Hills (Research and Possibilities) in the Panchkula district of Haryana as well as specimens cited in papers published from other parts of India are incorporated in PRFH.
There are 144 herbarium cabinets, each containing 16 cubbies (2304 in total). Prior to use, all cabinets had to be cleaned of the pervasive insecticide that covered their inner surfaces. All herbarium specimens are poisoned with Mercuric Chloride (HgCl2) in absolute alcohol and mounted on standard herbarium sheets with adhesive glue. The systematic arrangement of mounted sheets follows the Natural System of Classification by Bentham and Hooker described in Genera Plantarum (includes all the families of APG IV). Naphthalene balls are placed in the shelves to protect the herbarium sheets from insect damage.