1 minute read
Helping Professions Living Learning Community Students Lend a Hand
from Challenges in Theory and Practice, Fall 2019
by The University of Scranton
The Alice V. Leahy Food Bank is located on the lower level of McGurrin Hall in the Panuska College of Professional Studies. In October of 2019, three first-year seminar classes gathered to collect food for our own local pantry. A community food pantry's mission is to directly serve local residents who suffer from hunger and food insecurities. In the Helping Professions Living Learning Community, 77 freshman students united to have a team-building activity and to collect food for our own residents in the Leahy Community Health and Family Center.
Undergraduate students in the first-year seminar class were given specific instructions and limited supplies to build scarecrows in four categories: Best Overall, Scariest, Royal Professional and Funniest. Students laughed and bonded and realized that people need each other.
The basic human need is survival, and if people have a financial crisis or other emergencies, where do they go for help? The Alice V. Leahy Food Pantry is a helpful local resource for individuals and families who are in need of food. Students in the Living Learning Community are ready and willing to lend a helping hand.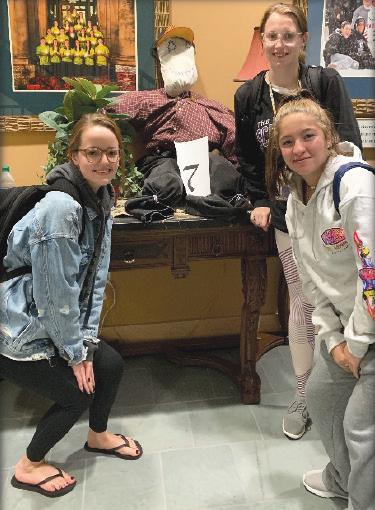 CULTIVATE THE HABIT OF BEING GRATEFUL FOR EVERY GOOD THING THAT COMES TO YOU, AND TO GIVE THANKS CONTINUOUSLY. AND BECAUSE ALL THINGS HAVE CONTRIBUTED TO YOUR ADVANCEMENT, YOU SHOULD INCLUDE ALL THINGS IN YOUR GRATITUDE. –– Ralph Waldo Emerson