4 minute read
The Edge Harlem
from MoDA MAG ISSUE 7
by The Collection MoDA
THE HARLEM EDGE
When Jamaican-EnglishAmerican "sisterprenuers" Justine and Juliet Masters opened The Edge in Harlem in late 2014 they were as we say in Jamaica, "trying a ting." Little did they know how successful their neighbourhood eatery would be and if possible, how much closer they would become as siblings in the process.
What was your inspiration to start The Edge? We always wanted to join together and create something special but we weren't sure what type of business to start. The inspiration came from within our community. We are both Harlem residents since 2000 and felt ourselves drawn to create a space for people to gather (that we would want to go to).
What were you both doing before? What are your responsibilities now? Justine was working in real estate and fashion. Juliet was in private chefing and catering. Juliet is the head of operations (the big boss). She is the engine of our restaurant and works the back of the house, primarily, but really all of the house. Justine is in front of the house and in charge of design, live and in-house music, customer and public relations for the restaurant.
What makes you stand apart from the rest as a restaurant in New York City?
The restaurant embodies the elements of our heritage - Jamaican and English with a little NYC sprinkled in. Our food is fresh, casual ... there's something for everyone on our menu. As a local neighbourhood restaurant we wanted to offer the immediate community some alternative options.
What was it like starting a new business with your sister?
We understand each other's strengths and weaknesses and make sure that we don't step on each other's toes too much. We have a great dynamic and it helps immensely that we respect each other's lanes when it comes to operating the restaurant.
It's a great advantage to have a business partner whom you can rely on and trust. Trust is paramount when deciding to go into business with anyone, but when it is your family - that trust is usually already baked in. For Juliet and me, it was a no-brainer for us to embark on this journey together.
The main challenge is holding a space for our relationship outside of the restaurant. By the time we finish resolving business problems, who has the energy to talk about personal stuff?
How has your experience in running a business been different from what you expected? It takes an immense amount of emotional and physical energy to run a service business. As well as interfacing with staff you are always worrying about other people's needs and happiness. This is not something we really thought about when starting our business. We were more concerned with the practical stuff - like paying back loans, getting the food right, etc. © Heather Smith
What is the top quality or value that has helped you become a successful entrepreneur? Always stay level-headed and find the solution.
131 Has working together affected your relationship? Surprisingly we are still best friends. There is a lot of pressure that comes with running a restaurant. We work hard together but we also play hard and reward ourselves. Working together has given us a greater respect for the women we have become.
What advice would you give someone wanting to start a business? Be smart and fearless. Understand that failures are great teachers and many times they are blessings in disguise. Make sure to build in time for yourself. Surround yourself with a strong team.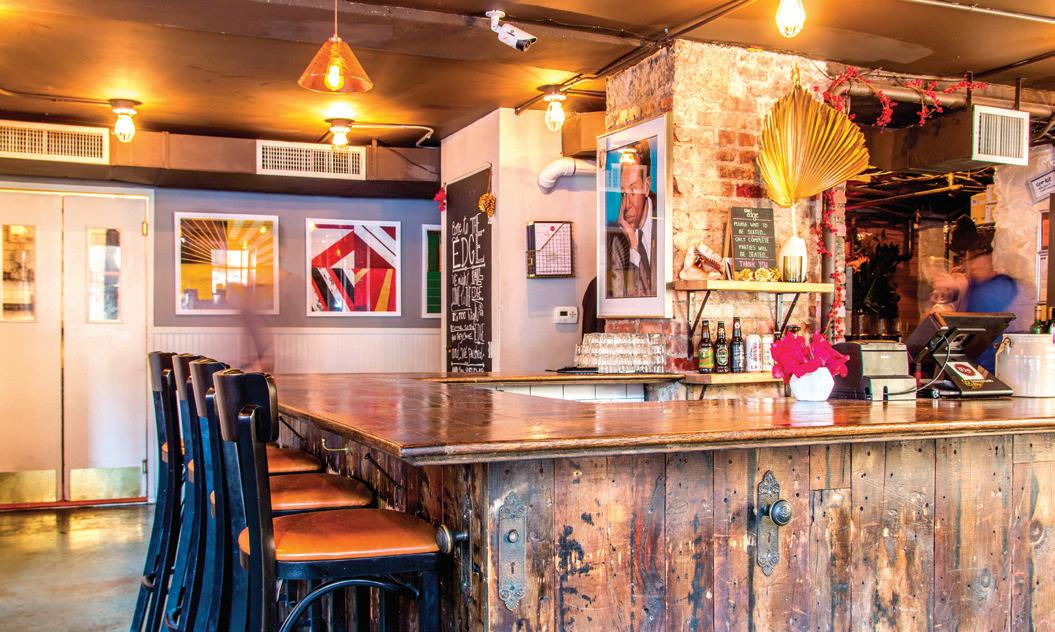 Do you have a favourite menu item? Can you share the recipe? Coconut Battered Fish and Grits! No, it's a secret (smile).
The Edge was recently featured in Essence online and has been written up in several other publications. How does this measure up to your definition of success? Success is looking around the restaurant and seeing that it is packed with a diverse, happy crowd. The Edge appeals to
the family that has lived in the neighbourhood for more than 30 years as well as the young couple who just moved in six months ago. Success is hearing people tell us they love the vibe and our food and the ambiance makes them feel good. Our place is a community service as well as a business. We will continue to nurture and grow our business, while also seeing what other possibilities/ opportunities are out there for us to seize. theedgeharlem.com 101 Edgecombe Avenue New York, NY