3 minute read
ONE GOOD MAN AND HIS DOG A Real Love Story
"Paul Herbst is a legend in Ballito. He is the archetypical good guy, a thoroughly professional and highly experienced senior paramedic with IPSS Medical
Rescue, one of the top medical rescue services in the country. Paul and his colleagues are on the front line when it comes to disaster management both locally and across international borders and together, they have quite literally saved more lives than they can remember. If you are looking for the embodiment of what it takes to handle this highly stressful occupation, he's right here in the thick of the action every day and he has recently taken on a new partner who is constantly by his side.
Meet Odi, the young Belgian Malanois who has captured Paul's heart and that of the community at large. This is his story.
Odi 14 months Belgian Malanois (KUSA registered). Odi arrived in Ballito at 3 months old in January this year, after we collected him from a KUSA registered breeder in Hoedspruit. He comes from a breeding line of working service dogs. Odi is a hardworking, high energy, driven dog. He has a very strong bond with Paul, and they have become inseparable.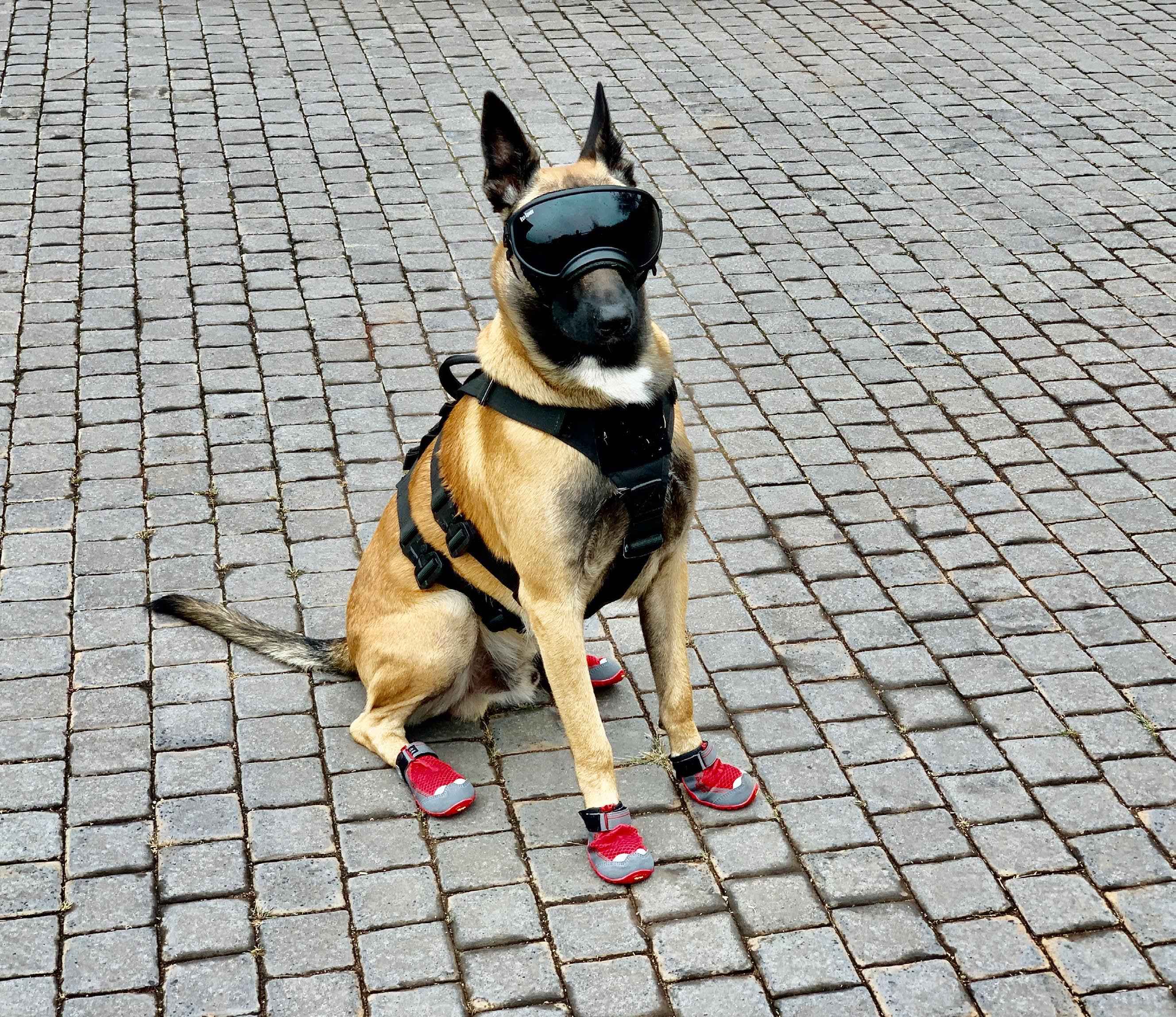 TRAINING
• From 4-6 months old Odi attended puppy socialization and beginner obedience classes.
Thereafter, training started on entry level scent work and scent association • Odi has excelled in training on the following disciplines: - Man trailing (tracking) - Cadaver scent • Odi is currently preparing for his K-9 Search & Rescue evaluation, which was delayed this year due to COVID-19. We are hoping to complete the evaluation early next year. • Odi's daily routine includes obedience training every morning and man trailing as a game in the afternoons. Odi's favourite reward is his squeaky ball. • Odi's favourite game is hide and seek. His progress has been phenomenal. • He is currently in advanced obedience training which includes off lead work in stressful and distracting environments. They also work to control his prey drive because he loves to chase birds.
ODI AT WORK
Odi is very loved by everyone at IPSS Medical Rescue and he quickly became a part of the team. Odi has specialised work gear for different rescue scenarios including goggles, booties and specialised harnesses for high angle, helicopter and water work. Odi can clearly distinguish between work and home/play time. When in work mode, Odi is very focused, and his posture is rigid. When Paul is dressed and ready for work in the mornings, Odi is ready and waiting at the front door. When he gets home, his collar gets removed and he assumed the role of a typical spoilt pet.
ODI AT HOME
Odi loves his rooibos tea in the mornings and before bedtime. He sleeps on the bed with mom and dad and loves to drag his blanky around the house. He shares doggy space with 2 older Jack Russell females who keep him in line. He has taught himself to open doors by getting on his hind legs and pushing the handle down and has not mastered the art of personal space as yet. Odi loves to swim, and usually gets to swim in the dam after a training session. It is hard to keep him out of the water. This cools him down, but it is also good for his muscle conditioning and fitness training. Bathing however is a different story.
THANKS
Odi's progress would not have been possible without the help and guidance of the following people:
Belinda Bolte of Pawfect Scott Farlam of Apex K-9 Training Various experienced K-9 handlers in the Search & Rescue field Lindy from Brenda's Angels
IPSS
IPSS Medical Rescue 24HR Advanced Life Support
www.ipssrescue.co.za
@ipssmedicalrescue