"One of the best things about tile is its sheer variety: You can find an option to suit any taste, including the taste that doesn't like tile much at all (in that case, go for those ceramic planks that look like wood, complete with graining). And in the past few years, tile companies have been seriously upping their game, expanding beyond the rectangles we know and love to unexpected shapes, colours, and finishes. If the patterned-cement-tile trend has taught us anything, it's that tile can do wondrous things for a room. Here are some equally stylish tiles, which are well on their way to becoming the next big thing.
FISHSCALE
Hexagon and other angular tiles were big last year, but 2019 seems to be the year of the fishscale. These curved tiles are a happy medium between round penny tiles and standard rectangles; on a wall, they create a scalloped pattern that's softer and more playful than straight-lined geometric shapes.
DARK MARBLE
If you've had enough of the white marble with grey veining that seems to show up everywhere, we've got some good news: Dark, earthy colours will be trending this year, and they're going to show up in tile in the form of black and dark brown marble. These unexpected shades offer lots of luxury and drama, but save you the maintenance issues associated with white and light-coloured marbles.
Large Format
Big tile is going to be, well, big this year. I'm talking tile measured in feet, not inches, with 2-foot-by-4-tiles as just the starting point. Bigger tiles mean less grout lines (always a good thing in my book), and it also opens up the design possibilities—the pros are expecting large-format tile to start being used, say, on countertops and furniture.…but also Ultra-Thin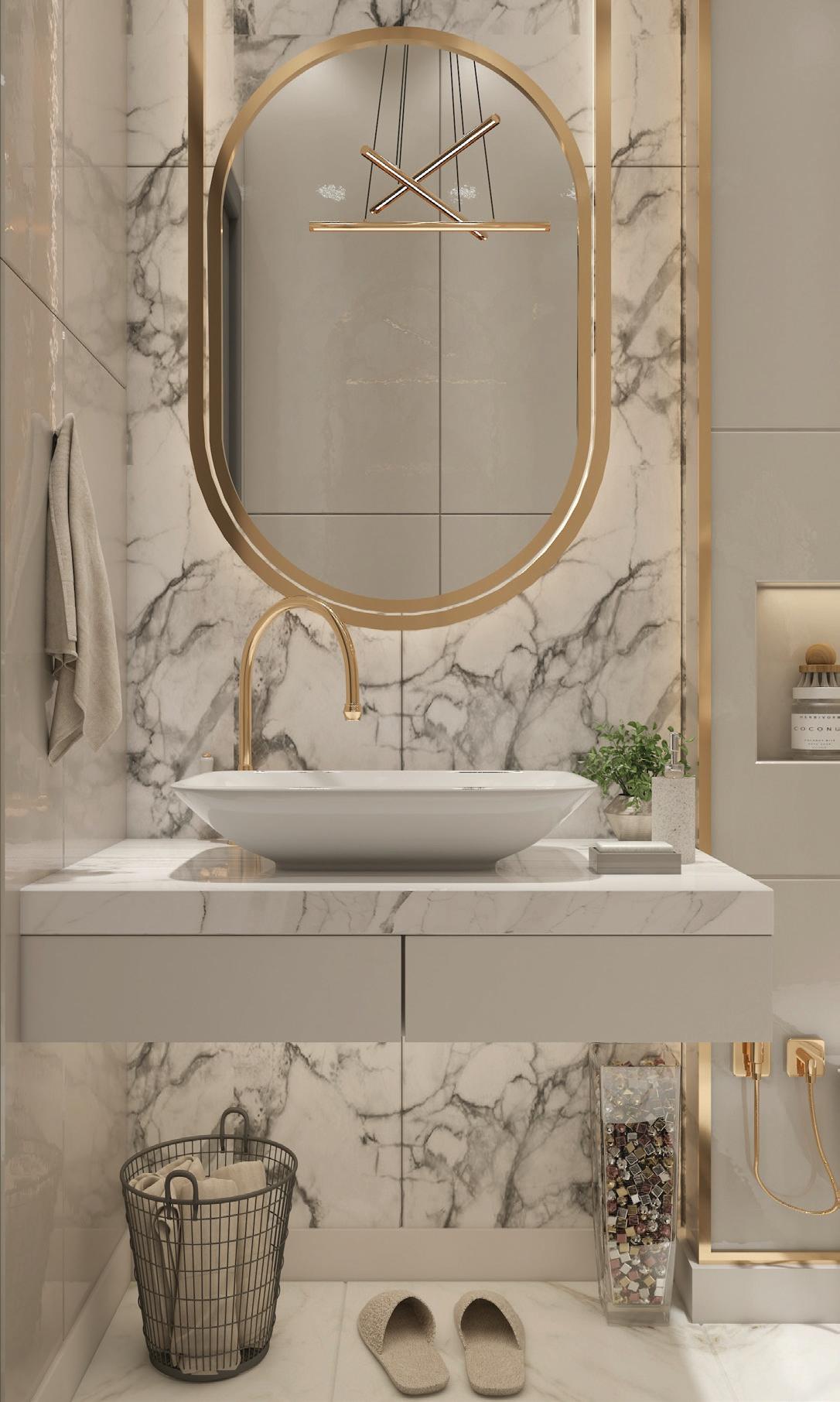 Designers also expect tile to shrink this year: Think subway tile but about half the width. These narrow tiles lend themselves to unexpected patterns and arrangements, such as herringbone or vertical stacks.
HAND-PAINTED
If you love the look of patterned encaustic tiles, you might want to take things one step farther with hand-painted tiles. Ultra-luxe, they have an imperfect charm that gives a space a real one-ofa-kind look. Because they're pricey, consider using them as a border or in a small space, like a powder room.
MATTE FINISHES
Matte finishes took the bathroom world by storm a few years ago, and now they're making their way to tiles. These tiles have an understated, slightly tougher look than their glossy countertops, and as a bonus, they're less likely to show water marks and dirt.
SUPER-REALISTIC WOOD
Tile manufacturers are getting better and better at creating tile that realistically mimics wood. Some versions even look reclaimed, with small "imperfections" that seem hand-scraped or wire-brushed. These tiles come in long planks, just like hardwood, in tons of finishes and are great for kitchens and bathroom floors where you want the warmth of wood but extra durability against splashes and stains.
BASALT
This volcanic stone, which usually comes in shades of grey, has natural tone variations and a slightly rough texture that adds tons of dimension to walls and backsplashes. It works just as well in a mid-century modern home as it would in a space that skews industrial.
HOME OF TILES
www.homeoftiles.co.za
032 586 0230
Home of Tiles 20 Moffat Drive, Ballito