8 minute read
The Nelons by Lori Goss Wise
A Winter's Carol
Nestled in the lovely town of Roopville, Georgia, you can find Venue 1074 – Clark & Nelon Farms. The property looks like a scene straight from a Hallmark movie. The blue skies, lush grass, vast fields, and manicured gardens offer a great escape for simplicity and renewal. Even on days of rain, mist and chilled air, this beautiful property feels perfectly serene.
As you ease down the drive, you will immediately notice the open pastures, horses grazing and Black Angus cattle. You can almost expect to see deer standing at the wood line and to hear birds humming a mesmerizing tune.
The main house is the residence of Jason and Kelly Nelon Clark. This home also hosts a grand bridal dressing suite and a downstairs groomsman game/ workout/dressing room. The home is aglow with twinkling Christmas lights, elegant garland, and stunning decorated trees. Candles (made on the farm), provide a sensory delight. A little past the main house, your eyes will be focused on the magnificent event barn. Strewn with fresh greenery, white flowing fabrics, intricate wood craftsmanship and a glistening backdrop, you can imagine vows being shared and the dance music playing. There are multiple locations on property where couples laugh, cry, and become united.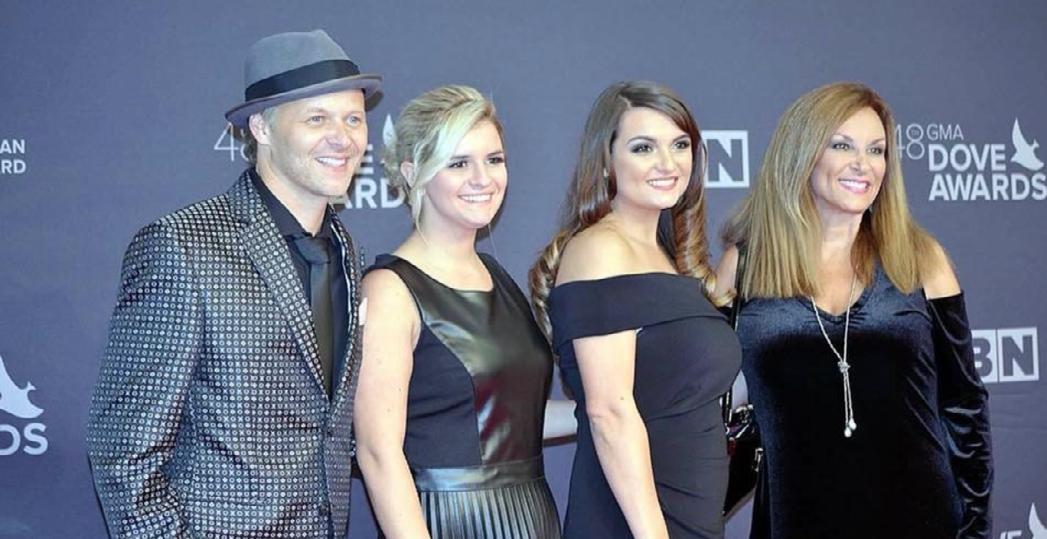 Every family member has an important position at the farm. With an endearing staff and perfect venue, couples know this is where they want to share their big day.
Farm life is not for the faint of heart. Regular routines include early livestock feedings, ridings, brushings, bailing hay, planting, preparing flower beds, checking beehives, decorating, cleaning, setting up, breaking down, and sometimes simply watching and naming a newborn calf, and sometimes getting the sound system prepared for a well planned and presented gospel concert. At Venue 1074, love is in the air!
For those that truly know this family, you will see a large portion of their heart and soul parked lovingly near the back of the property. There, you will see their recently washed and shining ministry bus. Luggage, equipment and provisions will soon be loaded for upcoming weekend travels.
The Nelons were established in 1977 in the city of Smyrna, Georgia, as the Rex Nelon Singers. The group included Rex Nelon (bass), Kelly Nelon (alto), Janet Paschal (soprano) and Rodney Swain (tenor). Over time, the group has included Karen Peck, Jerry Thompson, Charlotte Ritchie, Todd Nelon, Martin Gureasko, Stan Whitmore, Ray Fisher, Vernon Lee and the late Jeff Stice.
Kelly was only 13 years old when she first stepped on stage. It was a revival in Kentucky. Kelly fell in love with the road life and the music. Following the death of her dad, Kelly, husband (Jason) and daughters Amber and Autumn have continued this legacy. They feel blessed to carry the torch. And they are carrying it well.
Kelly loves to golf and ride horses. You will hear her laughing hysterically while watching Facebook reels. She loves deeply and has such a kind heart. She holds tight to her faith in God's promises. She is a wonderful wife and a stalwart mother. She is a multi-awarded vocalist, revered vocal instructor, actress, and author. You will also find that she loves the taste of Lemonheads and Red Hots. Kelly is happiest when the bus wheels are rolling and finds that the best way to decompress is attending Wednesday night Bible Study with Pastor Stephen at Roopville Road Baptist Church. In addition, she loves to sit and listen to waves crashing along the shoreline.
and a steadfast role model to Amber and Autumn. He pushes limits and works hard. He thinks outside of the box and provides such encouragement to those around him. He is an early riser and enjoys his alone time in The Word. He is a warrior. Over the past several months, Jason underwent heart surgery, endured knee surgery (following a horse incident), prayed and celebrated as his dad awaited and received a much-needed kidney, and not once did he ever show a break in his faith.
Amber is the oldest daughter. She joined the group at age 12. Amber absolutely loves everything DISNEY. She and her husband (Nathan Kistler), have several business ventures and she is a natural born leader. Amber is a creative genius, enthusiastic decorator/renovator, extremely talented, and wise beyond her years. She remains grounded and stays focused on all things positive. Nathan serves as the Executive Director at Hope To The Hill, a supporter funded ministry to our highest officials in Washington DC. This ministry shares Jesus daily
with members of Congress. They reside close to the farm where Amber leads guided tours for potential couples. They have faced adversity and heartache, but they always persevere.
Autumn is laid back and has an entrepreneurial heart. She has such attention to detail and is voted the family's best cook! Autumn joined the group when, on a Gaither Cruise, Jason lost his voice and invited her up to fill his position. She has been a viable part of this renowned group since. She loves chocolate and spending time with her family, friends, and fur babies. She also looks forward to precious time with her significant other, Stone Carter. Autumn lights up the room with her infectious smile. She has phenomenal vocal tones and can
wow a crowd with her mandolin skills. She maintains a heavy schedule and does so with vigor. Her compassion for others earned her the 9/25/2021 "GA Donor of The Year" – for her love and "Support Our Troops" shirt campaign, as well as other donations.
With numerous charting songs, awards, accolades, and platform performances, they continue fascinating crowds around the globe. They have appeared on the Grand Ole Opry and sang at The National Prayer Breakfast in Washington, DC. They have been blessed with multiple Grammy nominations, GMA Dove Award wins and nominations, Fan Favorite accolades, have secured consistent individual and group notoriety and were honored to be inducted in the Gospel Music Association Hall of Fame. Kelly and Amber both stated that they so wished that Rex could have shared in that moment! The Nelons are grateful for everyone that has provided them the opportunity to minister through their music.
Recently the group was honored to win the 52nd GMA Dove Award for Bluegrass/Country/Roots recorded Song of the Year! "If God Pulled Back The Curtain" was written by Jason Cox, Kenna Turner West and Michael Boggs. All things come full circle. Kelly, while a scheduled presenter, debuted Amber at the 1989 Dove Awards. Amber was 10 days old.
The Nelons are here to stay. They encapsulate family unity and love of God & Country. They have been blessed with amazing awards but remain humble. They are not about competition but staying in their lane and simply sharing the gospel of Jesus Christ. Amber stated, "Just because you are not winning any accolades, doesn't mean you are not winning people." They are undeniably achieving both.
As Christmas approaches, the Nelons are excited to be part of the Gaither Christmas Tour. It is multiple state tour and began the first week of December. The stage is alive with beautiful sounds of the season and songs sharing the miraculous birth of our Savior. In addition, they also have several scheduled "A Winter's Carol" tour dates. Christmas is a beautiful season of memory making and family time. When the Christmas tours are over, you will find the family playing board games, drinking hot chocolate, watching movies around the fireplace, eating delicious meals, and simply celebrating the true meaning of Christmas. This amazing family knows that the greatest gift ever received cannot be wrapped and placed under the tree.
These words, as sung by The Nelons, have never been more true: "Satan might have got me lost, but Jesus got me Home."
The Nelons are now booking for 2022 and have several premier dates available. Please like them on Facebook and visit their website for updated news, schedule and store options: www.thenelons..com
Music…
Sheltons Pine Ridge Boys Jay Humphreys Trio
Derek & Jana Chordsmen Qt Inheritance Charlie Griffin
Gospel Harmony Boys Envoys Frost Brothers
Don Frost Tony Guyton Sounds of Victory
Tommy Murdock Classic Artists music is playing nationwide on Christian radio. Songs that inspire, encourage and bring a smile to any day. Enjoy the Classic Artists Music family. You choose the medium from cd, radio, satellite, podcast online or your smart phone. Anytime! Anywhere! ClassicArtistsRecordsllc.net * info@ClassicArtistsRecordsllc.net * 704-552-9060