5 minute read
Girls Getaway
from Simply Saratoga Spring 2020
by Saratoga TODAY
The Perfect Girlfriend Getaway… awaits you at Turning Stone Resort Casino!
WRITTEN BY THERESA ST. JOHN PHOTOS PROVIDED
The last time I had the chance to visit Turning Stone Casino was, maybe, ten years ago. To say I was impressed with the venue and all it had to offer then is an understatement, but staying overnight a few weeks ago, with an invitation to enjoy the amenities Turning Stone Resort Casino offers now, truly blew me away. We all know life is stressful and it's not often enough that we get to grab a girlfriend or two for a weekend get-away. But if you're looking for the glitz and glamour of Vegas - without the flight - we have the answer for you! Turning Stone Resort Casino, in Verona, is less than two hours from Saratoga. The drive along Route 67 to I-90 was such a fun enjoyable (picturesque!) jaunt, we're already looking for other reasons to head west! This beautifully appointed destination-property boasts four hotels on its 3400 acres, offering something for everyone. We were booked in the luxurious Adirondack Lodge, providing us with a spacious beautifully decorated top notch suite, with a soothing color scheme just perfect for our relaxing girls getaway. It's also where Ska:na: Spa – the Oneida word for peace, is located. (There are suites available just steps from the spa – ask for them!)
Soothing treatments and modern amenities that honor American Indian cultural themes, apparently create the most luxurious experiences! Even walking to the spa was a joy… between the art, the sculpture and the furniture, we were in awe! We immersed ourselves in an afternoon of stress-reducing, girl- friend-bonding bliss, enjoying the Oneida Custom Massage to start – the hot tub, sauna, and relaxation rooms afterward. Yes, you will want to come back for a couples weekend with the man in your life and they do offer co-ed spaces and the much loved couples massage. Let me tell you, at the end of it all, curled up on comfy lounge chairs with blankets tucked around us made it hard to stay awake – a restful nap next to the fireplace was just seconds away! As far as dining goes – there are over 20 restaurants in the resort to choose from (from sports bars to speakeasies) and The Upstate Tavern seemed an excellent place for lunch. We tried out some local craft beers and a great salad that featured pickled grapes. Having never had them before - the dish sounded too intriguing to pass up! For dinner, we took a private elevator to the 21st floor, where opulence greeted us at TS Steakhouse. Thick drapes hung from the walls, tied back in a warm welcome. The charming hostess and waitstaff were willing to suggest their favorites – the rib-eye steak and sea bass, and our waiter, John, was attentive to every detail. He reminded us of the dapper Humprey Bogart and played along, answering to our endearing term, 'Bogie,' with a warm easy smile every time. The panoramic views from the top of the tower were stellar. The cold winter sky and city scape twinkled outside, along side our table. The casino itself is enormous – with numerous gaming rooms to take a chance on winning. I found a machine that looked interesting, gave up a twenty, and within minutes had a ticket worth nearly $200 in hand. I'd often read that Turning Stone paid out more often than not, this seemed to prove right. I left with a smile on my face.
Turning Stone Resort Casino has several options for nightlife entertainment – from showroom events and sexy nightclubs to a venue for rock and roll and local or regional bands, or my favorite – The Tin Rooster – where the country atmosphere is at its best – there's something for every music lover under this roof. Breakfast was at the resort's Wildflowers restaurant. Our waitress even brought us tiny cups of fresh-made smoothies and blueberry muffins to start, compliments of the chef.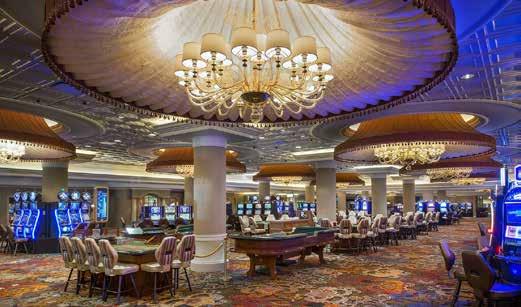 Turning Stone Resort Casino has earned the prestigious Forbes Four-Star Award for the lodge, Wildflowers Restaurant, and Ska:na: Spa, all of which we thoroughly enjoyed. TS Steakhouse has also earned Forbes Four-Star Award recommended ratings, and, for more than a decade, the AAA Four-Diamond Award for The Lodge, the Tower Hotel and Wildflowers restaurant. If you need a take away from reading this: go ahead and plan that trip with your girlfriends ASAP, you won't regret it!
WHEN YOU GO: You and your besties can get dressed to the nines or hang out in yoga pants and flip flops all weekend – there really are that many options – all under one roof!
But, don't forget to pack these items… FLIP-FLOPS – They provide you with the softest slippers when you first arrive at the spa, but when heading back to your suite – extend that feeling by slipping on a pair of flip flops vs putting your shoes back on. (You'll thank us for this one!)
BATHING SUIT – No need to pack multiples - loved all the suit dryers throughout the spa! SMALL BAG – For your book (or favorite magazine!), journal (you will want to remember this!) and headphones. There will be plenty of "down" time after your spa treatments and you'll want to enjoy every available minute relaxing in the Whisper Room.
DAY BAG – Bring a change of clothes, toiletries, makeup with you for after your spa treatment (the "dressing room" here is like sitting in a salon!) – everything you need to get rid of the "been at the pool" look.
…no need to bring your own cover up, you'll be wearing the most luxurious white terry robe!