14 minute read
and Cause Horse Fever 20/20 Brings New Horses to the Herd
Horse Fever
How a feel-good public art project has transformed our city
BY BRAD ROGERS PHOTOGRAPHY BY RALPH DEMILIO
No one is quite sure where the name Horse Fever came from. Whatever its origin, over the past 20 years, it has become a household name in Ocala – and it has changed not only the face of the community, but its socioeconomic dynamic as well.
This year marks the 20th anniversary of the original Horse Fever, and to celebrate the Marion Cultural Alliance and the Florida Thoroughbred Breeders and Owners Association have teamed up to bring the community Horse Fever 20/20, both to further grow the herd of colorful and unique horses on display around the Ocala/Marion County and to raise $500,000 for artists, art organizations and their programs.
To say Horse Fever has had an impact on Ocala/Marion County is an understatement. It has ignited a veritable explosion of public art. In helping expand the arts and create an arts friendly environment, artists now are actually migrating to Ocala to pursue their craft. It has brought Ocala's world-famous equine community together with its non-equine community like never before. It has changed the way government looks at development.
Horse Fever was born in 2001, led by Laurie Zink and Paula King. They saw a need to help area arts organizations and proposed Horse Fever, based on what other communities had done. The idea was embraced.
Of course, during the rollout of Horse Fever 9/11 happened. It was just the first instance of seemingly bad timing by the Horse Fever franchise.
"The first one we did, 9/11 had just hap-
Over the yearas, MCA has raised $2.5 million for the community arts, through not just Horse Fever but also donations, souvenir sales and grants.
pened," Zink said. "The second one (in 2010) was during the worst economic crisis since the Great Depression. So, for the third one, it comes along during a worldwide pandemic."
No matter. Each time Horse Fever entered a new chapter, local businesses and governments embraced it. Each time it was a success. Yes, the number of horses has declined each time – 53 in 2001, 31 in 2010 and 16 this year – but, as Marion Cultural Alliance Executive Director Jaye Baillie pointed out, each has been a success that boosted the arts throughout the community.
"It really is something that has generated a lot of civic pride," she said. "This was the catalyst for other public art, to where today everywhere you look there is a new piece of art … And our own organization sprung from this project."
Indeed, MCA grew out of the first Horse Fever, serving ever since as an umbrella for dozens of local arts organizations and providing cultural arts grants – with the money Horse Fever has generated – to those organizations and individual artists. Over the yearas, MCA has raised $2.5 million for the community arts, through not just Horse Fever but also donations, souvenir sales and grants.
Maggie Weakley, an Ocala artist with a horse, Kind Hearted, in this year's Horse Fever, said those who conceived Horse Fever deserve credit for changing Ocala's look and its mindset regarding art, especially public art.
"No one was doing public art 20 years ago," Weakley said. "(Horse Fever founders) Laurie Zink and Paula King, and the enthusiasm they showed for this, really changed the community.
"And it has definitely affected the community. People are in love with these horses. I think it brought an awareness to people
that this was an experience. And because the people supported it, we did more. It became a synergy of excitement. It's something that makes people feel good.
"Now, there's so much activity in the arts on a continuous basis. Twenty years ago, that was not the case."
Fellow 20/20 Horse Fever artist Gene Hotaling echoes Weakley's remarks.
"I would say Horse Fever, specifically the first one, put us on the map nationally," said the retired art teacher who has participated in each Horse Fever. "I've heard from people all over the country. Our little town of Ocala ended up on the stage with much bigger cities. That reputation as an arts town has led to a real boon to the community."
Hotaling said that more and more artists are making Ocala their home because of its affinity for the arts. The numbers also back up his claim that the arts have become a boon for Ocala.
In 2015, the Americans for the Arts included Ocala in an assessment of the economic impact of the arts on communities across the country. Its findings were surprising and welcome
What the AFA's Arts and Prosperity Study found was that the arts are more than a pretty face for Ocala. Indeed, the study showed that the nonprofit arts and culture sector here generates an estimated $56 million annually.
That got the attention of local politicians and business leaders. The city embarked on a 10-year arts master plan – it was just recently completed – and the city started treating public art differently than it had in the past.
Ocala Growth Management Director Tye Chighizola said the popularity and success of public art in Ocala, specifically Horse Fever, has changed the way the city views art when making growth and development decisions and attracting new residents and businesses.
"I think it has had a huge impact," Chighizola said. "It's not just about jobs. What 'other things' the community offers matter, and art is a big part of it. And I think Horse Fever was a huge step for us. It awoke people. Because it was fun, people could adopt it."
Now, the veteran city planner said, art is part of the development decision-making process and "we use it as a tool" to create a look, a feel for the city.
The head of the city's Cultural Arts and Science Division, Laura Walker, who just finished the city's 10-year arts master plan, said the city is learning public art begets public art. And the more public art people see, the more they want it. It is now a matter of policy for the public art "to be built into the infrastructure" when building and development decisions are made.
"It's sort of created a domino effect," she said, "where businesses next to public art want to improve their buildings. I like to describe public art as 'curb appeal.' I think the community is embracing the arts."
In researching various municipal public art policies for the arts master plan, Walker
said Ocala focused in on Chicago because its policy was so similar to the one proposed for Ocala. What they found behind all the governmental words was that Ocala, with 60,000 people, has more public art per capita than Chicago with its 2.6 million people. Now the operative words are per capita, but nonetheless what Walker found was that, again, per capita, Ocala has 89 times more public art than Chicago.
In the end, however, art is in the eye of the beholder, and for most Ocalans, it is the beauty they get to behold every day that is most important.
"These kinds of art projects are very good for the community because the soul of our community shines through and is seen by others," Zink said. "When they see all the horses, all the murals, the Art Park, the sculptures in Tuscawilla, Horse Fever has been the catalyst for all the public art in this community."
And it is not just art aficionados who
Now, the veteran city planner said, art is part of the development decision-making process and "we use it as a tool" to create a look, a feel for the city.
Laurie Zink and Jaye Bailie Mayor Kent Guinn
Brad Rogers, Christian Stanley, Jessi Miller, Laurie Zink and Philip Glassman
appreciate public art, she added.
"People who might not normally walk into a museum or gallery, their appreciation of art is expanded through public art and their appreciation for art grows."
Today, Ocala has murals on buildings throughout downtown. Sculptures adorn the gentle slopes of Tuscawilla Park. The Art Exchange has transformed an old train station into a haven for artists. New horses are about to join an already big herd of Horse Fever horses. Murals depicting black history are planned at Webb Field. And more is coming.
King, who along with Zink conceived the idea of Horse Fever, said Horse Fever can continue as long as artists are inspired to use the horses as a canvas.
"I think the horse is merely a canvas," King said. "So, there's no reason there can't be more horses as long as there is something to say."
King said Horse Fever was a needed back in 2001 because while Ocala had a rather impressive arts legacy with the Appleton Museum of Art and the Ocala Civic Theatre, most art groups "operated in silos" with no coordination or communication. So, King ad Zink set out to raise money for the arts and, ultimately, the MCA.
Goal achieved. Now King believes the future of Horse Fever, as well as the direction of public art, rests in the hands of a new generation of artists, and Horse Fever and all that has followed it has provided the mantle for that to happen.
"The excitement to see artists old and young unite is heartwarming," she said. "That's what keeps art growing and changing. It's exciting. It lifts my heart."
King said the legacy of Horse Fever has yet to fully written, but she believes the success it has brought the community has engendered a pride and confidence that will carry on.
"Ocala is pretty proud of itself," she said. Ocala now believes it can do big things."
HORSE FEVER 20/20 The Herd Guide
PHOTOGRAPHY BY KENT WEAKLEY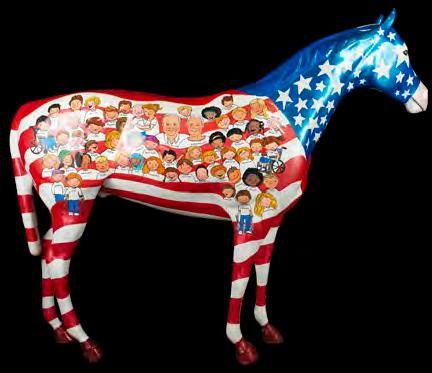 Honey BeeArtist: Christian Stanley Lives in Orlando; artist and graphic designer. Inspiration: "I wanted to call attention to the pollinator for Ocala's agriculture economy. I chose honey bees because of their importance to the agricultural community and the agricultural process."
Ocala: heART of Florida
Artist: Tyrus Clutter Lives in Summerfield; part-time artist and art instructor at the College of Central Florida. Inspiration: "I just wanted to celebrate the arts in Ocala. We really do have some wonderful offerings here. There's stuff going on all the time, and more is coming."
Home Sweet Home
Artist: Carlynne Hershberger Lives in Ocala; full-time artist and aunt of Horse Fever artist Christopher Hershberger and wife of Horse Fever artist Mark Hershberger. Inspiration: "I've always been a nature lover and everything I paint is nature related."
Hope Artist: Paul Ware Lives in Ocala; full-time artist. Inspiration: "We've had some family and friends who have battled cancer. So, I wanted to honor those who have cancer."
Kind Hearted
Artist: Maggie Weakley Lives in Ocala; full-time artist and works with Fine Arts of Ocala.
Inspiration: "It was because of all the fighting and nastiness we see in the world. I felt like we needed a positive message. The children were incorporated because they are our future, and if we're mean and nasty, they'll grow up to be mean and nasty. … We all just need to be kind to each other."
Clockwork Fury Artist: Mark Hershberger Lives in Ocala; full-time artist.
Inspiration: Clockwork Fury has been on display at Journeyman Stud since the 2010 10th Anniversary Horse Fever. The idea came to the artist after he read a "steampunk" novel, then had a dream about Clockwork Fury. In addition to an array of mechanized features, the refurbished Clockwork Fury, the artist said, also has numerous "go-go gadgets" and 100 gems and stones. Clockwork Fury will be auctioned off March 13 at the Ocala Breeders' Sales' prestigious 2-year-old In Training Sale, the only horse in the 20th anniversary collection to be auctioned off.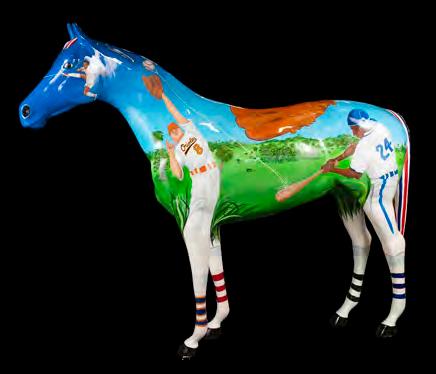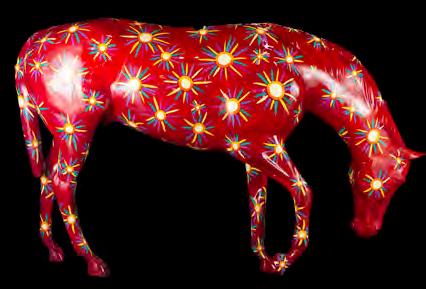 Inspiration: "I was approached by the Marion Cultural Alliance. They said they had one horse left and they wanted to commemorate one horse to Chief Graham. I said I'd be honored. I didn't have a concept until I talked with Amy, his widow. She told me what he liked to do, and I tried to include those things on the horse."
Secret Places
Artist: Margaret Watts Lives in Ocala; full-time artist. | Inspiration: "I just love
Florida. I love nature. I wanted to celebrate that in this horse."
Lurking at the Surface Artist: Christopher Hershberger Grew up in Ocala but now lives in Orlando; full-time artist.
Inspiration: "I went back and looked at all the horses that have been part of Horse Fever from the start. I realized nobody had ever done an alligator in 20 years."
Sunny Daze Artist: Ronda Richley Lives in Orlando; full-time artist.
Inspiration: "Sunny Daze is really cool. The idea is Sunny Daze has sunflowers, and the history of the sunflower is that it brings good luck and cheer to the world. After what we've been through over the past year, I thought we could all use some good luck and cheer. He's just so beautiful. I'm very, very happy and honored to be part of Horse Fever." Horse Cents
Artist: Gene Hotaling | Lives in Ocala; retired art teacher, now full-time artist and the only Horse Fever artist to have two horses in this year's herd. | Inspiration for Horse Cents: "I thought it was clever, Horse Cents, a play on words." Turns out, Horse Cents will be located at Center State Bank on Silver Springs Boulevard. Celestial Magic
Artist: Michelle Farrar | Lives in Beverly Hills in Citrus
County; full-time artist. | Inspiration: "This is very special to me. Magic was a black and white paint, my first horse. He gave me confidence and taught me about a partnership in trust that you can only experience knowing a horse." Firecracker
Artist: Gary Borse | Lives in Ocala; full-time artist.
Inspiration for Firecracker (horse designed to celebrate Ocala/ Marion County Chamber and Economic Partnership's 2020 National Chamber of the Year award): "I just wanted to create something that was really happy. … I wanted to create something that was on fire. It should make you feel good." Critters
Artist: Bonnie Eads | Lives in Ocala; full-time artist.
Inspiration: "I wanted to show the animals and all the different environments we have here in Florida, all the way from beaches to the pine highlands." Winners Circle of Life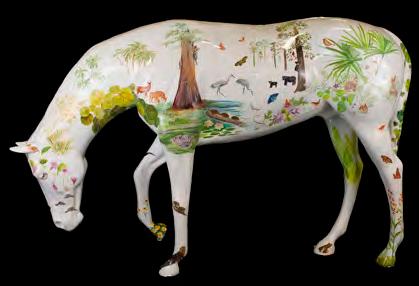 Artist: Esta Mann | Lives in Romeo; full-time artist and former design director of women's accessories for
Ralph Lauren. | Inspiration: "The concept is a life of a thoroughbred horse." She included a trio of garlands representing the Triple Crown races — roses for the Kentucky Derby, blackeyed Susans for the Preakness and carnations for the Belmont Stakes. There are ribbons representing a horse's competitive career and clover across its rump, representing retirement in clover-covered pastures.
SluggerArtist: Gene Hotaling | Lives in Ocala; retired art teacher, now full-time artist and the only Horse Fever artist to have two horses in this year's herd. | Inspiration: Slugger is destined to be located at the Rotary Sportsplex. "When I looked at a baseball player batting, I realized his leg looked a lot like the back leg of a horse. So, I incorporated it into the design."