3 minute read
Hemp Synergistics - Making Life Better for You
Perhaps you have a nagging ache, or maybe you're not sleeping as well as you'd like. Or maybe you're just feeling stressed or anxious. Each of those may seem like a little thing—a part of life, just something you have to endure. But those little things can play a big part in reducing your quality and enjoyment of your life.
Hemp Synergistics, a biotechnology company in Leetsdale, was founded in 2019 to provide the highest quality, customformulated, THC-free cannabinoid products to enhance the lives of those dealing with pain, inflammation, stress and anxiety, and sleep disturbances.
"Hemp and marijuana are both the cannabis plant. What differentiates them is that hemp contains no more than 0.3% THC, the substance that gets you 'high,'" said Russ Cersosimo, Co-Founder and Chief Marketing Officer, for Hemp Synergistics. "Both hemp and marijuana have cannabidiol (CBD), but hemp is legal and won't get you high."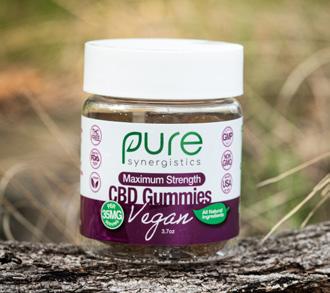 CBD interacts with the body's endocannabinoid system, which helps in regulating sleep, mood, pain, appetite and memory. Many people have already realized the benefits of using CBD, but the concern is that many growers and extractors market their CBD to manufacturers without much regulation or oversight. Hemp Synergistics extraction and processes produce a higher-quality, purer product.
"We are very excited about our two new product lines: Pure Synergistics and Lily + Rein," said Allison Bentley, Vice President of Sales, Marketing & Merchandising. "Pure Synergistics products are created with intelligent formulations containing only all-natural ingredients to achieve maximum effectiveness. They area also vegan and have been formulated in a pharmaceutical-grade lab in an FDA-approved facility." The Pure Synergistics line includes a Recovery Balm, tincture, Gummies, hand sanitizer, and Hemp Capsules.
Lily + Rein is a line of products produced for women and the name translates from the German and means "pure flowers." "Research has shown that 55% of consumers of CBD are women, but there was not a brand on the market that speaks to women only," said Bentley. Lily + Rein offers CBD Gummy Bears, Tincture with Elderberry, CBD infused soap, and Tranquil Rose CBD Body Butter as well as CBD bath bombs. "The Lily + Rein collection combines hemp and aromatherapy and is created to help you incorporate the products into your daily life." Like the Pure Synergistics line, Lily + Rein is formulated in a pharmaceutical grade lab in an FDA approved facility.
In addition, by using their revolutionary new ingredient, Bio-Dri™, Hemp Synergistics has been able to create a powdered form of hemp that can be used in baking. "Hemp Bake Mix is tasteless and blends with anything. You can use it in your favorite recipes to make cookies, brownie, cakes, etc. without amending the recipes," said Bentley. The bonus is you get the benefits of CBD from consuming a baked good.
Perhaps you're not a baker but would like to get your CBD via an edible. The good news is soon you will be able to. "We are partnering with 5 Generation Bakers to create a line of cookies and brownies containing our Hemp Bake Mix," said Bentley. As word-of-mouth increases and more discover the benefits of CBD, look for more companies to incorporate CBD into other edibles.
"Essentially, our goal is to make people's lives better by providing good, quality products," said Bentley. n
To learn more about Hemp Synergistics, visit the website at: www.hempsynergistics.com
To shop the Pure Synergistics line, visit: www.puresynergistics.com.
To shop the Lily + Rein line, visit: www.lilyrein.com