20 minute read
INTERNATIONAL WOMEN'S DAY
WITH INTERNATIONAL WOMEN'S DAY TAKING PLACE ON 8 MARCH, TPMEA SITS DOWN WITH FOUR OF THE INDUSTRY'S TOP FEMALE TALENTS TO DISCUSS GENDER EQUALITY IN LIVE EVENTS.
POPPY BALLON, FREELANCE STAGE MANAGER
What sparked your interest in the industry? My 'wow' moment was when my mum took me to see The Lion King for my birthday. Becoming totally immersed in the production, I decided there and then that I would be working backstage on this show one day – and, sure enough – it was a great moment when I finally got to realise that ambition.
Before coming to Dubai, I enjoyed a 13-year career in the West End, working on some of the biggest and longest running shows, including Buddy Holly, We Will Rock You, Cats and Phantom of the Opera, where I worked on the audio team. There was a lot to learn – from dealing with the mics to mixing – but I put in the hours every week and finally getting to mix with an audience was a hugely satisfying achievement. Once word got out that I was mixing, I was offered the number two sound role on the UK tour of The King & I. I then did Ghost the Musical and Sister Act back on the West End, before my first international tour with Mamma Mia, starting in Shanghai and ending in Eastern Europe.
Although I loved the theatre environment and had achieved my original ambition of working on The Lion King, I knew that audio wasn't my ultimate destiny. I felt pigeonholed and I wasn't really fulfilled. I wanted to get into stage management.
When I arrived in Dubai, just over eight years ago, I knew that this was my opportunity to explore pastures new. I didn't know anyone here, but I did my research and found a wonderful guy who we all know and loved – Nigel Beaton – who was willing to teach me everything he knew about stage management.
He was the greatest mentor I could have wished for. I took copious notes on everything he did, trying to overcome the doubts of how I could live up to his standards. It was the greatest career decision I ever made!
Tell us about your scope of work… I now work mainly as a stage manager, but I've also broadened my scope of work to cover production and artist management on various occasions. My very first stage management role was the NYE Sandance, on Atlantis Beach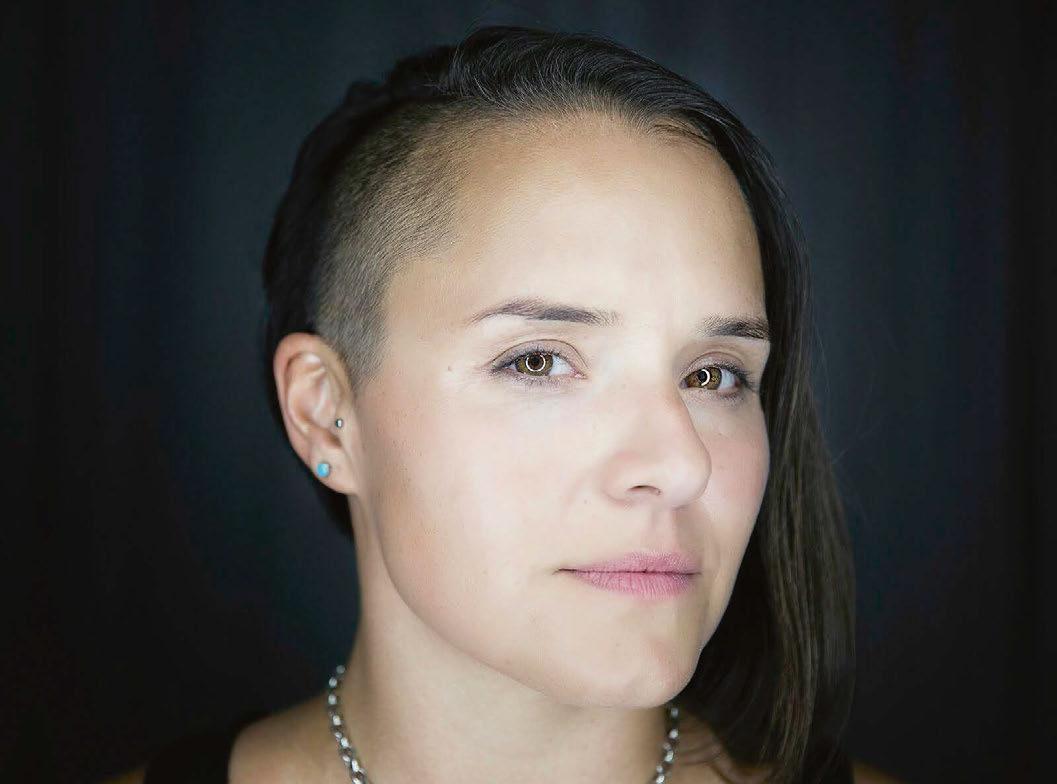 with the record-breaking attempt of the most fireworks. Here, my sound background was a huge advantage, as I had that technical knowledge to underpin my role.
I worked on the Asian Games Ceremony, in Turkmenistan, which was a completely new learning curve. I've also been a part of the biannual IDEX Live Demonstration Opening Ceremony team on a number of occasions, which I always enjoy. With huge explosions and tanks flying past at speed, there is no room for any mistakes!
In 2018, I joined La Perle on a temporary basis, having never previously worked on a water show. I learned so much on this job; so many different systems need to be put in place for the show to run safely and smoothly.
I've had the pleasure of working with Done Events on several occasions for RedFest DXB, Blended and for Dubai Jazz Festival on the main stage. I worked on Mother of the Nation for Flash Entertainment, as well as the Middle East Event Awards. More recently, I've been running some of the one-off shows at Dubai Opera.
What have been the biggest achievements of your career so far? For me it's the concerts, as I very rarely see women doing it, and I like to show others that it can be done; you can achieve anything that you put your mind to. One of my most memorable moments was working with the Lionel Richie team. It was one of the emotionally hardest yet proudest moments, as I had just lost my mum, who was the biggest Lionel Richie fan, and I knew she would have been so proud of me. His music always reminds me of her.
Have you ever witnessed any form of discrimination in the workplace? Years ago, in the UK, I turned up on-site as part of a set-up crew, and you could just see the groans when I arrived – not one of them said "hello" and there was clearly a negative atmosphere. But I was there to do a job, so I ignored them.
Attitudes soon changed when we were shifting some Martin by Harman MAC 1000 moving heads up to the roof of the building… We were taking them up in pairs, but I lost my partner for the final steps – he'd gone off on some distraction and didn't bother coming back – so I picked up the lamp (which weighs just under 40kg) and carried it up the spiral staircase on my own. There was no animosity towards me after that! I think, nowadays, perceptions have changed a lot from back then.
Working in Dubai, I've found some casts in the big ceremonies weren't prepared to listen to me, although they did listen to my male colleagues. If one way isn't working, you adapt and adopt a different approach, which is what I did; sometimes you just have to play to people's egos. It doesn't bother me, as I get results. Can you see any signs that the historical gender imbalance in the industry may be starting to shift? I feel that it's still heavily favoured towards men on the stage side of things. Most concerts or festivals I work on have only men on stage, whereas the women are in the organiser or artist management roles.
During the time I've been in Dubai, I can only recall working with another female on a concert fewer than five times. When I've spoken to other women here in the past, their hesitations in working on concerts tended to stem from a lack of technical experience.
I don't feel that it's the same in the UK though, as I know a lot of female friends who run a concert stage. Ceremonies and events also tend to be very different – sometimes it's even an all-female team.
What is your advice for women who are looking to get into the industry? Whatever role you want to go into, its available to you – you just need to go for it! They're not gender specific.
Do your research and find a good mentor. I've had people reach out to me, asking for my help on how to get into the industry and I'm more than happy to help others. If it wasn't for someone helping me back then, I wouldn't be here today. Photo: Poppy Ballon
MINNIE WALLINGTON, DIRECTOR OF CLIENT SERVICES MIDDLE EAST & ASIA, ARENA GROUP
What sparked your interest in the industry? As with many seasoned event professionals, I fell into the industry by chance when I began working with Red Bull UK as a project manager within their Motor and Air Sports division in 2002. Although I had no prior knowledge of the sector (cars, planes, and bikes), I loved the challenge that it posed, and it ignited a passion for events in me that I still have today.
Tell us about your role at Arena Group… My current role is Director of Client Services for the Middle East & Asia regions of the Arena Group, which means that I have responsibility for the delivery of sales targets and budgets, delivering and executing a unified sales strategy and process flows, and management of the sales teams in the UAE, Saudi Arabia, Malaysia, Hong Kong, and Korea offices.
What have been the biggest achievements of your career so far? This is a difficult one to answer as I am so proud of many of achievements my teams and I have made over the years! Being appointed a director for the Arena Group, having worked my way up the ladder from account manager, has definitely been one of my proudest moments in terms of my own development.
When it comes to project delivery, managing all elements of the logistics, co-ordinating staff and pilots for a number of Red Bull Air Races throughout the UK is what sticks out most. This role, one of my first as a relatively junior project manager, saw me co-ordinate over 2,000 people coming from all corners of the world for a period of two weeks. I'm still tremendously thankful to Red Bull for having the confidence in me.
In the end, the greatest achievements that we make in this industry, and the reason why event professionals keep doing what we do, are the experiences that we as a team create for other people – really, that's what it's all about.
Have you ever witnessed any form of discrimination in the workplace? I have been extremely lucky in my career so far to have never felt personally discriminated against or to have directly witnessed it happening to a colleague. I attribute this to the culture of the businesses that I have been fortunate enough to work for.
I do, however, appreciate that not every woman in our industry is so lucky. The fact of the matter is that our industry is still extremely male dominated, at every level. That can breed a bit of a 'boys club' environment, which in turn can foster many forms of discrimination, whether direct or indirect. That said, I'm so happy to say that we're beginning to see the tide turn as more and more women take on leadership roles, and with that, the culture is beginning to change.
How is this change manifesting in the industry? I feel that the change is happening at different rates within the different areas of the industry. For example, the AV, power and rigging businesses are still led predominantly by men, whereas we're seeing more and more women take senior roles within event management, project direction, site management, operations and artist liaison and many other key roles within the industry.
What is Arena Group doing to ensure gender equality? Historically, Arena has been no different to the majority of businesses within our industry, with an almost entirely male leadership team; however, that has changed significantly over the past few years. For example, the sales teams within the Arena Group are comprised almost entirely of women, and of the nine most senior positions within the Middle East & Asia region, four are filled by women.
What is your advice for women who are looking to get into the industry? Events is such a diverse and multi-faceted space, with thousands of roles to choose from – everything from exhibitions, to concert touring, private parties, or the Olympics! My advice to women trying to break into the industry would be not to pigeon-hole yourself into roles that have been traditionally seen as 'female'. Do you have a passion for music and see yourself pursuing a career in audio engineering? Go for it!
Experience and work ethic are everything in events – take internships, start at the bottom, work hard and it'll pay off. There are few industries where the pressure is as high as it can be in events, but in the end, the rewards are higher, and the feeling of family that event professionals experience is second to none. Photo: Arena Group www.arenamea.com
IRUM ASHRAF, GENERAL MANAGER, CREATIVE TECHNOLOGY QATAR
What sparked your interest in the industry? I did not initially set out to be in the events industry. After completing my masters in Cultural Management, I landed a job working as a project manager at Live Theatre, Newcastle, where my role covered everything from the event programming to funding. My interest and passion for the industry grew from there, and in 2004, I landed a senior position in the events team at Birmingham City Council, delivering festivals and events for crowds of over 40,000 people, which brought its own level of adrenaline.
In 2008, I moved to Qatar, where I took on the role of events director for several years before moving across to Creative Technology in 2012. Creative Technology had started its Qatar operation and was looking for someone to join the team who could help grow the business across the region. responsibilities, from overseeing the day-to-day operation of Creative Technology's Qatar branch, to driving sales, client relationship management, and expanding our market share. I often say a GM wears many hats, and this certainly reflects within my role. As well as managing a team, I am involved in all aspects of client meetings and briefings, site visits to signing off budgets.
Have you ever witnessed any form of discrimination in the workplace? In my early career, I faced a lot of issues with both my male and female co-workers. I was a young female working in a director position but was perceived as having less event industry experience than some people in my reporting line. I don't agree that my age or gender should be a factor in where I was in my career, but more my passion, my drive and ability to do the job.
The negativity drove me to work harder, often 18-hour days, and it subsequently steered me further in my career. I also had support from my line manager at the time, who was compassionate about the situation and understood the challenges I was going through.
What is CT and the NEP Group as a whole doing to ensure gender equality? NEP is not only looking at gender equality but diversity and inclusion as a whole. It's a global commitment towards how we, as a company, manage issues such as employment, gender, race, sexual orientation and religion, without any bias.
Over the past six months, we have identified diversity focus points across all business sectors, and we are now exploring how we implement the correct tools towards making changes and shifts to becoming a more inclusive company.
I am appointed as the Diversity and Inclusion Champion for Creative Technology across the UK, Europe and the Middle East, and we are taking great steps towards identifying what our challenges are around diversity and equality.
Can you see any signs that the historical gender imbalance in the industry may be starting to shift? I believe the industry is still male dominated, and there is still a gender divide when it comes to certain positions and sectors of the industry. Women are still perceived to take on jobs within administration and marketing and men on the more technical and production side.
I believe the shift that has come is within companies and in their processes of diversifying their staff. Creative Technology has become more proactive in this, and we now have several female employees who are senior technicians and project managers. It's potentially an industry that will not level out, but we will see more women taking on roles that have historically been geared towards men.
What is your advice for women who are looking to get into the industry? If you have the passion, drive and ability to work hard, then there are roles out there for you. I believe gaining experience across all event sectors is certainly key in moving up the ranks, but also to help someone new to the industry decide what area of events they want to move into. Developing experiences on the administrative, logistics, technical and delivery side will certainly provide you a great level of exposure. Photo: CT Middle East www.ct-group.com
KAREN BEATON, MANAGING DIRECTOR, GULF CREWING
What sparked your interest in the industry? Serendipity! I always wanted to be a 'party organiser' as a child, but just didn't quite know what that meant or in what guise I could use it as an adult. While I've always worked in service provision industries in some capacity – including working in tourism, hotels and hospitality, property management, banking and finance, and quality management systems – I have always circled events and event management within my tenure in each of these sectors.
I made the jump into the heart of the entertainment industry whilst enjoying a brief sabbatical from work when I was offered a role as an artist liaison assistant at the first ever F1 in Abu Dhabi. From there, I fell in love with the Industry, hook, line and sinker. I've been lucky enough to move through the ranks quickly, experiencing a number of different roles, which have led me into the operations and festival management side of the sector.
Tell us about your role at Gulf Crewing… It's an incredibly diverse schedule. A large portion of time is sales conversion driven, so I spend a lot of my time talking with clients, discussing projects and directing my team. Understanding the existing as well as projecting likely client needs allows me to forecast current and future work and liaise with the Operations Team to ensure delivery and invoicing.
My role is also that of a 'rain-maker', ensuring that we continue to operate successfully as a company, maintain income, attract and maintain clients, always ensuring that our fantastic and loyal workforce are well looked after and prioritised in any work decisions that are made.
Most importantly, it is about knowing when to flex and be ready to adapt in challenging conditions – this has been especially important given the current pandemic situation we have all been dealing with.
Initially, it was about steadying the ship during a particularly tumultuous period, and while that remains an ongoing challenge given the constant regional and global shifting sands, I have been able to relax the helm a bit more, allowing me to intensify and direct my focus and attention on the strategic growth and expansion of the company within the region.
What have been the biggest achievements of your career so far? Having worked with some of our most prominent industry figures over the years, this is an incredibly hard question to answer. However, a few highlights include working with Al Laith in 2010 to project manage the build and delivery of the biggest stage structure seen at the time in the Middle East, for the Doha Tribeca Film Festival. There's also the year I spent as the Head of Operations on the Abu Dhabi leg of the Volvo Ocean Race. As well as the delivery of the first ever concert series for the Formula E in Riyadh – one of the most enjoyable, emotional and humbling experiences I have ever encountered.
Have you ever witnessed any form of discrimination in the workplace? Discrimination is all around us – visible or not – and it transcends so many different forms, whether it is about culture, gender, ability or beliefs. In some way or another, I believe that we have all been affected, directly or indirectly, at some point in our lives.
Discrimination in all its forms is rightly becoming intolerable due to the continual media attention, social media pressure and advocacy from support groups as well as celebrity engagement shining a spotlight on the issues.
It wasn't really until the #metoo movement gathered pace and we started to see famous personalities come forward, rather than the 'ordinary' girl on the street, that the world woke up to and acknowledged the prevalence, and indeed the spectrum, of discrimination faced in day-to-day life.
In dealing with discrimination, both as an organisation and an industry as a whole, it is imperative that everyone is part of the conversation. This is not an issue that can be solved in isolation, or by a homogenous group.
What is GCC doing to promote gender equality? One of the challenges we face in the Middle East is that crewing is synonymous with the male gender. While we are eager to promote gender equality within our workforce, at this time, it is harder to find females trained in specific trades. We all agree this is not the case internationally – I have worked with some of the best female crew out there – however, it is something that we continue to work towards in the Middle East.
There are also certain constraints from a legal classification aspect, which can impact on our determination to add true gender mix to the crew. However, we are seeing a growing number of women within the Arab world take up senior positions within government and national sectors, which should help drive the focus of women in roles that would traditionally be reserved for male counterparts.
Freelance workers are contracted based on ability and skillsets rather than gender. As an example, we work with both male and female
artist liaisons – a role probably more commonly associated with females. We also have a number of female stage managers registered with us – again, a role that is more traditionally linked to males. We do our utmost to ensure that our database of those skillsets is as diverse as possible, and choices are made on ability and reputation rather than gender. The management team of GCC is 75% female and GCC hires on ability and not for any other reason.
Can you see any signs that the historical gender imbalance in the industry is shifting? Absolutely! There is a far greater prevalence of women across the spectrum of the industry's roles than in previous years, and that is an incredibly exciting situation, so I would say that this is not just starting to shift, but that the advancement of women within our industry has already taken a monumental leap.
This is reflected in our own skills database, which clearly shows we are seeing a more even split of male to female ratios across the same or similar disciplines. From set carpenters to stage builders and production managers all the way through to tour managers and agents – the number of females taking up these roles is steadily increasing, and we are also seeing further heartening signs with more woman than before taking up senior positions within the large multinational companies.
What is your advice for women who are looking to get into the industry? Get as much experience as possible; event management and the associated industries are a wonderful melting pot of skills and talents. Never think you don't have something to add to the mix; it's not a glass ceiling industry – you are only constrained by your own talents, desires and abilities, although you sometimes have to shout very loudly to be heard.
The nature of our industry means it is a very amenable, and possibly unique environment, which allows you to enter at one level, try out the different jobs, determine what is and what isn't the right fit for you, and change course whilst staying in the industry.
It is essential to have an abundance of passion for succeeding in challenging and busy environments; this is not the type of work you take on unless you have a strong interest in the industry and feel you have the energy, drive, and focus to get stuck in. Honing time management skills and developing lateral thinking ability will stand you in good stead in any role linked to the industry, as most projects are time bound, and you can always guarantee at least one thing on your daily schedule will throw a wobbly and require some fast brainwork to bring the plan back on track.
I have always found it useful to have a very healthy sense of humour, as this helps you to retain a clear perspective and to shoulder whatever the day throws at you, especially when you are in the middle of delivering a project and the stress is building. But the rewards of all of this hard work are manifold; the lifelong friendships which are forged on your journey, the wonderful characters you meet, the memories that you build… the sheer esprit de corps is second to none and bolsters even the most difficult day.
In my opinion, I have the very best job in the world. I get to do exciting things, meet exciting people and visit exciting places. Yes, it is hard work, and it is not all glam and rock 'n' roll. Yes, you do need tenacity, and a belief in yourself not to give up when the going is tough. But I wouldn't swap places with anyone. Photo: Gulf Crewing www.gulfcrewing.com
DOWNLOAD THE TPi APP Search "TPi Magazine" on the App Store and Google Play. WWW.TPiMAGAZINE.COM