from Harlem Community Newspapers | March 19, 2020
by Mike Kurov
HARLEM COMMUNITY NEWSPAPERS WOMEN HISTORY MONTH Companies Owned by Women of Color Account for 89 Percent of All New Women-Owned Businesses
By Stacy M. Brown, NNPA Newswire Senior Correspondent @StacyBrownMedia
Crystal Etienne is a businesswoman, wife, and mother of two children. She's also the founder of Ruby Love, a $10 million personal care company that she built in just four years.
"My dream was to always work for myself," Etienne, a New York native, stated in an email to NNPA Newswire. "However, I did have thoughts about going to law school. Understanding the political side of things, certain laws, and the rights of those around me always excited me, especially if I felt someone was wronged," she said.
"I ended up going a different route and landed a job in finance," Etienne continued. "Math, equations, and anything that had to do with business was something I was always good at. It was my strong suit, which is ironic because I disliked accounting and finance as a student."
But her dreams have come true, she said. "The end goal was to always work for myself," Etienne stated. "I am now in a position to make my own decisions and take control of my course in life."
Etienne's success helps to underscore a growing trend highlighted in the most recent State of Women-Owned Businesses Report, which noted that women of color account for 89 percent (1,625) of the new businesses opened every day over the past year. The annual report, based on U.S. Census Bureau data adjusted by Gross Domestic Product data, found that women-owned businesses continue to trend above all others.
Over the past five years, the number of women-owned businesses increased by 21 percent, while all enterprises increased by only 9 percent.
Total employment by women-owned businesses rose 8 percent. At the same time, to all companies, the increase was far lower at 1.8 percent, and total revenue for women-owned businesses also rose slightly above all others: 21 percent compared to 20 percent, respectively.
The State of Women-Owned Businesses Report also found that as work has trended toward side hustles and the gig economy, so had female entrepreneurship.
Over the last five years, growth in the number of women "sidepreneurs" grew nearly twice as fast as the overall growth in female entrepreneurship: 39 percent to 21 percent.
Minority women are responsible for a large portion of that growth from 2014-2019, where "sidepreneurship" among minority women-owned businesses was two times higher than others: 65 percent compared to 32 percent.
When looking at specific minority groups over the last five years, growth in sidepreneurship is up 99 percent among African American women, compared to 70 percent for Native Hawai
ian and Pacific Islanders, 63 percent for Asian Americans, 46 percent for Latina/Hispanic women, and 36 percent among Native Americans/Alaska Native businesswomen.
The report concluded that women of color are starting businesses at 4.5 times the average rate, and, in nearly every category, women of color are leading the women-owned business charge.
The rise in businesses owned by women of color could correlate to the power they've displayed at the ballot box.
Since 2000, the number of eligible women of color voters has increased by 59 percent – a gain of more than 13 million potential voters, according to the Center for American Progress (CAP). Black, Latina, Native American, Multiracial, and Asian American, Native Hawaiian, and Pacific Islander women voters are emerging as a collective powerhouse, CAP officials stated. In CAP's "Women of Color: A Powerhouse in the U.S. Electorate," report, authors Danyelle Solomon and Connor Maxwell used new survey data to explore the voter eligibility, electoral participation, and distinct interracial and intraracial policy perspectives of women of color. The report examined a host of issues from health care and economic inequality to public safety, racial and gender discrimination, and immigration.
"In the past decade, the voter-eligible population of women of color increased six times faster than that of white women, yet candidates, journalists, and policymakers rarely acknowledge their ability to affect elections," stated Solomon, the vice president of Race and Ethnicity Policy at the CAP, and co-author of the report.
"Women of color are the canaries in the coal mine. When you center them in your policymaking agenda, outcomes for all Americans will improve. Continuing to ignore the policy priorities of this powerhouse of voters will only further undermine the health of our democracy and further exacerbate racial and gender inequalities," Solomon stated. "This report affirms what we already know: Women of color are an important – and growing – a catalyst for change in our democracy," said Aimee Allison, the founder and president of She the People. Save Now On Home Security
Monitored by ADT ® the #1 home security company in the U.S.
GREAT LOW PRICE
MONITORING
PER MONTH ADT ® 24/7 Monitored Home Security
24/7 monitoring provides peace of mind Yard sign and window decals help deter crime Quickly connect to fire and emergency response
May qualify for a homeowners insurance discount
1-646-666-9211 WE'RE AVAILABLE 24/7—CALL TODAY!
BASIC SYSTEM: $99 Parts and Install. 36-Month Monitoring Agreement required at $27.99 per month ($1,007.64). 24-Month Monitoring Agreement required at $27.99 per month ($671.76) for California. Offer applies to homeowners only. Basic system requires landline phone. Offer valid for new ADT Authorized Premier Provider customers only and not on purchases from ADT LLC. Cannot be combined with any other offer. The $27.99 Offer does not include Quality Service Plan (QSP), ADT's Extended Limited Warranty. GENERAL: For all offers, the form of payment must be by credit card or electronic charge to your checking or savings account, satisfactory credit history is required and termination fee applies. Certain packages require approved landline phone. Local permit fees may be required. Certain restrictions may apply. Additional monitoring fees required for some services. For example, Burglary, Fire, Carbon Monoxide and Emergency Alert monitoring requires purchase and/or activation of an ADT security system with monitored Burglary, Fire, Carbon Monoxide and Emergency Alert devices and are an additional charge. Additional equipment may be purchased for an additional charge. Additional charges may apply in areas that require guard response service for municipal alarm verification. Prices subject to change. Prices may vary by market. Some insurance companies offer discounts on Homeowner's Insurance. Please consult your insurance company. Photos are for illustrative purposes only and may not reflect the exact product/service actually provided. Licenses: AL-19-001104, AR-CMPY.0001725 AZ-ROC217517, CA-ACO6320, CT-ELC.0193944-L5, DC-EMS902653, DC-602516000016, DE-07-212, FLEC13003427, EC13003401, GA-LVA205395, IA-AS-0206, ID-ELE-SJ-39131, IL-127.001042, IN-C.P.D. Reg. No. – 19-08088, City of Indianapolis: LAC-000156, KY-City of Louisville: 483, LA-F1914, LA-F1915, LA-F1082, MA-1355C, MD-107-1626, ME-LM50017382, MI-3601205773, MN-TS01807, MO-City of St. Louis: CC#354, St. Louis County: 95091, MS-15007958, MT-PSP-ELS-LIC-247, NC-25310-SP-FA/LV, NC-1622-CSA, NE-14451, NJ Burglar Alarm Lic. # -NJ-34BF00021800, NM-353366, NV-0068518, City of Las Vegas: 3000008296, NY-Licensed by the N.Y.S. Department of State UID#12000317691, NYS #12000286451, OH-53891446, City of Cincinnati: AC86, OK-AC1048, OR-170997, Pennsylvania Home Improvement Contractor Registration Number: PA022999, RI-3582, RI-7508, SC-BAC5630, SD- 1025-7001-ET, TN-1520, TX-B13734, ACR-3492, UT-6422596-6501, VA-115120, VT-ES-2382(7C), WA-602588694/ECPROTEYH934RS, WICity of Milwaukee: PAS-0002790, WV-WV042433, WY-LV-G-21499. 3750 Priority Way South Dr. Indianapolis, IN 46240 ©2017 DEFENDERS, Inc. dba Protect Your Home DF-CD-NP-Q120
HARLEM COMMUNITY NEWSPAPERS March 15 th
– Joseph Jenkins Roberts Holiday
By Stacey Ann Ellis - Arts/Culture
Joseph_Jenkins_Roberts
Joseph Jenkins Roberts was born in Norfolk Virginia on March 15, 1809. He emigrated to Liberia in 1829. Roberts was born a "free Negro" in Virginia, however, Virginia's laws prevented "free Negroes" from what we deem normal rights today such as obtaining an education, the right to vote, the right to public assembly (including worshipping) without supervision or permission of whites. These circumstances, along with a calling to evangelize in Africa, sealed his decision
10 Liberia, Africa - panoramio to emigrate. Considering these things, his bravery should be acknowledged. He opened a trading firm in the capitol city, Monrovia, began a career in politics, serving first as governor from 1841 to 1848, and then he was elected as the first and seventh President of Liberia after its independence. He was the first man of African descendent to govern the country. His first term ran from 1848- 1856 and the seventh from 1872-1876. He was responsible for extending Liberia's coastal border and establishing Liberia College, now the University of Liberia. The University celebrated its 100 th year in 2019.
Joseph Jenkins Roberts had to travel to both Europe and the United States advocating for recognition of Liberia as an Independent Country. Of the nine nations that gave Liberia recognition, the United States was the last, finally giving recognition under the Administration of AbraRoberts International Airport
ham Lincoln on February 5, 1862.
Joseph Jenkins Roberts died in Liberia on February 24, 1876. A city in Liberia is named in his honor, as well as an airport, and his portrait appears on the Liberian $10 bill. Robertsport, in western Liberia lies on the Cape Mount Peninsula, a place surfers seek and beach lovers can enjoy ocean vacation housing at places like Nana's Lodge in Robertsport.
Robertsport also serves as the capitol of the District of Grand Cape Mount. Roberts International Airport is in Harbel, Liberia (Monrovia) having flights to and from London and Brussels. It is informally
called Robertsfield by locals. Joseph Jenkins Roberts died in Liberia on February 24, 1876. March 15 th , his birthday, is a Liberian National Holiday.
No reason you can't celebrate him too.
Harlem Community Newspapers | March 19. 2020 11 Senator Jose Serrano Important Information Regarding COVID-19 D ear Neighbor,
New York is the most impacted state in the nation with over 950 cases of COVID-19. In New York City there have been 463 cases as of Monday, March 15th.. Please read the update below for information on the latest developments and how to keep yourself and your community safe.
The current situation in our state and around the world is unprecedented, and I understand that many New Yorkers may be feeling anxious or scared. Over the next few weeks there will be many changes to our daily routines. The best thing we can do for ourselves and our community is to protect the most vulnerable and help stop the spread. This means practicing social distancing by avoiding any unnecessary interactions or large gatherings, washing your hands often, disinfecting frequently used surfaces, and following the guidance from your local, state, and federal officials. Be kind to your neighbors. Together, we will get through this. According to the New York City Department of Health, there is now widespread community transmission of COVID-19 in New York City, meaning we do not know the sources of new cases. For this reason, everyone in New York City should be monitoring their health closely and staying home if they are sick. New Yorkers who are not sick should also stay home as much as possible.
In light of the growing number of cases, the NYC Department of Health is advising those with mild to moderate symptoms to stay home for 3-4 days. If the symptoms persist or worsen, consult with your doctor. If you are over 50 years old or have chronic conditions, consult your doctor immediately as they may want to monitor you more closely. You can find the full text of the guidance here. The State's Coronavirus Hotline is open 24 hours if you have any questions or concerns: 1-888-364-3065. If you need help getting medical care, you can also call 311. New York City will provide care regardless of immigration status or ability to pay.
I was saddened to hear the news that we have lost seven New Yorkers as a result of COVID-19. My heart goes out to their families and loved ones, and I am holding them in my prayers.
K-5 Schools: Effective today, March 16th, New York City Public Schools will be closing until April 20th, with a possibility of extending closure through the end of the school year. Every school will be distributing breakfast and lunch for students on a grab-and-go basis this week. On March 23rd, the City will launch online/remote learning for students K-12. The City is working with partners Apple and T-Mobile to provide devices and internet for 300,000 students who do not currently have access. More information is available here. Large Gatherings: Today NYC Mayor Bill de Blasio signed an Executive Order restricting restaurants, bars, and cafes to take-out and delivery only. There will be no dine-in. The Executive order fully closes bars that do not serve food, clubs, movie theaters, smaller theaters, and concert venues.
Governor Cuomo has announced a deal with New Jersey and Connecticut Governors to close gyms, movie theaters, bars, restaurants and casinos at 8pm tonight across the state.
By order of the Governor, gatherings with 500 people are not currently permitted in New York. For facilities with an occupancy of 500 or fewer, the legal capacity will be reduced by 50%. The Centers for Disease Control and Prevention have also recommended halting gatherings of 5o people or more. Census: Due to COVID-19, the state of New York is at risk of being severely undercounted in the 2020 Census. Luckily, it has never been easier to respond on your own online— without having to meet a census taker. Getting an accurate count will ensure New York obtains the necessary federal aid for healthcare, education, and other important public services. Take ten minutes to fill out your Census form here. Price Gouging: Price Gouging is illegal and should be reported. If you experience unfair price increases on products like cleaning supplies or hand sanitizer, please call 311 or the Price Gouging Hotline: 1-800-697- 1220
Public Utilities: The Governor directed the New York State Department of Public Service to suspend public utilities from cutting off service - including power and heat - to customers affected by COVID-19. The State's major utilities will take immediate action to suspend service shutoffs to households during the COVID-19 outbreak and will continue to offer deferred payment plans for customers struggling financially due to the outbreak.
Transportation: The MTA has increased their sanitary procedures across the system. Their full service and cleaning protocols can be found here. The New York City Department of Health is recommending that New Yorkers consider telecommuting. If telecommuting is not possible, they recommend staggering work hours (starting earlier or later), or walking or biking to work if possible. Avoid crowded trains or buses. Vulnerable New Yorkers:
People who are at most risk for severe illness are elderly or have other health conditions such as chronic lung disease, heart disease, diabetes or a weakened immune system. The New York City Department of Health advises at-risk New Yorkers to avoid unnecessary events and gatherings. If you have family or friends who have a chronic health condition, do not visit them if you feel sick.
Effective today, all Senior Centers in New York City will be closed. Grab-and-go meals will be available, and Senior Centers will be locations for preparing and delivering meals to the homes of older New Yorkers.
Earlier this week, the Governor mandated that no non-medical staff will be permitted to visit nursing homes and the State is requiring that all staff at nursing homes wear masks and be monitored for symptoms.
SUNY/CUNY: There will be no physical, on-campus classes from March 12-18. Classes will move to a distance learning model on March 19 for the remainder of the Spring semester.
Small Businesses: The City is providing relief for small businesses seeing a reduction in revenue because of COVID-19.
This month, my colleagues in the State Legislature and I passed legislation appropriating $40 million to assist in our response to COVID-19. New York already has the best healthcare system in the world, and this funding will serve as a supplement for staffing, equipment, training, and testing needs.
A C B
D
3T MRI • CT • 3D MAMMOGRAPHY
EST 1953
OWNED & OPERATED
HARLEM COMMUNITY NEWSPAPERS Zwanger-Pesiri Radiology New Office in Harlem Radiology Company Introduces First Location in Manhattan
Harlem, New YorkOn July 29th, 2019, Zwanger-Pesiri Radiology, the largest private radiology practice on Long Island, opened its first facility in Manhattan. The office is located at 324 West 125 th Street, on the corner of 125 th Street and St. Nicolas Avenue. The office is located adjacent to the 125 Street Station of the A, C, B, and D subway lines.
The new office is also accessible via the M3, M10, M100, M101, M60 and BX15 buses. The Harlem office joins Zwanger-Pesiri's other borough offices, to offer city residents the best radiological care available. In addition to the new Harlem location, Zwanger-Pesiri Radiology has one facility in Cobble Hill, Brooklyn, one facility in Parkchester, Bronx, four
offices throughout Queens, and 25 offices across Long Island. The Harlem office provides 3T MRI, LowDose CT, Ultrasound, X-ray, 3D Mammography and Bone Density (DEXA) scans.
Zwanger-Pesiri Radiology prides itself on being a patient-centric practice. Offices are open evenings and weekends to accommodate working patients.
They employ over 65 subspecialty-trained radiologists who only read studies within their field of expertise, which leads to more accurate results. The reports and images from exams performed at any Zwanger-Pesiri facility are posted on the Patient Portal for the patient to access at his or her convenience. Patients can then securely share their information to
additional physicians with just a few clicks.
"In under six months, we have been able to open two state-of-the-art offices in the Bronx and Harlem. We are committed to making high quality care and technology readily available to every resident in New York City," said Dr. Mendelsohn. "We are excited to be a part of such vibrant communities and look forward to caring for our new neighbors."
Zwanger-Pesiri Radiology, the largest and most respected radiology practice on Long Island, has been serving the community for over 65 years. To date, there are 32 locations in Manhattan, the Bronx, Brooklyn, Queens, Nassau, and Suffolk providing a range of radiological specialties, including musculoskeletal imaging, neurologic imaging, oncologic imaging, vascular imaging, and more.
Zwanger-Pesiri continues to provide the highest quality of care and excellence to all of its patients in the Metro New York area as well as on Long Island.
Zwanger-Pesiri Radiology strives to provide the most advanced technology available today, with a strong focus on delivering a quality of care unmatched in the industry. Visit the Zwanger-Pesiri website for further information at www. zprad.com.
How Math Can Become Your Child's Favorite School Subject
(Statepoint)
Ask kids what their favorite school subject is and fewer and fewer will say "math" as they age. While 37 percent of 4th graders report that math is one of their favorite subjects, only 15 of 12th graders say the same, according to National Center for Education Statistics. At a time when a strong math foundation is more important than ever before, you may be wondering how to keep the subject fun and interesting for kids, even as the workload grows more complex and challenging with each passing year.
Here are a few ideas for infusing fun into the equation:
• Set a good example: Don't make math out to be a subject you yourself don't enjoy. Whether you're talking about the batting average of your favorite player, working out your budget or watching a news report citing statistics, you can point out the many ways in which math is used to think about the world and spark a numbers-fueled conversation.
• Embrace a love of tech: Your children are digital natives, so when it comes to mathematics, let them use the tech tools that feel most natural to them without limitations. You can feel particularly good about this decision when it comes to calculators.
Many calculators today are much more intuitive to use than their predecessors, allowing students to spend more time learning the joy of math rather than figuring out how to operate the device. For a high-quality scientific calculator, check out the fx300ES from Casio, which has over 250 functions. Once a graphing calculator is needed, a good choice is the fx-CG50, which has a high-definition, three-dimensional display.
• Check in: Many students stop loving math once it gets hard. Unfortunately, a lot of students don't mention they are struggling until it's too late to easily catch up, as most lessons build on previously taught material.
Periodically check in with your student to ensure they are keeping up with their classmates. Let them know there is no shame in getting an extra bit of help. PHOTO SOURCE: (c) Antonio_Diaz / iStock via Getty Images Plus
Many teachers will meet with students before or after class to offer assistance and answer questions. Study buddies, tutors and online tutorials can also help students grasp the material, achieve good grades and ultimately, continue to enjoy math.
There is no doubt about it, a love of math is a good thing. By making it approachable and offering the right tools, you can help your young mathematician continue to embrace the subject.
14 The compassionate funeral directors at Daniels Wilhelmina Funeral Home provide individualized funeral services designed to meet the needs of each family. Our staff of dedicated professionals is available to assist you in making funeral service arrangements. Daniels Wilhelmina Funeral Home, Inc.
You are welcome to call us at any time of the day, any day of the week, for immediate assistance. Or, visit our funeral home in person at your convenience.
212-283-2547 Email: daniels@adwfh.com 110 West 131st Srtreet New York, NY 10027 Celebrating 50 Years Serving the Harlem Community "Dignified Funeral Services – All Faiths" Plus Dental, Vision, Hearing and more. You could be missing out on benefits like: $0 Copays, $0 Deductibles, $0 Premiums
Call now to see if you qualify for these amazing benefits! 855-408-0136 TTY 711 10 a.m. to 9 p.m. Eastern, Monday to Friday Call now to speak with a licensed agent!
easyMedicare is an affiliate of e-TeleQuote Insurance, Inc., a private licensed representative of Medicare insurance organizations with a Medicare contract. easyMedicare is not affiliated with or acting on behalf of any government agency or program. Prescription, dental, hearing and vision benefits are not guaranteed, are only available in select plans and are not available in every state or zip code. The product described in this advertisement is a Medicare Advantage Plan with Part D prescription drug coverage and may not be available in your area. Your eligibility is not guaranteed. This is not a complete listing of plans available in your service area. For a complete listing, please contact 1-800-Medicare (TTY users should call 1-877-486-2048), 24 hours a day/7 days a week or consult www.Medicare.gov. This information is not a complete description of benefits. Contact the plan for more information. Limitations, copayments and restrictions may apply. Benefits, premiums and/or member cost-share may change on January 1 of each year. You must continue to pay your Medicare Part B premium.
HARLEM COMMUNITY NEWSPAPERS For Black Women, the Fight Against HIV/AIDS Still Goes On HEALTH
By C. Virginia Fields
New York, March 10, 2020. Twenty-three years ago, right when I was running for my first term as Manhattan Borough President, the HIV/AIDS community reached two very different milestones in the fight against the epidemic. In 1996 a highly anticipated, brand new treatment led to the first sig nificant decrease in deaths from HIV/AIDS nationally. But that year also marked the first time that a larger portion of AIDS cas es were reported among African Americans (41%) than whites (38%). In the quarter century since then, the overall trend lines have shown hope -- from 2010- 2017, the number of new HIV diagnoses in the U.S. decreased 9 percent each year -- but unfor tunately, as HIV has receded from the consciousness of so many, it continues to devastate the Black community, especially Black cis and Transgender women.
Today, Black/African Ameri cans account for a higher proportion of new HIV diagnoses and people living with HIV compared to any other race. In fact, Black women have the highest inci dence rate of HIV transmission of all women -- fifteen times greater than white women and almost five times that of Hispanic women. AIDS continues to be the number one cause of death for Black cis and transgender women ages 25- 34. Last year, although Governor Cuomo announced that New York State is on track to end the AIDS epidemic by 2020, the Black com munity in New York City is still struggling. According to the CDC in 2017, in New York City, the rate of Black women living with an HIV diagnosis was 14 times that of white women. Many of them don't know that they have the disease. The solutions to ending HIV in the Black community aren't simple, but they do exist. For starters, we need a paradigm shift that priori tizes the promotion of HIV/AIDS primary prevention and risk reduc tion among Black cis and transgender women. With the end in sight, we should be doubling down on research, educating vulnerable communities, and encouraging everyone at risk to use any and all medicine available. When ac tivists use their megaphone to rail against research, we've lost our focus. When they use it to spread the word and bring people togeth er, we regain agency of our health and our hope. We also must be honest with ourselves, talk about what's going on and acknowl edge there's still an epidemic. If we don't educate ourselves and talk openly about the risks and realities, our sisters and brothers, friends and neighbors will contin ue to be at risk of a now preventable and treatable disease.
In today's era of populism, activism and partisanship, it's easy to lose sight of how we made progress originally. In the 1980s and '90s, activists, community ad vocates, healthcare workers, pharmaceutical companies, the government and researchers all came together. I know, because I was there, doing my part to fight that fight as a social worker and New York City council member. We acknowledged our differences but understood everyone's role in cre ating what was once unthinkable -- an effective treatment. We're so far beyond that now. We went from rudimentary treatment with horrific side effects to advanced treatment options and the miracle PrEP (Pre-exposure prophylaxis) prevention pill. A cure no longer seems out of reach.
PrEP only works, though, if the vulnerable populations -- like Black women -- know they're at risk, have health providers talk to about it, and with the HIV activist community educating instead of fear mongering.
Don't mistake this call for unity for complacency. There are plenty of reasons to be angry, but we must channel our anger in pos itive ways. Working together, we must hold insurance companies accountable to ensure all PrEP and treatment options are not only covered but are a choice between the patient and doctor -- and them alone. We must hold our elected representatives accountable for implementing policies that ad dress the needs of Black cis and transgender women. Treatment that is inaccessible is unaccept able. We must also be inclusive in our conversations about HIV, which continue to almost exclu sively focus on men. Cisgender women are increasingly at risk; education, awareness, and inclu sion in all forms of PrEP and treatment are key to ensuring we meet Governor Cuomo's goal of ending this epidemic once and for all.
Since the early days of my ca reer as a social worker to my time as a New York City council mem ber and Borough President, the progress we've achieved on HIV/ AIDS has been extraordinary. But we must be honest that this progress has not been enjoyed equally by all communities -- for Black women, the threat is growing. More must be done. This reality can be avoided -- but only if we once again direct our energy toward a common purpose and equally shared outcomes.
C. Virginia Fields is the founder and CEO of the National Black Leadership Commission on Health, Inc. Fields served as the Manhattan Borough President for eight years (1998-2005).
STAY HEALTHY! There are many things you can do every day to help stop the spread of germs.
Cover your coughs and sneezes Use your elbow or sleeve, not your hands.
Wash your hands for at least 20 seconds Wash hands often with soap and water or use an alcohol-based hand sanitizer.
Avoid touching your face Do not touch your eyes, nose or mouth with unwashed hands.
• If you have fever, cough and/or shortness of breath, and recently traveled to an area with ongoing spread of coronavirus, or have been in close contact with someone who has, go to your doctor. • If you have symptoms but no travel history, stay home and call your doctor. • If you need connection to a health care provider, call 311.
Sleep and Autism: How to Help Kids Get a Better Night's Rest
(Statepoint)
For some children and teens with autism spectrum disorder, sleep can sometimes be a struggle. But good sleep is essential to good health and a good quality of life.
"While up to 40 percent of all children and teens will have sleep problems at some point during childhood, such problems usually lessen with age," says lead guideline author Ashura Williams Buckley, MD, of the National Institute of Mental Health and a member of American Academy of Neurology (AAN). "However, for children and teens with autism, sleep problems are more common and more likely to persist."
To help families, neurologists and other healthcare providers make treatment decisions, the AAN has issued a
PHOTO SOURCE: (c) Prostock-Studio / iStock via Getty Images Plus
new guideline based on careful review of available scientific studies to address four types of sleep problems: refusing to go to bed, stalling, or needing a parent or caregiver present until falling asleep; trouble falling asleep and staying asleep; sleeping for only short periods of time or not getting enough total sleep each night; as well as associated daytime behavior problems. Published recently in Neurology, the medical journal of the AAN, the guideline is endorsed by the American Academy of Sleep Medicine, Autism Speaks, the Child Neurology Society, and the Society for Developmental and Behavioral Pediatrics. The American Epilepsy Society has affirmed its value to epileptologists.
Recommendations and insights from the new guideline
Charles Pan Fried Chicken Hours Mon-Sat 10am-1am Sun 12noon-6pm
include:
• There are many factors that may contribute to sleep challenges, including medicines, other health conditions, emotional disorders, and family and social factors. A knowledgeable clinician should do a thorough evaluation and address problems caused by medications or other medical conditions first.
• After other potential treatable causes of the sleep problems have been ruled out, children with autism spectrum disorder may benefit from behavioral treatments, such as setting up a consistent sleep routine with regular bedtimes and wake times, choosing a bedtime close to when the child usually gets sleepy, and prohibiting use of electronic devices close to bedtime.
"Behavior-modification strategies are a good place to start because they don't cost anything, there are no side effects and they've been shown to work for some people," says Dr. Williams Buckley.
• If behavioral strategies alone don't work, healthcare providers should consider prescribing melatonin, a hormone that tells the brain when and how long to sleep. Look for "pharmaceutical grade," and discuss with your practitioner, as some over-the-counter products may not be reliable in terms of how much melatonin they actually contain. Studies suggest that the artificial form of melatonin is safe and effective for children and teens with autism for a period of up to three months. However, more research is needed to determine safety over longer periods. Possible side effects include headache, dizziness, diarrhea and rash. Melatonin alone may be just as helpful in some patients as when combined with behavioral strategies. The guideline says that current studies that looked at behavior treatments combined with melatonin were not found to change daytime behavior problems or symptoms of autism.
• No evidence was found that routine use of weighted blankets or specialized mattress technologies improve sleep.
Learn more about autism at BrainandLife.org, home of the AAN's free patient and caregiver magazine focused on the intersection of neurologic disease and brain health and follow on Facebook, Twitter, and Instagram.
Finding ways to improve sleep is essential. While sleep problems can intensify behavioral issues in children and teens with autism, good quality sleep can improve overall health and quality of life.
WYNN Optics 2020 NEW YEAR SPECIALS! "We are offering a wonderful experience and an opportunity to become family"
Includes: Fried Chicken, Baked Chicken, Ham (Sunday only), Macaroni & Cheese, Cabbage , Okra, String Beans, Potato Salad, Black Eyed Peas DessertBanana Pudding Beverage – Ice Tea and Lemonade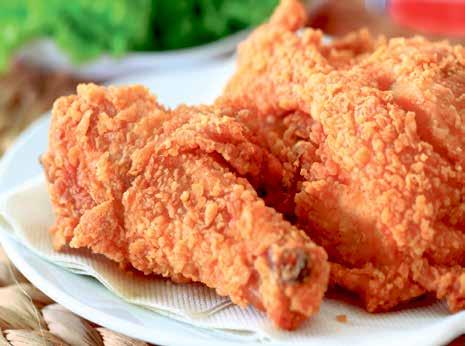 212-281-1800 Charles Country Pan Fried Chicken 2461 Frederick Douglas Blvd@ 132nd Street
$45 Children Eye Exam
$150 Children Glasses (2 pairs of polycarbonate lenses)
$109 Packages (includes exam, frames and lenses)
$199 Frames, exam and crizal (antiglare lenses)
$125 Contact lenses fitting w/ trial pair
Wynn Optics 167 Lenox Avenue @ 118th Street | 212-222-6100 Most Insurance, Unions, Medicaid and Medicare Plans Accepted