16 minute read
Five star flooring
As we wrap up 2021, flooring suppliers share their most exciting projects and launches from the past year
Physical Company installed specialist flooring at Rise Bournemouth
Five star flooring
PHOTO: PHYSICAL COMPANY Paul Farrell
Physical Company
Project: Rise, Bournemouth www.physicalcompany.co.uk
When the founders of new studio brand, Rise (R1SE), set out to bring a London-style boutique experience to England's south coast, they knew they needed a premium fit-out.
Channelling their backgrounds in nightclubs and hospitality, the team created an attention-grabbing combination of lighting, music and design that was unique to the Bournemouth marketplace – then approached Physical Company and Technogym for a fit-out to match the high expectations already being set by the new brand.
Physical Company was appointed specifically as the flooring expert and handed a brief to install functional, easy-to-maintain flooring that also addressed noise concerns: it was important that activities in the small, high-end upstairs gym didn't drown out the ground floor café and studio space. The solution was to first install a layer of rubber shock pad across the weights and functional training areas. On top of this came sound- and shock-absorbing Ecore smash tiles in the weights area and in the functional zone, a 1.5m x 11m area of custom turf with the company logo fully woven in. Additionally, four Ziva landing pads – heavy-duty portable pads designed to absorb the impact of weights dropped from a height – provide additional protection that can be moved around the gym as required, including for slam ball training.
The gym's cardio zone features 8mm Everlast flooring, as does the downstairs studio, where it provides a durable foundation for HIIT training.
"Rise Bournemouth opened in the summer of 2021, making a bold entry into a market that hadn't yet seen anything like it," says Physical Company account manager Paul Farrell. "It has already been very successful and we look forward to partnering with the team as they roll out their model across the south coast."
PHOTO: TVS GROUP Andy Roberts
TVS Group
Project: Build-to-rent development, Manchester www.TVS-Group.co.uk
Earlier this year, TVS Group was approached to source, supply and install a range of floor finishes and acoustic solutions for a gym in a new buildto-rent residential site in Manchester's Chapel Wharf.
In the area designated for weightlifting, TVS installed its heavy-duty impact-resistant Sportec Style Tiles, offering protection to the concrete sub-base and a reduction in potential structure-borne noise, often associated with weightlifting activities.
In the stylish cycling studio, the company supplied a polished, concrete-effect vinyl floor with a high resistance to static and rolling loads. The surface is ideal for environments where fitness equipment is regularly relocated and repositioned before and after use.
Comfort and user safety were prioritised in the stretching area, where a P2 category sports floor was fitted with a high level of shock absorbency and antibacterial properties. To further reduce structure-borne and footfall noise on the first-floor level, TVS also installed a high-performance acoustic underlay beneath a decorative wood-effect vinyl floor covering.
Finally, at ground floor level, Sportec Color-15 sheet rubber was selected and installed and line markings applied to match with the various training zones and equipment. A sled track was also integrated within the gym space.
PHOTO: TVS GROUP Acoustic underlay was installed beneath a wood-eff ect vinyl fl oor
Pavigym's Endurance fl oor off ers durability and the best aesthetics
PHOTO: PAVIGYM Marcos Requena
Pavigym
Project: Castle Royal Golf & Country Club, Berkshire www.pavigym.com
Castle Royal Golf and Country Club in Maidenhead relied on Pavigym to carry out the refurbishment of its health club.
The cardio area was covered with Pavigym Endurance, guaranteeing durability and the best aesthetics. Markings were included in the flooring to create a group training space while facilitating the distribution of users – important in times of social distancing. Another solution, Pavigym Extreme S&S, was chosen for the free weights area. This product, a blend of virgin and recycled rubber, not only provides maximum protection against impact from dropped weights, it also reduces noise and vibrations in high-impact areas. Finally, the club needed a small functional area, which we brought to life with Pavigym Turf, a comfortable and reallooking artificial turf. Suitable for use both outdoors and indoors, and also available with training marks, its density ensures maximum grip and resistance to all types of functional and strength exercises.
With these solutions, the Castle Royal Golf and Country Club now has a personality of its own and is perfectly adapted to the needs of its users.
The interlocking fl oor design in Dubai featured seven diff erent colours
PHOTO: PAVIFLEX Manuel Martinez
Paviflex
Project: Skydive Dubai www.paviflex.co.uk
Paradoxically, one of the facilities that Paviflex is most proud of in 2021 is Skydive Dubai, where they don't work on the ground, but in the sky.
Paviflex installed a large multifunctional surface with their corporate design where everybody can practice the exercises on land, and group activities can take place.
Manuel Martínez, Paviflex executive manager said: "Making the client's idea a reality, no matter if it seems impossible, is what makes us different from other companies".
"The difficulty of the project was capturing the visual graphic identity on a 'puzzle interlocked' surface with the combination of seven colors of our Premium floor tiles," he says. "The preparation, organisation and installation of each piece was undoubtedly the most laborious part of the job, but the final result rewarded all the effort."
A better journey
Fitronics' new member journey software is supporting the University of Oxford in improving its services for users
Fitronics' brand The retention people (Trp) has launched a new, improved version of its automated member journey software.
Called digital (www.trpcem.com/ digital), the upgraded member journey software now sits alongside Trp's industryleading member feedback software, Insight, (www.trpcem.com/insight), allowing the two modules to be used more effectively together. existing digital users have been upgraded to the new system free of charge and new customers will be given access as standard going forward. digital allows operators of health and fitness facilities to build automated communication journeys for their members via integrations with their member management systems.
For example, new member onboarding or at-risk member re-engagement emails and text messages are triggered by fully customisable combinations of member attributes and behaviours. This tailored yet scalable approach to member communication enhances their experience, drives visits and improves retention.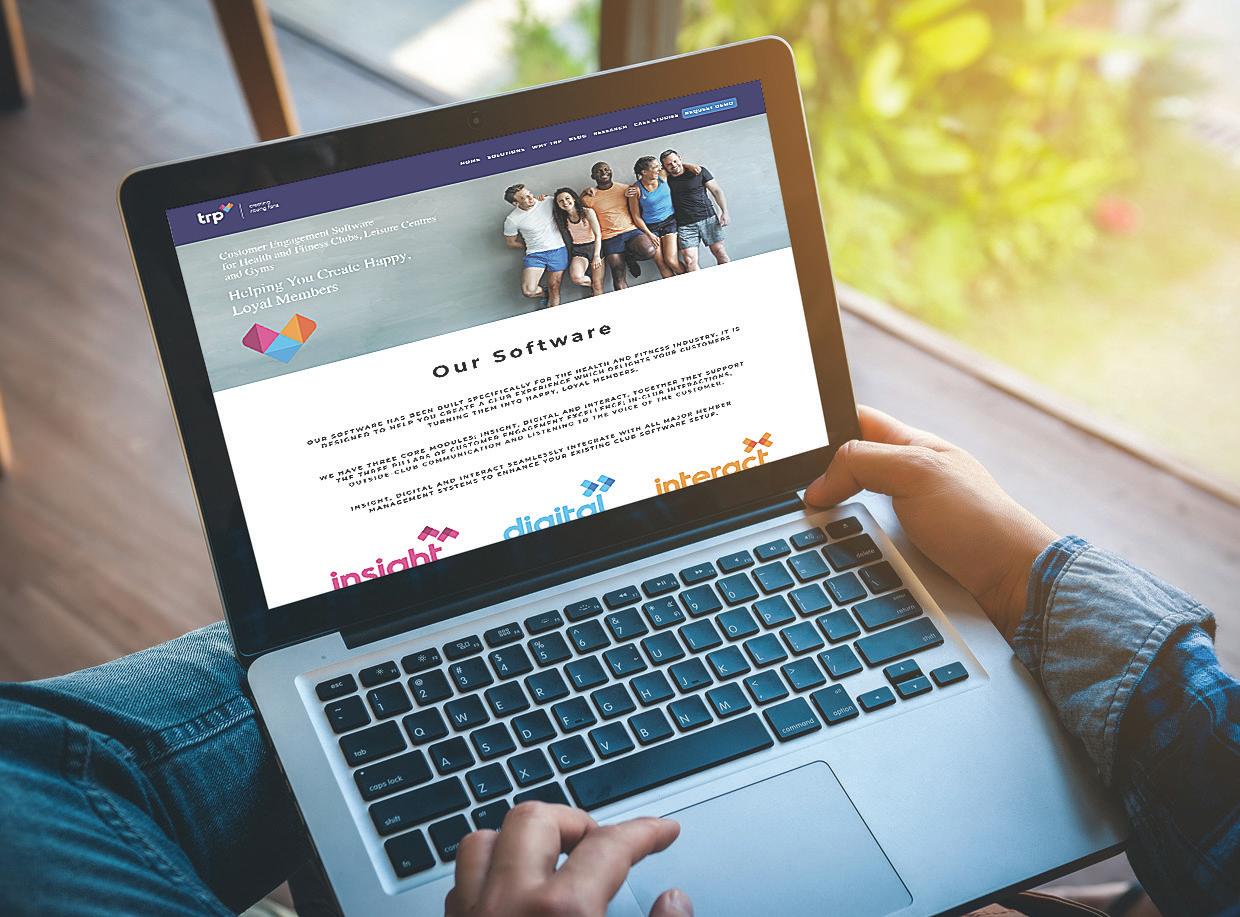 photo: azir/ shutterstock The key differences between the new system and its predecessor are:
A user-friendly interface with a vastly improved email editor Fitronics has overhauled the look and feel of digital, making it significantly easier and more enjoyable to use. The star of the show is the new email editor that allows users to create beautiful, responsive email templates via an intuitive drag-and-drop interface. The email editor also benefits from a wide selection of pre-built templates which users can customise and a built-in stock image library with thousands of free pictures and photographs that can be added to emails in just a few clicks.
Improved member management & segmentation The ability to effectively manage and segment members is key to getting the right message, to the right people, at the right time. The new digital system allows users to quickly and easily segment their membership base through the application of filters including age, gender, membership type, join date, last visit date and risk of dropout, then save these targeted audiences for ongoing future use.
This upgrade to the system takes it to a new level; making it easier to use and allowing us to deliver better looking messaging with more accuracy
Stuart McCarroll, University of Oxford
An enhanced reporting suite Fitronics has vastly improved the usability of Digital's reporting suite with the addition of graph and pie chart visualisations which make data analysis significantly easier and less time-consuming. The ability to measure the effectiveness of communications sent via the software is a key aspect of Digital, allowing users to optimise their marketing and improve results.
Stuart McCarroll, finance and business development manager at the University of Oxford and an early adopter of the new system said: "The core principles of the TRP Digital software and the experience it allows us to provide our members has always been great.
"This upgrade to the system takes it to a new level, making it easier to use and allowing us to deliver better looking messaging with more accuracy. "If you're not working with Fitronics and its TRP products yet, I'd highly recommend having a look to see how they could help you, as they help us." ● To learn more about Digital and how it could support the success of your business, go to www.trpcem.com/digital and request a demonstration today.
Text messages are sent to at-risk members with the sending triggered by their behaviours
THE CHALLENGE OF CHANGE
Over the coming months, Fitronics will be running a series of behaviour change webinars with its experts focusing on the challenge of change for the industry in 2022 and how the performance of teams can have an impact on the health and fitness of your customers. Webinar 1
The Challenge of Change
Date: 14 December 2021 Time: 11.00 - 11.45am Register: www.hcmmag.com/fitronics
Pulse Fitness created the new club's branding and its gym layout
The premium touch
• S HOWCAS E
SUPP LIER •SC
Premier Gym + Fitness, based in Newton Abbot, Devon, has opened its doors to the public thanks to the help and support of Pulse Fitness
PHOTO: PULSE FITNESS/PREMIER GYM + FITNESS
After spotting a gap in the local market, Stuart McDowell and his investors had a vision to create a premium, high end club for the area. They turned to Pulse Fitness for support and were highly impressed by the design skills and technologically advanced equipment on offer.
The facility has been designed by Pulse Fitness to the highest standards, with a striking black and green aesthetic. Pulse Fitness was responsible for branding and creating 3D designs of the facilities, as well as the layout of the gym.
The club has been kitted out with equipment from Pulse's premium cardio and strength lines in sand black. These come with 18-inch touch-screen consoles. The club is also home to a dedicated functional training space with a bespoke rig.
Members are able to enjoy the atmospheric, nightclub-like spinning studio, complete with state-of-the-art Pulse Fitness spin bikes and fluorescent green lighting in keeping with the space. A connected solution Part of the reason Pulse Fitness was awarded the contract was due to its fully connected fitness offering. McDowell and his team were impressed to see that members are able to log and track their activity in the gym, as well as being able to use the internet, watch Netflix, stream online workouts and log into social media while exercising.
They also now have access to Trakk, the new Pulse Fitness app, which enables them to monitor their progress and devise their own workout plans in pursuit of their fitness goals.
Trakk also enables the team to improve interaction on the gym floor, thanks to its simple colour-
The team at Premier Gym + Fitness share our passion for quality and innovation
Richard Sheen, Pulse Fitness
coded system that identifies at-risk members and provides a summary of previous contact.
Through Trakk, the Premier Gym + Fitness team can also send personal or automated messages, to help engage members.
"The team at Premier Gym + Fitness share our passion for quality and innovation and it has been a privilege to supply them with our market-leading equipment," says Richard Sheen, commercial sales director for Pulse Fitness. "Our team has worked hard to bring Stuart's vision to life which has resulted in a fantastic high-end club for the local community."
● www.pulsefi tness.com
• S HOWCAS E
ENGAGING INSIGHTS
Code Fitness has partnered with body composition experts Tanita to put analysis at the heart of its programmes
Code Fitness launched in Newark in 2013 with a mission to help more people get results.
In 2018, co-owners Steve McClory and Luke Watson, invested in a purposebuilt gym to extend the offering. Members have a variety of programmes to choose from with defined processes to help them achieve their desired goals and can choose and switch between them.
Integral to the business is the Tanita Body Composition Analyser which enables members to measure and understand their progress.
It's one of the essential parts of Code's 'Premier' membership and is also popular with health seekers who choose to be active elsewhere, but come to Code for their measurements and to get advice, coaching and motivation.
Monitoring and motivating
"The Tanita Body Composition Scales are not only brilliant for monitoring progress, but are also great as a conversation starter, says McClory. "Having so much information from the fast analysis means we can focus on different things with different people."
The results of the analysis can be a focal point for workouts, depending on the desired results.
"We tend to use five main pieces of information for each of our membership types," he says. "For example, with our Good Health Membership, we focus on metabolic age, visceral fat, phase angle, muscle mass and body fat percentage.
"Although there'll be a crossover with other membership types, these aren't the same results we'd focus on with members on other systems."
Opening up new markets
The Tanita Body Composition Analyser gives Code Fitness the opportunity to target people that many would not view as traditional gym members, such as those looking for prevention and wellness advice. 
PHOTO: STEVE MCCLORY
The Tanita Body Composition Scales are not only brilliant for monitoring progress, but are also great for a conversation starter on a variety of things
Steve McClory, Code Fitness
"Our health membership attracts members whose sole focus is health improvement," says McClory. "This has helped us grow and develop as a business while allowing us to stand out as a gym that offers and delivers a far more personalised solution.
"For example, members on our Health Membership love seeing all their results change, especially their metabolic age. No one in their 40s wants to see their metabolic age in the 60s, but they love it when it starts to come down and even more so when they get the age below their actual age!
"The scales create the potential to develop different revenue streams, including for one-off use, regular monthly check-ins and as part of a gym membership. We've seen a significant improvement in compliance and retention off the back of this approach.
"We chose Tanita because they're at the forefront of this technology. I'd highly recommend them to any gym owner, as they're always extremely professional and supportive with everything we need."
PHOTO: TANITA
● www.tanita.eu
• S HOWCAS E
SUPP LIER •SC
The new fl oor is the fi rst in the UK by Robbins
PHOTO: TVS GROUP
University's new court has star appeal
TVS Group installs new world class facilities at the University of Kent in partnership with Robbins
Students at the University of Kent can now practice and play on one of the world's finest basketball courts after learning a lesson from stars of America's popular NBA.
Kent is the first UK university to have an MFMA PUR certified and EN14904 compliant Robbins solid maple wood floor installed by its UK-based partner TVS Group.
Choice of supplier Robbins, which was founded in 1894, is a preferred supplier of competition and training surfaces to a significant number of teams in the billiondollar NBA – 22 of the last 27 NBA Championships were won by teams who play and train on Robbins courts. 
"After around two decades of use as a multi-sport facility, the university's old court was badly in need of an upgrade," explained TVS sports surfacing specialist, Jason Lewis-Lamb. "A survey revealed issues with the sub-floor which had caused failures in the existing floor and needed to be rectified prior to the installation of the new court."
The TVS/Robbins partnership was chosen after an exhaustive evaluation by the university, with quality and longevity being major factors in the final decision, along with the need to meet stringent international and UK sports standards.
The new court is expected to last 50-75 years, with benefits including the reduction of injuries and player fatigue through the Robbins maximum vibration protection patented system.
The sub-structure work and the new flooring installation, using northern hard maple from the USA and Canada, was completed by TVS Group within six working weeks.
As well as basketball, TVS added markings for netball and badminton to ensure the new court could continue to be used as a multi-sport facility.
Raising standards Double Olympian Mel Clewlow, director of sport at the university, said: "To be the first in the UK to install this system is an honour. Too often as a university we're looking enviously at our competitors' facilities. Hopefully this time they're looking at us!
To be the fi rst in the UK to install the Robbins MVP fl ooring system is an absolute honour
Mel Clewlow, director of sport, University of Kent
PHOTO: TVS GROUP
"Installing this flooring shows the university's commitment to its students and to providing the best facilities we can. We've already received fantastic feedback from them, as well as interest from local clubs.
"I can't thank TVS Group and Robbins enough for trusting us to showcase this product. Throughout this entire process TVS has been world-class and its customer service from start to finish has been exemplary."
● www.TVS-Group.co.uk