15 minute read
the vegan revolution
Self-identified vegans have reached an all-time high— and South Florida restaurants are listening Written by JOHN THOMASON
o paraphrase Loretta Lynn, we've come a long way, baby.
Vegans, which constituted 1 percent of the American population in 2014, now make up 6 percent. The 9.7 million who identify as vegan add up to a 3,000 percent increase since 2004.
Whether these individuals choose to forgo animal products for health reasons, environmental motivations—animal agriculture is responsible for 18 percent of all greenhouse gas emissions, more than all transportation emissions combined—or a zeal for animal welfare, one thing is certain: The market has noticed.
Those of us over 30 can remember a time when vegan food was the gastronomic ghetto, the domain of new-age enclaves and health-food stores. Before the revolution, market staples included dry quinoa bowls, raw falafel, gelatinous tofu, and borderline-inedible cheese substitutes. To be both a vegan and a foodie was a Herculean struggle.
Spaghetti Squash and Beetballs from Lazy Dog in Boca Raton
Thanks to technology and old-fashioned culinary innovation, vegan cuisine today is worlds apart from soy milk and granola. Cashew- and turmeric-based cheeses taste like the real thing. Gardein and seitan and jackfruit capture the flavor profiles of their carnivorous inspirations. Beyond Meat products boasted revenues of $406.8 million in 2020, and the same year, Impossible Foods saw its valuation increase to $2 billion. Retail sales of plant-based foods overall have crested $4.5 billion.
And restaurants, from fine dining establishments to fast-food joints, have adapted their menus to meet the moment. Vegan options are available at Dunkin' Donuts, for goodness sakes.
It's never been easier to make the change, should you so desire; in the following pages, we explore the history of veganism, share a recipe, and explore South Florida's vibrant vegan dining scene.
A History of Veganism
Though veganism didn't become an official term until the mid-20th century, reports date the earliest vegans all the way back to 3300-1300 BCE on the Indian subcontinent, with philosophers such as Parshavnatha and Samantabharda advocating plant-based diets. Other early proponents included Plutarch and Empedocles, in Greece, and Ovid and Seneca the Younger, in Italy.
In 1813, the poet Percy Shelley advised "abstinence from animal food and spirituous liquors;" thankfully, that latter admonishment didn't catch on as a vegan tenet.
Today's veganism is generally seen to have branched off from traditional vegetarianism, which took hold in 19th century Britain and the United States. In 1847, the Rev. Sylvester Graham, inventor of the Graham Cracker, founded the U.K.'s pioneering Vegetarian Society. The Hygeian Home Cook-Book, published in 1874, is seen as the first vegan cookbook; its tantalizing offerings include corn-meal mush, wheatmeal crisps and gruel, but also current staples like sweet potatoes, berry shortcake and the ubiquitous cauliflower ("cut off the green leaves; cleanse the heads carefully from insects.") Proto-influencer Donald Watson, secretary of the Leicester branch of the Vegetarian Society, coined the term "vegan" with the launch of his 1944 newsletter The Vegan News. This spawned the Vegan Society, whose early members included playwright George Bernard Shaw. Naturopath Catherine Nimmo opened the vegan society in the U.S. four years later. As for Watson, he practiced what he preached, living to a meatless 95; by the time he died, in 2005, vegan diets were just beginning their mainstream ascent.
The Rev. Sylvester Graham
Know Your Terminology
The next time you're discussing nutrition regimens at a party, these helpful definitions can make you sound like an expert.
VEGAN: A person who does not eat any food derived from animals and who typically does not use other animal products, especially for moral, religious, or health reasons. PESCATARIAN: A person who does not eat meat but does eat fish and dairy products.
VEGETARIAN: A person who does not eat meat, and sometimes other animal products, but allows dairy and eggs into their diet. Vegetarianism often serves as a gateway drug into full-on veganism. KETOTARIAN: This one sounds like a race in "Dune," but it's a low-carb, high-fat diet that excludes most animal products except eggs, ghee and fish—too many sinful inclusions to be vegan-adjacent. The keto diet is, presumably, keeping the Big Ghee lobby in business. REDUCETARIAN: This is the wishy-washiest category of them all: a person who wants to help the planet by giving up meat and dairy, but also likes meat or dairy too much to give them up completely. Hence the reduction part of the name. Reducetarians are the agnostics of the dieting world, and vegan purists are free to sneer, but this is a growing movement with its own nonprofit foundation (reducetarian.org).
Hippocrates Roll
A raw, plant-based diet is a hallmark of Hippocrates Wellness Institute. "At Hippocrates, our major focus is the healing properties of food," says Ken Blue, now into his ninth year as executive chef at the West Palm Beach retreat. "Hippocrates, who is regarded as the father of modern medicine, said, 'let food be our medicine.' The healing properties of our sprouts and microgreens are magnified, the nutrition is magnified, and it's much less work for the body to digest. More is going to the phytonutrients, the enzymes, which are in abundance in sprouts and microgreens."
Naturally, sprouts make an appearance in Blue's Hippocrates Roll, a rice-less variation on a nori roll.
INGREDIENTS:
2 raw nori sheets 1/2 cup shredded carrots 1 whole avocado, sliced 4 cucumber sticks, cut length-wise, about 1/4 inch thick 1.5 ounces clover sprouts
INSTRUCTIONS:
On a sushi rolling mat, place one nori sheet, shiny side down. Start with spreading half of the carrots across the bottom of the sheet, an inch up from the edge. Distribute the carrots evenly, across the whole width of the nori sheet.
Place two of the cucumber sticks on top of the carrots and continue stacking up with half of the avocado slices. Finish up with the clover sprouts.
Roll the nori sheet over the stack, using the sushi mat as a support. Moist the end with a bit of water to seal the roll. You can cut the roll into 8 pieces with a sharp knife or eat it as a wrap. (For the technique, check out Chef Ken's Hippocrates TV channel on YouTube.)
NOTE:
Serve with pickled ginger and wasabi paste on the side. In place of soy sauce, use Bragg's Liquid Aminos.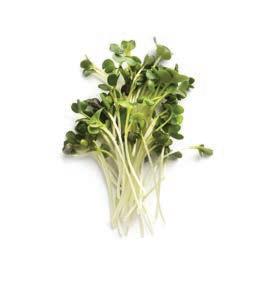 Beefless Wellington from Darbster Bistro
Banh mi from Veg Eats Foods
Great Vegan Restaurants
DARBSTER BISTRO
8020 W. Dixie Highway, West Palm Beach, 561/586-2622
The O.G. vegan spot with a view and plenty of covered courtyard tables, Darbster Bistro has been a plant-forward, chef-driven lynchpin for 13 years. The crispy heart of palm cakes with a spicy caper remoulade are to die for, and the beefless Wellington is a hearty, tastebud-fooling replica of the steak-filled original. There's happy hour from 5 to 7 weeknights, and dogs are not only welcome but encouraged: Bring your pooch and take 20 percent off an entrée.
FANCY-I NATURALS
2900 W. Sample Road, Pompano Beach, 954/247-5389
This unassuming food stand at the western end of Festival Flea Market Mall (it also has a location in Hollywood's Yellow Green Farmers Market) is the best-kept vegan secret in Broward. The loaded mac 'n' cheese, made with simulated Gouda and topped with pesto mushrooms, a ground-up veggie burger and almond-based shredded Parmesan, is a flavor bomb, as are the juicy tacos topped with walnut-based "meat," chimichurri sauce and a faux-cheese drizzle. Everything is made in house by its sole proprietor, including the delectable sauces, so some patience is required—and rewarded.
ROOTS
33 S.E. Third Ave., Delray Beach, 561/562-7000
The Delray Beach Market's resident vegan vendor's veggie patty, constructed with love from a Portobello mushroom, beets and black rice, is a powerhouse with or without the added sundried tomato aioli. Roots' inventive spin on a Caesar salad is topped with grilled artichokes and a balsamic glaze, and its Buffalo cauliflower is one of the best—and spiciest—renditions of this staple appetizer.
Blue corn gordita from Roots
JUICE2U ORGANIC KITCHEN
2101 N.W. 33rd St., Suite 900, Pompano Beach, 954/584-2328
It's a cold-pressed juice spot specializing in "farm to bottle" liquid nourishment, but it's also a vegan scratch kitchen that serves 100-percent organic dishes prepared with love and priced affordably. In the Mac and Not Cheese, a mix of red pepper and nutritional yeast compensate for the missing dairy; the queso and bean dip, made with slow-simmered legumes, is likewise a flavorful delight. Enter the inviting atmosphere, with its avocado-colored floors and pastel painted walls, and shop a variety of health and wellness products in addition to the food, from gemstone jewelry to enzymes, singing bowls and aromatherapy.
PARLOUR VEGAN BAKERY
415 S. Federal Highway, Boca Raton, 561/617-7144
Even in non-peak dining hours, this cult favorite has queues nearly out the door, and for good reason. Its soy-based simulations of carnivorous favorites may be second to none in the Palm Beaches, from the generously seasoned and aromatic "chorizo" and "cheese" patties to the variety of empanadas, including spinach, garbanzo and "cheese," and Buffalo cauliflower and quinoa. The desserts, from elaborate cupcakes to brownies and donuts, make dairy seem obsolete.
VEG EATS FOODS
335 E. Linton Blvd., Delray Beach, 561/562-6673
Nondescript in everything but the ingredients and the flavor, the stripmall sanctuary for plant-based foodies has generated a loyal following for its seasonally changing menu of locally sourced comfort-food favorites, which work meatless magic on your taste buds. Try the smothered mushroom burger and the banh mi.
Cuban "pork" empanadas from Parlour Vegan Bakery
KEITH BERGER AND ELENA BRODSKAYA
Berger, 53, has been living vegan since 2004, and his friend Brodskaya, 43, made the switch in 2008. For Brodskaya, of Boynton Beach, reading a compelling article about veganism led to her conversion. For Berger, of Boca Raton, his cousins arm-twisted him into watching a documentary about the vegan movement, "Peaceable Kingdom."
In 2014, Berger and Brodskaya, who met through shared vegan social circles, started the nonprofit Vegan Education Group to advocate for the cause.
BERGER'S PHILOSOPHY FOR GOING VEGAN:
"The word speciesism had not been in my lexicon. It's analogous with racism being a set of unfair double standards that give one race the ability to dominate another, sexism doing the same thing by gender, speciesism doing the same thing by creating a power imbalance between one species and another. So when we have the power, we can dominate, exploit and do what we want without recrimination.
"I knew I couldn't live like that another minute. … I don't feel like I've taken any moral high ground, like I'm better than this person because they're not vegan. It's just, I'm living in accordance with my own morals and my own ethics."
HOW VEGANISM HAS CHANGED BRODSKAYA:
"It allowed me to be my own authentic self. As part of being my authentic self, I don't have to live according to societal norms, whatever they are, that dictate what I have to eat, what I have to wear."
BRODSKAYA, ON HOW VEGAN OPTIONS HAVE
EVOLVED: "Even 13 years ago, when I went vegan, there was maybe one kind of soy milk in the store, and you had to use nutritional yeast if you wanted something cheesy. You had to really be creative. There was tofu, but not much else. But now, the variety of foods is incredible, from meat analogues to cheeses and a ton of nut milks. I remember eating something 'meaty' at one point, and it tasted like grass. But now, the variety is amazing."
Celebrity Vegans
Bill Clinton, former president
Ariana Grande, singer and Boca native Jay-Z, rapper and entrepreneur Morrissey, singer and prima donna
Russell Simmons, hip-hop entrepreneur
Natalie Portman, actor Woody Harrelson, actor
Ellen DeGeneres, talk-show host
Joaquin Phoenix, actor and public eccentric
Mike Tyson, boxer and actor
Substitutions
Want to go vegan but worried about missing your creature comforts? Try these meatless solutions.
TRY INSTEAD OF
THIS
ALLIE KIRSCHNER
Artist and model Allie Kirschner, who is also the marketing director for Passport Media Group in West Palm Beach, had considered going vegan since high school and finally made the transition in August 2019. "Around that time, there were photos of the rainforest on fire going viral on Instagram and Twitter," recalls Kirschner, 26. "I did my own research and learned they were controlled fires for the beef industry." [Cattle ranching contributes to an estimated 70 percent of deforestation in the Amazon basin, according to one report.—Ed.]
"At the time, I'd been eating steak twice a week. I enjoyed it, and I was horrified that this thing I loved was in someway destroying the environment in a way I had not conceptualized. I wanted to remove myself from that problem immediately. I went vegan cold turkey—or cold tofurkey—that day. I have not looked back."
HOW BECOMING A VEGAN HAS CHANGED HER LIFE: "In the sense of how it's changed me physically, I have more energy; my nails are harder. I don't feel as slowed down after I eat. Internally and emotionally, it's made me much more compassionate. The average person doesn't consider empathizing with an animal to the degree you do a human, but being vegan puts that into perspective, where you see all life as deserving of safety, compassion and love. As a result of expanding your passion to encompass animals, your ability to empathize with humans just explodes and becomes more massive than it already was. You grow a deeper appreciation for the more beautiful parts of humanity."
HER FAVORITE VEGAN DISH: "I can think of 11 restaurants within 15 minutes of where I'm sitting right now [in West Palm Beach]. The only thing I really missed was sushi, [but] PLANTA has a full vegan sushi menu; I love going there for my vegan sushi fill."
Best Vegan Dishes at Non-Vegan Restaurants
"ALL GREEN" BURGER
WHERE: Doc B's Restaurant + Bar, 452 N. Federal Highway, Fort Lauderdale, 754/900-2401
No better veggie burger has entered my stomach than this scrumptious house-made blend of rice and kale—yes, even the oft-maligned kale is a knockout when ground into the mixture—with lettuce, tomato, pickle and spicy jalapeño aioli. Make it vegan by eschewing the cheddar cheese.
ROASTED BRUSSELS SPROUTS
WHERE: True Food Kitchen, Town Center mall, 6000 Glades Road, Boca Raton, 561/419-8105
The Very Vegan at Offerdahl's Off-the-Grill
This vegetable appetizer has become fairly ubiquitous on chichi menus, but few do it better, while keeping it vegan, than Andrew Weil's eco-conscious outpost. Added mushrooms, miso sesame vinaigrette and its most subtle touch, chili pepper threads, lend the dish its unique flair.
THE VERY VEGAN
WHERE: Offerdahl's Off-the-Grill, 17940 N. Military Trail, Boca Raton, 561/995-7355
Former Dolphin John Offerdahl was ahead of the vegan curve at his namesake Florida deli chain. For the health-conscious office worker on the go, this baguette with hummus, spinach, cucumbers, carrots, tomatoes, avocado and sunflower seeds is as flavorful as it is cruelty-free.
Roasted Brussels sprouts at True Food Kitchen
SPAGHETTI SQUASH AND BEETBALLS
WHERE: Lazy Dog, 9636 Glades Road, Boca Raton, 561/489-5607
Lazy Dog's hearty spin on mom's spaghetti with meatballs packs all the flavor but with fewer calories and carbon. Spaghetti squash and zucchini ribbons rest in a pool of olive oil, garlic and pesto, topped with beet-based vegetarian meatballs of the perfect taste and consistency. To keep it vegan, 86 the Romano cheese.
SEAN RUSSELL
Sean Russell, 40, of Fort Lauderdale is one of our region's most outspoken vegans. In 2017, he launched SoFlo Vegans (soflovegans. com), a membership-driven organization that provides "promotional services, media content and live events for the veg-friendly community in Miami-Dade, Broward, and Palm Beach County."
WHY HE WENT VEGAN: "I was really into my health. I signed up for some courses that showed you what everything does that you're putting into your body, and once you see that, you can't un-see it. So I started systematically eliminating things from my diet to the point where, if I just did a few more things, I'd be vegetarian. So I worked at a school at the time, and one of the most mellow, chill teachers I knew was vegetarian. She told me about veganism. I said, that's not far off ... Why don't I just go full steam?"
ON HOW THE LIFESTYLE HAS EVOLVED: "Even in 2013, you'd use vegan and vegetarian interchangeably, because not many people knew what vegan meant. You'd have people saying they were vegetarian when everything they were eating was vegan. I feel like the sentiment from these businesses and organizations has shifted completely, whereas now they won't say vegetarian, because enough people will stay away from it, because they think it might have egg or milk in it. That's one of the big shifts I've seen.
HIS FAVORITE DISH: "I like a rice bowl with a vegan protein crumble. I do a lot with Hodo products, a tofu product out of California. That's always been my go-to since I was a child; now I get to veganize it."