11 minute read
CROSS-DEPARTMENT COLLABORATION
CROSS-DEPARTMENT COLLABORATION At Jan De Nul we firmly believe in sharing experience and expertise: we not only encourage communication and interaction between our different divisions, we also set up new business processes promoting cooperation between our many talented employees.
OFFSHORE WIND FARM NORTHWESTER 2 - FROM DESIGN TO INSTALLATION
The subsea cables are installed by the Isaac Newton.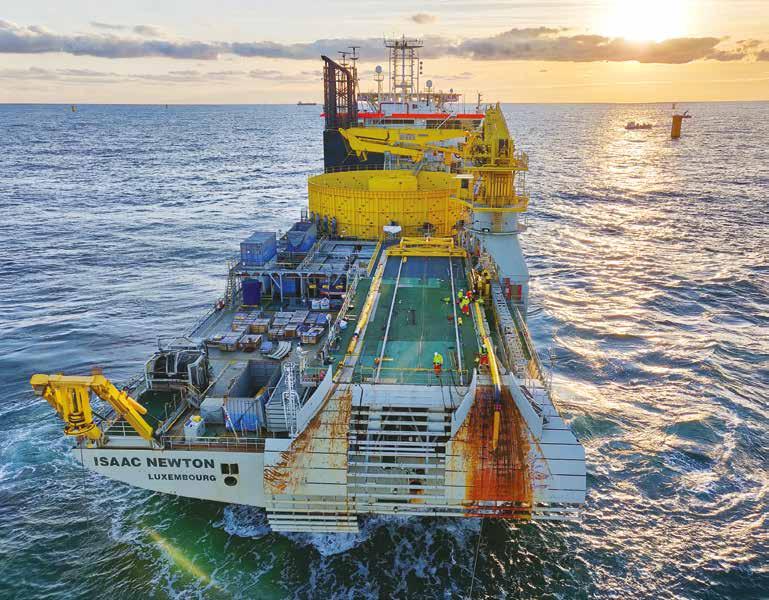 The wind farm Northwester 2, off the coast of Ostend, will have the world's most powerful wind turbines. Jan De Nul will build the entire wind farm: from its design to the transportation of the foundations and the installation of the cables and huge wind turbines.
Northwester 2, the seventh wind farm off the Belgian coast, will operate at full capacity this year. The 23 turbines have an overall capacity of 219 MW and can deliver electricity to 220,000 homes. The offshore wind farm therefore pays a major contribution to Belgium's climate ambitions.
Project developer Parkwind contracted Jan De Nul for building the offshore wind farm with a so-called EPCI-contract (Engineering, Procurement, Construction, Installation), which assigns the construction of the wind farm from start to finish to the Principal. The design, transport and installation of the foundations have been assigned to Jan De Nul. But also the installation of the cables and the turbines.
To bring the Northwester 2 project to a successful conclusion, several Jan De Nul departments joined forces. Not only because it is such a large-scale project covering both the engineering and installation phase, but also because the offshore wind farm brings together a number of different disciplines. In the procurement phase, departments such as Legal and Insurance play an important part. As also
Jan De Nul installs the most powerful wind turbines currently operational.
the budgets in the EPCI contract are entirely on account of Jan De Nul, the financial department is also an extremely important partner throughout the whole project track. In other words, the entire company was involved in the realisation of the Northwester 2 project.
The offshore wind farm marks a number of milestones. It is the first commercial wind farm using the V164-9.5 MW turbines. These are the most powerful wind turbines currently operational. Worldwide. No other installed turbine has a larger capacity today. A real technical masterpiece. The transport and installation of such powerful turbines also present additional challenges. Especially for this project, the offshore installation vessel Vol au Vent was equipped with a brand new monopile gripper. A new gripper that aids the installation of 23 of these giants in water up to 40 metres deep in the North Sea.
The Vole au Vent installs the monopile foundations.
The Simon Stevin protects the installed subsea cables with a rock covering.
Northwester 2 is the seventh project in the Belgian North Sea and the fourth Parkwind project.
Turbines • Foundation: Monopile • Rotor diameter: 164 m
Location • Depth: 25 to 40 m • Distance from shore: 51 km • Area: 12 km² • Total capacity: 219 MW • Number of turbines: 23 • Capacity/turbine: 9,5 MW • Wind turbine type: Vestas 164 • Operational: 2020
FROM THE DEEP BLUE SEA TO DARK TUNNELS AND VICE VERSA
Imagine the risk. Think of a plan. Act and execute the plan. Throughout the different divisions of Jan De Nul, the ITA programme sets up process to increase efficiency and avoid incidents. The crossdivision leadership visits fit perfectly into this programme: two colleagues from two different divisions following one another for a whole day on their respective territory and picking up new and useful experiences.
What can a captain on a dredger and a project planner for tunnel works learn from one another? Today, Johan De Backer is working as cable pull supervisor in Taiwan, where Jan De Nul is building offshore wind farms. Previously, he was the captain of the dredger Hondius. Sam Van Cauter monitors the quality of the works in the Leopold II tunnel in Brussels. Last summer, Johan and Sam followed one another for a day within their respective work environments.
What did you learn from this experience?
Johan: "When you do the same job for a long time, things may start becoming repetitive. You develop blind spots, risks that you no longer see or start underestimating. A fresh look on things can help. Can this be done more safely? Can it be done differently? It is from this perspective that we looked at each other's activities."
Sam: "Safety requires our permanent attention. But in the Leopold II tunnel, we work under major time pressure and face many variables, every single one of them entailing specific risks: many people, limited space, different contractors and several subcontractors. All with their own role and
Werkvoorbereider Sam Van Cauter en scheepskapitein Johan De Backer in de Leopold II-tunnel
"It is always useful and instructive to exchange experiences between totally different worlds."
Sam Van Cauter, Work Planner
responsibility. Johan has already pointed at a couple of items that require our attention. For instance, we've fitted in extra railings in different places to reduce the risk of falling."
Johan: "It was more than a courtesy call. We both benefited from each other's tips and comments."
Did you take certain lessons back to your own work area as well?
Sam: "For sure. I noticed that the crew on a dredger pays a lot of attention to prevention and preparation. For instance, they always have containers ready for being immediately able to counter an oil or other leak. We also work with heavy machines. So, these oil spill containers may also be a good way to anticipate this risk on our domestic construction sites."
Johan: "Of course, a ship is something completely different than a tunnel. I'm at sea, Sam is underground. You can't just copy-paste your approach. But it is always good to come out of your comfort zone once in a while. It keeps you alert."
Is such cross-division leadership visit worth repeating for you both?
Johan: "Jan De Nul has grown enormously in recent years. The company is active in various domains, in an increasing number of countries across the world. It is fascinating to look over the fence now and then and see what your colleagues are doing."
Sam: "It is always useful to exchange experiences. Even if it concerns two very different worlds, we've both noticed that we can still learn from one another. I wouldn't mind paying you another visit, Johan, to check what you are doing there in Taiwan."
JOINING FORCES TO BUILD THE WORLD'S LARGEST INSTALLATION VESSELS
To boldly go where no man has gone before. That is exactly what Jan De Nul does with the Voltaire and Les Alizés, the world's largest and most powerful installation vessels of their kind (one on legs, one floating) that will build the next generation of offshore wind farms. Offshore Renewables, Newbuilding, Finance: various Jan De Nul departments have joined forces to bring this mega-project to a successful conclusion. From its earliest concept up to the vessels' launch.
Global concern for the imminent climate change has given wind energy an enormous boost. The demand for offshore wind farms is increasing exponentially.
Philippe Hutse | Offshore Director: "It is not only the increasing demand that poses major challenges for us. The newest generation of wind turbines is also becoming ever bigger, up to 270 metres high and with blades of 120 metres long. As a result, the foundations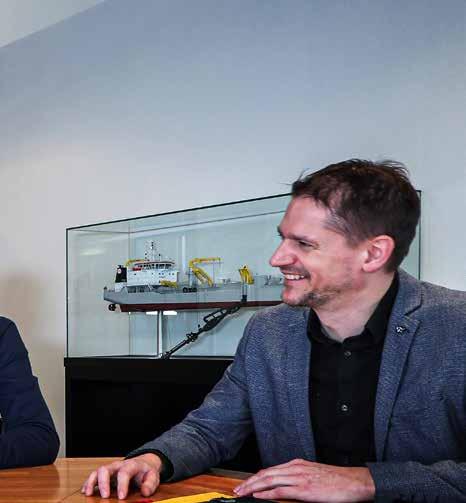 "If we want to continue playing a leading role on the offshore energy market, we need bigger and more powerful installation vessels. That was the trigger for developing our new vessels, the Voltaire and Les Alizés."
Philippe Hutse, Offshore Director
From left to right: Robby de Backer, Aderic Nuytinck, Philippe Hutse, Koen Marchand
must become increasingly massive. The offshore installation vessels currently available on the market are facing ever more difficulties to install this new generation of wind farm components."
Koen Marchand | Operations Manager Renewables
Department: "We've conducted in-depth analyses of our market and our competitors. Offshore wind farms are prepared well in advance, you should easily count on a five-year term before a farm can be actually built. The trend to build ever bigger and heavier turbines, blades and foundations, will continue in the future. A couple of years ago, we installed turbines with a capacity of 4 MW, and soon we will now install 12 MW turbines. Developers are already aiming at 15 MW or 20 MW turbines, with accompanying components. This trend will not go on forever, but for now we haven't yet seen the end of this evolution."
Philippe: "At Jan De Nul, we are perfectly aware of what we can and cannot do. If we want to continue playing a leading role on the offshore energy market, and within the offshore wind segment in particular, our current fleet is no longer adequate. We need bigger and more powerful installation vessels for this next generation. That was the trigger for developing our new vessels, the Voltaire and Les Alizés."
• Jack-up vessel (jack-up platform on four legs, can lift itself from the water surface to create a stable work environment) • Main crane of over 3,000 tonnes • Operational depth of up to 80 metres • Twice as much deck space as existing jack-up vessels
FUTURE-PROOF, FROM CRANE TO CABIN
Robby de Backer | Newbuilding Director: 'What are the criteria that a newly built vessel must meet to anticipate future needs? We took this question to our Newbuilding department. We translate the set of requirements into concrete specifications: deck size, the working depth of the ship, capacity, minimal emission values (even more important for offshore renewables than elsewhere), etc. From fundamental decisions – how many thousand tonnes must the crane be able to lift? – to where in his cabin can the captain leave his toothbrush. We then enter all these specifications into a first preliminary design. Designing such a ship is a very interactive process: designs go back and forth between the various departments involved all the time."
Philippe: "We then take these designs to the market again. We check which tenders are in the pipeline, consult with clients, assess whether or not there is sufficient demand. This is crucial, of course. For the Voltaire, the first agreement has already been signed. The installation vessels are, in first instance, designed to install offshore wind farms but of course they can also execute other offshore projects, think of the installation of offshore substations and the decommissioning of existing offshore structures or retired offshore wind farms."
Robby: "Every project is different. What it comes down to for every specific mission is making the interface between ship and equipment as cost-effective and future-proof as possible. We cannot entirely rebuild our installation vessels for every new offshore wind farm. The gigantic range of equipment that is typical of an installation vessel must be quickly adaptable to a wide range of projects."
GREEN LOAN FOR HUGE INVESTMENT
Aderic Nuytinck | Financial Manager: "Obviously, financing is a crucial part of this mega-project. Investments of this magnitude require a comprehensive financial analysis that
• Floating installation vessel (can also install foundations in deeper waters and into more challenging sea beds) • Main crane of 5,000 tonnes • Deck loading capacity of 61,000 tonnes • Also suited for dismantling platforms at sea
takes into account the company's overall investment programme as well as the current and expected market conditions. We did not rush into things. We've done our homework thoroughly."
Aderic: "Two brand new offshore installation vessels that will play a leading role in achieving global energy transition objectives. This investment perfectly fits the bill for a green loan. To strengthen our climate change ambitions even more, we concluded a green loan of 300 million euro with a consortium of five banks. This green loan is subject to very strict conditions. Both during the construction of the installation vessels and after their delivery, we must report – together with an independent external expert – on the technical specifications and activities of both vessels. This means that as the company's financial department we already needed quite a lot of information about the technical features and operations of the vessels when we were setting up the financing for them. This close cooperation with the departments za and Offshore Renewables will be continued in the years ahead."
OPERATIONAL IN 2022
Robby: "The construction of the Voltaire and Les Alizés will take about three years. The engineering phase is entering the home straight, with the construction works at the shipyards in China starting before the summer of 2020 and be completed in 2022. But even during the construction of the vessels, we will closely monitor the market evolutions. If new needs emerge, we can still make adjustments. The story has had an excellent start, and for Jan De Nul the Voltaire and Les Alizés will be a never ending story."
The Voltaire and Les Alizés will be the first seaworthy installation vessels with extremely low emissions.