3 minute read
Point of Interest: A Legendary Sandwich Tradition
By Haley Banwart | Photos by Joseph L. Murphy
Taylor's Maid-Rite in Marshalltown has served their signature loose meat sandwich for more than 90 years. The iconic creation is freshly ground hamburger, prepared to crumbly perfection in a cast-iron cooker, carefully mounded on a soft, white bun and served with mustard, pickles and chopped onions.
The Maid-Rite sandwich first appeared on menus in 1926 when Fred Angell, a butcher from Muscatine, crafted his recipe and later franchised the idea.
In 1928, Cliff Taylor purchased the franchise rights and opened Taylor's Maid-Rite Hamburger Shop in Marshalltown. The Taylor family ran day-to-day operations of the restaurant, including baking pies at home and hand-slicing whole pickles from Marshall Vinegar Works and buns from the local Strand's Bakery.
Since then, four generations of the family have operated the shop in the same friendly, hometown fashion. Current co-owner Sandra (Sandy) Taylor Short has fond memories of growing up in the family business.
"I washed dishes while standing on top of a pop case because I wasn't quite tall enough to reach the sink," she recalls. "In 1958, my folks built a state-of-theart building across the street from the original shop. I still remember moving everything to the new location in the middle of the night to avoid street traffic."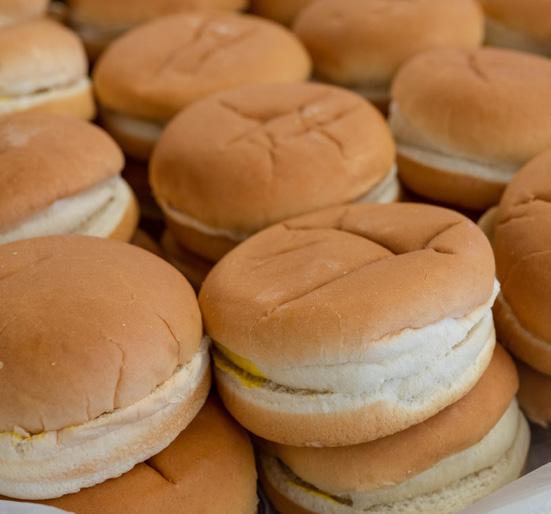 The Original Fast Food
Today, loyal patrons and visitors enjoy the great taste of local tradition in the same cement brick building Short's parents built. Not much has changed at the restaurant, but to many, consistency is what gives this family-owned eatery its charm.
"Whether people grew up in Marshalltown or stopped by for a visit, Taylor's Maid-Rite sticks in their memories. There's something nostalgic about the experience," says Lynn Olberding, president and CEO of the Marshalltown Area Chamber of Commerce. "Their products and service are legendary, and the employees are treated like local celebrities." For newcomers, a trip to Taylor's Maid-Rite can feel like a step back in time.
Twenty-nine iconic red bar stools line the horseshoe-shaped Formica counter – once a dark brown, now turned white from years of wear.
At the center of the small hub, employees tease the taste buds of hungry customers who watch as sandwiches are prepared to the steady hum of malts and milkshakes being made in the background.
All orders are placed off a singlesandwich menu. The limited selection is a testament to the Maid-Rite's popularity as an oldfashioned, unseasoned sandwich crafted with quality choice beef.
"We're the original fast food," Short jokes. "We like to keep things simple. That's just what we do."
While simplicity is key, there are a few variations of the famous Marshalltown Maid-Rite worth noting. Customers can order the sandwich "wet" (which means the loose meat is served with extra beefy drippings), add a slice of cheese or help themselves to ketchup on the counter, though some say ketchup masks the flavor.
According to Short, a Maid-Rite, malt or a slice of pie "that tastes as good as grandma's" are some of the most popular orders.
"If you ask for fries, we'll know you're a first-timer," she says. "We've always served chips instead of fries."
Keeping the Tradition Alive
When asked what keeps customers coming back to Taylor's Maid-Rite, Short ventures it's the "good food" and "fine help."
In addition to serving thousands of sandwiches to hungry patrons every year, Taylor's Maid-Rite gives back to the community through donations to various businesses and nonprofit organizations.
For example, when a devastating tornado ripped through the city's historic town square in 2018, Short and her team donated provisions from the restaurant's walk-in freezer to the Salvation Army and delivered sandwiches to the local hospital and fire department.
When disaster struck the community again in 2020, this time in the form of a powerful derecho, drivers waiting in line at one of the town's only gas stations were treated to a Taylor's Maid-Rite.
"Despite these natural disasters and the pandemic, Taylor's Maid-Rite has turned on their lights, opened their doors and continued to serve patrons," Olberding adds.
Get a dozen Taylor's Maid-Rites delivered to your door! Enter to win at iowafoodandfamily.com/ magazine/sandwich.
To view the full spread, view this magazine in your internet browser on your phone, tablet or desktop.