11 minute read
Mangakahia Complex Newsletter November 2019
Mangakahia Community & Sports Complex NEWSLETTER November 2019
(09) 4346923
Like us on facebook https:/www.facebook.com/mangakahiacomplex/
mailto: mangakahiasportscomplex@gmail.com
www.mangakahiacomplex.org.nz
--------------------------------------------------------------------
CENTRE NEWS
Our winter sports codes have wrapped for another season with Touch Rugby now running every Thursday leading into the Xmas / New Year period. The various group fitness programmes will also continue until mid- December.
October was of course Local Body Election month and we would like to acknowledge the huge contribution retiring Councillor Sharon Morgan has made to the Mangakahia Complex and the Mangakahia - Maungatapere ward. She is a dedicated and hard-working member of the Complex committee and was always a strong advocate and representative for our community. Thank you Sharon for the many years of service you provided as our Councillor and Deputy Mayor.
Congratulations to Simon Reid, our new representative, and we look forward to continuing a strong and collaborative relationship with Council.
---------------------------------------------------------------------
UPCOMING EVENTS
Mangakahia Sports Ground Society Inc.
NOTICE OF ANNUAL GENERAL MEETING
Mangakahia Complex - 7:00 pm Tuesday 19th November
The AGM for the Mangakahia Complex Committee will be held on 19th November 2019 at 7 pm. The committee is responsible for the day-to-day operation of the Complex and for the strategic planning of it's future direction. We are keen to have a committee representing the diversity of our community and encourage new members to come and join this hard-working team.
--------------------------------------------------------------------
COUNTRY MEALS AT THE COMPLEX
November 8th Mangakahia Lions Club
December 13th Titoki Playcentre
February 14th Mangakahia Squash Club
Held 2nd Friday of each month Come along and support our local clubs and groups.
Two course meal (main & dessert) Price range $17 for a steak meal to $2 for a hotdog. Great value and an opportunity to catch up wit h friends and family.
Orders taken from 6:00 pm
***ALL WELCOME***
---------------------------------------------------------------------
MANGAKAHIA GARDEN RAMBLE
MANGAKAHIA LIONS CLUB
This year we are celebrating 50 years since our club was formed. The Lions Charter was signed on 1st December 1969 and had 26 members.
The first working bee provided picnic facilities at the Wairua Falls. Over the years fundraising has taken many forms, such as the golf tournament in 1970, at the Mangakahia Golf Club in Pakotai. It should be noted the first golf course in the area was on a dairy farm in Parakao, so the "rough" would have had a totally different meaning to today's courses. Collecting scrap metal in the area also raised $450 in 1970, which went to the Kamo Old Folks Home.
We commemorated our 50 years history on 19th October with a reunion dinner, which was attended by about 100 past & present Mangakahia Lions members & partners, including three charter members.
The club has remained strong, with satisfaction coming from helping the community, and the associated camaraderie and fun.
So right from its inception, the club has provided huge support to the community and we have raised hundreds of thousands of dollars over the years.
The upcoming Country meal on 8th November will be hosted by the Lions who not only provide excellent salads, but also entertainment for the children.
We look forward to seeing you there.
If you would like to be part of the team, please contact: Ray Webb on 027 274 3860
---------------------------------------------------------------------
MANGAKAHIA RUGBY CLUB
The season has finished for our juniors. We had another very successful year which saw Mangakahia Junior Rugby field 12 teams, one of which was the club's first all girls team and a total of around 150 players.
We will be holding our junior rally day for the 2020 season during March so please keep an eye out on our Mangakahia Rugby FB page for more information, but until then, enjoy the approaching summer season!
The Past v Present game was played at the end of September. An enjoyable game played in great spirit with the Present team taking the win and receiving the Josh Shelford trophy for their efforts. The Senior team will be looking to start their pre-season training early in 2020. Keep an eye on the Facebook page for starting dates.
Touch is underway at Mangakahia on a Thursday night. Games start at 4:30pm with the kids rounds. 20 kids teams from grades U8 through to U14. 8 Open adults mixed teams, with games from 6:00pm. The bar and kitchen are always open so come along and enjoy the community atmosphere.
MANGAKAHIA GROUP FITNESS
Body Pump Tuesday 6pm
Feel good for summer
Last class for 2019 10th December
Starting again on 11th February 2020
Contact Jan on 434 6308 or 027 431 5416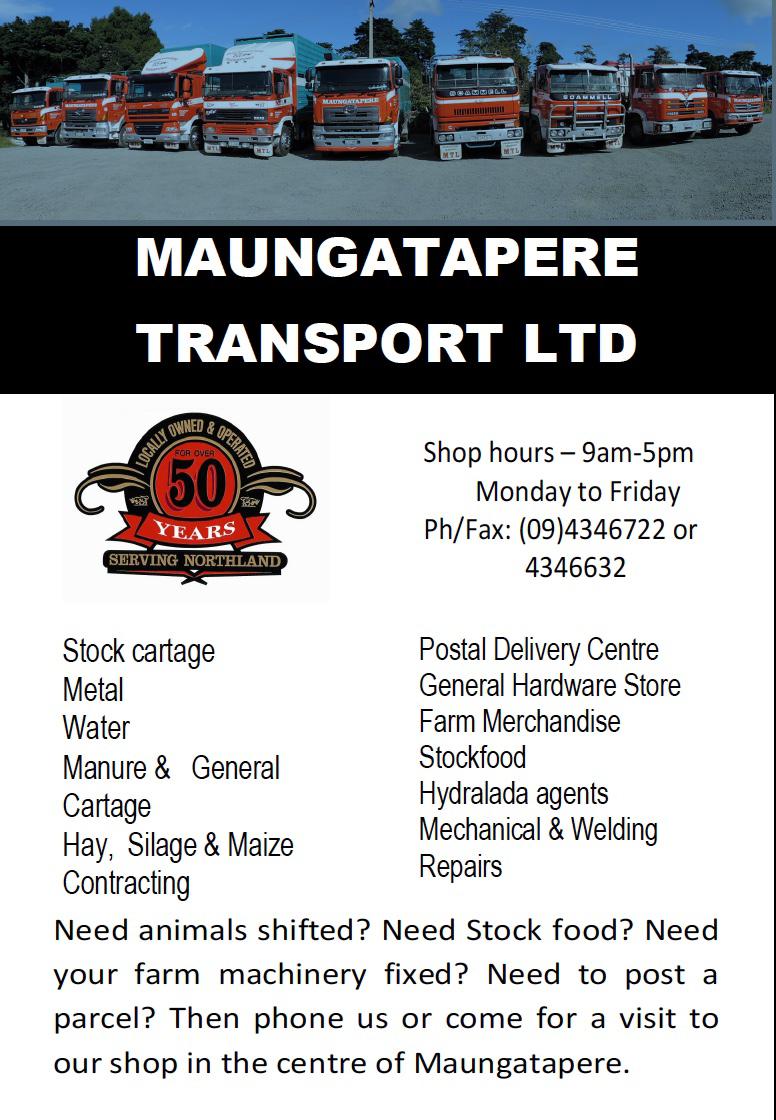 MANGAKAHIA GARDENING CLUB
The Mangakahia Gardening Club recently celebrated it's 65th birthday.
The "Big Day In" at the library saw members busily making bouquets to give away and helping children with the posies they put together to take home. Great to be able to bring a smile to so many recipient's faces.
We are looking forward to the upcoming Mangakahia Garden Ramble on Sunday 17th November.
Six members of our club will be showcasing their gardens in the ramble. It is a wonderful opportunity for us to support the Complex fundraising, and the proceeds will be used to give the outside of the Complex building a face lift.
Our green fingered gardeners are busily growing plants to sell on our sales table which will be situated at the McBeth Road garden during the ramble. Please come along and see what treasures we have for sale on our stall and enjoy the gardens which will be at their peak mid-November.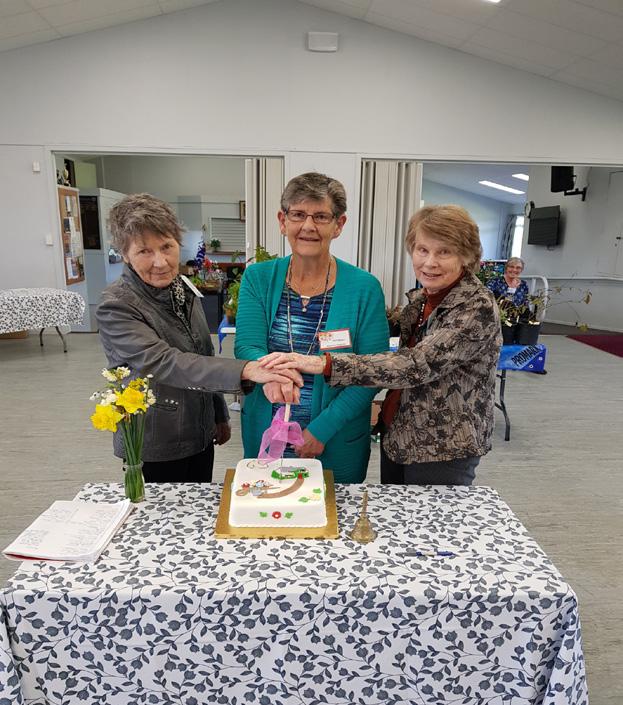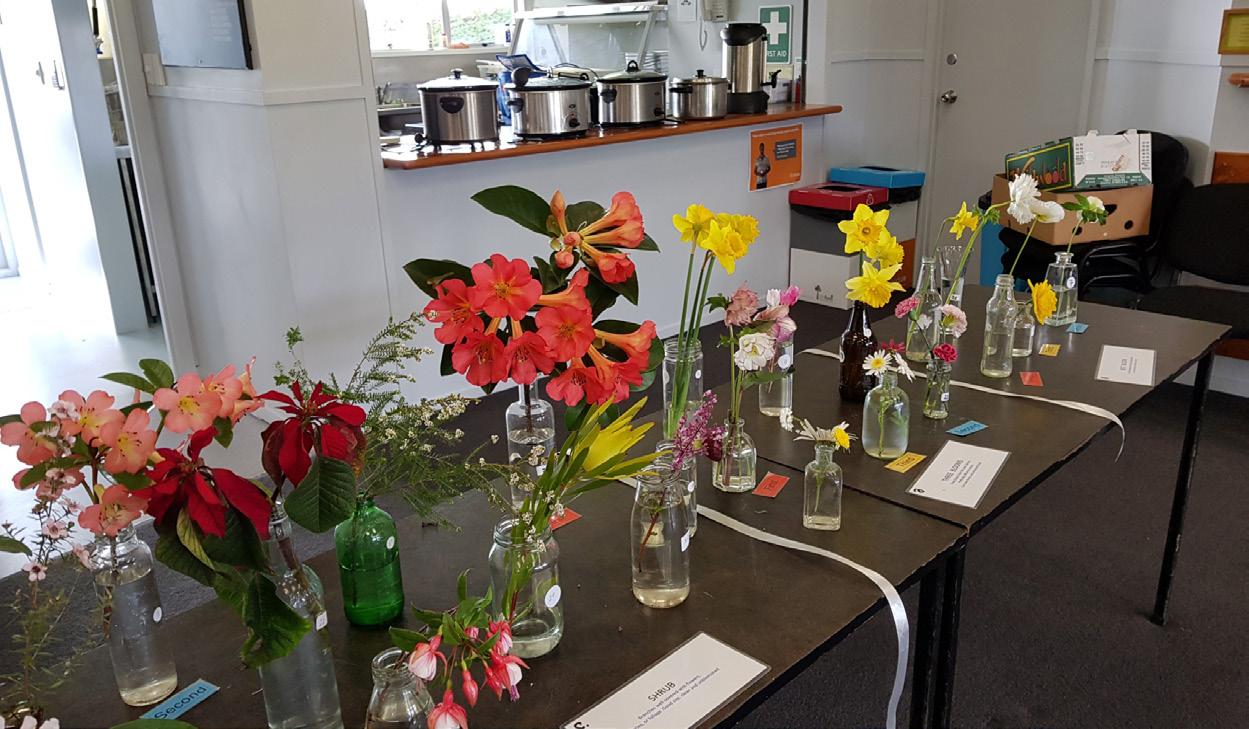 Happy Gardening
Catherine Davies-Colley                   Co-convenor 021 974 358
Gayle Farrell                                       Co-convenor 027 470 5354
---------------------------------------------------------------------
MANGAKAHIA SQUASH CLUB
The Mangakahia Squash Club recently hosted the Champ of Champions tournament.
Congratulations to the following club members who all took away Northland Grade titles:
Michelle Ruddell - F Grade women
Andrew Booth - F Grade men
Hayley Taylor - E Grade women
Troy Ruddell - E Grade men
Rachel Aratema-Owen - D Grade women
They join the Northland team to compete at the National Grade tournament in Ohakune.
Congratulations to our D Grade women's team who were placed 3rd in the Super Champs (National teams event) tournament, held in Whangarei. Our men's E Grade team, who competed in Wellington for their tournament, finished 4th, an awesome effort.
The Squash season is coming to an end with Club champs taking place and finals being held on Wednesday 30th October followed by prize-giving. The off-season is a great time to "have a go" at Squash and the club will be running a "beginner Women's" night on Monday's for 4 weeks.
If you are interested and would like to know more please contact: Hayley Taylor - 021 262 1674
Next year's season kicks off early February followed by our country meal - check the next newsletter for details.
We look forward to seeing you all then.
---------------------------------------------------------------------
MANGAKAHIA JUNIOR SOCCER CLUB
We have had a strong season and our club was represented by grade 5-8 (pictured), grade 9, grade 10 & grade 11 teams. It was great to see players returning from last year and awesome to have many new players joining us. We also welcomed two new coaches.
Our prizegiving in September concluded our season and was an opportunity to recognise our many achievements. Players are taking a well earned break and we hope to see them all back for a new season next year.
Thank you to our players, coaches, volunteers and supporters who have made this such a successful season.
---------------------------------------------------------------------
LIVESTOCK SCHEME
Once again, thank you to all who have supported our Livestock Scheme.
We aim to secure at least eight calves a year and these are taken through to approx. two years of age with the help of rearers and grazers. This results in around $12,000 a year which is vital to the running and upkeep of the Complex buildings and grounds.
Some of the possibilities available to those wishing to help are: Donating the proceeds of a boner cow or animal sold through the sale yards. Donating a weaner calf, or grazing an older animal for one or two years. All offers of support will be gratefully received
If you would like to help in any way please call Dave Hodgson 027 2269750 or Craig McMillan 433 1898
---------------------------------------------------------------------
If your community group, club or business would like to be added to this page please phone Sylvia on 021 793073 or email mangakahiasportscomplex@gmail.com
Business advertising rates (excl GST): $25 per year for single line listing or $25 per newsletter for display ad
<><><><><><><><><><><><><><><><><><><>