16 minute read
Mangakahia Complex Newsletter July 2019
Mangakahia Community & Sports Complex NEWSLETTER July 2019
(09) 4346923
Like us on facebook https:/www.facebook.com/mangakahiacomplex/
mailto: mangakahiasportscomplex@gmail.com
www.mangakahiacomplex.org.nz
---------------------------------------------------------------------
CENTRE NEWS
We may be in the midst of winter but things certainly haven't slowed down at the Complex. As well as our usual winter sports codes being in full swing there have been a number of significant improvements completed.
The first is the newly installed playground which is already being well used by our younger community members. The blessing was held a few weeks ago but the formal opening will be held as follows:
10 am Saturday 3rd August
Come along and celebrate this new addition to our district.
A full re-fit of our kitchen has also been completed and what a difference this has made. With a smart new commercial kitchen we are now able to provide a much improved service and is a great asset for all functions. Come and check it out at one of the Country meals held on the 2nd Friday of every month.
And the final project completed recently has been the upgrade of the internal stairwell to the upstairs lounge / clubrooms. The original stairwell was removed and a new, wider stairwell installed.
The foyer and stairwell have been re-painted and carpet laid through both areas.
We have also been pleased to host U18 Girls Club Rugby during May & June. The girls represented teams from Kaikohe, Dargaville, Wellsford, and Kerikeri and played on Monday evenings - a great commitment by these clubs for the time and dedication to attend these games.
Women's & Girls rugby is in a growth phase and there is definitely exciting talent at this level.
---------------------------------------------------------------------
Farewell to Don & Annie Draffin
We were saddened by the recent passing of Don & Annie Draffin, within days of each other.
Don was a long-time supporter of the Complex and is a life member. During the construction of the Complex, Don was there almost every day making a valuable contribution, and for many years he was the "Go-to" man, who knew the intricacies of plumbing, power and the Complex's operation.
Annie also put a lot of effort into the running of the Complex and was part of the Ladies Committee, which did catering, decorating & other funding activities.
A Celebration of Life was held at the Complex to commemorate Don & Annie and was attended by a wide range of the community.
---------------------------------------------------------------------
*** UPCOMING EVENT ***
Lions 50th Jubilee Celebrations
We will be holding our 50th Jubilee Celebrations at the Complex on Saturday 19th October 2019
There will be a celebration evening meal with some reminiscing.
If you are a past member, or know ex-Lions members living outside the District can you please contact:
Ray Webb (09) 434 6898                                        email: webbrs@xtra.co.nz
--------------------------------------------------------------------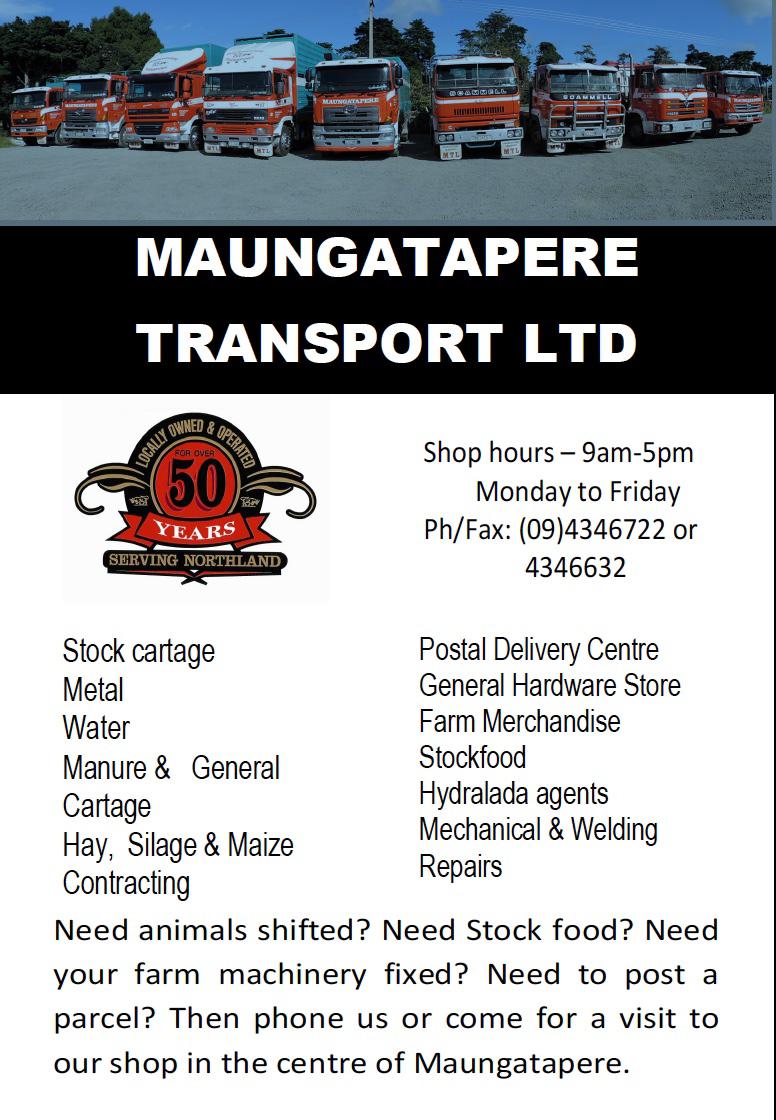 MANGAKAHIA SQUASH CLUB
Mangakahia Open Squash Tournament 3rd - 5th May   *****************************
Mangakahia Juniors Tournament 8th - 9th June   **********************************
We have held two successful tournaments in the last few months.
Our senior tournament held in May was well supported, with a quality draw of players. Congratulations to our Open Men's and Women's winners:
Brent Lewis (Mangakahia)
Delwyn Houlihan (Whangarei)
We also had a successful junior tournament and it was great to see the number of Juniors participating. There have been a large number of children join up for our Kiwi Squash programme running on Monday afternoons and many of them entered the tournament.
A huge thank you to our major club sponsor, McCoy & Thomas Hunting & Fishing Whangarei, and to all our other club sponsors.
Mangakahia are trying to get Women's D grade and Men's C & E grade teams to the Nationals. Northland qualifying matches take place in July and we wish the teams all the best.
Club nights are the place to be in winter, with plenty of great games being played each Wednesday. Jay has the bar open with food available, so spectators are welcome, as are new players. A good time to join, as Squash is the best winter sport option, an awesome workout without getting wet!
For more information contact:
Wayne Brown 021 853551 or
Hayley Taylor 021 2621674
---------------------------------------------------------------------
MANGAKAHIA GARDENING CLUB
Winter has well and truly arrived, and all those seasonal tidy up jobs in the garden await. Over the autumn our members shared three very successful propagation days. During these days we go round each other's gardens taking cuttings and sharing plants, laughs, and a cup of tea.
Gardening Club is bustling along with our winter program. At the end of June we were at the Whangarei Library for Lonely Bouquet Day, and in July we are celebrating 65 years of Mangakahia Gardening Club. This celebration will take place at our Charity Lunch. Our winter program consists of demonstrations and speakers as it is a little cold and damp to be out visiting gardens at the moment.
Our current membership is 70.   All are welcome and we meet the 2nd Thursday of the month at the Mangakahia Complex.
Happy Gardening 🌻🌺🌿🌼🍁
Catherine Davies-Colley                                               Co-convenor 021 974 358
Gayle Farrell                                                                     Co-convenor 027 470 5354
MANGAKAHIA LIONS CLUB
The Mangakahia Lions Club held a mixed fund-raising Golf Tournament on 6th April at Sherwood Park Golf Club. Thanks to a huge sponsors list including many local businesses, and a record field of golfers, we raised around $8000. These funds were used to purchase an Automated External Defibrillator (AED) for the Mangakahia Sports Complex, with the balance donated to Open Arms Day Centre in Whangarei.
Two AEDs have been installed, one at Gas Maungatapere, and the other at the Mangakahia Sports Complex at Poroti. The one at Mangakahia Sports Complex is attached to the wall of the building facing the main carpark with the public toilets. There are easy step-by-step prompts to follow on the AED
Our Club had a final working bee on the Maungatapere Inter-Denominational War Memorial Church project on Wednesday, 29th May, completing planting and general tidying up of the grounds. This project has been completed over a two-year period and has been recognised nationally. Deputy Mayor Sharon Morgan's cushion ladies will provide the finishing touches by the end of the year.
Ray Webb is the President of Mangakahia Lions for the next year and welcomes enquiries regarding membership. He can be contacted on phone 434 6898
-------------------------------------------------------------------
I partner with clients to build tailored investment portfolios based on their needs.
Speak with Scott today 09 438 1988 | craigsip.com scott.chapman@craigsip.com
Craigs Investment Partners Limited is a NZX Participant Scott Chapman is an Investment Advisers at Craigs Investment Partners.     Adviser Disclosure Statements are available on request and free of charge. Please visit craigsip.com
---------------------------------------------------------------------
MANGAKAHIA JUNIOR SOCCER CLUB
The soccer season is going well with lots of under-8 year olds playing this year. We have also fielded teams in 9th, 10th & 11th grades.
We cater for boys and girls, aged 5 - 12, and all enquiries are welcome.
Our annual fundraiser dinner will be held at Mangakahia Complex on Friday 9th August so come along and help support our budding All Whites & Football Ferns.
For further details or info please contact Susan on 022 152 4175
---------------------------------------------------------------------
Y O G A
 #### with Radhe ###
Mangakahia YOGA             Mangakahia Sports Complex (upstairs lounge)                         MONDAYS 6—7.15 pm
Bank St YOGA                               Te Aho o Te Kura Pounamu, 151 Bank St                                             TUESDAYS 5.15—6.30 pm
Kara Kokopu YOGA                     Kara Kokopu Hall, Maungatapere WEDNESDAYS 6—7.15 pm 
 e: shraddhayoganz@gmail.com   m: 027 392 8220
---------------------------------------------------------------------
Unclaimed Property
There are a number of items that have been left behind after various events, including a large number of plates, bowls etc. If you recognise any of these items or are missing other items please contact Sylvia on 021 793073
MANGAKAHIA RUGBY CLUB
Our club fundraising dinner was a great success and was an entertaining evening with our guest speaker Buck Shelford.  A huge thank you to all our sponsors and supporters for this event.
Congratulations to our Senior team who had a fantastic season. They contested the Bayleys Club Rugby Championship (South Zone) final at Toll Stadium on 13th July and narrowly lost to Mid Western 38 - 30.  An outstanding result from our team.
Junior Rugby have also had a big season. A great Club Day was held at Mangakahia Complex on 15th June. With 12 junior teams playing from under-7 through to under-13, there were plenty of skills on show. It was also an opportunity for our local community to watch our inaugural Mangakahia All Girls under-7 team. Our next Club Day is on 3rd August so come along and support our junior players.
Junior Rugby prize-giving will be held at Mangakahia Complex from 6pm on Thursday 5th September.
And finally, congratulations to the following Mangakahia players who have made the Whangarei Bears rep team: Tokoaitua Owen, Josh McRae, Logan Donnelley, Reef Sofala, Pryce Davidson, Kody George, Connor O'Neill
COUNTRY MEALS AT THE COMPLEX
August - 9th Mangakahia Junior Soccer Club
September 13th - Kokopu School
October 11th - Mangakahia Gardening Club
November 8th - Mangakahia Lions Club
Held 2nd Friday of each month.  Come along and support our local clubs and groups.
Two course meal (main & dessert)  
Price range $17 for a steak meal to $2 for a hotdog. Great value and an opportunity to catch up with friends and family.              
Meals served from 6:30pm
---------------------------------------------------------------------
Friends of the Mangakahia Loop
This group is under the umbrella of the Complex. We look after the amenity planting within the grounds.
Last year, Friends of the Mangakahia Loop added a few more ornamentals to the loop, (some of these were donated by Mangakahia Gardening Club), and planted a wide native windbreak under the existing Cryptomeria's on the west boundary.
With the arrival of winter comes a new tree planting season. This year's plan is to plant the area in the far left of the fields, where the park meets the school and marae. These areas need lots of preparation which involved a couple of days with a digger moving hundreds of rocks and tons of rubbish and reshaping the piles of soil.
This work has been completed and 30 m 3 of donated mulch has been carted in ready for planting in July & August.
Contacts for Friends of the Loop    Gayle Farrell 027 4705354      Dave Davies-Colley 027 4974358
MANGAKAHIA GROUP FITNESS
Body Pump - Tuesdays 6pm
Les Mills routines - Qualified Instructor - Great music
Fun atmosphere with expert tuition.  All skill & fitness levels - you proceed at your own pace Equipment provided - just BYO water & towel
Only $10 per person (student discounts) or $80 for 10-class concession card
For more info contact                 Jan on 434 6308
---------------------------------------------------------------------
Be Connected
AFFILIATED CLUBS
Mangakahia Sports Complex 434 6923                     Mangakahia Gardening Club 434 7660                       Mangakahia Group Fitness 434 6308                         Mangakahia Junior Soccer 022 1524175               Mangakahia Lions 434 6864                   Mangakahia Rugby 027 6875363                                 Mangakahia Squash 027 853551
OTHER LOCAL CLUBS
Maungatapere Bowling Club 434 6392                     Maungatapere Valley Aquatics 434 7723                   Poroti Outdoors Club 434 6856                               Tai Kwan Do 434 6340                                           Whatitiri Clay Target Club 434 6260 or 027 1723630
EDUCATION - SCHOOLS
Kokopu 434 6765                                               Mangakahia Area 433 1702                   Maungatapere 434 6743                                   Maunu 438 8060                                                   Otaika Valley 432 2731                                         Pakotai 433 1727                                                       Poroti 434 6867
BUSINESS
AJ Accounting Services 021 771557                            JL & SJ Bazil Painters 434 6208                         Kevin Trumper (Electrician) 027 4934572                 Maungatapere Transport 434 6722 or 434 6632      Northland Plants 434 6864                           Rawleighs Distributor 434 8110 or 027 4287583
PRE-SCHOOLS
Maungatapere Playcentre 434 6451                       Portland Kindergarten 432 2533                                 Titoki Playcentre 027 6993021
MARAE
Korokota 021 501516                                   Maungarongo 027 2704067
<><><><><><><><><><><><><><><><><><><>