12 minute read
Enjoy a better, healthier you through Dr. Toni Brayer's integrative ap proach to holistic healing.
HAUTE SEAT
HEALTHY HORIZONS
DR. TONI BRAYER TALKS HOLISTIC HEALING
Have you ever considered integrative medicine? Dr. Toni Brayer, one of the lead physicians of Sutter's Institute for Health & Healing, thinks you should. "Integrative medicine is absolutely critical to global health. It's up to us now how to steer our healthcare system in new directions," she says.
At IHH, Dr. Brayer, as inspiring as the medicine she practices, joins colleagues to guide patients to wellness by looking at the entire person—mind, body, and spirit—knowing that "illness (disease) reflects an imbalance within the whole." To find the deepest meaning of health and healing, IHH uses ancient medicine for modern times. They practice team-based care which relies on physician and patient collaboration. We sat down with Dr. Brayer to find out why integrative medicine may be the key to transforming healthcare.
HL: What are some types of holistic healing which readers may have heard about, as well as some that may be new to them? TB: We are in a period when there is a striking public interest in integrative medical care. Finally, studies are showing the benefits with improved outcomes. At IHH, we are true scientists who are open to incorporating well-documented, new knowledge into our medical practices. We are talking about Chinese medicine, acupuncture, psychotherapy (including trauma work), qi gong, breath work, meditation, massage and other forms of body work, chiropractic, guided imagery, nutrition, and, of course, primary care. Many people may have heard about all these forms of holistic healing, but it is most powerful to have them under one roof, working together. In fact, that is the key. We practice integrative medicine by bringing the patient back to the center and working deeply with them to empower their healing process. Because we are part of Sutter Health, we can coordinate so our patients have the benefit of the best specialists, surgeons, and cutting-edge medicine, if needed. Integrative medicine generally has been thought of as alternative, but that viewpoint is changing. IHH is specifically part of a very large, sophisticated medical system. We refer patients to specialists, surgeons, and cutting-edge Western medicine within that system when needed for the best course of treatment.
HAUTE SEAT
HAUTE SEAT
HOLISTIC HEALING IS WHAT HAS BEEN AROUND FOR CENTURIES. BY AND LARGE, WE HAVE FORGOTTEN THE WISDOM OF THE INDIGENOUS. OUR VERY OWN GLOBAL CULTURAL TRADITIONS AND MEMORY ARE ENDANGERED. IT'S NOT ONLY HUMAN LIVES THAT ARE SUFFERING AS A RESULT. THE ENVIRONMENTAL CRISIS, RACISM AND INEQUITY, PATRIARCHAL SOCIETY, THE THREAT TO MOTHER EARTH'S ANIMALS AND PLANT LIFE: THESE ALL STEM FROM SAME ROOT CAUSE, THE DELUSION OF SEPARATENESS. WHAT I JUST ENUMERATED ARE NOT SEPARATE ISSUES. THEY ARE INTERCONNECTED AND INSEPARABLE.
— DR. TONI BRAYER
HL: Is holistic healing new or has it been around for centuries?
Please explain. TB: Holistic healing is what has been around for centuries. By and large, we have forgotten the wisdom of the indigenous. Our very own global cultural traditions and memory are endangered. It's not only human lives that are suffering as a result. The environmental crisis, racism and inequity, patriarchal society, the threat to
Mother Earth's animals and plant life: these all stem from same root cause, the delusion of separateness. What I just enumerated are not separate issues. They are interconnected and inseparable. In the same way integrative medicine teaches us to look at the suffering of an individual, we must look at the suffering of our planet. Both ask us to approach the healing process as a complex and intricate web. This is the lens through which integrative medicine gazes. I passionately believe that if we do not start looking through this lens more deeply, and soon, there will be unfathomable consequences. Last summer I had the great privilege of going on a medical mission to Rwanda. While I was there, I fulfilled a lifelong dream of seeing, up close, the gorillas native to the land. Thinking about them still brings me chills and warms my heart. The way
I practice medicine, the way integrative medicine guides me as a healer and person, is to honor every single living being. I keep the memory of those majestic animals very close to me these days. HL: How can integrative medicine help us reclaim health and well-being? TB: A core principle of integrative medicine is that every person has their own natural capacity to heal. As clinicians, it is our job to listen deeply to every person and work alongside them on their own unique journey. In this way, patient and healer are equal collaborators. The patient has enormous power, autonomy, and agency. As they say, we're all in this together, right? We truly are! The more we consider ourselves, all living beings, and our planet as separate from each other, the more deluded we are.
The more we wake up to our fundamental interconnectedness, the better chance we have at individual and collective healing.
HL: If someone wanted to embrace just one aspect of holistic healing, what would you suggest? TB: When in doubt, start with the basics: nutrition, sleep, exercise, time in nature, some kind of contemplative practice, and quality time with those you love—most importantly, yourself! I know it sounds too simple and good to be true, but consistently reorienting towards these essential aspects will give you vital information about your baseline health. If all these factors are well established and you find yourself in pain or out of balance, that's great information for what to do next and what kind of support you might need.
Dr. Toni Brayer
HL: What are some of your favorite success stories? TB: A young mother was diagnosed with liver cancer by her gastroenterologist, a devastating diagnosis that completely upended her life. The cancer specialist recommended surgery and chemotherapy, both lifesaving treatments. Her head was spinning with shock, grief. Having no idea what to do, she read everything she could online and was considering no treatment—using only mushrooms and herbs that she read about for healing. There is a great deal of confusing, misinformation on the internet, and stressed-out patients cannot sort out the fluff from the science. This can be deadly and dangerous.
I had a long consultation with her, her friend, and her husband. I listened closely and actively to her fears. I explained how IHH could support her natural healing with nutrition, strengthening the immune-system, herbs, acupuncture, and qi gong, while she received the most up-to-date surgery and chemo from the best doctors in San Francisco. Her relief was profound, and she is now receiving the integrative services that we provide, along with her traditional oncology. Helping people through the "worst day of their life" and supporting them to live their best life is the highest reward for the work that I do.
HL: What else would you like to tell us? TB: I'd like every reader of this article to consider, if even you feel a tiny spark of inspiration, to get curious and get involved by reaching out to us. In order for our healthcare system to change, we need as many allies as possible in all sectors. IHH's most pressing and current need is financial support for our cancer programming, which provides free integrative services to cancer patients at all stages of the cancer journey. We are living our mission. We are healing people and transforming healthcare. I invite you to join us.
"THERE IS A GREAT DEAL OF CONFUSING, MISINFORMATION ON THE INTERNET, AND STRESSED-OUT PATIENTS CANNOT SORT OUT THE FLUFF FROM THE SCIENCE. THIS CAN BE DEADLY AND DANGEROUS."
A 30-year-old institution, Sutter's Institute for Health & Healing (IHH) is a collection of integrative medicine clinics throughout the Bay Area, fulfilling its mission: "healing people, transforming healthcare". They offer five locations to serve you: Roseville, Sacramento, San Francisco, San Carlos, and Santa Rosa. https:// www.sutterhealth.org/services/holistic-integrative-medicine/ institute-health-healing.
HAUTE SEAT
California Lifestyle Collection
Magni cent Belvedere Island Italianate Villa Belvedere, California
8 Beds | 6 Baths | 2 Half-Bath O ered at $11,495,000
This iconic appx. 7,695 sq. ft. mansion featuring eight bedrooms, six full baths, and two half baths is one of the most admired homes on Belvedere Island for its styling, magnificent gardens, spectacular pool, and panoramic views overlooking Tiburon Hills, Corinthian Island, Angel Island, East Bay, Bay Bridge, and beautiful Belvedere Cove reminiscent of Portofino, Italy. Located on the desirable, warm side of the island with allday sun and sheltered from the wind, this classic residence was renovated in recent years, featuring a beautiful custom-designed kitchen with Italian marble countertops and a breakfast area with a balcony to enjoy the views and for al fresco dining. The eight bedrooms mostly open onto balconies with expansive bay views. A generously sized master suite with his/her dressing and sitting areas includes a kitchenette/coffee bar, closets, a luxurious bathroom with a steam shower, and a sunroom. The lower level includes an exercise room with a full bath and sauna, wine cellar, and two spacious storage rooms. There is a security system and a two-car garage, plus an adjacent one-car carport. Across the street-tostreet lot are extensive brick terraces with elegant balustrades, lush gardens, and water features. Three separate entrances and multiple living spaces create a perfect floor plan setup for an au pair unit and an in-law unit. Easy walking distance to the San Francisco Yacht Club, Corinthian Yacht Club, downtown Tiburon restaurants such as Malibu Farm and Michael Mina's Bungalow Kitchen, and ferry services to San Francisco and Angel Island. Offered as a newly certified historic property,, this magnificent home provides a very substantial property tax reduction to the next owner and comes with an assumable mortgage. Details and photos at www.308GoldenGate.com
California Lifestyle Collection
Magni cent Belvedere Island Italianate Villa Belvedere, California
California Lifestyle Collection
Rare Belvedere Waterfront Compound of 2 Homes on 4 Lots with Stunning Views
4 Beds | 5 Baths | 1 Half-Bath | ±8,131 sq. ft
Featured in Architectural Digest, this world-class residence showcases panoramic views of the San Francisco Bay, the Golden Gate Bridge, the entire city skyline of San Francisco, and Sausalito. This magni cent masterpiece in a dramatic setting on the most prestigious location is comprised of a ±8,131 sq .ft. home on a ±0.67 acre lot, featuring 4 bedrooms and 5.5 baths. This architectural work of art was designed by architect Charles Gwathmey, with spectacular outlooks from every corner of the expansive 4-level oor plan. The primarily vertical organization of this house takes advantage of its sloped site on the southern coast of Belvedere Island. The uppermost level contains a 3-car garage with glass doors, an elevator which descends to a courtyard, a detached one bedroom, one bath guesthouse and a spacious wine cellar. The remaining levels of the main house are situated between two large retaining walls, which follow the natural contours of the site and splay outwards towards the Bay. The house's compact organization within the precinct formed by the retaining walls ensures privacy. An interior circular stair winds around an elevator and forms the cylindrical focal point of the house's massing. A barrel-vaulted ceiling articulates the living and dining room at the entry level of the main house, and a large deck projects towards the Bay to extend the space into the landscape. 3 bedrooms, 3 baths, a study and a two-story entertainment room occupy the intermediate oors, while a media room, a beautiful wet bar, a full bath with steam shower and sauna on the lowest level open onto a spacious outdoor terrace with a pool, whose "in nity edge" of water establishes a poetic connection to the Bay. The interior oors are limestone and wide plank, Bubinga wood and cabinets are lightly stained maple. The exterior is clad in gray stained cedar, with a curved standing seam zinc roof. All exterior windows, doors and decks are teak, all terraces are beige/gray amed limestone pavers and the retaining walls are painted warm white stucco. More photos and information can be found at: 445BelvedereAve.com
Price Upon Request
California Lifestyle Collection
Rare Belvedere Waterfront Compound of 2 Homes on 4 Lots with Stunning Views
California Lifestyle Collection
Stunning World-Class Wine Country Retreat Napa, California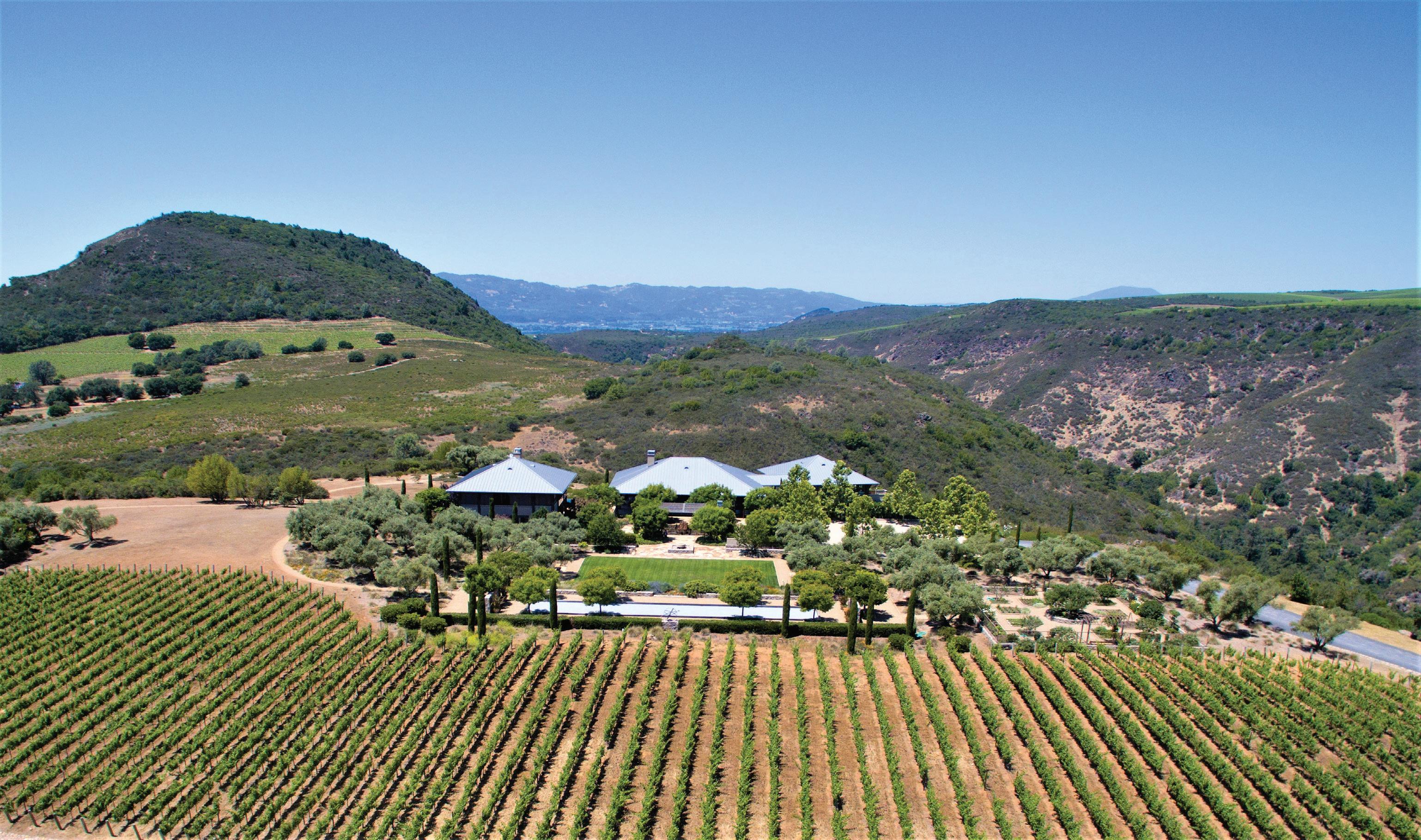 5 Beds | 6 Baths | ±2,500 sq. ft. Interior | ±61 Acres $13,500,000
This stunning world-class retreat is the epitome of the indoor-outdoor Napa Valley lifestyle. Designed by award-winning architect Howard Backen with sliding doors and screens that open completely to the surrounding gardens and views beyond, this residence and separate two-bedroom guest house are arranged as three separate zinc-roofed pavilions oating above semi-enclosed porches, a magni cent pool, and the surrounding landscaped gardens. Featuring extraordinary materials and workmanship, brilliant designs and soaring high ceilings, this private compound is designed to capture magni cent views of nature. Sited at the edge of a ravine, this home is oriented to frame and command views across neighboring vineyards and a watershed of the Napa River. Inside the main pavilion, the boundaries between living room, kitchen, dining room and the surrounding terraces are blurred. The combination of openness and grand scale permits the home to feel at once expansive and yet comfortable for intimate entertaining. Radiant heating under the polished concrete oors provides year-round comfort. The exible architectural layers of sliding glass, shutters, and screens serve to e ortlessly control light, space, and temperature. Whether the walls of windows are open or closed, the calming architecture frames the natural and designed landscape. Spread across ±61 acres of grounds, amenities include in nity-edge pool, spacious lawn, bocce court, two hot-tubs, olive grove, organic garden, stocked lake, re pit, and outdoor kitchen with refrigerator, barbecue, and pizza oven. The basement level features a large wine cellar as well as a gym, powder room, and catering kitchen. A separate machine building houses a backup generator and well equipment including reverse-osmosis water lter. This sublime place represents an artistic departure from the conventional and is one that truly must be experienced—it is one that might inspire great thoughts and play gracious host to many extraordinary events to come!
More photos and information can be found at: SodaCanyonEstate.com