7 minute read
Sushi Empress, Enjoying the Taste of Success
In less than a decade, Empire Sushi Group Sdn Bhd Chief Executive Officer Nicole Lim and her dedicated team have garnered 39 outlets under their belt. How does she do it?
orn in Teluk Intan, Perak,
some 30 years ago, Nicole Lim is one of four siblings growing up in a middle income household. Back then, sushi was not as ubiquitous as how it is now.
To enjoy some scrumptious sushi, Nicole said the family would have to travel to Ipoh about 95km away. Also, sushi shops were of the conveyor belt or supermarket variety. "Having a sushi meal with our children wasn't exactly affordable. It was considered a splurge. I always wondered why it can't be more easily available and affordable. Although I love to eat sushi, most of them are on the traditional side."
This got her thinking. And she saw a market niche – Malaysia needs express sushi with localised flavours and yet remain affordable. It must have been serendipity when she met her future B
husband and business partner Jordan Tan, who is a sushi chef.
The duo are so invested in their sushi dream that Nicole left her studies at the university in 2011 to focus on starting the sushi business in 2013.
LOCAL APPEAL Instead of reinventing the sushi wheel, Nicole felt that the market needed products are reflect Malaysians and her company's trendy appeal.
"The sushi market is a tough one. Many of them provide a sit-down experience with traditional sushi items. But these days, many Malaysians prefer to just grab and go during lunch time. Not everyone has the chance to have a long lunch. I wanted to cater to the express crowd without sacrificing the quality of my products.
"I also wanted to differentiate our
products. So, instead of selling the same kind of traditional sushi, our products have a local flair."
She said among the best sellers are the grilled lobster and abalone, takoyaki sushi, smoked duck, spicy roll, saba teriyaki, unagi and cheese roll. In addition, Empire Sushi has its signature dishes such as the aburi salmon and inari lobster.
Another point was her food should also look good, colourful and tasty. With these things in mind, Chief Operations Officer and R&D Head Jordan had his job cut out. Currently, Empire Sushi has about 90 types of sushi.
Nicole's first outlet was at Berjaya Times Square. "I had already envisioned that my food must look gorgeous, hence having a big and bright display is vital. Customers can immediately see what we have to offer.
"In the first six months, I was at the outlet from 6am to 11pm, creating the workflow from A to Z, ensuring the staff are up to the job. I'm proud to say that I am able to make each and every sushi in our menu from scratch.
"I feel that the business needs me to be hands-on. After all, we're in the food business. There is something intimate about feeding people."
In addition to her business, Jordan and her tied the knot and started their own family.
MAINTAINING QUALITY As a testament to Nicole's unique sushi ideas, Empire Sushi is growing at an exponential rate, opening 39 outlets within six years in major cities. Other than Kuala Lumpur, its kiosks are in Petaling Jaya, Penang, Ipoh, Alor Setar and Kuantan as well as a workforce of more than 300 people.
With a fast-growing business, it is vital for Nicole to ensure that product quality and price are meeting expectations of her customers. "I'm often asked how we are able to keep our prices affordable for majority of Malaysians, yet our quality remains high. "It is very important that we are able to fulfil those two points. Prices of food items fluctuate but I'm happy to note that our Purchasing Department is very
resourceful. Our sushi is made fresh daily. Rice is cook in each outlet. Sushimaking is ongoing throughout the day to meet demand. And since we do not use preservatives, unsold items have to be thrown away at the end of the business day," she said.
"Our sushi-making process does not use alcohol or pork products, hence allowing some outlets to have halal certification from Jakim."
Nicole said the soft economy is not an excuse for her to skimp on quality or increase prices. "I prefer to re-examine my business operations to see how we can function better, more efficiently." A big help to her business is the growth of food delivery services, especially in major cities. "Innovation is Empire Sushi's foundation so when innovative services such as food delivery come along, we embrace it.
"The popularity of each food delivery service depends on region and city, but we're happy to ensure our products reach our customers in a different way. These services do contribute to sales and allows us to reach more customers."
As for e-wallets, Nicole says Empire Sushi has signed up for a few and it is popular among teenagers, however it does not appeal to those aged 40 and above.
"Having the right attitude is a must in life. It will take you far. It has helped me in my personal life and when running the business." – Nicole Lim, Chief Executive Officer, Empire Sushi Group Sdn Bhd.
MOTIVATING WORKFORCE In keeping to its vibrant and trendy brand, the workforce in Empire Sushi are aged 40 and below.
"Our staff are quite young but they are very hard working and highly motivated. I prefer not to have a hierarchy relationship with them, instead I cultivated an open work environment where they feel free to share their ideas and plans.
"I'd say we have become like a family as most of the pioneering staff are still with us."
For new staff members, they will have to undergo training every three months at Empire Sushi's headquarters. This is to ensure their product knowledge is up to expectations. Aside from work, Nicole's staff also joins her in numerous corporate social responsibility efforts throughout the year. There will be visits to charity homes, orphanages, Orang Asli villages and contributing to a peace run.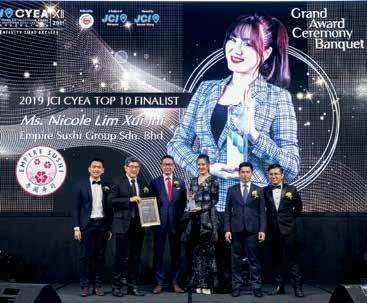 MOVING AHEAD It has been a fruitful journey for Nicole, seeing she snagged The Star Outstanding Business Awards (SOBA) 2018's Young Entrepreneur of the Year (up to RM25mil revenue), 2019 Junior Chamber International Creative Young Entrepreneur Award Top 10 Finalist, and seven awards from different organisations.
"I'm very happy and proud that the industry has recognised my entrepreneurship and innovation. My team and I are continuously aiming to garner more awards as they are motivation for the company to do better. "Part of the award process allows me insight into what we have done right and wrong. I can take stock of my business as a whole as well. Having the will to learn new things is a must for entrepreneurs. I also enjoy reading about successful people to gain more knowledge and motivation."
For Nicole, the most important trait for her is having the right attitude. "Having the right attitude is a must in life. It will take you far. It has helped me in my personal life and when running the business."
"Part of the award process allows me insight into what we have done right and wrong. I can take stock of my business as a whole as well. Having the will to learn new things is a must for entrepreneurs."