from Spring 2020 Quarterly
by Gustavus Adolphus College
36 human resources and employment law for Ardent Mills.
87| Kristi S. Multhaup, Davidson, NC, is Vail professor of psychology and chair of the psychology department at Davidson College.
88| Jeffrey J. Jibben, Saint Bonifacius, is an online full-time professor in the College of Theology for Grand Canyon University. Gregory Peterson, Rochester, is the owner and writer of MachineryPete. com, the fastest growing and largest marketplace for used farm equipment.
89| Michelle MattsonWeiss, Lino Lakes, is a treasurer for Shafer Contracting Co. Inc. Steve Nelson, Long Lake, is an orthodontist at Lake Minnetonka Orthodontics.
90| Eric Dorzinski, New Prague, was inducted into the New Prague High School Athletics Hall of Fame.
Heidi Kennedy Manning, Dallas, TX, is Dean of the College of Arts and Sciences at Misericordia University, Dallas, TX. She was a visiting research scientist at NASA's Goddard Space Flight Center in 2006 and again in 2012–13, Manning participated in the development of the Sample Analysis at Mars instrument suite for the Mars Science Laboratory - Curiosity Rover and in the data analysis from that instrument. Laura Bonkoski Nixon, Portland, OR, is an elementary principal at the Centennial School District in Gresham, OR.
Melissa Bruninga Ryckman, Columbia, TN, is an associate professor of history and director of the Center for Teaching Excellence at Martin Methodist College in Pulaski, TN.
93| Sue AlmenWhittaker, Iowa City, IA, is an instructor in the English as a Second Language Program at the University of Iowa.
Per-Johan Berger, Englewood, CO, is chief marketing officer at Berger Marketing Group. Eric Holtan, Tucson, AZ, director of True Concord Voices & Orchestra, released a new Christmas CD in November, True Concord: Carols in the American Voice, inspired by True Concord's annual Lessons & Carols by Candlelight concerts performed in the Tucson area.
94| Shannon Bauer, Zumbrota, is pastor for Wangen Prairie Lutheran Church.
Kathy Bonnifield, Minneapolis, was recently inducted into the New Ulm School Dist. 88 Hall of Fame for being an advocate for social justices. She has worked for various organizations, including the Peace Corps, McKnight Foundation, and the Center for Victims of Torture. Jason Haugen, Boise, ID, is president and CEO of Pinnacle Integrated Medicine.
Sara Marvin, Annadale, NJ, is a self-employed psychologist in New Jersey. Bill Radloff, Le Sueur, is a rural mail carrier. Jacqueline Pallo Rennwald, Two Harbors, is a high school teacher for Two Harbors High School.
95| Shannon Andreson, Minnetonka, was elected to the Hopkins ISD #270 School Board in the November 2019 election. Beth Wiberg Barbosa, St. Paul, is a named partner in the law firm of Gilbert Alden Barbosa.
96| Leslie Anderson, New Braunfels, TX, is teaching adaptive physical education at Comal School District in Texas. Jess Langerud, Cypress, CA, is a director of transformative technology at Providence St. Joseph Health in Anaheim, CA.
97| Jill Buhse Anderson, Minneapolis, is the senior vice president of sales for Lionsgate Films. Michael G. Waldhauser, Kensington, MD, starred in the December production of Peter Pan & Wendy at The Shakespeare Theatre Center in Washington, DC.
98| Robert Castille, Arlington, VA, is the tennis coach at George Washington University.
Stacey Olson Huebner, Colorado Springs, CO, is the K-12 coordinator of assessment and student achievement at Cheyenne Mountain School District. Andy Peterson, Virginia, was appointed by Gov. Tim Walz as a District Court Judge in the Sixth Judicial District.
Aneka J. Swanson, Minneapolis, is an air program strategic coordinator at Minnesota Pollution Control Agency. Amy Eggers Dunlop, Wayzata, is a stay-at-home mom.
99| Heather Boyd Marx, Blaine, is an attorney with Cozen O'Connor, which focuses on domestic and international clients with strategies for foreign-based manufacturing, import, and distribution of goods.
00| Sarah Lampi Kidwell, Plainfield, IL, is the program planner at Will County Center for Community Concerns in Joliet. Linda Lanz, Wheaton, IL, is a visiting assistant professor and computational linguist at the College of William and Mary and works for Interactive Intelligence as a computational linguist. Krissa Skogen, Highland Park, IL, is a conservation scientist at the Chicago Botanic Garden and adjunct professor at Northwestern University. She will join 100 women in STEMM (science, technology, engineering, math, and medicine) to embark on a voyage to Antarctica this November, the largest such expedition in history. The expedition is the culmination of a year long global leadership training program for women in STEMM called Homeward Bound.
01| Angela DeGreeff Follett, Plymouth, a principal and patent attorney with Fish & Richardson, has been named a 2019 Up & Coming Attorney by Minnesota Lawyer, which honors young attorneys who have distinguished themselves through professional accomplishment and community leadership. Martin Kaduc, Seattle, WA, is co-founder of Kambr, in Amsterdam, Netherlands, a software solutions company for the airline industry.
02| Anne Freier Freirose, Greeley, CO, is a registered nurse, having earned her bachelors of science degree from Western Governors University.
03| Joshua Carter, Minneapolis, was recently named director of digital and social marketing for Tunheim, Bloomington. Jamie Lind MacFarlane, Two Harbors, is co-owner and chief financial manager/ events coordinator for Castle Danger Brewery and a third-generation resort owner of Castle Haven Cabins in Duluth.
04| Karen Martinson Cherwien, Batesville, AR, is a first-year adviser at Lyon College. Adam Cornell, Excelsior, is director of circular economy for Land O' Lakes. Andy Cramblit, Kasota, is self-employed at Mankato Valley Seed and Mankato Valley Remodeling. Sarah Lippert, Chicago, IL, is a student affairs administrator in the Department of Geophysical Sciences at University of Chicago.
05| Emma Jordan Mohr, Madison, WI, is an assistant professor for the department of pediatrics at the University of Wisconsin-Madison. Elizabeth Wojahn Feltes, Sioux Falls, SD, won the Solo Voice SemiProfessional competition at the North American Festival of Wales in Milwaukee, Wisconsin. She performed "Gweddi y Pechadur (The Sinner's Prayer)" by Morfydd Owenand and "Mein glaubiges Herze, frohlocke" by J.S. Bach. Her accompanist was Karen Jones Wojahn '79. She will compete in the National Eisteddfod in Wales in August 2020.
06| Miah Cherwien, Batesville, AR, is the associate director of administrative computing at Lyon College.
Mike Leonard, Lakeville, is a middle school physical education and health teacher for Eastern Carver County School Dist. #112.
07| Curtis R. Anderson, Circle Pines, is a senior information security manager at Allianz in Minneapolis.
Eleanor Bash, Calgary, AB, Canada, completed her PhD in glaciology in September at the University of Calgary.
Taylor Beahrs, North Mankato, is an orthopedic surgeon for the Mayo Health System.
08| Riley Hoffman, Richfield, is a physical education and health teacher.
THE LIBERAL ARTS RETIREMENT THESE EMERITI PROFESSORS EXPLORE NEW WAYS TO LEARN AND MAKE.
ELLIS JONES '52 PROFESSOR EMERITUS, ECONOMICS AND MANAGEMENT, AND FORMER ASSOCIATE DEAN His is a passion his mother gave to him when he was eight years old: knitting. He quit in high school but picked it up eight years ago while recovering from surgery. His specialty is lap robes—48 five-inch squares sewn together, with each lap robe containing about 35,000 stiches. Each item takes about three weeks to complete. Jones has given away more than 100 of these lap robes. "I knit every day," he says. "It's therapeutic and relaxing and can be done easily. Since I generally give away what I make, I think it brings a measure of joy to those who receive the items."
MARY SOLBERG PROFESSOR EMERITA, RELIGION She took classes in stained glass art 12 years ago and has never stopped. "It requires a kind of patience I seem to have, and an attention to detail my former students will not be surprised to know I also have." Solberg enjoys every aspect of the process of creating stained glass art—from choosing the glass to cutting, grinding, foiling, soldering, and holding the finished creation up to the light. It's very different from her previous work as a professor. "I didn't realize I was an artist—a creative artist—until I found stained glass." Still, former students should know she is still as full of questions, curiosity, and a passion for justice as ever. You can see her work in the Melva Lind Interpretive Center in the Linnaeus Arboretum. sunmountainstainedglass.com
38 Matija Novakovic, Houston, TX, is an assistant professor of medicine at Baylor College of Medicine. Andrew Offerman, Chaska, has been promoted to vice president of racing operations at Canterbury Park in Shakopee.
09| Elias Anoszko, Rhinelander, WI, is a Vallier Treehaven resident ecologist at UWStevens Point Treehaven Field Station.
Chris Caldwell, Rochester, is employed by Trader Joe's.
Luke Garrison, Goodyear, AZ, is executive producer at ABC15 News in Phoenix, AZ. In September he was honored with his sixth regional Emmy Award for Best News Producer in the Rocky Mountain District. Sam Schwartz, Edina, is an electrical engineer for Boston Scientific. Scott Slarks, Tulsa, OK, is an assistant athletic director of communications at Oral Roberts University in Tulsa. Nathaniel Swenson, Evanston, IL, is a senior consultant with Beghou Consulting.
10| Emily Allex, Fountain City, WI, is working as a hospitalist at Gundersen Health System in La Crosse, WI.
Sarah Betzler, Madison, WI, is a virologist at the Wisconsin Veterinary Diagnostic Laboratory. Katie DeSantis, Minneapolis, is working for Hennepin County's Office to End Homelessness as a case management assistant and attending the University of Minnesota for a master's in public affairs.
Kirsten Thisius Guentzel, Saint Peter, was named elementary physical education teacher of the year by Minnesota Society of Health and Physical Educators (MNSHAPE). Alex Messenger, Wayzata, is a marketing communications specialist at St. Luke's Hospital. He has written a book about being attacked by a grizzly bear while on a canoe trip in the Canadian tundra, titled The Twenty-Ninth Day. Luke Paquin, Minneapolis, completed his MBA from Augsburg University in May. Colin Smith, Robbinsdale, is a software consultant for Solution Design Group.
11| Keisha Bates, Lanham, MD, is in a doctorate of nursing practice program in the family nurse practitioner specialty.
Laura Hinderaker Christian, Victoria, Australia, works for Stitch Fix.
Nadvia Davis, Minneapolis, self-published a children's book called Grant Practices Math with Manners. Ashley Debilzen, St. Paul, is a development manager at J Murphy and Associates.
Sam Grace, Bloomington, IN, is in a doctoral studies program in choral conducting at Indiana University.
12| Ethan Bjelland, Minneapolis, works as a Norwegian Language Instructor for Concordia Language Villages and for Mindekirken Norwegian Language & Culture Program.
Abbey Burkel, Eagan, is an interior designer for Firm Ground Architects & Engineers.
Maria Fish, Minneapolis, is a university recruiting specialist for Cargill. Jen Fox, Hastings, works in communications, marketing, sales, and distribution for Spiral Brewery.
Peter Larsen, Mora, is a biology teacher and head Nordic ski coach at Mora High School.
Megan Hoeft, Columbia, SC, is director of volleyball operations at the University of South Carolina, Columbia. Kevin Scott, Coon Rapids, is a company commander for the U.S. Army.
Laura Westlund, Saint Louis Park, is a pharmacist for Prime Therapeutics.
13| Nicole Amegashie, Brooklyn Park, is a laboratory services scientist for National Marrow Donor Program.
Michael Asmus, Gaylord, is finishing a doctorate in musical arts at Stony Brook University and is the founder of the early-music ensemble LaGrande Bande. Ashley Hansen Asuncion, Richfield, is an environmental specialist for the Federal Emergency Management Agency.
14| Kristina Ericksen, Minneapolis, is the senior marketing writer for Perforce Software. Sam Luby, Inver Grove Heights, is director of college counseling at Three W International in Beijing, China.
15| Brent Chouanard, Hermantown, received his master's in natural resources and a certificate in environmental education from the University of Idaho. Ben Elvestrom, Minneapolis, is a strategic account executive at SPS Commerce.
Kristian Hartmann, Superior, WI, received his master's of education from the College of St. Scholastica and a Minnesota teaching license.
Rachel Scharf Husmann, New Hope, is a resident physician with Hennepin Healthcare in Minneapolis. Andrew Kendall, Baton Rouge, LA, is a graduate student at Louisiana State University and employed by First United Methodist Church.
Elizabeth Kendall, Baton Rouge, LA, is a teacher at East Baton Rouge Public Schools.
John McLean Jr., Eagan, is an assistant coach for the Pensacola Ice Flyers, a junior hockey league. McLean played for the Ice Flyers for three years after college.
Matt Spoden, Pierre, SD, graduated from Luther Seminary in St. Paul in May and was installed as the pastor of Resurrection Lutheran Church in August. Nick Ulen, Chicago, IL, graduated summa cum laude from Illinois Institute of Technology, ChicagoKent College of Law.
16| Rebecca Burnham, Vadnais Heights, is a teacher with the Orono School District.
Kelsey Harms, Saint Louis Park, graduated with a doctorate in physical therapy from Mayo School of Physical Therapy and is now working in outpatient ortho and neuro physical therapy in the Twin Cities. Travis Sigafoos, Minneapolis, is a bilingual legal services specialist for Hennepin County. Joel Stremmel, Seattle, WA, is a senior data scientist at Optum.
17| Liliana Benge Briggs, Duluth, teaches art at Duluth Edison Charter Schools and received the 2019 Rookie of the Year Award from the Minnesota Art Educators. Brina Bergland, Ellendale, is the systems coordinator for the Zumbro River Brand.
Peter Bode, Fairmont, is the planner and code enforcement technician for the City of Fairmont. Coursey Edwards, Minneapolis, is a registered nurse in the Family Birth Center at Park Nicollet/ Methodist Hospital. William Jones, Hopkins, is a graduate student at the Mayo Clinic Graduate School of Biomedical Sciences studying biomedical engineering.
Tanner Olson, San Francisco, CA, is a dental student at the University of California, San Francisco. Carley Sager, Savage, is a registered nurse for Fairview Health Services. Ray Sajulga, Chaska, is a bioinformatic scientist for Be The Match/National Marrow Donor Program and a researcher at the University of Minnesota. Adam Sienczak, Duluth, is an area sales manager for Fiat-Chrysler Automobiles. Branson Wetmore, Chanhassen, is in his second year of graduate school for physical therapy at the University of Jamestown in North Dakota.
18| Chandra Bouma Edholm, Minneapolis, is in medical school at the University of Minnesota, Twin Cities. David Edholm, Minneapolis, works in sales for Infor in St. Paul. Joseph Huff, Fort Worth, TX, manages corporate sales for the Southwestern Division of American Airlines. August Moehrke, Duluth, is opening an exhibit of his work in New York City. Savannah Seiter, Duluth, is in medical school at the University of Minnesota, Duluth.
WEDDINGS Marge Lund Kinney '58 and Paul Borg '58, 06/29/19
Jennifer Halluska '88 and Mark Meuffels, 06/07/19, Mayer
Katherine Youngdahl '97 and Otis Frampton, 07/21/18, St. Paul
Jake Hagedorn '01 and M. J. Bach, 07/27/19, St. Cloud
Abigail Simon '04 and Rob Kelley, 08/17/19, Coon Rapids
Martha Diedrichsen '04 and James Mason, 07/27/19, Fort Collins, CO
Eleanor Bash '07 and Brad Cooke, 07/20/19, Calgary, AB, Canada
Abby Chapman '09 and Shawn Little, 10/18/19, St. Paul
Sam Schwartz '09 and Eliese Schwartz, 09/21/19, Edina Bridget Burtzel '09 and Andrew Woitas '10, 08/09/19, Eden Prairie Sandra Walker '12 and Kyle Kirsch, 09/09/19, Duluth
Rebekkah Steinwand '12 and Justin Mouw, 06/07/19, Sioux Falls, SD
Andrew A. Schmitt '12 and Tasha Ostendorf '13, 09/14/19, Richfield
Matt Van Fossen '12 and McKenna Jones '15, 08/10/19, Mankato
Ashley Hansen '13 and Timothy Asuncion, 08/01/19, Richfield
Renee Hoppe '14 and Cory Hoffmann, 06/24/17, Wyoming
Kara Peterson '14 and Alex Lecy, Minneapolis Rachel Smetana '14 and Dane Knudsen '14, 08/18/18, Minneapolis Haley Totzke '14 and Justin Engmark, Wyoming Kelly Thotland '15 and Christopher Kelly '15, 08/17/19, Edina
Emily Albrecht '16 and Jack Anderson '16, 10/05/18, Rogers
Rebecca Owens '16 and Mackenzie Burnham '16, 07/27/19, Vadnais Heights Gavin Egersett '16 and Alyssa Maxson '16, 08/24/19, Savage
Shiloh Landskov '16 and Zachary Haugen, 08/17/19, Waconia
Ashley Welp '16 and Jordan Wilmes, 08/04/18, Saint Peter David Edholm '18 and Chandra Bouma '18, 07/13/19, Minneapolis
BIRTHS Holden, to Daniel DeCamp '99 and Heidi L. Gruenhagen '06, 03/16/18 Henrik, to Dan Gustafson '99 and Krista Gustafson, 09/28/17 Tate, to Wade Gustafson '99 and Cara Germain Gustafson, 09/27/17 Andrew, to Lindsey Hayden '99 on 4/21/17 Sylvie, to Doug Everling '01 and Kjirsten Holmquist Everling '02, 01/20/19 Beckett, to Robert Johnson '01 and Melissa Watson Johnson, 07/24/19 Fio, to Aric Bethke '04 and Taniya Bethke, 11/14/18 Ezra, to Jason Lukis '04 and Danae Lukis, 01/09/18 Ari, to Adam Miller-Stubbendick '04 and Jordan Miller-Stubbendick, 11/24/18
Adam, to Andrew Nelson '04 and Katherine Nolan Nelson '03, 03/11/17 Harper, to Jessica Nelson Bartell '05 and Tyson Bartell, 03/18/19 Wren, to Britt Forsberg '05 and Joel Nelson, 09/17/19
Casey, to Maisie Reynoldson '05 and Robert Reynoldson, 10/11/17 Parker, to Mike Leonard '06 and Lindsey Thiele, 08/09/19 Lena, to Alana Reetz Pearson '06 and Gregg Pearson, 02/22/19 Juliette, to Lauren Hom Oien '07 and Michael Oien '07, 07/19/19 June, to Nicole Gergen Villapiano '07 and Joe Villapiano, 3/25/19 Bjorn, to Britta Nelson Born '09 and Allen Born, 06/01/19
Astrid, to Britta Nelson Born '09 and Allen Born, 03/28/18
Johanna, to Danielle Tollefson Miller '09 and Eric C. Miller '08, 11/04/17 Joshua, to Elliot A. Peterson '09 and Laura Luce '09, 09/23/19 Avery, to Emily Nelson Shroyer '09 and Landon Shroyer '12, 11/04/18 Dino, to Tony Palma '10 and Andrea Smilanich Palma '09, 12/10/17 Brooklyn, to Holly Bohlen '11 and Travis Heidebrink, 12/01/17 Brock, to Alyssa Brom '11 and Scott Brom, 07/19/18 Aubrey, to Alyssa Rogers Erlandson '11 and David Erlandson '11, 08/10/19 Lucy, to Dan Ewen '11 and Karyn Peterson Ewen '11, 07/29/18 Emmy, to Bobby Elwell '12 and Brenna Elwell, 07/31/19
Benjamin, to Andrew Griesman '12 and Radonna Gasior Griesman '11, 08/14/19
Henry, to Meg Kaderlik Conklin '13 and Jared Conklin, 08/21/19 Bennett, to Alecia Hooper '14 and Wilson Hooper, 09/25/19
REMEMBERING AARON EVERETT (former faculty) Mankato, on 10/27/19. A World War II Navy veteran, he served during the invasion of Guam from 1943 to 1946. He received his undergraduate degree from the University of Idaho, his master's from the University of Oregon in French Literature, and his PhD from the University of Pennsylvania. He came to Gustavus in 1968 and taught here until his retirement in 1990, including a year on exchange with Kansai Gaidai University in Japan. He taught French and was head of the foreign language department. He is survived by his wife, Mary, and two children.
REMEMBERING MARIANNE COLBERG KESWANI '53 (former administrator) St. Paul, on 10/7/19. She started her career in biochemistery at the Mayo Clinic, but while working there she met and married Dr. Nandkumar Keswani. They were the first to be wed under the new "Inter Community Marriage Act" of 1955 in India. They lived in New Delhi for 22 years, returning to Saint Peter in 1973, when she began work at her alma mater. She worked at Gustavus for 25 years; the last 15 as the foreign student adviser. She is survived by her four children, including Rajan '80 and Ashwini '85, and a brother, Charles Colberg '56.
REMEMBERING WILLIAM "BILL" ROBERTZ '51 (former faculty) Saint Peter, on 10/15/19. An Eagle Scout and Gustavus grad, he went on to earn his master's in 1953 and his PhD in 1960 from the University of Illinois. He accepted a position at Gustavus in 1957 and taught classical rhetoric, argumentation, and speech criticism. He also coached debate and spent time as Faculty Parliamentarian and chair of the Faculty Senate. After retirement in 1995, he continued to judge speech tournaments and travel, and he enjoyed his active "geezer" membership with fellow retired professors. He is survived by his wife, Marilyn (Barnes) '51.
40 Polly, to Blair Riegel '14 and Sara Riegel, 05/15/18 Miles, to Terrece Mesenbring '15 and Chad Mesenbring, 05/24/19
IN MEMORIAM Carl O. Lofgren '40, Minneapolis, on 10/29/19. A former Gustavus class officer and retired senior vice president of Benson Optical, Carl was Gustavus's oldest living alumnus. He is survived by three children including Dennis '70, Randall '75, and Lori Amundson '81.
Viola "Vi" Holmes Gustafson '43, New Britain, CT, on 10/30/19. A former high school business education teacher, she is survived by two daughters including Marcia Kirchoff '70.
E. Virginia Opp Nyberg '43, Fargo, ND, on 10/28/19. A retired secretary for the FBI and Ramada Inn, she is survived by four children including Roberta Shimensky '72.
Ilo Funk Schwartz '43, Buffalo Lake, on 6/16/18. A wife and mother, she is survived by three children including Barbara Darr '65. Margaret Tellin Overbo '44, St. Paul, on 10/10/19. A longtime schoolteacher and an accomplished violinist with the St. Paul Civic Orchestra, she is survived by nephews and nieces.
Cecile Carlson Ellis '47, Bismarck, ND, on 9/11/19. A retired long-time music specialist for the Boulder Valley School Dist., she is survived by two children including Katherine Linstrom '72. Eunice Johnson Anderson '48, Lindstrom, on 9/14/19. She was a retired parish coordinator for Chisago Lake Lutheran Church and is survived by six children including Sarah '92. Aldys Johnson Miller '49, New Brighton, on 9/9/19. She taught for many years followed by a career in real estate. Aldys is survived by four children including June Wagner '80 and Janelle Gregg '89. Jean Luckman Rasmussen '49, Spooner, WI, on 9/3/19. A former English teacher and media specialist, she held various positions and is survived by her four children.
Charles R. Kiecker '50, New Ulm, on 9/19/19. A U. S. Army veteran and longtime vice president of the Farmers and Merchants Bank in New Ulm, he is survived by his wife, Ruth, four children and a brother, Thomas '51. Robert Pierson '50, Brooklyn Park, on 1/19/19. A former schoolteacher for Robbinsdale School Dist., he is survived by his wife, Marion (Peterson) '52, and five children.
Barbara Lundberg Cunningham '51, Richland, WA, on 9/21/19. She was a social worker and mental health counselor and is survived by her husband, John, a son, and a brother, Donald '51.
Ruth M. Zimmerman '51, Rice Lake, WI, on 8/7/19. An English major, she worked for the University of Wisconsin Center for Co-Operatives.
Paul W. Lindau '52, Beaver Dam, WI, on 9/14/19. Paul served as a Lutheran pastor at many various parishes, most recently at First Evangelical Lutheran Church. He is survived by two daughters.
Dexter Linman '52, St. Paul, on 1/16/19. An Army veteran, he had a long career as a social worker for Hennepin County. Dexter is survived by six children. Carol Lester Lassiter '54, Boca Raton, FL, on 8/21/19. She was a high school teacher and worked for Eastman Kodak. Carol is survived by her husband, Kenneth, and two children. Sonya Swenson Peterson '54, Bartlesville, OK, on 10/1/19. She worked as a secretary for many years for Jane Phillips Hospital and is survived by one son.
Jean Randin Anderson '55, Hot Springs Village, AR, on 9/38/19. A longtime elementary school teacher in Saint Peter, she is survived by her husband, Myron '54, and three children including Laurie Martinson '80 and Lisa Anderson-Peck '90. Norman T. Conrad '55, Los Gatos, CA, on 3/2/19. He was a school teacher for 30 years at Monterey Peninsula Unified School Dist. and is survived by his wife, Donna (Anderson) '55, and four children including Pamela Greene '85.
George Haun '54, Winter Haven, FL, on 10/12/19. The former director of parks and recreation for the City of Saint Louis Park, he is survived by his wife, Judith, and three children.
Donald Hausken '56, Annandale, on 10/5/19. Inducted into the Gustavus Athletics Hall of Fame in 1987, Don worked as a health/physical education teacher, coach, and camp director. Don is survived by his five children.
Wanda Ahl Hixon '56, Willmar, on 8/6/19. A wife and mother, she is survived by two children.
Colleen Matthies '56, Dunnell, on 10/21/19. She was an elementary school teacher in Oxnard, CA and is survived by a sister, LuAnn, and many nephews and nieces.
LeRoy A. Sanders '56, Willmar, on 10/12/19. A retired American history teacher for the Willmar School Dist., he is survived by his wife, Ruth (Swanberg) '57 and three children. Donald M. Eckberg '57, Silver Spring, MD, on 10/23/19. An Army veteran and a CPA, he had a long career with the IRS and is survived by his wife, Darlene, five children and two siblings, Loren '58 and Gloria Swenson '61.
Barbara Jungas Lowen '57, Mountain Lake, on 10/19/19. A high school consumer science teacher and mentor, she is survived by three children including Robyn '84 and Andrea Loewen-Rodriguez '89. Harold "Haru" Matsuura '57, Hilo, HI, on 8/7/19. An Army veteran, he worked for the Department of Health as chief of environmental health for the island of Hawaii. He is survived by his wife, Patsy and two children. Peter T. Spell '59, Minneapolis, on 10/1/19. A U. S. Army veteran and a longtime public educator who coached numerous high school teams, he is survived by extended family and friends.
Thomas J. Mau '60, St. Paul, on 8/3/19. A retired school psychologist for the St. Paul School Dist., he is survived by his wife, Judith (Krueger) '61, and daughter. Arlyce Peterson Johnson '61, New Brighton, on 9/4/19. She was a former legal secretary for Samuel T. Kantos & Associates and is survived by her husband, Craig '61, and two children. H. Stuart "Stu" Johnson '61, Saint Peter, on 10/17/19. A former Gustavus class officer and vice president of Citizens' Scholarship Foundation of America (now Scholarship America), he is survived by his two children including Anne-Marie Gunderson '86.
John Lager '62, Littleton, CO, on 9/1/19. An aerospace engineer, he worked for Martin-Marietta, Boeing, and for the U.S. government as a senior research rocket scientist on such projects as the Hubble Space Telescope, Titan Missile, and Space Shuttle. In his retirement he took up taxidermy and earned nine national titles. He is survived by his wife, Barb, two sons, two stepdaughters, and two sisters including Mary Jane Monson '54.
Richard Moody '62, Wheeling, IL, on 10/8/19. He had a long career as an actuary and partner with Hewitt Associates and is survived by his wife Beverly, a daughter, and two siblings including Ruth Tsu '66 and James '69.
Joan Shogren Anderson '63, Albert Lea, on 4/23/19. She had a long career as a nurse and nursing instructor at Naeve Hospital, Albert Lea, and Austin Community College. She is survived by her husband, Theodore '56, and three children including Mark '88.
Donald O. Granberg '63, Salt Lake City, UT, on 3/12/19. He was professor emeritus of sociology at the University of Missouri and is survived by his wife, Beth, and two children.
Judy Ness Kolling '66, Zumbrota, on 9/25/19. She worked in accounting-related roles for several companies including Minneapolis Rehabilitation Center, Metafile Information Systems, and Strongwell. She is survived by her husband, Bill, and two sons.
Gregory E. Mattson '72, Minneapolis, on 10/7/19. He worked in marketing for Honeywell/Alliant TechSystems and in sales for CPU Options. He is survived by his wife, Linda, and two children.
Wade Bailey '73, Marietta, GA, on 10/9/19. He had a 40-yearcareer with DitchWitch Georgia starting in sales and finishing as generalmanager. Wade is survived by his wife, Faye, two daughters, and two siblingsincluding Linda Keefe '69.
Kraig Thoele '77, Bismarck, ND, on 10/3/19. The former regional director of North Central Food Systems, he is survived by his wife, Jane (Catterson) '78, and three children.
Steve C. Tyler '83, St. Paul, on 8/20/19. He was the chief financial officer for Teledigital and is survived by a son and two siblings.
Wyelene C. Haase '86, Henderson, NV, on 12/13/18. A criminal justice major, she had a 30-year distinguished career with the FBI.
Joshua T. Birchem '22, Roosevelt, on 9/30/19. A Gustavus sophomore who loved nature, reading, and gaming and is survived by his parents, Jeffrey Birchem, and Gretchen Mehmel and a sister.
Alexander Sarlis '23, Wilmington, DE, on 9/23/19. A Gustavus first-year student with broad interests, a sharp sense of humor, and strong intellect. He is survived by his parents, Nicholas and Claire Sarlis.
Vespers
WAITING FOR THE ORIONIDS IN SUMMER, 2017 For Philip
There are more things in heaven and earth, Horatio, than are dreamt of in your philosophy. —Hamlet
What does it mean when clouds fill the skies night after night, obscuring meteor showers and Northern Lights,
foiling the best laid plans, spoiling even a solar eclipse? It's been a stormy year, to be sure. On my lawn chair I shiver,
strain to find Orion's belt. But this night, too, disappoints. Here is the lesson: never depend on science for some sure thing.
It's a thin line between physics and a Farmer's Almanac; NOAA's predictions are not easily discerned from Les Propheties
of Nostradamus. And if there really are more things than facts, we might as well take advice from tea leaves or a crystal ball.
Why wait for the Orionids? The sky has already fallen. Now mine the night for metaphors.
—English professor Rebecca Fremo, Moving This Body (Main Street Rag, 2019)
INVESTING IN OUR FUTURE THE GUSTAVUS HERITAGE PARTNERSHIP
God, who stretched the spangled heavens infinite in time and space, flung the suns in burning radiance through the silent fields of space: we, your children in your likeness, share inventive powers with you; great Creator, still creating, show us what we yet may do.
~ Catherine Cameron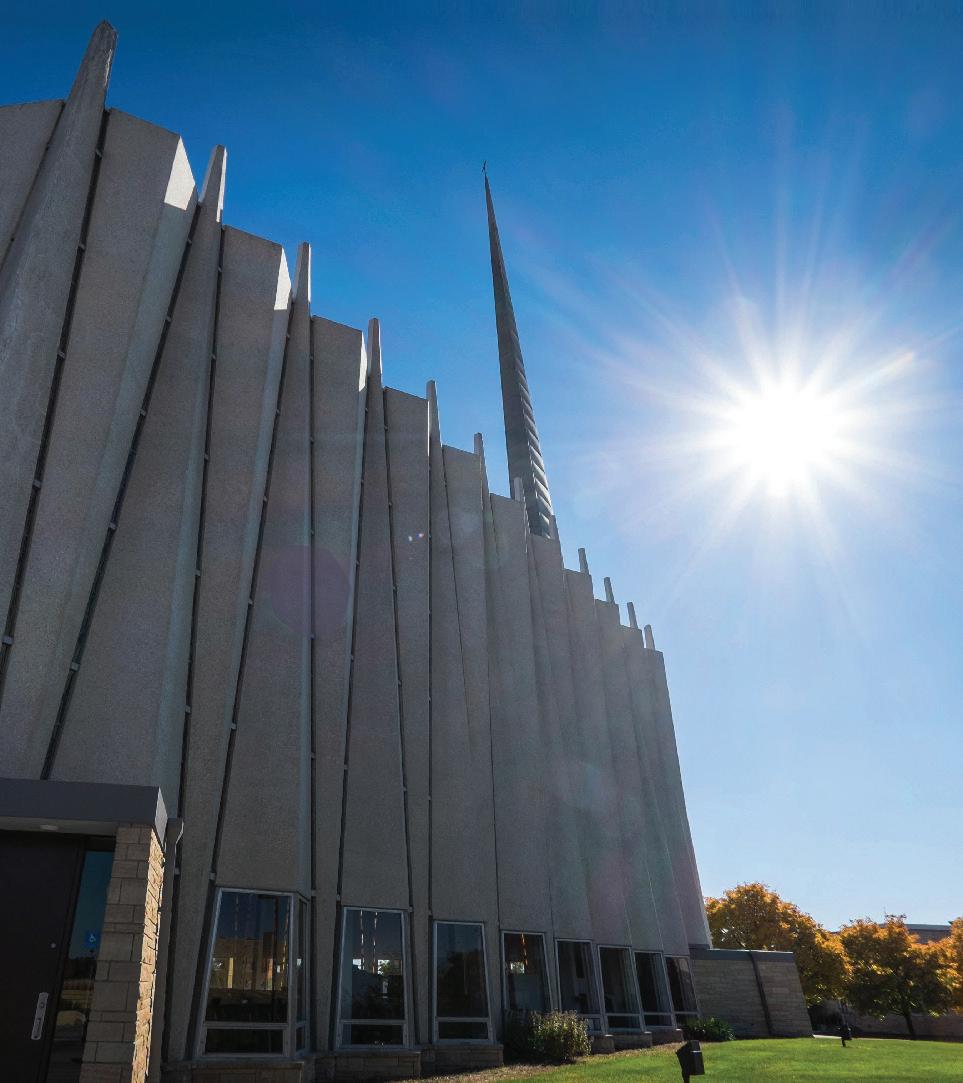 A planned gift, shared after one's lifetime, creates a personal legacy that lives on for the benefit of future generations. At Gustavus Adolphus College, a planned gift given through your estate will help equip generations of future students to lead purposeful lives and to act on the great challenges of this world. We invite you to create a legacy in support of Gustavus's innovative liberal arts education of recognized excellence. For more information, please call 507-933-7512 or email plannedgiving@gustavus.edu.