5 minute read
TRUE AND CONSTANT
Cabin fever took on a whole new meaning during the earlier months of the pandemic. With the outside world completely off-limits, people, understandably, started going stir crazy inside. Cue new hobbies! From becoming amateur hairdressers to houseplant guardians to breadmakers, people found unique ways to stay busy. Although Chelsa Smith (Idaho) began making sourdough in December 2019, she started to hone and fall in love with the craft throughout the pandemic, as she adds, "I didn't know how much I was going to need bread baking in 2020; I became enthusiastically obsessed." Chelsa, a mother, wife and successful retail professional, never imaged owning a business. But after realizing she could achieve work-life balance while doing something that sets her heart ablaze, baking, she knew she had to pursue it full time. In January 2021, she had her home kitchen in Des Moines certified by the state of Iowa as a micro-bakery and officially established her LLC, Bread by Chelsa B (BreadByChelsaB.com), where she specializes in artisan sourdough breads. What was once a pandemic hobby has turned into a fruitful career for this Gamma Phi.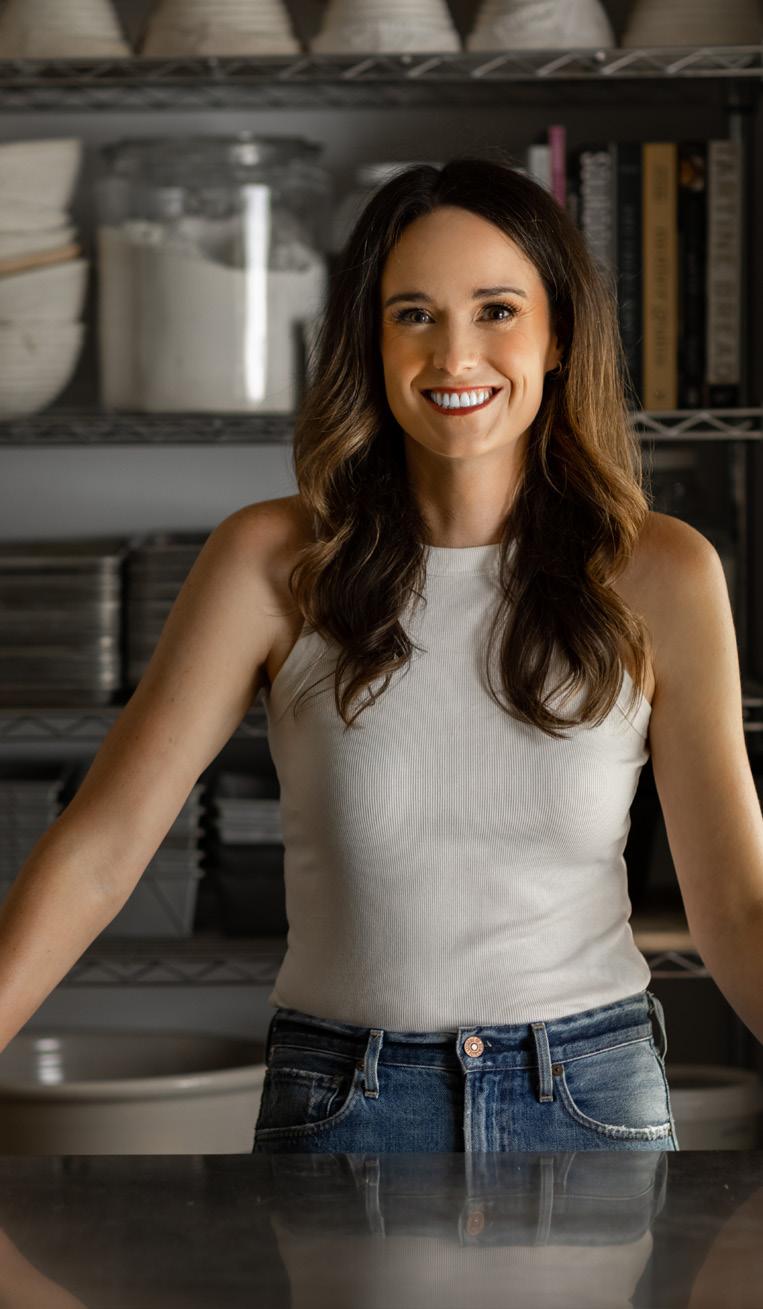 WHAT WERE THE FIRST BREAD RECIPES YOU TRIED? HOW DID THEY TURN OUT?
Sarah Owens, author of the James Beard award-winning book "Sourdough," had done a series of videos on Food52 about sourdough baking. When I stumbled upon her videos, it felt like someone had made sourdough videos just for me. There was so much to learn then, like timing, temperature, fermentation, shaping, baker's math. There were many flat loaves, burnt loaves and dense loaves. I realize that these earlier loaves, while imperfect and laughable at times, were exactly the way they were supposed to be.
WHAT DOES MICRO-BAKERY MEAN TO YOU?
Micro-bakeries typically focus on handmade, small-batch baked goods. I think the thing that all micro-bakeries have in common is that they focus on small, whether it's a small batch, small staff or small space. Most micro-bakeries sell out of homes, pop-ups or local markets.
HOW MANY KINDS OF BREADS DO YOU OFFER?
All of my breads are naturally leavened, meaning I currently use no commercial yeast. Everything is made with an organic sourdough culture, also known as a starter or mother. I have two starters named Gloria (100% organic white bread flour) and Goldie (70% organic wheat flour/ 30% organic white bread flour). My offerings change weekly and seasonally, as I try to incorporate different flavors and fresh ingredients depending on the time of year. My go-to breads are traditional sourdough pan loaf and rosemary and sea salt sourdough focaccia. I love making fruit and nut bread, like cranberry-walnut. I've started making sourdough doughnuts, also known as Bomboloni, a brioche-style dough fried in oil, rolled in sugar and filled with things like jam, pastry cream or Nutella. I'm always trying to learn new techniques and bread types, including sourdough cakes, cookies and rolls.
WHAT'S THE MOST CHALLENGING THING ABOUT WORKING WITH BREAD?
When you're baking with naturally leavened bread, you're baking with a living thing. It's a lot of patience and problem-solving. The way your starter reacts can change daily. Sometimes it's affected by things like the temperature and humidity, or sometimes there's no explanation. You have to be able to think quickly and make pivots. It is simultaneously exhausting and exhilarating.
WHAT DO YOU LOVE MOST ABOUT WHAT YOU DO FOR A LIVING NOW?
The list is pretty long. Baking sourdough and starting this bakery is the most intuitive thing I've ever done creatively and professionally. It's incredible that something I make with my hands brings so much goodness and joy into my life. The people, the community, the food, the connection, the love, the abundance — I could keep going! It's an indescribable feeling to hand someone something I made in my kitchen. There is truly no greater act of love for me.
DO YOU WORK WITH LOCAL SUPPLIES FOR YOUR INGREDIENTS?
Yes, utilizing local and regionally sourced ingredients is incredibly important to me, especially when it comes to flours. I purchase almost all of my flours from Breadtopia in Fairfield, Iowa. I am fortunate to buy seasonal ingredients from local farms, growers, dairies, jam makers and egg producers.
WHAT ARE SOME GOALS YOU HAVE FOR YOUR BUSINESS?
I hope to consciously grow in a way that allows me to bring bread to more people in and around Des Moines. I purchased a mixer to help with efficiency, and I have two bread ovens arriving in early 2022. I want to continue to look at ways that I can give back, whether that's teaching or mentoring about baking, the local grain economy or small business ownership. I would love to continue partnering and collaborating with other small businesses, local makers and bakers. Additionally, I plan to continue to utilize my platform, brand and business to share issues and values that are important to my family and me.
After the murder of George Floyd in the summer of 2020, Chelsa and her family attended demonstrations and vigils regularly. When she learned about Bakers Against Racism, which raises money for social justice causes worldwide, she knew she had to participate. Her baked goods were a hit, allowing Chelsa to donate $500 from sales and donations to the American Civil Liberties Union of Iowa. Learn more at BakersAgainstRacism.com.