from Spirit of the Dragon Magazine (Winter 2020)
by Glenelg Country School
65th Anniversary Homecoming
Dragons past, present, and future celebrated all day long at the 65th Anniversary Homecoming Festival held on the Glenelg Country School campus in October. Alumni, students, parents, and friends were on hand to enjoy a myriad of activities throughout the fun-filled day.
The day kicked off with a special pancake breakfast prepared by parents and sports teams for all students. Meanwhile, alumni and friends took a stroll down "Memory Lane" over coffee while reminiscing and identifying photos and items from the school's archives set up in the Manor House Parlors. Later in the day, the crowd cheered on the Dragons boys' varsity soccer team as the team shutout their opponent, St. Vincent Pallotti High School, 4-0.
After the game, attendees enjoyed lunch from local food trucks, live music, and fun carnival games, including a dunk tank, escape rooms, cake walk, and much more.
"It was such a fun day. Everyone was so involved and had so much spirit. I hope we can do it again next year."
Upper School student
From top: Upper School students in the stands enjoy the soccer game; Kiran Saini '20, Isabelle DeBonis '20, and Jaela West-Lewis '20; cake walk participants
ALUMNI SPOTLIGHT Herbert Hoffman, Ph.D. '79
Dr. Herbert "Herbie" Hoffman '79, a 2019 Glenelg Country School (GCS) Athletic Hall of Fame inductee, has accomplished plenty. Since his induction, he's had the opportunity to reconnect with the school and share his journey from a military officer and college soccer coach to one of the most innovative leaders and thinkers in the commercial aerospace industry. Hoffman credits GCS with providing the critical thinking and leadership skills that have been the foundation for a 30-year career at Boeing.
While at GCS, Hoffman was an outstanding athlete in soccer, basketball, and lacrosse. But it was the regard— sportsmanship, fair play, and leadership—he showed to coaches, teammates, and opponents that solidified his election to the GCS Athletic Hall of Fame. After high school, Hoffman attended West Point, where he played lacrosse during his plebe year. After graduating from West Point, Hoffman successfully led a team of 90 soldiers in Desert Storm and received the Bronze Star and Ranger Tab. Hoffmann then joined Boeing, where he has spent his career leading cross-functional engineering teams and earning 21 patents in the European Union and the United States.
After earning a doctorate in leadership and policy studies from the University of Washington, Hoffman continues to teach leadership and team development to organizations such as Microsoft, the Bill and Melinda Gates Foundation, and Sprint. In addition to publishing two books, Hoffman continued his athletic pursuits as an assistant soccer coach for Seattle University from 1998- 2006, where the team went undefeated and won the National Championship in 2004. In 2008, Hoffman was inducted into Seattle University's Athletic Hall of Fame.
We asked Dr. Hoffman to share how his time at GCS continues to impact his life and what advice he has for today's GCS students. WHY DID YOU DECIDE TO WORK FOR BOEING?
I liked (and still love) the mission of Boeing Commercial Airplanes, which is to connect people, spreading peace and joy throughout the world. The Pacific Northwest is also stunningly beautiful.
WHAT HAS GLENELG COUNTRY SCHOOL'S IMPACT BEEN FOR YOU?
Although West Point forged my leadership development around the concepts of duty, honor, and country, the foundation of my transformational leadership development truly began at GCS. I am forever grateful for the holistic leadership education I received from GCS's genuinely caring faculty and staff. I have and continue to greatly benefit from their care in shaping me into a lifelong learner and compassionate critical thinker.
WHAT ADVICE WOULD YOU GIVE TO ANY STUDENT STARTING AT GCS TODAY?
Do your very best in all that you do and really enjoy the journey of GCS. It truly is a special place where tomorrow's transformational leaders develop.
HOW DO YOU CURRENTLY USE THE HOLISTIC LEADERSHIP SKILLS YOU GAINED AT GCS IN YOUR WORK TODAY?
I use those skills every day, starting with the principle that one must earn disrespect while tapping into the innovative power of a team's diversity via inclusion.
WHAT ADVICE WOULD YOU GIVE TO GCS ALUMNI WHO ARE CURRENTLY PREPARING TO ENTER THE WORKFORCE?
Use your network—job sites like LinkedIn—and internship opportunities and try to be a lifelong learner with a positive attitude every day when you are hired. It does take some time to be employed, but you will because GCS graduates are leaders and difference makers. Therefore, target environments [where] you will be excited every morning to change into your work clothes. Life is way too short.
Mr. Boland, Herbie Hoffman '79, and Mr. Ventre
Cracker Barrel
A Glenelg Country School tradition, the annual Cracker Barrel event gives graduating Upper School seniors the opportunity to connect with recent GCS graduates and learn about what to expect as a college freshman. Hearing from those that have come from the same community is one of the best ways for students to learn. GCS is grateful to have an alumni base that is willing to donate their time and support our soon to be graduates. This fall's annual Cracker Barrel welcomed 13 young Dragon alumni back to campus. Returning alumni enjoyed lunch with the Upper School seniors and reconnected with friends and faculty before participating in a Q&A session about college life and their experiences.
From right: Recent alumni address the Class of 2020; Zachary Kelly '19
The annual Alumni Ice Hockey Night took place on Friday, December 20, 2019. One of the most anticipated alumni games of the year, the alumni came out in full force to challenge the current Dragon team. In recent years, returning alumni have dominated the ice, but a different story unfolded this time around. From the drop of the puck, GCS flew around the ice, controlled the boards, and dominated the game.
Current GCS ice hockey players in white and alumni in green
From left: Alumni gather for dinner during the basketball game; Joey Pickens '14 and Joey Tangires '08 attempting the half court shot.
ALUMNI BASKETBALL NIGHT
On Friday, January 10, the GCS community hosted its annual Alumni Basketball Night. This year students, faculty, and over 25 alumni gathered in the Athletic Center to cheer on the Girls Varsity Basketball team as they faced Chapelgate Christian Academy and the Boys Varsity Basketball team versus McDonogh. During halftime of the boys' game, alumni enjoyed a meal provided by the Alumni Association and competed in the annual half-court shootout. Once again, Joey Tangires '08 demonstrated his basketball talents, claiming his fifth title in the contest. The evening concluded with wins by both GCS teams.
The alumni community gathered for the annual Alumni Holiday Cheer reception on Saturday, December 21, 2019. Over 60 members of the alumni community celebrated the holiday season, as they mingled with Head of School Greg Ventre and other favorite faculty members. PJ Strain '98, the owner of Pure Wine, once again provided an incredible menu of slow-roasted pork shoulder tacos, portobello and lentil roast, Brussels sprouts, and a variety of wines. It was a great way to start the holiday season!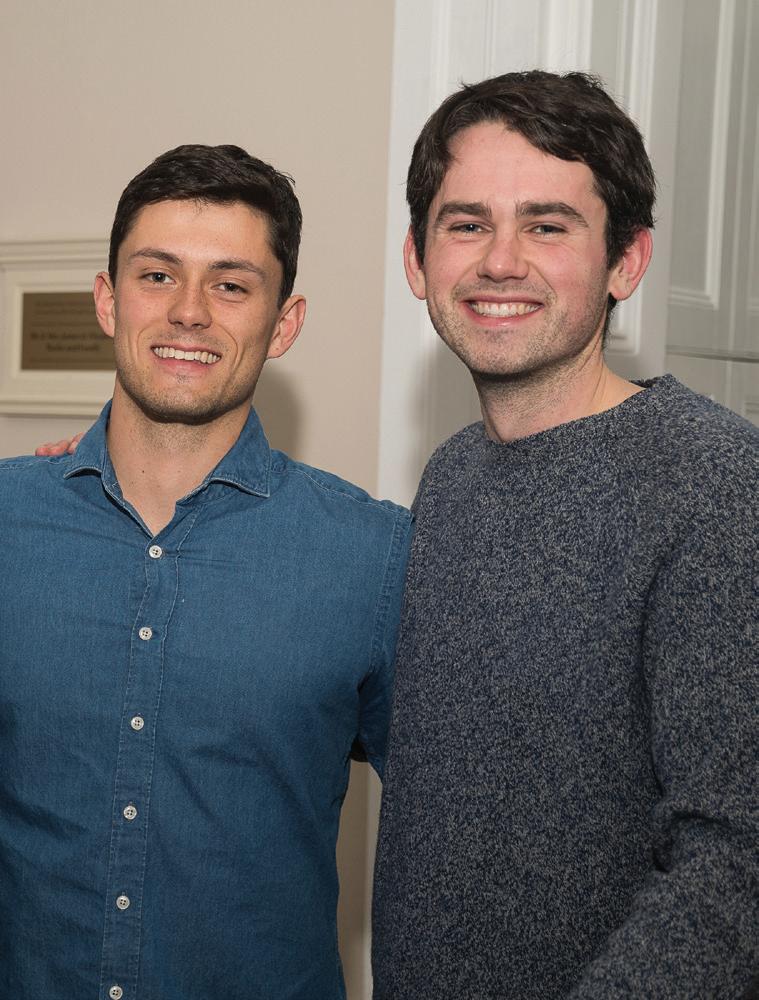 Clockwise from top: Deane Eastwood and Ty Saini '89; Evan Schlick '13 and Jeff Curran '13; Tara Shureih '05, Sarah Myers '13, Ellie Mamula '13, Evan Williams '08, Lauren McCormick '13, Joey Tangires '08, Aaron Tolentino '03, Greg Koffel '03; Cooper Taylor '14, Cate Barry, and Greg Ventre; Chris Shematek '98, Puja Woodford, Haritha Shematek '00, Hazvinei Mugwagwa '98, Katlego Mugwagwa, and Nick Woodford '98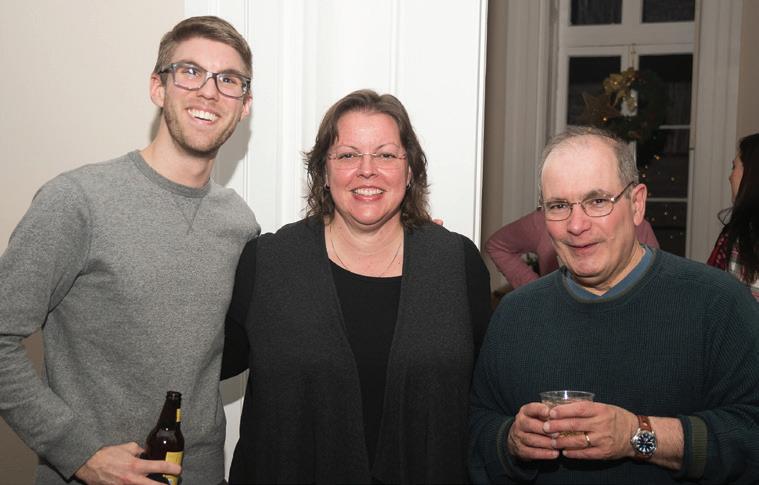 UPCOMING EVENTS
ROCK THE RED WITH THE DRAGONS FEBRUARY 25
GCS is on the road again to Washington, DC, and we would love to see you Rock the Red with the Dragons. Join fellow alumni to cheer on the Washington Capitals as they host the Winnipeg Jets at 7 p.m. Each registration includes a ticket in the Mezzanine Center, a plate of Rocklands BBQ, and more!
da s h CROSS-COUNTRY 5K RUN/WALK
APRIL 18
Glenelg Country School's Alumni Association invites you to participate in the 10th annual Dragon Dash on the campus of Glenelg Country School. The event includes a cross-country 5K run/walk, as well as a one-mile family walk. Proceeds from the event fund two "Always a Dragon" awards: one college scholarship for a graduating GCS senior, and one tuition scholarship for a rising GCS ninth grader.
Spring Alumni Reunion
MAY 9
Come back to the Country to reconnect with old friends and make some new ones at the fifth annual Spring Alumni Reunion. This event will be an evening filled with food and activities for Dragons of all ages! GCS alumni of all ages are welcome, and this year we will be honoring the classes ending in zero and five. Children, spouses, parents, grandparents, and friends are welcome too!
Post-Graduation Celebration
JUNE 5
Celebrate the end of another great school year with fellow alumni and the hardworking staff of GCS! The event takes place in a luxurious and spacious party area with a private bar, farm-to-table fare, plus a selection of adult and soft beverages. This event is open to alumni of all ages, and we look forward to concluding another great year with our Dragon alumni.
URBAN AXES JUNE 19
The battle between Glens and Elgs is returning on the road to Baltimore City. Alumni who are 21 and over will gather at Urban Axes in Baltimore City for the showdown of the year. Last year, Sam McAuliffe '12 won the single-elimination tournament for the Glens, but the Elgs are ready for the long-awaited rematch.
Class Notes
1995
After graduating from the University of Colorado in Boulder, Allison Hoke Thomas started her first real job working at the corporate Toyota Motor Sales Denver Region as a Sales Training administrator and met her future husband, Ryan Thomas. Through Toyota, the couple has lived in Salt Lake City, Las Vegas, and Northern Kentucky, where, in 2007, daughter Julia was born. In 2015, the family settled down in Plano, TX, at Toyota's regional headquarters office, where Allison is a compensation manager for the North American manufacturing plants and parts centers. The family now lives in McKinney, TX, with 12-year-old Julia, and their dogs, Riley and Penny.
2005
Abbe Sandler Rosen, Ben Rosen, and daughter Rylin welcomed Kayden Julius Rosen to the world on September 6, 2019. Rylin is loving being a big sister, and Abbe and Ben couldn't be happier with their family of four.
1998
Hazvi Mugwagwa recently married his fiancé Katlego Tsholo on October 19, 2019, in Cape Town, South Africa, on a vineyard in the famous Stellenbosch wine country. Hazvi's wedding celebration included many friends and family, including Dragons Nick Woodford '98, Ano Mugwagwa '02, and Muke Mugwagwa '06.
In September 2019, Nora Crist and her mother Martha Clark, owners of Clark's Elioak Farm, received the first-ever Cornerstone Award for Local Business Excellence in Howard Country. The Cornerstone Award celebrates small and family-owned businesses in retail, agriculture, manufacturing, industrial, and entertainment sectors that help strengthen Maryland's economy.
Matt Hamel and his wife Christina Hamel welcomed their first son, Landon James Hamel, to the world on August 21, 2019. The family of four is excited about the next steps in their life.
Sarah Nash married Ben Seiler on the beach at Folly Beach, SC, on October 12, 2019. The two met while Sarah worked for Vanderbilt's Trauma Unit and, after a year, had their first date in downtown Nashville, TN. Ben asked Sarah to be his wife on April 15, 2018. Brittany Nicole Henderson and Jose Lorenzo said, "I do" to a lifetime of happiness. The two wed on December 20, 2019, at the extraordinary venue, The Cruz Building, in Miami, FL, surrounded by family and friends.
2008
Maya Munoz and Russel Trimmer have opened up the neighborhood bakery Motzi Bread in Charles Village. Motzi Bread is dedicated to accessible food and creative solutions to end hunger in Baltimore, MD.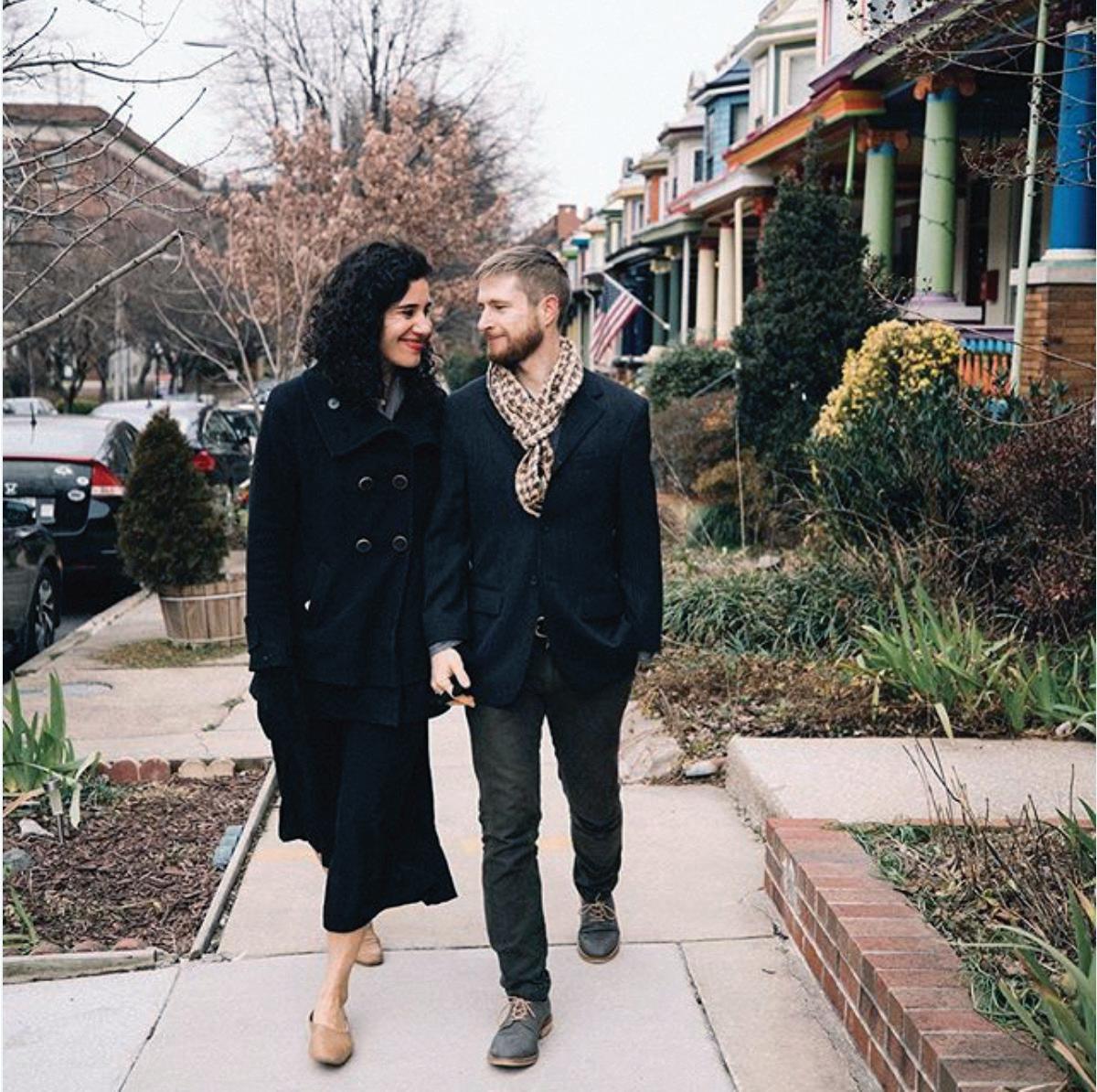 2009
Ryan Kent married his better half, Jen Gutsin, on September 21, 2019. The two met while attending the University of Delaware and were wed in front of family and friends at the Chesapeake Bay Beach Club in Stevensville, MD.
GCS Dragons Nate Wilson and Chris El-Haddad pose together after Chris' band, Higher Education, performed in Kingston, MA, this October. Higher Education crafts a unique blend of psychedelic soaked reggae with raw, riotous rock 'n' roll. The band is from College Park, MD, but has been touring all over the country.
On August 22, 2019, Lawrence Davis and Ashley Levine welcomed twins Cassidy Marie Davis and Beaux Wesley Davis. The new family of four could not be any happier! Lawrence currently lives in San Diego, CA, where he is a manager assistant at Enterprise Holdings.
2011
Surrounded by family and friends, Alexa Olney married Ian Eversman in Jacksonville, FL, on November 9, 2019. Alexa is currently living in Jacksonville and is a group sales account manager for the Jacksonville Jaguars and Daily's Place Amphitheater.
2017
Brendan DeBonis traveled to Ghana last summer as a member of the Belmont University Chorale. Belmont Chorale performed five concerts while touring World Heritage Sites and other landmarks along the coast of Ghana, where they also participated in African drumming and traditional music workshops. Brendan is in his junior year at Belmont, studying commercial guitar and songwriting. In October, Brendan, Will Bartlett, Jake Doody '18, and Brian Hersey brought the sounds of Smokestack to GCS during the 65th Anniversary Homecoming Festival.
IN MEMORIAM
Cameron Bolles Watson '69 Samantha Mae Snow '05 Griffin Thomas Keane '15
Throwback to the beginnings of GCS!
65 REASONS TO GIVE
THE 2019–2020 GLENELG COUNTRY SCHOOL ANNUAL FUND Celebrate our 65th anniversary with a gift to the Annual Fund!
VISIT GLENELG.ORG/65REASONS TO SEE OUR LIST OF 65 REASONS TO GIVE, MAKE YOUR GIFT, AND SHARE YOUR OWN REASON.
BELOW ARE SOME REASONS SHARED BY OUR WONDERFUL DRAGON COMMUNITY SO FAR THIS SCHOOL YEAR.
"Out of respect and appreciation for the wonderful staff and administration."
"Forest Time!"
"We are grateful for our experience as a part of the GCS community!"
"For everything that GCS does for our children."
"Some of my most meaningful
memories from GCS came during the six years I participated in the theater tech program. I hope to see many more GCS Arts achievements in the next 65 years!"
12793 Folly Quarter Road Ellicott City, MD 21042 Non-Profit Org. U.S. Postage PAID MVPrint
i n t h e
JUNE 15–JULY 24, 2020 • DAY CAMPS FOR PRE-K–GRADE 10 REGISTER ONLINE TODAY! GLENELG.ORG/SUMMER