8 minute read
Serve the tomato salsa on top of the potatoes with a dollop of sour cream or chilli beans
from 1 ANO - STANDFOR - MAG2
by Editora FTD
The Greatest PREDATORS on Earth
Some of them may not even look scary, but they're all carnivores and very skillful hunters
Lions, eagles, tarantulas, crocodiles, and Komodo dragons: what do these animals have in common? They don't belong to the same families nor do they live in similar environments, but they share one important feature: they're all predators. It's not a matter of size or ferocity; it's all about the skills to observe, capture, and feed on other species. What some of these predators may lack in size, they make up in keen hunting abilities and lack of mercy for their prey.
Eunectes murinus Size: up to 9 m in length Weight: up to 300 kilos Natural habitat: flooded areas of South America, such as the Pantanal in center-western Brazil; they spend most of their time under water, but often come to the surface to hunt. What they eat: they prey on animals of different sizes and species – some even bigger than themselves, which can at times cause their death; they are known for devouring cattle from farms, but, when in the forest, they can eat anything from fish to mammals, like the tapir. What they eat: they prey on animals of different sizes and species – some even bigger than themselves, which can at times cause their death; they are known for devouring cattle from farms, but, when in the forest, they can eat anything from fish to mammals, like the tapir. ANACONDA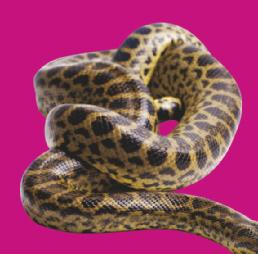 KILLER WHALE
Orcinus orca Size: up to 9 m Weight: up to 6 tons Natural habitat: groups of killer whales (that belong to the same family as dolphins), formed by around nine animals, may be found in all oceans. What they eat: all kinds of sea species, from birds that fly over the coasts to sharks or smaller whales.
Ursus maritimus Size: up to 2.5 m in length Weight: up to 8 tons Natural habitat: they live alone in the Polar Arctic region; these animals will only "socialize" during breeding periods. What they eat: main courses are mostly different types of seals, but they can eat pretty much anything, like birds, fish, penguins, plants, and the carcasses of whales and walruses. POLAR BEAR
BENGAL TIGER
Panthera tigris tigres Size: up to 3.1 m in length Weight: up to 260 kilos Natural habitat: they live in many different areas of India and in a few border countries. What they eat: they hunt and devour animals of many species, such as birds, monkeys, crocodiles, pythons, and even other predator mammals, like wolves and leopards.
Carcharodon carcharias Size: up to 7.5 m in length Weight: up to 2.5 tons Natural habitat: coastal areas in the Americas, Oceania, Asia, Africa, and Europe, where water is shallow and warm, with plenty of food to hunt. What they eat: fish and sea mammals are the most important meal in an adult's menu; sharks don't feed on people, they feast on greasy meat that can help them spend
long periods of time without eating. Unfortunally, they can't know that before taking a bite. GREAT WHITE SHARK
Frozen Winter Fun ENTERTAINMENT Frozen
Every four years, the world celebrates peace and friendship between nations with the Olympic Games. This tradition is much older than we can imagine: it began at Ancient Greece, in 776 BC, in the city of Olympia. The games celebrated Zeus, the God of the Greeks, and also meant to show the physical qualities of young people. Running, jumping, and boxing were some of the sport events by that time.
The modern Olympics started in 1896. But they basically include summer sports, like gymnastics, swimming, and cycling. Many nations from the Northern Hemisphere – where winter is extremely cold and long – decided to create a separate competition for the winter sports: the Winter Olympics.
Snowboarding

Snowboarding is considered a very dynamic sport because it combines elements of three different activities: surfing, skateboarding, and skiing. To be a winner, riders compete for spend, height, or the style of their tricks. There are four basic events: the halfpipe, the parallel slalom, the cross event, and the slopestyle event. This sport was developed in the United States in the 1960s, but it only became a Winter Olympic event at the Nagano Games (Japan), in 1998. More than 80 nations and 6,700 athletes compete during the Games.
Luge

The famous Santa Claus vehicle is the main equipment of this traditional sport. "Luge" is the word in French for "sled". Luges are made of fiberglass and can speed up to 90 miles per hour – or 140 Km/hour. And there are no brakes to stop the sled. That explains why it is the most dangerous sport at the Olympic Games. Luge can be practiced by 1 or 2 racers. They use their hands to get going while sitting on the sled and then lie on their backs all the way down the track. According to the rules, there are four races over two days of competition.
The fist Winter Olympics was held in Chamonix, France, in 1924, with more than 200 athletes from 16 nations. Since then, it happens every four years, in host cities in countries like USA, Canada, Austria, Germany, and Japan.
Today, there are 15 winter events. They are usually practiced on ice, like ice hockey and figure skating, or in the snow, like ski jumping and alpine skiing.
where Rock and Roll come from ?
In the late 1940s a wide range of music was popular in America – gospel, jazz, Western swing, country, jump blues, boogie-woogie, and others – especially in the South. You listened to the music you liked on your favourite local radio show, or by buying and playing single tracks, or by hearing music live, just as we do
now. No downloads though! The tracks were sold on records known as 78s.
When African-American people from the South began to move north to find work, their music travelled with them to larger cities, spreading across the whole United States.
Who is the King of Rock'n'Roll?
LITTLE RICHARD
Some people think an African-American singer called Little Richard is the real King of rock 'n' roll. Richard Penniman began as a gospel singer, and taught himself to play saxophone and later piano. He left home at 16 to tour with a travelling rhythm and blues show.
His first hit record, Tutti Frutti, was popular on rhythm and blues and on "pop" music sales charts. Between the 1955 and 1957 he had 18 hit singles.
Little Richards influence can be heard in soul, funk, and hip-hop, as well as in rock and roll. James Brown and Elvis Presley have spoken about his importance. So have Bob Dylan, Jimi Hendrix, Michael Jackson, and even Bruno Mars, among others.
A new style emerged, first called "race music" and then "rhythm and blues," combining parts of all those rhythms. Records played on juke boxes in bars and shops helped to spread the music more quickly. The piano or saxophone was the lead instrument, replaced during the 1950s by the electric guitar.
But the first song to be really called "rock and roll" was a gospel song called Rock Me, recorded by Sister Rosetta Tharpe in 1942. A review in music magazine Billboard called it "rock-and-roll spiritual singing", and it does sound much more like a rock song than an old-fashion church hymn!
Who is the King of Rock'n'Roll?
ELVIS PRESLEY
Elvis Aaron Presley is called The King. He was the first white American rock 'n' roll singer to become very popular, helped by a long series of films in which he sang and acted.
In 1954 during a recording session, Elvis picked up his guitar and improvised a blues song by Arthur "Big Boy" Crudup, called That's All Right. Three days later a popular Memphis radio DJ played it and had so many telephone calls from his listeners that he played it over and over again during the last two hours of the show. Elvis had begun his rise to world-wide popularity.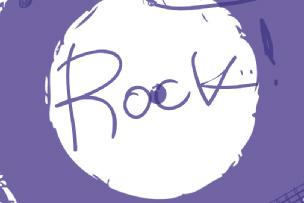 WORD PUZZLE FIND THE NAMES OF THE GALAXIES
Andromeda Centaurus Cancer Draco Orion