5 minute read
Profile Guise, the Stockholm practice behind a major new photographic gallery
from Design Anthology UK Issue 04
by designanthologyuk
Ready for a close-up
Meet the Stockholm architectural practice behind a major new photographic gallery for London
Places where people meet and share ideas have been vital through the ages, from the Greek agora to the Italian piazza, early coffee houses and, in recent times, galleries where people come together and enjoy art. It is certainly the driving force for Fotografiska, the international photography gallery, which is scheduled to open an outpost in east London's Whitechapel in autumn 2020.
Creating a place that draws people in is the core ethos at Stockholm-based architectural practice Guise, which is designing this new photography mecca. "The whole concept of the place is the most important thing – creating a space where people want to come and stay a long time," explains Jani Kristoffersen, who is Guise's co-founder along with Andreas Ferm.
Guise was set up in 2008, and two years later the award-winning practice was asked to work on the first Fotografiska gallery in Stockholm, creating one of the most-visited places in the capital. It has developed a firm reputation for innovative work and an inclusive design ethos, and this people-driven approach feeds into all of its projects, from galleries to retail spaces through to private villas.
At the London version of Fotografiska, which sits on Whitechapel High Street, the gallery exterior is now finished while work on the interior started in November 2019. Guise's approach centres on the relationship between people, space and objects: "The relationship between objects and how people come together is an aesthetic," says Kristoffersen.
Achieving this is challenging in a gallery that covers 9,000 sqm and spans five storeys of a former office block, built in 1984 by Fitzroy Robinson & Partners. The stark, rectangular construction has echoes of brutalism, according to Kristoffersen, and three of the levels are below ground. Undaunted, he believes they can "create underground galleries that contribute to an exciting, pleasant experience".
The practice plans to create an inviting and relaxed atmosphere inside by placing worldrenowned photographic works in sitting areas across all the public spaces, encouraging social interaction. In the main exhibition area, which is two levels below ground, the space is divided into a series of open-plan zones for small and large shows, with particular attention given to how people will move through them. Creating a sense of continuity is another important part of the approach and so Guise has designed its own bespoke lighting and furniture throughout the gallery to sustain this.
Jan Broman, one of the two brothers who cofounded Fotografiska, is assured of a successful Words Ruth Sullivan
Facing page Top to bottom: the team from Stockholmbased architects Guise, the practice behind the forthcoming Fotografiska gallery in Whitechapel; a concept image of the 9,000 sqm gallery, converted from a 1980s office building
outcome in London. "Guise has been with us from the beginning," he says. "They understand the ambition of Fotografiska and they have the ability and skills to turn the architecture into an integrated part of a rich visitor experience." The presence of Fotografiska – along with the creative tech companies occupying the rest of the building – will help make it a dynamic hub.
Another aspect of Guise's approach to projects is to focus on a specific feature and build on it. By way of example, Villa Björhövda, a home in Norrtälje in the Stockholm archipelago that was completed in 2016, follows bold orthogonal lines that produce sharp angles to capture light, give clean spatial volumes and provide a lake view. At Fotografiska, meanwhile, the use of another distinctive feature encourages people to move vertically between levels: Guise has designed a gestural spiral staircase that flows from the entrance-level cafe-bar-restaurant hub down to an area that houses the reception space as well as the conference and learning facilities, then even further down to the main galleries sited two floors below. "We wanted to
Above At Villa Björhövda, a home in the Stockholm archipelago, Guise responded to the defined shape of the rural site with sharp angles and clean open spaces inside Bottom image by Mikael Olsson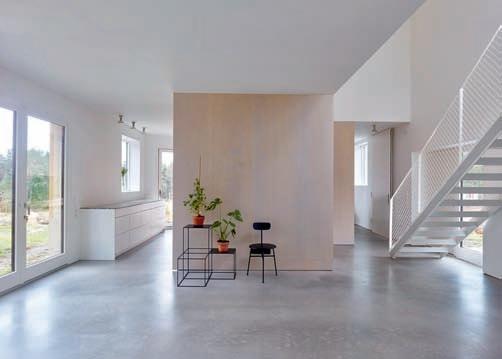 Facing page Stockholm concept store Fifth Avenue Shoe Repair, where clothing is shown on graphic, geometric black metal displays Image by Lance John
avoid a central spine, making it a free-hanging floating feature," explains Kristoffersen.
Materials also play an important part in Guise's approach, especially when it comes to bringing more light to projects that mostly come in a monochrome palette. In the gallery scheme, they experimented with the dipping process of galvanising steel sheets and discovered a new take on a traditional material. When used internally, the sheets take on a slightly glossy, crystal effect but produce a duller, matt effect when placed externally, as on the gallery's exterior cladding. With this in mind they used galvanised steel sheeting on stair balustrades, treads and risers to bring in light and lustre.
Guise's ability to create a strong sense of place feeds into its retail projects too. In retail, it's also about the experience, or as Kristoffersen puts it, "going to a place because you want to be there, and making it relevant. You can't do that online." A strong spatial design concept is at the heart of its project for Fifth Avenue Shoe Repair – not actually a shoe-repair shop but a concept store in Stockholm's fashion district, with a second in Singapore. The attention is focused on a bold, angled, playful cascade of display shelving in Guise's signature black against a white background. Everything from the geometric black metal furniture to the fitting rooms, doors and mirrors has been custom made to create a dynamic shopping experience between objects and people.
In the recently completed NK Sport store in Stockholm, the main feature in the fit out is the furniture in bush-hammered gypsum, a material that's often linked to brutalist design. Unusually, Guise changes palette, launching into yellow, pink and black in the interior.
Like many architects, the partners at Guise enjoy pushing boundaries and Fotografiska is the latest project to provide this opportunity. "It's a very different concept from Stockholm; we had to step up a bit in a bigger, global city," says Kristoffersen. But as with all the practice's work, from large retail hubs to modestly sized homes, the aim is to make inviting places where people will want to come, and stay.
STYLE Fashionable pursuits