7 minute read
A Stroll Down Memory Lane
The gang was back together – and this reunion was going to be one for the record books.
Anyone who walked through Dulany Hall on Friday, Oct. 18, 2019, could feel the energy in the room – and the party was just getting started. Nearly 40 years since their college days, Columbia College graduates from the late '70s and early '80s found their way back to campus for a highly anticipated reunion weekend. Naturally, the first stop was the dining hall. From there, more than 80 alumni and friends spent the weekend reminiscing about "the good ol' days" over campus tours, long lunches and late-night jam sessions.
THROUGH THE YEARS
This "80s group" has remained one of the CCAA's closest alumni networks. With members living coast to coast, they have made a point of getting together every few years to keep those relationships alive.
Kim Morgan '81 recalls the first reunion in 1990 with just three classmates in attendance. She had made the journey from Florida and was disheartened that more of her friends couldn't be there. Five years later, more than 20 classmates attended a cluster reunion for the classes of 1979 and 1980, setting in motion a new tradition. By 2010 most classmates had found each other online, yet the in-person reunions continued to grow.
When planning rolled around for the next celebration, Debbie Papish '80 took the reins. "I planned our smaller reunion a few years before. I said I'd plan one more, but I wanted it to have as many people as possible," Papish says. "I put out dates on social media, and the consensus was to get together in October of 2019."
Papish studied travel administration and credits James and Lois Schultz, "the best instructors in the tourism industry," for her attention to detail. She became an international coordinator for the airline industry directly out of college and took an early retirement in 2003. She put her skills to good use, organizing a detailed itinerary from her home in Washington state and networking with the "ring leaders" of each subgroup to get everyone involved.
"I was expecting 25-30 people for this reunion, and it grew to 80 attendees," Papish says. "I contacted every single person who showed interest, and it was an epic reunion for all."
While this was the fourth large reunion over the years, it was the first for many classmates who hadn't seen each other since graduation. "Everyone wanted to stay together and catch up," says Joe Nicchetta '79 who joined the CCAA Advisory Board this spring.
As he recalls, sticking together comes naturally to this group: "We didn't have all the amenities that students have today, but that probably brought us even closer. When they had a baseball game, everybody would get in their cars and go support the baseball team. Whatever we did, we enjoyed having fun together."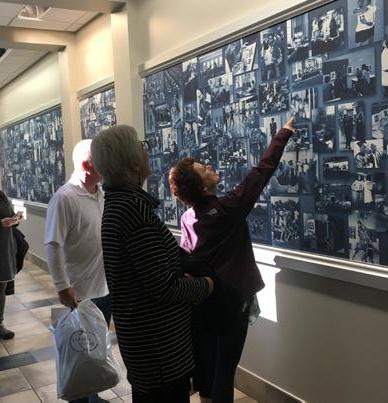 A HOME AWAY FROM HOME
The excitement of coming back to campus ignited memories of why everyone chose CC in the first place.
A self-described "Air Force brat," Morgan knew she wanted to go to a small college to study English and art. As she sat with two acceptance letters – one from American College in Paris and the other from Columbia College – she made her choice sight unseen: "CC spoke to me – I just fell in love with it."
Morgan started with the freshman class of 1976 and graduated in 1981. She has been a full-time writer for 39 years and is the author of four selfhelp books. She also enjoys painting – keeping in mind the lessons of former CC Art Professor Sidney Larson – and is a gifted photographer.
A fellow creative, classmate Floyd Alsbach '81 studied fine art. He has enjoyed a successful career as a painter and was a college art professor. He also recruited his nephew to attend Columbia College.
Dan Rieke '80 was a legacy student to his mother Ann Brookie Rieke who attended Christian College in 1950-51. Like many students, he was introduced to CC through a regional recruiter and was drawn to the small, liberal arts program.
Rieke started a private Facebook group for students who attended the college between 1975 and 1982. Old college photos and memories are often shared, so much that "all these years later, it feels like we have never really left," he says.
Today, Rieke lives in Indianapolis and is a supply chain professional at Roche Diagnostics. His current portfolio is related to COVID-19 testing products, with his marketing colleagues reporting this information directly to the White House task force.
While still connected to the group, Rick Garcia '80 hadn't seen most of his classmates in nearly 30 years. "I was getting calls from all over the country from classmates and friends telling me I need to come [to the reunion]," he says.
Garcia originally learned of CC from a friend who had been recruited to attend. He decided to give it a try, moving from Houston, Texas, to study Business Administration and English with an interest in journalism. Garcia eventually found his way to politics and received a master's degree in Public Administration from Harvard University. He was recognized for his early achievements with a CCAA Young Alumni Award in 1993.
Now the executive director for the Colorado Department of Local Affairs under Gov. Jared Polis, Garcia supports local and state government, as well as all housing programs for the State of Colorado.
Centronella Duff-Reed '80 grew up with her sights set on the University of Missouri, but her brother-inlaw encouraged her to check out Columbia College. "I'm from a very small town in Southeast Missouri. He thought I'd get lost in the crowd of a big school," she says.
Although she started her freshman year not knowing anyone, Duff-Reed quickly found her place on campus, and before graduating, she was awarded the first-ever Senior Service Award from Dean Eldon Drennan. An accounting and finance major, Duff-Reed also held a work study job all four years of college. She worked in Admissions her first year, before becoming the student accountant in the business office.
This work was the perfect segue into a career in accounting. A resident of Florissant, Missouri, Duff-Reed has worked for the United States Postal Service for 32 years and plans to retire as a system accountant next year.
Nicchetta, the newest member of the Alumni Advisory Board, came to Columbia College from the suburbs of Chicago to study business. "When CC started the shopping center program, I discovered a new industry," he says. He was encouraged to pursue retail management as a career by Professor Seymour Helfant, who led one of only two shopping center management programs in the country at that time.
Nicchetta has been in the mall industry since 1980, but in his first year after graduating, Morgan remembers Nicchetta's first professional gig – director of campus security at Columbia College. "Budgets were tight in the '70s, but the idea came about to have a student security program," Nicchetta says.
He oversaw six student security officers, including John Haggerty '79, who played baseball for the Cougars and was inducted into the CC Athletics Hall of Fame in 2013. Haggerty made his way back to Columbia for the reunion from his home in Orlando, Florida.
For Papish, she and her brother, Mark Papish '78, were urged to attend Columbia College by their mom (Carole Goldsmith Cromer '56) and aunt (Virginia Goldsmith Munster '56) – twin sisters who moved from New York City to attend Christian College and were the first-ever twin Commencement Queens in 1956. Though Papish admits is was initially a "cultural shock" moving to Columbia from Los Angeles, "it was the best experience of my life."
In thanks for her hard work in planning the "epic" reunion, her classmates surprised Papish with a commemorative brick to be placed on the Quad. As we take a look back on the good times had during October 2019, it's clear to see this group has another reunion in its future.