10 minute read
Creative Inspirations with local artist, Ola.
creative inspirations By Tony Centonze
Olasubomi Aka-Bashorun flipped a everywhere. So she had to put up special wallpaper, got to work with kids in a mental hospital for a while, coin in 2012, the choices before him everywhere I could reach. That way she could just rip and decided it was a lot to handle." were Boulder, Colorado and Nashville, it off the wall. At Oklahoma Baptist University, Ola pursued that Tennessee. Nashville won, and double major. He was also a full time athlete with eventually, so did Clarksville, as the "Growing up, I was an athlete, and somewhat smart. the track team. "I got away with not always having talented young artist found his way to our fair city. My plan was to do art therapy, so, in college I double to go to class," Ola said. "Running track in college majored in art and psychology. During that time, I keeps you busy. I took core basic art classes, like You may not have seen his DBO (Drafts by Olasubomi) Gallery/studio, on 2nd Street, but you have probably seen his murals around town. He is responsible for the Starry Night recreation at 420 Madison Street, and most recently, a Piet Mondrianinspired exterior upgrade to the CMCSS School Board building on Crossland Avenue.
The Crossland Avenue project involved students from Norman Smith Elementary School. Working with students seems to be something that is close to Ola's heart. When he is not live painting at events or charity functions, or working on a commissioned piece, you might find him giving art lessons in his studio.
"I've been doing art since I was little," Ola said. "My mom tells me that when I was a kid I would draw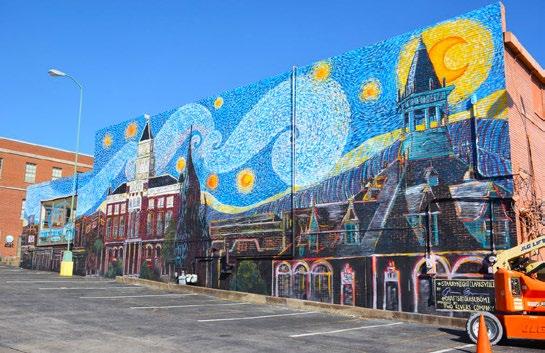 color theory, and drawing basics. But, also, more advanced classes along the way, painting 1, 2, and 3, and ceramics 1, 2, and 3. My teachers were aware of my artistic abilities, and my other activities, so they gave me lots of leeway to get projects done on my own time. I had a lot of training in art, because I just kept on doing it. But, I never really had an instructor standing over me." Ola remembers selling his first piece of art to another student when he was six years old. "I sold it for like $2, and got myself some popcorn and ice cream. As an adult, I sold my first serious piece during my freshman or sophomore year of college. It was a stained glass piece."
Though trained in many forms of artistic expression, most of the pieces on display at Ola's 2nd Street gallery are created with acrylic paint on canvas. He uses oil paints also, but hasn't really dabbled in watercolors. The walls of the gallery are lined mostly with the faces of famous musicians and actors.
"Watercolors, that's a different type of thing," Ola DBO Gallery in downtown Clarksville
said. "Watercolor artists will tell you it's so forgiving, but I don't know. Painting with ink is a different story too. It plays like watercolor, especially if you add alcohol, and other things." He points to a Jimi Hendrix canvas on the wall. "You see that, how the paint moves in the background of that piece. That's watered-down acrylic paint mixed with rubbing alcohol. It does whatever it wants to do."
Ola says commissioned pieces keep him pretty busy, Continued on page 10
Best Cosmetic Surgery Practice
and painting portraits of famous people have helped him build an extensive portfolio. "This type of work lets people know that I can do portraits, and make them look just like the subject. The newest ones here are Nipsey Hussle, and Dolly Parton. Over there is a painting of Maren Morris, the country music artist. I painted that live at her sold-out concert at Ascend Amphitheater. I was painting in the VIP Room. I also got to do a live painting at the Lenny Kravitz concert. I sold that painting the night of the concert, and since then, two people have asked me to recreate it. That is so much fun."
Ola has temporarily closed down his galleries in Nashville, due to Covid-19. "I had two," he said. "My lease was up in June. I offered to go month-to-month, but they said no. I am planning on going back into those spots when this is all over. The whole business at those Nashville locations revolves around Art Crawl. Literally, that event, once a month, pays for both those spaces, and the majority of my costs in Clarksville."
Ola says he rents out wall space to different artists in one of the galleries, and in the other, he sometimes shares the space with an up-and-coming artist.
"There is a business side to art," Ola said. "I think that is the difference between myself and many
Ola working on a commsissioned piece, a portrait of Bob Dylan
others. There are some artists who wait until they're retired to pursue their passion full-time. Other artists work a nine to five job until they make it, if they ever do, and then there are some, like me, who understand that you can find a way to turn it into a business and make it work. "I could have just opened the one space in Nashville, and been okay. But, two galleries at the same time, and keeping the wall space rented, allowed me to cover all the costs. It also gives me the chance to help other young artists, who couldn't afford a space of their own, to show their work. It helps them and me.
"I tell young artists all the time, if you don't understand the business side, take a cut, and team up with someone who is good at business. Just give them a percentage. You'll make way more money that way."
Drafts by Olasubomi Gallery at 106 N 2nd St, Clarksville, TN
"I started teaching when I first moved to Nashville," Ola said. "I worked in an elementary school with special education students. Soon after, I created something of an after-school art program for students through the YMCA. Then, someone told me about the Sip & Paint classes. There was a company called Painting With a Twist. They were opening their second location in Tennessee, in Spring Hill. I was living in Brentwood. I signed up with them and became their head instructor. I had to go and get some training to teach those "fun environment" classes."
Ola says that everything he learned there was useful, including how to teach art without using art language.
"They taught us to simplify our teaching language, so to speak," Ola said. "You don't talk about color theory, and things like that. For example, if I'm telling you to paint the lid of a cup onto the canvas, I would say, we're going to make a smiley face, and a sad face, and a little thing in the middle, and now you have a cup lid.
"It's almost like Art for Dummies. I learned a lot, and I saw, from my experience with high school kids, elementary kids, and adults, the language is the same all the way across. Because, when they aren't artists you have to speak in a way that makes all this relatable."
It took about five years for Ola to eventually land his Clarksville gallery in the perfect spot. He had a space in the Regions building for a while. Before that, he worked out of his house.
"I used to call it Fusion Art and Dance," Ola said. "I was a professional ballroom dancer. That's what actually brought me to Clarksville. I was teaching ballroom dancing, and the paint classes, and I always had private students. That goes all the way back to 2014.
"On average, I would say I have three to four students a week, consistently. I do art therapy with a military veteran. I have a young daughter of a soldier that I do that with as well. I have a Amanda Blount taking art lessons at DBO Gallery
s
HAPPY NEW YEAR! WELCOME 2021 HAPPY NEW YEAR! WELCOME 2021
Across from APSU 428 College Street Dining Room Open Limited Seating
Call-In Pickup Orders Available! 647- 4545
come in, I'll put something in front of you. You'll do a "I have a 9-year-old student right now who is very talented, already. But, every class and art teacher she goes to wants to start her off like she doesn't know anything, just because she is nine. When I was nine I could draw myself and make it look like me. Taking a student all the way back is not helpful, it's just boring to them. I find out where you are, and from there I create a specialized plan for you. What I think you need, and what would be most beneficial."
The cost of lessons with Ola is $20 - $25 an hour, depending on the materials you are using, drawing, acrylics, oils. He provides the materials when you're
couple of younger students, a couple of college-age "For me, it's about meeting the student where they kids, and several adults." are," Ola said. "The first lesson is always free. You in the studio.
Ola combines the skills of an artist with the patience still-life, and I'm literally going to watch you work. I Lowest Lowest Lowest of a teacher. As a life-long student of art himself, he has gained insight that helps him effectively communicate with his students. might say a few things, like try this, or try that, but, I want to know where you're at, so I can meet you right there. "I love for you to have your own stuff at home, but when you come here I'll provide the canvas, paint, etc," Ola said. "People do 1-hour classes, some do 2-hour classes, some do twice a week. It's a constant learning experience. That's the thing. From the moment you walk in on your fist day, you should leave with some new knowledge. The only reason why many people aren't artists is that at some point in time they stopped creating. If that makes sense. Imagine if you start drawing today and keep on for the rest of your life, you will continue to get better.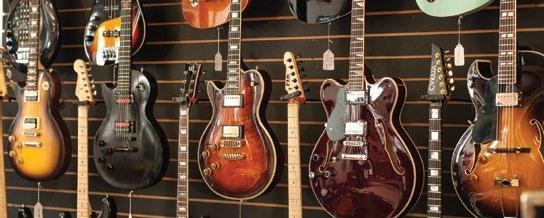 "I create a chill work environment with my students. I'm also giving them things to do. With Amanda, I'm going to tell her, the first thing you're going to do is spend two minutes drawing. Then, I'll check on her and see where she is."
PRICES OF THE YEAR INVENTORY TAX REFUND SALE!
Ola's advice to anyone is, "you have to start somewhere. People's whole thing is being scared that they won't be good at it. The fear to fail will keep you from ever starting. We're all going to fail at everything we do, at first. You have to get back up and try again. Success comes with failure. So don't be afraid you're not good enough. It takes practice to be good at anything. How many times did we fall as kids before we learned how to walk. It's just about determination."
Find Ola on Facebook or Instagram at DBO Gallery or Drafts by Olasubomi. The gallery offers Sip & Paint classes, and special painting events at Strawberry Alley Ale Works, and Yada on Franklin.