3 minute read
EMPOWERED BY LANDSCAPE
from Landscape Architecture Magazine- Empowered by Landscape
by cameron.berglund
TOP Students at the training center are taught to measure and draw baseline conditions.
RIGHT Cameron Berglund, ASLA, (lef) and Maria Kaweesa (far right) with ofcials from Uganda's Directorate of Industrial Training.

EMPOWERED BY LANDSCAPE
URBAN AGRICULTURE, PLANT IDENTIFICATION, AND LANDSCAPE DESIGN ARE AMONG THE SUBJECTS AT A LANDSCAPE TRAINING CENTER IN UGANDA.
BY LISA OWENS VIANI
Solomon Luyimbazi always knew he wanted to be a landscape designer. "Right from childhood I had passion for nature, beautifcation, and transformation of the environment," he says. But when Luyimbazi graduated from secondary school in 2012, he discovered that his coursework didn't meet university-level landscape architecture program requirements. He worried about fnding a job in Uganda, where unemployment is a big problem for young people, even college grads.
Luyimbazi found out about a vocational training institute for landscaping and gardening run by a Ugandan nonproft, the Community Integrated Development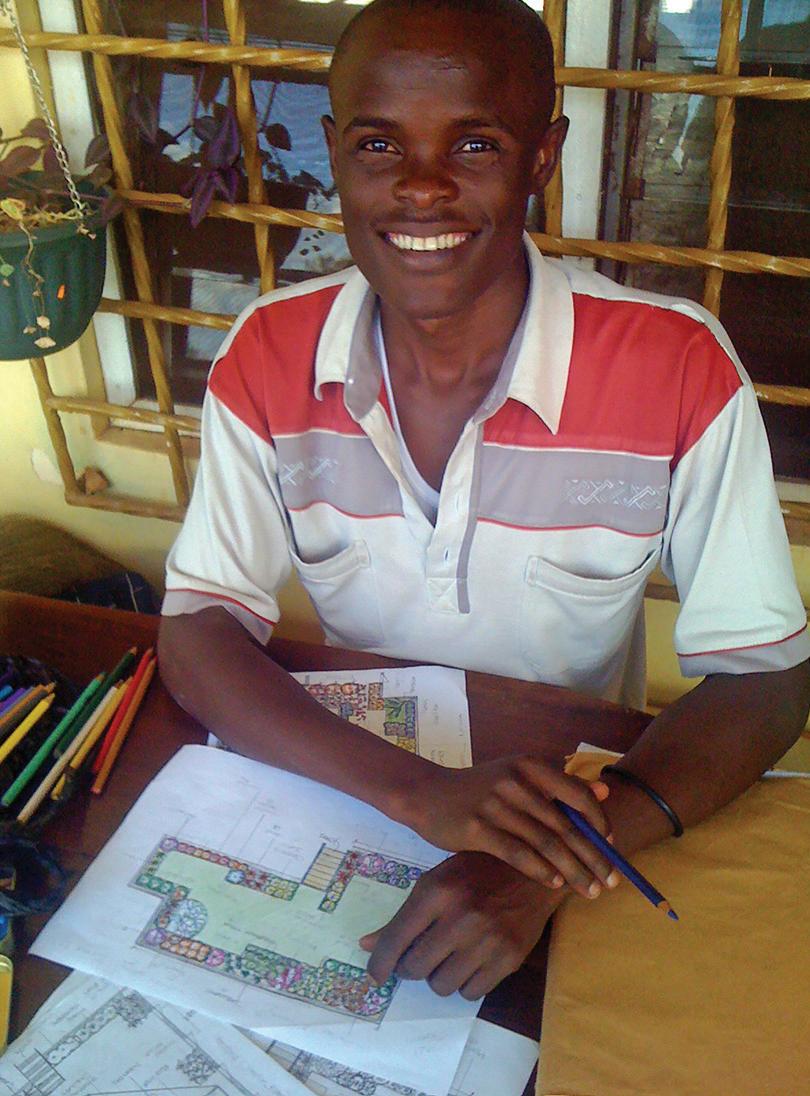 ABOVE A graduate of CIDI-TCGL, Solomon Luyimbazi now teaches landscape design at the school.
" WHAT GIVES THE STUDENTS A REAL ADVANTAGE IS THE CREATIVE THINKING AND PROBLEM SOLVING TAUGHT THROUGH DESIGN AND IMPLEMENTATION." —CAMERON BERGLUND, ASLA
Initiatives Training Center for Gardening and Landscaping (CIDI-TCGL). He applied and received a full scholarship. After graduating in 2014 with a diploma and a certifcate in landscaping and gardening, he became a landscape design consultant. Today he teaches at his alma mater. "I was so happy, worked extremely hard, and never looked back," he says.
Since 2010, the school has fedged hundreds of students like Luyimbazi: Some 85 percent have found careers in landscape design and maintenance. The school, which teaches urban agriculture, plant identifcation, landscape design, and specialized garden techniques, among other courses, enrolls equal numbers of women and men. The program is so successful students often fnd jobs before they graduate.
Cameron Berglund, ASLA, taught at CIDI-TCGL for two years. In 2011, while traveling in Uganda, he visited with the school's then-manager, Nikola Kuesters, and learned she was looking for someone to teach landscape design. "I had been hoping to fnd a more service-oriented trajectory for my career," he says, having quit his job at a large landscape architecture frm in the United States four months earlier.
Berglund worked with local leaders and the Ministry of Education and Sports to get the school accredited. "We determined how to develop a framework for teaching and grading landscape design, coming up with exams and criteria to test for the competencies we developed for a landscape gardener," he says. "But what gives the students there a real advantage is the creative thinking and problem solving taught through design and implementation."
Like Luyimbazi, Vanesa Ndagire and Roy Marie worried about fnding jobs after graduating from secondary school. Both decided to attend CIDITCGL and studied with Luyimbazi. Ndagire now works full-time designing and maintaining landscapes on private properties. "I like the fact that my work enables me to interact with people doing diferent kinds of work," Ndagire says. Roy Marie says the skills she learned boosted her confdence and helped her market herself. "I also developed a strong attachment to plants," Marie says. She now sells ornamental plants and fruit trees and works in landscaping and maintenance.
Luyimbazi says he is grateful that he's been able to share his expertise with other Ugandans: "I am so glad and proud to see that I have also trained and given skills to a number of youths who have become infuential garden and landscape designers at private companies, hotels, hospitals, embassies, universities, and elsewhere."