20 minute read
Industry News
AroundtheIndustry
Barnes & Noble
Barnes & Noble plans to open 30 stores in 2023, including two in the Boston area, which will fill former Amazon Books locations. The growth is part of a turnaround effort focused on smaller store formats, including a planned 7,000-square-foot New York City flagship.
Costco
Costco will open a total of 27 new stores this fiscal year, including 15 in the US, three relocations and the warehouse retailer's first stores in Sweden and New Zealand.
Clarks
Footwear retailer Clarks has opened the first of three planned Modern Workshop concept stores in the UK to highlight the brand's craftsmanship. The store was built using sustainable materials and there's space for events and services, including customization and shoe repair.
Esprit's
Esprit will open a new flagship in New York City in the coming year as a part of its to modernize the brand and move the business back to the US. The company also will update its product offerings while still capturing the nostalgia shoppers associate with the brand.
DroneUp/Walmart
DroneUp now offers 30-minute drone delivery to Walmart customers in Florida, Virginia, Arizona, Utah, Arkansas and Texas, expanding the service's reach to more than 4 million households. Participating stores host delivery hubs staffed by certified drone pilots, and customers pay a $3.99 delivery fee for orders weighing up to 10 pounds.
Herschel Supply
Canadian accessories retailer Herschel Supply Co. is opening its first US store in New York City, marking an expansion on its presence at many large retailers, including Bloomingdale's and Nordstrom. The company plans to have at least 12 North American locations by the end of 2023.
Meritage Hospitality Group
Michigan-based franchisee Meritage Hospitality Group will buy 43 Wendy's units in the Midwest. The Meritage portfolio, which includes 350 restaurants in multiple states, plans to grow to more than 500 with banners, including the Wendy's and Taco John's brands.
McDonald's
McDonald's has unveiled a small-format restaurant near Fort Worth, Texas that will test a set up and new technology designed to feed demand for off-premises dining. The unit, which is 26% smaller than the average features ordering kiosks, dedicated parking areas for delivery drivers and curbside pickup. It also has an Order Ahead Lane that uses a conveyor system to deliver food to customers who order via mobile.
Dirty Candy
Amanda Cohen, chef and creator of Michelin-starred restaurant Dirt Candy, and humanitarian Andrea Kerzner have opened the second location of plant-based burger concept Lekka Burger that debuted in 2019. The new location is in New York City's Urbanspace food hall. Future growth will focus on shared spaces like food courts and food halls.
Wendy's
Seven central Florida Wendy's restaurants have begun sourcing solar energy through a partnership with Duke Energy, with three more to join the program early next year and an additional 25 to follow by 2025.
Chipotle Mexican Grill
Chipotle Mexican Grill has opened its 500th restaurant with a Chipotlane, the brand's restaurant model that includes a digital order drive-thru pick-up lane. The milestone location is in Louisville, Kentucky.
Krispy Kreme
Krispy Kreme plans to test sales of its hub-and-spoke model, which shifted the focus from branded stores to retail and e-commerce channels, at some McDonald's locations. The omnichannel approach is fueling growth with the ultimate goal of growing to 50,000 access points worldwide.
Zalat Pizza
Zalat Pizza is planning its first locations within Kroger supermarkets, starting with two Marketplace stores in Houston. The Dallas-based brand, which has 24 locations, has a multi-unit deal with The Kroger Co.
Peachtree Group
Peachtree Hotel Group has rebranded as Peachtree Group, a reflection of its broader investment focus. The company is investing in hospitality and residential development, commercial lending and capital markets.
AroundtheIndustry
IHG Hotels & Resorts/Iberostar Hotels & Resorts
IHG Hotels & Resorts is expanding its portfolio with an agreement with Iberostar Hotels & Resorts. Iberostar Beachfront Resorts will become IHG's 18th brand and expand its market to Brazil, Canary Islands, Dominican Republic, Jamaica and Mexico.
BWH Hotel Group
With plans to add nearly 300 hotels to its global portfolio by the end of 2022, BWH Hotel Group—the parent company of Best Western and its various related brands—is focusing on international growth as its primary driver heading into 2023.
Turning Stone Resort Casino
The Turning Stone Resort Casino in upstate New York plans to add a hotel and space for conventions and conferences as well as amenities in its largest expansion to date. Construction is expected to begin soon and extend over several years.
Life House
Life House has opened the Life House, Berkshires in In Lenox, Massachusetts—a reimagined 1970s-era retreat inspired by combining the lodge styles of the past century with modern materiality and forms.
Tribute Portfolio Hotel.
A property that opened in Lake Placid, New York in 1927 has been transformed into the Grand Adirondack Hotel, a Tribute Portfolio Hotel. The 92-room hotel incorporates the rich history and nature of the area.
Treehouse Hotels
Treehouse Hotels is planning a 254-room hotel in Silicon Valley late next year. The hotel will be built with sustainable practices and designed to mimic a child's tree house with mismatched materials and secret nooks.
The numbers game 119 268
The number of single-asset sales over $10 million that occurred in the third quarter of 2022, according to LW Hospitality Advisors' "Major US Hotel Sales Survey." The number, which totaled approximately $3.7 billion in sales, included 88 transactions totaling $4.8 billion. The number of metro areas (out of 358) that posted increases in construction employment areas between October 2021 and October 2022, according to an analysis by the Associated General Contractors of America. Association officials said job vacancies outpaced hiring as construction firms struggle to find enough qualified workers to hire.
1.1
The amount, in billions, is a recent joint venture by Flynn Properties of San Francisco and Varde Partners of Minneapolis, one of the biggest deals of 2022. The $1.1 billion transaction involves 89 properties, including 58 Marriott International and 24 Hilton Hotels & Resorts hotels.
All hands in
Bradley donates hand sanitizer dispensers for Hurricane Ian relief efforts
In the wake of the recent devastation of Hurricane Ian in Florida, Bradley Corporation donated hand sanitizer dispensers and supplies to support hand hygiene of community members helping with relief efforts. The product donation came about when Bradley's national sales manager, Brian Jurkiewicz, and regional sales manager, Mike Logan, brainstormed with Karen Lott, Bradley territory business manager, to determine the most impactful ways to help ongoing aid and cleanup endeavors.
Karen Lott, Bradley Territory Business Manager, says the company acted after seeing that places like fire stations, hospitals, veterinary clinics and food banks were overrun with people and many facilities had no access to running water for handwashing. "Since Bradley manufactures products that support hand hygiene, we thought we could help by providing hand sanitizing equipment to disinfect hands of those working the front lines. The donation included gallons of hand sanitizer gel, a pallet of stainless steel hand sanitizer dispensers— with stand-alone and wall-mounted units—and batteries to operate the dispensers. Lott says she knew Fort Myers-based Suncoast Supply Company and Sean Filiault, outside sales representative for Suncoast, would make a great partner for coordinating the distribution of donations. "Sean didn't skip a beat in helping us disperse the dispensers and supplies to groups of community members exactly where they were needed." Filiault says Suncoast was more than happy to partner with Bradley to execute its generous offer to help the community. "Even months after the storm, these hand sanitizing dispensers are still being donated to facilities helping our community. I recently dropped off hand sanitizing equipment to a local restaurant that is heavily rooted in local foster care donations, as I knew they are and have been providing free meals to the community since the storm. Hand sanitation in places like these should be priority." The assistance came following Hurricane Ian, which strengthened to a Category 4 storm, hit the west coast of Fort Myers, Florida this past September.
Did you know
 Walk this way... It's a tunnel. Right there in The Hilton Baton Rouge Capitol Center. A secret tunnel under the hotel, where former Louisiana governor Huey P. Long reportedly once watched the city's train and river traffic, and has been converted to an event space called The Tunnel. The space, which features a speakeasy type atmosphere, hosts weekly live music with a curated drink menu and has plans for murder mystery-themed dinners.
 Solar strong McDonald's has partnered with its suppliers on a deal to purchase enough renewable energy from Enel North America to power its US supply chain. The fast casual chain and its North American Logistics Council plans to buy renewable energy and certificates from Enel's Blue Jay solar project, which comes online next year and provide the group with enough renewable energy to avoid 170,000 metric tons of carbon emissions, which is about equal to the amount generated by 80 million trucking miles.
They said it...
"Shoppers are continuing to spend despite inflation and economic headwinds, and while higher prices will drive some of the increase in holiday spending this year, overall retailers are poised for a successful holiday season"
— ICSC President and CEO Tom McGee on why traffic will increase during the holiday shopping season, as 81% of consumers report they plan to visit a shopping center in a recent survey
"We're somewhat agnostic, but literally at the end of the day, we come to market with a very clear statement, which is we want to have a lot of touch points...across a multitude of different real estate types."
— Capital Tacos co-owner Josh Luger on why the fast casual chain is branching out into different formats, including food trucks and virtual restaurants, alongside traditional brick-and-mortar locations
"It's like having five restaurants opening up in Bridgeport during the hardest season in Chicago."
— Kimski Chef Won Kim on how the Korean-Polish restaurant continues to shake things up with a new pop-up each month from November through March to show off new concepts
Arizona Strong
RCA members meet at Centerbuild's 40th Anniversary Conference
RCA played host to a Members & Retailers Reception at Centerbuild's 40th Anniversary Conference in the Capri Room at the J.W. Marriott Desert Ridge in Scottsdale, Arizona in November. The conference helped construction and design professionals navigate the shifting world of physical retail to move forward and expand their businesses and relationships within the market.
1. David Brown, Tri North Builders; Joe McCafferty, Encore
Construction; Randy Danielson, Opus
2. Kent Moon, Lakeview Construction; John Stallman, Lakeview Construction; DeWayne Adamson, Pantera Global Technologies
3. Cash Matetich, Construction One; Jeffrey Mahler,
Onyx Creative; Don (Scrappy) Skorupski, Construction One
1
2 3
1
2
3
5
1. Trevor Day; Steve Olson, CESO; Alaina Day, CESO
2. James Scheiner, Lisa MacNeir, Joe Scheiner,
Scheiner Commercial Group
3. John Bodary, Joe Huppenbauer, Kathy McKinley, Dan Gilbert,
4. Anthony Graves, Graves Construction; Leslie Cook,
IMC Construction; Jerry DeLiberato, TES Engineering;
Dillon Barbieri, Jayeff Construction
5. Steve Heckman, Kingsman; Larry Schwartz, ProCoat Products
6. Mitch Lapin, Fortney Weygandt; Hunter Weekes,
4
6
1 2
3
4 5 6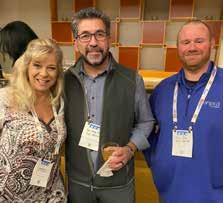 1. Vicki McBride, Andy Bohon & Mike McBride,
2. Donna Coneley, Triad Construction; Walt Watzinger,
Warwick Construction; Christie Bowling, Bowling Schork Design
3. Jen Davis, Jones Sign; Leisa Irvin, P.F. Chang's;
Jennifer Sussman, Powerhouse; Stacey Peterson, Rinnai America 4. Suzette Novak, Marco Contractors; Melinda Thurston,
RTM Engineering; Gretchen Zalamea, Birdgroup Construction
5. Steve Bachman, Zach Bachman and Sharon Bachman,
Retail Construction Services
6. Suzette Novak, Marco Contractors; Fred Margulies and
Aaron Blue, Onyx Creative
1
3 4 2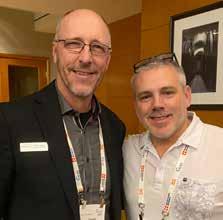 5
6
1. Mitch Lapin, Fortney & Weygandt; Eric Handley,
William A Randolph; Cash Matetich, Construction One
2. DeWayne Adamson, Pantera Global Technologies;
Art Rectenwald and Tim Aubel, Rectenwald Brothers
3. Hunter Weekes, Weekes Construction;
Matt Frank, Fortey & Weygandt 4. Ray Catlin, Threecore; Bob Moore, Gray
5. Jason Miller, Buckle; Bob Smith, Rockerz Inc
6. Dr. Peter Colla, Author of "Hunting Fields", David Corson, CCR;
Anna Colla, GEM Industries
7. Steve Graham, Aries Engineering; Steve Hekman, Kingsmen;
7
Gavel down
7 trends impacting commercial construction litigation in 2023
Two-thousand twenty three is going to be highly challenging for the construction industry as it is shaping up to be a vortex year, where past, present and future factors can all combine to instigate disputes. Continuing uncertainties this year, especially from the big four of labor, pricing, supply and inflation has the ability to negatively affect timelines and budgets, leading to an increased number of disputes and litigation."
The following are trends that will influence construction disputes in 2023, from a risk analysis and construction claims perspective:
No. 1: The expanding concept of responsibility — defining liability even when affected by outside influence
While contracts have always focused on the project at hand, exculpatory clauses, such as force majeure, have been largely perfunctory with less attention devoted to defining responsibility for damages caused by forces outside the project and control of the contracting parties. Going forward, contractual agreements will need to broaden perspective to more effectively define culpability, even from the impact of outside influences.
No. 2: Inflation affecting material prices will continue to rise and push the limits beyond contractual terms
As if the 2022 material price increases have not been enough, inflation is predicted to continue to rise in 2023. For projects with contracts that do not specifically allocate responsibility for escalating material price increases, expect disputes. Contracts for future projects will need to address both normal and extraordinary price fluctuations, properly allocate responsibility based on the parties' expectations and their potential to affect costs and budgets.
No. 3: Labor shortages will continue to influence timeline disputes
The lack of skilled labor continues to affect quality of performance and contribute to project delays, leading to an increasing number of disputes and litigation. No. 4: Supply chain issues will continue to trigger disputes, but its effects may lessen later in the year
Although the supply chain is still a factor affecting timeline disputes, this has the potential to correct itself as prices rise and demand falls. As demand falls and the value of the dollar stays strong, materials may become more readily available to those willing to pay the cost to accelerate procurement to minimize the impact to project performance.
No. 5: Increased use of digital management and record keeping (over paper records) in the construction industry, has the potential to reduce the number of disputes
The ability to render proper and timely decisions as project events unfold is dependent on possessing real-time data and information. The construction industry, however, is decades behind other industries in adopting digital record keeping, but 2023 may be the year that this finally gains momentum.
Digital record keeping, because of its greater accuracy and immediate access, offers valuable potential in avoiding or minimizing the occurrence of disputes, especially in the area of change order negotiation and management, a leading cause of disputes. The number of cases settling or going to mediation continues to grow as courts work to process a backlog of cases slowed from the pandemic shutdown. Going forward, new resolution strategies are expected to be explored and utilized, as the likelihood of one's case going to court is diminished.
No. 7: Contractors need to comply with expanded buy-American requirements
The passage of the Infrastructure Investment and Jobs Act (IIJA) is expected to increase the spending that will be made available to advance transportation, water and power and communication infrastructure projects. Along with this increase to the civil and commercial sector, the Buy-American requirements have been expanded to apply to all federally funded infrastructure projects. As such, state agency rules that may have applied prior to this change, may no longer apply. Contractors need to assure that they are meeting these expanded requirements for use of domestic goods and materials on their projects
to avoid potential impacts and delays that may arise from their failure to comply. We anticipate that 2023 will be an active year for construction disputes and litigation, as the industry is caught between pre-pandemic contracts and a future of uncertain labor, price, supply and inflation issues. Companies that best anticipate outcomes and facilitate flexibility in negotiations and contractual obligations are those that will be in the best position to minimize disputes. CCR
James F. Gallagher, P.E., F.ASCE, a Principal with Resolution Management Consultants Inc. (RMC), has more than 35 years of hands-on experience in contract development, construction/project management and construction claims prevention and resolution. Licensed as a Professional Engineer in 16 states, his experience spans all types of construction services on projects involving the public sector, institutional, commercial, power, environmental, marine, educational and transportation, including highway/bridges, light rail and airports on behalf of owners/operators and government agencies to contractors, engineers, architects, attorneys and vendors.
Companies that best anticipate outcomes and facilitate flexibility in negotiations and contractual obligations are those that will be in the best position to minimize disputes.
No. 6: Courts continue to dig out of their post-pandemic backlog in processing cases, leading to more cases settling or going to mediation
Green me away
Why it's becoming easier for building contractors to go all in on sustainability
There has been a noticeable uptick in green construction practices over the last 10 years or so. Owners, architects and engineers are making conscious efforts to reduce buildings' carbon footprints and preserve our dwindling natural resources. We all are learning how to do things differently to protect our planet.
But while rooftop solar gardens and sustainable bamboo flooring may add the pizzazz, few people outside our industry are aware of other less-visible—but highly impactful—green contracting practices. For me, green is all about what is (or is not) going into dumpsters and landfills.
Almost every US commercial construction company is trying to be green in some sense or another. We are involved with many LEED- (Leadership in Energy and Environmental Design) certified projects. LEED is the most widely used green building rating system in the world. Administered by the US Green Building Council, LEED certification is a source of pride. Points are awarded for everything from choosing a sustainable site to water efficiency, the use of renewable energy and indoor air quality. Even if it's not specifically LEED, most contractors have some sort of sustainability component to their business. New technologies, materials and systems are creating newer, more efficient options that simply didn't exist a decade ago. Which brings me back to the subject of dumpsters and landfills.
Waste a tree or plant a forest?
Construction sites typically have one or more dumpsters. A lot of contractors try to separate the garbage from recyclable materials. We were doing that years ago when I was working on the Mall of America project in Minnesota. The money we made from recycling steel helped pay for our lunches. Still, there are many unmet opportunities to minimize waste. And while I'm no expert, it seems that achieving zero waste is one of the biggest things we can do to protect our environment for our future and our family's future. For contractors, using durable equipment instead of single-use materials is a smart financial decision and kinder to our environment. Back when I visited construction job sites around the country as a safety consultant, it drove me crazy to see 2 x 4s used for safety guardrails, then tossed into landfills. That's our environment going to waste. When our team set out to design safer guardrails, it also was essential for them to be robust and reusable. Lightweight powder-coated steel corrodes, rusts and bends. Cast iron bases crack. So we settled on 13-gauge hot-dipped galvanized steel. Yes, I know galvanized steel isn't exactly eco-friendly. But we make it once and if you take care of it, it lasts for decades. That means fewer resources end up in landfills. We only source US-made steel, which is associated with lower production emissions than foreign steel. We also created a kit system to eliminate the waste associated with guardrail storage and transporting. No more wooden pallets and banding straps going into dumpsters. Our guardrails are now sold across 44 states. A few years ago, we estimated that we'd saved 265,488 linear feet of 2 x 4 lumber from going into landfills. We also plant a tree in a US national forest for every 10-foot guard rail panel we sell, on behalf of the contractor who bought it. As of July 2022, we have planted 5,258 trees in our national forests. That's quite the payoff.
I'm astounded by all that can be accomplished
Our guardrail system was used in the construction of Climate Pledge Arena in Washington State. The goal of this project was, "to be the most progressive,
responsible and sustainable arena in the world" and I'm in awe of what they've accomplished. The arena uses no fossil fuel. All mechanical systems, heating, cooking and dehumidification systems, etc. have been converted to electric. Solar panels provide renewable power. A "rain to rink" system collects water off the roof and turns it into the "greenest ice in the NHL." It is like the utopia of all that is currently possible. Our world is changing. Green construction is a big movement, and we will continue to see it grow. I'm continually inspired to design and produce durable, sustainable equipment that will support our industry's mission of taking better care of our planet. And I'm thankful for the inventiveness of others who are creating more environmentally friendly building materials and systems. As greener options become more easily accessible, we all benefit. CCR
With more than 30 years in construction as a field laborer, Deb Hilmerson has been a safety director and consultant at companies like 3M Worldwide and Mortenso. Today, she is President and CEO of Hilmerson Safety.
Our world is changing. Green construction is a big movement, and we will continue to see it grow.
WE'RE HERE FOR YOU
Like any good winning team, a successful effort takes strong teamwork, coordination and clear responsibilities. A combination of artistic, technical, management skills all come into play.
We have taken great care to assemble a team of experts who are perfectly suited to deliver these projects for you. We're thrilled to go on this journey with you and promise to give your brand undivided attention and focus.
What Can PMC build for you?
CHRIS.LOVE@PMCONSORTIUM.COM 347.392.1188
TOM.DOUGHERTY@PMCONSORTIUM.COM 914.646.1437