65 minute read
Industry News
AroundtheIndustry
Target Stores
Target will spend around $4 billion annually over the next few years on capital projects, including opening new stores, remodeling existing locations and incorporating tech tools designed to speed up online order fulfillment. The retailer plans to open up to 40 stores per year starting in 2021, and it has been expanding the use of stores as fulfillment centers for digital orders.
Sephora
Sephora expects to open about 60 standalone locations this year, in addition to in-store shops it is launching with new retail partner Kohl's.
Macy's/Backstage
Macy's will open 45 more off-price Backstage locations within existing department stores this year, with plans to ultimately grow the concept to 270 shops. It also plans to open more standalone Backstage stores.
Dick's Sporting Goods
Dick's Sporting Goods is opening a new concept store, Dick's House of Sports, in Rochester, New York. The store will sport interactive features like a rock climbing wall, and employ fitness experts to help shoppers select appropriate workout gear and routines, with an eye toward forming a fitness community.
Shoe Carnival
Shoe Carnival plans to remodel and/or relocate two-thirds of its 383 stores over the next few years to serve shoppers' growing demand for omnichannel retail.
Levi Strauss
Levi Strauss plans to open more stores this year to take advantage of vacant retail space and further its goal of expanding direct-to-consumer sales. New locations will be smaller-format NextGen stores that will use machine learning tech to manage inventory.
Petco
Petco plans to ensure that half of its product assortment is sustainable by the end of 2025, making sustainable products easier to find with in-store signage and a sustainable online shopping site. Qualifying products will meet at least one of five sustainability criteria related to sourcing and manufacturing.
Fazoli's
Fast-casual Italian-American chain Fazoli's added six new franchisees, totaling 12 new locations across Iowa, Florida, Kentucky, Tennessee and Texas.
Chipotle Mexican Grill
Chipotle Mexican Grill will debut a new Chipotle Digital Kitchen concept in Highland Falls, New York. Customers will be able to place orders via Chipotle's app or website, or a third-party service, for takeout or delivery only.
Pizza Hut
Pizza Hut is adding drive-up lanes at 1,500 US restaurants, where customers who order ahead via the chain's website, mobile app or by phone can pick up their orders. The new windows, called Hut Lanes, are part of an ongoing effort by the company to use technology to improve the customer experience.
Denny's
Denny's is ramping up efforts to rebound from the pandemic with two virtual brands—The Burger Den and The Meltdown. Launched in January, they now are available in half of the chain's US locations.
Jersey Mike's
Jersey Mike's continues to target colleges and universities as part of its growth plan. So far, the brand has developed outposts at seven campuses, including Purdue University, Seton Hall University and Montclair State University.
Bloomin' Brands
Bloomin' Brands Inc. has opened a two-story Aussie Grill in Hong Kong that features such a coffee counter, a grab-and-go area and kiosks for ordering. Bloomin' Brands also will roll out the test of its virtual chicken concept Tender Shack to 12 more US markets in partnership with DoorDash. Tender Shack's food, available for delivery only, is prepared in the kitchens of Bloomin' Brands-owned restaurants Carrabba's Italian Grill and Outback Steakhouse.
Famous Dave's
Famous Dave's signed a 25-unit expansion deal with Bluestone Hospitality Group to create Famous Dave's locations that are co-branded with Bluestone's casual Italian brand Johnny Carino's. The deal also includes a plan to use Johnny Carino's locations to prepare Famous Dave's menu items for takeout and delivery. Famous Dave's also will open a Quick 'Que location with the concept's first drive-thru this summer in Salt Lake City.
Via 313
Texas-based Detroit-style pizza concept Via 313 has attracted equity investor Savory, which will take a stake in the brand with plans to open about 12 new units over the next two years.
King Ranch Texas Kitchen
The owners of Landry's and Fertitta Entertainment have teamed with the largest ranch in Texas to open King Ranch Texas Kitchen in Houston. The new 10,000-square-foot eatery will fill a space formerly held by Willy G's Seafood & Steaks, another Landry's concept.
Bodega Taqueria
The parent of Bodega Taqueria & Tequila in Miami will launch a fast-casual concept, Bodega Taqueria. The first three units are scheduled to open in South Florida next year, with a menu featuring tacos and inventive takes on Mexican street fare.
ALDI
ALDI is joining with Instacart to grow its curbside pickup service to 500 stores by the end of this year, adding those sites to the 600 stores in 35 states where the pickup option was rolled out in 2020. ALDI also announced plans to open 100 new stores this year, focusing on Florida, California, Arizona and the Northeast.
Amazon Fresh
Amazon launched its first checkout-free store in Britain. Called Amazon Fresh, the store is located in Ealing, London, and will let customers walk in, pick up what they want and walk out again without having to pay at a cash register.
Winn-Dixie
Southeastern Grocers opened four new Florida locations for its core banner Winn-Dixie, using half of the eight locations it acquired earlier this year in bankruptcy auctions for Earth Fare and Lucky's Market. Openings were held at renovated sites in Boynton Beach, Jacksonville, Lakewood Ranch and Gainesville.
Wegmans
Wegmans is targeting the mid-Atlantic states for an expansion that will include at least 10 new stores and a $175 million distribution center in Ashland, Virginia. Wegmans is planning sites in Delaware, Maryland, North Carolina, Virginia and Washington, DC.
Whole Foods Market
Whole Foods Market will launch its first Montana location in the fast-growing city of Bozeman, with the opening planned for fall 2021 in the city's Gallatin Valley Mall. The mall, which is being redeveloped, serves five surrounding counties with a population of 150,000.
Ingles Markets
Ingles Markets is working with the Hewlett Packard Enterprise company Aruba to bolster its technological capabilities, which will allow the regional grocer to start offering curbside pickup and contactless ordering at many of its nearly 200 stores. Ingles will use Aruba's services to upgrade its digital infrastructure, which was installed two years ago.
Schnuck Markets
Schnuck Markets is remodeling its 60,000-square-foot store in a suburb of St. Louis to add a food court featuring popular local restaurants and a section offering clothing from St. Louis retailer Arch Apparel. The grocer said renovations at the site should be completed in the summer and also will include expanded options for fresh foods and other upgrades both inside and out.
Giant
Giant's new 65,000-square-foot store in Philadelphia features an outdoor terrace, restaurants and a beer garden. The location will help serve as Giant's urban flagship and offer a blueprint for future growth.
H-E-B Butt Grocery
H.E. Butt Grocery will enter the Dallas-Fort Worth market with two new stores in Plano and Frisco, both set to open in fall 2022. The new stores will be the first in the region for the grocer's flagship banner.
Raley's
Raley's is on course to convert all existing stores to reflect its O-N-E concept, which puts extra emphasis on healthy and sustainable products. Raley's will open its second O-N-E location in El Dorado Hills, California.
Great Wolf Resorts
Great Wolf Resorts plans to open a Great Wolf Lodge water park resort in Jackson, Tennessee. The proposed $150 million project is expected to bring in up to 500,000 guests annually and create 500 jobs.
Universal Music Group
A $1.2 billion state-of-the-art hotel and entertainment venue in Biloxi, Mississippi is among the first three properties Universal Music Group plans to open as it enters the hospitality arena. Atlanta and Orlando, Florida also will help launch the UMUSIC brand.
Hai Hospitality
Austin, Texas-based multiconcept operator Hai Hospitality received a "substantial" investment from private-equity firm KSL Capital Partners. Hai plans for a location in Miami early next year. The group also operates the sister concept Uchiko.
Hotel Xcaret Arte
The Hotel Xcaret Arte in Riviera Maya, Mexico will showcase Maya culture while regaling travelers with 900 suites, 10 bars and lounges. The adults-only property, set to open July 1, affords access to Grupo Xcaret's seven eco-adventure parks.
Amber Rock Resort
Amber Rock Resort is set to build on a former quarry in Derbyshire, England. The project will include 148 straw bale lodges, 210 holiday apartments, a 116-bed hotel and an indoor water park, a lazy river, a raft ride, an outdoor pool and water slides.
SpringHill Suites
The four-story, 80,000-square-foot SpringHill Suites hotel in Chicago's Chinatown neighborhood was constructed on top of an existing two-story parking garage and retail center. It is only the third hotel in the immediate area.
Gun Lake Casino
Gun Lake Casino in Wayland, Michigan is undergoing a 250,000-square-foot expansion that will include a 250-room hotel, restaurant, entertainment space and full-service spa. The $300 million project follows an expansion of the casino, which will be completed by the end of the year.
Signia by Hilton
Construction has begun on a 40-story hotel on the Georgia World Congress Center Authority campus in Atlanta. The Signia by Hilton tower, set to open in 2023, will house 975 rooms and 18,000 square feet of meeting space.
The numbers game They said it
34 The percent of brands that say they will increase physical retail spending next year, with just 20% saying they will decrease investment, according to a survey by Glossy and Modern Retail. About 27% of companies surveyed shuttered one or more retail locations during the pandemic.
"We're committed to helping our consumers foster lasting relationships with their homes not only functionally, but also emotionally."
— Lowe's CEO Marvin Ellison on the home improvement retailer's pandemic strategy
180 The number of hotels that Wyndham Hotels & Resorts plans to open in Asia and the Pacific this year after adding 125 properties in those regions during the pandemic. China will play host to about 100 of the new hotels, with Australia, New Zealand, South Korea, Taiwan, Thailand and Vietnam also in the mix.
55,395 The number of rooms the US has opened since March, more than any other country, according to STR. Only five additional countries have opened more than 2,000 rooms during the pandemic, including China (23,470), Japan (16,304), Germany (9,027), Canada (2,748) and the United Kingdom (2,481).
1,500 The number of drive-thru lanes that Pizza Hut is planning to add across the country. The Hut Lane is a digital order pickup window for previously ordered carryout pizzas. Customers either order by phone or through the Pizza Hut app or website, pull up to the window, get their order and leave. "One of the things that's really been the most challenging part is understanding what we can control and understand and what we can't control."
— Signature Room co-owner Richard Roman on how restaurants are navigating the road to reopening
"Retailers are looking at their holistic supply chain and store networks together—distribution centers and warehouses and stores—to figure out, how do they support demand?"
— Accenture's Managing Director Sean Whitehouse on how a retail revival could bring new inventory challenges
Back in business
After hitting a 5-year low at the start of the COVID-19 pandemic, the construction industry is booming. An average of 135,500 building permits were issued in the months of Q1 2021, compared to only 96,000 in April 2020, according to the Census.
Source: Industrial Paint and Protection Magazine (www.ippmagazine.com)
Annual Architecture/Design Firm Listing
Danielle Barr, Marketing Manager 1430 West Peachtree St. NW, Suite 200 Atlanta, GA 3030 Telephone: (212) 725-9530
www.greenbergfarrow.com dbarr@greenbergfarrow.com
Year established: 1974 No. of employees 204 Billings from Jan - Dec 2020: N/A Retail: $18,615,000, Hospitality: $26,500 Restaurants: $8,720,000, Healthcare: $122,000 Multi-Housing: $4,309,000, Federal: $N/A Cannabis: $500,500, Other: $1,422,000, TOTAL: $33,715,000 Specialize In: Retail, Restaurants, Shopping Centers, Cannabis, Office, Multi-Housing, Industrial / Warehouse & Energy Leading Clients: Texas Roadhouse, The Home Depot, Murphy Oil, Circle K, Meijer, IKEA
Take it to the curb(side)
Technomic names country's fastest growing chains
In a pandemic that had everyone scrambling for takeout orders, big chains won out over smaller ones. Here's a look at the 10 leading chains in the "Technomic Top 500."
1. Teriyaki Madness 2. Wingstop 3. Sonic Drive-In 4. Marco's Pizza 5. Pizza Guys 6. Ono Hawaiian BBQ 7. Popeyes Louisiana Kitchen 8. Freddy's Frozen Custard & Steakburgers 9. Tropical Smoothie Café 10. Jersey Mike's
EONTM MODEL EL3
Three Phase Centralized Emergency Lighting Inverter Now Available Up To 55 kW!
LED Fixture / Driver Compatibility
High peak overload capability of 1700% to accommodate inrush current from LED fixtures / drivers while fed from the AC power source, or even while in battery mode.
Full Compliance With NFPA 101
Computer-based, self-testing / self-diagnostic emergency lighting system with data-logging and remote communications via BACnet, MODBUS, and Ethernet.
Compact, Space-Saving Footprint
Physically smaller than comparable three-phase emergency lighting inverter products, without compromising performance or serviceability.
10 kW – 55 kW Download a brochure and specifications today!
UL 924 Listed — Emergency Lighting Equipment C-UL Listed to CSA C22.2 No. 141-10; 141-15
www.controlledpwr.com/EON_1
Out with the old...
How to start eliminating construction waste today
Material waste is a common problem in construction projects. In fact, according to Science Direct, as much as 30% of all building materials delivered to a typical construction site can end up as waste. While construction waste is a growing problem, especially in the US, there are steps your team can take to minimize the effects of construction waste on the environment and your community. Here are a few innovative ways you can reduce your impact on the environment at your job site:
This is a booming construction industry trend that gives new life to forgotten structures. By utilizing an old structure, you'll minimize waste that comes from demolition to contribute less overall waste.
> Use recycled materials.
Steel, for example, is a material that is made of 93% recycled steel scrap and asphalt is nearly 100% recyclable. Opting for materials like this help lessen your project's overall carbon footprint.
Using Building Information Modeling (BIM) allows you to create a 3-D model of your project that can help you plan how to salvage materials and estimate the exact amounts of materials needed for your project so you don't over-buy. These are just a few of the many benefits of using BIM at your site.
Shields up
4 tips for upgrading cybersecurity at construction sites By Corey Nachreiner
When it comes to the latest cybersecurity technologies, the construction industry often is a step behind. In fact, according to the "2019 Travelers Business Risk Index," nearly half of all construction executives believe their firms are destined to fall victim to a cyberattack, yet more than 68% admit they haven't assessed the security risks, or made plans or preparations. In order to build a better security posture, here are four strategies worth considering:
1. Start with Foundational Security
Measures — Strong cyber security starts with fundamental layers of security. Any computing devices on site should be secured the same way they would be in a traditional office setting. Deploy firewalls, patch software regularly, back up your data frequently, enable core network security services and endpoint protections, etc. These are basic, but critical table stakes. New generations of ruggedized security technologies, including multi-function security appliances and Wi-Fi access points, can address historical jobsite issues like heat, dust and moisture, while remote monitoring and management tools can allow IT professionals to execute updates and monitor alerts from a central location.
2. Understand Your Adversary's Mo-
tivations — You cannot adequately protect company data without understanding who might want to get a hold of it and why. One of the main motivations for targeting a construction site is the theft of intellectual property, such as blueprints that could provide intelligence on defeating the physical security in the future. Another could simply be compromising the supply chain to divert payments or extortion via ransomware. Attackers might even want to open a backdoor into a future tenant's network by gaining control over the building automation systems being installed in a new development. Understanding these motivations can help you identify the best mix of security layers to implement.
3. Invest in Employee Education —
Better cyber security awareness is a simple, but powerful measure, especially given how wide ranging the level of technical skill and training is across construction teams and employees. Teach all managers, employees and contractors to identify phishing attempts, flag suspicious emails, calls or wire transfer requests, and to not click on every link they receive.
4. Prioritize both Physical and Cyber
Security — Some construction companies already may be undergoing digital transformation initiatives, using wireless or cellularly-connected rugged tablets and shared blueprints, and plans on digital devices rather than paper. You might be using drones for site inspections or 3D printers for prototyping. Today's cyber criminals already are targeting tablets, smartphones and other mobile devices, and while attacks on drones or 3D printers are not as common, they are possible. Regularly update these devices, change their stock passwords and assess them for potential compromises.
Corey Nachreiner is CTO of WatchGuard Technologies. A front-line cybersecurity expert for nearly two decades, Nachreiner regularly contributes to security publications and speaks internationally at leading industry trade shows like RSA. For more information, visit www.watchguard.com.
Locking The pandemic created something of an open season for construction site theft as job sites across the country either shut down or saw work curtailed as the nation attempted it down to isolate and curtail the spread. Circumstances aggravated a persistent and costly problem for the industry, which reports some 600 to 1,200 cases of equipment theft annually, costing it an average of $400 million. The issue is a lot bigger than the replacement value of the stolen equipment. The indirect costs can be significant, stemStepping up security ming from job delays and penalties and downtime for operators, to protect equipment against theft higher insurance premiums and sometimes its cancellation. Some estimates suggest that the direct and indirect costs of By Phil Casto thievery at residential construction sites can add 1% to 2% to the price of a new house. It makes preventative security measures at job sites and of the equipment within them instrumental to protecting this substantial investment. Both low and high tech solutions are effective, especially used in combination. Here are four measures that will make a difference:
No. 1 — Layered security solutions make better barriers
The harder criminals must work to penetrate security defenses the more likely they will be to give up. Fences are a must. They also must be kept locked and offer features that make them resistant to climbing. They don't have to be sophisticated: securing sheets of plywood to a cyclone fence is an effective deterrent. Making the point: warning signs strategically located on the fence. These can tout 24-hour video surveillance, penalties for trespassing and/or rewards offered to those who report thieves. Access points should be limited and monitored, whether with technology or on-site guards (especially valuable despite the cost in high crime areas). Adequate lighting is another must-have—even better when used with motion detection monitors and alarms.
No. 2 — Identify everything and keep a list
All equipment and its attachments—from heavy machinery to hand tools—should be marked with the company name in a way that cannot be easily removed or obliterated. Using welding or etching tools will do the best job. Much of this equipment doesn't have title and registration information, making this crucial for identifying and reclaiming property that's stolen. Also important is maintaining an inventory of all equipment on the site and where it's located. This is an efficient way to stay on top of thievery and facilitate recovery. As an additional way to keep tools and equipment labeled, consider microdot technology. Microdots are tiny labels that are invisible to the naked eye, but that show up under a black light or magnification.
No. 3 — Tech solutions give a leg up against criminals
One way to marry the security benefits of lighting, monitors and alarms is through Internet of Things (IoT) solutions—especially helpful at big job sites with a large amount of tools and equipment to protect. By using IoT-enabled tags that are equipped with sensors, the location of equipment can be monitored in real time. In fact, using IoT sensors at strategic locations throughout a job site can help detect equipment movement and other risks, too, like fire and flooding. Ensure that you have all your equipment protected with a GPS, and not just the biggest items. GPS trackers can be smaller than a cell phone, and installed on items like generators, welders, light pods and trailers. We've seen cases where a schedule of equipment was stolen, and the GPS on a small piece of equipment was what led police to the storage location. Newer, factory-installed GPS units are integrated into the control circuitry and aftermarket options like smaller battery-operated GPS units can be easily hidden. Many manufacturers now are providing integrated GPS systems that monitor and link operations to increase efficiencies. The battery-powered units have a five-year-plus battery life and can be attached magnetically in hidden locations. Another technological solution is motion sensing cameras; inexpensive systems with flexible power solutions, from hardwired to solar power options and reliant on a cell phone signal versus wi-fi. Motion detection signals an alert to a mobile device, but some vendors offer 24/7 monitoring. A few wellplaced cameras can cover an entire job-site, or a subdivision for residential builders.
No. 4 — Make it hard to walk or drive off with equipment
The most commonly stolen equipment from construction sites includes power tools, anything that will fit into a pickup truck, and equipment that can be easily trailered. Factory and dealer-installed security options like hydraulic locks and hidden disconnects provide a lot of value. Other portable equipment like generators and welders should be locked in a trailer, chained up inside an encapsulated building, or at the very least, chained up in an out-of-sight area and positioned in a way that makes them difficult to transport. It should not be necessary to mention, but sometimes the most effective security for construction equipment doesn't require an expensive and sophisticated technological network. Reinforcing the need to use a little basic common sense can go a long way. That means not overlooking a no-key-left-behind policy to ensure keys are not stored on the machinery and a purchasing policy that ensures all equipment is individually keyed. CCR
Phil Casto is Senior VP for Risk Services at HUB International. Casto has extensive experience in the construction, manufacturing and petrochemical industries. He serves as a resource for the insurance brokerage operations, providing solutions in the areas of risk mitigation, safety, regulatory compliance and workers compensation.
An awakening
The important role building materials play post-pandemic
Ayear into COVID-19, and while there are signs of a light at the end of the tunnel, we still have a long way to go when it comes to bringing back a full semblance of normalcy. Along with developing medical advancements, such as vaccines and evolving social interaction guidelines, parts of the physical world around us will need to be reimagined in order to be fully safe for occupation and to help reestablish peoples' sense of safety while indoors with others. As a result, the building materials industry has had to pivot to fit new and changing levels of demand, expectations of ability and overall role in the future of the commercial building industry.
Over the past year, the importance of appropriate and advanced building materials has skyrocketed. When building materials went on allocation previously, it was inconvenient, but rarely a breaking point. During the pandemic, a restaurant, for example, that could not acquire the materials it needed to create a comfortable outdoor dining area or modify
its entrance to safely provide take-out service, may have been forced to close. Meanwhile, schools that could not access the equipment needed to modify their HVAC design or increase the fresh air changes in classrooms were under unbelievable pressure to open and keep everyone safe, while educating.
Overall, the pressure to meet new and changing guidelines and expectations, has left organizations and properties across the country and world with a need to in-demand materials, and building material manufacturers with big, new orders to fill in record time.
Overall, the goal is that new building materials, and their uses, will help foster confidence in building occupants and allow them to eventually "worry less" about their surroundings.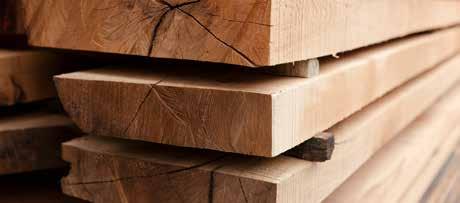 The change in expectations
During this time, there also has been a greater pressure on buildings (and the materials they are composed of) to meet new health expectations. For years, the concept of healthy buildings—structures that support the general wellbeing of occupants through the materials they are composed of and the technology they harness—has been in the foreground of innovation for the industry. When it comes to creating healthy buildings, the pandemic was, in some ways, an awakening for the building materials industry. The past year drew attention to
vulnerabilities in the built-environment vertical and forced industry giants to rethink their products. One solution for industry leading companies has been to model new products after what has already been the standard in hospitals and doctors' offices for years, in order to meet the changing expectations for everyday building materials. For example, outside of healthcare facilities, the industry struggled with creating materials with pathogen control. Now, it is one of the topics dominating discussion. As a result, the concept of "safe surfaces" is of top priority as we look to bring people back into commercial spaces. Meanwhile, Mechanical, Electrical and Plumbing (MEP) professionals are implementing many of the lessons learned in healthcare to the rest of the commercial sector as solutions for existing buildings and establishing it as new standards.
Overall, the goal is that new building materials, and their uses, will help foster confidence in building occupants and allow them to eventually "worry less" about their surroundings. However, since it is unlikely that the impact of the pandemic (such as a heightened awareness of germs) will not wear off in the near future, the new materials and design solutions developed because of the pandemic and consumers concerns, will become standard elements going forward. Over the next five to 10 years, the building materials industry will continue to emphasize creating healthier indoor environments. We also will see a change in the ways these spaces are utilized. Concepts like touchless controls and means of interacting will make light switches and doorknobs seem as outdated as wired telephones. As we pass through public spaces, we'll make note of what we touch and ask why it is still necessary. Meanwhile, spaces may need to be able to clean themselves to some degree and hard to clean surfaces may become hard to live with. Overall, building materials have been, and will continue to, play a critical role in our society's ability to recover from COVID-19 by meeting growing demands, adapting to changing expectations, and continuing to innovate along the way. The pandemic has pushed the building materials industry to innovate at a faster pace and has challenged us with creating solutions to real time problems. As a whole however, we will come out stronger. CCR
Lucas Hamilton, Manager, Applied Building Science for Saint Gobain North America, is a physicist with 30 years of experience in construction and construction materials manufacturing. His expertise includes forensic building envelope diagnostics and testing as well as the development of non-intrusive construction analysis equipment and techniques. A practitioner of a variety of building performance simulation software, Hamilton spent the past 15 years working with builders and design professionals on behalf of Saint-Gobain to achieve more sustainable, durable and higher performing buildings.
The Specialists
Why Floor & Decor continues to be one of America's favorite DIY stops
Interview by Michael J. Pallerino
Tile. Wood. Stone. Accessories. When it comes to flooring, whatever today's professional contractors and homeowners are looking for, Floor & Decor delivers. For the past 20-plus years, the leading specialty hard surface flooring retailer has been the go-to place.
Maybe that's why the retailer has been recognized as one of Fortune's 100 fastest growing companies. The key to Floor & Decor model rests in its extensive selection of in-stock products, which enable its customers to get what they need, when they want it. Sourcing directly from myriad manufacturers and quarries around the world, the Floor & Decor team is able to keep its "everyday low price" strategy well below its competitors. We sat down with Director, Construction Design & Entitlements Julie Starzynski to see where the Floor & Decor brand is heading.
Give us a snapshot of the Floor and Decor brand?
Floor & Decor is your one-stop shopping for any tile, wood or stone products to elevate your brand new build or remodel your home. We help you start a project and make sure you have everything in order to finish the project. We pride ourselves with being able to supply all the materials for your new build or remodel at our store.
The pandemic and amount of time spent at home has really opened customers eyes into what needs renovating at their homes.
What type of consumers are you targeting?
We target contractors, do it yourselfers and homeowners.
How does the overall design of your stores cater to what today's consumers are looking for?
Our store design is very simple for a customer to navigate. We have large displays showing multiple products. Our store is broken up into areas for the type of finish you're looking for so a customer can see the multiple options they can choose from. We have large quantities for in-stock products for the customers to purchase and leave with the job quantity they require. There also is a design gallery to help inspire our customers with ideas and consult with an in-store designer.
What kind of adjustments have you made over the past year?
When the pandemic hit, we offered curbside pickup, which was touchless. I actually used this to pick up tile for a project I was working on. We also offered virtual and in-store design appointments. Our website also was revamped to help customers look online and purchase products for pick up.
What's the best piece of advice you can offer on how to deal with what's happening now?
I think all retailers have to be flexible and really think outside the box to make sure their customers feel safe while shopping and also have non-traditional ways to shop your stores. Being creative right now is the only way retailers will be able to navigate the pandemic.
Is there a location that shows how your stores interact with the community and customers?
All of our stores show how we interact with the community and customers. In the Atlanta area, Kirkwood is one of our newer locations that shows the current prototype. I love walking into that store and seeing where we are right now. And even though our I-85 store (Atlanta, right off Interstate 85) is not the current prototype, it shows how far Floor & Decor has come. This was the first store in our chain. Walk us through how and why your locations are designed the way they are?
We always design for the the customer in mind. We look for locations that are easily accessible for our customers and in locations they might frequently visit. In regards to our layouts, we make sure the layout is designed for an easy in and out experience for the customer. Our layouts also lend to an ease of finding products. We always strive for a great customer experience.
Take us through your construction and design strategy.
Our construction and design strategy is always fast to market. We look at what needs to be done for our stores and figure out the best path for us to open a store in a quick and cost-effective fashion. It's a team effort
I think all retailers have to be flexible and really think outside the box to make sure their customers feel safe while shopping and also have non-traditional ways to shop your stores.
with a lot of thinking outside the box, and figuring out what the best path is for our stores and company.
What's the biggest issue today related to the construction side of the business?
As most people know in the business, obtaining steel and concrete has been a struggle across the board. The other struggle is getting any type of hand sanitizer dispensers. Building in a pandemic has been challenging in general because of the availability of product and the safety plan in place to have a safe working environment.
Talk about sustainability. What are you doing?
We are constantly looking at ways to improve upon sustainability. We have started a recycling program across all our stores. We are always looking to incorporate whatever we can with our products and construction, as well as sell to our customers. In construction, we also use energy saving devices for multiple items in our store, i.e., electric forklifts versus internal combustion.
What type of opportunities do you see moving ahead?
With our company being fairly young, the opportunities are numerous. We easily could venture into numerous arenas that we are not currently in. For example international, purchase of a smaller company to incorporate into Floor & Decor, etc.
What trends are you seeing/expecting?
The immediate future is definitely more and more customers renovating rooms for an office or home gym. The pandemic and amount of time spent at home has really opened customers eyes into what needs renovating at their homes. Knowing more time is spent at home, customers want their homes to be more their style and functional for their needs.
What's the secret to creating a "must visit" location in today's competitive landscape?
Customer experience hands down. You must have the right customer service, the right at-
Our brand is unique in that we offer a large selection of products that can be bought on the spot.
mosphere, and the right products to make sure your customer wants to experience and shop your store. Without a strong and good customer experience, the drive to shop your store is lost.
What's today's consumer looking for?
Value. Customers want a great product for the right price. It is especially true today with the current climate that all of us are experiencing. Customers are spending large amounts of time at home and some still are not fully back to work. They want a product that looks great, but also is cost effective in the climate of this pandemic.
What's the biggest item on your to-do list right now?
Work wise, opening stores. Personal wise, revamping my new house to fit my needs. In all seriousness, my biggest item on my to-do list is to make sure we're making the best decisions for products that are cost effective and time-wise the best decision for the construction of our stores. With the current climate during the pandemic, many companies did not survive so the market is hungry to get the business. With that being said, I need to relook at my products/services and make sure I'm choosing the best for my company in costs and timing.
Tell us what makes your brand so unique?
Our brand is unique in that we offer a large selection of products that can be bought on the spot. We sell everything you need to complete a project. We also are unique in that we offer free design consultations if you're unsure how or what you want to do for your space. CCR
Describe a typical day. Crazy busy. I'm a morning person so I'm typically at the gym or working out early, and then at my home office desk between 7 a.m.-7:30 a.m. Because of the pandemic, my work day has shifted from water cooler conversations to a lot of scheduled meetings. Most days, I'm in meetings from 8 a.m. until 5 p.m. or 6 p.m. After that, it is catching up on emails. Add travel days in and it just extends the day that much more. What's the most rewarding part of your job? Seeing a finished store. I love being able to see the project at concept level for a Floor & Decor and then seeing the doors open and customers shopping. It's especially rewarding when you take a building that is less than desirable and turn it into a bright and shiny new Floor & Decor.
ONE-ON-ONE WITH...
Julie Starzynski, Director, Construction Design & Entitlements at Floor & Decor
What was the best advice you ever received? This is tough. I have received a lot of great advice, but I think one of the biggest pieces of advice I have received is to never stop learning. I'm always trying to read books, articles, etc., to make sure I'm still learning about my field. I ask questions just to learn and to keep my skills at top notch.
What's the best thing a client ever said to you? I absolutely love when a customer or client tells me how amazing our stores are and how they didn't know how great our stores were. I love when I see and hear the excitement in their voice after they have just been in our store or shopped at our store. It shows me that our hard work of creating a great customer experience is working. How do you like to spend your down time? I love traveling and playing sports. I have been to 45 of the 50 states and lived/ been overseas as well. For sports, you can see me pretty much doing anything, but most likely running a half marathon (and soon to be marathon), softball, volleyball or hiking. I love being outside as much as possible whether at a beach, a lake, the mountains, etc. I also love spending time with my rescue Pitbull/boxer, Roxy. And as of late, I am loving renovating/updating my newly purchased home.
EST 2010
How to Make Your Advertising in CCR…
By Jim Nowakowski, President Accountability Information Management, Inc.
We do a lot of advertising research. And today, there's a lot of confusing information about what advertising is and isn't.
The Readership Circles chart on the right will help you cut through this confusion. Because today, an "ad" is just part of the equation: readers get information digitally. They go through Google to fi nd you (over 4-billion searches each day), so your ad investment in CCR is just part of the equation. This article explains how to maximize that investment.
Content is the Key
Your ad appears in the print and digital version of the media outlet. The publisher of CCR, David Corson, invests most of his time and money building his "overall audience" for your ad (you can see his audience in this auditing tool: http://intrln.com/ccr)
But he also has his website to handle the audience he can't control: the Google audience. Therefore, you can help maximize your investment by sending in your company information for CCR's website. The more content you have on the internet, the more chances you have of being found and purchased. Simple, huh?
Your Product is Really Information
No matter what product or service you are selling, your real product is information. Thus, you are in an information war competing for the attention of buyers with not just your competitors, but with everyone on the internet. The more content you have that's yours, the more opportunities for them to see you and go through the readership circles.
Why We Know This
AIM places a tracking code on CCR's website and each month monitors visitors. Then, because you advertise, you receive 10 "dossiers" seen on the right on companies who have consumed data – companies that represent high-valued targets because their need is NOW for what you are selling. ACCOUNTABILITY WEBSITE AUDIT Accountability Information Management, Inc.
David Corson has us audit this activity. You receive this audit if you advertise, and it represents a rich fi eld of leads for you. Call David Corson 678.765.6550 today to fi nd out more details! Or, call us and we'll help you understand the powerful information at your disposal.
Always Trusted Information Accountability Informati on Management, Inc. 553 N. North Court, Suite 160 Palati ne, Illinois 60067 847-358-8558 www.a-i-m.com
CCR-MAG.COM
IMPORTANT. This audit covers the above website for the period of September, 2020. It was conducted by allowing Accountability Information Management, Inc. (AIM) by placing a proprietary Code on the website to provide deeper analytics from the thousands of monthly visitors to the website to the publisher (i.e., the companies utilizing the website). AIM is in the business of auditing and verifying data. For information, contact: AIM, 553 N. North Court, Suite 160, Palatine, Illinois 60067. PUBLISHER'S STATEMENT. Commercial Construction & Renovation, CCR-MAG.COM, is a community of leading commercial construction professionals within the retail, restaurant, hospitality, health care, federal, multifamily and other commercial sectors. The website content spans the design, construction and facilities operations of major commercial construction segments to meet the information needs of today's high level executives. Visitors will find information relevant to the collaborative management process required to complete projects on time and on budget, and to efficiently manage these facilities. PRIVACY. F&J Publications, LLC discloses the information we collect on this website and how it is used. This report is based on visitors to CCR-MAG.COM. Specifically, the information in this report is aggregated to provide our advertisers information on website usage. F&J Publications always reserves the right to release information about visitors, including non-personal information.
NUMBER OF COMPANIES XXX This is the number of companies that the Code identifies. This number is the monthly universe of companies that can be identified from the thousands of visitors to this website. NUMBER OF TIMES THESE X,XXX This is the number of times these companies visited the website. The average per company is 1.41. PAGE VIEWS BY X,XXX This is the number of page views that these companies viewed on the website. The average pages viewed by a company this month is 2.04. SEARCH TERMS USED BY XX This is the number of identifiable different search terms these companies used to arrive on the website. The search terms, for example, were put into a browser which delivered results. Among the results was a page on this website. For example, while many people find it by typing in "commercial construction and renovation" or "CCR" in a search engine like Google or Bing, other terms deliver specific pages from this website based on what users type into the search engine. These searches account for less than 5% of the total search terms used. The top ten (listed) account for 48% of the identified total (not counting CCR itself). INDUSTRIES XX This is the number of companies that the Code is able to classify. It represents 5% of the total companies that visited this website, and is supplied for reference only. See UNDERSTANDING THE DATA. FIRST PAGE VIEWED X,XXX The Code keeps track of the first page viewed by the companies, and is the same number of times the companies came to the website. The chart Key First Pages Viewed lists the top ten landing pages from this grouping (excluding CCR-MAG.com itself, which is among the top, but not more than 12%).
SEARCH TERMS USED TO REACH US
• "Christopher Bushnell" AND Social Security • gary falco architecture • hi macs color TERRAZZO LUNA • inverter eon model el3 10 watt pricing • metal work very essential tools • mulehide jts1 colors • penncolor uv dispersions • permeable pavement concerns • rampart yellow wallcovering • silicone molds
KEY FIRST PAGES VIEWED (other than CCR-MAG.com)
• 7-essential-tools-for-your-metalworkingprojects • what-is-soil-reinforcement-and-how-is-it-done • 8-important-safety-measures-forconstruction-sites • new-menards-store-in-paducah-ky • construction-procurement-101 • conversations-with-bennett-van-wert-dwm • conversation-withbobby-darnell-cmc • american-dream-mall-in-nj-to-reopen-onoctober-1 • cny-group-names-new-vp-of-people-andculture • the-impact-of-building-materials-inconstruction
COUNTRY BREAKDOWN OF COMPANIES
UNDERSTANDING THE DATA
This report is provided to you from the publisher to help you understand the creation, distribution and consumption of information on the digital highways. The companies that are provided to you in this report have visited CCR-MAG.COM and consumed information. Knowing the name of the company gives you a "heads up" to pursue for your sales efforts. If you need to explore additional ideas, including ways to utilize this information, please contact the publisher or AIM directly. In addition to the INDUSTRY/COMPANY listings, you will see a list of companies that are not categorized by Code into industries. These are sometimes more valuable and should be considered carefully for your sales efforts. Finally, often a company will utilize a general channel (like Comcast), which does not provide the individual company's IP. These visitors are often just as valuable in terms of "what" they consume on our website. We would happy to help you pursue this type of analysis.
No matter where you place your message, this is the pattern of what we call the "Readership Chain." And the weakest link in the chain will break it. That's why you need as much content as you can on the Internet. People, your buyers, get distracted easily. Your messages must be compelling.
...Pay Dividends.
The magazine or newsletter or website has a specifi c number of possibilities - the overall audience. possibilities - the overall audience. You must factor that into ROI.
Some convert into readers of your message.
Not all people will "see" what you are selling. You must know some of these basics.
Some also raise the hand and ask for information.
Accountability Tools from CCR
The audience audit tool (on the left) enables you to see CCR's audience for yourself. The Company Dossier tool on the right highlights 10 companies who have consumed CCR content that month for your marketing purposes. Advertising in CCR gets you these dossiers. And there's much more. Below are the highlights from the prior month for your review. Imagine being able to see who is consuming content like this, and then putting them in your marketing sights!
ACCOUNTABILITY WEBSITE AUDIT
Each month advertisers receive powerful information to help them market their products and services. Here is a taste. 98,819 pages were consumed by over 2,000 companies. Among them:
• Architectural fi rms like HDR Inc. and Smithgroup • Universities like Illinois Wesleyan, Yale or University of Massachusetts • Energy companies like BP America or Schlumberger • Financial companies like American Express, Mckinsey & Company and Wells Fargo • Materials companies like USG Corp and Carlisle • Industrial companies like Aecom, Eaton and General Dynamics
And thousands more like CBRE, Texas Instruments, Goodyear, St. Lukes Episcopal Hospital. All these companies have projects going on – projects you can access to sell your products and services.
Call the publisher, David Corson for a complete details. 678.765.6550. Or email him at: davidc@ccr-mag.com.
Back to the future Industry professionals discuss the race to normalcy in Virtual Men's Roundtable
We are making progess. As vaccines make their way across the country, the commercial construction industry is slowly inching its way back to the first phase of what will become our New Normal. As the participants in our Virtual CCR Men's Roundtable can attest, the move back to normalcy is filled with a great sense of anticipation, even as the industry deals with it share of labor and supply issues, among other factors. Our monthly scheduled virtual roundtables feature a diverse crew of vendors and end users who connect via Zoom for two days and several hours worth of networking. The events are hosted by Commercial Construction & Renovation Publisher David Corson and Editor Michael Pallerino.
Following is a roundup from our second roundtable of 2021.
Kelly O'Brien • National Accounts Ken Demske • Director
Sam Harris III • President/CEO Jim Harte • Senior Construction Manager
Tom Muzzy • CEO Ed Phillips • President David Thompson • Construction Manager
CCR: Tell us what's on your to-do list.
Sam Harris, Samjen Realty: We have an array of things that we're working on. The most important is getting technology integration throughout our entire platform— from our development services to franchise and the new coffee shop we're working on. Technology is a big deal. The projects that are on our to-do list are in Selma, Alabama. It's a place where we're spending a lot of time. It's a historical city. It has been left behind, but we're galvanizing developers and key business leaders to help us bring new life there. Our to-do list is to complete out the first phase of our coffee brand by the end of 2021. Our hotel brand will start as construction. In addition to that, we have projects in Tampa. We're looking for one in the Atlanta area and South Florida.
I have been doing a lot of connecting with our clients, who we are starting to see spend more money. We will be looking at how to manage their renovations differently, whether it's in the drive-thru area, for example.
CCR: When you look at revitalizations in places like Detroit and Selma, do you see that as a trend?
Samjen Realty's Harris: Absolutely. People migrated to the Northeast in the Midwest. What's happening is that those people are now raising their children. They're of retirement age, so they're migrating back to the south. The south will be a new mecca for opportunities. Preferably, small towns are more appealing to people who are in that upper income level. They don't want to be involved in all the high price congestion of real estate. Small towns are very appealing and are the lowest port of entry when it comes to capital investment. When you're looking 10 or 20 years down the road, you are able to have a 20-plus return on your dollar. Take medical marijuana. One of the things we're seeing is an increase in hemp production. We're also looking at manufacturing. Hemp manufacturing will lead to new technology and building materials. Right now, in our industry, we have a shortage of lumber. Lumber has gone up at an extreme rate. The only way we can combat that is to look at new ways to do it. We see hemp as a big play in Selma. It gives you the ability to be in the Midwest, close to the East Coast, easy access to the West Coast.
David Thompson, Scooter's Coffee: I joined the Scooter's brand in July of last year. There will be huge growth for the brand over the next few years. Next year, we are going to be pushing 200-plus units.
I'm one of four construction managers. I cover the Southern market. Our current model is 550 square feet. We are a coffee concept, but we have a food program as well, including breakfast burritos, bagels, breakfast sandwiches, donuts, cookies, cinnamon rolls, etc.
CCR: With the 65 stores you opened last year during the pandemic, was that on pace for where you wanted to be?
Scooter's Coffee's Thompson: I think it was more of an increase. I came on during the pandemic. That is one of the reasons I'm here. Our growth actually increased during the pandemic. Store sales skyrocketed, while other brands saw losses. CCR: What other markets are you looking at?
Scooter's Coffee's Thompson: We have big growth in my territory—Arkansas, Missouri, Illinois, Houston and Dallas. There also is growth in markets like Louisville, Kentucky, Knoxville, Tennessee and the panhandle of Florida.
Jim Harte, Clarks America: It's exciting in that we are contemplating some new projects. I also now have the corporate office fall under department, so I'm honing my property management skills for an office building. Clarks also is looking to do some refreshes to our existing stores. The stores we have are a stable group, so we're going to concentrate on making them look better.
Ken Demske, JLL: I have been doing a lot of connecting with our clients, who we are starting to see spend more money. We will be looking at how to manage their renovations differently, whether it's in the drive-thru area, for example. Some of our clients had a very difficult year, but are still doing projects. So we're talking about capital planning—how to get the best bang for their buck. Work is being done differently today. The needs of a lot of our clients are different. We're looking at how to help them. Generally, a lot of our clients' construction market teams just look differently. They're not as big. We're trying to see where we can fill some gaps—just make sure they're being serviced and are able to press on within a different environment. We're also looking at the technology. How can we deliver sites in a different environment? I think most people have been doing that for a year, so we are finding ways to adapt moving forward. How do we make some of these changes permanent?
Tom Muzzey: Swade Cannabis: Everyone thinks the cannabis world is all smiles and happiness, but it has been a challenge during COVID. We operate in a world where traditional bank financing is not readily available. If you want to construct a $10 million facility, you have to look at either raising the money personally or taking on investors in equity.
We are in the process of finishing up 10 build-outs and 10 licenses that we were awarded in November 2020. As soon as we got started, COVID hit. Initially, this year is about getting Phase 1 and Phase 2 moved on. The challenge for me is that with a state where it's not something that has existed, we have to bring on qualified contractors who understand what our needs are and how to help us implement through the build-out. That has been challenging. We have found a few good partners and will continue to work through the process with them. Initially, we had some really bad experiences. It cost millions of dollars because they weren't in a position to really understand the industry. That's a big challenge for us as we work through the rest of the year.
CCR: How do you see other states opening up?
Swade Cannabis' Muzzey: It's a great opportunity from a contractor, management or investor standpoint. Recently, for example, New York went fully recreational. And in states like Missouri that are medical, you'll see potentially a 100% increase overnight in the demand, and the need for additional space and additional products. There's a lot of opportunity out there from a property management, real estate, design and construction opportunity.
Ed Philips, Sign & Lighting: We're a local company. It started out with my wife and I. My dad was in the business in a different fashion, exclusively paper window signs, but we took it to the next level. Fifty years later we have around 60 people. We're constantly growing. We have a pristine reputation in our region. We're known for quality above all. Above that, we're known for dependability. We don't miss delivery dates. That's something we take very seriously. We do a fair amount of work for other sign companies, installing their product in our market. We are building this division of our company with a number of customers now building and shipping product out all over the country. This is a division of our company where we're seeing growth. Another key part of our business is the people. It has become apparent to us that we need to hire younger people, bring them in and train them. We're electrical contractors as well as electrical sign fabricators. We have an electrical division where we're actually sending people to school. It's fun to watch these young people rise up through the ranks and flourish. A lot of our employees have been with us for more than 25 years, which I think says a lot. It speaks well of our culture. When people come to work every day and enjoy what they do, it shows.
Kelly O'Brien, Philips Sign: I mostly operate in the Great Lakes States. These are interesting times. Soliciting business since COVID, especially new business, has been really different. Nobody's at their desk. Nobody does email like they used to. But I'm really excited to get into this because these are interesting times.
It has become apparent to us that we need to hire younger people, bring them in and train them. We're electrical contractors as well as electrical sign fabricators. We have an electrical division where we're actually sending people to school. It's fun to watch these young people rise up through the ranks and flourish.
CCR: What has been the biggest lesson you've learned over the last year?
Samjen Realty's Harris: Our biggest takeaway has been technology. We were all moving so fast that we never really slowed down to smell the roses. If you look at where we are today, what we have been through, technology was in place for us to scale our business beyond our wildest dreams. We had a record year in 2020, and it's going to be another record year in 2021 simply because we embraced technology. You need to have a team of IT people who can help you stay ahead of things. There are some new, innovative things happening across all enterprises when it comes to technology.
Phillips Signs' Phillips: It has been our people. I have been amazed with their dedication and patience through this whole COVID experience. We've all had to deal with one thing or another—everything from social distancing to putting on masks. Just the sheer caring about each other has been something to see. It has been inspirational to see our whole
crew pull together the way that we have. It's so human.
Phillips Signs' O'Brien: What I've noticed over the past couple years is that, especially in the retail, QSR and stuff, there is so much transiency. People change so often. I've never had so many emails get knocked back to me because somebody isn't there anymore. I don't know if it was because of COVID or not.
JLL's Demske: I've been really inspired by some of my people—what they've had to go through. Some of the challenges they've faced and how strong they were was inspiring. That's something to be grateful for. The second part is that I think I learned how to manage my business better. I think we all have, by necessity. We had to learn how to do things better. Also, some things that we may have let go in years past, we just couldn't anymore. We had to address some things and change how we do business. What I'm taking away
is that we need to find out what's really necessary. What do we need to do? How do we change how we do it? How do we make things more efficient?
Clarks' Harte: One thing I really learned about is how important relationships are. It went from meeting with people face-toface, flying out, going to jobs to we couldn't go anywhere. You had to have had those relationships—ones where you could actually trust the people who have been doing things for you. It's kind of scary in one sense because do we really need people going out and checking as much as they used to check? Or is this the new way where we trust people?
Swade Cannabis' Muzzey: A couple things come to my mind. It's really about the resiliency of our people—how much closer I've gotten with people, staff and vendor partners, after you see the dedication they have. So many of us had to endure difficult situations. I just have a tremendous amount of appreciation and respect for those people.
Scooters Coffee's David Thompson: For me, it is the technology piece. I was hired amid the pandemic. Being able to onboard for a company that is based out of Omaha (Nebraska) when I am in Dallas. We did everything via Zoom. I was very impressed. It has even gone to the point of where we can conduct site visits virtually. I'm still on the road, but not as much as I used to be. With technology now, I can see a site with a superintendent or project manager, basically walking it virtually. I'm able to do a rough-in inspection, whether it's pre-pour or pre-cover-up. It has really helped out financially for the brand and allowed us to be at home.
CCR: Tell us how you started in the business. What's your story?
Clarks' Harte: I've been doing this for my entire adult life. I have a degree in Marketing Communication, but I was doing construction throughout high school and college. I obtained my Construction Supervisor's license. Shortly after I got out of school, I started working with a fast-food company's franchisee, coordinating placing signs on its properties and working on
decor packages for the franchisees' new and remodeled stores. From there, I moved to actually constructing its buildings. I built a lot of Burger Kings, Dunkin Donuts and Blockbuster Videos back in the day. One day I saw an ad for a construction coordinator at a kids shoe company, Stride Rite. They were looking for someone to work in their construction department assisting the licensed partners design and build stores. I applied. I was there for 21 years, ultimately becoming the Director of Design and Construction for its brands. I moved to big box stores for a sporting clothing retailer in the Northeast. I was at Bob's Stores/Eastern Mountain Stores for a number of years building stores and overseeing their store maintenance program. After that, I spent three years at a supermarket co-op, Topco. They had 50 supermarket chains. I would do procurement for everything from generators, bar joists, roofing materials and LVT—basically anything you needed to build a supermarket or fuel center. The problem was I missed the finished product. I could purchase all the material, but never saw it installed. From there, I moved back to the construction side. I landed at Clarks two and a half years ago. It has been a good decision. I went there knowing they needed help with store openings and remodels. I knew I could help. I've consolidated all my past learnings and am applying it at Clarks. So I've been on all sides of the retail development business—the management side, the owner's side and the dirty side, construction. I get up every morning wanting to do more and more to help the stores. Life in retail stores can be tough, so I try to make it a little better. The great thing is I still love this business after all these years.
Swade Cannabis' Muzzey: I was born and raised in St. Louis, Missouri. When I was 14, my brother came into my room, woke me up, and said, "I need help on the job site." That's how I got into the concrete world. I did that all through high school, college and then as side work. I got married my junior year of college and am still married—31 years. We have three great kids who are all out of college and doing well. Our oldest two are pharmacists. My youngest daughter is actually working in the cannabis business. She loves tattoos and she's all about the cannabis world. My wife is retiring this year as a middle school principal. I got into this through a dad at one of my youngest daughter's volleyball games. He is the one who got me into this new venture as a partner. It's pretty exciting. We've built a lot of car washes along the way. A lot of rental property. A lot of storage units. Did all kinds of crazy stuff. My Uncle Bernie once told me that you could always make more with a pencil than you could with a toolbelt. For me, there's really nothing more fulfilling than having a great day of work—that sense of accomplishment. I still love being hands-on. I have six diplomas and a Ph.D. But at the end of the day, it's about what I can
I have been amazed with the dedication and patience of our people through this whole COVID experience. We've all had to deal with one thing or another—everything from social distancing to putting on masks. Just the sheer caring about each other has been something to see.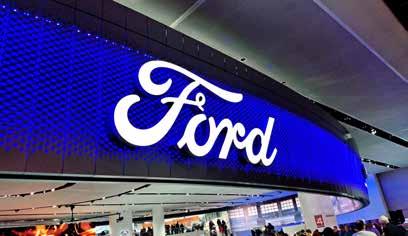 do with my hands. That's what impresses me. I always encourage kids to look into the trades. There is a lot of money to made there if you're good at it, work hard and seek to improve. There are always opportunities for skilled trades people. I'm always pushing that.
Phillips Sign's O'Brien: I got into signage in a roundabout way. I went to school, but didn't last long there so I went into the Marines. Did my tour. When I came out, a friend of mine who worked at Stanford University in the athletic department got me a job there. Part of the job was to go around the different fields and check the scoreboards. After going back to Michigan, one of the guys from a company I worked with recommended that I call a friend of his. I started selling scoreboards to high schools, junior colleges, minor league and professional baseball teams. It was right when the stadiums were transitioning from analog to solid state.
I eventually was hired by a large national company in Detroit. My first project was when Chrysler was bought out by Daimler. They changed their name three times since then. That was always good for business. I ended up working with several large national sign companies and traveled 100,000 miles a year. I can really relate to what it's like not rushing to the airport, parking the car, renting cars. This whole transformation has been a little bit different for me, but I'm excited. I don't think anybody ever plans on being a sign salesman. It just happens that way. Scooter's Coffee's Thompson: In high school, I worked in the construction area— framing field, if you will. My dad wanted me to have something I could always fall back on. After high school, I joined the Marines and served four and a half years there. I served a couple of years overseas, serving during the liberation of Kuwait. I truly enjoyed my time in the Corps. Everything I did helped to get me to where I am today. I'm proud to be a Marine. When I got out, I thought I continued framing houses and then got into home building. I bounced around in the housing market for quite a while, then when the housing market was falling; I made a jump into the restaurant sector. I worked as a PM for a couple of general contracting firms. I have been with Scooters since July of 2020. Prior to that I was with Which Wich for about eight years.
JLL's Demske: I grew up in Florida and attended USF on an athletic scholarship. I
played baseball at USF. I moved to Atlanta after college because that's what you did at the time. If you're in college, you moved up to Atlanta to try to find work and make your way. I started working for a signage company almost 30 years ago as my entry into doing a lot of multi-site and retail. Then I went to a smaller general contractor. I did a lot of rollouts. I've been with JLL now for 17 years—all in retail, multi-site. I started out as a project manager years ago doing construction management, roll-outs, and things like that. I worked my way to where I lead the team. It's more about people management and business development. It's a little different skill set than what I had planned to do. I enjoy it because I get to work with a lot of people—a lot of different people.
Samjen Realty's Harris: I have an interesting story like we all do. My grandparents adopted my twin sister and I when we were very young. My father was murdered when I was around five years old. I remember what my grandfather said to me, "I'm going to teach you how to work and be able to take care of your family." He told me everything there was to know about carpentry. I had 13 aunts and uncles. They always had parties. Every Friday and Saturday they would have all of their friends over. Then, Sunday morning, the yard was covered with trash. I would pick up everything. I took all the cans to the recycler. That was my introduction into being an entrepreneur. I didn't want to work all day somewhere and earn five dollars when I can earn $100. In high school, my objective was to be a fighter pilot in the Marines. I'm not a Marine, but I'm a Marine at heart because I believe in those values. I had an asthma attack after my 15th birthday, so I couldn't go. When I was 16 1/2 years old, my girlfriend at the time—she is now my wife of 25-plus years—said, "You know Sam, my mom said you can sell ice to an Eskimo. You should go be a stockbroker." So I went to stockbroker school after I graduated high school. When I walked into the school, the first thing I was told was that I would never make it because I was African-American. They said I didn't have a college degree and that I wasn't 30 years old and white. It fueled me like you wouldn't believe. In a class of 20 something people, I was the only one who passed the stockbroker course and exam the first time around. I was assigned to work at St. Armand Circle in Sarasota, Florida working as a 401K small business retirement specialist. That's where I learned about money. As I started talking to different people from different walks of life, I realized that real estate was where I wanted to be as a business professional. There was so much opportunity
It has even gone to the point of where we can conduct site visits virtually. I'm still on the road, but not as much as I used to be. With technology now, I can see a site with a superintendent or project manager, basically walking it virtually.
and things at the community where I come from did not understand or have access to. I ended up working as a financial advisor for about seven years. I decided to give my booker business up and started our firm, which now is Samjen Residential & Commercial Realty. We've been in business for more than 20 years. It was just my wife and I when we started. We've grown to be a good-sized company with 20-plus employees. We're in the process of hiring agents and brokers all over the United States to work on development projects. It brings me to the conclusion, which is my greatest experience about my story. There were so many people who told me I couldn't do something. Now, I get phone calls every day from people who say, "We knew you could do it." Anybody that has a dream or a vision, if you want to do something, don't listen to the naysayers. There is always going to be somebody telling you you can't do it.
Phillips Sign's Phillips: I was born in southeast Michigan. I grew up with my father in the sign business. He did paper window signs— the ones that used to hang on grocery store windows. We would literally airbrush 6-foot cabbage heads or tomatoes and all that crazy stuff. I grew up doing that with my father for many years. When my father finally retired I took a job at Pulte Homes. I worked with Bill Pulte himself. He was a super human being, just a great person to be around. He was a real inspiration for me. I was punching out houses. I would take care of the homes for these people for one year, all the warranty issues and all that type of stuff. I loved the job. I did it for five years. But I never got the sign business out of my blood. One day, I'm heading to work out to Novi, Michigan and I see a man hanging a sign on this old decrepit building. I went to introduce myself and asked him about the building. I found out that someone promised to buy the building from him. I told him I would give him a check right there. It was crazy. I called my wife and said I think we just bought a building. Here we are 45 years later and we have these magnificent buildings. I went back into the sign business with that old building. We bought a truck and ended up turning this thing into what it is today. We have some of the greatest help. We have a general manager that's incredible. A workforce that's beyond believe. There's not a morning that I don't get up and I am not anxious to go to work. The phone keeps ringing. It's just a great way to live, so it's been a good life—a fun trip.
CCR: What's the biggest opportunity you see this year?"
Clarks' Harte: The biggest opportunity is to get customers back into the store so that we're able to start remodeling again. Hopefully, we'll be able to lose some of the COVID protection in the stores. I'd love to lose the sneeze guards and open it up so that the customers and the associates in the stores can interact much more closely again.
Swade Cannabis' Muzzey: For me, it's the opportunity to execute better than other people in the industry. Because there were major COVID delays, we're trying to work smarter and faster than other people to capitalize on the market with an elevated product and experience.
Phillips Sign's O'Brien: The biggest opportunity for me is to sell as much as I can and raise the profile and reputation, which is already established at Phillips Signs.
Scooters Coffee's Thompson: For me, the biggest opportunity and biggest struggle I have to fight right now is on the front end, getting these stores permitted. Due to COVID, it has been near impossible to get any response from some of these municipalities with them being shut down. Everyone's working from home. Expediters are really not helping out in any way. You really can't expedite anything if you can't get into the city hall to jump on somebody's desk and tell them you're there with the review. I want to find ways to get into the city and get plans out in a timely manner. Our development timelines have increased on the front end just due to the permitting phase of it.
JLL's Demske: For me it's picking up on the efficiencies that we have. How do we do it better? How do we serve clients differently? What can we bring to the table? How do we use technology? How do we make that become more efficient? It's really just capitalizing on some momentum that we've built over the last few months with our clients in our industry and staying out in front of the client's needs, basically.
Samjen Realty's Harris: The biggest opportunity we have lies in technology. We now have digital technology like Zoom, which allows us to connect and reach more people, especially the next generation. We want to teach them how to be real estate developers and construction workers at a rapid speed. Our takeaway and the opportunity for this year, moving forward, is the ability to hire young people with technology as a catalyst to win them over.
Phillips Sign's Phillips: We're looking at some new software that will make our company more efficient as well as additional equipment. We're excited about that. With Kelly on board, we're excited about 2021. 2020 was a trying year but in the end a very good year. I know that's unbelievable, but we had a great year. So we're looking forward to an even better 2021. CCR
I want to find ways to get into the city and get plans out in a timely manner. Our development timelines have increased on the front end just due to the permitting phase of it.