43 minute read
FRANCHISING Franchising and licensing. Differences and similarities
FRANCHISING
FRANCHISING AND LICENSING. DIFFERENCES AND SIMILARITIES
By Marcel Portmann, Global Operations & Strategy, Portmann Consulting Group
The question is often asked on what is the best way to expand a product or service, with franchising and licensing coming up as valid alternatives. There are key differences among them, which include terms of duration, initial investment and ongoing payments.
It is important to note that franchising is a form of licensing, specifically the licensing of the intellectual property of a brand, which, when applied as part of a full format franchise program, adds to the brand licensing rights additional elements such as initial training and ongoing support, as well as a defined look and feel for the business, whether it is a service or a retail concept.
To become part of a full format franchised business, the potential partner does not need – in most cases - previous experience in the business being considered, as the Franchisor – owner of the brand and system - will train its franchisees – partners - in all aspects of the business as part of the initial training and provide ongoing support as the business evolves.
Licensing, on the other hand, in most cases, requires actual experience and existing involvement in the business of choice. In this regards licensing combines the rights to manufacture with the responsibilities of distribution, requiring its partners to have the production and/or sales channels to award the rights.
When we look at duration and payments, full format franchising agreements are longer than traditional licensing, as they have a higher initial capital expenditure because of initial fees to cover training, territory and potential market. An Area development franchise for example will include the requirement to open several outlets in a defined territory, in a set period - 10 years or more - known as the development schedule. In what is known as Master Franchising, the initial fee may be calculated considering the revenue generated with sub-franchise fees and sub-franchise royalty payment sharing.
Royalty payments in a full franchise program are a percentage of the sales of the business in a given period, sometimes with minimums. A licensed agreement likely will not have an initial payment, agreed duration of 2 to 4 years average and a percentage of the sales generated Marcel Portmann
with minimum payment amount by the license holder. Territory wise, the license agreement combines more channels for the licensee to generate sales and achieve the minimum agreed.
TO LEARN MORE
mportmann@portmanngroup.com
RESTAURANTS AND BRANDING
BRAND EXTENSION, THE POTENTIAL OF restaurants
By Matteo Melani
To convey their values, many fashion brands have opened bars and restaurants. It is a technique for communicating their mission through different platforms.
The catering sector is experiencing a period of great change, with more and more people who are passionate about cooking and want to spend their free time enjoying food with friends. In the last few years, television has seen a growth in programs dedicated to food, not only cooking-shows such as Masterchef, but also documentaries that explore traditional dishes from around the world. Consumers are becoming more conscientious about healthier food and there area growing number amateur cooking courses. In short, the globalization of our time means that a restaurant is no longer just a place where you eat and relax, but a vector of experiences where the customer is personally involved. So why not to apply brand extension rules to restaurants? Armany Cafè Several fashion brands have understood the strategic skills of catering, opening stores under their own brand name. In addition to advertising, a restaurant also maintains an educational function, in which the individual has the opportunity to discover the brand in various forms and experience it through a different channel. The success of brand extension operations is based on three factors: the ability of the brand to transfer its knowledge accumulated over time to the new category, the perceived difficulty of this transfer of know-how, and the synergy between the category of vocation and the new one", explained Chiara Mauri, SDA Bocconi Professor of Marketing. Catering reflects all three characteristics of the brand
extension, intended as an opportunity Emporio Armani
to promote one's name in different markets. On a global scale, Giorgio Armani was the first to attempt this path, with cafes around the world which inspired other players in the industry to expand its reach.
THE INTUITION OF KING GIORGIO
In terms of food, Italian cuisine has few rivals in the world with huge amounts of tourists coming to that beautiful country to taste the local delicacies. Well aware of this fact, Giorgio Armani opened the first Emporio Armani Cafè in Paris in 1998. Considering the industry and customs of the time, it was an innovative and courageous operation to launch and the first of its kind.In factthrough its interior design, the restaurant represented the brand's values of refinement, quality and minimalism. Particular attention was dedicated to the dishes, which featured
Made in Italy products. Chef and director of Emporio Armani Cafè, Massimo Mori recalled that Giorgio Armani's first request when he was hired was to offer Parisians the best tomato and basil spaghetti ever made in France. Over the years the restaurant has expanded its menu, including more dishes such as vitello tonnato (with tuna from Pantelleria), white truffle risotto (with Alba truffle) and tiramisu (soaked in Illy coffee). A customer who sits at the tables of the Emporio Armani Cafè lives an experience of high prestige, knowing and enjoying gourmet dishes.   King Giorgio's concept was immediately recognized and in 2018 the restaurant received a Michelin star. It is a record, given that it was the first Italianled restaurant to win a Michelin star in France. Today, there are seven Emporio Armani Cafés worldwide: in Bologna, Paris, Monaco, Dubai, Tokyo, Aoyama, Cair and Milan.          People's Choice
NOT JUST FOOD
The history of the Emporio Armani Cafè shows that to have a good restaurant,serving good food is not enough for branding. First of all, it is necessary to define a consistent extension brand strategy with a clear philosophy, in order to better communicate brand values. Then to the company must have a technique for communication to not only excite customers but also inform themselves about invite them to be curious, for example by creating a website with news or interviews with experts in the food sector or to organize events specific to the target audience, such as dj-set. In terms of location, all the elements of the restaurant have a role in conveying the brand values. An example is the People's Choice, Tommy Hilfiger's recently renovated restaurant located in Milan. It is located in Piazza Oberdan, a few steps from the adjacent shop and mirroring the ideals of sustainability and integration that the multinational has supported. The locale covers an area of 85 square meters in a luscious city garden, where the greenery conveys a sense of peace and relaxation. The entire People's Choice is made up of 110 seats, designed to facilitate the encounter between people of any ethnicity and origin. To strengthen his brand,
Tommy Hilfiger created cocktails with the name of his collections such as Flower Power Seventy, Disco Eighty, Denim Ninety and 2020, which tell the evolution of Tommy Hilfiger as a designer through the decades.         Even for a restaurant with a famous brand, it takes experience before reaching a high level. It is in fact necessary to experiment, equip oneself with staff up to the job, and know how to combine dishes with the tastes of one's target audience.
LATEST EXAMPLE OF FOOD BRAND EXTENSION
While it is necessary to follow a logical thread between brands and restaurants, it is important to follow trends to offer choices that are in step with the times. In this case again, Armani proved to be at a maverick. In fact with the
Gucci Hello Kitty cakes
chef Nobu Matsushisa he was the first to propose, in Italy and in the world, the melding of traditional cuisine withPeruvian and Italian influences, defining the concept of fusion. Inside the Armani shop in via Monzoni in Milan there is a restaurant led by Matsushisa that serves dishes in which the different cuisines are mixed and the symbol dish is the amberjack sashimi with a touch of jalapeño.      Highly recognizable names are guaranteed to always attract a lot of
attention and to re-launch their own image. So Gucci hired Massimo Bottura, awarded in 2019 as the best cook in the world, as chef. Thanks to appearances on television, great chefs have become public figures in many respects which helps to promote the restaurant. After a first opening in Florence, Gucci and Bottura opened a similar establishment in Los Angeles. In addition to niche brands, there are also non-fashion and more accessible brands. Hello Kitty, for example, the brand with the famous kitten, boasts two bars in the United States: one in Irvine and one in Las Vegas. Both places have white and pink furnishings and mostly serve sweets and drinks. The target audience is children and millennials. In addition to ordering food, the brand organizes afternoon teas some days where you can drink and eat sweets. In this case it was a way to build customer loyalty and, given its success, it seems to have worked! In recent years, the idea of pop-up bars has also become popular. A good example is Zara which set up a food-truck in New York in 2019, i.e. a kiosk where sandwiches and chips are sold twice a year, one in autumn and the other on Gay Pride day. All the cases mentioned show that by opening a restaurant or a bar a brand can deepen its resonance and communicate its core values to its customers in a new, creative and delicious way!
PRESCHOOL
The importance of quality for preschool licenses
By Alessandra Maccaferri
Licensed preschool products usually have a great response. Many companies choose to enhance the power of licensing further by focusing on product quality.
The pursuit of quality is a key strength for any company and this becomes even more important when it comes to the preschool audience. Licensed products are already a great attraction for this age group, but with attention to quality they can become unbeatable successes. This means that more attention is paid to the way they are created, the raw materials used and the message they convey.
Here we look at some preschool licenses and their quality products. brands for preschoolers and offers an impressive range of licensed products. One of the latest lines is the Peppa Pig Clever Car, whose launch in Europe is scheduled for October 2020 and in the US for the spring of 2021. It was developed by Wow! Stuff, known for its quality games, in partnership with Hasbro. The product includes obstacle avoidance technology, which it uses when it detects something in front of it and thus manages to veer around it while its horn sounds. Before setting off, the child is challenged to match the colour of the characters to that of the car seats, as well Peppa Pig Clever Car by Wow! Stuff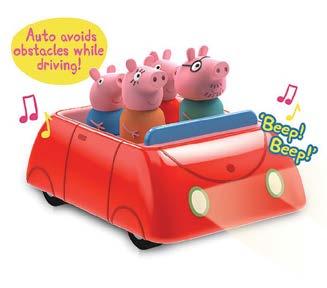 as ensuring that Mummy or Daddy Pig are in the driver's seat. Successfully matching the colours activates a narrator, who congratulates the child's skill, before the smart car sets off.
Peppa also inspired Giochi Preziosi to create a brand new wooden range of toys, which is set for launch this autumn. The toys are characterised by simplified and rounded shapes, which make them suitable for babies. Strictly equipped with FSC certification, which distinguishes products made with wood from certified forests, the objects include all the most iconic places and vehicles in the animated series: the school, the school bus, the red car. There is also a giant house, over 50 cm high featuring eight different rooms in which to play.
The Trudi company is known for its experience in the plush toy market, but
Lucky Storyteller - Wow Pets by Chicco
has also worked with other brands for very young children through licensing activities. One of these is Trudi Baby Care, a range of cosmetic products from SILC. The offering is vast: milk baths, shampoos, oils, moisturisers, cleansing wipes and more. New to the range is the orange honey milk bath. Thanks to the presence of delicate surfactants derived from olive oil, it gives a feeling of hydration, softness and wellbeing from the first use. Also new is the milk shampoo with flower pollen: among the ingredients is coconut, ideal for gently cleansing the hair and moisturising the scalp of children.
Sophie la girafe is considered one of the essential baby toys and licences, with millions of them sold all over the world. Next year it will celebrate its 60th anniversary. It was designed by Vulli, who still produces it today with a traditional process, which involves more than 14 manual operations. It is made from 100 per cent natural rubber derived from the latex of the Heavea tree. Among the latest licensing offerings are two products from the children's perfume line by Angel Cosmetics. The 96 per cent natural eau de toilette has a pleasant fragrance of
CHICCO AND ENPA CREATE WOW PETS
Chicco has started a beautiful collaboration with ENPA, the Italian institution for the protection of animals, giving life to the innovative Wow Pets line with soft toys that stimulate children's cognitive and emotional abilities. The first product is Lucky, the storytelling puppy, recommended for children aged 18 months and over. Thanks to infrared technology, when the child opens the puppy's book, the little dog begins to tell a story. When the pages are turned, Lucky follows and continues to narrate. Through this partnership with ENPA, Chicco has committed to the adoption of 14 puppies throughout the year. After purchasing Lucky, the child can download the adoption certificate from the ENPA website and feel part of the project.
orange blossom and vanilla; it is suitable for children aged three and over and their mothers. The scented skincare water is 97 per cent natural and contains cherry and savory extracts. It has been designed from birth to delicately perfume hair, body or clothes. Serge de Oliveira, who works for Robertet, was called upon to design these perfumes. Another new collaboration is one with toy brand SES, known for its creative, safe and quality products. With Sophie, the company has created, for example, a finger painting set for children aged one to four.
BOOKS FOR CHILDREN
IN CHILDREN'S PUBLISHING NO ONE IS EXCLUDED
By Rossella Arena
In a world where acceptance of difference is a very topical theme, there is a notable increase in children's books that touch on diversity, disability and inclusion. Here we look at how these issues are being addressed by children's publishing.
In bookstores the number of children's books that talk about inclusion continues to increase. It is a concept that is both very necessary and very broad, taking in diversity of every type: physical, mental, ethnic, geographical, religious and gender. The aim is to emphasize the need to welcome uniqueness – in oneself and in others. In much recent children's publishing these themes have been addressed in many different but highly effective ways, making them enjoyable for children and for everyone. Here are some recent examples.
The Little Red Fox is the story of a fox who lives happily in the forest with his parents until one day he feels weak and ill. He doesn't know what to do. After a long journey and many adventures, he manages to overcome his fears. The text is by Emanuela Nava and the illustrations are by Annalisa Beghelli. Suitable for ages three and up, the book was published by the Italian publisher Carthusia, in collaboration with the Letizia Verga The Little Red Fox by Carthusia
Committee for the study and treatment of child leukaemia and AMGEN Italia. Its aim, elegantly expressed, is to instil courage in all sick children.
Another book recommended for kids aged three and up comes from Parisian publisher Cambourakis: Le Cheminde Jada, by Laura Nsafou, illustrated by Barbara Brun. Inspired by an African tale, it tells the story of two twin sisters who have similar features but a different skin colour. Iris's skin is as clear as acacia, Jada's as dark as cocoa. In their village Iris is praised but Jada is mocked. During a game of hide and seek in the forest, however, Jada's perception of herself will change.
From NewYork publisher HarperCollins comes I Promise, a book that immediately became a number one bestseller on the New York Times chart, and was an Amazon Book of the Month. Written by NBA champion and superstar James
LeBron, the book takes the name of his foundation's programme, which supports kids from all over the world in expressing their uniqueness and in promising themselves that they will always give their best and always demand the best. The illustrations are by Nina Mata and the recommended age range is 4 to 8 years old.
Lilly Gehört Dazu!, from the German publisher Coppenrath, was written by author Irmgard Partmann and illustrated by Laura Bednarski. Lilly is a child with Down's syndrome, much loved by her sister and all her family. She can't speak too well and she is a bit slow and stubborn, but she paints beautiful colourful pictures and laughs often. As the title says, "Lilly is one of them"; every child with physical or mental disabilities has a very specific place first of all in their family and then in the world. For children between 5 and 7 years old.
I Am Not a Label by Wide-Eyed Editions London-based Wide-Eyed Editions created Cerrie Burnell's I Am Not a Label, with illustrations by Lauren Mark Baldo, for the age group 6-12. In this short book there are biographies of artists, activists and athletes with physical and mental disabilities, from the past and the present. Just a few examples include Ludwig Van Beethoven, Eliza Suggs, Helen Keller and Frida Kahlo. Their lives are positive examples of inclusion; all of them have been leaders in their fields, overcoming enormous personal difficulties. American publisher Paige Tate & Co has brought out How to Draw all the Things for Kids by illustrator Alli Koch. It is an inclusive book because it is designed for all children who can, by following simple instructions, quickly learn to draw anything they want, like spaceships, aeroplanes, unicorns, cupcakes, cats, fruit or ice cream cones! It's recommended for 7-9-year-olds. How to Draw all the Things for Kids by Paige Tate & Co. Books can be inclusive not only in theme but also in how they are presented. Some are designed to be accessible to those with specific difficulties such as dyslexia, but they can in fact make reading an easier experience for everyone. At the typographical level, this means widely spaced paragraphs and a type face that guarantees the greatest possible clarity. Such books will also work on making the text more understandable and trying to avoid ambiguities as much as possible. The Italian publishing house Biancoenero, for example, has a rich selection of highly readable books. The most recent is The Ghost Tower by Gillian Cross, with illustrations by Sarah Horne,
recommended for ages 8 and up.
Settenove is an Italian publisher that focuses on the prevention of genderbased violence. A new publication, The World Needs Girls (Me), by Alessandra Spada is a text that is a bit diary, a bit a collection of short stories and a bit an activity book. Each chapter has a theme that encourages girls to listen to emotions, understand their bodies, think creative and courageous thoughts, and work with other women and people in general. Recommended for ages 11 and up, they aim to encourage a self-aware girl to become a self-aware woman.
The World Needs Girls (Me) by Settenove
CHILDREN'S PUBLISHING
LOVING THE EARTH THROUGH BOOKS FOR CHILDREN
By Rossella Arena
Learning respect for the environment has become increasingly important and urgent for younger generations, which opens an opportunity for new children's books with environmental themes.
Children love the environment and nature and, if well informed, they genuinely care about what is happening to the earth. In recent years there has been much more talk onthe environment because the general situation has worsened and the time has come for everyone to understand how to contribute to the well-being of the planet. Even the youngest among us, with age appropriate books, can learn more about climate change and the biodiversity of plants and animals, and receive useful tools to build a good relationship with the environment. Here are some interesting editorial suggestions for children books with an ecological theme.
For very young readers (3+) Emme Edizioni recently published Kindness to protect the planet by Giuditta Campello. Through eight stories written in simple but very Kindness to protect the planet by Emme Edizioni accurate language, the book explains that the earth is our home and so we must protect it. The good news is that you don't need superpowers, you just need careful and kind gestures: separate waste collection, remember to turn off the light, save water...
Slow down - 50 mindful moments in
nature by the author Rachel Williams, illustrated by Freya Hartas and published
aimed at children aged 3 to 6 (but not only) it is an invitation to go out, explore and see what can be found in the environment when you take the time to do it.
Designed for children ages 5+, Climate Change for Babies, by Chris Ferrie and Katherina Petrou, is published by Sourcebooks Explore. Climate Change for Children is part of the Baby University series, which contains about thirty books written by experts to teach the very young scientific concepts and information. It clarifies to children and adults in simple terms what climate change is and, most of all, what we can do about it.
In France the Felipé prize has existed since 2004, intended for books that talk about ecology, the environment or nature. After making a first selection the award team appoints a jury of children to choose the winner: between February and May, 90 young jurors read the selected works and then vote for them. This year they came
from Parisian schools and from one in the
Ensemble (Together) by Actes Sud Alpes de Haute Provence. There were two selections, one for beginner readers (Tout Petit Felipé - La Petite Salamandre), and one for more experienced readers, who reached the end of primary school (Petit Felipé - La Salamandre Junior). It was part of the selection Tout Petit Felipé 2020 Ensemble - Les Animaux Solidaires by Joanna Rzezak. Published by Actes Sud Junior for readers 5+, it focuses specifically on group-dwelling animals, such as pink flamingo colonies and herds of wildebeest. It illustrates many species in the four corners of the world, carefully exploring their behaviors and revealing their secrets to protect themselves from predators, find a partner, take care of the little ones, etc. Montena has published Meteo - Curiositatsby Tomàs Molina, who answers the many questions about the weather: for example, why thunder makes so much noise and how a rainbow is formed. For every meteorological phenomenon there is a scientific and funny explanation. The language is Catalan and is recommended for ages 7 and up. Boys and girls aged 10 will love I Love the Earth: A Journal for Celebrating and Protecting Our Planet, edited by Rachel Ignotofsky and based on another author's book, The Wondrous Workings of Planet Earth. Published by Clarkson Potter, it contains a lot of textual and visual information on how our planet works and what we can do to save it; there are also many pages that the reader himself will write and draw, following some suggestions. Also for 10+, How to change everything: the
Young Human's Guide to Protecting the
I love the Earth by Clarkson Potter Planet and Each Other. Written by Naomi Klein with the participation of Rebecca Stefoff, it is full of stories of young leaders in environmental sustainability. The Atheneum Books for young readers I love the Earth by Clarkson Potter - inside
publishing house has announced its release for February 2021. For boys aged 11 and up there is Greta - the girl who is changing the world, written by Viviana Mazza, illustrated by Elisa Macellari and published by Mondadori. It tells the story of Greta Thunberg, a Swedish girl who became world famous for her interest in the environmental situation, inspiring and engaging millions of her peers. Published in 2019, it was almost immediately translated into German and in 2020 the French version appeared – Greta la Voix
Greta - the girl who is changing the world by Mondadori
STATIONERY
A PASSION FOR Paper
by Alessandra Maccaferri
Paper lends itself to many popular and interesting products. Here are just a few recent launches of paper and paper-related products from specialist companies.
Paper can have many different roles on any given day: a notebook where you can write and record thoughts or appointments, napkins to use at lunch, or as an inspiration for creativity and games. Many companies use paper to bring to life to small but wondrous products. These companies are also increasingly attentive to sustainability, insisting that products have FSC certification, a guarantee that they have been made in a way that does not contribute to deforestation. Kartika is an Italian company by origin but a cosmopolitan one by vocation. It makes handkerchiefs, tissue papers, kitchen paper, toilet paper and napkins. It has two different lines. Kartika Kollection bases its designs on important licenses, such as Bing, Hello Kitty, Frozen II and L.O.L. Surprise! One of the hottest recent announcements from Kartika is about Pluto and Mickey and Friends – Stay True, a Disney brand that brings together Mickey and five of his friends (Minnie, Donald Duck, Daisy Duck, Goofy and Pluto). The Stay True license began as a way of celebrating friendship and being yourself.
Halloween collection by Kartika
Kartika Generation has an original design and a style that is reminiscent of the kawaii style. The newest offerings are the Dinos collections, cute dinosaurs, Tiger, a sweet little tiger surrounded by
jungle flowers and vegetation, and the Halloween collection, characterized by pumpkins, witches and ghosts, in shades of orange, purple and blue. Legami is an Italian company specializing in stationery. It has a particularly strong reputation in diaries, available in many versions – 16-month daily and weekly diaries with notebooks, in various types of designs, related to maps or travel and featuring animals and motivational quotes. Apart from the day-to-page offering, the others have a highly practical layout: the left page shows the whole week and the right one is a lined page for notes, ideas and things to remember. Among the latest output is a 13-month teacher's planner in Metallic Rose Gold, which offers great attention to detail. The paper weight is 70 gr. and it has perforated corners. It has a hard cover, but is soft to the touch, and
Ritournelle collection by Clairefontaine has an elastic closure. The ivory paper pages are suitable for fountain pen ink. Along with the agenda there is an address book with a parents' contacts section. Inside you'll find sections for the class register (12 classes), temporary and final timetables, a yearly calendar, class councils laid out by trimester/quarter, refresher courses and adopted or recommended texts. Legami's paper products also include many notebooks, and products like the Tape By Tapeset: three colourful paper Scotch tapes, each 10 metres long. Clairefontaine is a French company that produces notebooks, sheets, blocks, home decorations, recycled paper, fine art materials, paper for creative hobbies and Ritournelle collection by Clairefontaine correspondence and stickers for students and professionals. It uses acid-free paper and often creates new collections. One of the latest is Ritournelle, based on the work of Isabelle Bouteillet. A selftaught artist, she was the director of an art gallery for many years and developed her own technique of illustrative and abstract collages. The creations selected for this collection are mainly in colour: tender, witty characters reflected by the techniques used – gouache, pastel, acrylic and colour pencil. Her source of inspiration was paper – the newspapers, gift boxes, magazines, letters and photos that are all part of our daily life. Clairefontaine wanted to give life to the artist's characters, bringing them to notebooks and accessories and combining unostentatious paper with the delicacy of the artist's creations. Paper + design by Duni (a Swedish company) is a brand that will be appreciated by lovers of paper table accessories, where all sorts of atmospheres can be inspired by a wide choice of interesting designs. The company wants to tell stories inspired by the seasons and care for the environment, for ourselves and for others. Simi Gauba, Executive Director of Design, said: "We work hard to blend the designs we create with the values we uphold: a belief in freedom, diversity, compassion, sustainability and personal
empowerment." Autumn collection by Paper + Design
In addition to printed napkins, you can find handkerchiefs, tablecloths and table runners. The brand offers every type of design, from lettering to fantasy but at the moment the themes most requested are autumnal ones, including pumpkins, nuts, dry leaves and lots of orange! There are also many designs for Christmas,
such as reindeer represented through delicate water colours or, in a cartoon version, taking a nap. Meri Meri is a US company known for making some of the best paper products in the world. The design team works tirelessly to develop an ever-growing array of stationery, party supplies and much more. It all started on a kitchen table, from the passion for creativity of Meredith (whose childhood nickname was Meri Meri). As a child she loved to create with scissors, pens, paper... and lots of glitter! She and her colleagues now work in comfortable studios in a historic building
Peter Rabbit collection by Meri Meri
in a small town a couple of hours from London. Meredith today heads a large team of designers and artisans, and Meri Meri products are sold all over the world. Among the latest is the Rainbow stickers sketch book, a stylish drawing book. It is designed to house stickers (there are some already in it), sketches and notes. Another new product is multi-coloured napkins, the first product from the company's new ecological range, which uses natural materials and vegetable dyes. The napkins come in a range of pastel colours and are Paper Mario the Origami King
finished with elegant scalloped edges. The brand has also acquired the Peter Rabbit license, with which it is making many delightful products – in particular paper plates. Can paper inspire a video game? Yes, in the case of Nintendo with Paper Mario: the Origami King. In this new adventure Mario and Luigi are invited to Peach's Castle, but upon arrival they find a princess transformed into an origami figure, and planning the same fate for our heroes. It's all the doing of the evil King
Paper Mario the Origami King of Origami, Olly, who, after transforming the whole kingdom into folded paper, seals the castle, preventing anyone from entering it. The idea of using origami came from the desire to create something innovative with paper. There's also confetti, which is used as part of a rewards scheme. To continue the paper theme, the promotional campaign gave consumers the opportunity to have the game delivered directly to their home, along with some beautiful personalized notebooks.
YOUTUBE
To YouTube and Beyond
By Neal Hoskins
How a chance meeting brought together new German developer Wonderz with a top ten Canadian YouTube channel - Super Simple.
It's always a pleasure on the final night out of the Bologna fair to meet with friends and colleagues and so it was at the last edition in 2019 that I caught up with the Berlin based Wonderz team, Sebastian Wehner (SW) and Daniel Matzke and first time visitors to the event from Toronto, Skyship entertainment, Brett Jubinville (BJ) and Morgan Fortier (MF).
They had just presented in the Digital café programme that I run in Bologna a new app project now called Wunderbox so I got to see first-hand the software that allows media companies to build their own bespoke streaming service and then edit, schedule and manage their own content libraries.
Cut to September 2020 and the chance to reminisce about Bolognese cuisine and see what progress they had made on the project that we all discussed in a Zoom call together recently.
So, let's dial back to April 2018 and MIPTV - Could you just tell me a bit about the beginning? How did the idea to work together come up and how did this collaboration start?
MF - It was an industry breakfast invite for Germans and Canadians to meet, I never usually go to those things, but I just happened to have time that morning. I remember standing at a table and this tall German man walked up to me and started speaking about apps. Sebastian started talking about this one app that they had been producing and had rolled out with another client. Everything that he was saying at the time fit with where we already were coming from - we were a YouTube content creator and had been so used to being able to upload our content and had a very large volume of library content. We really wanted to have something that was indicative of our brand overall because with YouTube content, you're so directly connected to an audience and we know our audience so well.
BJ - We also wanted to make sure that the app experience was something similar but not just like what we already had. A Netflix styled type video player wasn't necessarily going to be kid friendly, and if you go through Netflix, there's a lot of visuals, but it's really based on the fact that you can read the title and you can read the description and see the ratings. It's all those things you need to have to be able to experience Netflix or Amazon and our audience doesn't have any of those skills yet. To have an interface where you don't need to be able to read is a particularly interesting challenge for app development and to do things that are like this needs to be intuitive for someone who may have never used an app before.
What was special about working together?
BJ - One of the main things we have in common between Wunderboxand Skyship is we're both pretty entrepreneurial and from major innovation cities - Berlin and Toronto, we both benefit from that in the sense that we live in cities where they make movies and large media projects. And that's a pretty cool thing. For us, when it's like let's do it, we just do, as when we decide what we like we'll move forward as soon as we can.
SW - Our thinking for this product came out of our work new on new areas of children's multimedia books in 2013- 2015. It was that creative process and success that brought us to the point where we next reached a road-block in terms of tools and future investments. It was particularly hard to be in control of your own content as a publisher and developer and with nothing out there and with some gritty real-world experience we thought, well let's make something and build it
from the ground up. It was really great to meet Skyship and suddenly realise we may already have some of what they were looking for in the Wunderbox service that we were constructing in 2017/2018.
Part of the Wunderbox package for publishers is that it has a central control mechanism,throughits bespoke content management system. Was that one of the appealing parts of its set up?
BJ - Yeah, I think made us feel very comfortable as a starting point because that's what we do on YouTube and that's what we do to a certain degree, on Amazon and other platforms. We're pretty used to saying, oh, we want to release this music video, we want to release this episode, and there's zero in the way of us doing that. As we were building the app with Sebastian you know, we tried to stay as close to that as we possibly could. And I think it's pretty safe to say, like, we have a lot of flexibility. If I wanted to change a bunch of stuff on the app right now in the next 10 minutes, I could probably do it.
We're not a broadcaster or traditional content creator. We're kind of this hybrid between the two, so what was nice about the app was the fact that it kind of bridged all that for us too.
YouTube is great in a lot of ways and we have grown there, but of course there's ads, there's other people's content. In a mobile appit's the quintessential place for us to be in terms of experience, if I could dictate to someone how they might see us.Soon we are going to release the Apple TV version of the app so for people that
like the big screen, that makes the app even more powerful there. Christopher Nolan, as you might know likes to bang on about how the ideal presentation of his movies are in a theatre. This is the same thing, except for us it's like this on an iPhone or an iPad or a TV in the home, in the classroom too through the app. That's just great for us.
Were there any noteworthy milestones in the project?
MF -I think it is always very rewarding when you could see the whole project coming to fruition after all the discussion and ideas stage or seeing the things that you actually achieved in the production process that you thought, wow– we really
didn't know we were going to do that - and then we just did it and that felt really great to complete.
SW - So when by the timeSkyship came along and we always knew we had this vision as basis for us. I think first time I talked with Daniel Matzke, the lead developer was in April 2016 in a trade fair and we sketched it out on a napkin (yeah it always starts on a napkin!) I wanted this calendar to be there so you could schedule your stuff just like that. It's important can actually organize and set up some stuff, formatting and the idea of what we're running e.g. a real business within this infrastructure. For subscriptions, scheduling and dealing with an audience that expect to see new stuff come out this is key, and we knew that it had to be at the heart of our work together.
How did you approach the development stage of the design and work on the first concepts?
SW - A lot came together in the Canadian workshop that we did. Daniel Matzke came over from Berlin and we spent the better part of a week in a boardroom with Post-it notes and a whiteboard hashing that stuff out. We were able to play with a lot of different ideas and look at what other people had done and what was intuitive or what we thought was intuitive for kids. The spin wheel, I think, came a little bit later, but we did have the idea of some sort of carousel of characters and
brands, and we just figured what was super intuitive at the time.
So what were the challenges you faced during the build time of the project?
SW - There weren't really any insurmountable challenges in that sense for us, and I think there was due to a couple of reasons. When we met, we already had a working prototype, so a lot of things were already in production as a framework. When we came to Toronto, we had a click through keynoted file with an interface that we actually didn't use in the workshop. I think what was the biggest uncertainty and what actually took the longest time was to optimize the streaming solution (actually, this was our biggest milestone in reference to your last question). You know, Daniel Matzke realised if you're a few millimetres above the display that the phone already knows where your finger is. We found we could can triangulate that and can predict where the finger will be in the next second. We found we can already call the server and tell it, you know, probably this client in the next second will actually want that file from you and bingo there it was - some pretty basic but amazing cool stuff that took some doing really, we were so pleased with our "streamload" feature and still are to this day.
MF–And in reference to that we had said early on it's not like all our fans are in Germany and the majority of them have high speed Internet access and they're not all in Canada too. It's like they're everywhere. They're in Asia, they're in Africa. They're in places like the USA where the Internet can be terrible too.
SW - Yeah it was important that those people didn't have a poor experience then someone in the high-speed region. And what I like about all the features that we just said is they're all invisible to the end user. They're not aware of those features being there.
BJ -But I think the fact for me, when we launched the app, it became very evident that we were entering into a new sort of section or division of the entertainment industry that we had not been privy to before. Even when we went to the Bologna Children's Book Fair for the first time and I thought there is an entire section of the entertainment industry that we are not in yet, that really opened my eyes to the possibilities of other areas.
MF - I feel like for us with the launch of the app, we're expanding our music distribution side as well. We're no longer only a YouTube content creator or digital content creator, we're evolving into new spaces. Now I legitimately see us as more of an entertainment company. There is far more opportunity for us to partner or collaborate with other parties in very niche categories that fit very intuitively with what we have always done.
for your kind of content in education market?
MF - Everyone's got good ideas in this area, on how learning can and should happen and there are some very good examples already. It's not just about entertainment, it's about education and learning. When you get education into the broadcast industry side of things, that's a whole other influence. It's not to say that there is educational content made for terrestrial broadcast, but this is a different shift within that sector of the industry that hasn't necessarily always been there. I think you're more likely to get entertainment from edgier entertainment into education than education into the entertainment side. In the end there seems to be new areas of development growing between educational content and how that blends in with what is taught in the traditional class and teacher school framework.
SW - All behaviours get disrupted and changed and everything gets accelerated during the pandemic. You see it in all these companies, you see it education, you see it in how people change their consumption patterns in entertainment, and then you see that an overlap is created - content creators become educators and educators are looking for content online where they haven't looked before.
In Germany, we had a 5-billion-euro package last year from the government to digitize schools, and because of all these regulations around them, only 15 million have been so far used after a year of that. I expect stuff like that to change dramatically. And I think, to circle back to the app, if you're in the content creation business and even if you're even just bordering on educational content and you are the owner of your rights, there are a great, great opportunities for you to develop your business and go beyond where you are now.
Wunderbox and Super simple will be launching the new android version of the app later this month.
http//:www.wunderbox.tv http//:www.supersimple.com
TOYS
Toy Licensing Trends 2020
By Steve Reece
This has been anything but a typical year for the brand licensing industry. The massive global impact of the Covid 19 pandemic has severely affected every facet of human life and business. For the toy business things have been badly disrupted, but overall demand has stayed strong for toy products. The challenge for many businesses though is that demand has been high for different products versus usual which has caused many issues.
Steve Reece
By far the biggest disruption after the closing of physical stores has been the impact on the movie release slate. The toy business and the movie business have been heavily intertwined ever since the first Star Wars movie created the first mass market movie merchandise phenomenon. The closure of movie theaters which in turn resulted in cinematic releases having either less impact via straight to VOD release or being postponed until 2021 has severely affected the toy business. The massive 'event' of a major global blockbuster movie release drives both footfall and sell through across all forms of toy retail. So while many toy companies have seen growth in non-licensed products and in parentally approved categories like board games, arts & crafts, science kits and the like, categories like Plush toys, Action Figures and Fashion Dolls have been hit quite hard without the usual cinematic sales drivers being in place. What makes the impact of 2020's disrupted movie schedule worse for the toy business and for those in the business of licensing to toy brands is that two massive drivers of licensed toy sales – namely Star Wars & Marvel had already Steve Reece runs www.KidsBrandInsight.com a Consultancy to the global toy business. He has extensive experience of working with major entertainment brands and in helping brand owners maximise toy licensing revenues as well as helping toy companies to maximise opportunity and revenues on licensed toy products.
reached a natural end of the most recent wave of movies. We were therefore probably already looking at a year or two with a lighter movie slate in terms of driving toy sales. Looking forward though, while considerable challenges and uncertainty exist, the outlook looks more positive in a few ways. Firstly, the biggest issue in 2020 was the lack of time to plan for so disruptive an event as the pandemic. Looking forward to 2021 companies (both licensors and licensees) have time to plan for what may be a different reality versus the usual way of doing things. This should open up more opportunities and in the end lay the foundations for a more diversified operating model. There has been a clear trend towards drive in movies as humankind has sought socially distanced ways of watching movies and found a solution in this nostalgic outdoor viewing method. But beyond this adaptability is the likelihood that movie theaters will return to the fore, albeit with staggered cinema entry times and perhaps a space between movie goers. Beyond the pandemic there is no reason to believe that cinemas will not return to being both a culturally important part of our lives but also a great springboard for showcasing content with huge brand licensing potential. Vaccines are on the not too distant horizon, and even without vaccines, modern healthcare is advanced enough to have already found ways to significantly reduce the severity of symptoms and fatality rate for this ghastly virus. So, the sun will come out again, and the normal model of launching movies will (eventually) return. Both licensees and licensors in the toy business will look forward to that.