3 minute read
Business Profile: Robert J. Kleinberg Landscape Design
Photos by Sierra Clark Photography www.SierraClarkPhoto.com
"Make your yard a joy to come home to!" is the motto of Robert J. Kleinberg Landscape Design, and they deliver on that.
Bob Kleinberg grew up in eastern Delaware County and attended Monsignor Bonner High School. He continued his education at Villanova University, majoring in Psychology. He then decided to pursue his passion for horticulture, so he went on to get his degree in Plant Science at the University of Delaware. After he graduated, he started working for a landscaping business where he worked for five years.
In 1986, Bob decided to start his own company, Robert J. Kleinberg Landscape Design. "I had always wanted to be my own boss," he explained. Located at 114 Ashley Rd in Newtown Square, his company offers a wide variety of services including landscaping, low-voltage landscape lighting, hardscaping and Christmas Trees.
Bob's company offers their landscape lighting customers something unique. "We set up a lighting demonstration at their house so they can see what their house would look like if they were to install lights," said Bob. The best part of this demonstration: It's free. "I've always had an aptitude for electrical work," explained Bob. "My father and brothers were all electrical engineers."
What Bob finds most enjoyable is seeing the finished product, especially on a lighting project. "There's nothing better than seeing the customer's reaction for the first time when everything is lit up!" Bob and his team consider lighting not just as an aesthetic feature but also as a safety and security feature.
Night lighting highlights some of the best views of your property but it's also for safety. Lights can make steps and walkways easier for you, your family and visitors.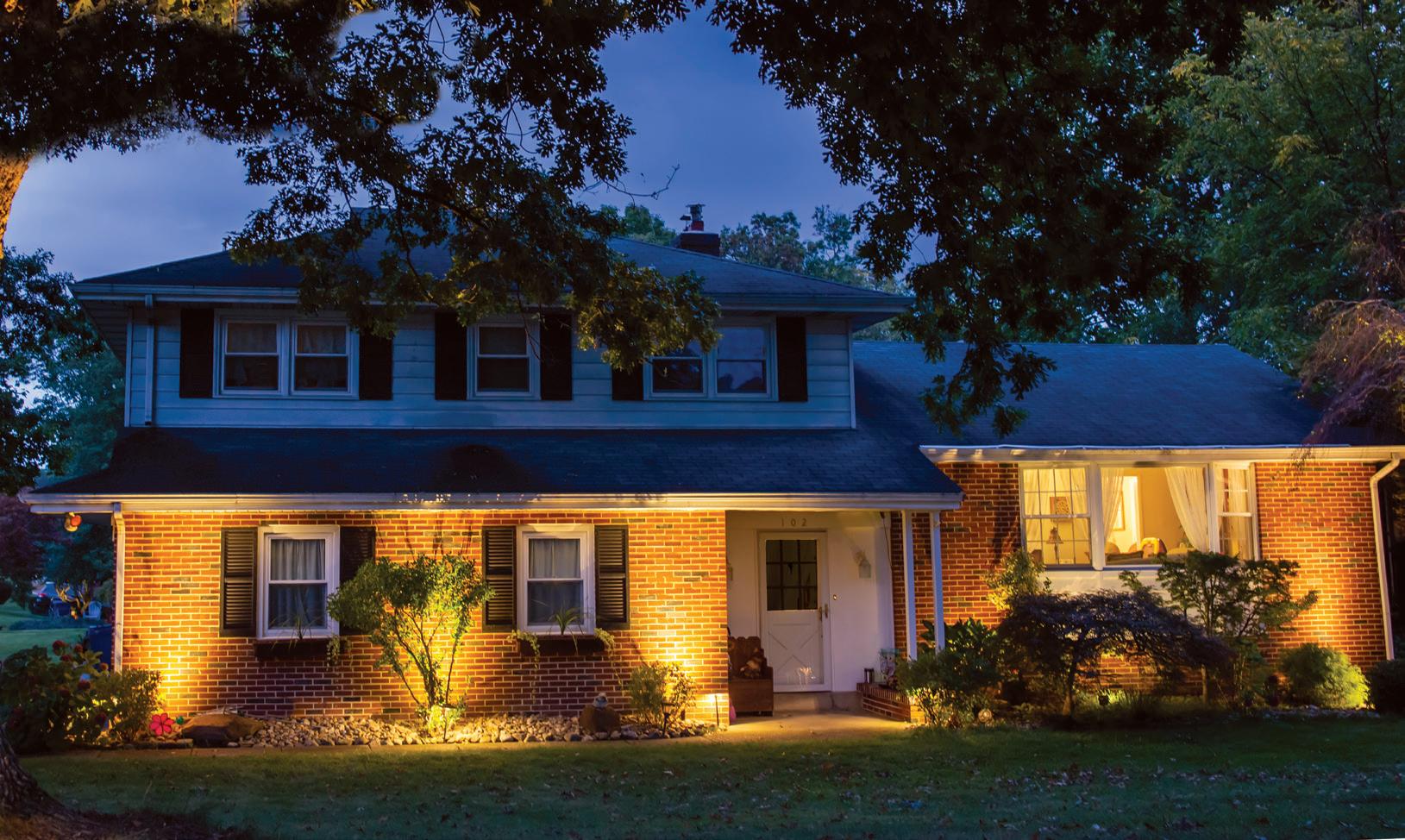 Another service Bob offers is installing trees, shrubs and seasonal planting of perennials for small and large backyards.
I am very hands-on," said Bob. "This is a small company and that means I work closely with the customers and I get their input.
For example, the lighting installation requires Bob to come back when it gets dark out, to adjust the lights. "Sometimes that means that I'm returning to their house anywhere between 5 and 9pm, depending on the season, but I want to make sure everything looks good and the customer is satisfied. My wife says I pay too much attention to detail," he said, laughing.
Bob and his wife, Mary Kate, have lived in Newtown Square since 2009 after living in East Lansdowne for 20 years while they raised their four children. "It was getting a bit congested there," said Bob. "Now I can look out my window from my office and see all green lawns." In his spare time, Bob tends to his vegetable garden and beekeeping. "I've always liked plants and the natural part of my work. I definitely have come full circle in my career. I can see myself being able to do planting and the lighting for years to come."
As a Newtown Square resident," said Bob, "I have a vested interest in improving the community and making houses more beautiful.
For folks who want their home to have more curb appeal and/or safety features, Robert J. Kleinberg Landscape Design is the company for you. And Bob will be selling beautiful Christmas trees starting Friday Nov. 27 and going through Dec. 24. Learn more by visiting www.Kleinberg.com or by calling 610-325-2313.
Newtown Square's Landscape Lighting Designer
Make Your Yard a Joy to Come Home to!
Light up your Home Entrances, Steps, Walkways, Patios, and other Outdoor Areas For Evening and Nighttime Entertaining or just relaxing with the family.
Retrofit your current home lighting with LED lights for less monthly expense and with new technology and smartphone control.
LIGHT UP YOUR HOME WITHOUT OBLIGATION! Request a FREE, No obligation demonstration TODAY! (Before You Invest)
610-325-2313
www.Kleinberg.com