9 minute read
ON AND OFF CAMPUS: NEW FACULTY
NEW FACULTY
Interdisciplinary artist and educator Nayland Blake '82 is the new chair of the Bard Studio Arts Program. Blake is chair of the ICP-Bard Program in Advanced Photographic Studies, a joint masters program run by Bard College and the International Center of Photography in New York City. They succeed Ellen Driscoll, who returns to the studio arts faculty. Blake, who has a BA in sculpture from Bard and an MFA from California Institute of the Arts, has been on the faculty of the Milton Avery Graduate School of the Arts and has taught at the San Francisco Art Institute; California Institute of the Arts; University of California, Berkeley; Parsons School of Design; New York University; School of Visual Arts; and Harvard University Department of Visual and Environmental Studies. A comprehensive survey, No Wrong Holes: Thirty Years of Nayland Blake, was on view at the Institute of Contemporary Art, Los Angeles, from September 2019 through January 2020. They are represented by Matthew Marks Gallery in New York City.
Tschabalala Self '12, who says her work "explores the emotional, physical, and psychological impact of the Black female body as icon, and is primarily devoted to examining the intersectionality of race, gender, and sexuality," is visiting artist in residence. Self has a BA in studio arts from Bard and an MFA in painting/printmaking from Yale School of Art. Her work is in collections from Beirut to Brooklyn, Oslo to Shanghai, Brussels to Seoul, Harlem to Guadalajara, London to Los Angeles, Boston to Beijing, Munich to Miami. Her first solo show was in Berlin; others include Parasol Unit Foundation for Contemporary Art, in London; Hammer Museum, in Los Angeles; Frye Art Museum, in Seattle; and Institute of Contemporary Art, in Boston. She is represented by Galerie Eva Presenhuber, in New York City, where her solo exhibition Cotton Mouth was on view earlier this year.
Kobena Mercer has been named Charles P. Stevenson Chair in Art History and the Humanities. He will teach undergraduates in the Art History and Visual Culture Program and graduate students of the Center for Curatorial Studies. Mercer, whose scholarship cuts across art history, Black studies, and cultural studies, conceived and edited MIT's Annotating Art's Histories series, which includes Cosmopolitan Modernisms, Discrepant Abstraction, Pop Art and Vernacular Culture, and Exiles, Diasporas & Strangers; wrote the books Welcome to the Jungle: New Positions in Black Cultural Studies and the essay collection Travel & See: Black Diaspora Art Practices since the 1980s; and was an inaugural recipient of the Clark Prize for Excellence in Arts Writing. He has taught at Yale University; New York University; University of California Santa Cruz; and Goldsmiths College, University of London, where he earned his PhD.
Sociologist Karen Barkey joins the College faculty as Charles Theodore Kellogg and Bertie K. Hawver Kellogg Chair of Sociology and Religion. Her research explores the fields of comparative, historical, and political sociology and the sociology of religion, from the rise of the Ottoman and Habsburg empires to the end of these empires, and nation building in their aftermath. She is the Haas Distinguished Chair of Religious Diversity at the Othering and Belonging Institute; director of the Center for the Study of Democracy, Toleration, and Religion; codirector of the Berkeley Center for the Study of Religion; and professor of sociology at the University of California, Berkeley. Barkey was born in Istanbul, Turkey. After she graduated from the Lycée Notre Dame de Sion, in Istanbul, she moved to the United States for her college education. She earned her BA from Bryn Mawr College, MA from University of Washington, and PhD from University of Chicago.
Bard's Art History and Visual Culture Program has appointed Heeryoon Shin as tenure-track faculty. Shin, who specializes in the art, architecture, and material culture of South Asia, with a particular focus on early modern and colonial India, received her PhD in the history of art from Yale University in 2015. She is teaching new courses on the visual cultures of colonial South Asia and the history and politics of craft with a focus on 20th-century South Asia, Japan, and Korea.
Yebel Gallegos, from El Paso, Texas, is a new visiting assistant professor of dance. Gallegos helped found Cressida Danza Contemporánea in Yucatán, Mexico, serving as dancer, company teacher, rehearsal director, and academic coordinator for the Conservatorio de Danza de Yucatán. He has performed work by Twyla Tharp, Doug Varone, Ann Carlson, Daniel Charon, Stephen Koester, Netta Yerushalmy, Claudia LaVista, Joanna Kotze, and Jonah Bokaer, among others. Gallegos earned a BFA in dance from the University of Texas at Austin and Escuela Profesional de Danza de Mazatlán and an MFA from the University of Washington. Tara Lorenzen, associate director of the Bard Dance Program/Gibney Partnership and visiting associate professor of dance, is originally from the hills of West Virginia. After graduating from SUNY Purchase, she became a member of the Repertory Understudy Group under Merce Cunningham. Lorenzen went on to work with Stephen Petronio Company from 2008 to 2011. Lorenzen has taught master classes and workshops for the Trisha Brown Dance Company all over the world and recently assisted in the reconstruction of Brown's O zlozony/O composite (originally created for the Paris Opera Ballet) for Pennsylvania Ballet. She joined Gibney Company in 2011.
Elisa Clark, an award-winning artist, educator, and administrator from the Washington, DC, area, and Amy Miller, a New York City–based dancer, choreographer, educator, and advocate, joined the faculty this fall as Gibney Dance teaching artists. Clark was a founding member of Robert Battle's Battleworks Dance Company and served as company manager; was a featured member of Alvin Ailey American Dance Theater, Lar Lubovitch Dance Company, and Mark Morris Dance Group; and performed with Nederlands Dans Theater and the Metropolitan Opera in works by Jirí Kylián and Crystal Pite. Formerly with the Ohio Ballet, Miller was a founding member and artistic associate of Cleveland-based GroundWorks DanceTheater and is now a Gibney Company director and performing member. She focuses on Gibney's community action initiatives through facilitating movement workshops with survivors of trauma, conducting trainings for artists interested in engaging in social action, developing healthy-relationship workshops for young people, and raising awareness about the role of the arts in violence prevention. She has conducted Gibney's Global Community Action Residencies at Mimar Sinan University and Koc University (Istanbul), University of Cape Town (South Africa), DOCH: School of Dance and Circus (Stockholm), MUDA Africa (Tanzania), and most recently in Gisenyi, Rwanda. Miller is an active member of the National Dance Education Organization's Access, Diversity, and Equity Committee, as well as of Dance/USA's Dance & Disability Affinity Group.
Mie Inouye, a political theorist and organizer who studies theories of political action in 20th-century U.S. social movements, has been appointed to a tenure-track faculty position with the Bard Political Studies Program. A joint PhD candidate in political science and religious studies at Yale University, Inouye investigates the ways that institutions shape people's understandings of themselves and the social world, and the practices that allow racially and economically oppressed people to develop and exercise agency.
Ranjani Atur, who is completing her PhD in religious studies, with an emphasis in ancient Mediterranean religions, at the University of California, Santa Barbara, is the inaugural recipient of Bard's Academic Diversity Postdoctoral Fellowship in Classical Studies. For two years, Atur will teach interdisciplinary courses and lead events connected to her research on Greek and Roman religion, early Christianity, and comparative religions across the ancient Mediterranean, Near East, and Asia.
Nadine Fattaleh and Oscar Humberto Pedraza Vargas are the first recipients of the Open Society University Network Center for Human Rights and the Arts at Bard College (CHRA) fellowship in human rights and the arts. They will be in residence at Bard during the 2021–22 academic year, when they will teach, offer lectures, and organize workshops at Bard. Their presence will further CHRA's mission of supporting multidisciplinary and collaborative knowledge production on the intersection of human rights and the arts.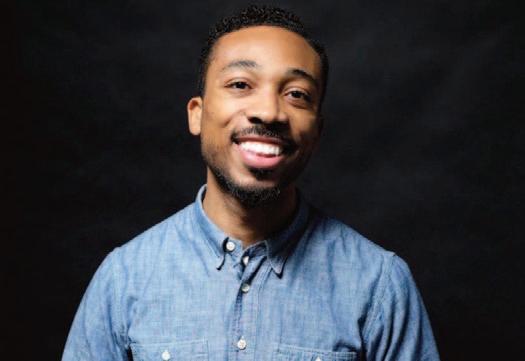 Joshua P. H. Livingston has joined the faculty as visiting professor of American studies. Livingston received his PhD in social welfare from the City University of New York Graduate Center and holds an MSW and a certificate in human services management from Boston University. He is a licensed master barber and, using the Black American barbershop as an exemplar, his work focuses on how social innovation, social enterprise, and "placemaking" can be utilized by young people of color to challenge institutional environments through the use of community forms that hold cultural significance. He is co-owner of Friend of a Barber in New York City's East Village and brings nearly 20 years of practice experience in youth-based program development, management, and evaluation to his work. This fall he is teaching Beyond Black Capitalism.
Recently announced notable additions to the faculty for 2022 include Clara Sousa-Silva, who has been appointed to a tenure-track position in the Physics Program; Jomaira Salas Pujols, who will be assistant professor of sociology; Lucas G. Pinheiro, assistant professor of political studies; and Yarran Hominh, assistant professor of philosophy. Sousa-Silva, a quantum astrochemist at the Center for Astrophysics | Harvard & Smithsonian, investigates how molecules interact with light so that they can be detected on faraway worlds. Pujols will teach courses on the sociology of race and ethnicity; the sociology of youth; and race, space, and place. Pinheiro's research bridges political theory and social history by focusing on the development of global capitalism, empire, and the legacies of racial slavery in the Atlantic world since the late 17th century. Hominh's work examines how modern social and political institutions shape human agency, and how human agency can in turn be used to change those institutions.