2023 2024 SEASON BROCHURE
STUDENTS
DEAR FRIENDS, TICKETS
This season, I am thinking about our future makers and ways to make art together. The stories on our stages, both inside and beyond the building, offer an opportunity to hear new voices and diverse perspectives from world-class artists and talented Lehigh students.
Sphinx Virtuosi opens the Presenting Series with an exciting program highlighting the excellence of Black and Latinx performers and composers. The San Diego Symphony graces our stage to premiere a new work by Carlos Simon, the Kennedy Center's composer-inresidence, the night before they debut it in Carnegie Hall.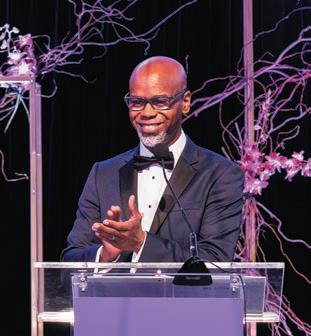 The imaginative Momix celebrates its 40th anniversary with a fantastical version of Alice in Wonderland. The Vienna Boys Choir rings in the holidays with traditional songs in Packer Memorial Church. Mermaid Theater's The Rainbow Fish is a delight for audiences of all ages. Lehigh Music Department Chair Paul Salerni conducts a live orchestra for Nimbus Dance's contemporary interpretation of Copland's Appalachian Spring
The university's music and theatre departments continue to amplify students' talents with the artistic vision of our esteemed faculty. See the future makers share their creativity this season.
We understand the importance of building our future audiences. Our Family Series partnership with the Lehigh Valley Reilly Children's Hospital ensures engagement continues with our second annual fun-filled Family Day.
Strike Anywhere Performance Ensemble joins us for a year-long residency, building dialogue and collaboration in the community beyond our building. The ensemble activates spaces with art by listening to individuals and turning their stories into a devised play that will be seen throughout Bethlehem's South Side neighborhood, weaving the campus and community together with a beautiful performance.
How excited I am that Zoellner Arts Center's 2023-2024 season adds to the vibrant arts scene in the Lehigh Valley and is a conduit to bring the area's rural, suburban and urban communities together. Thank you for your continued support. Arts have an impact in our community because of you.
Mark Fitzgerald Wilson Executive Director
2
GET
Photo By John Kish IV
Photo By Amanda Bellucci
4 SEASON AT A GLANCE 6 PRESENTING SERIES 24 MUSIC DEPARTMENT 32 DEPARTMENT OF THEATRE PAGE INDEX 610.758.2787 x0 zoellnerartscenter.org #artshaveimpact CONNECT WITH US! ZoellnerArts zoellnerarts zoellnerartscenter inzactix@lehigh.edu GO TO WEBSITE
2023 FALL AT A GLANCE
KEY: PRESENTING SERIES | MUSIC DEPT | DEPT OF THEATRE
HELL'S KITCHEN FUNK ORCHESTRA
SAT SEP 9
NEIL GAIMAN
SUN OCT 8
P.24
P.8
LUVME Disruption and Hope
SAT SEP 23
SAN DIEGO SYMPHONY
THU OCT 12
P.24
P.9
SPHINX VIRTUOSI Generations
FRI SEP 29
FAMILY DAY
STORYFACES
ARTRAGEOUS
SAT OCT 14
FAMILY SERIES
P.6
P.10
THE PRINCETON SINGERS Inspirations
SUN OCT 1
LEHIGH UNIVERSITY CHORAL ARTS
Sacred and Profane
SAT OCT 21
SUN OCT 22
P.25
P.25
THIS IS NOT THE PLAY OCT 4–7
MOMIX Alice
SAT OCT 28
P.32
P.11
THE BACON BROTHERS
FRI OCT 6
LEHIGH UNIVERSITY
JAZZ REPERTORY ORCHESTRA
SUN OCT 29
LEHIGH UNIVERSITY
FACULTY STRING QUARTET Impression, Sunrise SUN NOV 5
P.26
P.12
RAGS PARKLAND SINGS THE SONGS OF THE FUTURE NOV 10–17
FANCY NANCY SPLENDIFEROUS CHRISTMAS
SUN DEC 3
FAMILY SERIES
CHERISH THE LADIES
A Celtic Christmas
FRI DEC 8
P.32
P.12
LEHIGH UNIVERSITY FALL STUDENT JAZZ CONCERT
SAT NOV 11
POSTMODERN
JUKEBOX
Life in the Past Lane
SAT DEC 9
P.26
P.13
THE RODNEY MARSALIS PHILADELPHIA BIG BRASS
FRI NOV 17
LEHIGH UNIVERSITY
CHORAL ARTS
Christmas Vespers
SUN DEC 10
P.11
P.27
LEHIGH UNIVERSITY WIND ENSEMBLE Come Dance with Us
SUN NOV 19
VIENNA BOYS CHOIR
FRI DEC 15
P.26
P.14
LEHIGH UNIVERSITY
PHILHARMONIC A Dance Across Life
FRI DEC 1
SAT DEC 2
P.7
610.758.2787
P.25
P.27
P.15
THE NUTCRACKER
SAT DEC 16
SUN DEC 17
4
PRESENTING SERIES
SPHINX VIRTUOSI GENERATIONS
Inspired by the poetry of Langston Hughes and Julia Alvarez, the 18-member Sphinx Virtuosi showcase the beauty and tradition of excellence inherent in classical music created and performed by Black and Latinx composers for many generations. The ensemble seeks to uplift spirits by sharing the sounds that inspire people and transcend the boundaries of time, history and struggle. These alumni of Detroit's Sphinx Competition, an annual contest focused on increasing representation of Black and Latinx string players in classical music, are the flagship performance entity serving as cultural and diversity ambassadors throughout the country.
Price $35/$25
In conjunction with their performance, the ensemble will be engaged in a week-long artist's residency throughout the community.
FRI SEP
29 7:30pm
6 610.758.2787
THE BACON BROTHERS
FRI OCT 6 7:30pm
Bound by blood and a mutual love of American roots music, The Bacon Brothers have spent the past quartercentury in a creative whirl, funneling their shared DNA into a genre-bending sound. They call that sound "Forosoco" — a blend of folk, rock, soul, and country influences, delivered by two songwriters who were born to collaborate — and it's taken the siblings across the world, from shows in Japan to performances at American landmarks like Carnegie Hall and the Grand Ole Opry. "We're still exploring the sound we began making 25 years ago; we've just gotten a lot better at it," says Michael, whose success as an Emmy-winning composer mirrors his brother Kevin's accolades as an A-list Hollywood actor.
Price $55/$45
FOLK ROCKSOUL COUNTRY
7 zoellnerartscenter.org
LITERARY PRESENTATION
"I make things up and write them down" is how Neil Gaiman describes his varied art. As one of the most celebrated writers of our time, his popular and critically acclaimed works bend genres while reaching audiences of all ages. Gaiman's groundbreaking Sandman comics were described by Stephen King as having turned graphic novels into "art." The bestselling author of Neverwhere, Anansi Boys, Smoke and Mirrors, Fragile Things, Trigger Warning: Short Fictions and Disturbances, The Ocean at the End of the Lane, The Sleeper & the Spindle, Hansel and Gretel, Norse Mythology, and The View from the Cheap Seats, is also the author of American Gods, winner of the Hugo, Nebula, Bram Stoker, and Locus awards, and proclaimed one of the 125 most important books of the last 125 years by the New York Public Library. His young adult story, Coraline, won the same awards and was adapted as a musical and an opera. Much of his work has been adapted for visual media.
Price $45
NEIL GAIMAN
SUN OCT 8 4:00pm NEIL GAIMAN A
"Gaiman is, simply put, a treasure-house of story, and we are lucky to have him."
8
— Stephen King
THU OCT 12 7:30pm
SAN DIEGO SYMPHONY RAFAEL PAYARE, CONDUCTOR ALISA WEILERSTEIN, CELLO
In the 100-plus years since its inception, the SDSO has become one of the leading orchestras in the United States. Their concert at Zoellner will be the same repertoire the orchestra premieres the next day at Carnegie Hall. This is a world-class NYC concert experience in the Lehigh Valley. The Music Director of the San Diego Symphony is Rafael Payare. The Principal Guest Conductor is Edo de Waart, and Jahja Ling serves as Conductor Laureate.
Price $55/$45
REPERTOIRE
CARLOS SIMON New Commission (East Coast Premiere)
DVOŘÁK Cello Concerto in B minor, Op. 104
SHOSTAKOVICH Symphony No. 5 in D minor, Op. 47
9 zoellnerartscenter.org
Carlos Simon, Composer-in-Residence for The Kennedy Center
STORYFACES
11am & 12:30pm
The stories come to life on the faces of the audience in this innovative and exciting storytelling show for adults and family audiences, in which volunteers are brought on stage and face painted to illustrate stories as artist Christopher Agostino tells captivating folktales, and his uniquely animated original stories — ranging from the comic adventures of The Amazing Face Story to the heroic tale of Punia and the King of the Sharks and an ancient tale asking the timeless question: Is Life Fair? He is the artistic director of Transformations Facepainting, a company that has transformed thousands of people annually for the Bronx Zoo, NYC Parks Department, the NYC Housing Authority, and special events like the World Science Festival.
ARTRAGEOUS

2pm & 5pm
Step into this outrageous adventure of arts: the only show where you can witness the fusion of live art, rock concert, imaginative movement, vocal performance, comedy, blacklight Bunraku, Artpunk wear, and inclusion in one magical experience. Feel the anticipation to see if the artist will complete the painting in time and guess what is being created until the very last brushstroke. Artrageous is the only immersive art experience where you are the heart of the show.
You'll take a magical journey to a blacklight world where things may not be as they seem, up is down and the depth is all a perception, as you try to discover what reality is.
POST-SHOW: Bring a t-shirt or item to put in our Creation Lab where we create a one-of-a-kind piece of wearable art for you (limited availability up to 100 people)
Price $18 | Child $12
GENERAL ADMISSION
Join us for Family Day! We invite our community to explore Zoellner's building and experience a fun day filled with art activities, treats and more! Check our website as the day gets closer for more details.
FAMILY SERIES
FREE; FOWLER BLACK BOX THEATRE
DAY
Family SAT OCT 14
SAT OCT 28
7:30pm
MOMIX
Seamlessly blending illusion, acrobatics, magic and whimsy, MOMIX sends audiences flying down the rabbit hole in Moses Pendleton's newest creation, ALICE, inspired by Lewis Carroll's classic Alice in Wonderland.
"I don't intend to retell the whole Alice story" Pendleton says, "but to use it as a taking off point for invention." Join this dazzling company on a mindbending adventure, as Alice encounters time-honored characters including the undulating Caterpillar, a lobster quadrille, frenzied White Rabbits, a mad Queen of Hearts, and a variety of other surprises. Filled with visual splendor and startling creative movement, Alice reveals that nothing in MOMIX's world is as it seems!
Price $45/$35
FRI NOV 17
7:30pm
THE RODNEY MARSALIS
PHILADELPHIA BIG BRASS IN PACKER MEMORIAL CHURCH
America's premier large brass ensemble always reflects the diverse makeup of people in American culture. RMPBB is dedicated to the notion that music is a gift to be enjoyed by everyone. The band is a familyowned and operated business that had its beginnings on the streets of New Orleans. On the advice of family patriarch Ellis Marsalis, the group created a concert format that breaks the usual barriers between genres— ranging from solo trumpet to brass quintet, to the full 7-piece ensemble and percussion—and strives to create a connection between the audience and performers.
Price $40 FREE SHUTTLE from parking garage GENERAL ADMISSION
zoellnerartscenter.org 11
SUN DEC 3 3:00pm
FANCY
NANCY SPLENDIFEROUS CHRISTMAS
Fancy Nancy is not too fancy and is someone with many good qualities that you want your children to learn from. She bought a brand-new sparkly tree topper with her own money, but as usual, things don't turn out the way Nancy would like. In the end Nancy teaches us that her family and especially her sister, Jojo, are more important than any fancy stuff that she could buy.
Price $15 | Child $10
GENERAL ADMISSION
Body copy to go here

Price 12 | Child
GENERAL ADMISSION
SERIES
FRI DEC 8 7:30pm
CHERISH THE LADIES
A CELTIC CHRISTMAS
"It is simply impossible to imagine an audience that wouldn't enjoy what they do," says The Boston Globe speaking of Cherish the Ladies, the Grammy-nominated, Irish-American super group that formed in New York City in 1985 to celebrate the rise of extraordinary women in what had been a male-dominated Irish music scene. Since their first sold-out concert, they exploded onto the Irish music circuit performing thousands of concerts around the globe and are now among the busiest and most admired Irish groups on the planet. Their show is a wonderful blend of the old and the new. Irish songs, lively jigs and reels, and heart-wrenching slow airs transport the listener on an enchanted musical journey.
Price $45/$35
FAMILY
inzactix@lehigh.edu 12
SAT DEC 9 7:30pm
LIFE IN THE PAST LANE TOUR
Postmodern Jukebox's Life In The Past Lane concert tour is a celebration of the greatest 20th century musical genres, fused with the recognizable hits of our own modern era, for the perfect patina of "vintage" and "modern." As always, the PMJ Universe comes to life with a cast of today's most exciting vocalists, instrumentalists, and tap dancers, to bring you the top-shelf entertainment experience for which PMJ is known. Whether you're a vinyl aficionado or a TikTok fashionista, catch a ride with PMJ for an unforgettable trip through 100 years of timeless music.
Price $65/$55/$45
13 zoellnerartscenter.org
VIENNA BOYS CHOIR
FRI DEC 15 7:30pm
IN PACKER MEMORIAL CHURCH
We are thrilled to present the Vienna Boys Choir in Packer Memorial Church this holiday season. Admired across the globe for their pure sound, heavenly voices and technical mastery, the cherubic ensemble features boy sopranos and altos from eight to 14, representing 31 countries, harmonizing their incredible vocals for an unforgettable night. Built on six centuries of tradition, the choir counts Joseph Haydn and Franz Schubert among its illustrious alumni. The group's yuletide program has something for everyone: Baroque classics, contemporary popular hits, Christian hymns, Austrian folk tunes, polkas, waltzes and more!
Price $50 FREE SHUTTLE from parking garage
GENERAL ADMISSION
Programs Subject to Change 14
SAT DEC 16
1:00pm 4:30pm SUN DEC 17 1:00pm 4:30pm
THE NUTCRACKER
The Pennsylvania Youth Ballet's magical production of The Nutcracker with a live orchestra playing the full score of Tchaikovsky's masterpiece is a holiday tradition for the whole family! Enjoy the beauty of dancing snowflakes, the Sugar Plum Fairy, and Clara's dream come to life, with guest artists from the world's finest ballet companies and a cast of nearly 100 dancers.
Price $55/$45/$35
This joint production is a partnership between Zoellner Arts Center, the Lehigh University Music Department and Pennsylvania Youth Ballet.
G A G Lehigh University Art Galleries
Lehigh University Art Galleries (LUAG) is Lehigh's FREE on-campus art museum, caring for a permanent collection of over 19,000 works of art from diverse cultures and time periods, including over 50 outdoor sculptures. LUAG presents a variety of exhibitions and free public programs annually for individuals of all ages and abilities. Join us for lectures and symposia to hands-on artmaking and student-led workshops that foster meaningful encounters with art and ideas. We are committed to making the collection and exhibitions inclusive and accessible, both in-person and online.
Visit www.luag.org for more information.
All!
Gain a New Perspective FREE & OPEN to
15
FRI FEB 2 7:30pm
2024 EVENTS
Tickets on sale THU NOV 9
Check out page 35 to SUBSCRIBE + SAVE!
Get ready for the ultimate playdate — 65 million years in the making — as Erth's DINOSAUR ZOO LIVE guides your family on a breathtaking tour through pre-historic Australia. You'll observe, meet and interact with an eye-popping collection of amazingly life-like dinosaurs and other giant puppet creatures in a theatrical performance that will thrill and entertain children.
Price $20 | Child $15
GENERAL ADMISSION
Body copy to go here 12 | Child
GENERAL ADMISSIONFAMILY SERIES

16
inzactix@lehigh.edu
FRI FEB 9
7:30pm
CELLOGAYAGEUM
This intercultural musical duo comprises cellist Sol Daniel Kim and Dayoung Yoon, a gayageum (traditional Korean plucked zither with 12-strings) artist. Their visit to the Pavilion of Unification in Berlin, a city shaped by a tragic history of war, division, and reunion, inspired them to perform as a duo, seamlessly blending the musical cultures and instruments of the cello and gayageum; they create a harmonious symbiosis in both sound and style to promote the traditional music culture of South Korea to the world.
Price $25
SAT FEB 24 7:30pm
MNOZIL BRASS JUBILEE
These whimsical, funny and fearless musicians have been entertaining fans around the globe for 30 years with their comedic brilliance, sensational programs and impeccable playing. This world-famous Viennese septet, known as the Monty Python of the music world, mashes artistry with antics and masterful musicianship with creative improvisation as their lips vibrate in unerring service to their beloved brass music. An evening with the Brass is an over-the-top fun, virtuosic, and laugh-out-loud experience!
Price $55/$45
17 zoellnerartscenter.org
THU FEB 29
7:30pm
LES BALLETS TROCKADERO DE MONTE CARLO
The world's foremost all-male comic ballet company leaps into the center as part of its landmark 50th anniversary season featuring gems from their groundbreaking parodies that span the classical ballet canon. Founded in NYC in 1974, the Trocks has grown from its roots in late-late shows in off-off Broadway lofts to a global touring sensation. The company dances en travesti with razor-sharp wit and breathtaking pointe work. Revered by ballet aficionados as well as by those who don't know a plié from a jeté, they are "a guaranteed hoot for people who know nothing of ballet and an absolute must for those who think they know the originals." (Sydney Star Observer).
Price $45/$35
"The Trocks may show you how to laugh at ballet, but they also teach you to love it."
18
— New York Post
SAT MAR 2 11:00am
THE RAINBOW FISH

Mermaid Theatre of Nova Scotia presents a tale about the most beautiful fish in the sea, whose scales shimmer in all the colors of the rainbow. He is admired-and resented--by the entire underwater world until a clever octopus advises him to give each fish one of his scales. Further adventures follow as Rainbow Fish finds the courage to explore the great unknown deep sea, discovering a new world with wonderful sights and friendly creatures of all shapes, sizes and colors who are eager to make his acquaintance. The underworld wonderland is the setting for an introduction to the concept of opposites.
Price $15 | Child $10
Body copy to go here
FRI MAR 8
7:30pm
LAS CAFETERAS
The LA Times describes Las Cafeteras as a "uniquely Angeleno mishmash of punk, hip-hop, beat music, cumbia and rock…live, they're magnetic." Their Afro-Mexican beats, rhythms and rhymes complement inspiring lyrics that document stories of a community seeking love and justice in the concrete jungle of Los Angeles. Using traditional Son Jarocho folk instruments like the jarana, requinto, quijada (donkey jawbone) and tarima (a wooden platform), they sing in English, Spanish and Spanglish. This socially conscious band uses music as a vehicle to build bridges among different cultures while creating fabulous music that makes you want to dance!
Price $35
GENERAL
ADMISSION
12 | Child GENERAL ADMISSIONFAMILY SERIES
zoellnerartscenter.org 19
SUN MAR 10 4:00pm
LADYSMITH BLACK MAMBAZO
Graceland was Paul Simon's comeback album, and the secret to its success on the road to winning the Grammy for Album of the Year was the vocal ensemble Ladysmith Black Mambazo. Dubbed by the late Nelson Mandela as South Africa's "Cultural Ambassadors to the World", they share a joy and excitement that breaks down barriers and unites everyone through the universal language of music. The group performs isicathamiya – a traditional music that originated with black mine workers in South Africa. During apartheid, the group chose to write peaceful music with messages of hope and joy. Over its long history, the group has recorded with Stevie Wonder, Dolly Parton, Sarah McLachlan, Josh Groban, Emmylou Harris, Melissa Etheridge and many others.
Price $45/$35
20 610.758.2787
FRI APR 5
7:30pm
NIMBUS DANCE
NEW WORKS: THE NEW TIDE & SPRING
Nimbus is an award-winning contemporary dance company. In The New Tide, choreographer Dawn Marie Bazemore explores the iconic 1940s-50s era photography of Gordon Parks and weaves stunning dancing, history and storytelling set to the transcendent music of the legendary Sam Cooke.
Artistic director Samuel Pott's Spring honors Martha Graham's seminal ballet from 1944 by exploring the sense of hope and optimism in Aaron Copland's masterpiece, Appalachian Spring, while conveying a contemporary perspective on the continuity of spirit through cycles of seasons in nature and generations of Americans. Lehigh Professor, Paul Salerni, conducts the live orchestra.
Price $45/$35
FRI APR 12 7:30pm
VIOLIN WOMAN, AFRICAN DREAMS
Violinist Diane Monroe's versatility and expressive artistry consistently bring audiences to their feet. Her visibility as a jazz artist began with her long-standing membership as the first violinist of the Uptown String Quartet and the Max Roach Double Quartet. In this piece, she crafts a musical memoir that bridges jazz, classical, and traditional African music, revealing an African-American violinist's trials and triumphs. Written for violin, West African kora (a long-necked, 21-string, plucked instrument), banjo, Western string quartet, percussion, and bass, the composition provides a framework for improvisations by each player and weaves a musical narrative that incorporates sound, visual art and spoken word.
Price $25
zoellnerartscenter.org 21
LONG TALL SALLY MY GENERATION THE WEIGHT
JUMPIN' JACK FLASH
BROWN SUGAR
WILD THING
MY BEST FRIENDS GIRL
10TH AVENUE FREEZE OUT
WONDERFUL TONIGHT
ROCKY MOUNTAIN WAY A HARD DAY'S NIGHT FOR YOUR LOVE
LAST TRAIN TO CLARKSVILLE PURPLE HAZE
FRI MAY 17 7:30pm
Rock and Roll Hall Of Famer Max Weinberg leads one of the most interactive and energetic shows Zoellner audiences have seen yet! He literally leaves the stage to ask the audience to call out and pick the set list from a scrolling list of 300+ classic songs from the glory days of rock and roll.
Max and his band then play it all on the spot and spot on — everything from The Beatles to the Stones to Bruce and The E Street Band's biggest hits; the band infuses these classics with the respect the songs deserve and play them the way audiences want to hear them played!
Max has held the drum chair behind Bruce Springsteen & The E Street Band for 45 years. He is also widely known for anchoring the house band for Late Night with Conan O'Brien for 17 years.
Price $45
CARPET
PEGGY SUE LIKE A ROLLING STONE
MAGIC
RIDE
22
TAKE IT EASY
FOR AN ARTISTIC ADVENTURE
Strike Anywhere Performance Ensemble invites you, the community, to help us create the show!
POP UP: AN ARTISTIC ADVENTURE
Playful, imaginative and inspirational, POP UP is inspired by the personal stories, memories and anecdotes of the community. Look for the ensemble's portable POP UP lounge on campus plus at Touchstone's Festival UnBound events. Share your stories during short informal interviews SEP 27 – OCT 1.
In the spring, get your free tickets to see POP UP: An Artistic Adventure on APR 27 & 28. Once the show starts, audience members will be guided on the search for the performances through clues on a hand-painted map.
Interested in joining the POP UP community choir?
Check zoellnerartscenter.org for details.
23
COMMUNITY
MAKING
JOIN STRIKE ANYWHERE PERFORMANCE ENSEMBLE
CONNECTIONS
SEPTEMBER
SaT 9
8:00pm
HELL'S KITCHEN FUNK ORCHESTRA
New Music Monday writes, "After arriving in NYC from his native Baltimore in 1979, Warfield soon became an indemand trumpeter and arranger. For this recording of his Jazz-funk band, he recruited new younger members to keep his sound fresh and current. Warfield is an advocate for the power of horns and that is a constant throughout this new session. He opted to re-arrange a wide array of his favorite tunes, standards, funk n' soul and pop hits." Bill Warfield, director.
Price $18
SaT 23
7:30pm
LUVME DISRUPTION AND HOPE
Music written by and for the Salerni family during Covid including wistful, mournful, joyful, dancing, comical, simple and virtuosic compositions by Louis Karchin, Domenic Salerni, Paul Salerni, and Steven Sametz. Paul Salerni, director.
Price $18
LEHIGH UNIVERSITY MUSIC DEPARTMENT
To instill a love for music, to foster the discipline it requires, to promote musical literacy and to develop creativity.
Programs Subject to Change 24
OCTOBER
SUN
1 4:00pm
THE PRINCETON SINGERS INSPIRATIONS
A look at how living artists engage with works by masters of the past. Includes Janequin's Le chant des oyseaux (Song of the Birds) and Sametz's new Birds of Paradise.
Steven Sametz, artistic director.
Price $18
SaT 21
SUN 22 8:00pm 4:00pm
CHORAL ARTS
SACRED AND PROFANE
Repertoire: Vaughan Williams, Variations on a Theme of Thomas Tallis; Sametz, American Songs–Sacred and Profane; Vaughan Williams, Dona nobis pacem.
Steven Sametz, director; Hana Cai, associate director.
Price: $18
SUN
29
3:00pm
JAZZ REPERTORY ORCHESTRA
The Lehigh University Jazz Repertory Orchestra is a group of university's top Jazz students in collaboration with the professional Broadway and studio musicians who make up the Jazz faculty of the music department. They will perform a collection of Big Band standards past and present. From Count Basie to Thad Jones, this is a concert not to be missed. Please join us. Bill Warfield, director.
Price $15
ALL MUSIC DEPARTMENT EVENTS ARE GENERAL ADMISSION zoellnerartscenter.org 25
NOVEMBER
SUN
5
3:00pm
FACULTY STRING QUARTET IMPRESSION, SUNRISE
Join the Lehigh University Faculty String Quartet for an afternoon of enchanting music for four performers. Haydn's delightfully evocative Sunrise Quartet will be performed along with Ruth Crawford Seeger's audacious String Quartet (1931) and Claude Debussy's impressionistic String Quartet in G Minor.
Price $15
SaT 11 8:00pm
STUDENT JAZZ CONCERT
Lehigh University's student Jazz musicians present a concert of an eclectic mix of Jazz styles. Hear a semester's worth of work by great new, young and aspiring Jazz musicians in combos and Big Bands. Bill Warfield, director.
Price $12
SUN 19 3:00pm
WIND ENSEMBLE COME DANCE WITH US
Join the Wind Ensemble for a concert featuring dance works by John Mackey, Jay Clifton Williams, and others. Darin Lewis, director.
Price $15
LEHIGH UNIVERSITY MUSIC DEPARTMENT 26 610.758.2787
DECEMBER
FRI 1
SaT 2 7:30pm 7:30pm
SUN 10 4:00pm 8:00pm
PHILHARMONIC A DANCE ACROSS LIFE
A concert featuring the iconic Violin Concerto by Tchaikovsky, with Michael Jorgensen, soloist, and music by Aaron Copland. Paul Salerni, director.
Price $18
CHORAL ARTS
CHRISTMAS VESPERS IN PACKER MEMORIAL CHURCH
Lehigh University Choral Arts presents its annual Christmas gift to the community.
Steven Sametz, director; Hana Cai, associate director. Free; No tickets required. Early arrival suggested.
2024
GET
STUDENTS
TICKETS ON SALE THU NOV 9 ALL MUSIC DEPARTMENT EVENTS ARE GENERAL ADMISSION zoellnerartscenter.org 27
EVENTSSubscribers have the option to ADD ON SPRING EVENTS before they go on sale to the public. TICKETS
FEBRUARY
SaT 3
8:00pm
JAZZ FACULTY
THE GREAT AMERICAN SONGBOOK
From Cole Porter to Wayne Shorter to Stevie Wonder – a concert of American composers' greatest Jazz and pop tunes. The Lehigh Jazz Faculty will perform a concert of the greatest songs of our homegrown composers. Bill Warfield, director.
Price $15
SaT 10
8:00pm
THE PRINCETON SINGERS
VALENTINE'S DAY CONCERT
Join in the joys of love, with kissing, drinking and insect songs. Steven Sametz, artistic director.
Price $18
FRI 16
SaT 17 7:30pm 7:30pm
PHILHARMONIC ITALIAN FABLES
Three family-friendly Italian fables for orchestra (The Old Witch and the New Moon, The Big Sword and the Little Broom, and Palma) with words by Dana Gioia and music by Paul Salerni. Featured performer: Diane Monroe, violin (Horger Artist-in-Residence). Paul Salerni, director.
Price $18
2024
LEHIGH UNIVERSITY MUSIC DEPARTMENT Programs Subject to Change 28
MARCH
SaT 2
8:00pm
GARY BARTZ & LEHIGH UNIVERSITY JAZZ REPERTORY ORCHESTRA
This year's Horger Jazz Artist, the great saxophonist/ composer Gary Bartz, in collaboration with director Bill Warfield and the LU Jazz program, premieres a new Jazz suite. Bartz has performed with Miles Davis, Art Blakey, and McCoy Tyner, and has created a Jazz legacy with his own NTU Troop. His impact on Jazz and accomplishments are far too extensive to list here. Bill Warfield, director.
Price $18
SUN
3
3:00pm
EUGENE ALBULESCU
A STEINWAY FANTASY CONCERT
Lehigh Professor and award-winning Steinway Artist Eugene Albulescu performs piano masterworks, celebrating Lehigh's new Concert Steinway which he selected for Baker Hall.
Price $25
FRI 22
SaT 23 8:00pm 8:00pm
CHOIR, DOLCE AND GLEE CLUB THE "BEST OF"
CONCERT
Including a new work by Steven Sametz for choir, dancers, and puppets. Steven Sametz, director; Hana Cai, associate director.
Price $15
ALL MUSIC DEPARTMENT EVENTS ARE GENERAL ADMISSION zoellnerartscenter.org 29
SUN maR 24 3:00pm
MICHAEL JORGENSEN, VIOLIN & STEVE BECK, PIANO
THE SAINT-GEORGES PROJECT
Joseph Bologne, the Chevalier de Saint-Georges, was one of the most important violinist-composers of the 18th century. He was Marie Antoinette's music teacher, a brilliant fencer, and, eventually, a soldier in the Republican Guard during the French Revolution. He was also the child of an enslaved woman and a minor French noble. Repertoire: Saint-Georges' Violin Sonatas; two world premieres by composers Shawn Okpebholo and Evan Williams.
Price $15
APRIL
SUN
7
3:00pm
NEW YORK JAZZ REPERTORY ORCHESTRA
JAZZ ON A SUNDAY
Featuring modern orchestral Jazz, some of NYC's finest musicians perform the arrangements and compositions of Lehigh's Jazz faculty. Enjoy a wide variety of music during a relaxing Sunday afternoon concert.
Bill Warfield, director.
Price $15
SUN 14 3:00pm
WIND ENSEMBLE
THE MUSIC OF FRANK TICHELI
As part of our Horger Residency, composer Frank Ticheli will join us at Lehigh for rehearsals, lessons, and lectures, culminating in a concert of his band compositions.
Darin Lewis, director.
Price $15
LEHIGH UNIVERSITY MUSIC DEPARTMENT 30 inzactix@lehigh.edu
SaT 20 8:00pm
STUDENT JAZZ CONCERT
Lehigh's student Jazz musicians perform an eclectic mix of styles: combos, Big Band and more by great young and aspiring musicians. Bill Warfield, director.
Price $12
SUN 21 3:00pm
FRI 26
SaT 27 7:30pm 7:30pm
SYMPHONIC BAND CELEBRATE SPRING
An afternoon of free music. Darin Lewis, director.
PHILHARMONIC
CONCERTO MARATHON
Lehigh students play movements from famous concertos and Sibelius's glorious Symphony No. 2. Paul Salerni, director.
Price $12
MAY
FRI 3
SaT 4 8:00pm 8:00pm
CHORAL ARTS
I HAVE HAD SINGING
Sametz: I Have Had Singing
Brahms: Ein Deutsches Requiem (A German Requiem). Steven Sametz, director; Hana Cai, associate director.
Price: $18
ALL MUSIC DEPARTMENT EVENTS ARE GENERAL ADMISSION zoellnerartscenter.org 31
THIS IS NOT THE PLAY
BY CHISA HUTCHINSON
OCT 4* - 7 | 7:30pm
A GRITTY, IN-YOUR-FACE COMEDY THAT SHINES A LIGHT ON WHAT WE NATURALLY TURN AWAY FROM, RACISM.
A black playwright is trying to write a play about white people, but she discovers the characters have minds of their own.
Kashi Johnson,
Price $12
director.
RAGS PARKLAND SINGS
THE SONGS OF THE FUTURE
BY ANDREW R. BUTLER
NOV 10, 11, 15* - 17 | 7:30pm • NOV 12 | 2pm
A SCI-FI FOLK MUSICAL ABOUT A FREEDOM FIGHTER. The year is 2251 and it's illegal to be a cyborg. One folk musician comes home from the moon to pass on the story of the rebellion.
Lyam B. Gabel, director.
Price $12
DEPARTMENT OF THEATRE
New Place. New LEHIGH UNIVERSITY 32 Programs Subject to Change
ANTIGONICK
BY SOPHOCLES
TRANSLATION & ADAPTATION BY ANNE CARSON
FEB 23, 24, 28*, 29 maR 1 - 2 | 7:30pm
FEB 25 | 2pm
AN ANTIGONE FOR OUR TIMES. Morality vs. patriotism. To honor the law or follow one's conscience? Ancient Greece looks suspiciously similar to the present day as Antigone is faced with impossible decisions.
Price $12
THIS EMANCIPATION THING
WRITTEN & DIRECTED BY SARA LYONS
apR 12, 13, 17* - 20 | 7:30pm • apR 14 | 2pm
A FEMINIST MULTIMEDIA CONSCIOUSNESS-RAISING SESSION. With reproductive rights slipping through our fingers, what wisdom must we learn from the activists who ushered in Roe v. Wade? The theater becomes a multimedia consciousness-raising session as archival texts from 1968 and interview transcripts with feminists of all ages and genders create a collaborative installation that collapses time.
Price $12
Voices. New Perspectives. 33 zoellnerartscenter.org DEPARTMENT OF THEATRE EVENTS ARE GENERAL ADMISSION *The Dept. of Theatre is offering Pay-What-You-Wish Wednesdays. Contact Ticket Services for details.
AN IMPACT ZOELLNER ARTS CENTER
PLEASE DONATE • BECOME A FRIEND MAKE
Your charitable tax-deductible receipt will be calculated in accordance with guidelines supporting the benefits received for your donation.
34 610.758.2787
FRIEND $100 PATRON $250 FELLOW $500 ARTIST $1,000 MAESTRO $2,500 PRODUCER $5,000 LEVELS & BENEFITS Recognition in event programs Enjoy Pre-Concert Receptions when available (2) Tickets Music or Theatre Dept. Performance Invitation to Season Preview Event when available Tickets to a Presenting Series Performance 2 TIX 4 TIX SCAN TO DONATE
SUBSCRIBE + SAVE
CHOOSE 3 EVENTS TO SUBSCRIBE!
SUBSCRIPTIONS OFFER FLEXIBILITY & EXCLUSIVE BENEFITS
• Subscribers save up to 22% & pay no per ticket service charges
• FREE and discount ticket offers via email
• Subscribers enjoy reserved seating for general admission shows
• Plans change? Exchange your tickets if you can't make a show
• Early access for the best seats
• Invitation to Season Preview event with our Executive Director to learn about upcoming performances and 2 FREE Tickets to Max Weinberg's Jukebox in May!
• Option to add SPRING events until November 8th before they go on sale to the general public to SAVE EVEN MORE and get the best seats!
Questions: 610-758-2787 ext.0 | inzactix@lehigh.edu
2023 2024 SEASON
SUBSCRIBE ANYTIME
Save and enjoy exclusive benefits like access to tickets before they go on sale to the public.
CHOOSE
3 EVENTS
or more to subscribe and enjoy all these benefits and more throughout the year.
MAKE AN IMPACT
Your support makes a direct and tangible impact on the artistic programming and educational outreach to thousands, every year.
35 zoellnerartscenter.org
PACKAGE BENEFITS
Photo Credits: Lukas Beck, Amanda Bellucci, Sharen Bradford, Carsten Bunnemann, Mark F. Conrad, Robert Day, J. Henry Fair, Jeff Fasanao, Linda Ganus, Ryan Hulvat, International Musical Network, Scott Jackson, Jarvis, John Kish IV, Lehigh University, LU Dept. of Theatre, LU Music Dept., LVanHart Artist Productions, Marsalis Mansion Artists, Megan Maloy, Equilibre Monaco, Seung Yull Nah, Marcello Orselli, Rafael Payare, Terrence Ragland, Shaw Entertainment Group, Beowulf Sheehan, Snapseed 2.0, Farah Sosa, Paul Stuart, United Talent Agency, Vital Theatre Company, Christian Waits, Hub Willson
GET YOUR TICKETS SEATING CHARTS
CONTACT US
IN PERSON ONLINE
Zoellner Arts Center
Ticket Services
420 East Packer Ave.
Bethlehem, PA 18015
GET STUDENTS
TICKETS
www.zoellnerartscenter.org
email: inzactix@lehigh.edu
PHONE
610-758-2787 ext: 0
Box Office Hours: TUE 12-6pm, WED-FRI 12-5pm
For ticketed events: SAT 2 hours prior to curtain, 90 mins. all other days. Check online for summer (May – Aug) and winter break (Dec – Jan) hours.
Senior, student, group, Lehigh University Faculty/Staff
and LVAIC discounts available.
*PARKING
IS
FREE in the garage attached to the center for all Presenting Series, Lehigh University Music Dept. and Dept. of Theatre events (excluding some weekday morning events and Christmas Vespers in Packer Chapel). Please note, there may be a parking charge for non-Zoellner sponsored events.
All programs and artists are subject to change. In the event of a cancellation or material change, we will make every effort to contact all ticket holders. We must reserve the right to make any changes whatsoever in the event owing to any unforeseen or unavoidable cause or to cancel the event for any reason beyond our control without being liable to pay any ticket holder compensation for damages other than a ticket of comparable value to an event (based on availability).
Prices separated by slashes indicate seating area locations differentiated by color. Please note, not all sections are available for all performances.
Zoellner is a fully accessible facility. Free assistive listening devices available. Check online for details.
BBaker Hall: All seats except ADA seating and those in row S are accessed by steps. Diamond Theater: All seats except ADA seating are accessed by steps.
36
DIAMOND THEATER R CENTER STAGE L
BAKER HALL
ORCHESTRA D-G GRAND TIER H-R
GRAND TIER S-T
BALCONY AA-EE
PIT STAGE ORCHESTRA
A-C
PICK 3-PACKAGE AND SAVE! Order early for best seats Listed prices reflect the subscription discount and include the City of Bethlehem Amusement tax. | Programs Subject to Change. (OVER) PACKAGE BENEFITS Select 3 or more & save up to 22 % ! DATE & TIME PACKAGE PRICE STUDENT/CHILD PACKAGE PRICE TOTAL SEPTEMBER 2023 GA= General Admission RS=Reserved Seating PRICE # TICKETS + PRICE # TICKETS MD Hell's Kitchen Funk Orchestra GA Sat 98p $15 x ____ $5 x ____ $______ MD LUVME GA Sat 237:30p $15 x ____ $5 x ____ $______ PS Sphinx Virtuosi RS Fri 297:30p $21 x ____ $18 x ____ $______ OCTOBER 2023 MD Princeton Singers GA Sun 14p $15 x ____ $5 x ____ $______ THR This is Not the Play GA circle one: 4•5•6•77:30p $10 x ____ $5 x ____ $______ PS Bacon Brothers RS Fri 67:30p $45 x ____ $40 x ____ $______ PS Neil Gaiman RS Sun 84p $37 x ____ $33 x ____ $______ PS San Diego Symphony RS Thu 127:30p $37 x ____ $33 x ____ $______ FS Artrageous GA Sat 142p & 5p $16 x ____ $14 x ____ $______ MD LU Choral Arts GA circle one: Sat 218p • Sun 224p $15 x ____ $5 x ____ $______ PS Momix: Alice RS Sat 287:30p $37 x ____ $33 x ____ $______ MD LU Jazz Rep Orch GA Sun 293p $13 x ____ $5 x ____ $______ NOVEMBER 2023 MD LU Faculty String Quartet GA Sun 53p $13 x ____ $5 x ____ $______ THR Rags Parkland Sings ... GA circle one: 10•11•15•16•17-7:30p • 12-2p $10 x ____ $5 x ____ $______ MD LU Student Jazz Concert GA Sat 118p $10 x ____ $5 x ____ $______ PS Rodney Marsalis in Packer Church GA Fri 177:30p $33 x ____ $29 x ____ $______ MD LU Wind Ensemble GA Sun 193p $13 x ____ $5 x ____ $______ DECEMBER 2023 MD LU Philharmonic GA circle one: Fri 1 • Sa 27:30p $15 x ____ $5 x ____ $______ FS Fancy Nancy Christmas GA Sun 33p $13 x ____ $11 x ____ $______ PS Cherish the Ladies RS Fri 87:30p $37 x ____ $33 x ____ $______ PS Postmodern Jukebox RS Sat 97:30p $46 x ____ $40 x ____ $______ PS Vienna Boys Choir in Packer Church GA Fri 157:30p $42 x ____ $36 x ____ $______ PS The Nutcracker RS circle one: Sat 16 1p & 4:30p • Sun 17 1p & 4:30p $37 x ____ $37 x ____ $______ FEBRUARY 2024 FS Erth's Dinosaur Zoo GA Fri 27:30p $17 x ____ $15 x ____ $______ MD LU Jazz Faculty GA Sat 38p $13 x ____ $5 x ____ $______ PS CelloGayageum RS Fri 97:30p $21 x ____ $18 x ____ $______ MD Princeton Singers GA Sat 108p $15 x ____ $5 x ____ $______ MD LU Philharmonic GA circle one: Fri 16 • Sat 177:30p $15 x ____ $5 x ____ $______ THR Antigonik GA circle one: 23•24•28•29-7:30p•25-2p $10 x ____ $5 x ____ $______ PS Mnozil Brass RS Sat 247:30p $37 x ____ $33 x ____ $______ PS Les Ballet Trockadero RS Thu 297:30p $37 x ____ $33 x ____ $______ MARCH 2024 THR Antigonik GA circle one: 1 • 27:30pm $10 x ____ $5 x ____ $______ FS The Rainbow Fish GA Sat 211am $13 x ____ $11 x ____ $______ MD Gary Bartz/NY Jazz Rep GA Sat 28p $15 x ____ $5 x ____ $______ MD E Albulescu, piano GA Sun 33p $21 x ____ $15 x ____ $______ PS Las Cafeteras RS Fri 87:30p $29 x ____ $25 x ____ $______ PS Ladysmith Black Mambazo RS Sun 104p $29 x ____ $25 x ____ $______ MD LU Choir, Glee, Dolce GA circle one: Fri 22 • Sat 238p $13 x ____ $5 x ____ $______ MD Jorgensen and Beck recital GA Sun 243p $13 x ____ $5 x ____ $______ ( TRANSFER THIS LINE TO THE BOTTOM OF SIDE 2 ) SIDE 1 TOTAL $______
Package Total (ticket order from above) $__________  Charge this gift now or  I pledge this gift to be paid by 6/30/24 GIFT $__________ GRAND TOTAL $__________ Signature I am a (please check all that apply):  LU Alumnus, class of _____  LU Faculty/Staff  Senior Citizen (60+ years)  LVAIC Faculty/Staff  Household w/kids under 18 PLEASE DONATE! YOUR GIFT MAKES AN IMPACT. For a full description of benefits visit zoellnerartscenter.org Name S tr ee t Add r es s City, State, Zip ( ) Ph one E ma il P AY MENT CHECK payable to Lehi gh University Mas te rcard Visa Ame x Disc ov er Card # Name on card / Exp date MAIL TO: ZOELLNER TICKET SERVICES, 420 E. PACKER AVE., BETHLEHEM, PA 18015 For office use only CD CI Y N DN Years PAID:MAIL: Type Initial Rec'd GF FIN APRIL 2024 PS Nimbus Dance RS Fri 57:30p $29 x ____ $25 x ____ $______ MD NY Jazz Rep Orchestra GA Sun 73p $13 x ____ $5 x ____ $______ PS Violin Woman, African Dreams RS Fri 127:30p $21 x ____ $18 x ____ $______ MD LU Wind Ensemble GA Sun 143p $13 x ____ $5 x ____ $______ THR This Emancipation Thing GA circle one: 12•13•17•18•19•20-7:30p • 14-2p $10 x ____ $5 x ____ $______ MD LU Student Jazz GA Sat 208p $10 x ____ $5 x ____ $______ MD LU Philharmonic Concertos GA circle one: Fri 26 • Sa 277:30p $10 x ____ $5 x ____ $______ MAY 2024 MD LU Choral Arts: I Have Had… GA circle one: Fri 3 • Sa 48p $15 x ____ $5 x ____ $______ PS Max Weinberg w/ Season Preview Party RS Fri May 177:30p FREE (up to two tickets) # of Tix ____ must buy 3 or more events from list above ( TRANSFERRED FROM OTHER SIDE OF THIS PAGE ) SIDE 1 TOTAL $______ ONE-TIME HANDLING FEE $__ 10.00 3 (OR MORE) EVENT PACKAGE TOTAL $______ Listed prices reflect the subscription discount and include the City of Bethlehem Amusement tax. Programs Subject to Change. PLEASE note, all seats besides ADA seating (and row S in Baker Hall) are accessed by using stairs. Refer to page 36 for seating charts. SEATING PREFERENCES: SPECIAL NEEDS: ADA SPACE(S) COMPANION SEAT(S)  Visa  Mastercard  Amex  Discover  CHECK payable to Lehigh University Please attribute my gift to:  Great Performances & Guest Artists 0401  Lehigh Creative Campus initiatives 0406  Community Education and Outreach 0407  Accessible Arts 0408  Wherever it is most needed Please list my name in the program as: Matching gift: Company:______________________________ I choose not to receive any benefits, beyond program listing, making my entire gift charitable. Friend $ 100 Patron $ 250 Fellow $ 500 Artist $ 1,000 Maestro $ 2,500 Producer $ 5,000
THANK YOU
Leadership Funding: Victoria E. and Robert E. Zoellner '54
PROGRAM SUPPORT
THE LONG FAMILY ENDOWMENT FOR COMMUNITY OUTREACH IN THE ARTS
MEDIA PARTNERS
ADDITIONAL SUPPORT
Curtain Warmers: The Arnan and Marlene Finkelstein Endowment Fund
School Shows: Richard H. Johnson '73G
Music Initiatives: Supported in part by the Klees Family Instrumental Ensemble Endowed Fund
Creative Campus Initiative: Supported in part by the Anne R. Kline '81 Endowed Fund for Creatively Integrated Programming
Notations: Lehigh University Creative Writing Program and Zoellner Arts Center
SPECIAL ACKNOWLEDGMENTS
© 2023 Lehigh University
MARC A. FALATO '87
W. BEALL FOWLER '59
BRENDA & JOHN MCGLADE '76 '81G
Listing as of June 29, 2023
ENID M. & MICHAEL J. SEIDEN '63 '64
Zoellner Arts Center receives state arts funding support through a grant from the Pennsylvania Council on the Arts, a state agency funded by the Commonwealth of Pennsylvania.
E. 3RD ST. / RT. 412 E. 4TH ST. E. 5TH ST. E. PACKER AVE. BRODHEAD AVE. FILLMORE ST. TAYLOR ST. POLK ST. ZOELLNER ARTS CENTER 420 East Packer Avenue Bethlehem, PA 18015 (610) 758-2787 20232024 SEASON BROCHURE Non-Profit Org. US Postage PAID Permit No. 504 Lehigh Valley, PA TICKETS GET STUDENTS