THE LOVE ISSUE
1 @YOGALOVE_MAGAZINE YOGA I ART I MUSIC I WELLNESS I LIFESTYLE
6 Reasons Our Policy Has Become The #1 Choice Among Yoga Teachers
2 YOGALOVEMAGAZINE.COM Scan, Visit or Call beYogi.com/love 800.516.8822
Designed for yogis, by yogis. Get A+ rated professional and general liability insurance for as low as $0.44 per day. Our policy comes with premier career protection and discounts on highly-rated yoga products, resources and so much more. Our Policy Follows You Wherever You Go in the U.S. Our Policy Satisfies Studio/ Employer Requirements You're Covered for 450+ Styles and Modalities (E.g. Yoga Therapy, Reiki, Acro, Meditation, and Massage Therapy) Over $1,500 Worth of Exclusive Member Benefits Live-Streaming and Pre-Recorded Classes Are Covered Instant Coverage and Proof of Insurance Read Our Reviews And See Why Over 35,000 Instructors Have Chosen beYogi
FOUNDER & EDITOR IN CHIEF
Iana Velez
MANAGING EDITOR
Frances Hunt
BEAUTY & WELLNESS EDITOR
LouLou Piscatore
FEATURE EDITOR
Stephanie Jade Wong
REGIONAL DIRECTOR
Melissa Honkanen
PARTNERSHIPS DIRECTOR
Ethel Kambourian
CONNECT WITH US info@yogalovemagazine.com
On Our Cover: Art by Lynn Giunta
©2023 Lynn Giunta all rights reserved. Usage, reproduction, or altering of artwork is not permitted without permission.
FOLLOW US yogalovemagazine.com
@yogalove_magazine
YOGA LOVE MAGAZINE TEAM
Abhaijot Kaur, Ingrid Baquero, Justine Ma, Lauren Beth Jacobs, Miko Hafez, Rina Jakubowicz, Sami Lea Konczewski
2023 Yoga Love Magazine is owned and operated by Northstar Creative LLC. All rights reserved. No portion may be duplicated, in whole or in part, without written consent
Every effort has been made to ensure the accuracy of the information contained in this publication. Northstar Creative LLC assumes no responsibility for accuracy of information or omissions from the material provided. Company cannot be held liable for the quality or performance of goods and services rendered by the advertisers published in this magazine or content featured. The exercise instructions and information presented in this magazine are intended for educational and informative purposes only and are not intended to serve as medical or professional advice. You should consult your physician or other health care professional before starting any fitness program to determine if it is right for your unique needs. The creators, producers, participants, and distributors of Yoga Love Magazine disclaim any liability for loss or injury in connection with the exercises shown or the instruction and advice expressed herein.
3 YOGALOVEMAGAZINE.COM
ISSUE 22
02. LOVE 10
4. PARTNER DIRECTORY
Where to find your free copy of Yoga Love Magazine
10. SPOTLIGHT: TOKYO
Local yogis photographed by Miko Hafez
16. MINDFULNESS IN MUSEUMS
Yoga and meditation in museums around the world
22. FLOWER LOVE
Meet the duo behind @sfinbloom
30. LASH & BROW LOVE
Our Beauty Editor shares her beauty picks
36. SPOTLIGHT: BOSTON
Local yogis photographed by Bronwyn Kieve
41. LOVE LETTERS
Yogis share letters about where they live
44. NATURE OF THE POINTS
Acupuncture and art from @thenatureofthepoints
48. BILINGUAL MEDITATION
Chanty Cohen shares a Spanish/English meditation
54. SPOTLIGHT: UGANDA
Local yogis photographed by Gina de la Chesnaye
68. GAIA LOVE
4 @YOGALOVE_MAGAZINE
Abhaijot shares ways to show and share Gaia love 30 44 54
Love Letter
FROM THE FOUNDER & EDITOR IN CHIEF
Welcome to our second issue of Yoga Love Magazine! The theme of this issue is LOVE, and we wanted to learn more about and celebrate love with you, our community, and every person who participated in the co-creation of this magazine.
Yoga Love Magazine is created and fueled by love. Our all volunteer team and contributors share their talents, knowledge, and passion for wellness by creating editorial content, art and community. The support from our amazing yoga studio partners helps us share free copies of this magazine at studios all across the US. Our IG live series with these studio owners always inspires and re-energizes me to continue this magazine, by the love and commitment they have for wellness, community, and service. The support from our partners and advertisers, small businesses just like us, help us turn our love for yoga, wellness, art and culture into the print magazine you are now holding in your hands.
From Atlanta to Tokyo to Boston, we asked our community to share with us what they have learned about love. They share with us what love is, and even what love isn't. From moms to food, art, music and beyond, love is everywhere we allow ourselves to experience it.
Thank you for continuing this journey of LOVE with us.
Iana Velez
IANA VELEZ, FOUNDER & EDITOR IN CHIEF
5
YOGALOVEMAGAZINE.COM
Partner Directory
WHERE TO PICK UP YOUR COMPLIMENTARY COPY OF YOGA LOVE MAGAZINE
California
BREATHING ROOM
1708 Lincoln Ave. Alameda, CA 94501 breathingroomalameda.com
LIBERATION YOGA
1288 S. La Brea Ave. Los Angeles, CA 90019 liberationyoga.com
LIGHT ON LOTUS 12513 Venice Blvd. Los Angeles, CA 90066 lightonlotus.com
MAIN ST. YOGA
447 Main St. Placerville, CA 95667 mainstyoga.com
VIVE LA YOGA
1422 W. 25th St. San Pedro, CA 90732 vivelayoga.com
WARMTH STUDIOS
155 Spring Hill Dr. Grass Valley, CA 95945 warmthstudios.com
YOGA ROOM TAHOE
475 North Lake Blvd. Suite 251 Tahoe City, CA 96145 yogaroomtahoe.com
Colorado
PEACE OUT YOGA
202 6th St., Suite 201, 2 Fl. Castle Rock, CO 80104 peaceoutyoga.com
Florida
COME TO LIFE YOGA 12713 Mcgregor Blvd. Unit 1 Fort Myers, Florida 33919 cometolifeyoga.com
DANCING LION STUDIO 290 SE 6th Ave. Delray Beach, FL 33483 dancinglionstudio.com
YO BK 2319 N. Miami Ave. Miami, FL 33127 yo-bk.com
Georgia
MIMI'S YOGA KIDS 1010 Crew St. SW Atlanta, GA 30315 mimisyogakids.com
PEACH OUT POWER YOGA 3162 Johnson Ferry Rd. Suite 440 Marietta, GA 30062 peachoutpoweryoga.com
THE YOGA HIVE
Toco Hills Shopping Plaza 2867-C North Druid Hills Rd. NE Atlanta, GA 30329 theyogahiveatlanta.com
Hawaii
WAI MANA HAWAII
12-154 Mapuana Ave. Pahoa, HI 96778 wai-mana.com
Illinois
ZEN YOGA GARAGE
1845 N. Milwaukee Ave. Chicago, IL 60647 zenyogagarage.com
Maine
SERENITYME
449 Forest Ave. Portland, ME 04101 serenitymaine.com
SEWALL HOUSE
1027 Crystal Rd. PO Box 254 Island Falls, ME 04747 sewallhouse.com
Michigan
DHARAMSALA TC 869 Robinwood Ct. Traverse City, MI 49686 dharamsalatc.com
DHARAMSALA TC 319 Front St. Traverse City, MI 49686 dharamsalatc.com
Minnesota
HONEST YOGA
3900 Vinewood Lane N. Suite 21 Plymouth, MN 55441 thehonestyoga.com
SHANTI YOGA CENTER 2820 2nd St. S. Suite 150 St. Cloud, MN 56301 shantiyoga.center
WILLOW SOUL YOGA 9000 Quantrelle Ave. Otesgo, MN 55330 willowsoulyoga.com
Missouri BRICK CITY YOGA 2758 Wyoming St. 1st Fl. St. Louis, MO 63118 brickcityyogastl.com
New Hampshire
MOUNTAIN KULA YOGA
3358 White Mountain Hwy. North Conway, NH 03860 mountainkulayoga.com
UNITY HOT YOGA 15 Ermer Rd., Unit 104 Salem, NH 03079 unityhotyogallc.com
New Jersey
THE BREATHING ROOM YOGA STUDIO
63 Hamburg Turnpike Riverdale, NJ 07457 theBRyoga.com
YOGARENEW STUDIOS
12 Hudson Place, 2nd Fl. Hoboken, NJ 07030 studios.yogarenew.com
New Mexico
AURAFITNESS
1337 Gusdorf Rd. Suite S Taos, NM 87571 aurafitnesstaos.com
6 @YOGALOVE_MAGAZINE
New York
ABSOLUTE YOGA STUDIO
1 Guilles Lane Woodbury, NY 11797 absoluteyogastudio.com
FIERCE GRACE - Nomad 284 5th Ave. 2nd Fl. New York, NY 10001 fiercegracenyc.com
FIERCE GRACE - Harlem
518 W. 145th St. 2nd Fl. New York, NY 10031 fiercegracenyc.com
FIERCE GRACE - LES
172 Allen St. 2nd Fl. New York, NY 10002 fiercegracenyc.com
IN BLOOM YOGA
34 Genesee St. 1st Fl. New Hartford, NY 13413 inbloomyogastudio.com
INTEGRAL YOGA INSTITUTE
227 W. 13th St. New York, NY 10011 iyiny.org
ISHTA YOGA
816 Broadway New York, NY 10003 ishtayoga.com
KARMA KIDS YOGA
Headquarters: 16 Madison Square West 12th Fl. New York, NY 10010 karmakidsyoga.com
LIVING YOGA
108-01 Queens Blvd. Suite 201 Forest Hills, NY 11375 mylivingyoga.com
LLAMASTE 369 Court Street Brooklyn, NY 11231 llamaste.com
OCEAN BLISS YOGA
533 Beach 126th St. Belle Harbor, NY 11694 oceanblissyoga.net
PLAY 221 Hillcrest Dr. Roxbury, NY 12474 playcatskills.com
REBEL YOGA STUDIO 653 Commerce St. Thornwood, NY 10594 rebelyogatraining.com
REDTAIL POWER YOGA 810 Route 82 Hopewell Junction NY 12533 redtailpoweryoga.com
SACRED SPACE ASTORIA 29-05 21st Ave. 1st Fl. Astoria, NY 11105 sacredspaceastoria.com
SALTARA HEALING 17 River St. Suite 9 Warwick, NY 10990 saltarahealing.com
SOL FULL YOGA 101 Carpenter Place Monroe, NY 10950 solfullyogastudio.com
SONIC YOGA 944 8th Ave. New York, NY 10019 sonicyoga.com
SOUK YOGA STUDIO 12 W. 27 St., 2nd Fl. New York, NY 10001 soukstudio.com
STONE WAVE YOGA 2694 US 44 Gardiner, NY 12525 stonewaveyoga.com
THE OHM CENTER 1143 First Ave. New York, NY 10065 ohmcenter.com
THE RUBIN MUSEUM 150 W. 17th St. New York, NY 10011 rubinmuseum.org
VITALITY YOGA FLOW 271 Main St. #23 New Paltz, NY 12561 vitalityyogaflow.com
YO BK - Greenpoint 607 Manhattan Ave. Brooklyn, NY 11222 yo-bk.com
YO BK - Williamsburg 20 Broadway #108 Brooklyn, NY 11249 yo-bk.com
YOGA AGORA
33-02 Broadway Astoria, NY 11106 yogaagora.com
YOGA IN THE ADIRONDACKS
2 Coulter Rd. Bakers Mills, NY 12811 yogaintheadirondacks.com
YOGA MANDALI
454 Broadway 2nd Fl. Saratoga Springs, NY 12866 yogamandali.com
North Carolina
ISHINE YOGA & WELLNESS 16507 Northcross Drive Suite C Huntersville, NC 28078 ishineyoga.com
Ohio
FIREHOUSE YOGA
1422 Hopkins Ave. Lakewood, OH 44107 firehouseyogalakewood.com
Pennsylvania
THE LOVELY LITTLE LOTUS
664 Yorkshire Drive Breinigsville, PA 18031 thelovelylittlelotus.com
YOGAMAZIA
130 Almshouse Rd. Unit 106 Richboro, PA 18954 yogamazia.com
South Dakota
SŌL YOGA COLLECTIVE 412 Oshkosh St. Suite 3 Rapid City, SD 57701 solyogacollective.com
Tennessee
BRWNSKN YOGA 1254 E. Shelby Dr. Memphis, TN 38116 brwnsknyoga.com
RENEGADE YOGA CENTER 516 Renford Rd. Knoxville, TN 37919 renegadeyogacenter.live
Virginia
THE CENTER YOGA COLLECTIVE 217 S. Liberty St. Suite 201 Harrisonburg, VA 22801 thecenterdowntown.com
TORCH YOGA 4864 Shell Rd. Virginia Beach, VA 23455 torchyogastudio.com
TORCH YOGA + CYCLE 4005 Granby St. Norfolk, VA 23504 torchyogastudio.com
UTTARA YOGA STUDIO 401 Highland Ave. SE Roanoke, VA 24013 uttarayogastudio.com
Nicaragua VERDAD NICARAGUA Boutique Hotel & Retreat Escameca Eco-Lodge, San Juan del Sur, Nicaragua verdadnicaragua.com
Canada
ATLAS YOGA STUDIO 135 George St. N. Cambridge, ON N1S 5C3 Canada atlasstudio.com
7 YOGALOVEMAGAZINE.COM

the most effective healing system you'll ever learn... Learn the unique Japanese meridian-based yoga for successful results with your yoga students TEACHER TRAINING 40% OFF www.zenkiyoga.com when you choose USD payment option 2 weeks of complimentary classes the app ZEN KI YOGA ZEN KI YOGAZEN KI YOGA® ZEN KI YOGA® Offer expires 30 November
Easeful, Peaceful, Useful
The word "Yoga" means union or yoke in the ancient Sanskrit language. It is a perfect description of the science and philosophy of Integral Yoga. Integral Yoga® synthesizes the various branches of Yoga into a comprehensive lifestyle system. The purpose is to support the harmonious development of every aspect of the individual. The six branches of Integral Yoga® are each powerful tools to gain self-mastery. When combined to affect the whole being the results are at once subtle, profound and measurable.
Integral Yoga Institute was founded in the 1960's, by Sri Swami Satchidananda, a spiritual teacher from India. Located in a beautiful brownstone building on West 13th Street in historic Greenwich
Village, it is both an ashram and a teaching center.
Over the years, the New York IYI has grown to become one of the most respected and beloved Yoga centers in the city, an oasis for busy New Yorkers and out-of-town visitors. We offer inperson and online, Hatha Yoga classes at all levels. IYI also offers courses and workshops in meditation, breathing practices, health, nutrition, and other related teachings, to create a unique and rewarding atmosphere for learning and sharing. Students gather for Scripture Study to read and discuss such fundamental works as the Yoga Sutras of Patanjali and the Bhagavad Gita. Kirtans (devotional chanting) and
Satsangs (spiritual discussions) draw people from all over the country. Over the years, IYI's renowned Teacher Training program has certified hundreds of teachers in Beginning, Intermediate, and Advanced Hatha Yoga, Prenatal and Postnatal Yoga, Meditation, and Gentle and Chair Yoga.
IYI offers many classes and workshops on using Yoga to deal with a wide variety of life-threatening and chronic physical and mental health conditions, including Yoga Therapy, Cardiac Yoga and more. It has introduced programs called Yoga At Work® and Yoga At School™ to promote its message that Yoga is for everyone in every setting.
The New York IYI is a living embodiment of Sri Swami Satchidananda's teachings, a community where the goal for all people is to have an easeful body, a peaceful mind, and a useful life.
10 @YOGALOVE_MAGAZINE
ADVERTISEMENT
LEARN MORE: IYINY.ORG
COME EXPERIENCE THE MAGIC OF UNDOISM THROUGH THE PRACTICE OF INTEGRAL YOGA.
At In Bloom Yoga everybody (and every body) can practice yoga and mindfulness in a peaceful, inclusive environment. Located in New Hartford, NY, they provide a relaxing, and non-competitive atmosphere. Whether you are just beginning or are a seasoned Yogi, In Bloom Yoga offers the gentle healing effects that yoga has on the mind, body and soul. Their instructors come from all walks of life, but are united by a common passion for sharing their skills and practice. Whether you're just beginning your journey or are someone who is looking to move their practice to another level, their instructors will guide you along the way.
Studio owner Martha Kodsy came to have a great love of yoga when she met In Bloom's founder Terra Meenan in 2016. After leaving her hospital administrative position of almost 25 years, Martha was entering one of the most transitional periods of her life. Terra showed Martha not only the physical benefits, but the power of mindfulness while teaching her yoga. Inspired by their private yoga sessions, Martha quickly engaged Terra to work with her Special Needs son Mikey with the same positive results. Learn more about Martha below.
What inspired you to become a yoga studio owner?
My husband originally inspired me! Our friend originally started the studio, but was struggling financially and emotionally. My husband, who always thinks I can do anything, told me to help her - so that's just what I did! The studio started out with 300 clients a month and has since tripled. I continued on with the studio because my autistic son has also
benefited from yoga, and we started an all-inclusive class for individuals ages 16+ who have special needs to come and thrive. They can bring support staff, or we provide extra support through our yoga teachers, who have been trained in sensory and special needs.
What advice would you give to someone interested in trying yoga for the first time?
Jump in! It is truly a judgment free zone and remember yoga is so much more than the pose.
What offerings are you most excited about that are offered at your studio? We offer an array of classes that includes: mat, aerial, kids, restorative, Kundalini, prenatal, yin, power yoga, gentle and slow flow. We also offer a monthly Aerial Yoga Nidra class, roof top yoga, Puppy yoga, Goat yoga, lavender yoga, and more. We offer biannually a 300hr YTT. Annually, we offer a 200hr YTT weekend immersion, as well as an evening 200hr YTT that begins again in Sept 2023.
LEARN MORE: INBLOOMYOGASTUDIO.COM
11 YOGALOVEMAGAZINE.COM INBLOOMYOGASTUDIO.COM INFO@INBLOOMYOGASTUDIO.COM LEARN MORE: IYINY.ORG
ADVERTISEMENT ADVERTISEMENT
"Love is like air, and like sound. They fill the space and always surround you. If you want to feel them it's always there for you."
Hiko Konami @hikokonami
Local Spotlight TOKYO, JAPAN
PHOTOS BY: MIKO HAFEZ
Japan has something for everyone, including a thriving yoga and wellness community. We invited team member Miko Hafez to help us showcase her favorite local teachers and share their thoughts on what LOVE means to them: "I was born and raised in Japan. During the pandemic I couldn't go back to my home country and that was hard, but I received lots of support from the local Seattle community where I currently live. Last year I had the opportunity to go home again and met these people who are creating a beautiful heart warming community to support locals in Japan. Hopefully you can join their classes when you visit." Learn more about Miko and her work: @mikohafez
13 YOGALOVEMAGAZINE.COM
"Love is awareness. When we realize we were born to be happy, we start to create love." unshu @terayoga.unshu
"Love means everything. We came from love and we are love, but we often forget that. So we are trying to figure out what love is, and learning to love throughout our lifetime."
Juri Ko Edwards @jurikooo
We are on a mission to bridge the gap between ultimate comfort & timeless design. Our buttery soft fabric wicks away sweat and naturally resists stains to keep you dry, flowing and fashionable all day. Sustainably made in the USA, every purchase helps bring freedom and empowerment to victims of human trafficking. Calling all conscious consumers to join the journey!
LUXURIOUS COMFORT FOR YOGA, FOR LIFE.
Tillage clothing. Live Elevated.
FOLLOW US @TILLAGECLOTHING EMAIL ABBY@TILLAGECLOTHING.COM WITH WHOLESALE INTEREST & REQUESTS.
tillageclothing.com
15 YOGALOVEMAGAZINE.COM W W W V E R D A D N I C A R A G U A C O M E X P E R I E N C E T H E V E R D A D D I F F E R E N C E R E L A X | R E N E W | R E T R E A T A B O U T I Q U E H O T E L O N T H E S O U T H E R N P A C I F I C C O A S T I N F O @ V E R D A D N I C A R A G U A C O M
adapt & love
Scrolling through IG last year, we came across Ben Clark's Instagram account @adapttoperform where he was teaching a wheelchair adapted yoga, mobility and meditation class at the UK's largest yoga event, OM Yoga Show. We wanted to learn more about his life, work and thoughts on LOVE.
How were you first introduced to yoga?
I did my first yoga class when I was 19 years old, before I was a wheelchair user. At the time, I was living in Australia and training as a professional swimmer. My uncle took me along as he had mentioned the benefits he had gained from it for his surfing, so I gave it a try.
This was 2009, so before Instagram and way before influencers were a thing, meaning I had little to no knowledge of what yoga was or meant. The teacher was great though, and really helped me understand the movements.
Yoga didn't hook me straight away. I just did a handful of classes and I didn't return to it for a number of years. When I did, however, it was a few years after becoming disabled. This time, I took a bigger interest in it. I think the challenge of adapting the movements to my new situation provided the spark of creativity and interest needed for me to take it up long term, which I have for the past 6 years now!
Last year you led a yoga class at the UK's largest yoga show as the first person in a wheelchair. What was that experience like?
Firstly, it was fantastic to be able to be showcasing what I do to a larger audience. Often the phrase, "Yoga is for every body" is used, but with very few
people actually knowing how to adapt it for people whose bodies work differently. I love the challenge of adapting movements for various people, so I took the opportunity of being in front of an audience to explain my thought process and how we take the fundamentals of yoga and apply it to anyone in a safe, simple, and fun way.
You are the founder of an online platform, Adapt to Perform, and are a world-leading expert on adapted fitness. For someone who is not familiar
with the term "adapted fitness," how would you define it?
When it comes to adaptation, it's all very individual. Much like water changes to the shape of its container, exercise must change to the abilities and goals of the individual. I have worked with over 100 different people with a very wide range of abilities and different desired outcomes. If I came with the same plan with no room for adjustment, I would fail them as a coach. Therefore, I would have a base plan for an individual that I can adjust and change easily on the go. At the end, the program might look completely different, but we are still achieving the goals we set out to do.
It can be easy to just focus on doing things the "right way," but this way of thinking stops creativity and may not be suitable for the individual. When it comes to adapting a movement, I like to ask: "What is the purpose of this movement?" From there, I ask: "How can I achieve the same purpose but within the limitations of the individual?" Keep it simple, think of the fundamentals, and make it fun!
The theme of this issue is LOVE, can you share with us what you have learned about love?
Well, having recently got married, love is a big topic for myself, lately! I've found that the more pure the love, the easier it is. Loving my wife Alice is never a chore, and neither is eating a pizza! And with that, it's important to recognise that some things/people we will love more than others, but that doesn't make them less or more important. Although if Alice reads this, she's definitely the most important ;)
Learn more: adapttoperform.co.uk
16 @YOGALOVE_MAGAZINE
Ben Clark Interview
How to get your
book published
Have an idea for a great book? Don't know where to start? We reached out to Beth Frankl, Executive Editor at Shambhala Publications, an independent, family-owned company on what advice she had for getting your book published. Since 1969, Shambhala has published titles on everything from meditation and a wide range of spiritual traditions, as well as health, wellness, yoga, and martial arts.
Someone has an idea for a book. Now what?
First, congratulate yourself! Appreciate that your yoga practice has inspired you to explore and create. Start looking online and in stores for books that are comparable to yours, particularly those that have been published in the past five years. These "comps" may share the same theme or explore a similar concept through a different lens. Become familiar with them and their differences and similarities to your project. For example, if you want to write a book that explores the Yoga Sutras, consider the comps and identify what makes your view distinctive and compelling. Comps play a vital role in how publishers will conceive of your book editorially, design-wise, and from a marketing and publicity standpoint. Even if you plan to self-publish or use a hybrid publishing platform, it's super important that you have a good sense of the comps on the market.
Next, start crafting an "elevator pitch" for your book. This one concise sentence needs to communicate what the book is and why it is distinctive and needed. This is essential for publishers, and it will also help keep you focused as you write.
When you approach a publisher, you usually need to present a proposal, a table of contents, and some sample material. Submission guidelines are generally available on the publishing house's website.
Do people need extensive previous writing experience to get a book published?
They do not. However, it's important to honestly assess your own strengths and
improvisational nature, it's important to consider ways to ground your book writing process.
Skillful freelance editorial professionals are, to my mind, worth their weight in gold. For many authors, hiring an editor to work with you on your proposal and manuscript can make a huge difference in the quality of the material. Sadly, most publishers don't provide that level of editorial support anymore—it's just not cost-effective for them. I very often recommend that aspiring authors hire someone to at least cast a critical eye over their work.
How does Shambhala select from all the submissions/pitch proposals? What are you looking for?
We receive a huge number of proposals—and we really do consider them all. We're a small publisher, and we're very careful and intentional about what we take on. Shambhala specializes in books that are rooted in wisdom traditions, systems, and practices that encourage deep inner transformation and enlightened living. Our authors need to be established, recognized teachers of, experts in, or longtime practitioners of the tradition they are writing on.
challenges as a writer. Writing a book is tough—and even if you regularly write blog posts, academic papers, or other types of content, those skills don't always translate into an acceptable book manuscript.
Writing a book also requires a lot of organization, a detailed plan (creating an annotated table of contents, I think, is crucial), and an ability to stay focused on that plan. If organization is not your area of strength, or if you have a more
We want authors that have a platform, and that it is as robust as possible. A website, blog or newsletter, a regular teaching schedule, connections to institutions and organizations, an active social media presence—these all lay the groundwork for our marketing and publicity campaigns. If you don't have at least some of these in place, you'll want to start putting energy towards building your platform before you approach a
continued on page 66
17 YOGALOVEMAGAZINE.COM
"Because we are a small staff of book lovers and in most cases also practitioners of the traditions that we publish, I feel that we're unusually invested in the books we produce. You could say that for many of us, our work is an extension of our practice."
18 @YOGALOVE_MAGAZINE
PHOTO: TRUSTEES OF THE NATURAL HISTORY MUSEUM
Mindfulness in Museums
BY: IANA VELEZ
Have you ever done yoga in a museum? Meditated by a Monet? Or did a sound bath next to a Tibetan Buddhist Shrine Room installation? Some lucky folks have! From Australia, to North Carolina to London, to NYC, museums all over the world are opening their doors to lovers of art and mindfulness and inviting them to experience these practices in their beautiful spaces. We invited museums from around the world to share more about the programming they create that celebrates the intersection of creativity, art and mindfulness.
Natural History Museum
LONDON, UK
The Natural History Museum in London is a world-leading science research center and was the most visited indoor attraction in the UK last year. With a vision of a future in which both people and the planet thrive, it is uniquely positioned to be a powerful champion for balancing humanity's needs with those of the natural world. The museum's 350 scientists are finding solutions to the planetary emergency from biodiversity loss through to the sustainable extraction of natural resources. The museum uses its global reach and influence to meet its mission to create advocates for the planet - to inform, inspire and empower everyone to make a difference for nature. Hannah Douglass, Visitor Events Manager, shared some insights on the yoga and sound bath programming they have in the museum.
What was the inspiration to create mindfulness programming?
We wanted to give people the opportunity to really appreciate the space in a peaceful setting before we open the doors to the public. Sunday mornings are the perfect time to soak in the ambience of this cathedral to nature. Yoga is also a practice that is very connected to the natural world, and it brings a new
audience to the museum. We try to connect the session to its surroundings as much as possible, and the acoustics for the sound bath are very powerful.
What makes mindful practices in museum spaces special or unique? It offers a completely new perspective on a space that is usually bustling with general public and school trips. It's a very unique opportunity to pause and reflect whilst surrounded by literally billions of years of natural history.
Do any of these sessions incorporate the artworks in the space?
Vinyasa flow is deeply tied into breathwork, and it's poignant to practice under a 25-meter diving whale. Our instructors also allude to other elements of the natural world to ground the practice, i.e. the strength and stability of nearby fossilised trees.
Who attends these sessions?
Our Sunday morning Vinyasa Flow sessions are suitable for all abilities and attract everyone from complete firsttimers to curious, advanced yogis. Tickets to our yoga sessions include a viewing of a museum gallery or exhibition after the class, so sometimes people are attracted to the chance to see these in a quieter setting. Learn more: nhm.ac.uk
North Carolina Museum of Art
RALEIGH, NC
The North Carolina Museum of Art in Raleigh, NC (NCMA) is where art and nature come together. The museum hosts a diverse collection that spans more than 5,000 years and is home to a unique 164-acre Museum Park. Bryanne Senor, Manager of Park and Mindful Museum Programs, shared more about the museum's programming, which includes everything from: yoga, meditation, art, self-care, Tai Chi, fullmoon walks, nature journaling, sensory journey through art, slow-art appreciation, art-Inspired wisdom circles to build resilience, creative processing, mindful
continued on page 58
19 YOGALOVEMAGAZINE.COM
mom love
BY: SHARI VILCHEZ-BLATT
When we learned about the amazing organization Free Mom Hugs, we knew we needed to spotlight it and the founder Sara Cunningham in our LOVE themed issue. Sara began her journey of becoming an advocate of the LGBTQIA+ community through her relationship with her gay son, and founded Free Mom Hugs a 501(c)(3) non-profit organization in 2018 to accept, love and support the LGBTQIA+ community, and to fight for human rights for all. We invited our friend Shari, a mom, yoga teacher and founder of Karma Kids Yoga to interview Sara about her work, family, and what she has learned about love.
Tell me the story of how you founded Free Mom Hugs, from your heart. Free Mom Hugs was birthed from an experience that I had at the Oklahoma City Pride Festival. When my youngest son Parker was 21, he came out to my husband and I, and I didn't take the news very well. He tried to come out his whole life, but I wasn't having it. I just manipulated the conversation, refused to acknowledge or even offer him the space to have that conversation. I thought it was a phase. It was a very difficult time for our family, and I'm very transparent about that in hopes of keeping other families from going through what I put my family through.
This actually makes you so much more inspiring to me. I didn't know that, and I appreciate your courage to share this. Moms learn from other moms, right?
At the time, I thought I was the only mom with a gay kid in Oklahoma because nobody talked about it. Both our children were raised in a very conservative, mainstream church. We absorbed this idea that homosexuality is wrong, in need of fixing, unforgivable and should
be condemned. I could not reconcile my faith with what I had absorbed— that homosexuality was the ultimate of sins—and that if I accepted my son, that made me just as much of a sinner as he presumably was. I was frozen in that fear that he was going to burn in hell.
Matthew Shepard, a young gay man in Laramie, Wyoming, was beaten and left for dead. That happened around the time that Parker was in his adolescence. So not only was I worried about his salvation, I was worried about him being treated badly and beaten, or left for dead.
Because I am a woman of faith, I needed to hear from someone who shared my faith that it's okay to search the matter out. When you do, you get educated on things like the history of human sexuality, science, evidence and ultimately stories from the gay community and gay Christians. That really convinced me and changed my heart and my soul towards the community to believe that this is a gift from God to be celebrated. What a beautiful gift my son brings to our family and the community, to the world around us.
When Parker came out of the closet, that's when I went into mine. I am transparent about these things because I believe there's a mom out there like me then, who needs to hear from a mom like me now. As he came out of his closet and began living authentically, I saw him happy and healthy. Before, everything was a compromise. He would self-harm, was depressed, and had anxiety. It wasn't sudden. It was a journey. To see other people accept him as he was, put me in check as a parent.
When my son came out, he invited his dad and I to go to the Oklahoma City
Pride Festival in 2014. That was my first real interaction with the gay community, and I fell in love. I saw such a sense of community and love and acceptance. I mean, the rainbow was everywhere.
At the Oklahoma City Pride Festival the next year, I made and wore a homemade button that said, "Free Mom Hugs." When anyone made eye contact with me, I would ask, "Can I offer you a free mom hug?" The first hug I gave went to a beautiful young woman who said it had been four years since she got a hug from her mother because she's a lesbian. I whispered in her ear as I embraced her, "I love you, I'm so proud of you, I'm glad we're here together, and I want you to enjoy this day with your friends." From that experience, I started the non-profit, Free Mom Hugs. This logo is recognized worldwide now, and it sends a message that I'm a safe ally. I am advocating, educating and sharing conversations like this to make the world a safer place for people and families like ours.
That was a pivotal moment in my life. While I have a 10th grade education, I self-published a book titled, How We Sleep at Night: A Mother's Memoir. My son designed the cover. When you go to sleep, it's quiet, and you're trying to solve everything in your mind. That's
20 @YOGALOVE_MAGAZINE
when I was frozen in my fear thinking my son was going to hell. It was terrifying. Nighttime was the hardest time for me. Throughout that year, I just got more plugged in with the community and began serving. I'm not the first mom to offer hugs at a pride festival. But we didn't realize the magnitude, the reaction, the response that we would get. None of us could have predicted that.
Do any dads show interest?
Yes! We sell Free Dad Hug T-shirts, and all are welcome to be a part of Free Mom Hugs. I love it because it offers a platform for people to show up and do something. We require that you be fully affirming, and that means that you will celebrate the community, honor samesex marriage, same-gender marriage.
I'm hopeful again, I feel like the rainbow keeps shining. No one's going to dampen that colorful sparkly rainbow. Love will always win.
In my home, I think it's a perfect symbol. You're right, love does win. There's power in fear and ignorance, and there's power in love and education.
In the story of Noah and the Ark, the rainbow is a symbol of God's love to everyone. The last chapter in my book was inspired by standing at the Pride Festival with Parker. I write about the rainbow and how I didn't understand the significance at the time. I went to my first Pride parade, saw the sea of color in hair, shirts, flags and banners. It's just love everywhere—it was like a whole new world. I looked to the heavens and I said, "Thank you, God, that I am the one changed." I went there looking for God's favor, and I think God's promises for everyone. In addition to it being a symbol that represents a beautiful community, in the spiritual aspects for me, it's the perfect symbol because God's love is for everybody.
What's your proudest moment since founding Free Mom Hugs?
The transgender Valentine's banquet. I went to a meeting that I thought was for high schoolers' families like ours at
the time, but it turned out to be for the adult transgender community. I'd never been in the same room with a transgender person, that I know of, until that day. I stayed to hear everyone's stories because I was curious. At the end of that meeting, I went out to my Jeep and I cried hot tears. These are beautiful, misunderstood people, and how different their lives could be if they just had healthcare, an opportunity to earn a living and take care of their families. It was just devastating what I learned, so from that experience, we created a transgender Valentine's banquet that's free to the community and all who love and support them.
Now, through Free Mom Hugs, we have chapters in every state. The transgender Valentine's banquet is nationwide because right now, the transgender community is just facing a wrath of horrible, dangerous, deadly bills, even in our state.
Do many try to stay connected with you, email you or send you Mother's Day cards?
Yes, I've been a stand-in mom. I had a social media post go viral when I
started officiating weddings. One night at a rehearsal dinner, I heard how the parents were refusing to come to the wedding, and so I made a social media post that said, "If your biological mom won't come to your same-sex wedding, then you call me. I'll be there. I'll bring you the bubbles." This caught the attention of actress Jamie Lee Curtis, and we got to talking. She found out about my book, and now she has acquired the rights to the book, and she's going to make a movie.
Wow. So you kind of addressed my next question: What's next for you?
I always thought we would be the bridge between the church and the gay community, but I couldn't get anybody from the church to meet with the gay community. So we started pouring into the community, being that loving presence in the lives of those who've been alienated the most, and their families—that's the fruit of Free Mom Hugs.
We got attention from Vera Bradley, and after Jamie Lee Curtis made a donation, I quit my job to do this full time. We go on tour and have chapters in every state who are doing just what I did back then, only even better, loving on the community.
Is your son still involved in your work? We actually tour together. I hope to be a symbol of hope to families, that it doesn't have to be a difficult conversation. It doesn't have to be devastating. I want to share our story. There can be a resolve, and you can have an authentic relationship with your child.
The theme of this issue is LOVE, can you share with us what you have learned about love?
Love is fruit. It's lasting. It's empowering, it's nurturing. It's healing. Love gives life. Love lifts up. Love wins.
Learn more: Freemomhugs.org
Order Sara's book How We Sleep At Night: A Mother's Memoir on Amazon
21 YOGALOVEMAGAZINE.COM
"The first hug I gave went to a beautiful young woman who said it had been four years since she got a hug from her mother because she's a lesbian. I whispered in her ear as I embraced her, 'I love you, I'm so proud of you, I'm glad we're here together, and I want you to enjoy this day with your friends.'"
joy happy Love
BY: IANA VELEZ
Joy. Love. Happy. These are the words you see most often in the artwork created by Lynn Giunta, the artist whose work is featured on our cover. Scroll through her Instagram account @lynn_giunta and her eye-catching, beautiful collages always make us smile. An artist who has also worked professionally with Hallmark for over 30 years, we asked her to share a bit about her process, inspiration and a few thoughts on love.
Your work is so beautiful, colorful, joyful and positive. Where do you find the inspiration for the phrases you bring to life in your artwork?
I find that I do my best work when I am constantly thinking and planning and mulling over what to create, instead of saying, "Now I'm going to sit down and be creative." I love words—I love the power of words, and I find it endlessly fascinating how much emotional impact words can have. I'm constantly listening and observing and collecting words. I jot them down on my phone; I have a huge list. Or sometimes I just have a phrase that will sit on the back burner of my mind until I almost can't wait to get a chance to bring it to life. I think of my art as conversations about my life—most of my work is very personal.
Share with us your creative process. Do you always work in collage? Do you work on the computer as well? My process is that I usually start with the words or situation; I will sometimes do a very rough sketch just to give myself a sense of composition. I more often use sketches when the work is tighter, for instance a commission that needs to fit a specific size. The next thing I often do is pick out my colors; I find color really inspiring. I might have a piece of research that I use as a jumping off point, or I just start to look through my collections of papers and start to pull colors that I think are working well together. I have my papers organized by color family, so I find it really exciting to leaf through and pull out painted papers that I forgot about. Or sometimes that will be the trigger that pushes me to do a limited color piece, just black, neutral and a bright. I might take some time to brush out patterns on the papers, creating patterns can be really calming and fun. I also like how it makes the papers unique to me. Then I just jump in and start cutting things out. I will cut and recut. I'll change colors and sizes. That's the thing I love about collage, it's very flexible and forgiving. When I'm doing collage for fun, I just glue it all
down when I'm done. When I'm doing a project like the book I recently finished, I will scan in all of my pieces and finish the job on the computer. That gives me much more flexibility in changing sizes and colors when I'm working with an art director.
Share with us what you love about what you do?
Making a collage brings me joy—actually making anything with my hands makes me happy, but creating a piece of collage art with words is something that I love to do. As I started to get more and more into collage, I realized how much I love positive words and phrases. I will sometimes try to do something a little more snarky and I realize I just don't like it as much. My hands are happy cutting out with scissors, and my brain is happy because I'm constantly thinking about words that bring hope.
Share with us artists or creators who inspire your work:
Sister Mary Corita, Alexander Girard and Paul Rand. These are the three artists that I go to time and time again. They worked in the '40s-'70s, and their work captures the essence of amazing design. Their work always feels inspiring and fresh to me.
22 @YOGALOVE_MAGAZINE
The Art of Lynn Giunta
She has such a powerful way of harnessing emotion into words, and pares her words down to just the ones that matter. She really captures the human experience—I'm always moved by what she shares.
She has such a great eye for color—her color combinations are really inspirational to me. It almost makes me want to paint. We do completely different kinds of work, but her color explorations, her sense of play, her use of scale and composition always make me happy.
Terry is my friend who is an entrepreneur and creative coach, and the most amazing illustrator. She is the one who got me to start creating work for myself. We taught an online workshop together last year—maybe we'll do another one!
Do you have a personal yoga, meditation or journaling practice? If so, does it influence your creative process?
I try to make working out as a part of my routine—it centers and settles my mind to have good physical activity. But also—I cut myself slack when it doesn't happen.
The theme of this issue is LOVE, can you share with us what you have learned about love?
Share as much love as you can—in your thoughts, in your words, in your actions. When you focus on the good in life, it becomes how you live your life.
23 YOGALOVEMAGAZINE.COM
Morgan Harper Nichols @morganharpernichols
Poppy Dodge @poppydodgeart
Terry Runyan @terryrunyan
©2023 Lynn Giunta all rights reserved. Usage, reproduction, or altering of artwork is not permitted without permission.
SF in Bloom
BY: LOULOU PISCATORE
PHOTOS COURTESY OF: SFINBLOOM.ART @SFINBLOOM
24 @YOGALOVE_MAGAZINE
Maybe you have already seen one of their "flower bombing" videos. Phoenix and Shalaco McGee of @SFinBloom call it "guerrilla gardening." They walk, bike, and occasionally skateboard around San Francisco in bee costumes, scattering native wildflower seeds with parmesan shakers. On TikTok, they document their seeding trips, give gardening tips, and talk about the importance of native plants for pollinators like bees and butterflies. They even sell native wildflower blends on their website, as well as BeeFriendly Low-Mow lawn mixes. Inspired by their work, I chatted with them about the importance of local flora and fauna, and what we can do to help.
Tell me about what you do and what inspired you to do it?
We are all about democratizing gardening and sowing native wildflower seeds to help support the pollinators in our ecosystem. We have always loved bringing plants into our lives and into our environments. While we have been doing these things for over a decade, we only recently started sharing our plant adventures on social media, and the response has been amazing! The excitement and curiosity of our followers inspire us to do even more, and the desire of people to find what's native to their area and to plant native wildflowers in their regions inspired us to offer native wildflowers for the continental US.
Why is it important to support pollinators?
Three-fourths of the world's flowering plants and about 35% of the world's food crops depend on animal pollinators to reproduce. North America has approximately 3,600 species of native bees, and 1 in 4 species populations are in decline, with many becoming endangered. So if you like food and plants, it's a good idea to support pollinators!
Why is it important to only use native wildflowers from your region?
Our native pollinators are an essential part of our ecosystem, and they most often rely on native plants to thrive. With the loss of our local ecosystems and
the decline in native pollinator species, it is more important than ever to support these fragile systems so they can hopefully thrive once again. If you plant native plants, you can be confident you aren't spreading invasive species that can be harmful to the local ecosystem.
What can we do? How can we help?
• Prioritize the planting of plants that are native to your region.
• Sow native pollinator seeds in underutilized areas around where you live (it's so easy!).
• Protect land with native plants from development.
• Join and/or donate to your local native plant society.
• Gift native pollinator seeds to those hard-to-shop for people in your life (and go on sprinkling seed adventures with them!).
• Upgrade your lawn to a low-mow, low-water, eco-friendly yard with lowgrowing native wildflowers with our Native Bee Lawn Mix.
• Grab a native wildflower seed shaker kit for your region and plant wildflowers this fall for spring blossoms.
Where are the best places to sprinkle seeds?
The best places to sprinkle seeds are:
• Your yard.
• Underutilized areas around where you live.
• Cracks in the sidewalk.
• Freshly turned soil or underutilized irrigation.
• Into healthy soil (as opposed to areas with gravel) but you can try sowing seeds wherever.
Beware of blends that say "wildflower blend" because they most often contain plants that are not native to your region. Packets that say they grow in your region are not necessarily "native" to your region, and some may even contain plants that are invasive in your area that can compete with native plants.
Find native wildflower seeds for your region and more tips, tricks, native plant searches and DIY resources for planting at sfinbloom.art
25 YOGALOVEMAGAZINE.COM
Learn more: sfinbloom.art
"Love has taught me that my breath is enough and despite life's challenges there's a collective consciousness both past and present praying for me to win."
26 @YOGALOVE_MAGAZINE
Malik Khalid @malikyoga_
Local Spotlight
ATLANTA, GA
BY: MELISSA HONKANEN PHOTOS BY: CASSANDRA DAVIS
Did you know that Atlanta has a "Just Peace" Month? One of the activities last October was the Yoga with the Mayor class during Peace Week. The yoga class was held in downtown Atlanta inside none other than the beautiful City Hall atrium. Yoga with the Mayor was a gentle class with laughter, asana, and meditation led by an inspiring trio of teachers (psst...it was also fun to meet Atlanta's Mayor Andre Dickens and see yoga awareness at the government level, too!). I was so excited to introduce myself to Mimi Felton, Malik Khalid, and Rutu Chaudhari after the morning class. I knew we had to feature these amazing yoga teachers nationally in Yoga Love Magazine. Enjoy these beautiful Atlanta yogic moments at the historic Ponce City Market and the nearby BeltLine. Learn more about Rutu, an amazing prison yoga social activist; Mimi an inspiring kids and community based yoga teacher, and Malik a vivacious LGBTQ+ advocate and athleisure designer. They all share with us what they have "learned about love."
27 YOGALOVEMAGAZINE.COM
"The most beautiful thing I've learned about LOVE is acceptance. Love is a verb. I simply love people where they are and allow that love to make space for healing. We all deserve to be loved, seen, heard, valued and supported. That's LOVE!!"
Camelia (Mimi) Felton @mimisyogakids
28 @YOGALOVE_MAGAZINE
"Life reflects my worth the more worthy I feel. The people I attract, the circumstances I find myself in, the sense of purpose and value I offer my community are directly connected to my love for Self. The time and energy I put towards loving myself benefits all that is."
29 YOGALOVEMAGAZINE.COM
Rutu Chaudhari @alllifeisyoga
bhakti love
BY: KISHOR CHANDRA PHOTOS BY: KAYANZA
A Bhakti practitioner, kirtan leader, teacher and yoga director at spiritual non-profit, Bhakti Center in NYC, Kishor Chandra loves mixing many styles of yoga to create his unique flows. Always seeking deeper truths and a higher purpose, Kishor moved to India when he was 21 years old. There he lived in ashrams and studied the ancient yogic philosophy of the Vedas and yoga asana under the tutelage of master yogis.
If you are in NYC make sure to visit the Bhakti Center, a place that is devoted to sharing the experience of self-transformation through the timeless culture and practices of Bhakti yoga, or the yoga of love and devotion. Check out this Bhakti heart-opening sequence, which will not only open your heart to so much love, it will also strengthen it so that the heart can stay resilient.
1. Tadasana variation (Mountain Pose)
This wide-armed mountain pose is something I really love to pair with breath and movement to open the heart space. You can open the arms wide and inhale and then give yourself a loving hug as you exhale.
3. Virabhadrasana Three (Warrior 3)
The heart is the center of love and requires lots of strength and focus. Warrior 3 is a wonderful pose to continue working on the strength of the heart as well as balance. Make sure to warm up your legs and hips before this pose.
5. Baddha Natarajasana
This advanced version of Dancer's Pose is a super strong and vulnerable exploration of the heart. It will challenge you and open you up to more love, while also teaching you about boundaries. Make sure to practice opening the front of the hips first in backbends like half and full wheel. If this version is too much you can also do a normal dancer's pose. Focus on breathing, balance, and self-love in this pose, never crossing your own thresholds and staying in integrity.
2. Vrksasana (Tree Pose)
Tree pose is a great pose to start working on balancing as we build up to our master pose in this sequence. Make sure to do some warm ups like a Surya Namaskar before this pose. The variation with the arms widely above the head is a great way to tap into the heart. You can even send the hips forward and lean back a bit to access the heart even more!
4. Anuvittasana (Standing Backbend)
This is a wonderful pose to open the back and get it ready for our master pose. I like to think of backbends more like front-body openers or heart-openers. Try not to dump into the lower back here, and rather lift the chest and heart and push the hips forward. Make sure to do some softer backbends first, like baby cobra and upward-facing dog.
Learn more: @kishor.chandra.yoga and @bhakticenter
30 @YOGALOVE_MAGAZINE
(Bound Dancer's Pose)
music love
BY: SHERI CELENTANO
For many, music is a big part of their yoga practice. In our previous issue, we interviewed NYC yoga teacher Sheri Celentano about creating playlists for her classes, and her love of music. In this issue we invited Sheri to share with us three teachers who inspire her, and share what music means to them. You can also check out the playlists they have shared on our website yogalovemagazine.com.
genre (which I love love love too) lends a hand to yoga class? As a teacher and a student?
J Miles mahavirarva.com @yogijmiles
Can you give me 3 reasons why you use music in your yoga classes?
I was trained at Integral, and they didn't use music in class at the time. I started using music while teaching yoga at a fitness center. You needed something to drown out the noise from the other parts of the building, like the music from the group exercise classes, and all the random conversations going on right outside the door. So reason number one was out of necessity. Reason number two is the right music creates the bhav, the right mood, and the right mood makes for a great class. Number three: I just like exposing folks to good music. I choose to continue using music because we are in contemporary times, and folks come to asana class not just to connect to their bodies, but to be uplifted as well. Good music does that.
House music and dance is a part of who you are. How do you think this
House music is universal. House is a spiritual thing, and so to me, it lends itself to a spiritual practice. The "Jack Ya Body" moves from the heart, and so it is a heart-based movement. A deep groove will put anyone who hears it into a deeper state of mind. As a student who loves good music with his asana, the beat of house music puts me in rhythm. As a teacher, I wanna love the music I play. And I'm a house head through and through.
The theme of this issue is LOVE. How does love play a part in your musical choices? If you were to base a class with an intention around love, how would that influence your playlist?
I have a playlist dedicated to love. Each song either has love in the title, or love in the lyrics. I'm not talking about dating app love. I'm talking about something you feel in your soul, and makes you shake your head and smile with your eyes closed.
Tell us about your background, your journey into yoga teaching, and how this plays into your musical choices. I'm a country boy at heart, a true southerner with big city vibes. I am a hippie at my core. I am a truth seeker, and holder of Grandmama wisdom. I grew up in an era where the afro gave way to the geri curl, to boxes and fades, to gumbies, to caesar's. I grew up listening to gospel, soul, and hip hop, but also rock and roll, and most importantly, my mother
singing. My journey, in life and in yoga, started when I realized that I had potential. The music I play is simply a reflection of my life-journey.
Three artists you would love to shout out that you use often for class?
DJ Drez and Marti Nikko, El Búho, Osunlade. You could create a pretty good playlist using these artists.
Do you put any boundaries on what you will or will not play in a class?
No excessive use of the n-word, the f-word, the p-word, the b-word or the d-word. No over or overtly sexualized lyrics. No violence or killing. Sometimes the curse words are artistic, or reflect how people who love each other speak when the guards are down. I don't play anything that's too distracting. I don't ever want to lose sight of why we showed up to a "yoga" class to begin with.
If you have any advice for a new teacher who wants to use music in their classes, what would it be? Know your audience. My Ayurveda teacher Anjali Sunita has this saying: "For who and when." The genres do matter. Otherwise, find music you love that makes you feel something, and share that. Also, make your playlist a little shorter than the actual class length. This will give you space for any dharma talk, and allow you to begin and end in silence.
continued on page 65
31 YOGALOVEMAGAZINE.COM
L ove Lash & Brow
BY: LOULOU PISCATORE
PHOTOS: TAL SHPANTZER
MAKEUP: BRIANA HALM
MODELS: BRE SCULLARK
NATALIE MAUNEY
SHANNA OSSI
32 @YOGALOVE_MAGAZINE
I am in lash extension recovery. After about three years of continuous use, I made an unwelcome pandemic discovery. My own lashes had suffered. They were short, sparse, and in a word, sad. So I did some research. Apparently, the added weight of the extensions can stress the hair follicles and shift them into a premature shedding cycle. Over time, this can result in shorter, finer lashes. I immediately swore off extensions and began lash rehab.
You may have experienced the same thing with your eyebrows, which thin as you age. It's tempting to try microblading, but it cuts the skin to deposit pigment. Over time, this can permanently damage your skin and kill your existing hair follicles. It can even lead to infection and permanent scarring.
The good news is that there are easier, healthier, and more cost-effective alternatives. You can condition and grow your own lashes and brows with a little help. Eyelash serums hydrate and condition the lash hair and stimulate the follicles to grow by keeping them in the growth phase. Eyebrow serums strengthen and moisturize the brow hair, prevent fallout, and improve growth. Just a heads up – It takes about a month to see results, and about 3-4 months for dramatic growth, but they do work! Apply daily, and preferably at night on clean lashes and brows to give the serums plenty of time to absorb. Have patience, it took about 4 months for me to see a big difference, but now my lashes and brows have never been fuller or healthier.
If your lashes and brows are at their best, you really don't need much else during the summer months (maybe some lip gloss). To get you started, here are some of our favorite lash and brow serums. For more lash and brow products, check out our website yogalovemagazine.com
33 YOGALOVEMAGAZINE.COM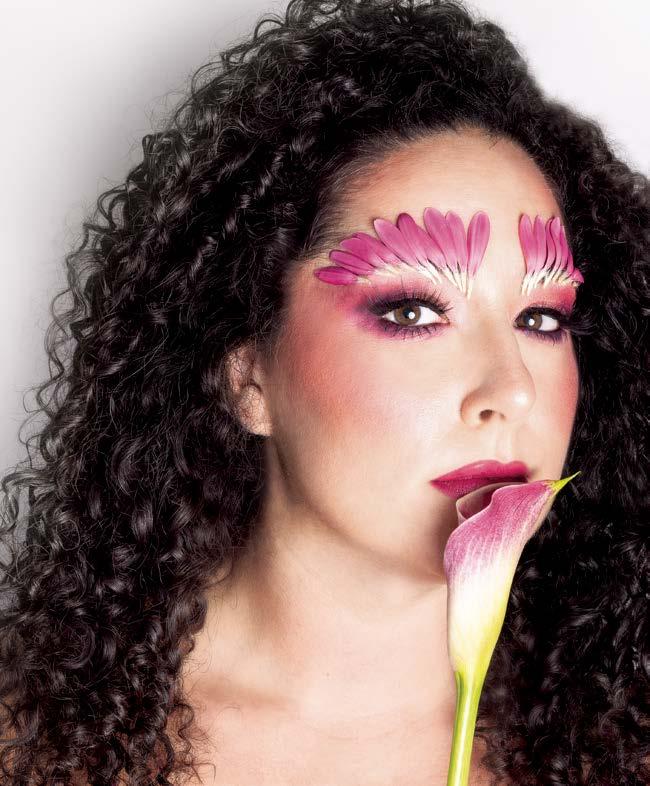 34 @YOGALOVE_MAGAZINE
lashes
Joy Beauty: Joy Brow and Lash Rejuvenator myjoybeauty.com
InstaNatural: Eyelash Enhancing Serum instanatural.com
The Ordinary: Multi-Peptide Lash and Brow Serum theordinary.com
RapidLash: Eyelash Enhancing Serum rapidlash.com
Pureauty Naturals: Biotin Eyelash Serum Pureautynaturals.com
35
brows
Ginger Beauty Gingel wearegingerbeauty.com
Joy Beauty Joy Brow Tinted Brow Gel myjoybeauty.com
Revitalash Cosmetics Revitabrow Advanced Eyebrow Conditioner revitalash.com
Lash Spell Brow Spell Enhancing Eyebrow Serum lashspell.com
Wen by Chaz Dean Botanical Brow Enhancing Serum Chazdean.com
36 @YOGALOVE_MAGAZINE
kundalini
For Heart Expansion
BY: ABHAIJOT KAUR PHOTOS: MIKE SCHREIBER
Kundalini yoga is a yogic science that uses our physical body, coupled with conscious breathing techniques known as Pranayam and Mudra, or hand gestures, with sound current known as Mantra, to unveil our greatest potential. The science of Kundalini unlocks the unconscious to the conscious. When we uncoil our dormant energy, we awaken to the potential within.
I fell in love with Kundalini yoga in my first experience with this practice. The moment I walked into my first Kundalini class, I had an experience of light particles flowing through me—the sensation of being part of something much more than the physical expression. The feeling that I am one with everything. It was that moment in one practice I knew this was my Dharma. I hope you enjoy this simple 15 minute Kundalini yoga practice that opens up the channels of our heart. When the gateway to the heart opens, it helps us stay in the suppleness of love and simultaneously creates a space for personal healing while helping us feel connected to all. Sat Nam.
Begin by sitting in a comfortable, cross-legged position, close your eyes and pull the gaze to the point between the brows. Relax into the space.
Place your hands in prayer position at the center of your chest. Take 3 deep breaths, inhaling and exhaling through the nose. Exhale, open your practice with this mantra to call on the light of your soul: "ONG NAMO GURU DEV NAMO." Repeat 2 more times, for a total of 3 recitations.
Face your palms towards each other, 6" apart at chest level, and concentrate on the energy between them and the energy running from the rectum to the vocal cords as a straight, shiny light. Breathe long, slow and deep through the nose while concentrating for 5 minutes. To end, inhale deeply and hold your breath for 15 seconds, concentrating on the energy between the palms at the heart center. Exhale and relax.
Deeply inhale, and on the exhale, extend the arms straight out to the sides, parallel to the ground with palms face up. Offer up your heart to the universe and sit in the middle of your heart, expanding through the palms of your hands and fingertips. Breathe long, slow and deep, concentrating on that feeling for 3 minutes. To end, inhale deeply, hold the posture, and stretch the arms. Expand and exhale. Bring your left palm to heart center, then the right palm on top, and rest in the middle of your heart. Let your breath move as it wishes as you sit present in the middle of love for 3 minutes.
Remain in a cross-legged position with your spine nice and straight, raise your arms up to 60 degrees and begin rubbing your fingers on your palms for 3 minutes. This action opens the heart meridians and purifies your arc line, which drives your intuition. To end, inhale deeply, hold your breath for 10 seconds. Slowly exhale, bringing your hands to your knees with your palms facing up. Inhale and exhale again, and relax.
Close your practice by bringing your hands to your heart center in prayer. Inhale, and on the exhale, chant a long, "SAT NAM." Repeat two more times. Sat Nam means truth is the vibration.
Learn more: IHeartKundaliniYoga.com
37 YOGALOVEMAGAZINE.COM
"I have learned that love is a gift to be given without expectations or conditions. And like any gift, until you get beyond the sparkly wrapping paper, crack it wide open and truly see what's inside - you can't fully appreciate how amazing a gift like this can be."
Meredith Evangelisti @meredithevangelisti
Local Spotlight BOSTON,
MA
BY: SAMI LEA KONCZEWSKI PHOTOS BY: BRONWYN KIEVE
Meet four Boston-based teachers who radiate LOVE in their yoga. Each through a unique and raw style, these teachers have a gift for making their students feel big emotions – power, discovery, passion, healing, and of course, love. With Meredith, you get grit, sweat, and challenge. You will fall in love with your own rediscovery of what's possible. With Tim, you're taken on a journey of wisdom and humor that weaves traditions and leaves you whole again, smiling. With Franny, you'll dance through a lyrical love story with yourself in every flow, simmering sweetly by savasana. And with Cole, you're on a journey of introspection, swimming between poetry and pause, quiet moments and the delight of rapture. I hope you, too, have a chance to fall in love with their classes.
"Love is an endlessly renewable resource, like the breath. When we get scared, we react by holding the breath, withholding love. Nothing feels better than that exhalation, or giving of unconditional love. Love encompasses my husband, children, family, students, teachers, community, my cats, and most challengingly, myself. "
Tim Kelleher @tk_yoga
"Love. It is radically embracing all parts of ourselves and our personal journeys, even the unfavorable bits. Practice brings up an extreme range of emotions through time with self. By sitting with self, we become aware of what is worth examining. Through this, and love, we can deeply access our souls and we find that having empathy and compassion for ourselves and for other people makes our own lives better. "
Franny Diaz-Gilligan @fransisita
40 @YOGALOVE_MAGAZINE
"What I've learned is that love is elemental; that if I'm truly present, it's there. When I sing, or act, dance, or teach yoga, or when I'm with a lover or friend, with true presence, it's there. It's behind the very best parts of us all."
Cole Hilaire @colehilaire
Yoga on the Rocks
BY: MELISSA HONKANEN
PHOTO: TAMARA MONTES DE OCA
Waking up at 4:00 AM is not easy, especially on a Saturday. However, my niece and I knew we were up for the challenge. We didn't hesitate to sign up for a sunrise yoga class at one of the most incredible outdoor venues in the world at Red Rocks Amphitheater in Morrison, Colorado, just 10 minutes west of Denver.
Little did we know that we would encounter not only an unforgettable yoga experience in nature, but we were able to participate in an incredible bilingual yoga class. I was fortunate to speak via Zoom with Chanty Cohen in her Miami home a few weeks after her class.
Can you tell me about your yoga discovery journey and how you decided to be a teacher?
When I started my 200-hour yoga teacher training, I didn't know anything about yoga. The only thing I knew was that yoga is for flexibility. As a runner, I was like, well, let's give it a try. Maybe I
will be a better runner, and I will be more flexible.
How were you able to not only bring a beautiful yoga class to 2,500 participants, but to also create a class for a bilingual community?
Creating a bilingual class was a challenge because it was my first time doing it. When I started doing my research, I couldn't find a class that was bilingual. Every single class that said "bilingual" was mostly one language leading the other, like 60% English and 40% in Spanish or the opposite. The purpose of creating a bilingual class was to benefit fluent English and/or fluent Spanish speakers.
taught yoga in Spanish along with my own research.
I didn't want a boring class in two languages. How can we speak to people that are fluent in English and/or Spanish? It was a lot of practice and failure. My friend, yoga mentor, and Yoga Director at TruFusion Denver 9&Co was so supportive and believed in me to teach a bilingual Red Rocks Class. We met every week for two hours to create the class together.
How long did it take to create your sequence?
Like most yoga teachers, the sequence just flows in our head. I was just playing outside with my mat and then connecting pose to pose. That was not the tough part.
But now, if you ask me how my first sequence changed from the final Red Rocks yoga sequence, they're so different. We changed a lot of things from my initial sequence because the class needed to be accessible for people that had never done yoga in their life. When I wasn't practicing with Cat, I was practicing with my husband. I also taught the class to a group of friends who knew yoga and who weren't familiar with yoga in Miami to see if it made sense to them.
How was teaching yoga at Red Rocks different from teaching in a studio? Yoga at Red Rocks was more like a performance. When you are teaching a class to 2,500 people, you really don't want to mess up. If I mess up and change a pose, and I change the sequence, the demo team is going to get confused. A challenging part was that I needed to know the sequence by heart.
How were you able to stay centered and hold space for yoga in a 2,500 participant event venue?
Another big challenge was that I practiced yoga in English, so I didn't know the names of the poses, muscles or cues in Spanish. So it was like, how do I say "curl your toes under"? I just kept asking people that I knew that have continued on page 66
Thankfully, two additional yoga teachers were able to demo different variations near the stage close to me. So it was an amazing team. My bilingual class
42 @YOGALOVE_MAGAZINE
Love Letters
If you could write a love letter to where you live, what would it say? Have you lived in the same place your whole life or did you move during the pandemic and find a new home? We asked three of our yogi friends living all around the country to share with us what they love about where they live. We wanted to know about the wellness scene, the foodie scene and anything else they loved and wanted to share. Meet Caroline Kelley, Jeff Bell and Aura Garver as they share their love letters with us.
Boulder, CO
BY: CAROLINE KELLEY
Dear Boulder,
Every day I'm grateful to call you home. A dear friend once likened your scenery to a painting: it's true, your foothills covered in pine trees with red rocks that soar majestically almost appear unreal; they invite moments of awe.
You offer plenty of opportunities to live life to its fullest and to nourish the mind, body, and soul. With 300 days of sunshine, there's no excuse not to be outdoors hiking, climbing, or enjoying winter sports. Your community is a beautiful blend of those who cherish nature and seek health and adventure; people here are better at balancing work with play than in other places I've lived.
I feel fortunate to be able to eat farm-fresh food at home and in your farm-to-table restaurants. I love the plethora of holistic and spiritual offerings; I feel spoiled for choice and among wise souls. Being so close to the wilderness means I regularly see wildlife, deer, silver foxes, and bears. I dream of seeing a mountain lion; maybe, if I'm quieter and more observant, I'll see such a stealthy beauty.
I'm forever grateful for your presence and for encouraging me to grow continually.
With love, Caroline
Caroline's Picks
Boulder Book Store
boulderbookstore.net
Boulder's largest independent bookstore that hosts more than 200 events in the store and community every year. They've been named "Bookstore of the Year" by Publishers Weekly and "Best of Boulder" by local papers every year since 1987. Owner David Bolduc, has been at the forefront of the "shop local" movement for over a decade.
Rebecca's Herbal Apothecary rebeccasherbs.com
Founded by Rebecca Luna in 2004, Rebecca's Herbal Apothecary & Supply is a bustling, community retail store aiming to provide everything one needs to use or make botanical medicine. Upon entering, you're greeted with a warm hello and the incredible aroma of whole botanicals. A wall of dried herbs stands behind the counter. Rebecca's products are made on-site in small batches. Shelves contain handmade products, bulk ingredients, books, herbal sundries, and more.
Black Cat and Bramble & Hare blackcatboulder.com brambleandhare.com
Black Cat, a farm-to-table bistro opened its doors in 2006, followed by Bramble & Hare, a farmhouse kitchen and pub, in 2012. They were founded by Chef Eric Skokan and his wife, Jill. These restaurants serve as Chef Eric's incubator for the developing Front Range Cuisine, an expression of the forests, fields, and mountains unique to Colorado. To that end, Eric and Jill created the 425-acre, Certified Organic Black Cat Farm that now supplies the bounty of the restaurants, a booth at the Boulder Farmers' market, and CSA's. In addition, they raise vegetables, Tunis and Karakul sheep, Mulefoot pigs, heritage chickens and turkeys, and Toulouse geese.
continued on page 67
43 YOGALOVEMAGAZINE.COM
East Tennessee
BY: JEFF BELL Jeff's Picks
Dear East Tennessee,
What a bewitching region you are! I fled you many moons ago for bright lights and big dreams, achieving more than I ever imagined and falling prey to traps of a fast life. I returned to you humbled and obliged to assist in caring for my aging mother. The life you have unfolded for me is nothing short of a miracle. A visit to Renegade Yoga Center three years ago resulted in innumerable gifts. One class led to a parttime job at the front desk for two years, and then a managerial role. I am now part owner, I completed our RYT 200 in 2022, and am currently enrolled in our RYT 300. I have gained trusting partners, deep friendships, and a life I never imagined. Nestled in the Appalachian foothills of the Great Smoky Mountains, your charms are at once ironic, elusive, and seductive. Clever of you to have birthed three national laboratories, attracting scientists from all over the world and a major university with enrollment of nearly 30,000. Your wellness and spirit-minded crowd are many, thriving in the endless activities of the outdoors, hiking, and cycling your mountains and paddling your vast streams and rivers. You provide us a vital calendar of sport, art, culture and music. In valleys near, simpler folk remain entrenched in lives learned from ancestors, reaping the land, at odds with the modern. In great part, we are politically and socially divided, striving to coexist, and we do. I shall stay awhile.
So much love, Jeff
Renegade Yoga Center
renegadeyogacenter.live
Absolutely the most beautiful practice space in the region. It's a place where all are welcome to practice and learn on all levels. Lead instructor and partner Philip Clift sets the pace as Renegade offers an incredibly talented roster of instructors and massage therapists. There is a thriving curriculum of workshops, and the teacher training program is unparalleled. It's a vibe!
Farmacy knoxfarmacy.com
Conveniently located halfway between the studio and my home, I find myself at this eatery a few days a week. The food is fresh, tasty, and authentic. Founder Bettina Hamblin cites her family meals growing up as the impetus for her passion. I especially love the brussels sprouts and the ever-changing burrata bowl. Halfpriced appetizers throughout the week from 4-6pm are a big draw. The casually elegant atmosphere is always welcoming.
Honeybee Coffee & Brewery honeybeecoffeeco.com
With four locations, this local roaster offers delicious brew and treats. Owner Norris Hill offers up a full slate of hot and cold drinks with a wide array of milk types, flavors, and sweeteners. The honey lavender latte is a favorite. You can also find a delicious assortment of bakery fare and sandwiches. This ever-expanding business is one to watch. Buzz on over to Honeybee!
The Tennessee Theatre
tennesseetheatre.com
Built in 1928, this former movie palace is the official state theater of Tennessee. It's a magnificent tribute to the art of show featuring a fantastic array of musical performers, Broadway touring companies, ballet, symphony and any other type of staged entertainment you can imagine. A $25 million renovation and restoration has cemented it as a world-class entertainment venue. The grand Wurlitzer organ is still played on Mighty Musical Mondays and you can still see movies there! It's the crown jewel of downtown Knoxville.
44 @YOGALOVE_MAGAZINE
continued on page 67
Taos, NM
BY: AURA GARVER
Dear Taos,
Ah, where to begin? Perhaps with Taos Mountain that presides so majestically over our valley. You stand with such dignity and symbolize the strength and steadfastness that it takes to thrive here. I never intended to stay, you know! You raised me up from being a little kid playing in the mud puddles, running through the sagebrush, to announcing that I was "off to live in the big city" as an adult. And yet, I found my way home. You are quirky, eclectic and funky. Sometimes your dust and scruff really get to me! But you also have so many deep layers. Kind of like hiking down into the chasm of the Rio Grande Gorge on the other side of the valley, layer after layer reveals itself and I remember that you are also brilliant and creative. You provide a haven for personal expression and the opportunity to really step up and thrive as an individual. We raise our kids, grow our gardens and build our businesses as you simultaneously test us and bless us. Taos, you are not the easiest place to live, but you are magical. Your power is undeniable, and what you allow for is the possibility in all of us. You ask us to rise and be true. To stand and be authentic - like you! Taos, with your bluest skies, freshest mountain air and brightest radiant sun, you will always enchant me.
Love, Aura
Aura's Picks
Taos is a place where locals hustle to create their own livelihood. Supporting our friends in creating familyfriendly, flexible lifestyles is part of the Taos way! Many of us created businesses here based on our passions and talents. Here's some favorite locally owned places.
Aurafitness
Aurafitnesstaos.com
Well, of course! My husband & I opened our studio 17 years ago. A true family effort & labor of love, it has become a gathering place for wellbeing and events that support a vibrant, healthy lifestyle. From yoga to personal training, we have an amazing team and are where you can come to be inspired and stay inspired!
Manzanita Market
Manzanitamarket.net
A relaxed, charming health food cafe, creamery and market. The food is local, organic and delicious. They make the best mushroom cacao latte ever! I also love the Enrich smoothie.
Orlando's New Mexican Cafe
facebook.com/OrlandosNewMexicanCafe
Incredible, fresh food from entrepreneurs Yvette and Orlando Ortega. It's fun, festive and always delicious. Filling up after hiking with a green chile shrimp burrito? Yes, please!
Taos Farmers Market taosfarmersmarket.org
Saturdays after yoga, we head to the plaza to support our local farmers, chat with one another and hear a little live music. A Taos Splash (half watermelon, half lemonade) from Freshie's Juices Taos hits the spot!
In Taos we get outside for inspiration and movement! A couple of special spots are:
The Brazos Pass Summit
For snowshoeing or cross country skiing and stunning vistas that remind you to breathe! Head west out of Taos on U.S. Route 64.
Taos Valley Overlook
The rim of the gorge is where I love to walk. Out under a giant sky, it's great for my dog, Max, when he needs to really run and great for my brain when I need space to think! At the end of Old State Highway 570 in Ranchos de Taos, NM.
45 YOGALOVEMAGAZINE.COM
nature points of the
BY: IANA VELEZ
Flora Joan and Michael Silvester van der Giza are the creative duo behind Nature of the Points, who's beautiful Instagram feed @thenatureofthepoints shares art and study aides inspired by acupuncture and the healing arts. We asked Flora to share with us what inspired this unique intersection, her inspirations and few thoughts on love.
How were you first introduced to acupuncture?
As a teenager, I explored the spiritual, linguistic and artistic aspects of Taoism among masters in Beijing. This was where my mother, aunt and uncle studied acupuncture, Traditional Chinese Medicine (TCM) and philosophy.
How did you start Nature of the Points?
The inspiration initially came directly from my own need for a method to learn the names, functions and nature of the points during my study. I used my creative skills as a learning tool; creating mind maps and photo collages that complement the more linear text-based format most of my books followed, and the verbal input from my tutors.
Once qualified, I kept going back to those maps. They proved very useful in practice since the poetic nature of the point names embrace the stratification which relate not only to the physical but also their spiritual aspect. Checking in with myself to see what stuck long-term, I started to reverse-engineer it, in an attempt to give others the opportunity to use this visual learning style to their advantage. Ideally not only for the students I work with, but also other trainees, fellow practitioners and those who have a fascination for TCM. Hopefully, it even inspires a patient's interest and others with a love for Eastern Medicine and philosophy.
How would you describe acupuncture to someone who has never tried it before?
I wouldn't describe it with words. How you love acupuncture is how you teach and evoke others to love it. We each have a path and seasons of being. The aim of acupuncture (like yoga) is to rediscover yourself. It's a reset or recall to balance. It's part of the path of self-evolution. I can only guide by example, not interfere or persuade. My work and life is an invitation to a renaissance of self-love.
You bring such incredible beauty to the healing practices, what inspired you to focus your creative work around this?
In the healing arts, we can't just work on the physical level. Unconscious reservoirs and belief structures can anchor a condition (stagnant Qi) in place. Symbols, colour, beauty, creativity, artwork on the unconscious or energetic level can tap into your true nature or extraordinary potential and get things moving.
Do you have formal art training?
I graduated in visual arts, drafting, alchemy and photography.
You wrote once "creativity is a superpower, we are all wired for it, we are ALL creators and we will learn & grow together." I love this and agree!
To create is a way of loving. Love is a superpower. Reconnect and follow what you love. You can't logically figure out the path, trust the Tao, divine orchestration is always out ahead
46 @YOGALOVE_MAGAZINE
of you. To create is a way of being in the now, a way of life, a way of self-love. Do things that bring you into the right now, and it'll all come to you.
Do you have a personal yoga, meditation or journaling practice? If so, does it influence your creative process? Yes, tai chi, Qi Gong, yoga, and scrapbooks. They not only influence my creative process, they also improve my relationship with myself and others, so I can experience life with more gratitude and ease.
Share with us artists or creators who inspire your work: Everything around me is inspiring: nature, the cosmos, other sapiens. I am also inspired by a lot of "-isms": Buddhism, Taoism (Tantra), Confucianism, iconism, dadaism, primitivism, surrealism, spiritualism, futurism. I gravitate to old anatomical charts and medical education books and posters. Patterns, primitive art, symbology, colorimetry, cosmography, sacred geometry, foliage, biophilia, and with a pile of vintage postcards…and you have me at my happiest!
My work is inspired by the spiritual anatomy of the meridian system teachings and books of Josef Viktor Müller, and the classics: Nan Jing, Lingshu, Zhuangzi, Hildegard of Bingen. I am also inspired by Gaia TV.
I find inspiration in the wisdom, and knowledge in my family archives that includes tons of handwritten data. The generation before me studied among true masters in China, Tibet, Mid-Asia, and the Lowlands. Stepping back into their footprints is what makes this work extra special.
What are you working on now that you are excited about?
The last deck of the Yin collection has launched! We've worked on creating these decks for over a decade. The aim was to visualize, create, and write with simplicity, eloquence, and gracefulness about a subject which is deep and rich. It is an in-depth exploration of all points on the meridians, for (point) meditation, breath work, practice, mind and body exercises and to use in treatments.
Now that 'Yin' is finished, we can start workshops and readings based on the cards and divination, people's elements, and integrate symptoms, pulse, and facial diagnostics into that. It opens up to a whole new way of working with this material. The benefit of the cards is that you can have a 'relationship' with them. You can see it, feel it, play and study with it, work and live with it.
Learn more: thenatureofthepoints.com
47 YOGALOVEMAGAZINE.COM
Changing the Face of
yoga festivals
Emerging to Imagine a More Inclusive Yoga Community
BY: LISETTE CHERESSON
There is no question that yoga in the west has an appropriation and diversity problem. Part of this is certainly the adulteration of the practice as merely physical — a result, perhaps, of the co-opting of yoga by white and wealthy practitioners during the 1990s and 2000s as its popularity exploded in the U.S. This was codified by sexualized imagery and contortionist asana, resulting in a public perception of yoga that was as far from its origin as Patanjali is from expensive leggings. In recent years, there have been efforts to return yoga to its roots, led by South Asian and BIPOC community leaders and their white allies. Focusing on diversity and inclusion — and the sacred intent of the tradition — is nothing new for Heather Sanders, producer of the Sedona Yoga Festival (SYF). Over the past 10 years, SYF has continually provided a platform to elevate our collective consciousness, by holding space and extending invitations to presenters from all corners of the yoga world. For the 2023 event, which happened in April, Sanders took this dedication one step further with the creation of a programming team, made up of luminaries: Reggie Hubbard, Arundhati Baitmangalkar, Danni Pomplun, Indy Rishi Singh and Johanna Beekman. Here's what they have to say about their roles, and the importance of continuing to move the community forward with their work.
Reggie Hubbard
FOUNDER: ACTIVE PEACE YOGA, RENOWNED ACTIVIST AND SOCIAL CHANGE MAKER @activepeaceyoga
I truly believe that yoga is not a practice of comfort, but a practice that allows us to be comfortable with the uncomfortable. Prior to the pandemic, the yoga industry and community seemed to be insular; a recycling of familiar names that didn't embrace the magic of diversity. As part of the team for both SYF 2022 and SYF 2023, I strove to make the lineup diverse in all manner of speaking, and this year I hope to empower new voices, support established voices, and allow all participants to be transformed by the alchemy of new experiences. These are liminal times, rife with opportunity to set new norms and make the yoga community truly representative of all practitioners. If a group of individuals come together, aligned with pure intention rooted in the heart and from a place of service, the sum of our somethings create a tapestry of connection tempered by our collective wisdom.
Johanna Beekman
INTERNATIONALLY RENOWNED SINGER,
SONGWRITER AND KIRTAN ARTIST @johannabeekman
As a festival producer, performer, and long-time circuit-touring musician, I've seen a lot of productions and can understand the participant's experience from all sides. When curating a festival, it's important to be fair and impartial. Yoga itself is so diverse — it's important to include a panel of practitioners to curate a balanced group of presenters. Having a strong mix of seasoned professional teachers and enthusiastic creatives who are new to the scene creates a full experience for the participants, along with a diverse array of classes. Together, we can model a new culture of diversity, inclusivity, and the most potent, powerful practices. The Sedona Yoga Festival has always woven these values into the experience. This is a truly unique and needed perspective on yoga and spiritual life, and I'm proud to be a part of the team continuing the work.
48 @YOGALOVE_MAGAZINE
Indy Rishi Singh
CO-FOUNDER OF COSMIC LABYRINTH WELL-BEING ENGINEER
@tickle_singh
Leadership is best demonstrated by those who are willing to put others first. Festival spaces are a terrific example of what human collaborative intention can produce. A lot of people have not experienced this because of a socioeconomic system that does not promote or support intentional spaces, unless they are excessively commercialized. A festival space like SYF can inspire a new presenter and empower them to facilitate healing and regenerative spaces where they live, or with communities that are facing difficult challenges. It can also inspire them to lean-in to the hope that is present when we collaborate to build something meaningful and healing for others.
Diversity allows us to thrive because we bring together different perspectives of health, happiness, and holiness. The fact that the people curating this festival are diverse speaks volumes to what will be produced. How often do we see this kind of diversity in the development of anything, let alone in the wellness space? This event may become a guiding post for other festivals to begin with a diverse curation team, instead of performance-diversity.
I'm hoping for an emergent experience of yoga that embodies the values, virtues and ethics of it. I hope the guests and the presenters/performers/facilitators learn new ways to bring those virtues and ethics to their respective communities once they leave the festival. I'm hoping that our collective intelligence supports an emergent movement to channel yoga for compassionate civic engagement that supports vulnerable communities throughout the country.
Arundhati Baitmangalkar
YOGA EDUCATOR, STUDIO OWNER, HOST OF "LET'S TALK YOGA" PODCAST @arundhati_baitmangalkar
I accepted the invitation to be a part of this team because I want Indian immigrant yoga teachers like me to be a part of such conversations. It's long overdue. Heather was wonderfully transparent about her intentions, values, and direction for SYF. For far too long, yoga has not been inclusive or diverse. Many times very well-qualified people are overlooked because of how they look or sound. Yoga has been templated to look a certain way here in the U.S., but there is incredible talent out there who aren't necessarily social media savvy or "trendy," and instead keep their focus on the timeless wisdom of yoga. My keen area of interest is to seek out more authentic Indian origin yoga teachers to become presenters. This work helps to keep the yoga authentic. So much of yoga gets mixed with everything else — due to my cultural upbringing, having been born and raised in India, what I view is and isn't yoga is very black and white. It's important that our diverse voices are at the table so that in turn, a diverse audience feels represented, seen, and heard.
Danni Pomplun
SYF
PROGRAMMING TEAM LEAD
FOUNDER OF HAUMSF, YOGA EDUCATOR, MENTOR, MENTAL HEALTH ADVOCATE
@dannipomplun
The world only moves forward when we do it together, and I think it's important to seek out those who don't normally have the opportunity to have their voices elevated. As a queer Mexican-American, my voice adds to the mix to help create more diversity and inclusivity.
Learn more: sedonayogafestival.com
49 YOGALOVEMAGAZINE.COM
Bilingual Meditation
BY: CHANTY COHEN PHOTO: EDSON SMITTER
Empieza a notar tu respiración. Begin to notice your breath.
Comienza a sentir como tu pecho se infla y contrae. Start to observe the rise and fall of your chest.
Inhala, eleva tus hombros a tus orejas. Exhala dejalos ir. Inhale, raise your shoulders up to your ears. Exhale, let them go.
Empieza a notar el espacio en que estas. Begin to notice the space where you are at.
Nota que esta presente en tu vida, y permite que pase. Notice what is present in your life and allow that to happen.
Ahora, vuelve a tu respiración, y continua notando como puedes controlar tu respiración. Iguala el largo de tu inhalacion con tu exhalación. Now, come back to your breath, and continue to notice how you can control your breath. Match the length of your inhales with your exhales.
Con cada respiración que tomas traes una vida nueva a tu cuerpo. With every breath you take you are bringing new life into your body.
Mientras concluimos esta meditación, toma un momento de gratitud para tu cuerpo. Gratitud por estar aqui, por poder respirar. As we end this meditation, take a moment to bring gratitude to your body. Gratitude for being here, for being able to breathe.
Inhala gratitud. Exhala, expande ese sentimiento dentro de tu cuerpo. Inhale gratitude. Exhale, expand that feeling in your body.
Recuerda que en cualquier momento de tu día puedes acceder a tu respiración para traer paz y gratitud a tu día. Know that at any moment of your day you can access your breath to bring ease and gratitude to your day.
Inhala gratitud. Exhala, expande ese sentimiento dentro tu cuerpo. Inhale gratitude. Exhale, expand that feeling in your body.
Learn more: @moveyourchanty
50 @YOGALOVE_MAGAZINE
51 YOGALOVEMAGAZINE.COM Come as you are! visit our website for a complete listing of retreats and trainings. stonewaveyoga.com customized experiences available HARMONY INN on-site studio apartment includes complimentary yoga and views of the Shawangunk Mountains 80 Miles North of Manhattan Yoga Classes Yoga Retreats Teacher Trainings Weekend Events Hudson Valley Yoga Experience NEW! STAY WITH US
bonus love
When a Step Family is a Bonus
BY: RINA JAKUBOWICZ AND LAILA DREAM PASKEL
As master yoga teacher, Rina Jakubowicz and 21-year old undergraduate student Laila Dream Paskel thought about how to approach a joint article about their relationship, they discovered that they share best with a trusting and fun person. They asked podcast host and Rina's best friend, Maite Mendiola, to help them share their inspiring "bonus love" experience of 10 years. Laila was 11 years old when Rina became part of her life by dating her father, Eric Paskel (another master yoga teacher). "Bonus love" tests one's limits of loving beyond one's inner circle and comfort. It forces one to see more than what society says is "acceptable." It helps one grow to be a better person for oneself and others. Read the interview between bonus mom Rina and bonus daughter Laila below.
Maite: I've been lucky to watch your relationship flourish over the years. Talking about divorce can be ugly, but divorce can bring us the blessing of a bonus family. What is your experience with having a bonus family?
Laila: I was definitely in denial that I liked Rina at first, but a huge deterrent is that people say "stepmonster" or "evil stepmom" implying a negative connotation. When I talk about Rina to someone else, I call her my "bonus mom" because what we started forming was a mutual level of respect and communication.
Rina came up with "bonus mom" and "bonus daughter" and it stuck. Now, we have a "bonus family." Whenever someone hears us say that, they love the new term.
Rina: Societally, we have been conditioned to think that a stepparent is bad, like we are a step down. To think of it as a bonus is a step up and an addition to your life. I always wanted a family, but not my own kids, thus, I didn't know what that would look like. I didn't think that I would find two peas in a pod with an 11-year-old who happened to also be my husband's daughter. She's my nonblood blood and a huge blessing to have in my life.
Maite: Rina, how did you want to approach Laila when you first met her?
Rina: As an initial outsider, it's easy to
cut everyone out and not put in the effort. I saw this 11-year-old who wanted truth, transparency, and connection. I wanted to be that kind of parent. It was a blessing to learn how to treat her like an equal and have the chance to practice the Vedanta teachings (yoga philosophy teachings). I answered all her questions honestly, even if they were hard to answer.
Maite: Laila, how do you work on your relationship with your bonus mom?
Laila: I had a tough time in high school and I went to Rina for help since she had always been transparent with me. Now, Rina is the person I go to, and say, "This is what is happening. I'm drowning or I'm thriving." She gives me space to figure things out. That's how you know if someone respects you.
Now that I'm in college, it's harder to stay connected because Rina is a busy bee and I tend to pile on things for myself. This made us both feel disconnected. The fact that we could come back from it by saying, "Hey, Why don't you reach out? Don't be afraid to get in my personal space. Let's figure out how to be more in touch," makes me grateful for our relationship. Then we go back to doing what we love together.
Maite: Rina, is your relationship with Laila your ideal bonus-daughter relationship?
Rina: Absolutely. We have fun together and respect each other. When I first met Laila, we immediately clicked. Although once she knew I was her dad's girlfriend, I had a target on my back. That was hard for both of us. The relationship had challenges, but we were willing to work through it.
Maite: So, what do your fights look like?
Rina: We never attack each other verbally or physically. There's usually a misunderstanding and that miscommunication leads to an internal fight. We create stories in our heads when all we need to do is communicate. So now, as soon as there is a misunderstanding, we bring it out to the open and talk about it.
continued on page 64
52 @YOGALOVE_MAGAZINE
Hey Yogis, Welcome to a topic that is going to shake you up and make you rethink the things you have said and the choices you have made. What's the ground shattering topic? Love.
If I had a dollar for every yoga teacher who mentioned love in a class, I'd be a wealthy man! The word love is thrown around as thoughtlessly as we say "and," "like," "uh," or as effortlessly as we blurt out our feelings or opinions to a person close to us. Love is something everyone is after. There is no one on earth who doesn't want it. The truth is in our pursuit of getting it and holding onto it.
We have hurt ourselves and others. We have thrown out people and parts of our life. Hell, we've even moved across the world for love—doesn't sound very loving. Let's not stop there. We've allowed ourselves to be abused, and we've abused ourselves, for love. Now, it hasn't always been bad. In fact, love can be wonderful, which is why everyone wants it. Yet, whether it's been perfect or a mess, love isn't what you think it is.
If you have studied the ancient yoga scriptures, then you know, or should know, you do not have a clue as to what they are really saying. Commentaries help. But then again, who wrote them? What are their qualifications, and who were their teachers? There are hundreds of versions which talk about personal opinions and preferences. The scriptures make it very clear that there is no room for those! The Bhagavad Gita, or The Upanishads, which is the first oral-to-written text, do not mention love on the surface. But there is a world of meaning below the surface. The knowl-
love isn't
What You Think It Is
BY: ERIC PASKEL
edge expressed within is not mine. It is Swami Parthasarathy, whom I've been learning from exclusively for the past 18 years. In The 10th Upanishad, Kaivalya, states, "He who sees himself in all beings and all beings in The Self." The Gita, chapter 12, verse 10 states, "Hates no one, wishes the welfare of all."
These little gems pack a mean punch. This short essay does not have the room to give it the length and breath one needs to begin to understand it. We
everything. This means if you don't love everybody, you don't love anybody. Think about it this way: we identify with a favorite home sports team, our state, country, gender, color or creed. Now apply that same feeling of knowing to everyone. Pick your favorite person, now apply that feeling to everyone. Impossible, right? This is only part of knowing love. The next part is just as foreign. Love is the feeling you have for a person, regardless of how they feel about you. Love is a one-way street, and you don't need it back. Your love is filling you. No one else's love can do that! And all this time we've just wanted to be loved. That's bullshit, folks. That's attachment.
can, however, define love and put an end to the misapprehension. He who sees himself in all and all as himself means that you see everyone as one. This does not translate to, "I love you; but not you, or you." Nor does it mean, "I love the way you make me feel," and "When you no longer make me feel like I want you to, I am done with you." Thus, love must have to do with a universal rather than individual feeling. Similarly, "hates no one" is meant to underline the mission of feeling the same about everyone.
Beginning to get a bit defensive, scared, or confused? That's normal. If you're thinking, "Oh shit, I most definitely don't feel the same way about everyone," you are on the right track. Love is a universal identification. That's it and that's
The whole world has innocently mistaken attachment for love, and that misapprehension has caused the total collapse of humanity. Attachment feels like love, but it's selfish, preferential, subjective and based on how someone makes you feel. Attachment is binding; love is freeing. Attachment breeds trauma and drama. Love breeds peace and tranquility. Attachment creates codependency; love creates independence. The differences are alarming, but the feeling is the same. That is why we get caught up in the attachment. We catch the "feeling" of love and because we don't have it ourselves, we jump for it without questioning, analyzing, reflecting or contemplating. Love never hurts; attachment does. We don't question why something feels good. We just want it to. That's selfish, and that is the differentiating quality of this whole equation. Swami Parthasarathy broke the code:
53 YOGALOVEMAGAZINE.COM continued on page 64
"Love is a universal identification. That's it and that's everything. This means if you don't love everybody, you don't love anybody."
Food is Love
A look inside Integral Yoga's Kitchen
BY:
Founded in a NYC brownstone by Swami Satchidananda in 1970, Integral Yoga Institute of New York is still open and thriving as a teaching center, and a place where thousands of people experience Yoga and community. Many New Yorkers also discovered the joys and benefits of a vegetarian diet when the Integral Yoga Natural Foods store first opened in the West 13th Street building in March 1972, and for many years it was one of the only places in the city where they could purchase exclusively vegetarian products. Today people can enjoy vegetarian meals lovingly created onsite in the community kitchen to share together. Learn more about love, food and community from the Integral Yoga kitchen manager, Tinuola Bello.
What does "Food is Love" mean to you?
When I first came to volunteer at Integral Yoga's kitchen in 2002, my Tuesday shifts with Kitchen Mother Andalamma were wonderful. She reminded me of my own mother – small, dark brown, no nonsense. When she cooked, she made the food that she ate and fed her own children. It was an invitation into her home, her space, her life. Into who she is. And when you do that, you're inviting others to do the same. It's an expression of love.
Share with us what you love about the kitchen.
The kitchen operates mainly through Karma Yoga, the practice of selfless service, or volunteering. That in itself is an act of love. During my 18 years in the kitchen, it became a meeting place for the cooks and Karma Yogis to develop ourselves through friendships and through the food we prepared. Our cooking and sharing meals is an invitation for people to find a spiritual home here. Andalamma really created a sanctuary. As kitchen manager, it's been important for me to continue that. We recognize who people are, not just what service they bring, and we nurture them. Karma Yogis have gone on to serve in other ways throughout Integral Yoga. Many, myself included, have become teachers.
We've also nurtured board members, program directors, sound healers and many more! People have met and married through this kitchen. The patience in learning, understanding proportions, and combinations of ingredients are
still a labor of love and a metaphor for life itself.
What part of your life or yourself did you bring to the kitchen?
I grew up in a diverse neighborhood, Jamaicans, Indians, Pakistani, Italian, Irish and Chinese. Mr. Frederico gave me bread and salami from his deli on my
home. I remember people stopping by and my father encouraging them to stay for dinner, telling them that we had more than enough to share. From a very early age, I remember eating every kind of food. Hanging with my mother at my Jamaican godparent's parties at 12 years old, it's the food that I remember – the salt fish fritters, chicken and beef patties and syrup. It was good and plentiful.
Tell us more about this recipe. Last summer, I spent many late nights driving uptown. We would usually stop at a really good Dominican eatery just before making our way over the bridge into the Bronx. This, my late night snack, was never disappointing. And those nights hearing music and simultaneous conversations, seeing the parked cars and the lines in all the restaurants made me feel there's no community without love and no community without the love of food.
way home from school, I ate homemade samosas at the Singh's house (also where I first saw Michael Jackson's Thriller video!) and of course fish and chips. There was a lot of food in my 'hood, and it always came with a lot of love! This is reflected in our Integral Yoga's kitchen. Here, you can share your culture and it will be appreciated. From time to time, teachers or staff would offer to cook the food they grew up with, and we would learn a lot about one another.
And everyone is welcome. My Jamaican mother and Nigerian father raised five children in the '70s and '80s, during the Thatcher years. As hard as they worked, they always welcomed people into our
There's something very loving about finger food and eating with your hands. You're sharing with others. It's communal. It's also reflective of an important time in my life, when I was in Mexico teaching a performance workshop for young people. A local family cooked for us as a way of making money and at the time, I was a pescatarian. In Mexico, that's a little problematic as dairy and meat are in almost everything. I asked if I could have a tortilla with just beans and rice. They said of course. When I went to pay, they refused my money, even after I insisted several times. I once again experienced food as an expression of love and inclusion.
54 @YOGALOVE_MAGAZINE
DIANA DHARANI DIAZ
"There was a lot of food in my 'hood, and it always came with a lot of love! This is reflected in our Integral Yoga's kitchen."
Tinuola Bello brings vegan street food to Integral Yoga's kitchen
Oyster Mushroom and Batata (Purple-skinned Sweet Potato) Tacos
I am reminded of the combination of simplicity and creativity of meals that sit between a snack and 'dinner.' In these tacos, it was always about the batata for me – perfectly baked and naturally caramelized due to its own sugar. I love this purple sweet potato, and I remember the first few times I cooked them in the kitchen and how much they were enjoyed. The oyster mushrooms are delicious and versatile and remind me of a dear friend with whom I'm always sharing food.
Ingredients: (Makes 10 tacos)
• 2 medium batata (or any sweet potato)
• A large handful of oyster mushrooms
• 1 tsp garlic powder
• 1 tsp smoked paprika
• 2 tbsp sunflower or vegetable oil
• Salt and ground white pepper to taste
• 10 soft corn or flour tortillas
For the garnish:
• Finely grated red cabbage
• Finely chopped cucumber
• Lime zest
• Sliced red onion
• Fresh cilantro
Wash and dry the potatoes. Make a small incision across the top and allow them to completely dry before wrapping in foil and placing in the oven at 350°F.
Separate, lightly rinse, completely dry the mushrooms and continue to wipe clean if necessary. Season with garlic powder, smoked paprika, and a little white pepper. Mix well and place aside for at least an hour. Add oil, then place in the oven.
Check the potatoes periodically, between 45 minutes to an hour (depending on the size). Remove them from the oven once they are soft all the way through.
Set them aside for 30 minutes to cool, then refrigerate for an hour. Carefully peel the potatoes and cut into bite-size cubes. Optional: Sauté the cooked, diced batata over medium heat, until golden.
Warm tortillas in skillet or frying pan on low heat. Once cooked, check the mushrooms for seasoning. Place mushrooms on the tortilla and top with cubed batata.
To garnish, add red cabbage and cucumber, a pinch of lime or lime zest if desired. Add a slice of onion and sprig of cilantro to the taco.
Learn more: iyiny.org
55 YOGALOVEMAGAZINE.COM
"Love to me means to care about each other and to be in peace with Nature."
Brenda Ayugi Yoga and Mindfulness Instructor The Nachan Project
56 @YOGALOVE_MAGAZINE
Local Spotlight UGANDA
BY: GINA DE LA CHESNAYE PHOTOS: GINA DE LA CHESNAYE
The Nachan Project, founded by Gina de la Chesnaye, brings mindfulness-based practices to the women and children of the Karamojong tribe living in the Katwe slums of Kampala, Uganda as well as humanitarian aid, psycho-social support, public health advocacy and capacity strengthening. They also offer trauma informed trainings to social workers, street counselors and caregivers in East Africa. We asked Gina to share with us some of the photos of the people who have inspired her and their thoughts on LOVE, along with her own.
What was the inspiration to create The Nachan Project?
Well, honestly I think the women and I found each other. I had been invited by my friend and colleague, Allan Katteba, who is a local social worker to visit the slums and see for myself what was going on. After spending many days in the community Allan asked me to offer some basic practices for trauma and resiliency. After that, I couldn't walk away. The women named themselves "Gina's Women of Uganda Group" which was very sweet and I was very honored, but I asked them to please name the group after someone important to them in their community. They chose the name Nachan, which means "someone who relieves the suffering of others." This organization is devoted to breaking cycles of suffering.
How do you stay inspired to continue this work?
I remind myself to get out of my own way. I had no one to protect me or help me when I was sexually abused as a child, but I did, and do have resources that include basic human rights, access to food, clothing and shelter as well as education and employment. The women have none of that. My meditation, yoga and martial arts practice has saved me again and again from intense continued on next page
"Love means a lot to me. When you tell me that you love me it means that you accept me the way that I am. Love means that you do anything to support the person you love and lift them up."
Julie Bukirwa Acid attack survivor, Counselor, Activist, Artist for risecoalition.org
57 YOGALOVEMAGAZINE.COM
pain, and that's why I have dedicated the majority of my life to this work. These women have no resources, but they do have their bodies, the connection of their mind to their bodies, and to each other. This is the essence of practice and of sangha.
I also visit at least two to three times a year to continue training the staff, and to share practice with the women while also working on public health advocacy, and shooting a documentary of their lives.
The theme of this issue is LOVE, can you share with us what working with your Nachan Project community has taught you about love?
The women are my driving force. They are our sisters, mothers, daughters and grandmothers and I refuse for them to be forgotten or discarded. Love means seeing and being seen by each other, as well as ourselves, with respect and dignity.
Learn more: thenachanproject.org
"To me…love means to Share, to Care and to be There."
Esther Lakamere Field Coordinator, The Nachan Project
58 @YOGALOVE_MAGAZINE
love, on the run
BY: INGRID BAQUERO
For some of us, the Etch A Sketch is a nostalgic reference. A classic tool where designers bring to life drawings based on the art technique of lineography (drawing without lifting the pen, with the turning of two knobs). Yoga Love Magazine met with the human version of the modern Etch A Sketch, Lenny Maughan. His canvas? San Francisco. His tool? Strava, a running app. His knobs? His legs. Say whaaat!?!
As a street artist, marathon runner, and yogi from the Bay, Lenny has been creating this unique art for over 8 years, bringing his imagination to the pavement and into Strava. Combining his love for running and drawing, Lenny brings joy to the community via his thoughtful and eccentric route sketching. For him, it's not about the miles, nor the pace, it's about the joy in the journey and the hitting that FINISH button to see the final piece.
Since his first sketch, "Spock" a Vulcan salute from March 2015, Lenny has been reimagining each stride month after month, consistently. Finding inspiration around him, and inside him to bring smiles through his IG account @lennymaughan. Strategically, planning each creative run, knowing his city in and out, and finding mindful movement in his practice.
We love to hear stories about people that inspire us through their creativity, and what drives their passion. Tell us about yourself.
I'm a longtime resident of San Francisco. I lived in NY as a teenager, and that's where I started running when I was on the track team in high school. I'm not a record breaker or anything like that, but I love running, and I've been doing it all
my adult life up to this day. This morning, I did a little 5K around the city.
What got you into running?
It was a persuasive high school gym teacher. I tried out, and I made the cross country track team, and enjoyed that for a couple of years in high school.
Did you fall in love with running?
I'm more about the fun. It makes you feel good, and there's a high associated with it. That's what I noticed as a teenager, and that's what I feel up to today.
How did this combination of running and creating art through routes come to be?
It was about eight years ago when apps started allowing GPS technology to track your movements, and it instantly became popular with runners, walkers, cyclists, and even swimmers - people who move and want to know where they were and what their stats were. So you can see visually what you did. Sometimes those stats would create a shape, by accident, of course, but you can also make them intentional. So I decided to begin with the end in mind and sketch something and see if it turned out exactly how I sketched it. I like to draw, so it's kind of another way to draw for me.
I did the Vulcan salute as a test, a simple hand gesture, and it was successful. I thought, that's pretty cool! Then I just started getting these ideas, sketching it out, running it very carefully. And as it turns out, I'm on a streak of doing one a month for many months.
continued on page 63
59 YOGALOVEMAGAZINE.COM
ARTIST SKETCH ON GOOGLE MAP
Yogi Run: 28 miles total
Museums continued from page 17
poetry hour, and special workshops related to exhibitions such as "Processing Ecological Grief Through Art."
What was the inspiration to create mindfulness programming sessions at the museum?
Like many museums, we started with yoga. In our case, it was in conjunction with a special contemporary art exhibition entitled "You Are Here" that focused on experiential and immersive experiences. Yoga was a great fit for this – moving, breathing, and connecting deeper within while being surrounded by the interactive artworks! It was a great success and brought a whole new audience to the NCMA.
I tapped into my personal experience of teaching mindfulness modalities and being a part of the local yoga and wellness community. Responding to the clear demand for these types of programs, we were able to quickly expand the types of offerings – creating the "Mindful Museum" series of public programs. The programs became regular offerings and incorporated our permanent collection, the Museum Park, and other parts of the campus as a whole.
We were even able to adapt some and create new experiences to be successful virtual offerings during the pandemic. I will also say that defining this series was just one of the ways our department began to expand many of the things we were already doing in the realm of mental health and well-being, as well as prioritizing these offerings across the institution.
What makes mindful practices in museum spaces special or unique?
Museums are such natural places of refuge and solace, as well as inspiration and curiosity – inherently fostering things like reflection, contemplation, self-awareness, calm, and more. Bringing mindfulness experiences into these places is a great fit to expand and ampli-
fy what is already there. It's a reciprocal relationship, the art/museum informs the mindful practice while the mindfulness tools and techniques offer an incredibly special way to engage deeper with our collection and campus – as well as each other.
Do any of these sessions incorporate the artworks in the space into the programming?
Most of the mindful programs/experiences we offer make a point to incorporate our collection – that is important
We consider our entire 164-acre Museum Park part of our collection as well, so this is true even for things like Full Moon Walks – that incorporate sculptures, but also the outdoor setting as a whole.
How do you choose which teachers to collaborate with?
It is really important for us to work with teachers and facilitators who align with our mission and values, and who understand our intentions with hosting these experiences in a museum setting. Paramount to that is for us to make sure they have the background and training that allows them to teach in an authentic way – especially when it comes to so many of these modalities that are often not Western.
for many reasons, but especially to set us apart. You can do yoga literally anywhere these days and with anything, so we are very intentional about the content being relevant to us and creating those opportunities for people to have a unique and engaging experience with art. For example, Slow-Art Appreciation focuses on one piece from our collection or an exhibition each time, to observe and interact with the piece through mindful techniques. Generally, that is how most programs work, they are inspired by one or a few artworks. The art helps create the content, inform the focus, and expand on the given theme for an experience.
I think my own background in this helps, as well as knowing so many great teachers already, who can refer me to others if they are not available. If a teacher is new to me, I will ask them pointed questions about their style and approach and take one of their classes first to vet them as a good fit. Either way, we will always prioritize teachers who do not trivialize or appropriate any tradition. We work with some really incredible facilitators who honor these systems, are inclusive and welcoming to all, and who hold space carefully. We often find that we need to be even more cognizant of creating a safe container for everyone's experience and processing, more than in a setting like a studio or therapy office, so that is an important skill we look for when hiring teachers as well.
Who attends these sessions?
It's equally exciting when a seasoned meditator comes to the museum for the first time or when a familiar patron takes their first yoga class with us! We get so much feedback from both perspectives, about how the program is, what brought them to us for the first time and vice versa – in all cases, we are told how special the experience is and like nothing else they get to do.
Learn more: ncartmuseum.org
60 @YOGALOVE_MAGAZINE
"You can do yoga literally anywhere these days and with anything, so we are very intentional about the content being relevant to us and creating those opportunities for people to have a unique and engaging experience with art."
The Rubin Museum NEW YORK Van Gogh Museum AMSTERDAM
The Rubin Museum of Art in NYC, explores and celebrates the diversity and uniqueness of Himalayan art, ideas, and cultures across history and into the present. With its globally renowned collection, largely centered around art from the Tibetan Plateau, the Rubin fosters understanding and appreciation of this region by relating its art and ideas to our shared human experience today.
Tashi Chodron, Assistant Manager of Himalayan Cultural Programs and Partnerships shared more on their mindful offerings that include a weekly meditation program, sound baths and mindfulness workshops attended by art lovers, skilled and beginner meditators alike.
What was the inspiration to create mindfulness programming ?
We're a museum that seeks to straddle the worlds of art, spirituality, and wellbeing, which is informed by the art from the Rubin Museum's collection. Much of this art is about awakening the wisdom that is innate in each of us. We started the Mindfulness Meditation program back in 2015 as a way to connect and engage with the art and living traditions from the Himalayas. For centuries, Himalayan practitioners have used meditation to quiet the mind, open the heart, calm the nervous system and increase focus. Our Mindfulness Meditation is
a refuge from the world around us, as well as an opportunity to engage with it more consciously.
What makes mindful practices in museum spaces unique?
Art and mindful practices can be transformational and bringing those two together in a museum can be inspiring and really special. Our mindful practices are informed by the art from the collection and in many ways the art comes alive with these programs, which is unique to us.
Do any of these sessions incorporate the artworks in the space into the programming?
Each Mindfulness Meditation session is inspired by an artwork from the Rubin Museum's collection.
What mindfulness inspired programming has been the most inspirational? Last year, I led a breathing activity in our new Mandala Lab installation, where attendees were invited to match their breath to the pulsing light of artist Palden Weinreb's light sculpture. It was wonderful to gather visitors in the museum and in this new space for the first time, and to connect in a different way to an artwork.
Learn more: rubinmuseum.org
With a collection encompassing more than 200 paintings, almost 500 drawings and over 700 letters, the Van Gogh Museum in Amsterdam brings together the largest collection of works by Vincent van Gogh anywhere in the world. The permanent collection takes visitors on a journey through his life and illuminates the ideas and ambitions that drove his art. At the Manduka x Van Gogh Museum collection's heart is a search for peace and balance, a quest with which everyone can identify.
In 2021, they collaborated with yoga and fitness brand Manduka to launch a limited edition collection, Manduka x Van Gogh, which is inspired by three paintings that Vincent van Gogh made during his stay at a clinic in Saint-Rémy, as well as by Van Gogh's life, which was punctuated by periods of both mental vulnerability and strength. The museum team shares more about this and other programming the museum has explored below.
Open up with Vincent
This programme aims to contribute to an open dialogue on mental health, based on Vincent van Gogh's life story
continued on page 60
61 YOGALOVEMAGAZINE.COM
PHOTO: FILIP WOLAK, COURTESY OF THE RUBIN MUSEUM OF ART
PHOTO: JELLE DRAPER
and art. The programme features a range of activities at the museum, on location and online. All the activities have been developed in collaboration with young adults, associations and professionals specialized in mental health.
Throughout his life, Vincent van Gogh felt the healing power of art. It offered him solace and hope. To him, painting was the sole remedy for the mental issues with which he struggled. In his letters to his brother Theo, Vincent was open about his mental health; he wrote about his periods of crisis and recovery. Academic research also confirms that art has a positive effect on health and general well-being. The two-year pandemic greatly impacted our mental wellbeing, and many young adults indicate that they experience stress and somber feelings. In these challenging times, art can help to prevent or alleviate psychological issues.
Meditation
On the Van Gogh Museum website (available in Dutch and English) they offer several meditation sessions inspired by an artwork by Vincent van Gogh guided by professional mindfulness trainer, Jolien Posthumus.
Yoga
In 2022, the Van Gogh Museum began offering yoga practices for children and their caregivers during school holidays inside the museum as part of our Open up with Vincent programme. They also offer yoga lessons on YouTube to practice at home or at school. Children's yoga teacher Romy Muste takes the children past various works by Vincent van Gogh. She stimulates the senses and imagination, doing yoga postures inspired by Vincent's work. She concludes with a narrative meditation.
Mindfulness
Mindfulness is about the art of being present in the here and now, being fully aware of the present experience. Mindfulness is a valuable well-being skill. It enhances our ability to cope better with life's tricky aspects, our mental
health and sense of well-being. Artworks are a great source or 'anchor' to practice mindfulness.
A new series of mindfulness sessions started again in autumn 2022 inside the museum. Each session has a different theme depending on the permanent collection and enables visitors to experience how art can encourage curiosity and reflection.
The museum offers a separate program especially for higher education and health care institutions committed to the mental well-being of young people. Under the guidance of a professional mindfulness trainer, participants look at some paintings in the museum accord-
ing to the mindfulness method. Following this, they try to paint their feelings, just like Vincent. Participants learn to look at art in a new way, namely how art can contribute to their mental well-being.
Learn more: vangoghmuseum.nl
PHOTOS: KOLIN MENDEZ
TEACHER: MEGAN MILES
Brooklyn Museum
NEW YORK
The Brooklyn Museum in NYC is one of the oldest and largest encyclopedic art museums in the country. They champion the powerful roles art and artists can play in their communities, both inside
and outside the museum's walls. Lauren Argentina Zelaya, Director of Public Programs, shared some of the amazing yoga classes they have been offering.
62 @YOGALOVE_MAGAZINE
What was the inspiration to create mindfulness programming?
We've been hosting yoga classes at the museum in some form for many years. The current iteration, Yoga on the Stoop, was created in response to the COVID-19 pandemic and the civil unrest in response to racial injustice. While we could not gather indoors, we utilized our outdoor area to create spaces of grounding and connection that people needed. On a practical note, it was also a way to offer work for local instructors whose sources of income were disrupted by the pandemic.
Our goal in public programs is to utilize multiple modes of engagement to create a sense of welcome in as many different ways as possible – movement is just one mode. The museum is an almost 200-year-old institution that was not designed to be the most approachable or welcoming space for everyone. An activity like yoga sets a different tone for accessibility in the 21st century. I want the museum to be experienced as a cultural hub and a gathering place for diverse communities from all walks of life. In that vein, it's also important to hire instructors that reflect the diverse communities we want to welcome. If someone has a positive or grounding experience at the museum, that is the goal. Maybe they will visit the art afterward and get inspired. Or maybe they will head off somewhere else, but now they have a positive association with the museum and will hopefully plan to return.
What makes mindful practices in museum spaces special?
The museum is a monumental building in central Brooklyn, which is situated at the intersection of a lot of diverse communities. This visibility and accessibility is tremendous. The amount of space means that we can accommodate a big group of people vs. the average more intimate scale of a yoga studio. The open air aspect is also very unique. Of course, there are also challenges being on a major intersection with a lot of traffic and passersby, but that makes
it exciting as well. The proximity to art is the icing on top!
Do any of these sessions incorporate the artworks in the space?
Our Art on the Stoop series showcases artist installations on the plaza where the yoga series takes place. This past season, Mona Chalabi's mural, The Gray-Green Divide served as inspiration for our teachers to theme their
humor and warmth, as distractions will happen. Maintaining a grounded presence in busy city life is what yoga is all about, so our instructors lean into it.
What mindfulness inspired programming has been the most successful?
Our decision to relaunch the program exclusively outdoors in the wake of the COVID-19 pandemic as well as the social unrest we witnessed in the neighborhood and around the nation has been a tremendous success. A lot of people were seeking a sense of calm and community after being isolated for so long. Mindfulness and yoga offered a respite from the other gatherings we saw in forms of social protest and an opportunity to ground ourselves.
Learn more: brooklynmuseum.org
classes around an appreciation for trees and green spaces in the city. Our yoga classes always include free general admission to the museum and are timed to end as the museum opens to the public, so people can explore the galleries afterward.
How do you choose which teachers to collaborate with?
We like to spotlight a diversity of local instructors who are committed to the values of building community and accessibility. We gravitate towards people who represent the ethos of Brooklyn. People who have their own style and are approachable and fun. It's a special and non-traditional setting! We host this class outdoors in public space, so you have to be flexible and have a sense of
63 YOGALOVEMAGAZINE.COM
"I want the museum to be experienced as a cultural hub and a gathering place for diverse communities from all walks of life. In that vein, it's also important to hire instructors that reflect the diverse communities you want to welcome. If someone has a positive or grounding experience at the museum, that is the goal."
ly transformed environment, despite the physical location remaining consistent.
Stacie: The museum and galleries inspire us to reflect and turn inward, which is exactly what we try to do during a yoga practice.
Do any of these sessions incorporate the artworks?
Clay: Sometimes during the practice, we draw attention to the art to inspire our practice and intention setting. We love that the exhibit in the gallery changes regularly, so we always have new inspiration to draw upon.
The Art Museum of South Texas TEXAS
The Art Museum of South Texas (AMST) holds Community Night events each month. Entry to the museum is free and the museum offers a variety of activities including music, food trucks, vendors, interactive art activities and yoga. The Hatha yoga class is for all-levels and includes mindfulness and breathing with options and variations for everyone. We spoke with Clay Reuter, Coordinator of Community Services and Stacie Richline, owner and yoga instructor at Water Dog Yoga that the museum has partnered with to coordinate the yoga classes and instructors to learn more.
What was the inspiration to create mindfulness programming?
Clay: When we closed to the public during the pandemic, Sara Morgan, Director of AMST, invited local yoga instructors to lead our museum staff in socially-distanced yoga in the galleries. The success of these classes inspired us to offer similar yoga experiences to the public in this unique and creative setting.
What makes mindful practices in museum spaces special or unique?
Clay: The art on the gallery walls changes roughly every three months. With each new exhibition, students can experience their practice in a complete-
Western Australian Museum AUSTRALIA
The Western Australian Museum is the state's premier cultural organization responsible for the collection and care of Western Australia's artifacts that tell the diverse stories of our past and present. The Museum's mission is to inspire curiosity to explore the past, question the present and shape the future. It comprises six public sites with
How do you choose which teachers to collaborate with?
Clay: We chose to work with Stacie because of our staff's positive experience with her instruction techniques and her willingness to collaborate and invite instructors from other local studios.
Stacie: We have had several of our instructors along with other instructors from the community. We choose the instructors partly based on the way they teach because we like the class to be beginner friendly and inclusive.
Learn more: waterdog.cc and artmuseumofsouthtexas.org
its main site Boola Bardip, located in Perth, Western Australia, and cares for more than eight million objects. Yoga classes ranged from classes under the iconic blue whale "Otto" that is over 120 years old and nearly 80 ft in length, to classes with a live DJ. Helen Simondson, Manager of WA Museum Boola Bardip shared some insight into their mindfulness programming that includes yoga, meditation and even Tai Chi.
What was the inspiration to create mindfulness programming?
As our life expectancy is rising, the need to improve people's health and quality of life has never been more important. There is real potential for museums to play a long-term role in supporting a healthier population.
What makes mindful practices in museum spaces special or unique?
There has been a lot of research into the contribution museums and galleries can make to population well-being. Evidence shows that museums can benefit individual and community health and well-being through their role as public forums for sharing knowledge and their work with specific audiences through targeted programs.
Learn more: visit.museum.wa.gov.au
64 @YOGALOVE_MAGAZINE
PHOTO: WATER DOG YOGA
PHOTO: COURTESY OF WESTERN AUSTRALIAN MUSEUM BOOLA BARDIP
Run continued from page 57
I used to draw as a kid a lot and I noticed this GPS tracking technology, it basically is sketching out a route. And it makes me think so much of the old Etch A Sketch. For the kids out there: An Etch A Sketch is an old toy tablet with two dials on it, and you just turn them to make a line. So you start with one line, you can cross over, you can double back, but you can't pick it up or move it somewhere else. And the idea is at the end, you have a work of art that you've made. It's challenging, but that's part of the joy in it.
I love how you connected the old school Etch a Sketch and a modern app. Do you decide to start the app and take off on your run and take your route, or do you have a route in mind?
To actually take the time before your run to design, say a Vulcan salute, that takes a lot of time.
It really does. And thank you for acknowledging that because that part is the hardest part of the whole process. There's a lot of sequences to do along the way, but designing it is a very big challenge. Sometimes it takes me longer to design something than it does to actually run it. But I'm up for the challenge. I'm determined if I have an idea of something, I'll make it fit somehow. It won't be perfect, but maybe the variation on it will be part of its charm.
How do you find inspiration for what you want to draw?
I try to stick with things that are timeless that will be just as interesting 10 years from now than they are today. So I get inspiration from either one or two places. I'll either look at a San Francisco map and something will pop out at me the way the streets are aligned, or I'll think of a shape in advance and I'll try to fit it on the map.
That's very cool because even in San Francisco streets, the elevation is so high, and then you go low, so you are really working.
Yes, it's a lot of work. Few people
acknowledge that third dimension of the elevation. It's not just a flat one place to another, but it's up and down. Sometimes it's up and down and up and down and up and down to accomplish a certain line.
When you decide what you want to sketch, do you test the route before you actually take off or do you map it out and then go for it?
I've lived here since 1996, and I run here all the time, so I'm very familiar with the streets and looking at a map, I know what that street is going to look like. So I plot it out on a map in advance very carefully, and I go through many iterations to get it just right. Then I use that
and say, hey, there's Colorado, and that would work, but it would be short, and it wouldn't be that interesting. So they just have to be big. I don't design them to be long in miles, they just sometimes happen to be.
I take a lot of breaks, even yoga breaks, and I just pause the app. I pause it and restart, it and carry on from there. And sometimes I do this overnight. I'll pause, go home, eat, shower, sleep, then go back the next morning to the same spot, resume and carry on.
How do you stick to the goal of finishing the design?
It's a mental game. So I think about how hard it was to make whatever inspires me. And that seems to keep me on to the finish line, literally.
as my guide or template when I run and I make very certain to be careful and not make a wrong turn because there's no undo feature in this thing. I can't undo the last mile.
Some of these images or creations that you make are like 60, 70, or 80 plus miles worth of time running. How do you do 86 miles? Do you stop along the way?
It's not a race, so I'm in no hurry. The objective is to follow this path, running or walking fast or whatever as accurately as I can and not quit until it's done. And for the design to look interesting, it pretty much has to go big. There's no way around it. I could run around the block
You mention taking yoga breaks, how else has yoga been a part of your life? I do yoga every single day, and I do it with joy and with love. I like to do it early if I can, so that I can have the benefits last me the rest of the day, especially if I'm going to do a run afterwards. I find yoga before and after, sometimes just a short session, really helps a lot. So I don't have injuries that are common to creep up now and then with other runners. I'm very grateful and thankful about that and very fortunate and privileged that I stay pretty much injury free. I don't push myself too much. I've set my PR times for marathons, half marathons and such. Now I'm more about the love and the fun of it and taking my time to smell the roses, and it's a beautiful thing. In my evolution as a runner and someone who does yoga, it's no longer something that I need to be competitive with.
Have you had other people join you on runs along the way?
No, never. I made the offer, and a lot of people ask, and people have expressed interest, but they don't show up. I tell them to just follow my steps. It's easy.
continued on page 64
65 YOGALOVEMAGAZINE.COM
"Now I'm more about the love and the fun of it and taking my time to smell the roses, and it's a beautiful thing. In my evolution as a runner and someone who does yoga, it's no longer something that I need to be competitive with."
Bonus Love continued from page 50 Love Isn't continuted from page 51
Rina's advice for the bonus parent: Know your place. Step back and allow the biological parent to have a relationship with the kids. Your place is to love and support your partner and create a loving relationship with the bonus kid separately.
Know your boundaries and communicate them in a loving and effective way so that you feel safe. This helps you connect on a higher level to "step up" vs. connecting on a low level, "step down."
Have your own life away from the family ecosystem. Have your friends, hobbies and projects you're working on, so you don't get consumed by the family dynamic.
Rina's advice for the bonus child: Be willing to have fun with the bonus parent. I know it can feel scary to let someone in your life, but the connection you gain lasts a lifetime.
Honor your feelings. Check-in with your feelings and know they are valid. Find a healthy outlet to vent, channel, or express yourself.
Laila's advice for the bonus child: Don't be afraid to ask questions. Be as mature as possible to understand somebody genuinely. If you can tell that somebody's gonna be here for a long time in your life, it is okay to be protective and ask about their intentions.
Have boundaries.
Laila's advice for the bonus parent: Allow for honest conversations. It can be sensitive to ask the bonus child to discuss their feelings. Perhaps ask how they felt about the divorce and viewed the family dynamic. Meet eye-to-eye with the child to break that barrier. Choose words wisely. You will get the opportunity to be trusted and have open communication.
Attachment - Selfishness = Love Love + Selfishness = Attachment
As you can see, this isn't anything our push-button worlds want to hear, know, or, God forbid, work on. Plainly put: this shit won't sell. Thus, begot the birth of teachers, teachings and text creating something that would sell romance packaged in the form of poetry, song, film, holidays and so on. Love is a language that feels and sounds great, but means nothing and has left a world of broken hearts in its making.
What do you do now? For now, nothing other than gain knowledge. Check out vedantaworld.org and emotionalempowerment.com
Love begins with growth, and growth begins with knowledge. Dig into the teachings, get to know what this world is, who you really are and what the hell you are doing here. Don't move horizontal and spiritually, shop! Move vertically and get below the surface. Begin to see your selfishness in "love"— the craving to want others to be different, which is attachment. Love is wanting no one to be different. Another zinger…
Take responsibility for your relationships. It only takes one sane person to make any relationship work. To love, to truly love, does not come from the heart. It comes from the one and only mission in life we have: to know your true identity. If you don't know yourself, you won't know love.
Run continued from page 63
I've done the hard work. Just follow behind me, and you'll make the same thing I'm making. But that doesn't happen.
I like to design these in solitude. I like to be 100% original with it. My idea, my design. No one made any suggestions and I don't even tell people what I'm going to do until I finish doing it. So it's totally my baby. I've created it and done it without any input and I didn't copy anyone else's design, nothing.
Have you ever considered a route in a different city? One thing that's consistent with this is it's all San Francisco. The drawings are all random things. There's no connection. There's no theme or anything like that, but they all are in San Francisco. So I like that thematic unity of everything in one place.
Here in San Francisco the streets are tightly packed, like a grid, so it makes it easy to find a shape in there somewhere. There are some shapes that can't be done, but I like to challenge myself by putting something I imagine onto the streets and making it fit.
Learn more: emotionalempowerment.com
Learn more: follow Lenny on Strava and on Instagram @lennymaughan to see his whereabouts for his next run.
66 @YOGALOVE_MAGAZINE
PHOTO: JEFF SKEIRIK
Music continued from page 29
and Indian classical music. I grew up to yogic philosophies and the scriptures, and I had 5 years of schooling in Sanskrit. I only ever did a limited amount of asana in elementary school. I moved to the US when I was 24, and worked as an engineer in the tech world and my very sedentary job brought me to Austin, Texas. After having my second child, I realized that I needed to start taking better care of my health if I wanted to be a supportive dad. I worked at Nintendo at the time, and they had just built a new building with a gym. Once I started power yoga classes there, I felt really
Ashish Arora ashish.yoga @ashishyoga
Can you give me 3 reasons why you use music in your yoga classes?
I find most people take the poses (just like their life) a little too seriously. Nothing wrong with being serious, but I want them to realize that it is a choice they make. Taking classes with music makes me want to dance—sometimes I even do. I want to open my classes to people in a similar way; it can help build a rhythm to the flow. I love classes that slowly lift you up, feel alive and then start to draw you back inwards towards the end, to reflect.
The theme of this issue is LOVE. If you were to base a class with an intention around love, how would that influence your playlist?
Self-love is very much an aspect of seeking a connection within. I would bring in a little more upbeat music leading into some which might lead them towards finding a light within.
Share with us your background, your journey into yoga teaching, and how this plays into your musical choices. The music I grew up to definitely influences the music I choose to play in my classes now. I usually play more Sanskrit music or classical with a few Bollywood songs thrown in, and I rarely play contemporary English songs. I grew up in India with Hindi as my mother tongue, and I grew up listening to Bollywood
connected back to my culture, and I did a YTT in the same year. I quit tech completely in 2016, and have been a full-time yoga teacher since.
Three artists you would love to shout out that you use often for class?
DJ Drez, Anoushka Shankar, Krishna Das.
Any advice for a new teacher who wants to use music in their classes? Start by thinking about why you want to use music. Think about why you like practicing to music, and remember that it is a yoga class. Consider spaces for silence at times, with a focus on breath. New teachers can feel the need to "choreograph" their sequence exactly to a playlist. Don't forget that first and foremost, you are there to be with the students. The simpler you keep the correlation between the music and the sequence, the better.
Julia Karp yo-bk.com @jewyorkcity_
Can you give me 3 reasons why you use music in your yoga classes?
I use music to help support my class theme and create a perceptible mood. Some days I'll focus on a particular genre (usually funk, jazz, r&b, house) and other days it's a mix of whatever I'm vibing to! In a vinyasa class, I use the playlist to evoke a feeling that can transcend the physical practice—this is what yoga is all about. Music has the ability to shift energy, draw awareness to certain feelings, and create a collective experience. Yoga and music are cathartic, and together they can create a significant emotional release.
You teach different movement modalities. Do they each influence your musical choices?
I mostly teach power vinyasa, restorative vinyasa, and HIIT Pilates. When I'm planning a class, I typically start with the playlist and let it determine the movement. For yoga, I'll choose mostly ambient, beat-based tracks to induce a state of trance, and for fitness classes I go all out hip-hop, Latin trap, soca, dance pop, you name it! Anything to stay moving and stay motivated.
The theme of this issue is LOVE. If you were to base a class with an intention around love, how would that influence your playlist?
continued on page 66
67 YOGALOVEMAGAZINE.COM
"Start by thinking about why you want to use music. Think about why you like practicing to music, and remember that it is a yoga class. Consider spaces for silence at times, with a focus on breath."
Red Rocks continued from page 40
took a lot of practice, but when I get into teaching mode, it's like my comfort zone. In the past, I had attended someone else's yoga class at Red Rocks and had an awesome experience. However, I remember the teacher was apologizing a lot. She was messing up the sequence, which I don't blame her, it's so hard! You are in front of all of these yogis and everyone is watching you. It's uncomfortable. But that day, I learned as a teacher that you can't apologize. No matter what happens, I will make it through, I will make it work, I will put it together.
Book continued from page 15
publisher. There are a number of good books on the market on how to do that.
In terms of our yoga list, we're looking for fresh insights into the classic teachings and practices that make them particularly relevant and compelling for a contemporary audience. Which essentially means the sky's the limit!
I will say that people often come to us with their yoga memoir, and sadly, that's the type of project that we almost always have to reject. It's very tough to publish a memoir successfully. That's not to say that an author shouldn't offer their personal experience and insights from their practice; in fact, they absolutely should. But if a book is primarily a memoir, it's not usually a good fit for us.
What makes Shambhala Publications unique?
Music continued from page 65
If I am teaching a class with lots of heart opening postures, I'll usually throw in a couple of '80s classics (think Foreigner "I Want to Know What Love Is") or something recognizable. There is no harm in getting a little corny, especially during fiery moments of class! Normally, I'm not so heavy on the lyrics, but there are too many great love songs out there that can really embellish the theme.
I needed to give attendees a good experience, and that experience is not by having the best yoga sequence in the world or by having the best voice. I can deliver a good experience if I'm present. And that's something that we can all do, just be present and be connected with the people that are around you.
My "why" was also bigger than my fear. Like, Yoga Love Magazine, I want to be inclusive. I want to promote diversity. I want to show people that they don't need to be flexible to practice yoga. My "why" is bigger than my excuses and my fear and my emotions. I had to trust myself and deliver my message by having a strong theme that we are all connected. Besides the physical practice, yoga is so much more. Yoga is now. We are practicing yoga now to be fully present with each other. Sharing our energy in a community is important. I wanted to make sure to bring this message to the Red Rocks yoga class.
Learn more: redrocksonline.com
For more than 50 years, we've had an unwavering commitment to publishing books that are timeless and truly beneficial. Because we are a small staff of book lovers and in most cases also practitioners of the traditions that we publish, I feel that we're unusually invested in the books we produce. You could say that for many of us, our work is an extension of our practice.
Years ago, when we'd discuss a project in our editorial committee meetings, we'd debate if the project was worth cutting down a tree for. That's a pretty high bar! Our books have to stand the test of time and be true to the tradition that they represent; nothing ersatz or faddish for us. And our books have to be beautiful objects. Our production team works very hard to create books that are aesthetically designed.
Tell us about your background, your journey into yoga teaching, and how this plays into your musical choices. I started practicing the Sivananda style (no music, go figure) on a stay in South India. My first 200-hour teacher training was in bhakti vinyasa, which focused on the Yoga Sutras, followed by power vinyasa which is more fitness-based. I live in Brooklyn, New York, but have traveled all over for training and teaching gigs, picking up new artists and genres along the way. My music library is primarily NOT in English, and I find that suitable for most yoga playlists. While most western practitioners will not connect with chanting Kirtan, I think the right music (powerful, melodic, instrumental) can produce the same "high."
Three artists you would love to shout out that you use often for class? Sault, Mo' Horizons, Manu Dibango - I'll play any song they've ever recorded. Some music was meant for yoga.
Any advice for a new teacher who wants to use music in their classes? Play what you love! Students will notice when a song is chosen with love and intention. My music choices have led to so many post-class conversations with students who share the same passion for great tunes, and I will always throw in an 'Easter egg' of a song or two for those I know are listening. Music is one of the best ways to connect with others, so don't be afraid to show who you are.
Learn more: shambhala.com
68 @YOGALOVE_MAGAZINE
"I want to be inclusive. I want to promote diversity. I want to show people that they don't need to be flexible to practice yoga."
Jeff's Picks
Five Thirty Lounge
fivethirtylounge.com
Situated atop the Hyatt Place Hotel in a 100-year-old building in downtown Knoxville, this stylish and sexy indoor/outdoor cocktail lounge features a great menu of delicious appetizers and spectacular views. It's a great place to meet a friend or gather a group for a special occasion. Mountain and river views accentuate this spectacular setting.
Cruze Farm Dairy
cruzefarm.com
Fresh churned ice cream from a local dairy is a special treat. With a flavor selection changing daily and an array of cone dips and toppings, there is always something to suit every palate. With four locations, there's never one too far away.
Lakeshore Park
lakeshoreparkknoxville.org
Originally owned by the Cherokee tribes, the land of this public park is located along the banks of the headwaters of the Tennessee River. For years, it served as home to a mental health institute. Now a public resource with many event lawns, walking paths, sporting fields and a fantastic children's playground, it's a great place to visit on a sunny day to walk, picnic, meet up with friends, or just lay on a patch of green grass and watch the clouds float by.
Great Smoky Mountains National Park
Nationalparks.org
The most visited national park in the United States drew over 14,000,000 visitors last year and is situated on the border of Tennessee and North Carolina. Thousands of miles of trails and hundreds of streams and waterfalls provide endless beauty and recreation. Home to a myriad of plant and animal life, it is a vast and precious natural resource which is carefully cared for and protected by the National Park Service.
Dollywood…and Dolly! dollywood.com
Dolly Parton is likely the most widely-known entertainer in the world. Born of humble beginnings in Sevierville, TN, she has built a career and body of work that is unmatched. In 1986, Dolly purchased what had begun as a small railroad attraction in 1961 and has grown it into Tennessee's most visited entertainment venue. The park features multiple shows and some thrilling amusement park rides. She has created an empire employing many of her own family members and thousands of locals contributing greatly to the economy of the region. She loves us and we love her! Dollywood is almost as much fun as she is.
Caroline's Picks
Dushanbe Teahouse
boulderteahouse.com
When visitors are asked about their favorite things to do in Boulder, the Boulder Dushanbe Teahouse makes the list of top attractions. This architecturally dazzling Persian teahouse was a gift from a sister city in Tajikistan. Three Leaf Farm serves the Dushanbe Teahouse. The farm grows organic herbs and vegetables for its restaurants and tea company. Designated a Botanical Sanctuary in 2013, the farm is an education center highlighting the importance of supporting sustainable food systems and living in harmony with nature. They offer workshops that explore the relationship between plants and people through herbal medicine, food, art, mythology and culture. In addition to their bounty and year-round workshops, Three Leaf Farm hosts festivals, farm dinners, and private events throughout the year.
Chautauqua Park
Bouldercolorado.gov
Chautauqua Park holds 40 miles of trails and offers excellent hikes for all skill levels. Some trails lead through the Flatirons, while others provide canyon paths and treks to summits. If you're exploring the summits, you'll find spectacular views reaching Rocky Mountain National Park!
Boulder Rock Club
boulderrockclub.com
The first climbing gym in the country opened in November 1991. They're proud to be an integral part of the local climbing community and the epicenter of American climbing. To meet the needs of the most discerning climbers, they provide a combination of 200 high-quality routes and boulder problems. Their programs include youth and adult instruction. The staff and patrons create a friendly and encouraging environment for novices and pros alike.
Boulder Shambhala Center
boulder.shambhala.org
The Boulder Shambhala Center is a cultural institution dedicated to creating an enlightened society: humanity's expansive embodiment of bravery, compassion, and profound confidence in basic goodness. Tibetan Buddhist master Chögyam Trungpa Rinpoche established this center in 1973. You can join free meditation instruction during the weekly Sunday Open House and Wednesday evenings. See their website for a complete list of programs.
69 YOGALOVEMAGAZINE.COM
gaia love
BY: ABHAIJOT KAUR
Gaia, the womb of creation, is the living Earth that sustains life for all sentient beings. When I think about a love so big, I think of the Gaia energy—the living Earth and its fertility and ability to create life through the process of renewal and rebirth. Gaia loves all beings, and when you connect to her, you begin to understand the power of interconnectedness and the vastness of unconditional love.
Gaia energy is the highest energy—the frequency of love that brings calmness to the collective ecosystems. Gaia is always providing for all of us sentient beings. I feel so blessed for having this consciousness in what can seem like a mundane world to some. I resonate with connecting to her wherever I am on this spectacular planet that we call home. Here are some easy ways to get to know Gaia more, and the power of her abilities to help us become more whole, calm, and peaceful as she.
1. Get quiet with her
Yes, even in NYC you can find connection with her. On your next walk, take off your headphones and listen to the wind kissing the trees. Is the wind leading you to a tree to sit under and recharge in a frantic atmosphere?
2. Learn about her medicine (plants) in the area that you live
Why? Because most of the plants that are indigenous or endemic hold a frequency to help heal what is out of balance in that particular area. When we learn about what is indigenous to where we live, we begin to restore the natural habitats through a conscious choice, to plant more indigenous or endemic plants. If we choose more native plants instead of alien plants, which invade habitats and cause indigenous plants not to thrive, or even worse become extinct, we help keep native birds, pollinators, and wildlife thriving. Alien plants cause disruption to thriving ecosystems. By getting to know more indigenous, endemic plants in your area, you are helping to assist Gaia in her work of renewal in that particular area.
3. Offer up gratitude to her
I like to offer up something that I am growing on my land as a symbol of appreciation for her fertile grounds. I take a fruit or a flower and return it to her with a little prayer from my heart. Living in a city, you can take something you grew in your community garden and offer it to her in one of your favorite spots. Or if you are buying flowers for your apartment, take one flower and place it under one of your favorite trees. Gaia loves appreciation, and the more you love her, she loves you back tenfold.
4. Bless your water
Water is a living being that works with Gaia energy and helps with sustaining a fertile ecosystem for the Earth and our physical bodies.
Honoring Gaia and listening to her whispers creates a movement of love, which is the most powerful energy on Earth. Try it and see how you feel.
What are indigenous plants?
Indigenous plants are those that originated in a given geographic area without human involvement, or that arrived with intentional or unintentional intervention of humans.
What are endemic plants?
These plants are restricted to a geographical area and do not grow naturally in any other part of the world.
Learn more: IHeartKundaliniYoga.com
70 @YOGALOVE_MAGAZINE
Children's Yoga Teacher Training
Nothing is more rewarding than introducing children to the world of yoga!
Learn over 500 yoga poses, partner poses, group poses, yoga games and mindful activities, breathing exercises, relaxation and visualization techniques, classroom management skills and more for sharing yoga with toddlers through teenagers!
Also check out our Teen Yoga Teacher Training Intensive for doing deeper work with the population that needs yoga most...teens!
YA approved through Children's Yoga Teacher Training Collaborative.
71 YOGALOVEMAGAZINE.COM
12th
karmakidsyoga.com
16 Madison Square West
floor, NYC 10010
MINDFULNESS MEDITATION NOW IN PERSON
Practice the art of attention in the Rubin Museum's weekly meditation program.
Mindfulness Meditation
Thursdays, 1:00–1:45 PM
Whether you're a beginner, a dabbler, or a skilled meditator, join expert teachers in a forty-five-minute weekly program in the theater, each inspired by a different work of art from the Rubin Museum's collection.
Can't join in person? Subscribe to the Mindfulness Meditation Podcast, a recording of the weekly session. Available on Apple Podcasts, Spotify, or wherever you listen to podcasts.
RUBINMUSEUM.ORG
@RubinMuseum
150 WEST 17TH STREET
BETWEEN 6TH AND 7TH AVENUES
Mindfulness Meditation
@YOGALOVE_MAGAZINE
Green Tara; Tibet; 13th century; brass with inlays of silver; Rubin Museum of Art; C2005.16.30 (HAR 65453)
is presented in partnership with Sharon Salzberg, the Interdependence Project, and Parabola Magazine and supported by the Frederick P. Lenz Foundation for American Buddhism.