30 minute read
Scene & Heard
from Vintage Roadscene - Issue 220 - March 2018
by Harpoon
LDOY PICTURES I found some pictures I took in the mid-1960s at a Lorry Driver of the Year contest, at Maidstone, on the old market site. You are welcome to publish them if they are up to a standard for you.
Terry Torch, via e-mail
Mike Forbes adds: The first pictures shows an AEC Mercury tanker, in the later Shellmex & BP yellow, white and grey livery, about to start 'Test 1' – note the Sea Scout acting as a marshal, and the British Road Services Homalloy-cabbed Albion following.
The second picture shows an early-1950s Commer QX in the Smedleys Frozen Foods fleet, with a platform body carrying a refrigerated container. In the third picture, we have an early 1960s AEC Mercury, with the later Park Royal cab, a dray from Courage Brewery.
Next we have a short wheelbase AEC Mammoth Major eight-wheeled tanker, with the Ergomatic cab, in the fleet of Berry Wiggins & Co, and a Commer Maxiload artic of Express Dairies, with a covered trailer used to carry milk bottles in crates.
Then there is another view showing the Smedley's Commer alongside a Morris J2 milk float. Lastly, we have an early Ergomatic-cabbed Leyland artic of Coulling Bros of Lenham in Kent.
Great stuff , thanks for sending these Terry.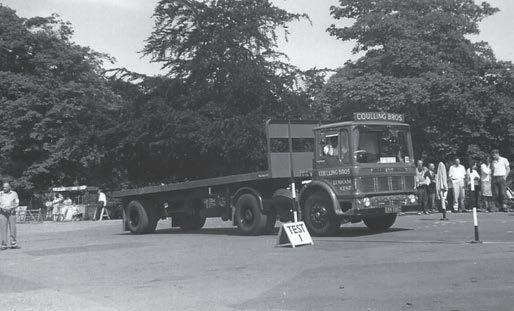 SUNDAY 17TH JUNE, NORMAM PARK, KENT
GET TOGETHER WITH YOUR FELLOW CLUB MEMBERS OR JOIN LIKE-MINDED ENTHUSIASTS IN ONE OF OUR EXPANDED DISPLAY AREAS.
NOW OPEN FOR BOOKING CLUB AND DISPLAY AREAS
VISIT WWW.BROMLEYPAGEANT.CO.UKVISIT WWW.BROMLEYPAGEANT.CO.UK
TRAFFIC JAM In this postcard we can see seven or more lorries, lined up outside Hartley's Jam Factory in Aintree, Liverpool around 1919 (leading vehicle KB 9433, Liverpool). The accompanying caption indicates that delivery of jams, marmalade and jellies was made to Birmingham, and even Bristol, plus the coverage of Lancashire, Cheshire and North Wales; not comfortable journeys with those solid tyres. The business started in Pendle, moved to Bootle, and then to Aintree in 1886, where the new factory was built which subsequently closed in 1983. Two years after opening, a village was built for key employees, with streets named after jam ingredients. The village is now designated a conservation area.
Colin Barker, Wilby, Suff olk.
FODEN DUMPER MODEL Having just received the latest issue of Vintage Roadscene (another excellent read), I was interested to see the Tailscene item on Foden dumpers on page 75. I have some pictures form the English China Clay's archives showing a similar line-up of Fodens, similarly posed as part of a publicity shoot. ECC was also a big user of Foden dumpers, although the company also had examples by Euclid, Aveling Barford and, latterly, CATs.
I have recently completed a 1/76 (4mm=1ft) scale model of one of the two-axle Foden dumpers, similar to those shown in your article, which I have scratch-built in plastic card, with cast metal wheels and under-chassis parts, re-cast from an obsolete white-metal kit. In order to make as accurate a representation as possible– there were several variants of bodywork and other features – I used the ECC photographs, plus pictures and drawings from Foden books and publicity material which I have accumulated over the years. The book 'Foden Special Vehicles' by Wobbe Reitsma was particularly useful, as were leaflets I had begged from the Foden stand at the old commercial vehicle shows at Earls Court in the 1960s. I intend to make the six-wheel version as depicted in the excellent Dinky Supertoys model I have in my collection.
David Vaughan, via e-mail
GLASSFIBRE TANKERS Having just received the latest exchange of magazines from brother John, the article on glass-fibre tanks brought back a few memories.
In the mid-1960s, J W Chafer ran quite a few Commer fourwheelers with glass-fibre tanks, the older ones being oval, and the later ones square section. The rear tank held about 800 gallons, (just over 4 tons of liquid fertilizer), and the front one about 1200 gallons. This gave some flexibility when making smaller deliveries, as at that time a lot of liquid fertiliser was applied by contractors.
Peter Wheeler, Newton on Derwent.
PROCTOR LORRIES
As the last Proctor lorries were produced in Hereford in the 1949- 1952 period, it is no surprise that there are still retired drivers in the area, with memories of the vehicle and its good and bad points. "The best thing about the Proctor was the driver," one old boy told me just a few months ago.
However, one such driver, Phil Potter went on to better things, eventually as one of the finalists in the 1986 Lorry Driver of the Year competition.
George Howell, Bourne, Lincs
FAIRGROUND CANADIAN DODGES I must say how much I enjoyed the series by Richard Furniss on World War II ex-military vehicles on fairgrounds.
Could I recommend a section on the Canadian-built Dodge (5 ton) truck. I think these were destined for the French Army, but only got as far as England and were converted into integral vans. They had a small windscreen and much larger cab door windows. These vans were used to transport air crews and so on.
I think Henry Thurston owned one, as did the Hood Family of Dunchurch, which towed their large Mollycroft living van.
One still exists, used to transport vintage racing cars. Thank you for an excellent magazine.
Henry Howard, Weedon, Northants
MEMORIES As usual, your superb magazine evokes so many memories. I refer to your splendid article on Textile Transport in the North of England, a really interesting article. I recall, when one could park anywhere in London, lorries and their drivers had dedicated self-found areas to park up and 'cab-it'.
Especially in the East End, all the 'Wool Lads' would park up in Backchurch Lane, behind the Brown Bear pub –handy! Woe betide you if you tried to park up with 'Sanderson, Murray & Elder', Henry Longs of Manningham Lane, James Ashworth or Fielders! They allowed A1 Transport in.
I recall all the lads wore wooden clogs and I, as a young lorry driver, sneaking round from the 'Minories', which was the 'Gloucestershire Boys' patch, gazing in wonder at the wagon and drag outfits, loaded sky-high and ratcheted front to back. It seems like a dream, when one could 'cab-it' in Tooley Street or on Commercial Road, after a drop of 'falling down water', in 'Farmers' for 'diesel dialogue' and a good feed-up!
Sometimes we all parked up by Wormwood Scrubs on Scrubs Lane. I recall so many parking spots and all regular lads would meet up and enjoy 'proper' rest periods, in towns, good hostelries and ' a jolly good time was had by all and sundry'.
Of course, when in Lancashire, Oldham was a regular 'pull-up for car-men' – and Friday night was the one! Ho-hum, I digress... My dream is, the days of yesteryear, but with the vehicles of today – Dream on, Dougie! Still up and down 'the track' at 75 and loving it.
Douglas Vick, Cheltenham Spa.
MANCHESTER AREA OPERATORS Regarding issue 218 for January and the Scenes Past. Firstly, the picture of the AEC Matador and trailer, which I think could belong to Stotts Motors of Oldham. I remember them from my spotting days of the 1950s, dark maroon. I was also a fan of tippers around Manchester in the 1950s, with haulage contractors on contract to Coopers River Sand, Pomona Docks, Manchester.
John Biesty had a large mixed fleet, based in Rochdale Road, Manchester (We showed a couple of this fleet in our Road Haulage Achive issue on tippers – Ed); George Massey had a large fleet of Fordson 7Vs and ET6s, based in Sherbourne Street, Manchester; John Rimmer of Pinhole Street Garage, Bury ran AEC Monarchs, Maudslays and Seddons; H Evers of Sebastapol Street, Manchester had Fodens; small companies were O T Smith with Dodge; Michael Day with Bedford; Chorlton Haulage, 'Parrotnose' Dodge; Miller Bros, of Adlington, Lancs, Atkinson four-wheeler; Curran & Kirrane, Bedford OSB – do any readers remember them?
D Lyons, Audenshaw, Manchester
SHOWTIME As an ex-driver, I attend several shows a year, to get my nostalgia fix. I fully understand that exhibitors want to enjoy their day and not stay with their vehicle all the time. I find that a laminated sheet at the front of the vehicle gives me all the information I need.
As to the format of shows, I find the Kettering steam event excellent. There are HGVs, military vehicles, steam engines, stationary engines, cars, tractors and motor bikes. The HGVs parade around a ring and the announcer introduces each one. Add in trade stalls, food outlets, a real ale tent and a small fairground and there is something for everyone – and only £6, 'oap' rate.
Keith Priestley, Lincoln.
BOOKS ON IRISH TRANSPORT I have been enjoying reading Malcolm Bates' article on Irish road transport, a subject I find (along with its railways) endlessly fascinating. However, I hope Malcolm wouldn't mind my taking issue with him over what he implies is a lack of literature on Irish transport, in the paragraph headed 'The problem' on page18.
There has been, and continues to be, a wealth of books on Irish railways, and to a lesser extent, on its buses, mainly thanks to the publisher, Colourpoint. Among its offerings has been a multi-volume on UTA's buses, a volume devoted to road-rail co-operation in Ireland, and an extensively illustrated (much in colour) hard-back book on the erstwhile Londonderry & Lough Swilly bus operations.
In addition, Venture published a hard-back on the GNR buses a few years ago, and there have been other publications on CIE's buses from various publishers, the most recent being a booklet on the CIE Bombadier buses, surely the most quirky vehicles ever to have graced the shores of Ireland? I would suggest that Irish buses, let alone its railways, are well-served in print – but, as far as I'm concerned, there can't be enough!
I would argue that Irish buses are actually MORE interesting than ones on the UK mainland – there is quite a cult following for Dublin's double-deckers stretching back to the Bolton-style Leylands operated in the city after World War II, right through to the afore-mentioned Bombadiers.
Is there any more characterful a vehicle than CIE's 'E-class' Leyland Leopards with CIE-built bodywork, used mainly in the country areas and so were in the attractive CIE red and cream livery? Talking of which, Stenlake have recently produced a book on CIE buses: 'CIE buses in colour photographs by John Sinclair', which features the 'E-class' Leopards and many of the other intriguing vehicles operated by CIE.
No doubt Malcom would argue that there isn't a great deal on Irish lorries, but images of them appear in these other books I've already mentioned (like the Colourpoint UTA volumes) and elsewhere, as now so appreciated in Vintage Roadscene.
Geoff Mizen, Ely, Cambridgeshire
As always, lots of books on railways, quite a few on buses, but not many on lorries –which always seem to be the poor relations, although we're doing our best to redress the balance!
BRS AND OTHER DETAILS Thank you for publishing the notes, cutting and photos I sent in the December 2017 Vintage Roadscene. I look forward to getting the pictures back. I do have others you could use, especially with the 70th Anniversary of BRS coming up. Incidentally, with regard to page 38/9 of the February issue, in the picture of Fordson 7V, GGL 543 is actually a Bath Council registration, not a wartime government one, unless the photo was doctored A lot of the GGx series were government, but not this one! GGH, GGJ and GGY were all Post Office registrations.
A J Bullock, Totternhoe, Bedfordshire
/: 60 )? 7&#?>=:1&# ?5?>' %31==8% 5?;8%3? $)&?> 8= #8!?>?&:*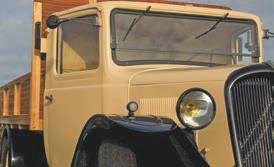 Call our friendly UK team for a quote. 0333 207 6022 or visit: footmanjames.co.uk Sp ec ia li st Ra tes for Cl ub Me mb ers With FJ+ you can add to your policy from a range of cover options * including ncluding agreed value, wedding hire, salvage retention and spare parts.
*All cover is subject to insurer's terms and conditions, which are available upon request. Footman James is a trading name of Towergate Underwriting Group Limited. Registered in England No. 4043759. Registered Address: Towergate House, Eclipse Park, Sittingbourne Road, Maidstone, Kent ME1 4 3EN. Authorised and regulated by the Financial Conduct Authority. Telephone calls may be monitored or recorded. Sign up to our newsletter at footmanjames.co.uk :$ >?%?85? 7"#1:?= $& 133 :;? 31:?=: &?)=- ?5?&:=- $!?>= 1&# %$("?:8:8$&=* 6< /,49.+2*+*2.
Training Centres at Warrington, Wakefield and Mobile ADR, DCPC, Forklift and DGSA Consultants Full ADR including Tank Module and Class 1 Explosives with 35 Hours DCPC £600
For further info please contact: Brenda 01782 511477 / 07901 595045 SMALLWOOD VINTAGE RALLY LTD 26th, 27th & 28th May 2018 EDWIN FODEN'S BIRTHPLACE Monster Trucks on display!! Situated on A50 Newcastle Road SMALLWOOD, CHESHIRE
Churches View Farm, Kelsall Road, Ashton, Chester, CH3 8BH 23rd & 24th June 2018 www.kelsallsteamrally.co.uk kelsallsteamrally@hotmail.co.uk
DACORUM STEAM AND COUNTRY FAYRE - POTTEN END 28TH AND 29TH JULY 2018 10am - 5pm GREEN CROFT FARM, POTTEN END, HEMEL HEMPSTEAD, HERTS HP1 2SG or call 01923 266491 / 07879442039 Adults £8. Children & Concessions £5. Family Tickets £20 www.dacorummachineryandsteam.co.uk
CPA Services Ltd Vintage&Classic Radiator Restoration for the Commercial Vehicle, Bus & Coach Enthusiast Quality radiator restoration and repair service. For prompt personal service and advice please contact Jess Dilley. We also offer specialist turbo charger, air brake, oil cooking and water pump repairs. Units 4 & 5, Site 4, Alma Park Road, Alma Park Industrial Estate, Grantham NG31 9SE Tel: (01476) 571 404 Mob: 07714 152 394 Fax: (01476) 579 636 www.cparadiators.co.uk
To Advertise in Vintage Roadscene Call Russell On 01732 445325
DAKINS REMOVALS  SCOTTISH TALES Although Dakins only did about three to four turns to Scotland from Nottingham per annum, it quickly became my favourite long-distance journey. For some reason, we never seemed to get any East Coast or Edinburgh work, or to venture into the Highlands. Although, to someone more used to the Derbyshire hills, even the Lowlands seemed dramatic to me. I was also lucky enough, with one notable exception that I'll come to later, to enjoy fine weather every time... and I never encountered any of the infamous Scottish midges either. In fact, I never have, not even during subsequent holidays to this beautiful country.
Without exception, out Scottish trips always began at 8.00 am on the Sunday after loading the van on either the Friday or Saturday. We'd travel via Doncaster and the Great North Road to Scotch Corner, then across to Carlisle to get onto the A74. Our eleven hour journey usually ended at a transport café at Abington, south of Glasgow, where we'd park up for the night. After a meal in the café, we'd adjourn to a nearby pub for the rest of the evening, there not being much else to do in this small village. Even Frank Taylor, who was tee-total and much preferred going to the cinema, would come in and make his glass of orange juice last for several hours.
In those days, Scotland was still 'dry' on Sunday, thanks to the influence of the kirk, but a dispensation for bona-fide travellers – which we certainly were after over 250 miles – allowed licencees to serve us with alcohol. Actually, I'm not sure how far one was required to travel to qualify as 'bonafide', as the pub was always crowded with drinkers, who seemed to be well-known to the bar staff... Perhaps it was considered sufficient just to walk down the street from your house to the pub? I've even heard tales of people in village A hiring a bus to take them to village B, so that they could have a legal drink, while the residents of village B travelled to village A for exactly the same reason – must have been a nice little earner for the local bus company!
Come chucking-out time, we'd make our way back to the café for supper – taking care while crossing the A74, which was now busy with Scottish night trunkers heading southwards into England – before spending the night sleeping in the back of the van. Then in the morning, after breakfast in the café, we'd be on our way to wherever we were headed for. Monday night would usually see us arriving back at Abington for a repeat performance of the above, before starting our journey home on the Tuesday morning. Incidentally, neither here nor anywhere else, were we ever charged for stopping in the lorry park overnight, the proprietors being satisfied with the money that we spent on their premises – though I believe that it's different today.
I can only remember two things about my first Scottish journey – well, it was almost 60 years ago. The first was that we (Frank Taylor, Bill Collins and myself in Seddon, PAU 6) were piped across the border at Gretna Green, by a piper in full Highland regalia, marching up and down in front of the famous Smithy –I can only assume that someone told him I was coming! The second being that our destination was a remote house, with a long garden, sloping down to the loch-side, with a range of mountains on the other side. The setting was absolutely beautiful, no wonder that I fell in love with Scotland. Mind you, my maternal ancestors were reputedly Scots, driven south into England by poverty and the dreadful Highland Clearances.
I was always impressed by the seemingly endless stream of south-bound lorries that passed us as we travelled northwards: Albions aplenty, of course, but also Leylands, Atkinsons, Fodens, AECs, in fact, every make of British-built lorry you can think of – and not a single 'foreigner' among them. Many sported at least some tartan in their livery, while others carried patriotic names, like 'Cock o' the North', 'Lord of the Isles', 'Highland Warrior' and suchlike – the first named lorries I had set eyes on. All would be freshly-washed, with paintwork sparkling in the sun. I've even seen drivers washing ther cabs with water from a roadside burn and tying fresh sprigs of heather – no doubt illegal these days – to their radiator grilles, before crossing the border into England... Scottish pride.
My furthest north removal was to Dollar in Clackmannanshire, north-west of Edinburgh. Frank, Bill and myself had brought the couple's possessions into store, while they looked for a retirement home and, three months later, we same three were chosen to deliver it. We loaded Seddon PAU 6 on the Saturday and set off via our usual route on the Sunday morning. This time, though, Frank chose to press on to Stirling for our first night out, sooner than stop at Abington. After finding a place to eat, sometimes a problem in Scotland on a Sunday in those days, we went to the pictures, though Bill and I would have preferred a pint after our long day.
The next day we ran out to Dollar, unloaded fairly quickly and were just enjoying a farewell
cup of tea, when the lady of the house declared: "It's been a real pleasure to meet you three gentlemen, we were dreading getting the same team as before –och, they were so uncouth!" Well, we couldn't get out of the house quick enough after that, in case our laughter gave the game away. Gentlemen to so uncouth in less than ten seconds – didn't she realise that we were three of the finest removal men in the land?
Sooner than return via Stirling, we crossed the Forth via a toll bridge at Kincardine, I think, skirted Edinburgh and then crossed the Lammermuir Hills via the A68 and A697, both of which were almost empty of traffic. We crossed the border near Coldstream – Bill had once been in the Black Watch, and was rather disparaging about the famous Guards Regiment – and joined the Great North Road at Morpeth, to run down to Newcastleupon-Tyne for our second night out and the inevitable cinema visit: you saw an awful lot of films, and a lot of awful films, when you worked with Frank. On the Tuesday, we ran back down the A1 to Doncaster, branching for Nottingham at Bawtry – like a wandering river, the A1 has changed its course since then. The boss, of course, blew his top and accused us of wasting his money when we presented him with the toll bridge receipt, choosing to ignore the diesel we'd saved him by taking a short-cut... honestly, there was no pleasing the man. Then Frank wobbled off home on his bike, while Bill and I went for a well-earned drink.
We same three rogues did a mid-winter run to Glasgow once, new Wm Lawrence furniture for various department stores: yes, a three-man crew to deliver furniture, whatever his other faults, G D always sent his vans out fully-manned. Now, if you went on a long run with Frank in the winter, you went well wrapped-up if you had any sense. He'd started driving in the 1920s, on pantechnicons with half-doors to the cab, and still regarded fully-enclosed cabs with some suspicion. Regardless of the weather, he always drove with his window partly, if not fully, open and seldom put the heater on. We set off on the Sunday morning in bright sunshine, even though it was bitterly cold, but it began to snow crossing Shap. By the time that we reached Carlisle, it was really coming down and traffic was just crawling along. Going up the A74, Bill and I sat huddled up, in our caps, scarves, overcoats and gloves, with snowflakes whirling around inside the cab! By the time that we reached Abington, southbound traffic had ceased, as everyone sought refuge from the storm: even the Glasgow trunkers, who'd barely started their
long journey, were jacking it in. The café was a welcome, noisy, crowded, smoke-filled haven, where we lingered for as long as we could, no going over to the pub that night. The Glasgow boys had commandeered the window tables to keep an eye on the weather, and were busy passing a bottle of whisky around among themselves. Bill, who'd started as a trailer-mate with the original Dakins in the 1930s, cheerfully recalled when their pantechnicon had been stuck in a snow-drift on Lamport Hill in Northamptonshire in the winter of 1947. It was three days before they were dug out, and they'd been so cold that they'd burned some of the customer's furniture to try and keep warm.
With that cheerful thought in our minds, we reluctantly plodded back to our freezing van through the falling snow and did our best to snatch a few hours' sleep. It must have eased off at some time during the night, as we were awoken by the roar of diesel engine after diesel engine, as the trunkers, more used to harsh weather than us soft southerners, resumed their interrupted journeys into England. In the morning, the sun was shining brightly, the snow-ploughs had been through and the road was clear. So, after breakfast, we continued towards Glasgow where, such are the vagaries of the Scottish climate, the gutters were awash with melted snow. This must have been about 1960, because the trams were still running, whereas the next time I went to Glasgow, they were gone.
Thankfully, the next Scottish run undertaken by the intrepid trio was in far better weather, indeed, it was so hot that we had both of the van door windows and the off-side windscreen wide open most of the time. Ah, those were the days, when you could open the windscreen on a hot day. Our load this time was Stag furniture, which we delivered to shops in a wide arc, from Dumfries to Glasgow, via Ayr, Largs and Troon. Stag furniture was very heavy – I've got some myself and I can barely move it nowadays, maybe I should accept that, at 78, my furniture-moving days are over – and with a full load, Seddon Mk 5, PAU 6, had a hard time climbing the many hills we encountered.
We spent Sunday night at Dumfries, made an early start on the Monday and were in Glasgow by the early afternoon. Our last drop was in The Gorbals, where Frank became quite paranoid. He insisted on locking the cab doors while we unloaded – unheard of – and made sure that the back-end was never left un-guarded. We got a repeat performance, plus putting a padlock on the rear doors, when we went to a nearly café for a bite to eat, where Frank chose a window seat and never took his eyes off the van.
Bill and I found all this rather amusing, I'm afraid, though we had to make sure that Frank didn't see our grins and headshaking, as he was in deadly earnest. I know that The Gorbals then had something of a reputation – try reading 'No Mean City', if you don't believe me – but, honestly, what did he think... that somebody would steal his precious piano trolley and try and flog it 'Doon The Barras'? Fortunately, after our meal, the van still had all of its wheels and engine, so we drove down to Abington, for our second night out and returned home on Tuesday.
As I've already related the fiasco of the MoD paying good money to ship a vanload of rusty metal lockers to Milton-of-Campsie artillery range, north of Glasgow – very good at wasting your money is the MoD –I'll content myself by saying that I think this was my last Dakins-sponsored trip to Scotland... the next time that I was there, I was on holiday and had to pay my own way. As I've taken up enough valuable space for the time being, with the Editor's permission, I'll continue my story in a future issue...
David Watts, Nottingham.
YORKSHIRE TIPPERS In my letter in the April issue, I promised to look for any photos I may have of vehicles, in particular any of the Albions I used to ride in at Esholt Sewerage Works, Bradford and Park Gate Steelworks, Rotherham in the late 1940s/ early 1950s, while my dad was filling them with coal from the filter beds.
I have found one so far, of an Albion of Holdesworth and Popplewell and, although the registration is difficult to see, I have written what I think it might be on the back. I would be most grateful if you would date the registration, to help me identify the year. (I think FKY 63 would be right –Bradford, 1949 – Ed). I'm certain it's not beyond 1953, as we moved house in that year and Dad retired from 'navvy'-driving and went to work in a factory.
I have also enclosed some photos of my dad's gang building the Oxton by-pass in Nottinghamshire in 1939 – so by-passes are nothing new! I you want to publish any of these, please do so, as the pre-war Bedfords are of interest, as is the navvy of Olivers of Leeds, for whom he worked at that time. There's also a picture of him loading a wartime Bedford tipper. Needless to say, if I find any more, I will send them to you.
Harry Larcombe, Whitby
TRANSPORT IN KENT
Just a line to say how much I enjoy Vintage Roadscene. The articles about Kent and Sussex transport bring back the memories. I've been a lorry fan since the year dot and remember quite a few names of haulage companies from the past, which have long gone.
First there were the paper companies, Bowaters, Imperial, Reeds and Townsend Hook. The general haulage firms I remember are as follows: Hardy's from Northfleet; Arnolds from Gravesend; Braddons from Crayford; Alan Firmin from Linton; S & A Bowery; Ham River Grit and J Clubb (which is still going).
Of course, there were many small firms around as well. I remember a chap named Danny Cardy, who lived near me at Lanes End, Darenth, and he had a Bedford S Type and an Atkinson eight-wheeler, which were maroon and blue and signed 'Trans Britain'. East Kent Packers were regular users of the old A2 and there was a firm named Ackhurst, but I'm not sure where they came from.
Brewery lorries I remember were Trumans, Style and Wynch, Fremlins and Friary Meux from Westerham, Black Eagle Brewery. I remember Johnson of Aylesford and SETAR and I've enclosed a picture of one of their tankers I took on the A20 many years ago. There was a firm that did road surfacing from Norfolk and Suffolk, EARAT – East Anglian Roadstone and Transport (the company had a depot at Pakefield, Lowestoft in the 1950s, near my first primary school – Ed). They resurfaced the road from Dartford to Longfield one year. They had an old wartime Scammell towing the burner, the driver walking alongside at times, kicking the wheels to turn them!
Does anyone remember the Elms Café at Park Road, Dartford? It was a gold mine for lorry nuts like me! Always full of lorries from all over the country. There were also a few American 'trucks' of the USAF from Manston Aerodrome.
I enclose a picture of a Commer sixwheeler, with a Boys, Carrimore or Unipower conversion, and I have a question. When I worked at Otford Paper Sacks, the company had a couple of Commers with the TS3 engine. The fitter went mad one day, and showed that the engine on one of these was running backwards and would blow up! Would that Ed). They resurfaced the road from Dartford to Style and Wynch, Fremlins and Friary Meux backwards and would blow up! Would that
have been possible?
I also enclose a photo of a Berk Chemicals tanker, taken on the A2 at Springhead, along with two Scammells of Hallett Silberman. As the magazine covers all sort of vehicles, I've included a photo of a bus as well. Does anyone remember John Dengate & Sons from the northern area of Sussex? I took this photo around 1964-65 at his depot. Alongside the pre-war Dennis was a Saunders-Roe integral bus. Could this have been the one (and only one) that Maidstone & District had? You can see a corner of it in the picture.
I liked the photo of Ken Dawes' two wreckers in the magazine. I remember these well. The yard was in Swanley, so you would see these a lot. The Diamond T had a cab from a normal control Ford Thames Trader. I wonder what