6 minute read
Cadwallader – Seen Everywhere
from Vintage Roadscene - Issue 220 - March 2018
by Harpoon
Cadwallader Transport of Oswestry was established in the 1950s by brothers John and David, going on to become a well-known name, both across the UK and far beyond.
At its peak, the Cadwallader fleet included 140 tractors and 200 trailers, at least half of them on dedicated continental work. On any given Sunday morning, at least six Cadwallader fridges would be waiting for the 5am ferry to Calais, heading to Rungis market, south of Paris. By the 1980s, the Cadwallader lorries were travelling all over Europe, including behind the Iron Curtain. The company started by delivering canned food for Heinz in North Wales, then working for British Steel. The Roger Pickering has sent us a selection of pictures of the vehicles of Cadwallader of Oswestry, whose lorries were once seen throughout the UK and Europe. then working for British Steel. The
Above: The oldest Cadwallader vehicle of which we have a picture is 7949 RF (Staffordshire, around 1961), an AEC Mercury artic, with a four-in-line platform trailer. Not the best quality, but this shows the black and red livery used at that time. (All pictures, John Cadwallader, Roger Pickering or from his collection)
Left: Atkinsons found favour in the mid1960s, with FAW 850C and CUJ338C (both Shropshire, 1965), which look as if their trailers are loaded with reels of paper.
Cadwallader brothers soon moved into refrigerated transport, eventually hauling beef and lamb from abattoirs as far apart as Inverurie in Northern Scotland and Hatherleigh in Devon, to destinations across Europe.
Customers included FMC, then the largest meat producer in Europe, Lever Bros and margarine manufacturer Van den Bergh, both part of the giant Unilever group.
To cope with the growing demand for permits, as the continental fleet grew, a subsidiary company in Cherbourg was formed, with a handful of Frenchregistered lorries. An EEC reciprocal arrangement allowed them to earn French permits every time they loaded one of the French trucks in Britain.
Further growth came when Cadwallader bought other refrigerated transport companies, McPherson International and
Right: The dark blue and red livery, with 'CT' on the doors, was instantly recognisable and lasted for many years. Here Atkinson Borderer, with an apology for a sleeper cab, XAW 204K (Shropshire, 1971) is seen with a classic Crane Fruehauf chassis-less van trailer, lettered 'Cadwallader Continental'.
Above: British-built lorries continued to work in the fl eet alongside continental vehicles, as seen by ERF A Series, BNT 584L (Shropshire, 1972), alongside a later Volvo F88 unit.
Above: Sleeper cab-equipped Seddon 34:Four, PTR 283M (Southampton, 1974) would not have been many drivers' fi rst choice for a continental trip, so maybe this one stayed on UK work.
Above: Looking the part, with Union Flags and GB stickers on the bumper, this ERF with the 5MW Motor Panels steel cab, aimed at continental operations, BNT 939L (Shropshire, 1972) is seen with a typical Cadwallader fridge trailer.
Above: Volvo tractor units came to dominate the Cadwallader fl eet. Here is one of the earlier F88s, BOW 526K (Southampton, 1972), with a continental tilt trailer with the widespread bogie favoured at the time. It looks as if a replacement wider plastic grille has been fi tted.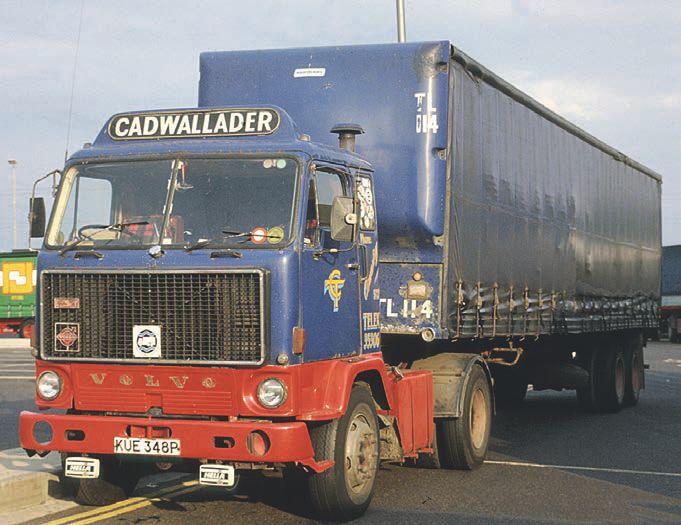 Right: A later Volvo F88, KUE 348P (Dudley, 1975) with a curtain-sided tandem-axle trailer, on domestic haulage for a change. Below: Another Volvo F88, SUJ 241R (Shrewsbury, 1977), loaded with steel coil on a tri-axle platform trailer.
Above: Three Scania 111 tractor units, including FUJ 931V (Shrewsbury, 1977), with tri-axle curtain-siders. The one furthest from the camera can just be seen to be left hand drive.
Right: The Cadwallader fl eet also included some DAFs. This one, seen leaving the Dover ferry terminal, HBR 433N (Durham, 1974) probably came with the McPherson International business.
Above: Two more Volvo F88s, XJO 883R and JNT 261N (Oxford, 1978 and Shrewsbury, 1975) both with the later wide grille, coupled to dry freight van trailers. The older tractor unit's bumper is adorned with the badge for the London Lorry Control scheme, introduced in 1986.
Right: The continental makes didn't have it all their own way, as Cadwallader also bought vehicles like HUJ 539V (Shrewsbury, 1980), a Seddon Atkinson 400 with sleeper cab, coupled to a tilt trailer. Note the GB and 'Les Routiers' stickers on the bumper.
Above: A later Volvo F10 4x2, with the higher roof sleeper cab, A596 NFC (Oxford, 1983-4), seen climbing the A2 ramp out of Dover with a fridge trailer. Right: A French-registered Scania 111, with French markings on the bumper and 'Cherbourg' on the trailer side, one of the vehicles based at the depot across the Channel.
Left: The registration, Q730 XUX, suggests this left hand drive Scania 111 could have originated in the Cherbourg fl eet. It's next to another later Volvo F10, B180 XJO (Oxford 1984-5). Left: The registration, Q730 XUX, suggests
Above: A number of British-built units continued to join the fleet, like this ERF E14 6x2, with a Cummins 320 engine, D105 PAW (Shrewsbury 1986-7), coupled to a tri-axle fridge trailer.
Above: In the late 1980s, the FL10 was the Volvo of choice in the Cadwallader fleet. Here, C597 MUJ (Shrewsbury 1985-6), a 6x2 unit, with a tandem axle fridge trailer, signwritten for Swallow International, is seen leaving Dover.
Above: Some of the later units did not receive the classic Cadwallader blue livery, like E697 LFA (Burton-on-Trent, 1987-8), another Volvo FL10, but this time a 4x2.
Above: Into the 1990s and the fleet name was modernised on the front of the units, like ERF EC14, L388 GUX (Shrewsbury, 1992-3).