13 minute read
Suddenly it's 1965 – and you're buying a two-axle lorry
from Vintage Roadscene - Issue 208 - March 2017
by Harpoon
SUDDENLY ITS 1965 – and you are buying a two-axle lorry.
Phil Reed continues his series looking at the lorries that were available to operators in the mid-1960s. continues his series looking at the lorries that were available to operators in the mid-1960s.
The Morris-badged FJ -K180, from 1966, fi tted with a 'bulk-blower' tipping body, is typical of early FJ production from BMC.
PART TWO
In the first part of this mini-series we found that a hypothetical two-axle lorry buyer in 1965 had no less than 18 makes to choose from. The first part covered AEC to Bedford. We start this part with BMC. For the purposes of our narrative, BMC includes Austin and Morris. By 1965, BMC was one of the UK's biggest players in the two-axle rigid sector. It also offered probably the widest choice of chassis in the two-axle sector of any manufacturer. With the start of volume production that year of the new tilt-cabbed FJ, it could be assumed that BMC could only further increase its market share. If only those aspirations could have come true, but they didn't.
Launched in 1964, I seem to vaguely remember that the FJ was claimed to be the UK's first mass produced lorry with a tilt-cab in the medium weight sector or some such. Much was expected of it by BMC and by the vast legion of potential customers, who were prepared to look anew at a BMC lorry.
In addition, BMC also offered a bewildering choice of forward control two axle lorries. Alongside the FJ, BMC also offered a range of well-established forward control vehicles, ranging in size from the innovative, threepenny-bit cabbed FG to the larger, rapidly aging fixed-cab FF/FH ranges.
Complementing its forward control lorry ranges, BMC offered the well-established (for this read: 'been about for donkey's years') normal control WF. It also offered the relatively newly-developed, short-nose conventional (in US parlance) or, in UK terms, short-bonneted VA 'Noddy van'. This was purpose-designed for and primarily bought by the state-owned British Road Services Parcels division – though I believe a few did go to private sector customers as well.
All these lorries used variations of BMC's 5.1 and 5.7 litre diesels and smaller, four cylinder units, as well as a choice of petrol engines. At the time the BMC 5.1 litre diesel was well regarded by operators, the stretched 5.7 litre less so.
Obviously, the new FJ was going to be seriously considered by our hypothetical 1965 truck buyers. The benefits of a tilt cab could be easily appreciated, not only for ease of maintenance, but also to keep the oily bits separate from the driving compartment.
Right: This 1966-registered Austin-badged FFK shows how the old models continued to be delivered, in this case to Liverpool Fire Brigade for ship fi res in the docks.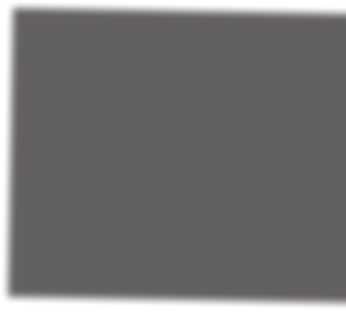 Below: A BMC badge adorns this FG 30cwt dropside, with its single rear wheels. This model remained popular for a number of years, even into the 1970s.
However, the FJ was not the big success it was expected to have been. As was to become increasingly common with the BMC and later BLMH groupings' products, its development was skimped, as the company slowly began to run out of money.
The FJ's lack of development showed with major cooling issues – a product of canting the engine over at a fairly extreme angle to get a low cab floor level – as well as brake and a host of other problems. Your author suffered at the hands of an early FJ, and everything that could go wrong with it did. On the rare days that you got it to run right, it was a very moderate, very flawed performer. But, most of the time it was a complete and utter lemon, which had to be regularly towed in to the workshop from all points of the compass.
The FJ deservedly never recovered its reputation from its very poor start in life – but its tilt cab lived on for over 20 years, in several iterations, repaying its development and tooling costs many times over. Variants of the FJ cab were used on a wide range of BLMH vehicles in the 7.5 to 28 ton sector
Below: For heavier chassis with a six cylinder engine, BMC produced this variant of the FG with a pronounced 'snout' added. Post Offi ce Telephones was probably the biggest customer.
with everything from a little four cylinder to a Perkins V8 engine installed under it.
At the bottom end of the BMC lorry range, the FG covered the sector upwards from 30 cwt to about 5 tons payload. It was widely used by both one man bands and by big public sector and state-owned fleets alike – its unique cab design was brilliantly suited for urban delivery operation. Primarily supplied with the well-proven four cylinder BMC diesel, the FG would win no awards for speed or low noise levels – but it was reliable, sturdy performer.
The introduction of higher payload 5 and 6 ton FGs saw a demand for more power – which BMC met with the installation of its sixcylinder 5.1 litre diesel. To accommodate this longer engine a short 'snout' of a bonnet was grafted onto the front of the FG cab. It did nothing for its already very idiosyncratic looks – but then the FG was an excellent example of function over form.
The WF bonneted cab, by comparison, had been about since the very beginning of the 1950s and its home market sales were in steep decline, though it was still a very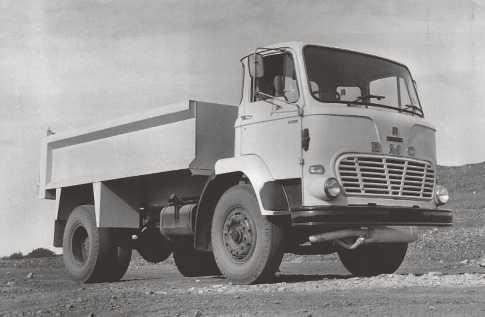 popular choice in export markets. Similarly, the fixed cab FFK forward control cab had been in production for many years and was outdated – hence the pressing need for the FJ to be a success.
It could probably be said that BMC and its successor companies' grip on the medium weight truck sector began to weaken disastrously from 1965 onwards.
This brings us to Commer – another great name in the medium sector – but another whose star was beginning to wane in 1965. whose star was beginning to wane in 1965.
Above: This picture was an Austin press release in September 1964, showing one of the 'completely new range of 5,7 and 8-tonners ... with the three-seater forward control FJ tilt cab...'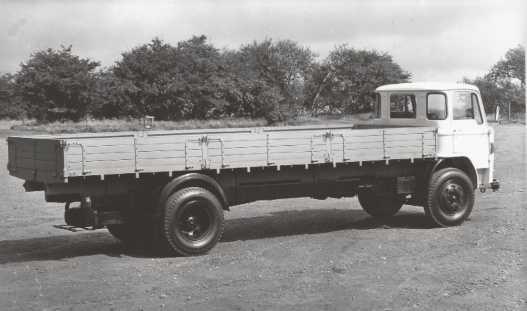 Left: The 'Pilot' cab continued with some cosmetic changes into the 1970s on the Leyland 'Red Line' range, meanwhile having been badged 'BMC', like this 1969 tipper.
Below: The Austin, Morris or BMC 'WF' normal control lorry was continued mainly to satisfy export markets, although councils and utilities also continued to order the type.
At the start of the year, Commer was busy getting its recently launched 16 ton gvw Maxiload into the market in decent volumes. The cab used on the Maxiload – and the majority of other Commers – had only been launched a few years before. By 1965 standards, this was a well-made and comfortable cab, providing the driver with a decent working environment. However, a jaundiced observer could justifiably say that Commer's task in getting widespread market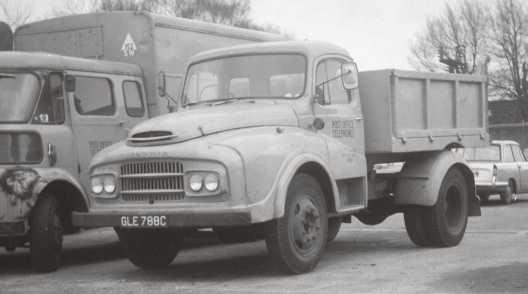 Below: Here's a Commer 'Maxiload' 16 tons gross tipper from 1965, identifi ed by the twin headlights and wider front wings.
acceptance of the Maxiload was made more difficult by its engine.
The Commer TS3 horizontally-opposed, three cylinder, mechanically-scavenged, twostroke engine was the only engine offered in the Maxiload. It was a 'Marmite' choice – you either loved them or hated them – there was no middle ground. And, unfortunately for Commer, by 1965, there were more operators who disliked the TS3 than liked it.
In was great in the hands of a driver that knew how to get the best out of a TS3 – it was all about power not torque. It had to be kept revving and, if in doubt, you never hesitated to drop a gear. And, owned by an operator
who did not stint on maintenance, the Maxiload was as good an earner as any truck. Conversely, put it in the hands of a driver who had been brought up to let the engine pull, and an operator who skimped on routine maintenance, the Maxiload would not put up much of a case for itself.
Below the Maxiload, the Commer range offered a comprehensive choice upwards from 4 ton payload models. Its forward control offerings all shared the same basic cab as the Maxiload, but without the extended width front wings or quad-headlight arrangement of the 16 tonner.
Dependent on model, these lighter weight Commers were offered with a choice of TS3 power or Perkins four and six cylinder
Below: This tipper is on a Commer C Series chassis. The Rootes Diesel badge at the bottom of the grille tells us it has the TS3 engine, but the narrow wings, in spite of the twin headlights, suggest a 12 tons gross chassis.
diesels. However, by 1965, the Perkins 6.354 engine was the more popular power choice. A feature of all Commers of the mid-1960s were the particularly smooth Rootes Group five and six-speed synchromesh gearboxes, which were almost car-like in their ease of gear-changing.
In theory, you could still order a normal control Commer Superpoise, with its Airflow Streamlines cab – also shared with Baron, Dodge and, I believe, certain Leyland models. I would imagine that, by 1965, UK demand for the Superpoise was in penny numbers and Commer, like the others, primarily kept it in its range for export markets.
Now onto Dennis, which was a once a great name for quality in the medium truck sector. By 1965, however, Dennis was barely hanging on by the skin of its teeth in the general haulage business. The financial situation at the Guildford-headquarters of the manufacturer was becoming increasingly serious. The bulk of Dennis business was in the municipal and fire sectors, but what turned out to be its last throw of the dice in the two-axle general haulage sector, the new DB15.5 chassis, was a brave effort.
Right: This Commer Superpoise would have been ten years old in 1965 but, theoretically, you could have a new one in that year, but probably only would if operating in certain export markets.
Left: It's not so surprising that we don't have a picture of a Dennis DB15.5, but this slightly later Pax V 15-tonner looked very similar, with basically the same stylish cab. A few operators went for the quality Guildford-built chassis, but it was never a mainstream vehicle.
Below: The Dennis Maxim 28 tons gross artic, powered by a Perkins V8, suffered the same fate as its 16 tons gross rigid stable-mate.
the very last of its long-running LAD-cabbed range, along with its Airflow Streamlinecabbed normal control models.
Dodge had built its UK presence thanks to its tough, no-frills specification lorries and their low prices. Its reputation also probably suffered no harm from the exposure it got when those 'Parrot-nosed' Dodge normal control tippers, in 'Hawlett's Haulage' livery, starred in the 1957 film Hell Drivers.
For Dodge, the future was now with its advanced, tilt-cab K range – which deserved its ensuing success. During the course of its life, the K range was offered with a power choice which included Perkins 6.354 and V8 540 engines, the Darlington-built Cummins 'small vee' V8, alongside a left-field choice, the monster Chrysler V8 petrol engine. Other
As its name suggested, the DB15.5 had a gross vehicle weight of 15½ tons. Thanks to a very lightweight specification, it could carry more than most other 16 tonners of the time. It had the latest version of Dennis's stylish grp cab and the ubiquitous Perkins 6.354 engine, which were all to the good, but not enough to cover for the DB15.5's lack of model choice and lack of dealers.
As such, the DB15.5 was too late to get Dennis back into the mainstream lorry market. The DB15.5 and Dennis's Maxim 30 ton gcw tractor sold in tiny numbers and both were gone by 1970 – along with the company's hopes of rebuilding its presence in the general haulage sector.
Conversely Dodge, our next 1965 choice, entered 1965 with bright prospects, reaching its highest-ever UK sales over the ensuing few years. Dodge began the year by completing

Above: This Dodge K Series tipper in Chrysler blue and cream house colours, on test with the fuel calibration unit on the front bumper, was one of the new breed, introduced by the company in 1965.
Above: This is the articulated version of the Dodge K Series, which proved a popular model during the late 1960s and early 1970s.
Left and below: The Dodge K Series was successful as a tipper chassis, whether four or six-wheeled. This steel-bodied example for Ball Mill of Worcester is typical of the type.
unusual options available, at least in the early days of K series production, were automatic transmission – I think just with the Chrysler V8 petrol engine – and a double drop-frame low loading-height chassis.
The K Series tilt cab – in the eyes of your author, looked the business – though I am told that taller men than your 5 ft 5 in scribe found the top screen rail height too low, causing a crouched driving position. When it was first introduced, with Cummins V8 delivering around 170 hp installed, the K Series had a lot of power in those days for a four-wheeler. I remember saying to my father that he should consider one, to get the tart rejoinder, "I'm looking to buy a lorry not a racing car".
Below: The Dodge 300 Series with the LAD cab was still being delivered in 1965, like this tractor uit for British Railways, which would have been working very hard if that container was well-loaded.