14 minute read
Rally Scene
from Vintage Roadscene - Issue 202 - September 2016
by Harpoon
The Tyne Tees Run
Norman Chapman never misses two vintage shows in the North East of England, both held in June. The first is the HCVS TyneTees Run on June 5th, which ends with the vehicles displayed at South Shields. This year was the 34th run, beginning at Stockton, travelling through various towns, ending up at Bents Park, South Shields. Particularly noticeable this year was the low number of exhibits, but there was enough to keep the interest going.
Right: The AEC Matador 4x4 ballast tractor was seen last year for the fi rst time and this year was being transported on one of a new generation of classic vehicles, the Renault Magnum.
Above: This M Series ERF, XFR 675V travelled all the way from Gainsborough, Lincolnshire. It was new to British Salt and purchased by the current owners in 1990. It continued to earning its keep until 1998. Later, the wagon was fully rebuilt and was again returned to work in 2013, with L & K R Thorpe, covering around 3000km per week.
Above: BS 9992 is a 1929 Chevrolet which was built at the Vauxhall plant in Luton. New to the run, it was entered by the local owner from Chester Le Street. He bought the vehicle near to its current condition; the previous owner spent twelve years restoring it.
5 2
4
6
1: We are more used to seeing the Karrier BF as an ice cream van, but the chassis had many uses and some were fi tted with coach bodies. OSK 831 has a Plaxtons Venturer body and originally was used in Leeds, beginning work in 1958. 2: Staying with buses, this Albion Valiant was built in 1950, with bodywork by Associated Coach Builders of Sunderland. The current owners have taken 12 years to restore the Valiant, which has paid off, as it was awarded the best coach in class. 3: Another vehicle which appealed to the judges was this Austin Gipsy, 924 FUW. The 1964 Gipsy saw service with the Auxiliary Fire Service, then was unused for many years and stored in an aircraft hangar. The Valiant's owners bought it in 2007. Again the excellent renovation has paid off and the Gipsy was awarded best in class. 4: Not seen before at the run was this World War II Mack EHT tractor unit. The vehicle is In a great restored condition and the owner provided an information board on the vehicle type, new in 1942 as a 'Lend-Lease' vehicle for the British Army. 5: This red Bedford HA pick-up generated a lot of interest on its fi rst appearance. It has a Walker Pick-Up body, and is one of only two roadworthy examples known to exist. PHK 210R had been languishing in a farm building for 30 years until the current owner bought and restored it. 6: The owner of this Bedford M type has put heart and soul into his display, with a roadworks scene. The wagon was built in 1949 and at some stage was exported to New Zealand. It was brought back in 2008, started as restoration project, but was abandoned. The present owner later completed the job in 2015.
Corbridge Steam & Vintage Rally
Norman Chapman also visited the 39th Annual Steam & Vintage Rally was held at Tynedale Park, Corbridge, Northumberland on June 11-2th. This is a show for steam-propelled vehicles, farm tractors, agricultural machinery, cars, motor cycles and lorries.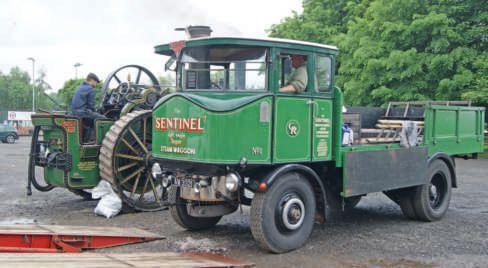 Right: Here is a Sentinel Lightweight Super 1465 6 ton steam wagon, which was built in 1916. There are not many of these about and the wagon was transported up to Corbridge from Trimdon Village, Co Durham.
3 2
4
6
1: Two ERFs around three years apart in age showing how the cab was updated with a different style of fl asher lamps. NBB 609L has separate side lamps and GTN 742N has the side lights incorporated into the fl asher lamps. Both wagons were owned by Associated Lead and NBB displays the original colour scheme.
2: If you read my report on the Brunton Airfi eld gathering last year, this 1954 Austin K8 had just been painted. RSY 895 is now in the owners livery, complete with BMC rosettes.
3: This Bedford KM brought back memories of the North East Vauxhall-Bedford main dealer Adams & Gibbon. In the good old days, breakdown wagons would go out on trade plates and when the KM had to be registered, it got a Q plate.
4: This wagon harks back to the origins of Volvo's introduction in the UK and we all know what happened next. Not far from Corbridge was one of the dealers who were set up to sell Volvo lorries and give back up service in the early days. This was Tait's of Haydon Bridge and J D Crawford bought the F88 from them.
This year's HCVS Ridgeway Run, from Henley on Thames to the Buckinghamshire Railway Centre at Quainton, was held on June 19th. Peter Quinn and Malcolm Ranieri sent us a selection of pictures of the entrants. This year's HCVS Ridgeway Run, from Henley on Thames to the Buckinghamshire
Above: This 1948 Bedford OL dropside, DUD 943, in the livery of Patrick Edwards, carrying a 'Little Grey Fergie' tractor as a load, looks lovely in picturesque surroundings near the River Thames in Henley. (Malcolm Ranieri)
Above: Bob Gearing, driving Robert Wells' ex-War Department AEC Militant sixwheeler, now registered TYJ 905, is seen arriving at the start in Henley. (Peter Quinn) Left: Also seen arriving in Henley is 1958 Bedford SB LGV 994, its Duple Vega 'Butterfl y Grille' coachwork fi nished in the livery of Premier of Watford, the shining paint refl ecting its surroundings, turns past the Imperial Hotel on its way to the start. (PQ)
Above: The 1953 Standard Vanguard van of John Mould, VSV 537, is seen being followed by the 1959 Foden eight-wheeled tipper with S21 cab, SNR 148, in Breedon Hill livery, but now in the McGovern's fleet. (PQ)
Above: The lovely 1959 Thorneycroft Swiftsure JR6/HL tanker of Tom Mansbridge, 812 CUB, is seen here passing through Marlow. This vehicle was also seen on the London-Brighton Run and at the Basingstoke Festival of Transport. (MR)
Above: A 1961 Morris FFK140, TDO 250, with a nice sheeted load of sacks on its platform body, in the livery of WJ & CM Barton of Banbury is also seen passing through Marlow. (MR)
Robert Wells' 1952 AEC Mammoth Major Mk III eightwheeled tipper, OYA 961, arriving at Quainton. (PQ)
Above: A 1967 Bedford J5 Tipper, TAR 178E, in the livery of Charles Webb & Son of Watford, seen at the Buckinghamshire Railway Centre at Quainton Road, in front of a 1951 Sentinel-Cammell Steam Railcar, part of a three-car unit built for Egyptian Railways. (MR)
The Leicester Vintage Festival was held at the Abbey Pumping Station Museum, Corporation Road, Leicester, on 25-26th June. Len Jeff eries went along and sent us pictures of some interesting vehicles which were there.
Above: Registered CBC 707 in Leicester in 1938 by dealer BatchlorBowles Ltd, this Bedford WHG2 still has its working coal-fi red frying equipment in the coachbuilt body, used for many years on its regular rounds in Worksop, rescued by coach operator John Marshall of Suttonon-Trent, and now in the care of Leicester Museum of Technology.
Above: Not all Austin Mini Countryman estates had the wooden trim, like DAE 137C, which looks wonderfully original and basic.
Above: This Leyland X Type tower wagon of Leicester Corporation Tramways has survived to be preserved by its original operator.
Above: Not many of the Commer 4x4 'Bikini Units' of the Auxiliary Fire Service are seen with all their original equipment like this example at the Leicester event.
Above: More vehicles in the care of the Leicester Museum of Technology, once displayed at the wonderful Snibston Discovery Museum at Coalville, now sadly closed, include this Yeates Europabodied Leyland Tiger Cub, once in the Delaine fl eet, seen with the wellknown Leicester AEC Renown six-wheeled double-decker and a Dennis F12 fi re engine.
Kelsall Steam & Vintage Rally
The 15th annual Kelsall Steam & Vintage Rally, held this year on June 25-26th has grown in stature over the years, with a very good turn-out of commercials, old and new, from near and far. There is a particularly strong presence from REVS, the ERF Register, and the Foden Society, which together fill a field on their own. This year, there were reputed to be over 200 ERFs alone. Mike Forbes, Barry Fenn, Andy Taylor and Keith Baldwin were all in Cheshire over the weekend and here are pictures of vehicles which caught their eye. Barry comments on the new vehicles the show brings out, the interesting mix and the 'line-ups'. Keith says he saw a few he hadn't seen before, all sorts from motor-cycles to HGVs, there were even donkey rides for 'the younger set', something for all the family, but he warns that comfortable footwear is a must, as it's a big site...
The fi rst and last: two historic ERFs, the fi rst CI.4 chassis no 63, MJ 2711 and the last vehicle built at Sun Works, Sandbach, EC11 Olympic 6x2 of Jack Richards, seen together at the REVS stand. (KB)
7 2
4
6
8
1: An ERF CI.4 with Gardner 4LW and stylish cab, AMR 461, dating from 1936, in preservation for many years and in the livery of John Young of Langholm in Scotland. (MF) 2: One I haven't seen before, a 1961 ERF 66G, with the later KV cab, MYJ 743, of P S Ridgway Ltd, 'Dundee & Lancs'. (MF) 3: With a different style KV cab, this Perkins-powered ERF four-wheeled tipper, 695 PCV (Cornwall, 1962) is now in the livery of Derek Horton of Walsall. (MF) 4: Local operator, J Leech of Haslington, near Crewe, is a great supporter of Kelsall and other northern rallies. Here is 1937 ERF CI.4, ELT 538, seen loaded with a Reliant TW9 'Ant' three-wheeled tipper, also in the company's colours. (AT) 5: Along with a smart line-up of 10 more modern Foden tippers and tractor units, Manchester company Redgate, whose Scania artic tipper we've seen previously on the Cheshire Road Run, had this impressive Foden S80 six-wheeled recovery vehicle, OHT 149R, complete with Holmes 705 twin-boom wrecking gear, at Kelsall. (KB) 6: Heavy haulage company, Keogh of Wilmslow is mentioned in the latest Road Haulage Archive issue on the subject. Chris Bennett once worked for Keogh and has restored its Gardnerpowered Foden S20 six-wheeler, 786 HMA. (MF) 7: This 1967 Foden S21 eight-wheeled recovery vehicle, LKB 635E, in the livery of David Jones of New Mills, looks ready for anything. (MF) 8: A rarity which caught Barry's eye was this Foden PVSC6, KMA 553, with Plaxton half-cab coach body, originally in the fl eet of Bullock of Cheadle. (BF)
Above: Swains of Stretton had a Scania 141 and draw-bar trailer, a Commer with livestock body, plus this Volvo F88 and Foden S20 platform lorry, WYH 244, on display at Kelsall. (MF)
Above: There is usually a number of current and older heavy haulage vehicles at Kelsall. This impressive Mack Aerodyne, SGA 638W, has been restored in the livery of its former operator, West of Scotland Excavations Ltd. (AT)
Above: Sandwiched between the West of Scotland Mack and Mammoet Autocar was this well-presented Ford Transit, TCT 629S, a late example with the original style of 'diesel front panel', restored as a service van for O & K (Orenstein & Koppel), the crane and excavator maker. (MF)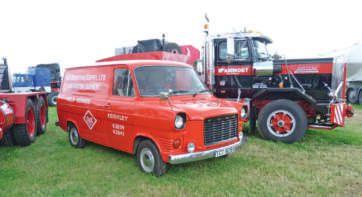 Above: This Bedford OST tipper, 669 LUG, looks very smart, restored in the livery of A & H Maw of Sheffi eld. (KB)
Above: Two contrasting Seddons, a Leyland-powered 14-4, SGS 685, in a Scottish livery, and TCH 615L, a Gardner-powered 32-4 tractor unit, with the Motor Panels cab, once a BRS vehicle, then in Ken Thomas livery and now in the colours of Ambrose Wood & Sons of Bollington. (BF)
Above: This interesting Albion Claymore with livestock body, registered 63 MN 502, was brought back over from Ireland for the rally. (MF)
Above: A British Road Services eight-wheeler line-up from Barry, with Bristol HG6L, VOM 174, from Rugby depot, LAD 'Power-Plus' Octopus 2961 R, restored in BRS colours by the late Peter Drummond, and SUB 701, the Nield Brothers' Leyland 22.01. (BF)restored in BRS colours by the late Peter Drummond, and SUB 701, the Nield Brothers' Leyland 22.01.
Above: Another of Barry's line-ups, featuring the 1971 Atkinson Defender eight-wheeled bulk tipper of Clifford Tubb of Bradford, JDJ 578K, the 1966 'Black Knight' eight-wheeled platform lorry in the livery of I Thirlwall of Carlisle and the 1971 Borderer, CRF 925K of B J Waters, Darley Dale, all Gardner-powered. (BF) Above: Another of Barry's line-ups, featuring the 1971 Atkinson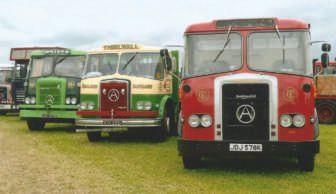 Above: A more modern vehicle in preservation is this Leyland T45 Cruiser sleeper-cab artic unit, D483 CLF, seen with an unusual short single-axle tipper trailer, in the livery of C W Sproston Lime of Frodsham, along with the company's Roadrunner tipper and Bedford RL lime spreader. (MF)
Above: Albion cabs compared on the Chieftains of Fagan & Whalley of Hapton, Burnley, LWF 203, and Ivor Own & Sons, Britannia Services of Wrexham, SSM 110, with its wrap-around screens. (MF)
2
3