2 minute read
Upcycling Part 3 – American and Canadian Vehicles
from Vintage Roadscene - Issue 202 - September 2016
by Harpoon
Below: The amount of Allied equipment left in France at the end of World War II ensured that local companies were well catered for in terms of trucks. This much modifi ed Chevrolet CMP (Canadian Military Pattern) truck clearly served with a French Renault garage after the war and while it looks to retain the wartime swing boom recovery equipment, this is probably from a different vehicle.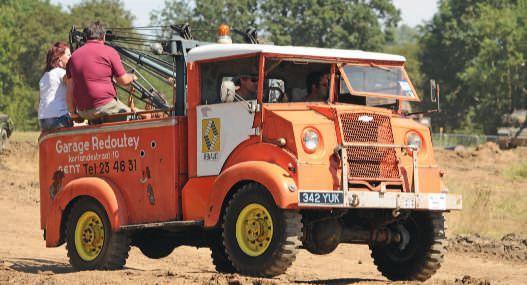 ensure they will continue to survive for future generations. So long as there are enthusiasts out there willing to put in the time, effort (and money) I think it's fairly safe to say that these vintage commercials will probably outlive us all, which isn't bad when you consider that they were only ever expected to serve a very short life during wartime. ensure they will continue to survive for future life during wartime.
Above: This Diamond T 980 prime mover has found a new life in private hands after the army, and unlike many similar vehicles, this one has not retained the military olive drab paint scheme. It was photographed at a show in Yorkshire in 2011.
Above: The FWD SU-COE 4x4 truck is less common in private hands than many other World War II American trucks. This partly restored example appeared at the Wartime in the Vale show in Worcestershire in 2014.
Above: Yet another Diamond T 980 prime mover, this time in a semi-restored state having presumably served with a civilian owner following demob. The vehicle was spotted at a steam rally at S E Davis in Astwood Bank, Worcestershire in 2007.
Left: A pair of Diamond Ts spotted at the War & Peace Show many years ago. The ballast bodied prime mover to the rear retains a military green paint scheme, while the wrecker in front sports a fetching scheme in white with a 'hi-viz' stripe, which was very much in vogue, thanks to the 'jam sandwich' paint schemes adopted for police cars of the time. This one has also had its original cab replaced by one from a Morris-Commercial.